Russian buttercream frosting an extremely glossy, smooth and delicious frosting that also happens to be the easiest frosting to make.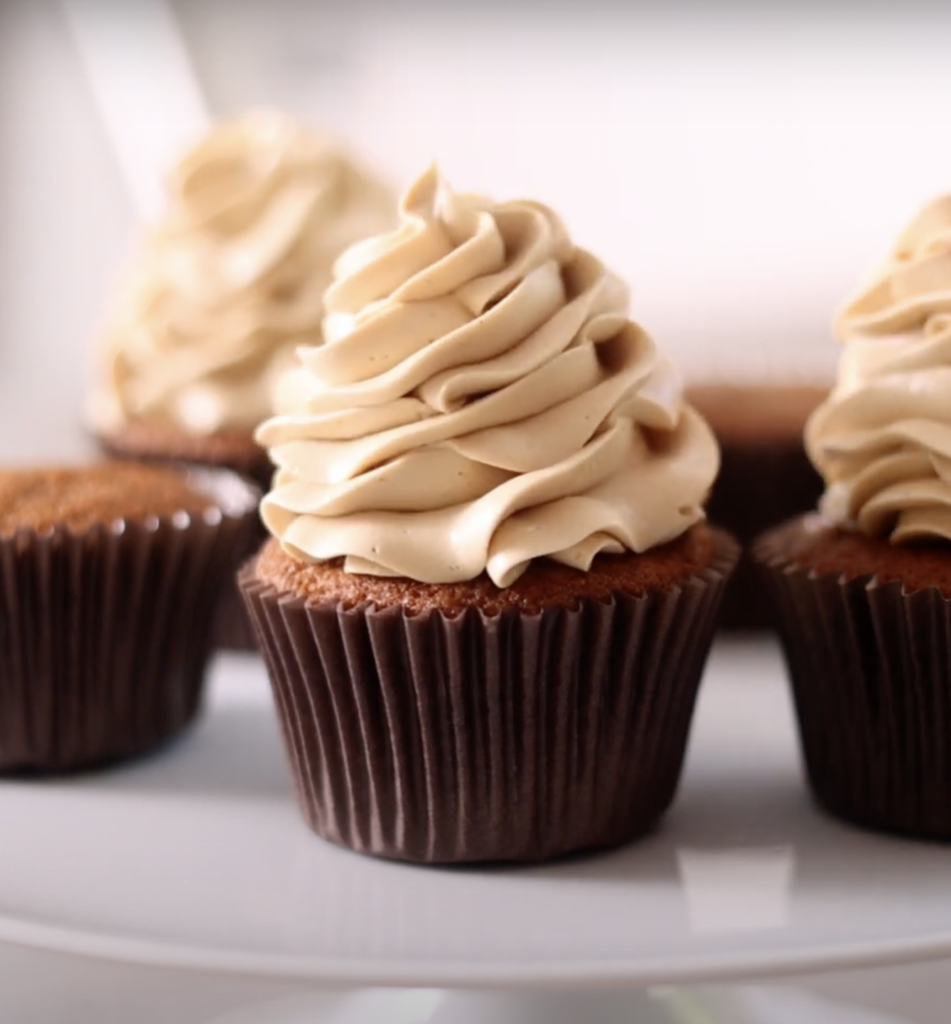 When I first heard of condensed milk buttercream, I was skeptical. As much as I appreciated that it was a simple recipe with only two ingredients, I thought there was no way it could taste good. I was wrong!
Russian buttercream gives the silky smooth texture of Swiss meringue buttercream but without all the faffing around. Its flavor is sweet but not overpowering or sickly sweet like American buttercream.
Russian buttercream pipes and spreads like an absolute dream and holds its shape beautifully with a pretty, glossy sheen. And it is so versatile - you can add whatever flavor you like to it.
I have used it in many of my recipes lately such as my Espresso Chocolate Layer Cake and my Raspberry Cupcakes. It is such an easy recipe and yields such amazing results, I'm not sure I want to ever go back to other buttercreams!
Jump to: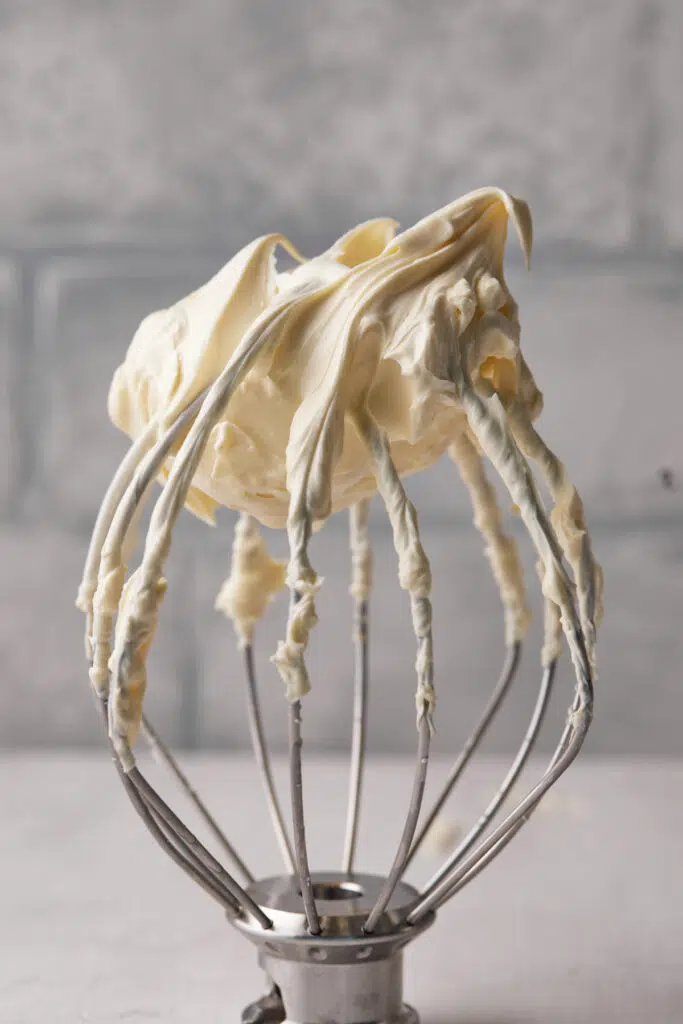 Ingredients
There are only two ingredients in a classic Russian buttercream. The classic recipe is already delicious, but the beauty of this buttercream is how well it mixes with other add-ins and flavorings, so you can add further ingredients to make whatever flavor you like. See the section below on flavor ideas.
Butter - It's best to use unsalted butter so you can control the flavor precisely. Also since the butter is such an integral part of the frosting, it's best to use high-quality butter. It's super important that the butter is completely at room temperature before beginning.
Condensed Milk - A can of sweetened condensed milk adds all the sweetness to this frosting. I was concerned about the 'milky' flavor coming through but it doesn't, it just makes it glossy and sweet. Make sure you get condensed milk and NOT evaporated milk!
See recipe card for quantities.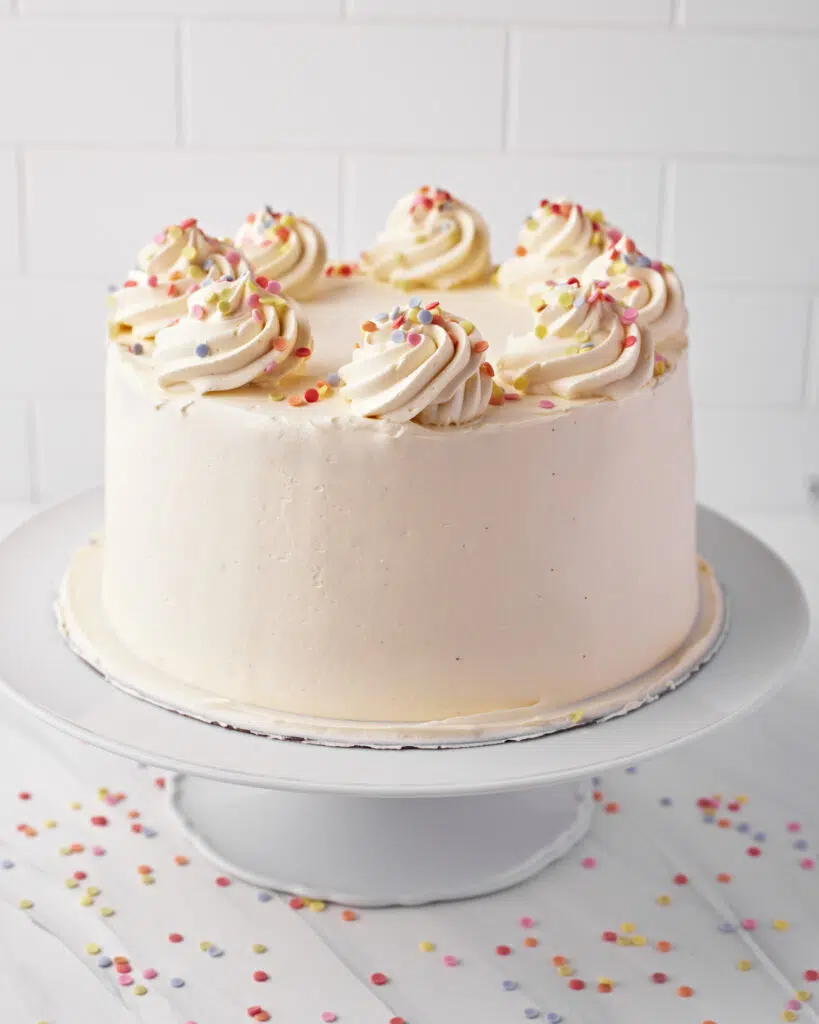 Instructions
Russian buttercream frosting comes together so easily, which is one of the reasons I love it so much.
Butter Temperature - I cannot stress enough how critical it is to use room-temperature butter in this recipe. Many of my recipes tell you to bring the butter down to room temperature before baking, but it is especially important for Russian buttercream. If you try to use cold butter then the fat and liquid won't emulsify properly and you'll end up with separation issues.
On the other hand, if you let your butter get too warm then the buttercream will be too soft and soupy and won't be able to hold its shape. You want your butter to be soft and not cold to the touch, but still holding its shape and not melting. I usually remove my butter from the fridge about 1.5 hours before using it.
Put your softened butter in the bowl of a stand mixer and whip with the whisk attachment on high speed for 5 full minutes. I usually stop every minute or so to scrape down the sides of the bowl with a rubber spatula. The whipped butter should look thick and glossy.
Turn the mixer down to a medium speed and slowly add ⅓ of the condensed milk to the mixing bowl. It's important to add the condensed milk gradually, otherwise, it will have a hard time incorporating properly. Let the first third whip in completely then add another third and whip together, then repeat with the rest of the condensed milk.
Once all the condensed milk is added, turn the mixer back on high and whip for another minute. This is where the magic happens, the frosting should thicken and start to look like a beautiful, glossy buttercream. If it seems like it's not the right consistency, see my troubleshooting section below.
If you are adding any additional flavorings into the Russian buttercream, add them before the final 1-minute whip. I like to always add a little vanilla bean paste and a pinch of salt for a bit more depth of flavor. Or you can check out other flavor ideas below.
Top Tip: If you want to go one extra step, you can make the Russian buttercream even silkier by knocking any large air bubbles out of it. Once it is fully whipped, switch to a paddle attachment and turn the mixer on low speed for 1 minute. This is an unnecessary step but it can make it even smoother if you see a lot of air bubbles in the frosting.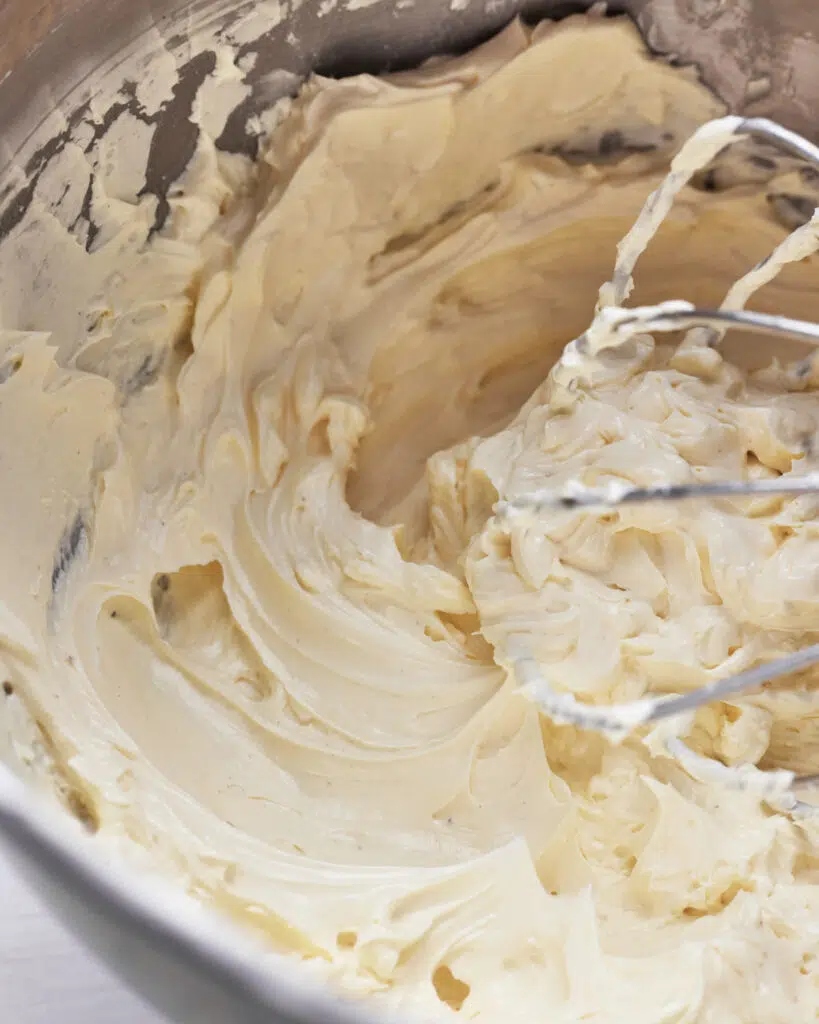 What is the difference between Russian Buttercream and other buttercreams?
There are so many different kinds of buttercream, and they are all great for different things. The main difference between Russian buttercream and other types of buttercreams are the ingredients. With only two main ingredients (plus whatever different flavor add-ins you want to add), it is the most simple frosting recipe. Russian buttercream is made with butter and condensed milk.
Because the sweetness comes from the condensed milk, you don't need to add any powdered sugar or sugar syrup to the frosting, which all other buttercreams do contain.
Russian buttercream also has the wonderful silky smooth texture that Italian Meringue Buttercream is famous for, but you don't need to use any egg whites or sugar syrups to achieve this.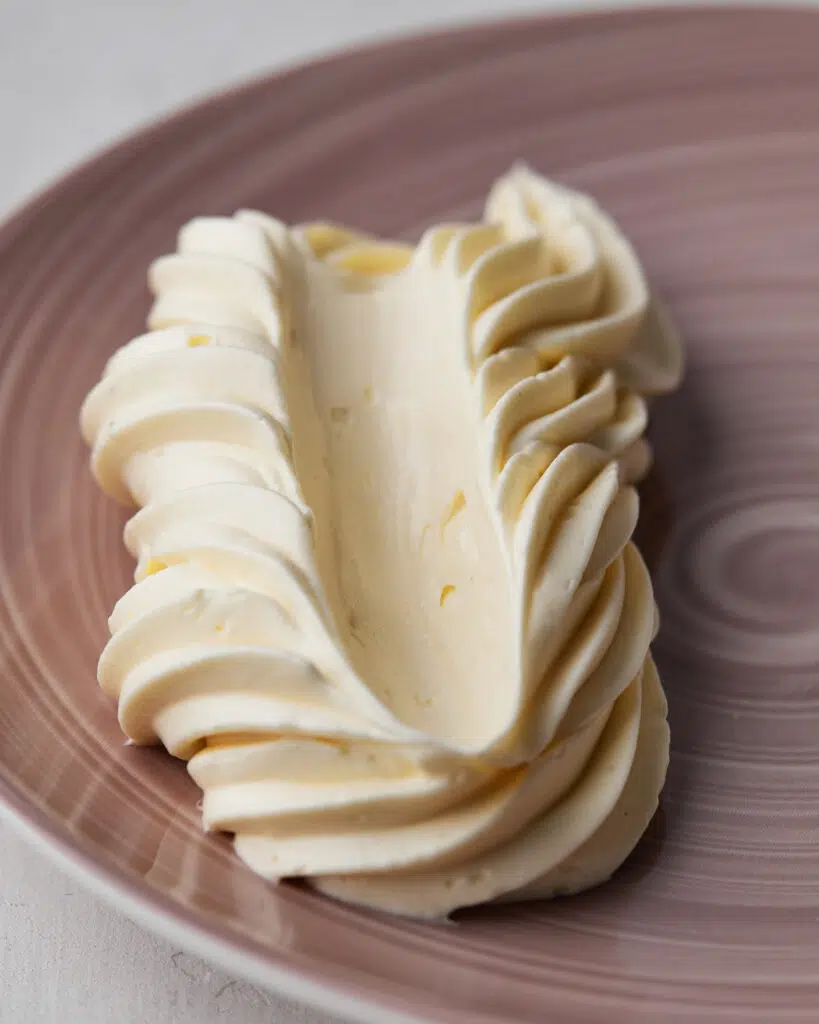 Other buttercream options include:
American Buttercream - Made with butter and powdered sugar, very sickly sweet and rich, thick consistency. This is what you woudl expect to find on most store bought cakes.
Italian Meringue Buttercream - One of my favourites, made by whipping egg whites and then making a sugar syrup on a double boiler and slowly incorporating to make a meringue. Beautiful results, subtle taste and silky texture, but the process is a little more involved than other options. I use this recipe a lot, such as for my Pistachio Cake recipe.
Swiss Meringue Buttercream - Similar to Italian buttercream in texture and taste, but made by cooking the egg whites and sugar on a bain marie beofre whipping and adding butter.
German Buttercream - Also known as custard buttercream. This is absolutely delicious but it is a long process as you have to first make a custard (pastry cream) and then whip it into the butter. I use this in my Vanilla Custard Cake recipe.
Cream Cheese Frosting - Similar to American buttercream but with the addition of cream cheese. This is amazing on fall desserts and things like Red Velvet Cupcakes.
French Buttercream - Similar process to Italian and Swiss buttercream, but using egg yolks instead of egg whites. This makes for a much richer, more custard like frosting.
All of these frostings are fantastic for different purposes, but I love Russian buttercream for being able to create a high-quality, glossy buttercream with a very easy process. It all comes down to personal preference and how much time you are willing ot invest in your frosting. But I know for sure this easy Russian buttercream recipe has become a staple in my repertoire as it is the perfect frosting for balancing impressive results with a quick and easy recipe.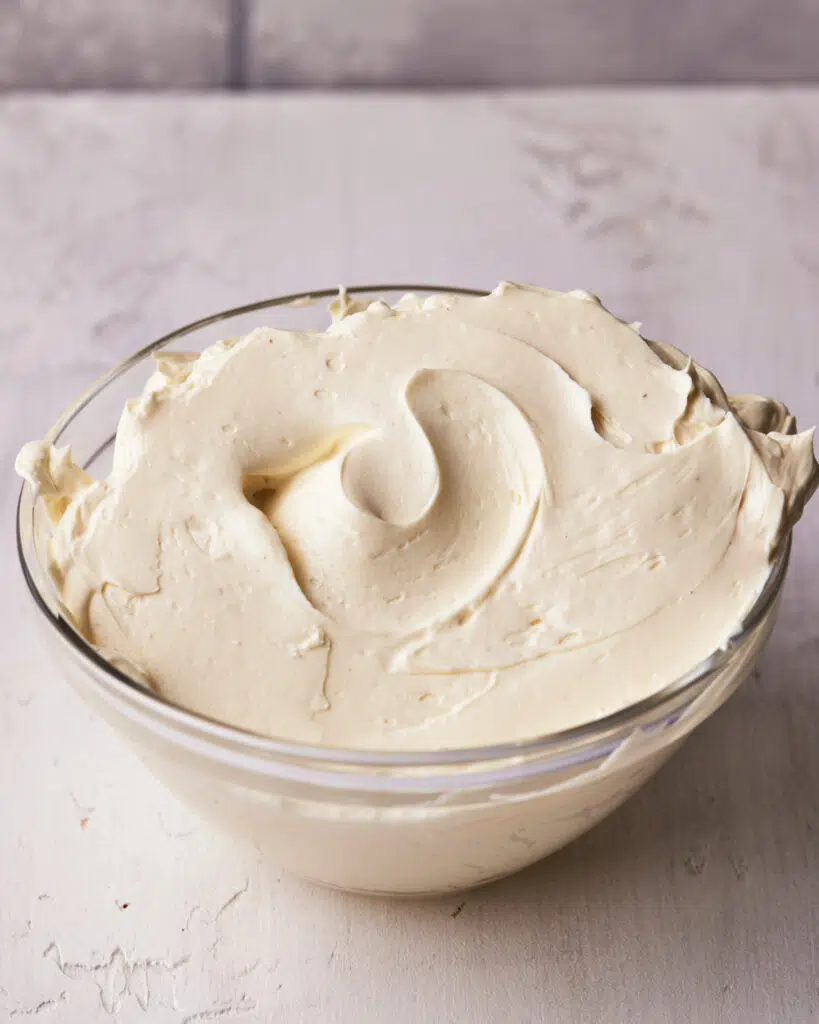 Video
Check out this video of my Coffee Cupcake recipe which features the Russian Buttercream to see how it is made and get a close-up look at how dreamy it is to pipe!

Equipment
Stand mixer with whisk attachment - You could technically use a hand mixer to make this recipe, but you'll end up with very sore arms!
How to Use
Russian buttercream is the perfect consistency for piping or for frosting cakes. You can use it to both fill and frost a cake, and it pipes really beautifully.
This recipe yields enough to frost 12 cupcakes. In order to fill and frost a 3 layer, 8 inch cake, I doubled the recipe. But for smaller cakes, one batch will do.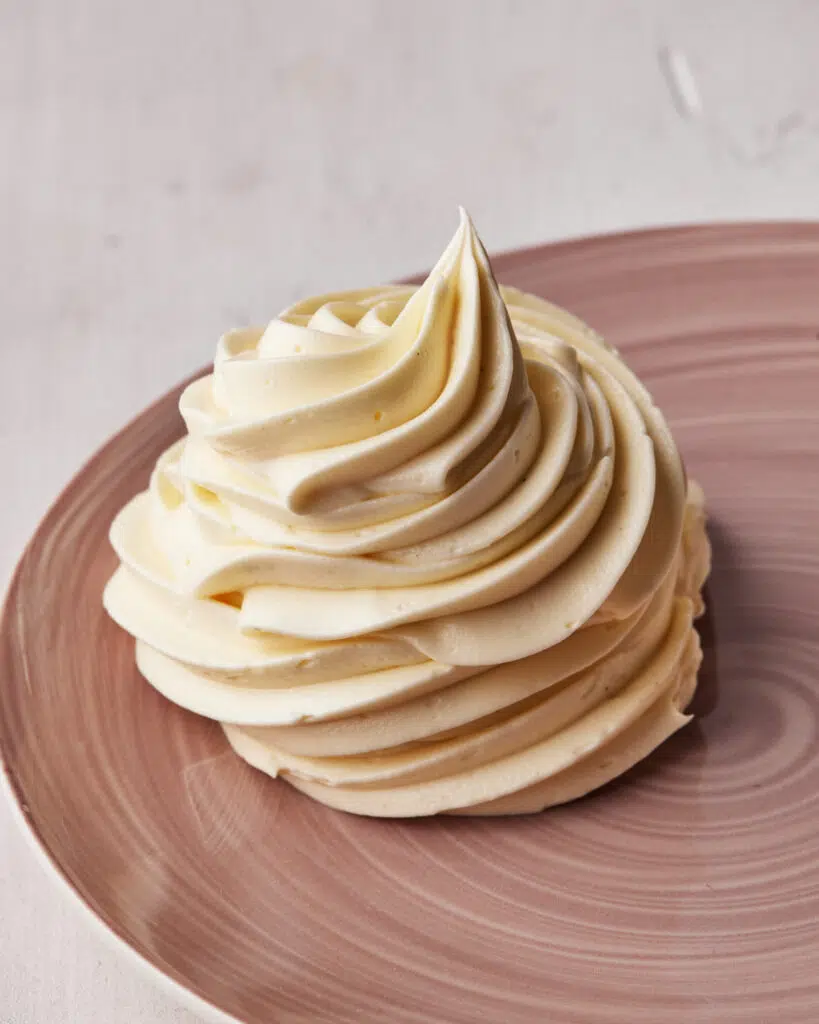 Flavor Ideas
The flavor possibilities are truly endless. I have used this recipe on so many of my bakes recently. As I. mentioned before, the flavor of classic Russian buttercream is lovely, and I have used it plain for things like my French Vanilla Cake recipe. But it flavors SO well I am using it on everything!
Raspberry - I LOVE the color that is created when you add a little raspberry coulis to Russian buttercream. And it really shows off the flavor too. Check out my raspberry cupcakes recipe to see how it looks.
Pistachio - Add a tablespoon of pistachio paste for a creamy pistachio frosting.
Coffee - Add 2 teaspoons of espresso powder dissolved in 1 tablespoon of hot water for an irresistible coffee buttercream like my Coffee Cupcakes.
Chocolate - Melt ⅓ cup of the chocolate of your choice and mix it into the frosting for a luxurious chocolate frosting.
Mango - Really any kind of fruit coulis or puree will work beautifully with this frosting, but Mango gives me such summer vibes!
Coloring
The natural color of Russian buttercream is a very pale yellow colour. It's not quite white because of the butter, but it's a very subtle, neutral color. The good news is it colors like an absolute dream!
When adding other ingredients to the frosting it typically takes on the color of the ingredients really nicely, as you can see in my Raspberry Cupcakes recipe. But you can also easily add a tiny amount of different gel food colorings to get whatever color you want.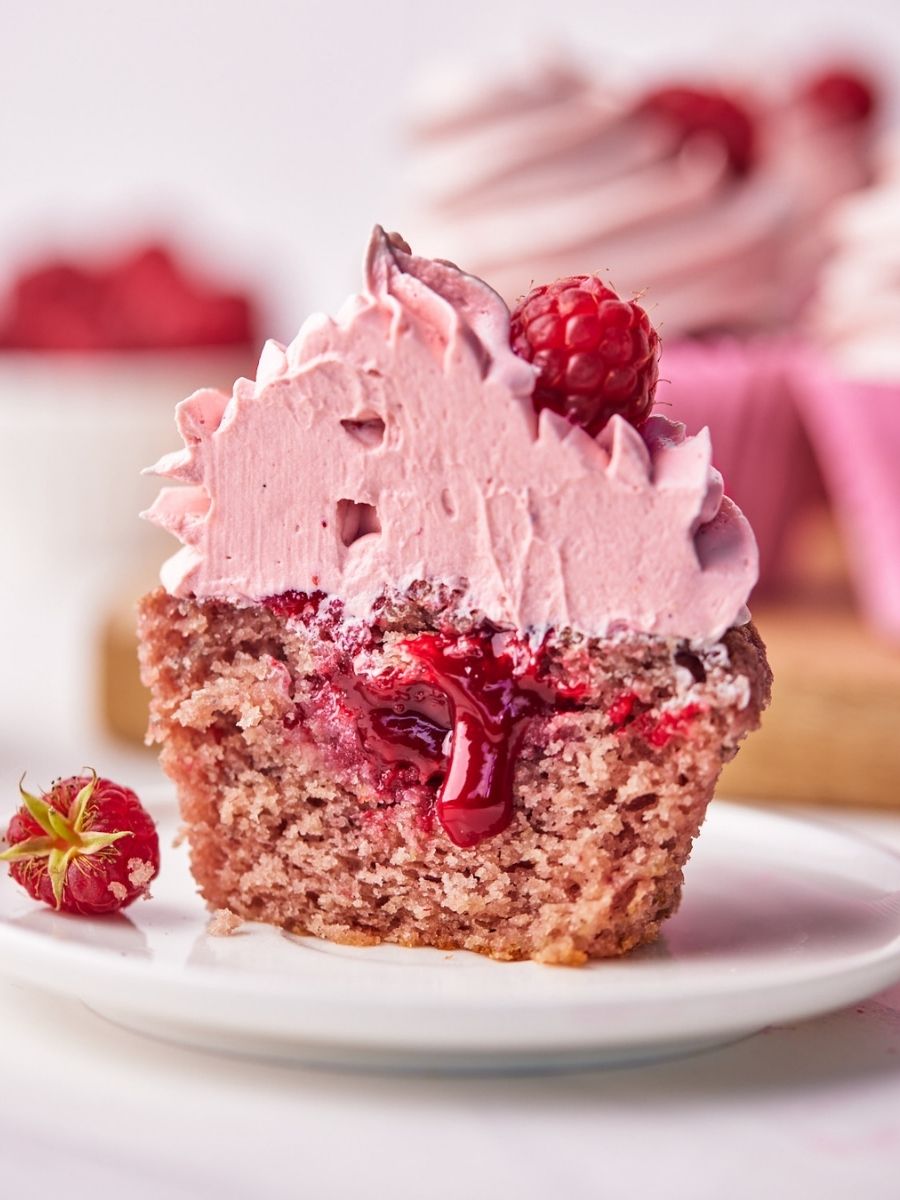 Troubleshooting
While it's a very easy recipe, there are a few things that can go wrong when making Russian buttercream. Don't panic, it's salvageable!
Buttercream has curdled or separated:
When this happens it's usually because the butter was too cold, or because the ingredients were added together too quickly. Don't worry, your buttercream is not ruined! Heat the buttercream over a double boiler to just gently warm the butter. We're not looking to melt it entirely, just warm it a little.
Whisk the whole time and you should see it start to come together. Once it comes together, put it back in the stand mixer and whip on high until it reaches the correct consistency.
If you go too far and it gets too warm, put in the fridge to chill AFTER the mixture has come together. It doesn't matter if it's cold if it has already emulsified.
Buttercream is soupy:
This means the butter was too warm. Put the whole bowl of frosting in the fridge for 15 minutes and then try again.
Storage
Store in an airtight container in the fridge. Will be good for 1 week like this. When you want to use it, let it sit on the counter to come to room temperature again, then whip it up a little just to get the lovely texture back.
Recipe
Russian Buttercream
Super easy recipe for luxurious, silky smooth buttercream.
Ingredients
2

sticks

Unsalted Butter

227g

1

can

Sweetened Condensed Milk

395g

1

teaspoon

Vanilla

½

teaspoon

Salt
Instructions
Make sure the butter is completely at room temperature before beginning.

Put the butter in a stand mixer fitted with the whisk attachment and whip on high for 5 full minutes, scraping down the sides of the bowl occasionally.

Turn the mixer down to medium speed and add ⅓ of the condensed milk and whip until totally incorporated.

1 can Sweetened Condensed Milk

Repeat until all the condensed milk is added.

Add vanilla and salt and then beat on high speed for 1 minute.

1 teaspoon Vanilla,

½ teaspoon Salt
VIDEO
Notes
It is so important that the butter is at the right temperature.  If it's too cold it won't emulsify properly, and if it's too warm the frosting will be soupy.  If this happens, don't start over - see my section in the blog post above about troubleshooting. 
FAQ
Do you taste the condensed milk in Russian Buttercream?
No. The condensed milk adds sweetness and texture to Russian buttercream but the finished frosting doesn't overly taste of condensed milk.