This is a magical 'proposal-inducing' custard cake it seems. I posted a video of Chris trying a slice of it on my instagram last week and the next morning - boom! An engagement ring.
Clearly it was the cake.
Who can blame him? Ridiculously soft and fluffy vanilla sponge layered with creamy custard buttercream and a pool of rich creme patissiere in the middle!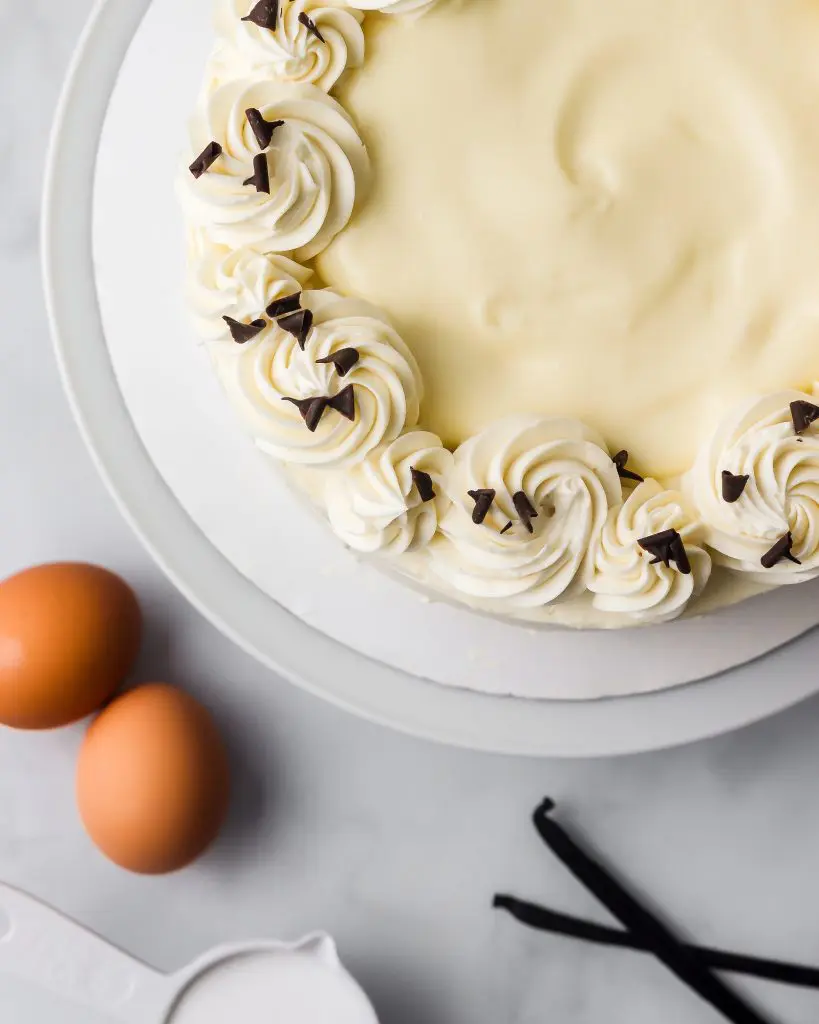 I originally made a version of this for my friend Heather's birthday the week before, but I had an absolute disaster baking day - the kind where everything that can go wrong will. I ended up making everything twice and the end result was still lackluster at best! So the following week I decided I was going to break down and analyze every single step of the recipe until it was PERFECT. I switched to a reverse creaming method to make the sponge extra light and fluffy, and I changed the frosting recipe to make it even more custardy. I think the birthday girl was pleased with her second cake for sure! And clearly so was Chris...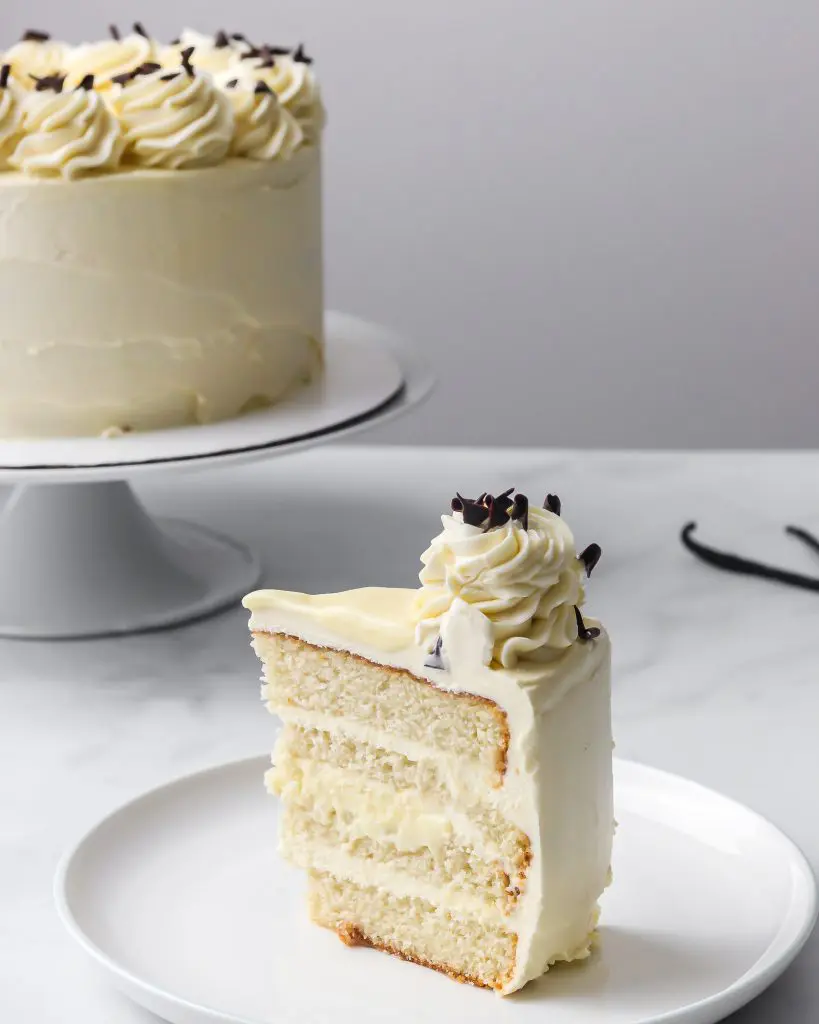 What is the Reverse Creaming Method?
The reverse creaming method basically takes everything you know about mixing cake ingredients together and flips it on its head! The result is a beautifully tender crumb which just succumbs to your fork as you go to take a bite. I knew I needed this cake to be soft as clouds so that you could really appreciate the texture of the custard inside it.
Reverse creaming involves mixing together your dry ingredients first, then slowly adding the butter into them to coat the flour in butter - this stops the gluten from forming which makes the end result beautifully soft. Then you add the wet ingredients and beat the mixture to develop a little gluten - just enough so the cake slices will have some structure! It's a totally different approach to baking but it absolutely gives the desired result!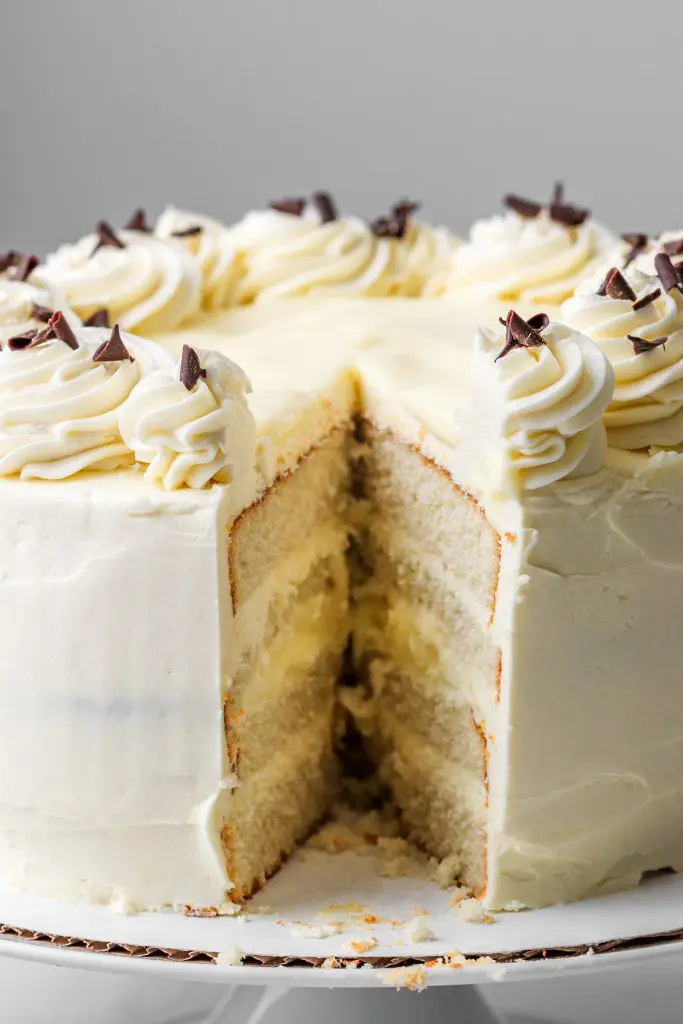 What makes this Custard Cake Custardy?
There are three main components to this custard cake: the vanilla sponge, the creme patissiere filling and the custard buttercream.
Vanilla Cake - Firstly, the sponge is flavoured with vanilla - which many people mistake as being a 'plain' flavour - but it's not! Vanilla is actually an exotic and complicated flavour profile and is the foundation for a really good custard.
Creme Patissiere - Creme patissiere or pastry cream is basically custard. But it's made properly, not out of the custard powder you can buy in a can. It is the foundation for many french pastries and can be used to fill tarts, pastries and desserts. I also use it in my Strawberry Custard Tarts, and those are ALWAYS a huge hit!
Custard Buttercream - Custard Buttercream or German Buttercream is mostly comprised of whipped butter and custard. It's a traditional frosting for many German goodies and makes for a frosting which is sweet, creamy and silky. I highly recommend it for any custard lovers (like Heather!)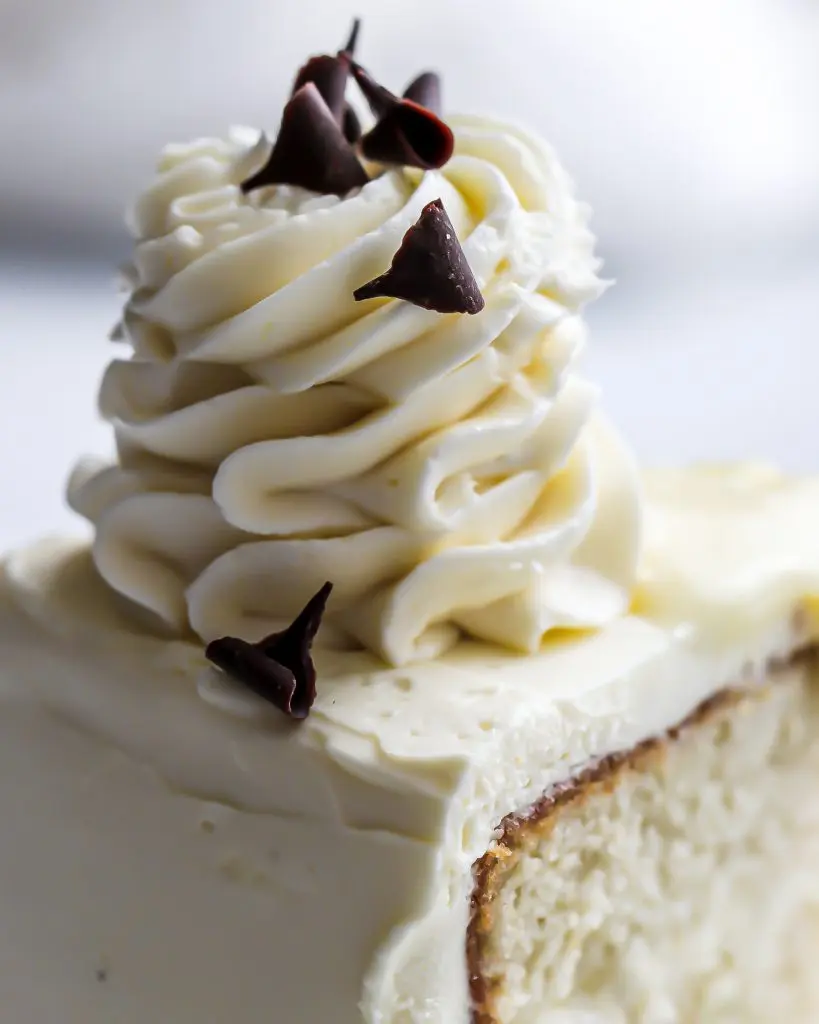 Best Ingredients for Custard Cake
While this recipe has a fairly traditional ingredients list, there are a few things to note when picking up what you need at the grocery store.
Cake Flour - The reverse creaming method works best with cake flour. That's not to say the recipe won't work with standard flour, but cake flour will result in a softer and fluffier crumb. This is because cake flour contains less protein and therefore creates a different texture when incorporated into the cake.
Whole Milk - For your custard you absolutely have to use Whole Milk. Milk is really the foundation of the whole custard and if you don't use a full fat milk you will not get that gorgeous, thick, creamy texture that makes custard custard. And you really can't have a custard cake with mediocre custard!
Vanilla - There are many recipes I post where any old vanilla extract will do, but with this custard cake the quality of the vanilla will really shine through. Get the best possible vanilla you can find, or better yet, pick up some vanilla bean pods if you can find them. A good quality vanilla will really make every component of this recipe shine.
Butter - I often use salted butter in my recipes as I like the extra kick of salt, but this is one of the few recipes where I recommend you always use unsalted. As we use butter as the base for the frosting and it's also in the creme patissiere and the cake, the salt in salted butter will really add up and can throw off you vanilla flavour. Stick with unsalted for this custard cake.
It's worth noting that as always it is crucial that your 'cold ingredients' (i.e. butter, milk, eggs) are brought to room temperature before starting this bake. There are a number of components that could curdle or go wrong easily, so make it easier on yourself and keep everything at the same temperature!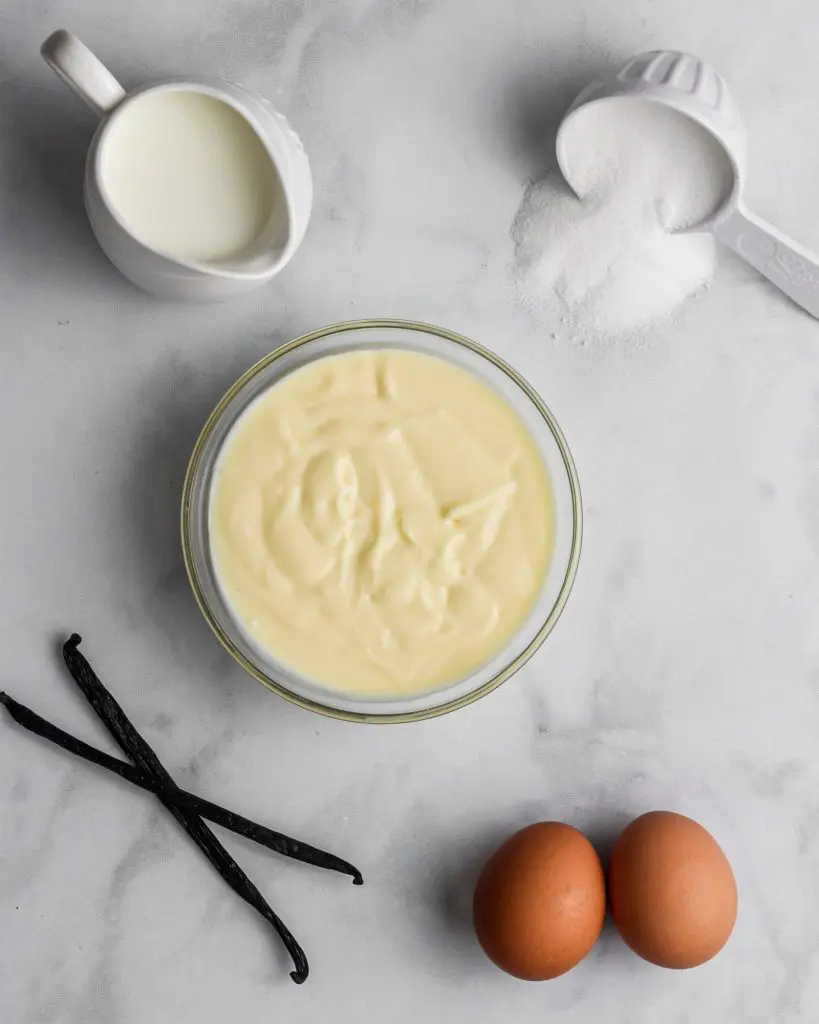 Assembling Your Custard Cake
Make sure you make the Creme Patissiere ahead of time to allow it to set. You can do it as little as two hours beforehand, but I find it is best after 24 hours to rest - this really helps to develop the vanilla flavour. Before you make the frosting, take the custard out of the fridge and let it come to room temperature - this will stop your custard buttercream from seizing.
Once your cakes are baked and cooled, level them off and cut them in half (if you want to have four thinner layers instead of two thick ones). Spread a generous amount of custard buttercream in between each layer as you stack them. In the very middle layer, I piped a ring of buttercream around the outside of the cake and then filled in a pool of custard in the middle. I then frosted the underside of the next layer with more buttercream before placing it on top - this stops the cake from sliding around on the custard. You could put custard in between every layer if you wanted to - but I found this gave a nice differentiation between the custard and the custard buttercream.
Once assembled, I crumb coated with custard buttercream and chilled for 15 minutes before putting on my final layer of frosting. I piped swirls around the top of the cake in a circle, being sure not to leave any gaps, and then I poured another pool of custard on top of the cake inside the ring of swirls. I finished it off with some chocolate curls and voila! The most custardy custard cake you ever did eat!
Recipe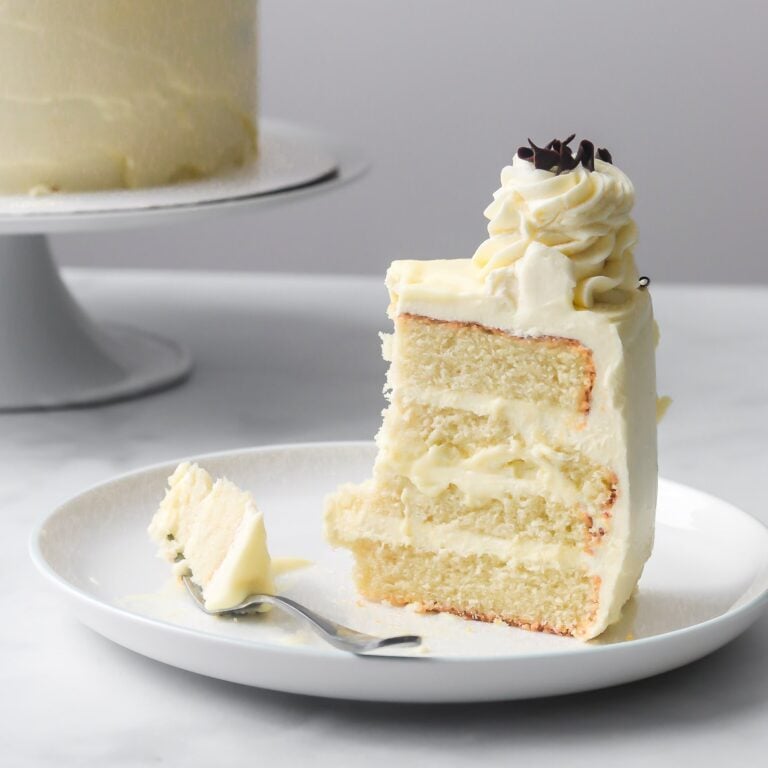 Vanilla Custard Cake
Soft and fluffy vanilla cake sandwiched with custard buttercream and creme patissier
Ingredients
1.25

cup

Whole Milk

295g

⅓

cup

Vegetable Oil

72g

3

Eggs

2.5

cups

Cake Flour

312g

1 ¾

cups

White Sugar

350g

1.5

tablespoon

Baking Powder

½

teaspoon

Salt

1

tablespoon

Vanilla Extract

2

sticks

Butter

227g
For the Custard Buttercream
Instructions
Make the pastry cream 2 - 24 hours ahead of time, make double of this recipe. *See Notes*
Make the Vanilla Cake
Let butter, milk and eggs come to room temperature before beginning

Preheat oven to 335°F/170°C and grease your cake pans

Split the milk into two containers, one with ½ cup of milk (118g) and one with ¾ cup of milk (177g)

Mix the ½ cup of milk with the vegetable oil and set aside

Mix the remaining milk with the eggs and vanilla. Whisk together lightly and set aside

3 Eggs,

1 tablespoon Vanilla Extract

Place the flour, sugar, baking powder and salt into the bowl of your mixer and turn on low with your paddle attachment

2.5 cups Cake Flour,

1 ¾ cups White Sugar,

1.5 tablespoon Baking Powder,

½ teaspoon Salt

Slowly add the butter, one small chunk at a time. Once it's all in it should look kind of like chunky breadcrumbs

Add the milk/oil mixture and slowly turn your mixer up to a medium speed. Beat for exactly two minutes

Scrape the sides of your bowl to make sure there are no lumps, then turn the. mixer back on low

Add the milk/egg mixture slowly and mix on low until just combined

Divide into cake pans and bake for 30-40 minutes - check to see if a toothpick comes out clean before removing from the oven
Make the Custard Buttercream
Before you start, split the two batches of pastry cream in half and let one come to room temperature - so you should have one batch in the fridge and one batch on the counter. At the same time, bring your butter to room temperature

Once it's at room temperature, you can start making the frosting. Place all the butter in your stand mixer and beat with a whisk attachment on high until pale and fluffy (about three minutes)

Add the pastry cream one tablespoon at a time until it is all added

2 batches Creme Patissiere (vanilla pastry cream)

Add the vanilla and mix in

1 tablespoon Vanilla Extract

At this stage, taste test the buttercream to see how much sweetness you would like to add. Add the icing sugar a little at a time, whipping after every addition, until the desired sweetness is reached

The custard buttercream should be lovely and silky smooth - if it curdles it's usually just a sign that the ingredients were not the same temperature. If this happens, just take the bowl and very gently heat the bottom of it over a bain marie and whisk until it comes together again (shouldn't take long), then return to the stand mixer and it should be beautifully silky again!
Assemble the Cake
Once completely cooled, cut each of the cakes in half so you should have four thing cake layers. I use this cake leveler, but you can also use a serrated knife

Start building your layers, first with cake, then a layer of custard buttercream, smoothing it out as you go. Add your second layer of cake on top and put on a slightly thinner layer of custard buttercream

On top of the thinner layer of custard buttercream, pipe a border of buttercream around the outside of the middle layer, and fill the middle with a pool of the cold custard you reserved in the fridge. Add the next layer of cake on top

Add another generous layer of buttercream, followed by your final layer and then decorate the cake however you like!

To get your cake looking just like mine, smooth the buttercream all over, then pipe some buttercream rosettes around the outside of the top of the cake, then use leftover custard to make another pool of custard on the top (like the middle layer)
Notes
*Making the custard ahead of time.  The recipe states to double the pastry cream (custard) recipe.  One batch is to make the custard buttercream and one is to go inside and on top of the cake. If you don't want extra custard inside and on top of the cake, you can just make a single batch of custard instead.
For the butter, I find the perfect temperature is reached by taking the butter out of the fridge about 1 hour before you need to use it - this way it is room temperature but it's not too soft. 
Nutrition
Calories:
500
kcal
Carbohydrates:
40
g
Protein:
4
g
Fat:
36
g
Saturated Fat:
22
g
Polyunsaturated Fat:
2
g
Monounsaturated Fat:
9
g
Trans Fat:
1
g
Cholesterol:
124
mg
Sodium:
306
mg
Potassium:
74
mg
Fiber:
1
g
Sugar:
26
g
Vitamin A:
1138
IU
Calcium:
108
mg
Iron:
1
mg