Recipe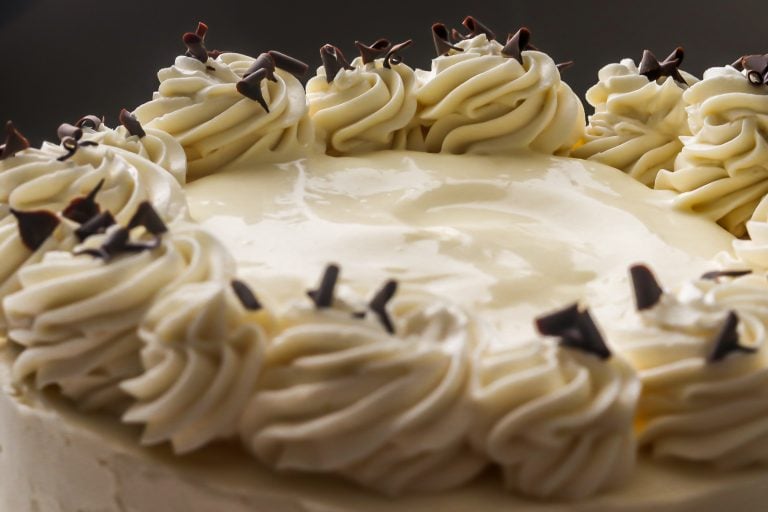 German Buttercream (Custard Buttercream)
Delicious pastry cream whipped into a frosting to make this silky smooth custard buttercream
Ingredients
2 ½

cups

Whole Milk

½

cup

White Sugar

5

Egg Yolks

2

teaspoon

Vanilla Extract

3

tablespoon

Corn starch

1 ½

tablespoon

All-purpose Flour

4

sticks

Unsalted Butter

⅓

cup

Icing Sugar

2

teaspoon

Vanilla Extract
Instructions
Make the Pastry Cream (Custard)
Take two tablespoons of sugar and put into a bowl along with the egg yolks, flour and cornflour – whisk to combine

Put the remaining sugar into a suacepan with the milk and vanilla, slowly warm over a medium-low heat

When it begins to get warm, drizzle a small amount of warm milk into the egg yolk mixture and whisk, then add a little more, repeat until everything is together in the bowl, then pour the whole mixture back into the saucepan. It's important to do this slowly and gradually so you don't scramble the eggs

Keep heating the mixture, whisking constantly until it begins to boil. Boil for one minute or until you see thick bubbles bursting on the surface. Remove from the heat

Pass the pastry cream through a sieve into a bowl to make sure there are no lumps. Set aside to cool
Make the Custard Buttercream
Once the pastry cream has completely cooled, place all the butter in your stand mixer and beat with a whisk attachment on high until pale and fluffy (about three minutes)

Add the pastry cream one tablespoon at a time until it is all added

Add the vanilla and mix in

At this stage, taste test the buttercream to see how much sweetness you would like to add. Add the icing sugar a little at a time, whipping after every addition, until the desired sweetness is reached

The custard buttercream should be lovely and silky smooth – if it curdles it's usually just a sign that the ingredients were not the same temperature. If this happens, just take the bowl and very gently heat the bottom of it over a bain-marie and whisk until it comes together again (shouldn't take long), then return to the stand mixer and it should be beautifully silky again!