This German Chocolate Frosting is sweet and packed with delicious coconut and toasted pecans. Use it with cakes, cupcakes, or pies for a decadent dessert.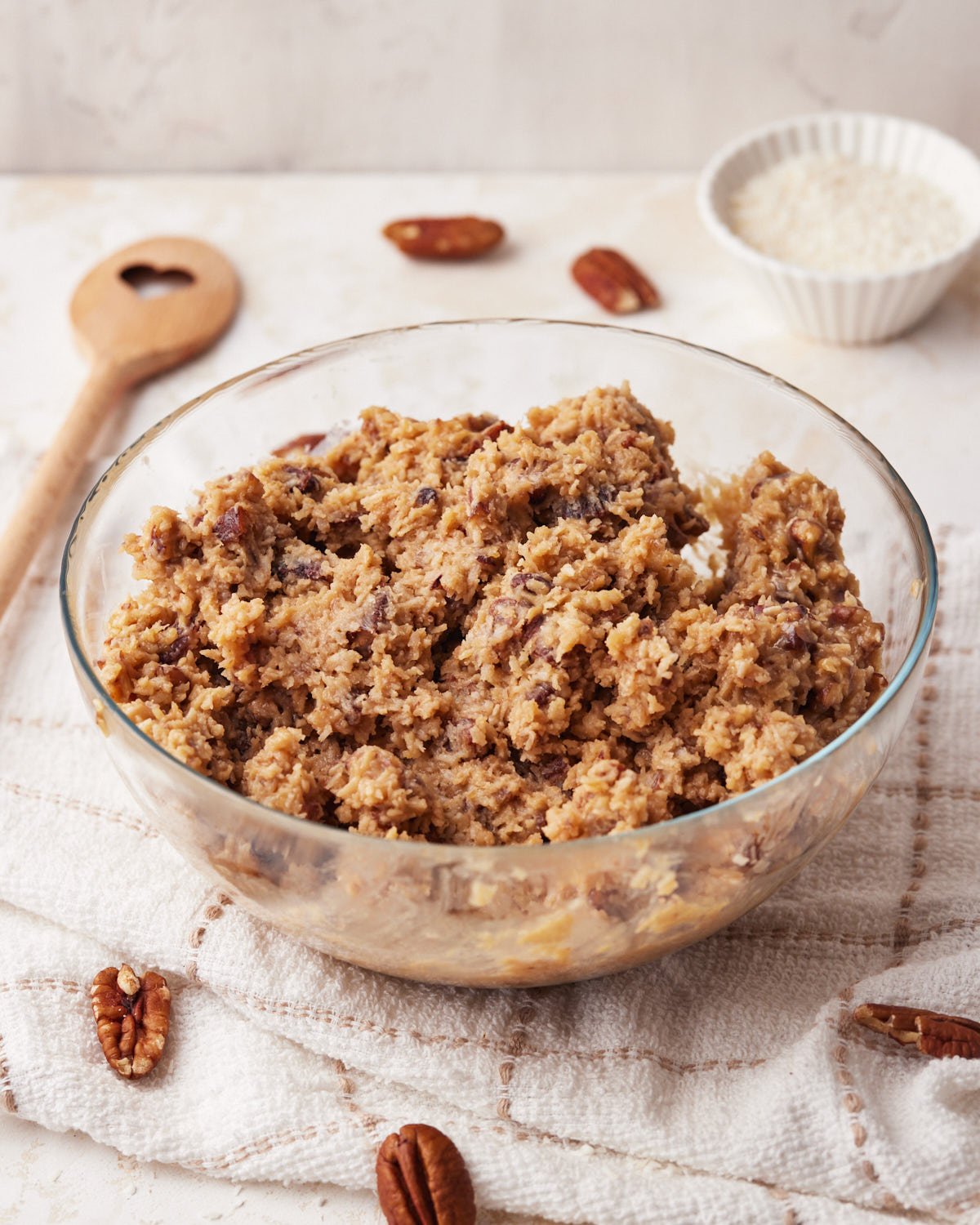 German Chocolate Cake is an indulgent dessert - traditionally it's a classic German chocolate cake with thick, creamy coconut pecan frosting in between the cake layers. The filling is so delicious though that I don't stop at just regular chocolate cake - I've used it on chocolate cupcakes as well as to make a German Chocolate Pie.
The homemade German Chocolate Frosting recipe is a great standalone recipe that can be used in a number of creative (and tasty) ways. So I think it deserves a recipe post all to itself.

Coconut and pecans are a winning combination, I love using them together in things like my Coconut Pecan Cookies. But this creamy German chocolate cake frosting is one you'll want to come back to time and time again - for various German chocolate desserts!
Jump to: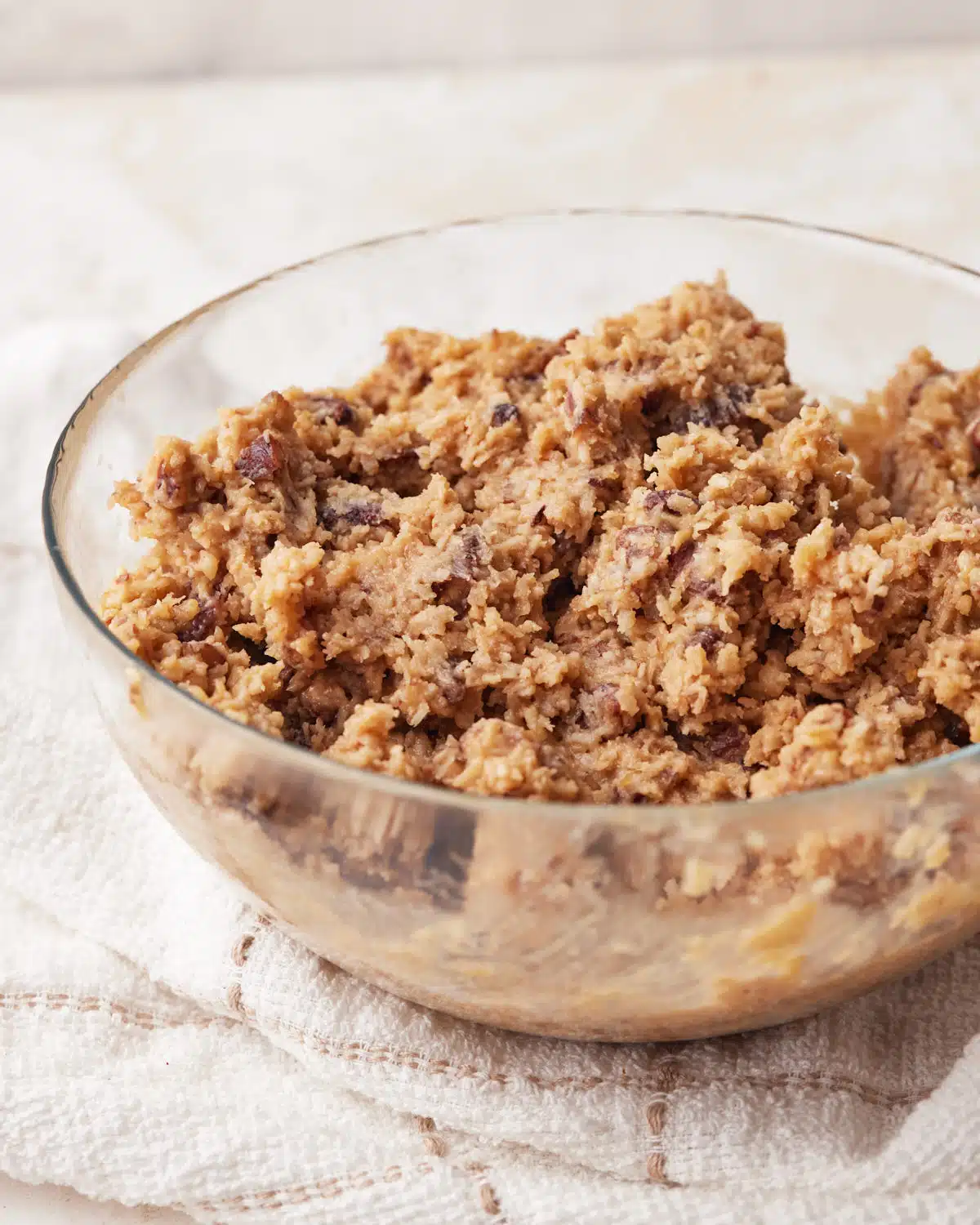 Why You'll Love This Recipe
This is the best coconut pecan filling you will try - so full of flavor and delicious nutty aromas.
The recipe is super easy and comes together quickly. It can be made ahead of time too.
It's so versatile, whether you're making a homemade German chocolate cake or experimenting with other desserts, this frosting will shine.
Ingredients
This easy recipe only has a few basic ingredients that come together into the most delicious frosting.
Evaporated Milk - You'll find cans of evaporated milk usually in the baking or coffee aisle of the grocery store. Do not confuse it with condensed milk which is a thicker, sweeter product.
Butter - Unsalted butter is best as we will add some salt.
Egg Yolks - We only need the egg yolks for this recipe so save the egg whites for something else. Use large eggs and always free-range if you can.
Light Brown Sugar - Using light brown sugar will help to create a lovely caramel flavor in the frosting.
Coconut - Look for unsweetened desiccated coconut (shredded coconut), you can choose different sizes of coconut flakes depending on how chunky you'd like your frosting to be - this is purely down to preference.
Pecans - You can have coconut pecan filling without pecans! We will be toasting these to bring out the nutty flavor.
Salt - A pinch of salt will help to balance out some of the sweetness.
Vanilla - You can use vanilla extract or vanilla. bean paste - this will add a nice flavor base for the pecan coconut frosting.
See recipe card for quantities.
Instructions
Step 1: Line a baking sheet with parchment paper and spread the pecans out in an even layer. Toast them in the oven at 350°F / 180°C for 8 minutes, or until they start to darken slightly and you can smell a delicious nutty aroma filling your kitchen.

Take the pecans out of the oven and let them cool slightly before roughly chopping them. Set aside until needed.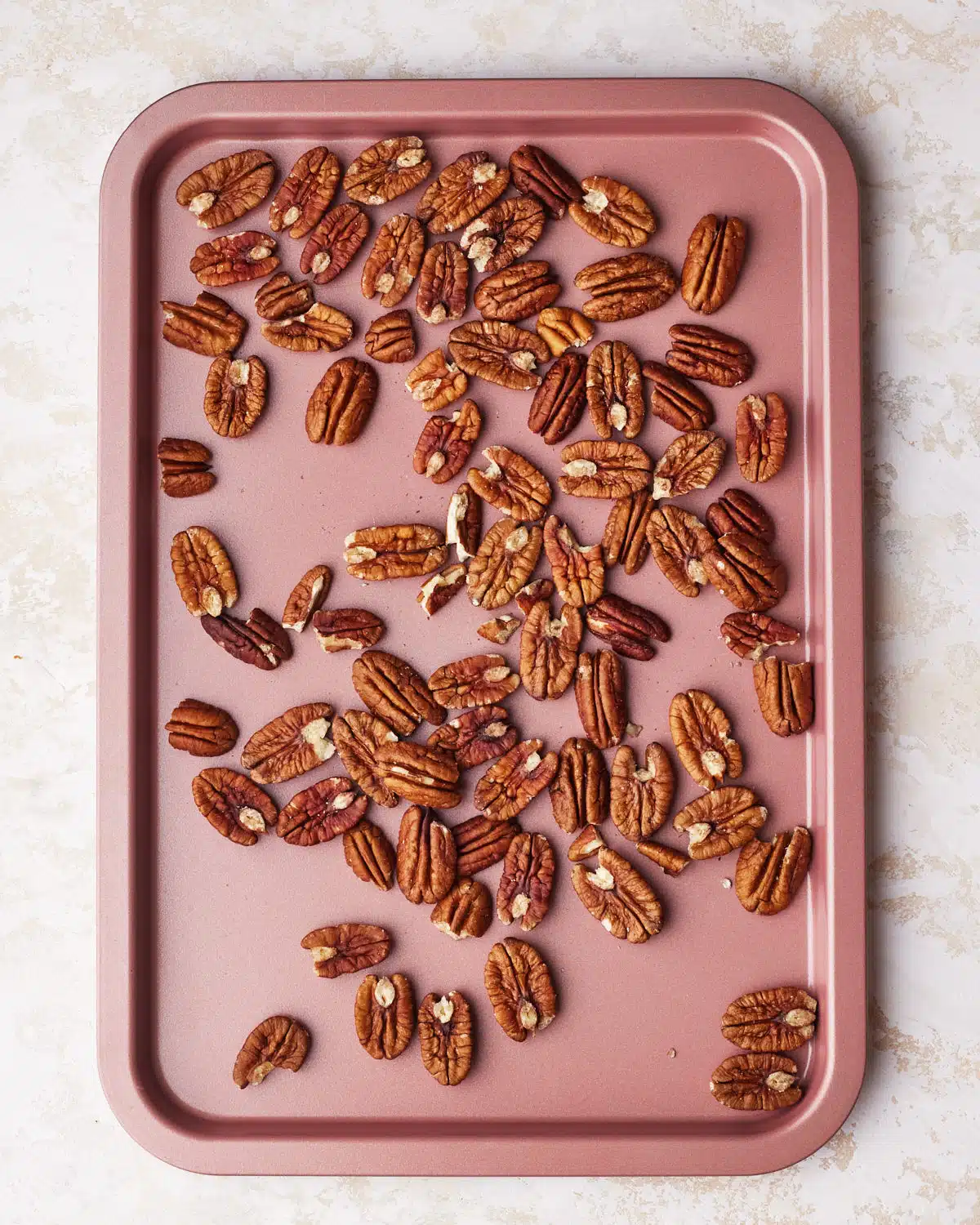 Toast the pecans until fragrant.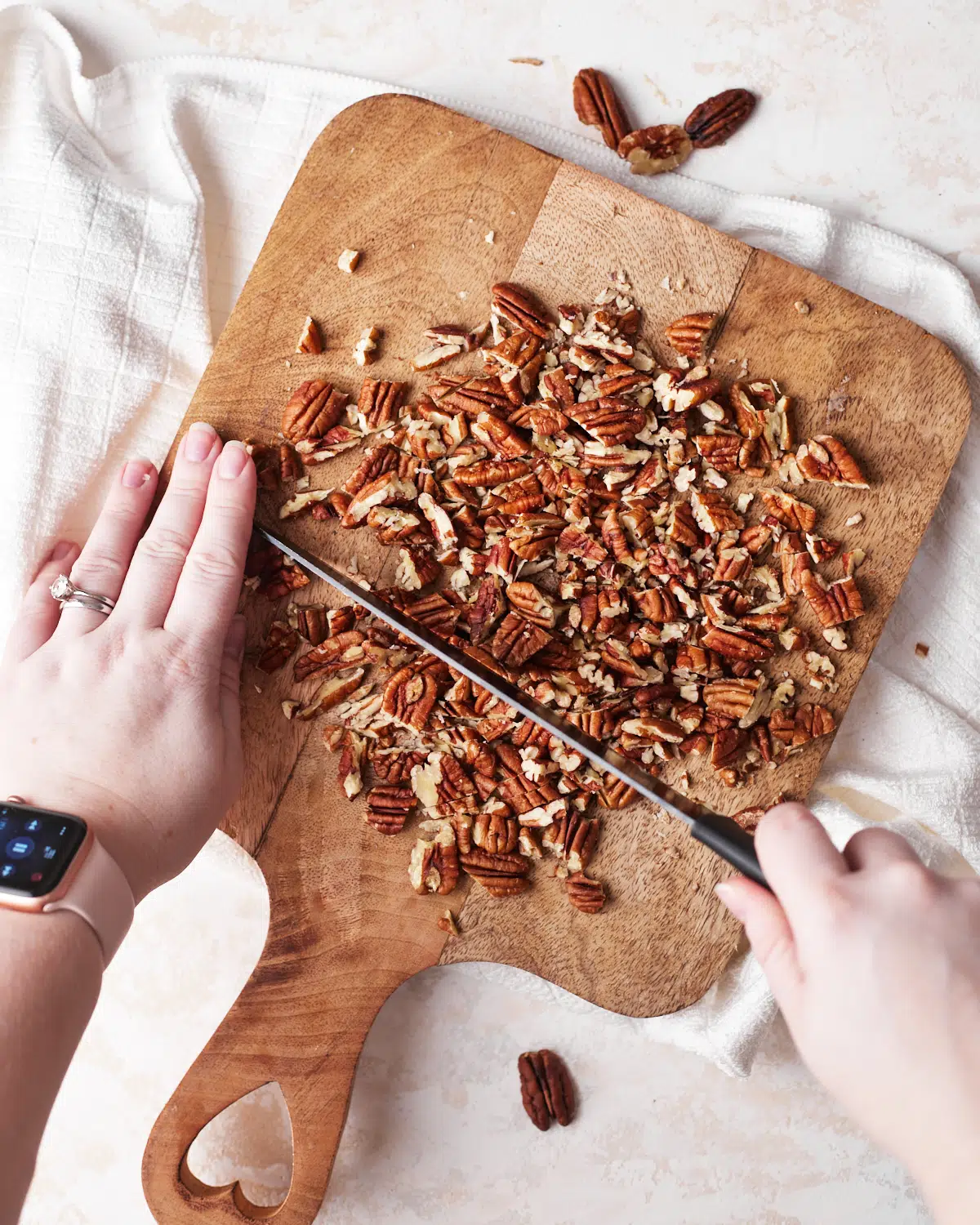 Chop the pecans roughly.
Step 2: Whisk together the egg yolks and evaporated milk. You don't want to add any air here, you just want to break up the eggs so there are no little specs of egg in there as these could scramble when put on the heat, and nobody wants scrambled egg in their frosting!
Step 3: In a medium saucepan combine the evaporated milk and egg mixture with the other butter, light brown sugar, vanilla, and salt. Heat on the stove top over medium heat, stirring gently until the ingredients are all melted and combined.

Keep heating, stirring constantly, until the wet ingredients thicken a little bit and start to come to a low boil. Let it boil for 30 seconds - It should be a lovely light caramel color and slightly thicker than when you started.
Heat all the wet ingredients in a pan. (Don't forget to beat the eggs into the milk first though!)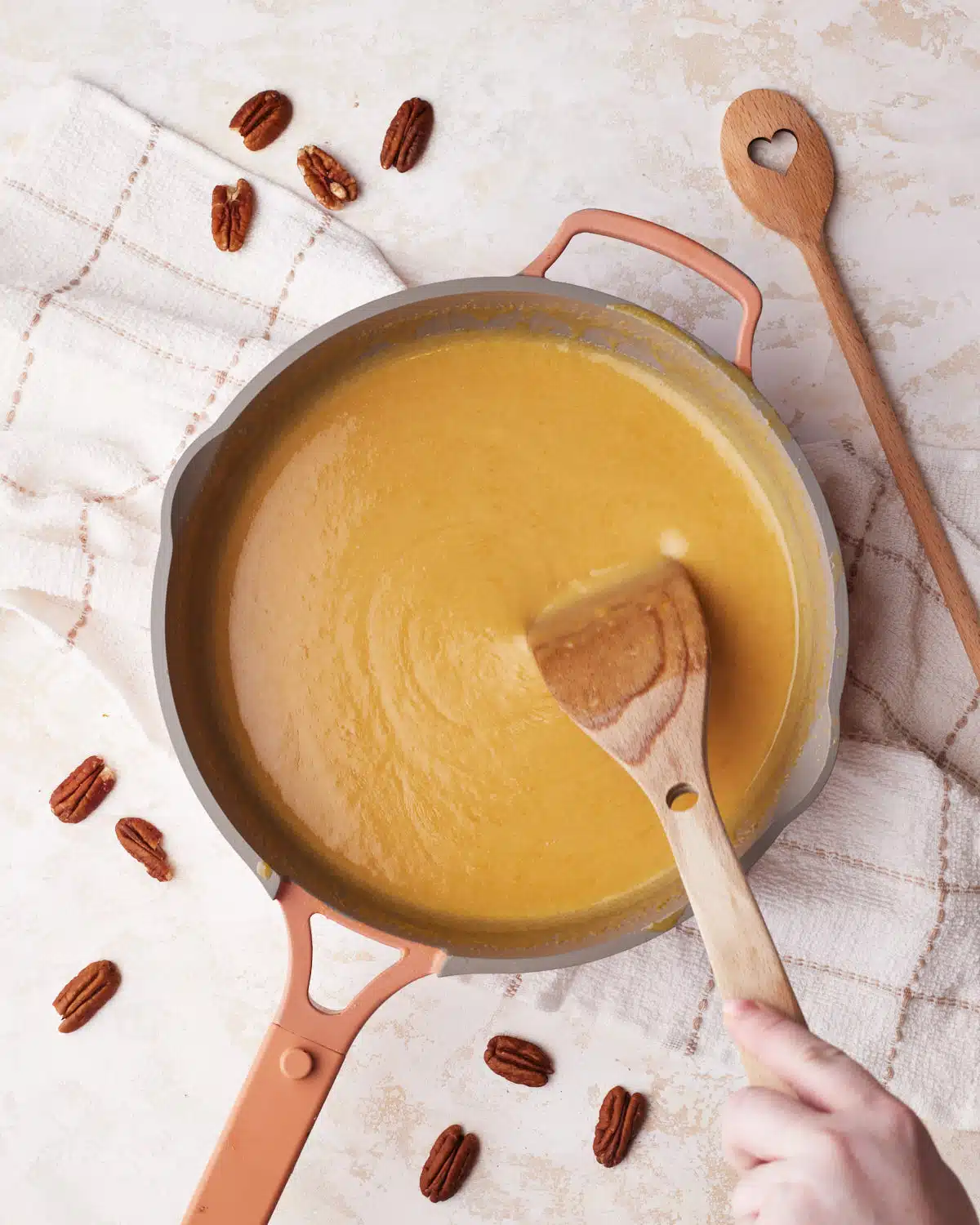 The mixture will thicken and turn a golden caramel color.
Step 4: Remove from the heat and add in the dry ingredients - the chopped pecans and coconut. Mix everything together until evenly dispersed. Let the German chocolate frosting cool to room temperature before using it. It will thicken as it cools and become a spreadable, scoopable consistency.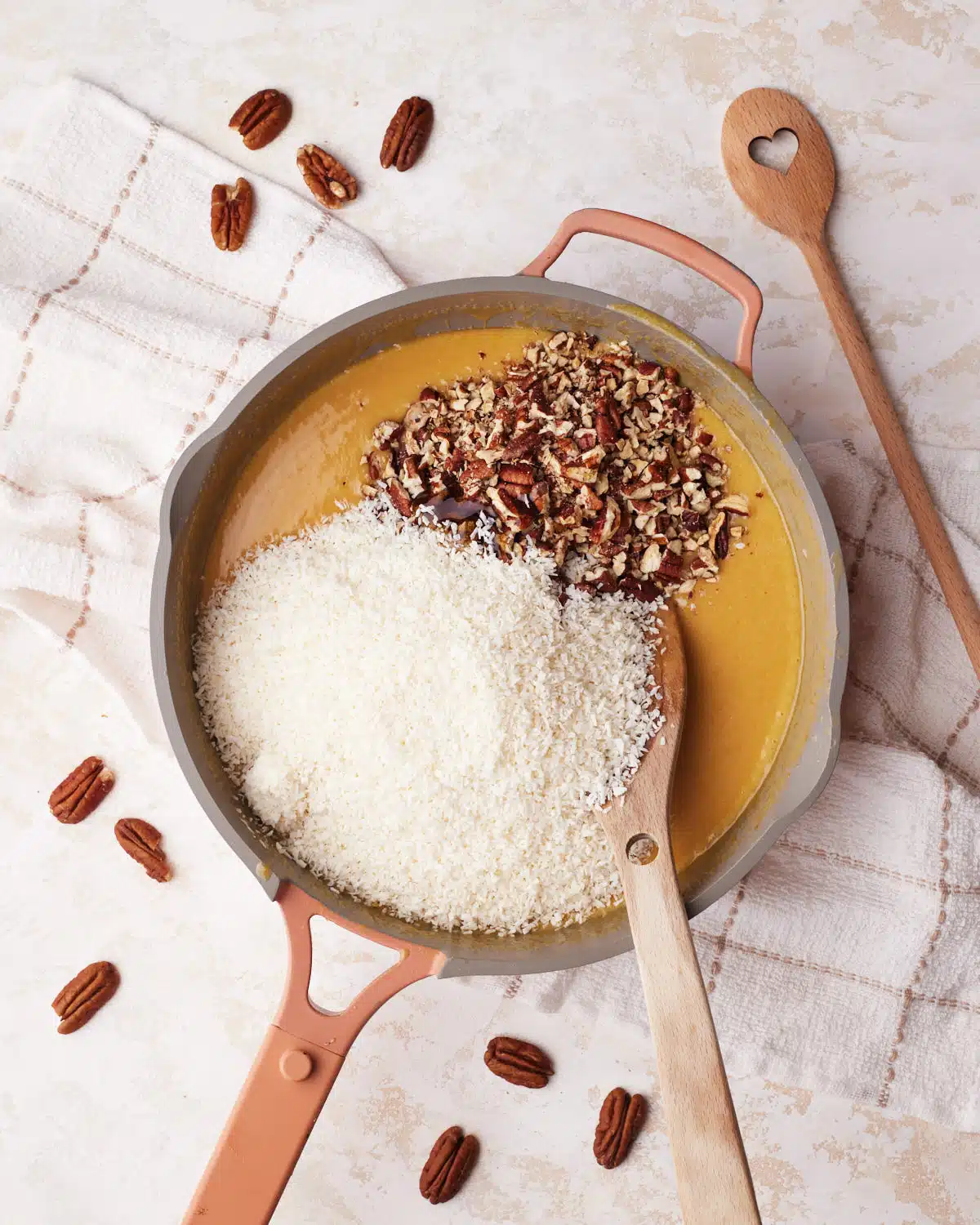 Add the coconut and chopped pecans.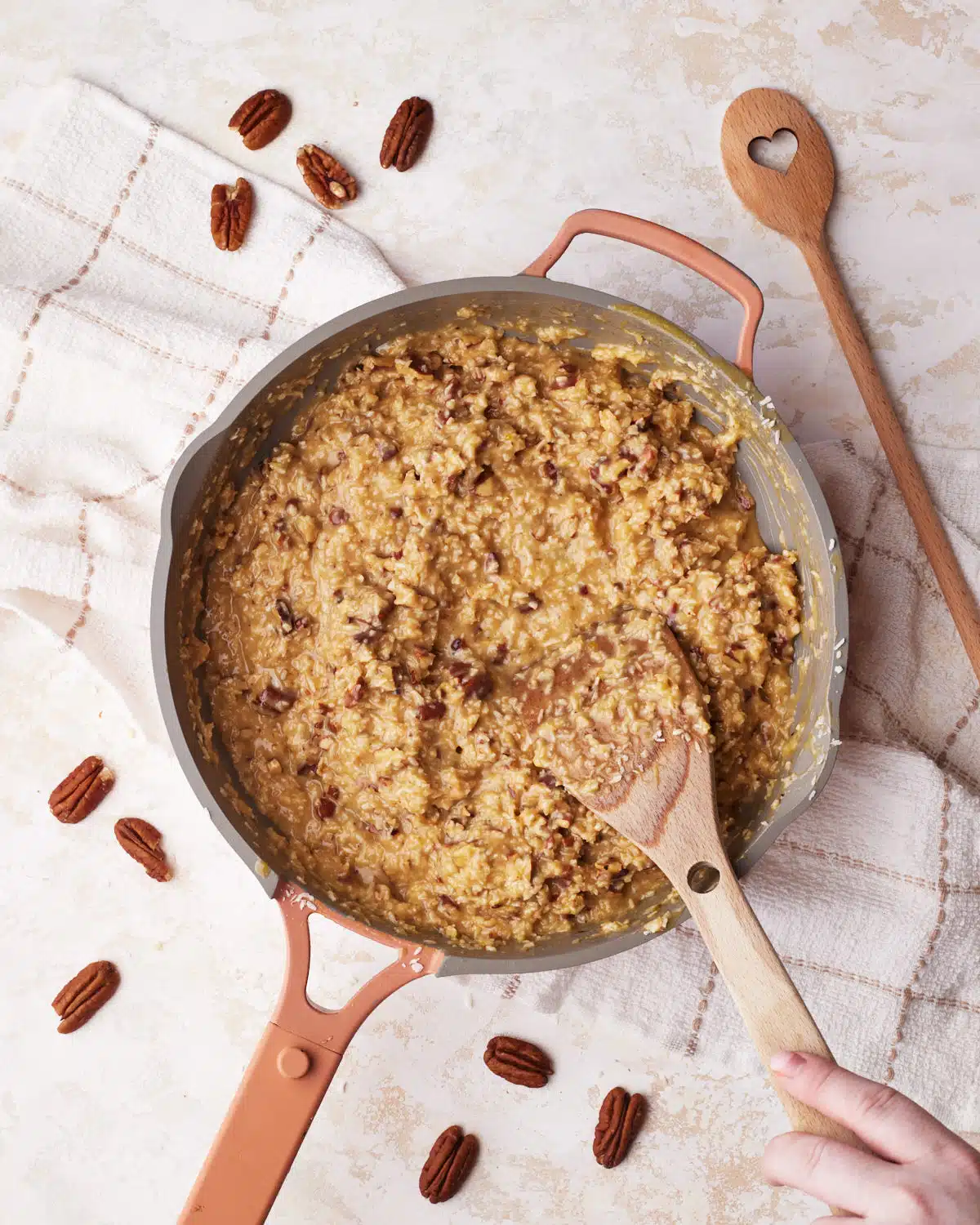 Mix everything until well combined.
How to use German Chocolate Frosting
This coconut pecan frosting is so versatile you can use it in a lot of different ways.
Classic Cake - The classic German chocolate cake recipe involves a classic chocolate cake with this frosting as the filling and topping. You probably wouldn't try to frost the entire cake with this as it won't attach very well to the sides of the cake. But this filling will give you the best German chocolate cake, just spread it onto your cake layers with an offset spatula.
Sheet Cake - If you don't want to faff around with cake pans, you could also just make a fudgy chocolate cake recipe in a sheet pan and spread the German chocolate frosting on top.
Cupcakes - Try making German Chocolate Cupcakes instead. Just bake the chocolate cake batter in cupcake liners and scoop or spread the coconut pecan frosting in mounds on top. I have a recipe for German Chocolate Cupcakes here.
Dessert Topping - Use the frosting to top other desserts such as this German Chocolate Pie.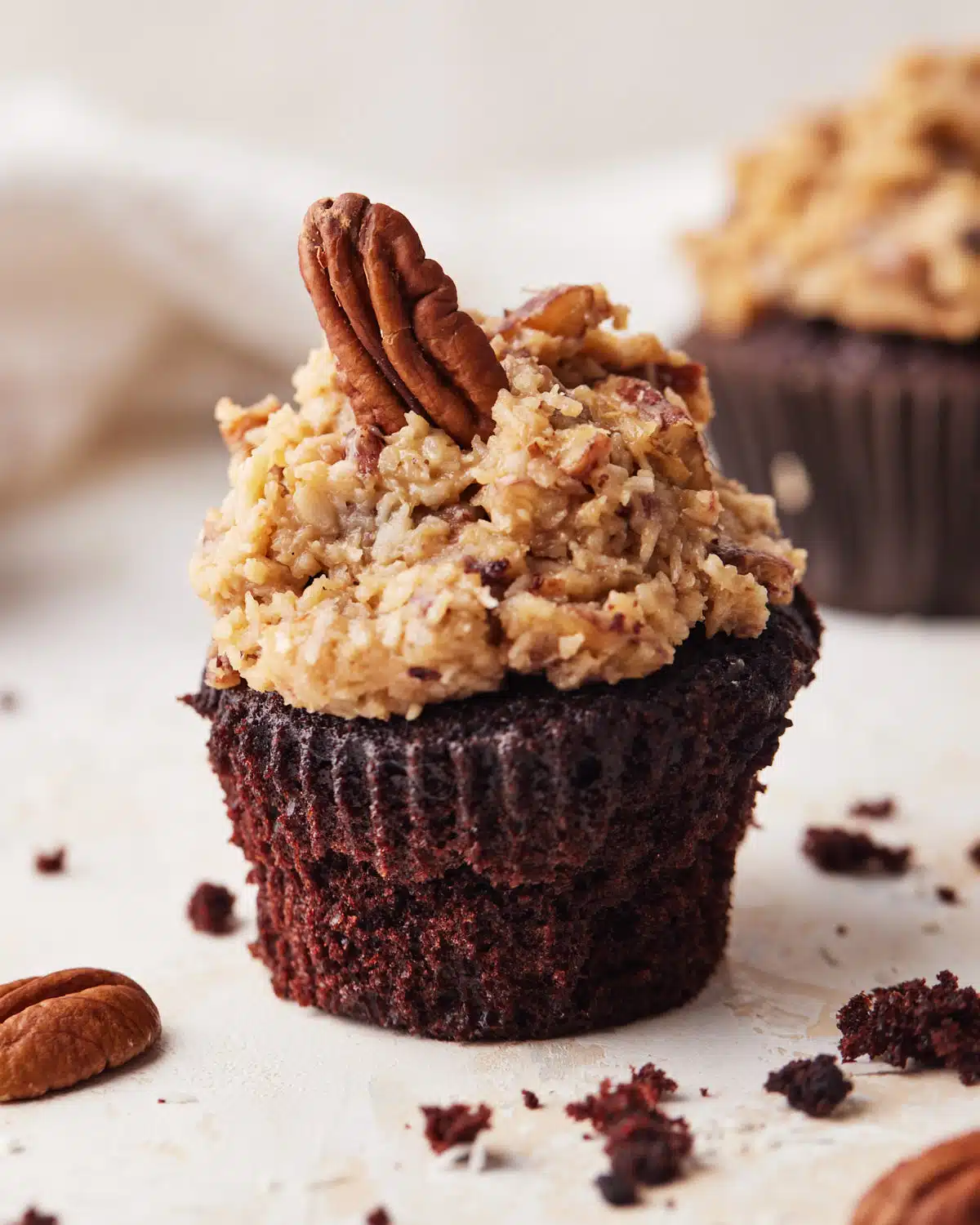 Why is it Called German Chocolate Frosting?
Contrary to popular belief, German Chocolate Cake is actually not a German recipe. In fact, it's an American recipe developed in the southern states. It gets its name because the original recipe uses a special kind of sweet chocolate in the cake, invented by someone called Samuel German.

The frosting itself doesn't have any chocolate in it at all, but because it is derived from this cake, the wonderful coconut-pecan combination keeps the name of German chocolate frosting.
Equipment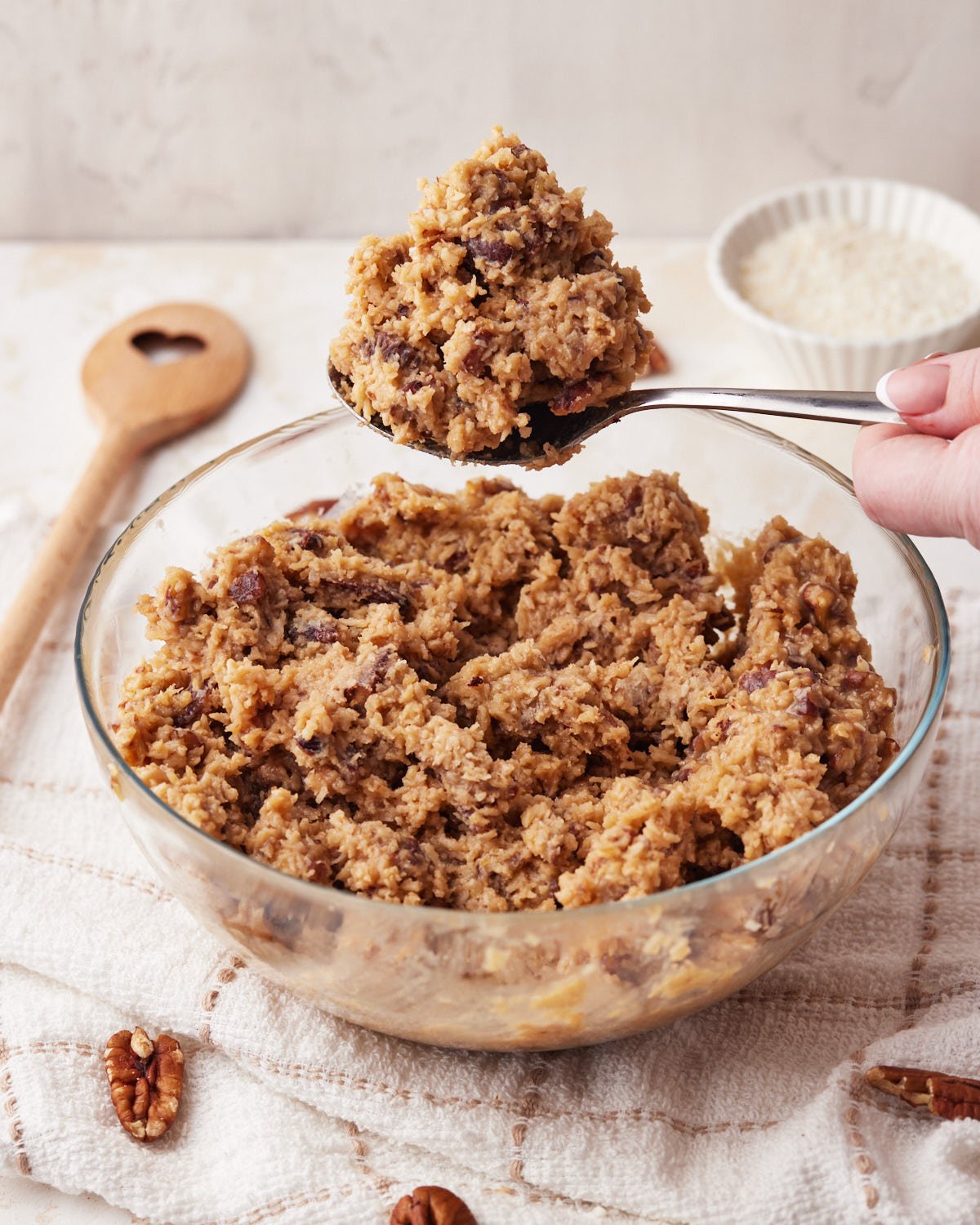 Storage
You can make this homemade frosting ahead of time. Store it in a large bowl covered with plastic wrap and keep it in the fridge until you need to use it. When you are ready to use, remove it from the fridge about an hour beforehand to let it come to room temp again, otherwise, it may be too difficult to handle and spread. The frosting will be good in the fridge for up to 5 days.
The same storage rules apply once it is on a cake or dessert - store it in the fridge, preferably in an airtight container.
Related
Looking for other recipes like this? Try these:
Recipe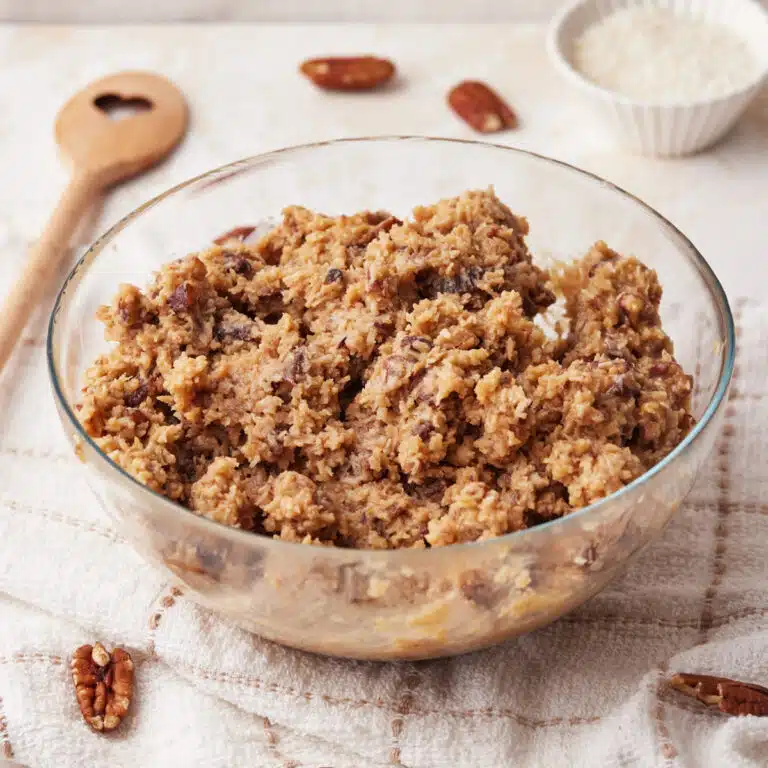 German Chocolate Cake Frosting - Coconut Pecan
Deliciously decadent German Chocolate Frosting with Coconut and Pecans.
Equipment
1 Large saucepan

Baking Sheet
Ingredients
1

can

Evaporated Milk

12oz / 355ml

1 ½

sticks

Unsalted Butter

170g

3

Egg Yolks

1 ¼

cups

Light Brown Sugar

275g

¼

teaspoon

Salt

2 ⅔

cup

Dessicated Coconut

200g

2

cups

Pecans

250g

1

teaspoon

Vanilla
Instructions
Put the pecans on a baking sheet and bake at 350°F for 8 minutes. Let them cool slightly and then chop roughly. Set aside.

Whisk together the egg yolks and evaporated milk, then pour into a large saucepan and add the butter, brown sugar, salt and vanilla. Heat over medium heat, whisking slowly just to keep the mixture moving.

1 can Evaporated Milk,

1 ½ sticks Unsalted Butter,

3 Egg Yolks,

1 ¼ cups Light Brown Sugar,

¼ teaspoon Salt,

1 teaspoon Vanilla

Heat the mixture until it thickens and begins to boil. Once it starts boiling keep mixing for about 30 seconds, then turn off the heat and add in the coconut and chopped pecans. Mix them in until evenly dispersed.

2 ⅔ cup Dessicated Coconut,

2 cups Pecans

Let the German chocolate frosting cool completely before using it.
Notes
The frosting will thicken as it cools, making it easy to spread or scoop onto cakes or cupcakes. 
Make sure you whisk the eggs into the evaporated milk to break them up completely before applying to the heat as any little pieces of unmixed egg may scramble. 
Nutrition
Calories:
715
kcal
Carbohydrates:
56
g
Protein:
9
g
Fat:
54
g
Saturated Fat:
20
g
Polyunsaturated Fat:
9
g
Monounsaturated Fat:
22
g
Trans Fat:
1
g
Cholesterol:
175
mg
Sodium:
180
mg
Potassium:
393
mg
Fiber:
3
g
Sugar:
52
g
Vitamin A:
995
IU
Vitamin C:
1
mg
Calcium:
234
mg
Iron:
2
mg