I love when a recipe can double as a dessert or breakfast, and these Mini Blueberry Bundt Cakes are perfect for either! The blueberry bundts are made with greek yoghurt which makes them tangy and tender, gives them a healthier twist and totally qualifies them as breakfast! They are great on their own or with a sweet blueberry glaze. The bundt cakes soak up the glaze so well and it all just melts into delicious blueberry goodness!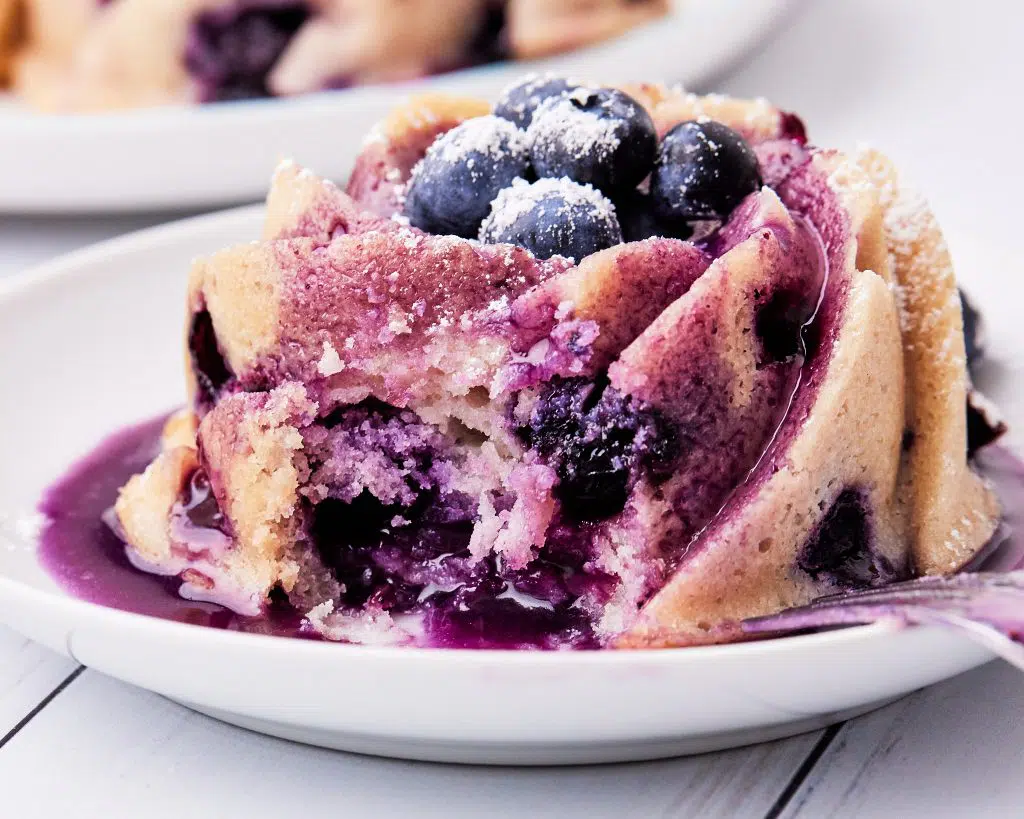 When to serve Mini Blueberry Bundt Cakes
I mean, is there a wrong time to serve blueberry bundts? I think not! But these would work especially well for a brunch or breakfast where you want to impress, or as a light dessert at a dinner party. One of the main ingredients is greek yoghurt, which gives these cute little cakes their tender crumb. And yoghurt and blueberries is a classic breakfast option!
Though the blueberry bundt cakes may look large, they are fairly light and not too filling. The freshness of the blueberries makes them very easy to eat too!
If serving for dessert I highly recommend the blueberry glaze. They would also go wonderfully with some whipped cream. For something less sweet, some fresh blueberries and a dusting of icing sugar will also do the trick!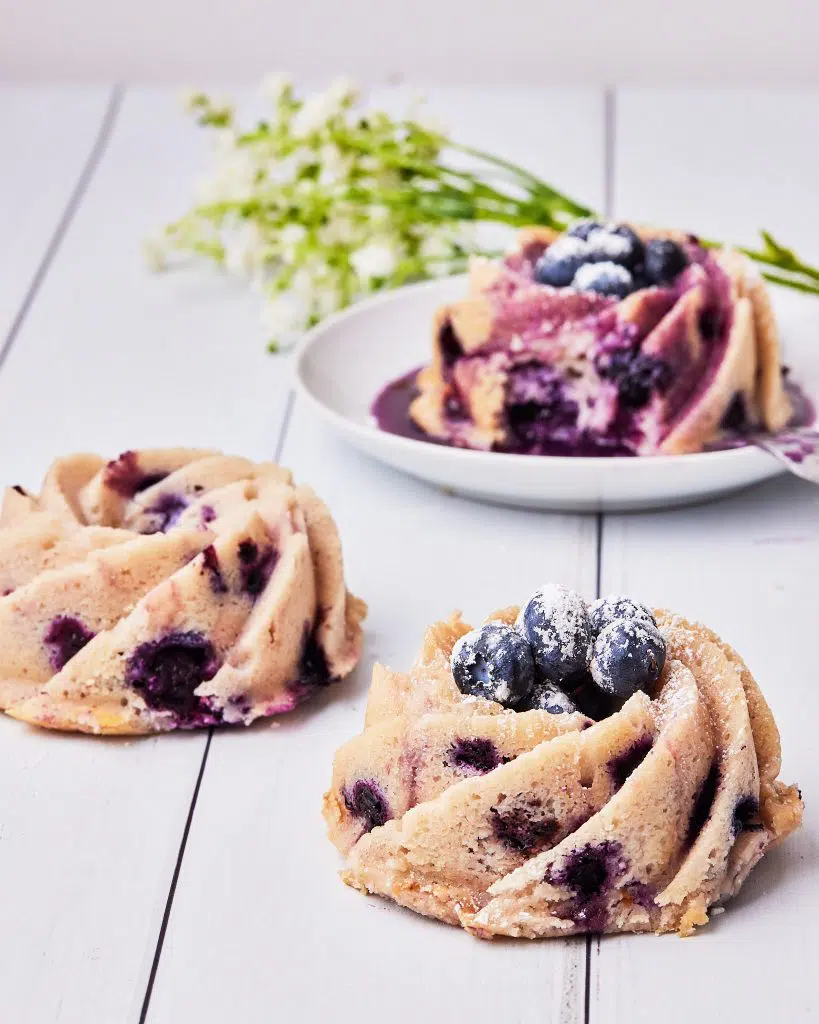 Fresh or Frozen Blueberries for Mini Blueberry Bundt Cakes?
The easy answer is that you can use either.
For the blueberry bundt batter, I prefer to use frozen blueberries. If you let them defrost just slightly before mixing into the batter, they will kind of bleed that beautiful blueberry juice into the batter a little and give them a gorgeous purple colour. I also find frozen berries disperse more evenly in a batter and tend not to sink to the bottom as much. If you don't want the colour to bleed just keep them in the freezer until the last second.
For the blueberry glaze I prefer to use fresh as I find the flavour is better and more noticeable in the glaze.
But you really can use fresh or frozen for the batter or the glaze. If you're serving blueberries on top though I would definitely recommend fresh!
Blueberry glaze for days
The blueberry glaze is kind of part of the fun of these blueberry bundt cakes. I recommend putting it into a jug and letting your guests pour it all over the bundt by themselves. It's a lot of fun watching it run down the creases of the bundt cake!
You can make many variations of this blueberry glaze depending on your personal preference. If you want a thicker glaze, use less blueberry juice and more icing sugar. If you want a lighter glaze you can add some milk or yoghurt to bring out that purpley colour. I like it slightly on the thinner side as then the blueberry glaze really soaks into the blueberry bundt cakes and fills it with even more flavour.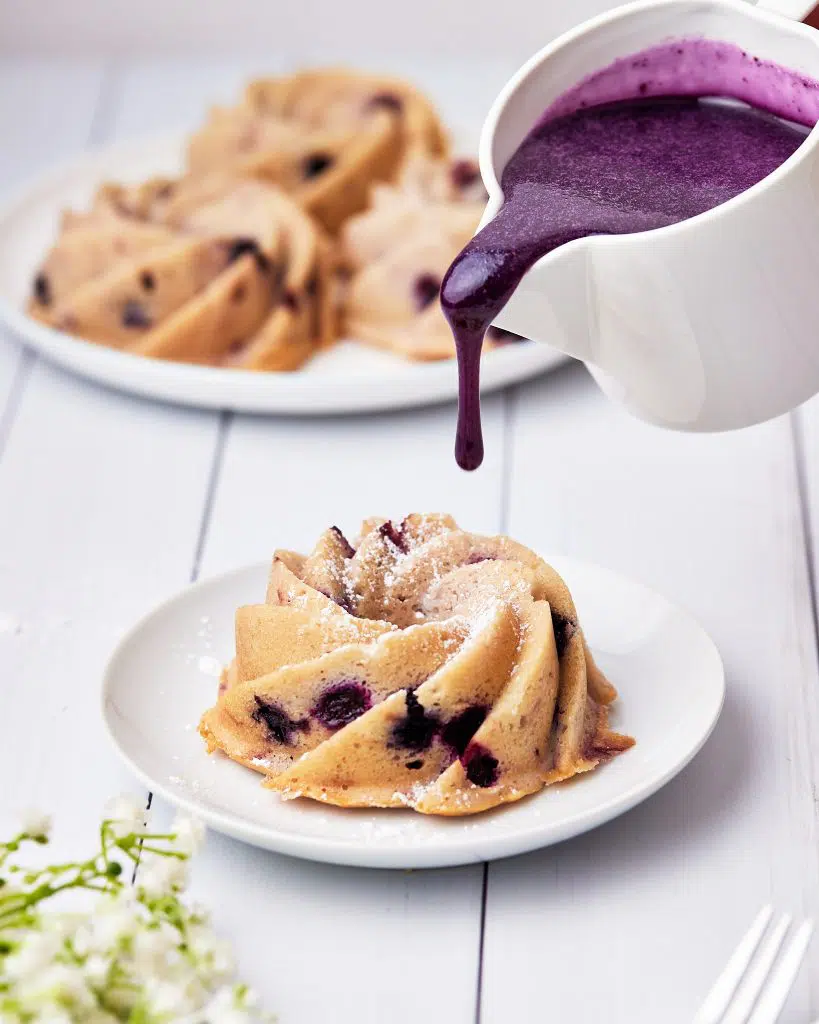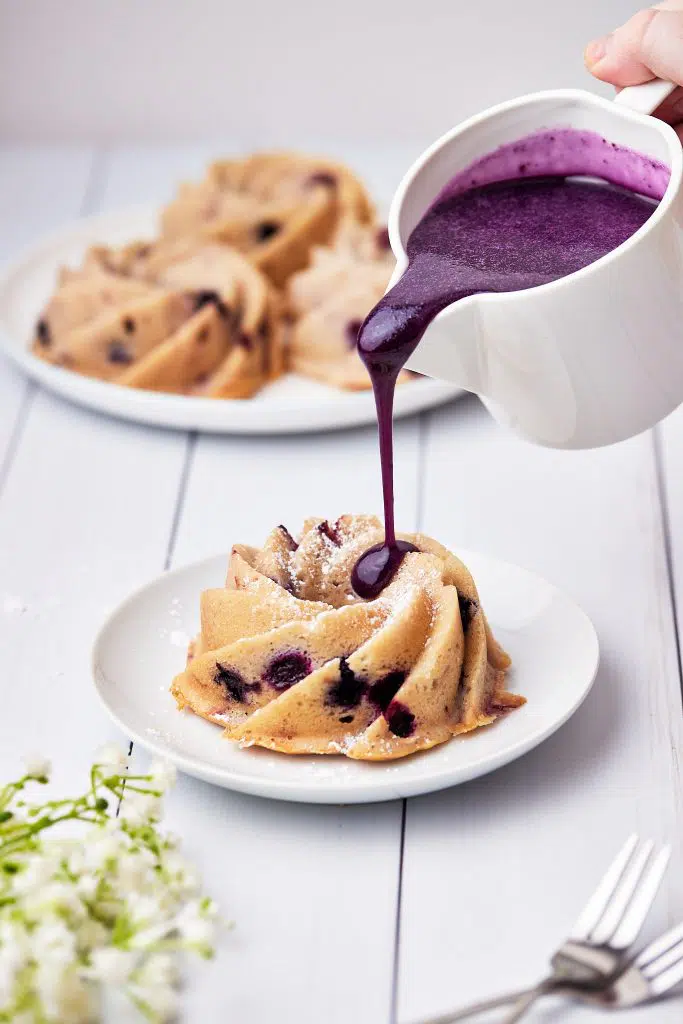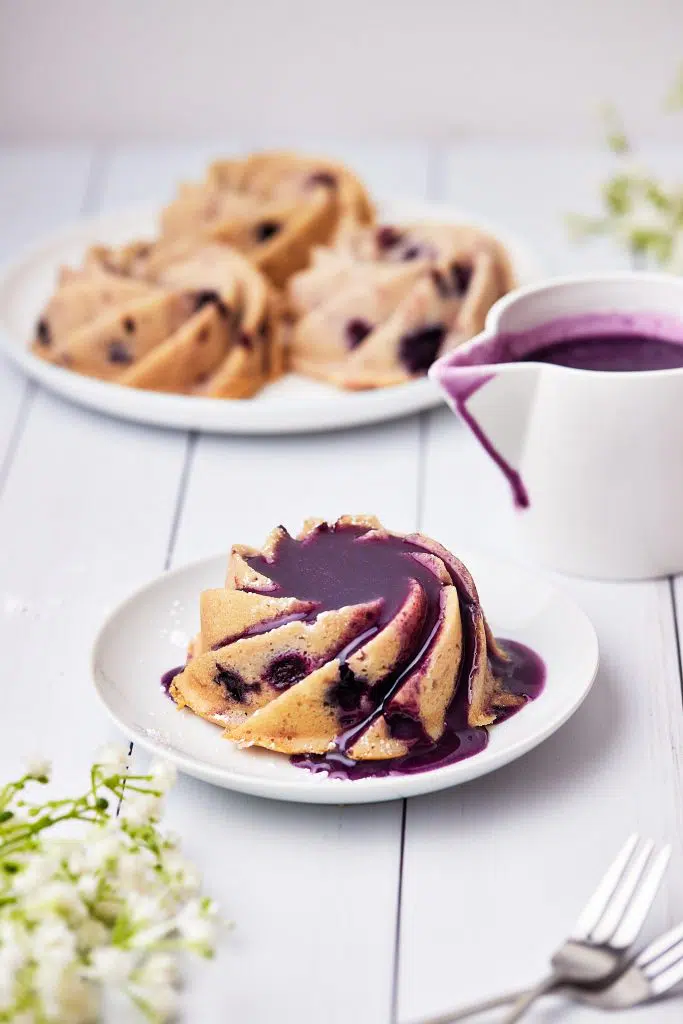 Using the Mini Bundt Pan
I hadn't baked in a while when I made these, I had been feeling a bit demotivated to be honest. But when I turned out the first batch of mini blueberry bundt cakes onto the cooling rack and they all just popped out perfectly, I had a very nerdy rush of joy and pride. There's no better feeling than when a bake just works out exactly how you wanted, and they looked SO pretty!
I'd like to think that's down to me, but realistically it's probably down to the high quality bakeware I was using! This was my first time using my new Nordic Ware Heritage Bundtlette Pan and i was absolutely delighted with the results!
Some bakers are intimidated by bundt pans as they are worried about their cakes getting stuck, but if you use a good quality pan and grease it well, you should be fine! I use Nordicware as they are cast iron and always turn out well, and I just spray my pans with PAM cooking oil.
The trick with bundt pans is to let your cake sit in the pan for exactly 10 minutes after taking it out of the oven, then turning it out onto your cooling rack to cool the rest of the way - works every time!
Love baking with fruit?
Try my Raspberry Crumble Muffins or Strawberry Custard Tarts!
Recipe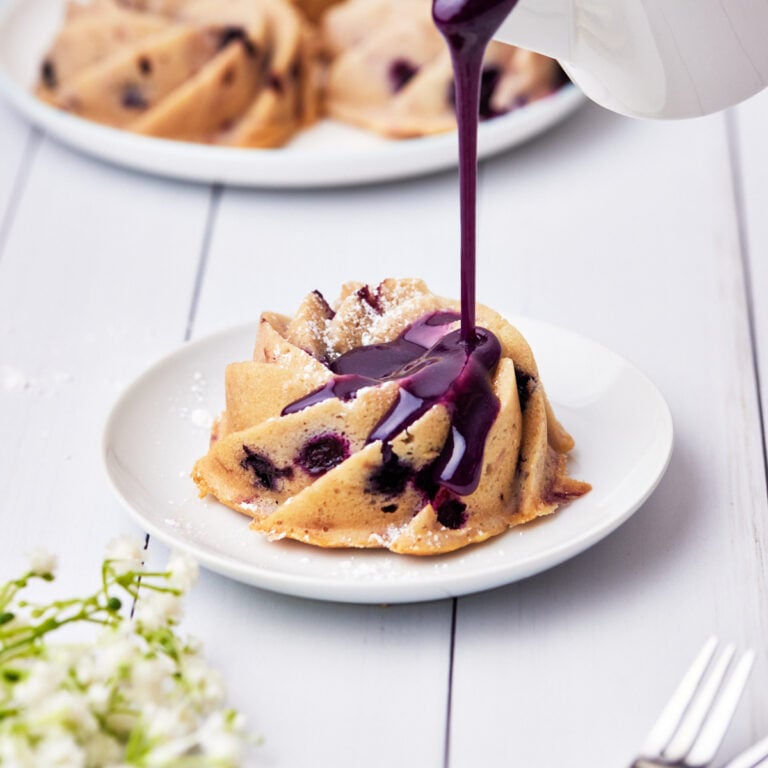 Mini Blueberry Bundt Cakes
Tender blueberry yoghurt bundt cakes with a sweet blueberry glaze - perfect for dessert or breakfast!
Ingredients
For the Blueberry Bundt Cakes
2

sticks

Butter

1 ½

cups

White Sugar

2

Eggs

¾

cup

Greek Yoghurt

½

teaspoon

Salt

2

teaspoon

Vanilla Extract

1

teaspoon

Baking Powder

1 ⅔

cups

All purpose flour

¼

cup

Milk

2

cups

Frozen Blueberries
For the Blueberry Glaze
1

cup

Fresh Blueberries

1

tablespoon

Lemon Juice

2

tablespoon

Water

2 ½

cups

Icing Sugar

½

cup

Milk

optional
Instructions
Make the Blueberry Bundt Batter
Preheat oven to 350°F / 180°C. Grease your bundt pans and take frozen blueberries out of the freezer

Cream the butter and sugar together until light and fluffy

Add eggs and beat until combined

Add the yoghurt, milk, vanilla, salt and baking powder and mix until combined

Mix in the blueberries by hand. If you want the purple flavour to bleed into the batter a little, let the blueberries defrost slightly before mixing in. If you want a clean batter, add them straight from the freezer

Scoop batter into mini bundt pans. The bundt cavities should be nearly full

Bake for 25-30 mins or until a skewer comes out clean

Once out of the oven, leave in the bundt pan for exactly 10 minutes, then flip them out onto a cooling rack
Make the Blueberry Glaze
Heat blueberries, lemon juice and water in a saucepan over a medium-low heat, just until they begin to bubble gently

Pour into a blender and blitz to make a puree

If you want a super smooth glaze, pass through a sieve to remove any pieces, it's totally fine to skip this step though!

Add icing sugar and blend or whisk until totally combined

Optional: If you want to lighten the colour slightly, add ½ cup milk or yoghurt to the glaze

Pour over just before serving
Nutrition
Calories:
403
kcal
Carbohydrates:
51
g
Protein:
6
g
Fat:
20
g
Saturated Fat:
12
g
Polyunsaturated Fat:
1
g
Monounsaturated Fat:
5
g
Trans Fat:
1
g
Cholesterol:
83
mg
Sodium:
343
mg
Potassium:
73
mg
Fiber:
1
g
Sugar:
34
g
Vitamin A:
648
IU
Vitamin C:
3
mg
Calcium:
66
mg
Iron:
1
mg