Layers of rich espresso chocolate cake filled with smooth and glossy, 'punch you in the face with flavor' espresso buttercream.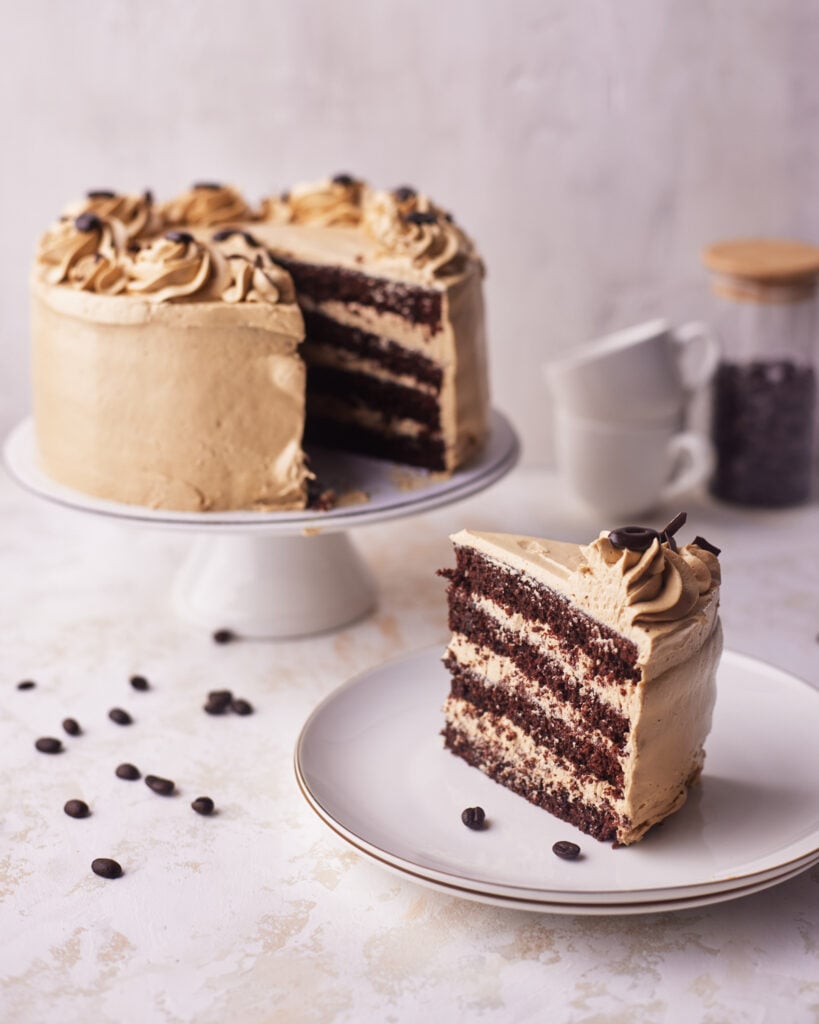 This Chocolate Espresso Cake recipe is the dream dessert for every coffee lover. It really packs a punch and has a strong espresso flavor, but it balances beautifully with the cocoa flavor of the chocolate cake. Chocolate and coffee are a match made in heaven and this cake is the best of both.
I wanted to make a coffee cake of some description after the huge success of my Coffee Cupcakes, and this cake brings in the chocolate too for all you chocolate lovers. It's the first coffee-flavored layer cake I have done since my Tiramisu cake, which is another dream espresso dessert! It's definitely my caffeine-addicted fiance's new favorite cake!
Jump to:
Ingredients
Flour - I used all-purpose flour, but you could also use cake flour or self-raising flour (just leave out the baking powder if using self raising).
Sugar - White sugar is great for this recipe, you want extra-fine sugar (caster sugar in the UK), you should be able to find this in the baking aisle of the grocery store. If you wanted more of a caramel flavor, you could sub half of the white sugar for brown sugar.
Eggs - Use large eggs and always free-range if you can.
Cocoa Powder - Use dutch processed cocoa powder for best results. Natural cocoa powder will work too, but I find it produces a stodgier cake and a bit more of an intense chocolate flavor, which sounds good but in this case, it would overpower the coffee flavor.
Vegetable Oil - Using oil instead of butter in the cake helps to make an extra moist cake.
Milk - Whole milk is best but you can use whatever kind of milk you have.
Espresso Powder - This is different than regular instant coffee granules. Though the packaging looks similar, it is super fine like a powder. Look for anything that says espresso powder or instant espresso.
Vanilla - The vanilla helps to tie the coffee and chocolate flavors together and give everything a delicious base. You can use vanilla extract or vanilla bean paste, or even a real vanilla pod if you like, but try to avoid vanilla essence.
Condensed Milk - these usually come in cans in the baking or coffee aisle. You want to make sure you get sweetened condensed milk and not evaporated milk which looks very similar on the packaging. Typically they come in cans of about 395g /400g, but just double-check to make sure you don't have a different size before adding the whole can.
Butter - Though we don't use butter in the cake mix, we will use it to make the glossy coffee buttercream. It's best to use unsalted butter and it's very important that it is at room temperature before you begin whisking it.
See recipe card for quantities and the full recipe.
How to make the Chocolate Espresso Cake
The cake portion is super easy, it's an all-in-one recipe which means you literally just put all the ingredients in one bowl and then mix them up! This is an adaption of my best chocolate cake recipe, with the addition of espresso powder - so a super simple cake to make.
Preheat the oven to 350°F / 180°C and prepare two 8-inch cake pans (9-inch would work too as this is a large cake recipe). I always like to line my cake pans with cake circles (round piece of parchment paper). I find it so much easier when turning my cakes out and making sure nothing sticks to the pan. It's very useful, but absolutely not necessary if you don't have them!
Put all ingredients (except the espresso powder and hot water) in a large mixing bowl and mix until combined and free from lumps. You can use a hand mixer, electric mixer, or even just do this by hand as it's super easy - but I do recommend you use a stand mixer for the frosting. If you are using a stand mixer, I recommend starting on a low speed as the cocoa powder can fly everywhere if you start it too fast!
Make sure you scrape down the sides and bottom of the bowl with a spatula or wooden spoon to ensure there are no dry ingredients stuck there. Once the chocolate mixture is totally smooth and well incorporated, dissolve the espresso powder in the hot water and add to the cake batter. Stir until combined.
Pour batter between your prepared cake pans and bake for 30-40 minutes or until a wooden skewer comes out clean. The bake time will vary greatly depending on your oven, so make sure to keep an eye on it once you reach the 30-minute mark, it may need a lot longer to make sure you check it with a skewer, cake tester or toothpick to make sure it is done.
Let cool in the cake pans for at least 30 minutes before transferring to a wire rack to cool completely.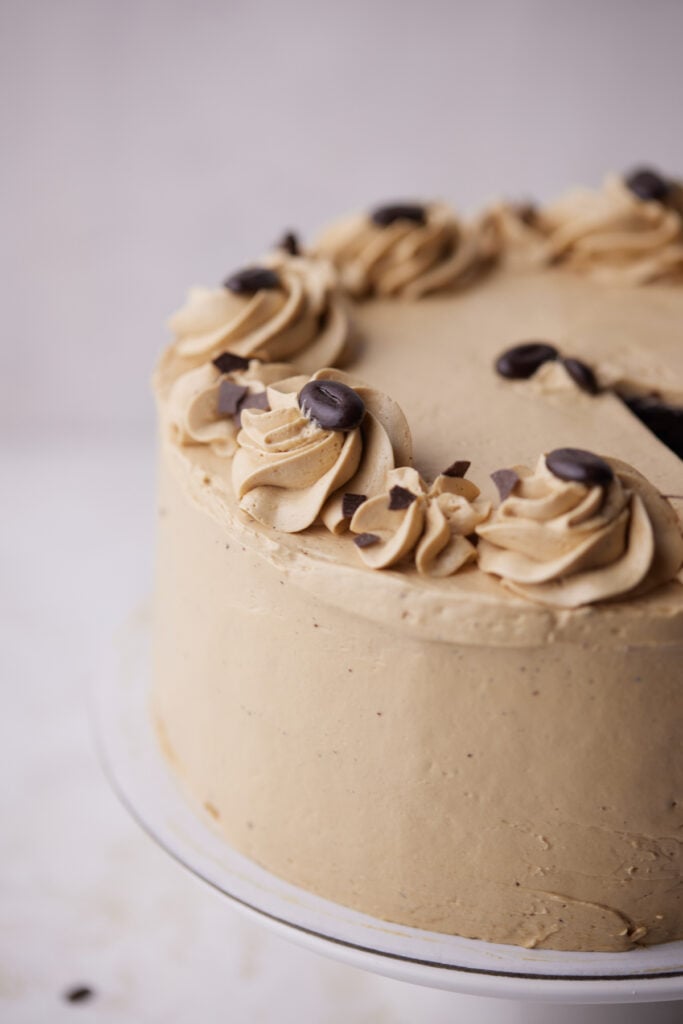 How to Make the Espresso Buttercream
This beautiful fluffy espresso buttercream is a coffee-infused version of Russian buttercream. Russian buttercream is made with condensed milk and has a super glossy, luxurious texture. It is silky like Italian Meringue Buttercream, but without the use of egg whites or sugar. The great thing about Russian buttercream is it is incredibly easy to make and tastes divine! For more info and tips on making this frosting, see my Russian Buttercream post.
Start by making sure your butter is at room temperature. The butter temperature is super important so the buttercream doesn't split. I find the best results when I remove my butter from the fridge about an hour to an hour and a half before using it.
Put the butter in the bowl of a stand mixer and whip with a whisk attachment at medium-high speed for 5 full minutes, regularly scraping down the sides of the bowl.
After 5 minutes, the butter should be super pale and creamy. Turn the mixer down to a medium speed and pour in a small amount of your condensed milk (about ⅓ of a can). Let it mix until totally incorporated before adding any more, add the condensed milk this way, little by little until it is all incorporated.
In a small bowl, add the espresso powder and 1-2 tablespoons of hot water and stir until totally dissolved. Add this to your frosting along with a teaspoon of vanilla and a pinch of salt, then continue to whip the espresso Russian buttercream for a further minute on maximum speed.
It should be thick and glossy and able to form stiff peaks. If it doesn't look silky smooth or thick, see my Russian Buttercream post for troubleshooting.
If your frosting looks like it got too aerated in the whipping process, you can mix it on low speed with a paddle attachment for one minute to make it smoother.
Note: You can adjust the amount of espresso powder used in the frosting to suit your tastes. If you'd like a more subtle flavor, add only 2 tablespoons, or if you would like a very strong espresso buttercream, you can add another tablespoon or two.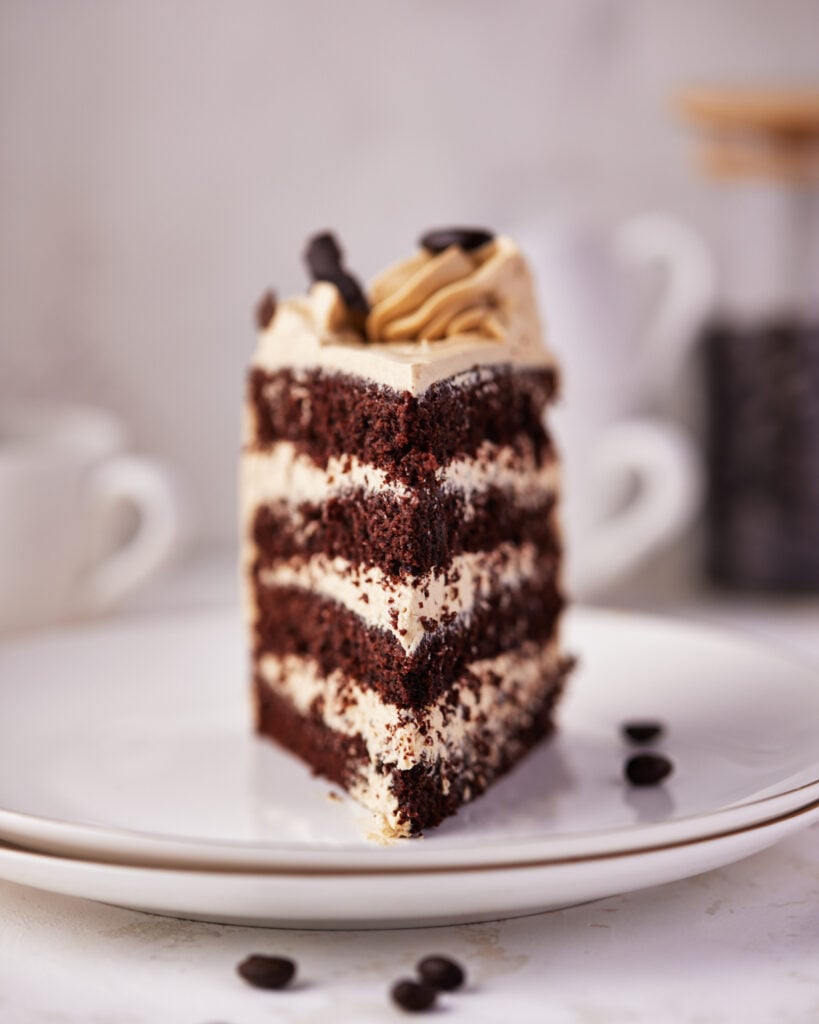 Assembly and Decoration
Once the cakes have completely cooled, cut them in half so you have four thinner cake layers instead of two. I like to use a cake leveler, but a serrated knife will work too.
Start with a layer of delicious cake on your serving plate or turntable, top with a generous helping of the espresso buttercream and spread evenly with an offset spatula, top with another layer of cake and repeat until you have all four cake layers.
If you want to leave it as a 'naked' cake, you can leave the sides bare and just pipe or spread some frosting on top of the cake. For the look I created on mine, spread a thin layer of frosting all over the top and sides of the cake as a crumb coat, and then let sit for 15 minutes before spreading a thicker layer of frosting all over the cake and smoothing out with a pastry scraper or palette knife.
Pipe some rosettes on top of the cake and decorate with chocolate curls or chocolate coffee beans.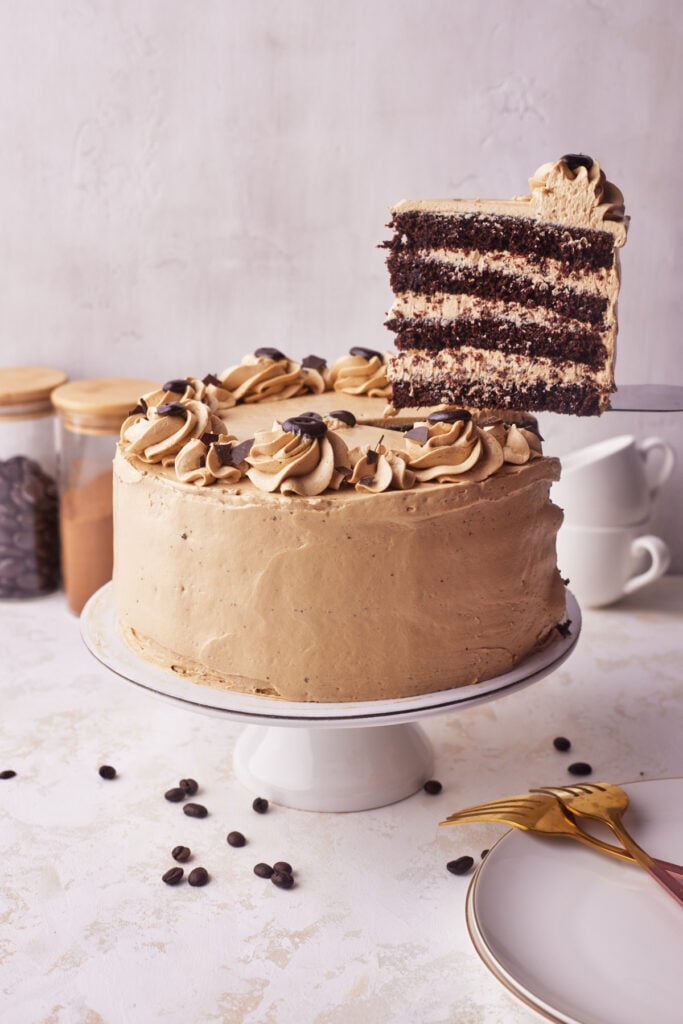 Equipment.
Stand mixer - you definitely want to use a stand mixer to make the espresso Russian buttercream as it will be very tiring to do it by hand.
Cake pans - I used 8-inch cake pans, but the recipe would also work with 9-inch pans.
Can I use real espresso?
You might be wondering why this cake recipe doesn't just use real espresso to get the espresso flavor. I have experimented a lot with using real brewed espresso beans in my baking and though it has a delicious and strong coffee flavor, it requires too much liquid to be added to the mixture to achieve the level of flavor we want. That's why espresso powder is a perfect option for baking, you can get the incredible espresso flavor without having to water down your batter too much. If you'd like a recipe that does use real espresso, check out my Tiramisu Cake.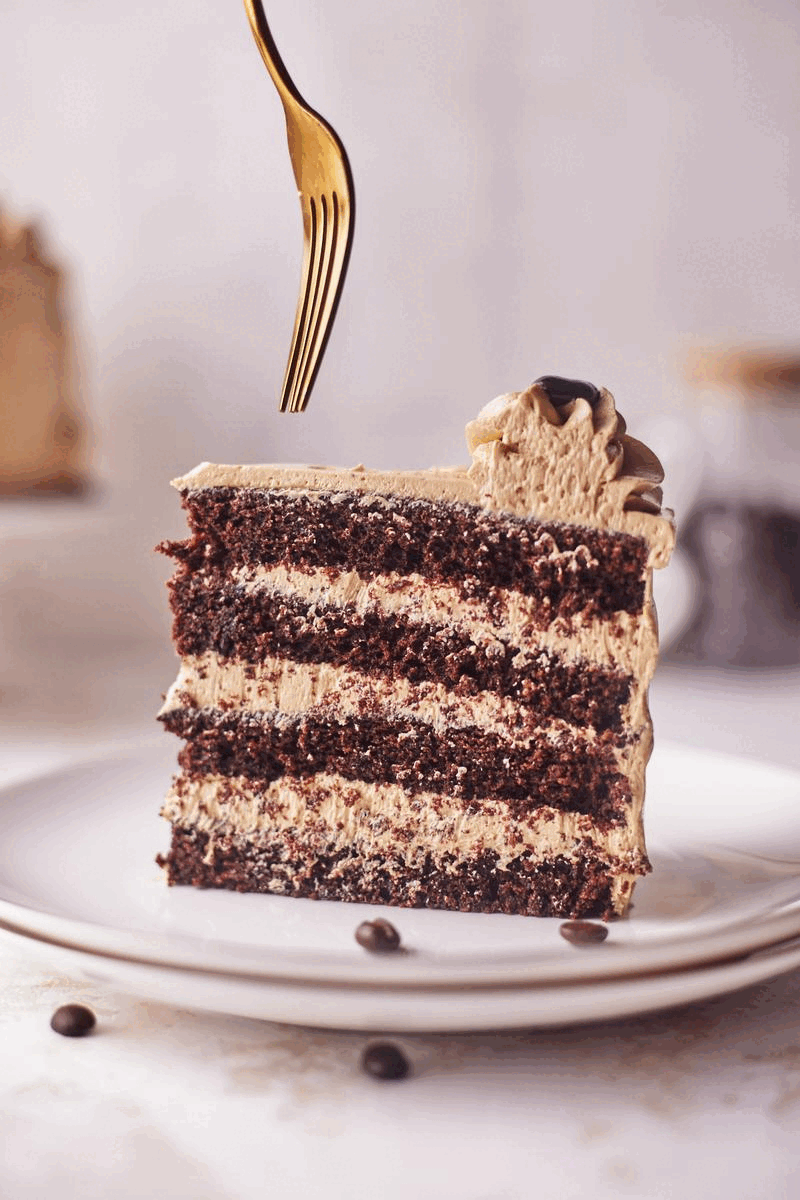 Storage
Store your chocolate espresso cake in an airtight container. It is best kept at room temperature as the fridge will dry it out. It will be best eaten within 3-5 days of baking.
Recipe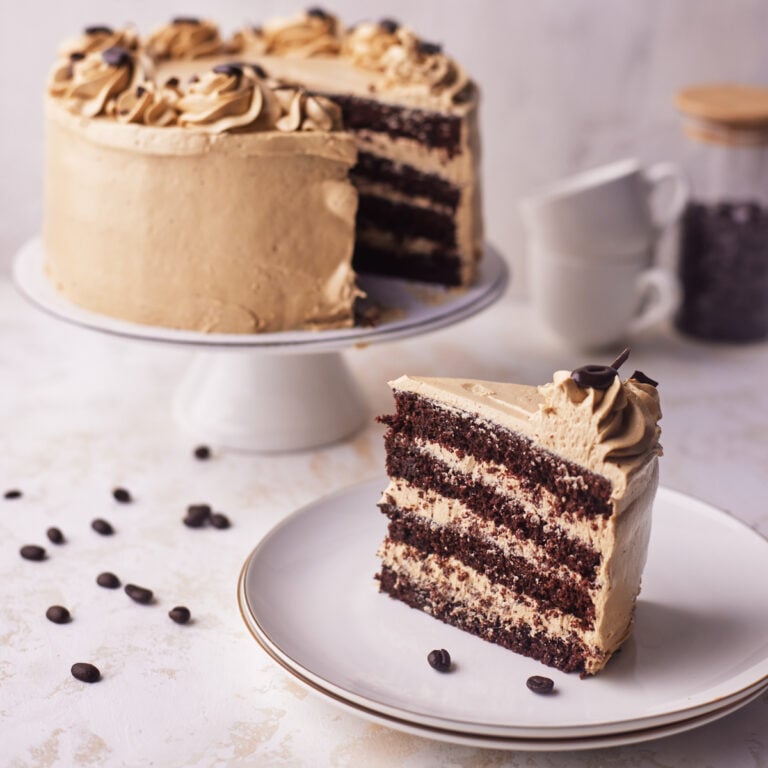 Chocolate Espresso Cake
Rich and moist chocolate and espresso cake layered with glossy espresso frosting.
Ingredients
For the Chocolate Espresso Cake
3

cups

All-purpose Flour

375g

3

cups

White Sugar

600g

4

Large Eggs

1 ¼

cups

Cocoa Powder

114g (dutch processed)

1

cup

Vegetable Oil

218g

1 ¼

cups

Milk

300g

2

tablespoon

Espresso Powder

2

teaspoon

Baking Powder

1

teaspoon

Salt

1

teaspoon

Vanilla Extract

⅓

cup

Hot Water

80g
For the Espresso Buttercream
2

cans

Sweetened Condensed Milk

800g

2

cups

Unsalted Butter

454g (room temperature)

2

teaspoon

Vanilla Extract

½

teaspoon

Salt

4

tablespoon

Espresso Powder
Instructions
To Make the Chocolate Espresso Cake
Preheat oven to 350°F / 180°C and prepare two 8 inch cake pans.

Put all ingredients (except hot water and espresso powder) in a large bowl and mix together until totally incorporated and free from lumps. I use a stand mixer but you can also do this by hand.

3 cups All-purpose Flour,

3 cups White Sugar,

4 Large Eggs,

1 ¼ cups Cocoa Powder,

1 cup Vegetable Oil,

1 ¼ cups Milk,

2 teaspoon Baking Powder,

1 teaspoon Salt,

1 teaspoon Vanilla Extract

Dissolve the espresso powder in the hot water and then pour it into the chocolate cake batter. Mix until combined.

2 tablespoon Espresso Powder,

⅓ cup Hot Water

Divide cake batter evenly between cake pans and bake for 30 - 40 minutes, or until a skewer comes out clean.
Whip butter with a whisk attachment for 5 minutes until pale and creamy.

Add condensed milk slowly and gradually, a little at a time, whipping in inbetween additions.

2 cans Sweetened Condensed Milk

Dissolve espresso powder in 1 tablespoon of hot water, add to the frosting along with salt and vanilla. Whip until combined.

½ teaspoon Salt,

4 tablespoon Espresso Powder,

2 teaspoon Vanilla Extract

Whip for a further minute, frosting should be silky smooth and stiff enough to pipe. If not, see notes.
Notes
Toggle the Cups/Grams button to switch between the different measurements. 
If your Russian buttercream isn't thick and glossy, try one of these things:
If it is thin and soupy, the butter was probably too warm - place buttercream in the fridge for 10 minutes then try whipping up again. 
If it has curdled - the butter was likely too cold - try heating the buttercream very gently over a bain-marie until it just starts to sweat, then whip up for 5 minutes and it should be saved. 
Nutrition
Calories:
628
kcal
Carbohydrates:
89
g
Protein:
9
g
Fat:
29
g
Saturated Fat:
18
g
Polyunsaturated Fat:
1
g
Monounsaturated Fat:
8
g
Trans Fat:
1
g
Cholesterol:
80
mg
Sodium:
420
mg
Potassium:
415
mg
Fiber:
3
g
Sugar:
66
g
Vitamin A:
872
IU
Vitamin C:
1
mg
Calcium:
216
mg
Iron:
2
mg