Buttery shortbread smothered in gooey caramel and topped with rich dark chocolate. Delicious!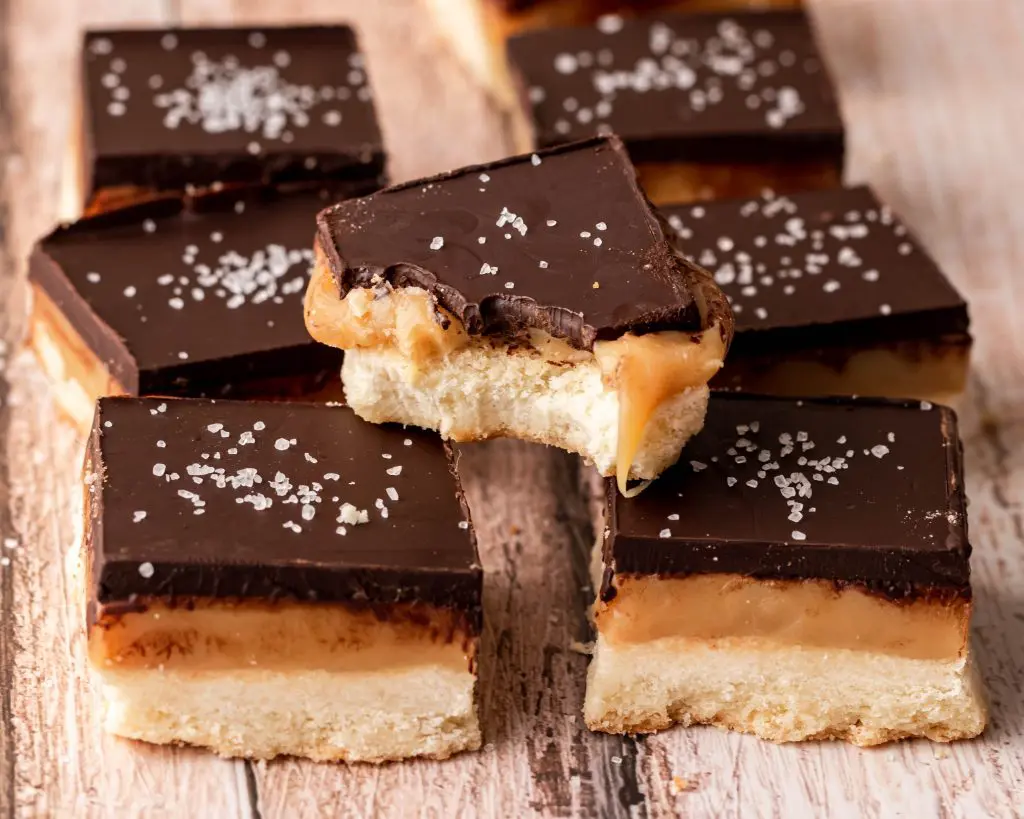 I didn't realize until I made this recipe here in Canada that Millionaire's Shortbread is a very Scottish treat! I guess I should have figured it out by the shortbread base. Despite having never heard of it, everyone here seems to love it. And really, what's not to love? Buttery shortbread with a thick layer of gooey caramel, topped with rich dark chocolate. A winner! P.S. If you love millionaires shortbread, you'll probably also love my Millionaire's Cheesecake recipe!
Jump to:
Why is it called Millionaire's Shortbread?
Admittedly, I didn't know this until I looked it up just now, but it seems Millionaire's Shortbread get their name because they are so insanely rich! Which makes sense. Seriously even someone with the sweetest sweet tooth would struggle to eat more than one of these at a time! A few bites is more than enough to satisfy a serious sugar craving.
Millionaire's shortbread does also get called Caramel Shortcake or Caramel Shortbread - they are all the same thing. But like many Scottish items, we have multiple names for one thing!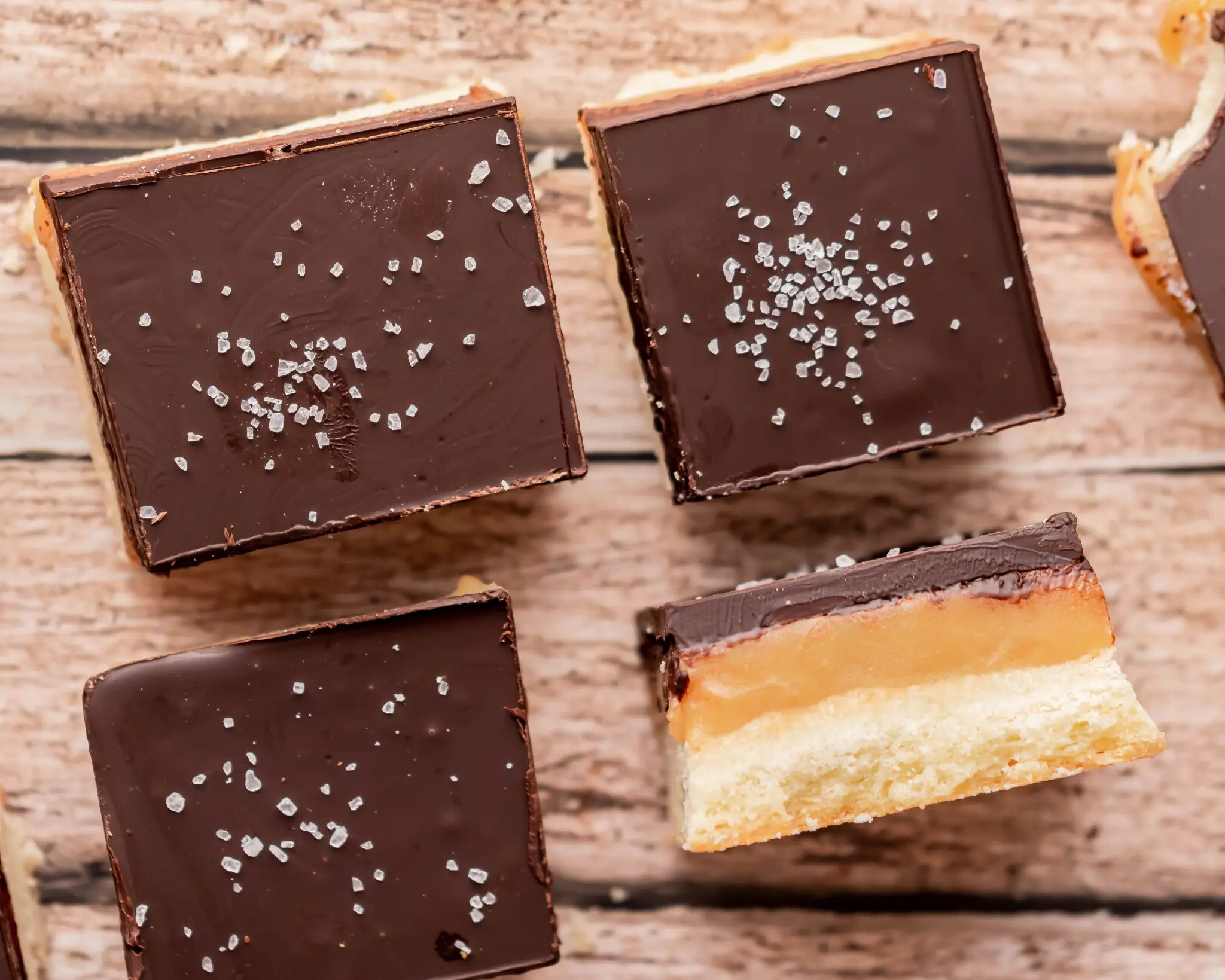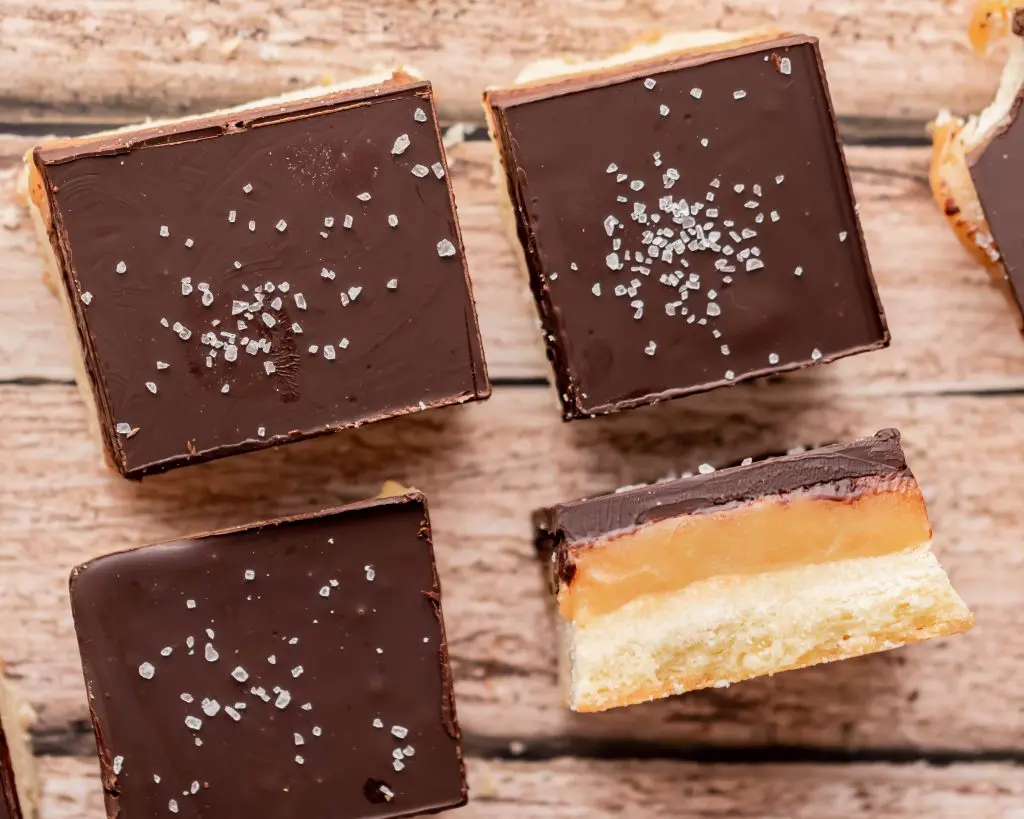 How to get perfect slices
While the recipe for Millionaire's Shortbread is fairly simple, it can all come crashing down at the last hurdle if you don't cut it properly. It would be a crying shame to make these decadent desserts only to have them turn into gooey, crumbly messes on your countertop! Luckily, I have sliced thousands of these over my time in the bakery and can share the best tips for getting clean cuts!
Make sure the millionaire's shortbread is chilled before slicing - preferably overnight to ensure it is extra firm. Remove from the fridge about 20 minutes before slicing.
Use a small, sharp knife to score through the chocolate layer first. It's best to score a line on the chocolate and then re-score the same line repeatedly until you get through to the caramel. This will ensure the caramel doesn't get squished when you cut the slice.
Take a large, sharp knife and run it under hot water to heat up the metal. Wipe it off with a paper towel and then slice through the caramel and shortbread together by keeping the knife straight across and applying even pressure across the whole thing.
Reheat and wipe down the knife in between every cut to ensure clean slices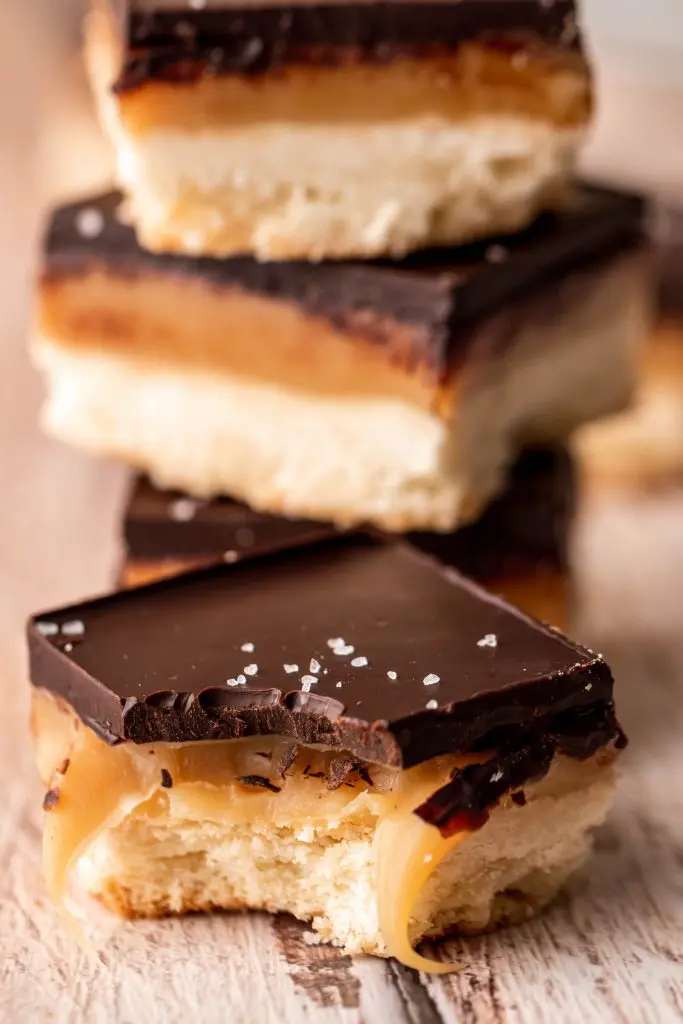 Ingredients in Millionaire's Shortbread
The ingredients in this recipe are actually very basic. The shortbread only has three ingredients and is put together in no time. But even the caramel is a super easy process
Flour - Regular all-purpose flour is fine in this. We don't need any raising agents for the shortbread
Sugar - We need white sugar for the shortbread and golden sugar (light brown sugar) for the caramel
Butter - I actually used salted butter to cut through the sweetness just slightly. But salted or unsalted will work fine. Just make sure that the butter for the shortbread is cold so it doesn't melt into the flour too much
Golden Syrup - This is called golden syrup in the UK and the American equivalent is Golden Corn Syrup. Slightly different products but they both work the same in the recipe
Condensed Milk - This gives the caramel the gooeyness and stops it from setting firmly. Because of the condensed milk it will give you that satisfying squidge as you bite into it!
Chocolate - I used dark chocolate, again just to cut through the sweetness as Millionaire's shortbread is SO rich. But you can also use milk chocolate or even white if you want a really sweet treat. I added a tablespoon of vegetable oil to the chocolate once melted just so it doesn't set completely firm - this makes the squares easier to bite into.
You Might Also Like...
Recipe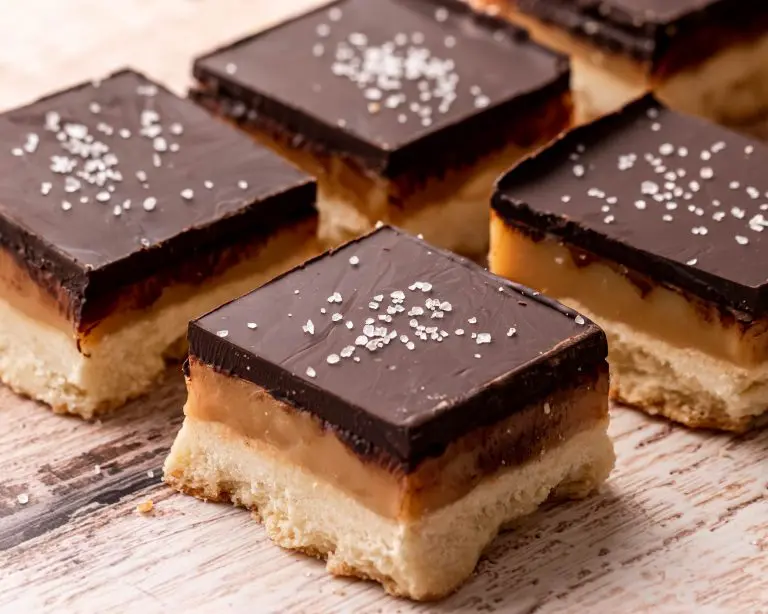 Millionaire's Shortbread
Buttery shortbread topped with gooey caramel and rich dark chocolate
Ingredients
For the Shortbread
2

cups

All Purpose Flour

2

sticks

Butter

cold

0.5

cups

Sugar
For the Caramel
1

cup

Golden Sugar

(light brown sugar)

2

sticks

Butter

0.3

cups

Golden Corn Syrup

1

can

Condensed Milk

1

teaspoon

Salt
For the Topping
300

g

Dark Chocolate

1

tablespoon

Vegetable Oil

1

tablespoon

Sea Salt

optional
Instructions
Make the Shortbread
Preheat oven to 180°C / 350°F and line a 9" square pan with parchment paper

Put the flour, butter and sugar in a food processer and pulse until the mixture resembles breadcrumbs. If you don't have a food processor you can also rub the butter into the flour and sugar with your fingertips

Squish the mixture together into a dough and press into the base of the square pan

Bake for 30 minutes or until golden
Make the Caramel
Melt the golden sugar, butter and golden syrup in a pan and bring to the boil

Keep boiling, stirring constantly, until the mixture begins to froth

Remove from the heat and add in the condensed milk and salt

Return to the heat and bring to the boil again

Once boiling, remove from the heat and pour into the square pan, over the baked shortbread base

Allow to cool completely and then transfer to the fridge to set - preferably overnight
Finish
Melt the dark chocolate in 30-second increments in the microwave, stir in the vegetable oil

Pour over the cold caramel shortbread and return to the fridge for an hour before slicing

Remove from the pan and slice. For tips on how to get nice clean slices, read the post above

If you want an extra element, sprinkle the millionaires shortbread squares with a little sea salt before serving
Nutrition
Calories:
535
kcal
Carbohydrates:
54
g
Protein:
5
g
Fat:
34
g
Saturated Fat:
21
g
Trans Fat:
1
g
Cholesterol:
70
mg
Sodium:
822
mg
Potassium:
268
mg
Fiber:
2
g
Sugar:
38
g
Vitamin A:
779
IU
Vitamin C:
1
mg
Calcium:
105
mg
Iron:
3
mg