I'm your typical 'early adopter' type and I love trying out new baking toys and tools. When I saw this Brownie Bites pan from Nordicware I had a million ideas flash through my brain, but the main one was these Chocolate and Salted Caramel Bites!
Bitesized chocolate cakes with a soft, homemade salted caramel - for when you want something indulgent but don't have room for an entire slice of cake!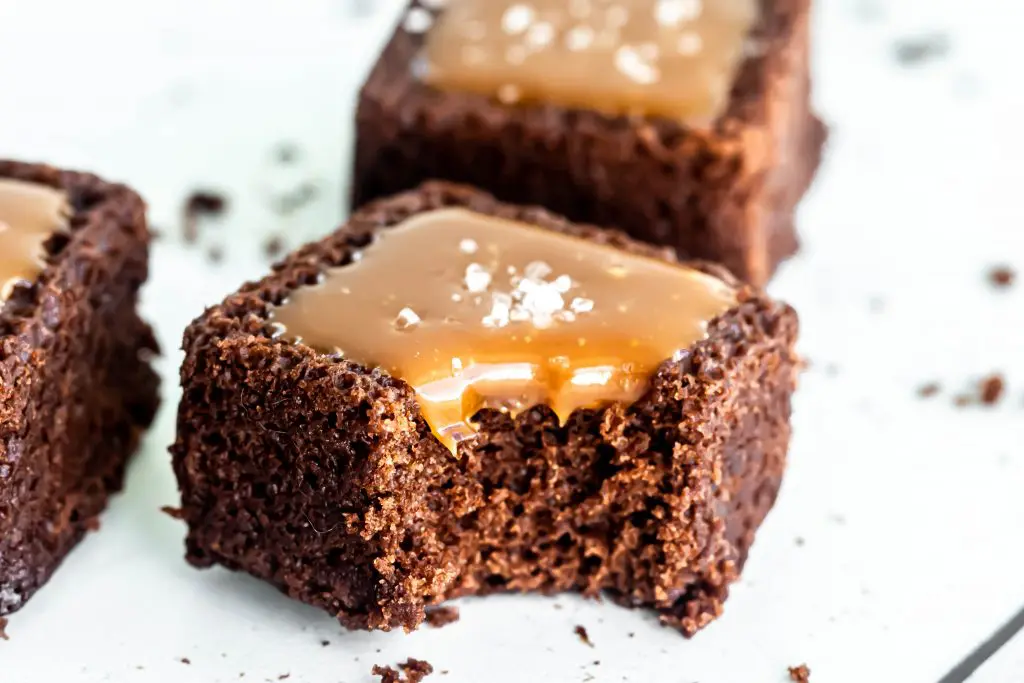 Should you get the Brownie Bites Pan?
I love trying out new tools and bakeware - sometimes they're great and sometimes they're just entirely unnecessary. I will say it is possible to make these without the Brownie Bites pan (see below), but the pan made it SO much easier and the results were really fantastic. I wasn't sure how well the cake would shape to the pan, and was also concerned about the squares not releasing from the pan easily - but I was pleasantly surprised, and even impressed on both points. As you can see from the pictures, a perfect square groove was formed in the little cakes which held my caramel in place - and they popped right out of the pan. That's what happens why you buy good quality bakeware! So no, it's not 'necessary' - but I really loved the results I got on these chocolate and salted caramel bites.
How to make Chocolate and Salted Caramel Bites without the Brownie Bites Pan
If you want to make this without the pan, it's still possible, it's just a little fiddly and more time-consuming.
Step 1: Bake the same recipe in square cake pan
Step 2: Once the cake has completely cooled, cut it into even squares using a large, sharp knife
Step 3: Use a small knife to draw a neat square in the top of the cakes, pressing about half a centimetre deep
Step 4: Use a small spoon to carve out the middle of the square
Step 5: Fill as normal and sprinkle with sea salt
It won't be quite as neat and it definitely takes a lot longer - but this is how to make the chocolate and salted caramel bites without the Brownie Bites pan.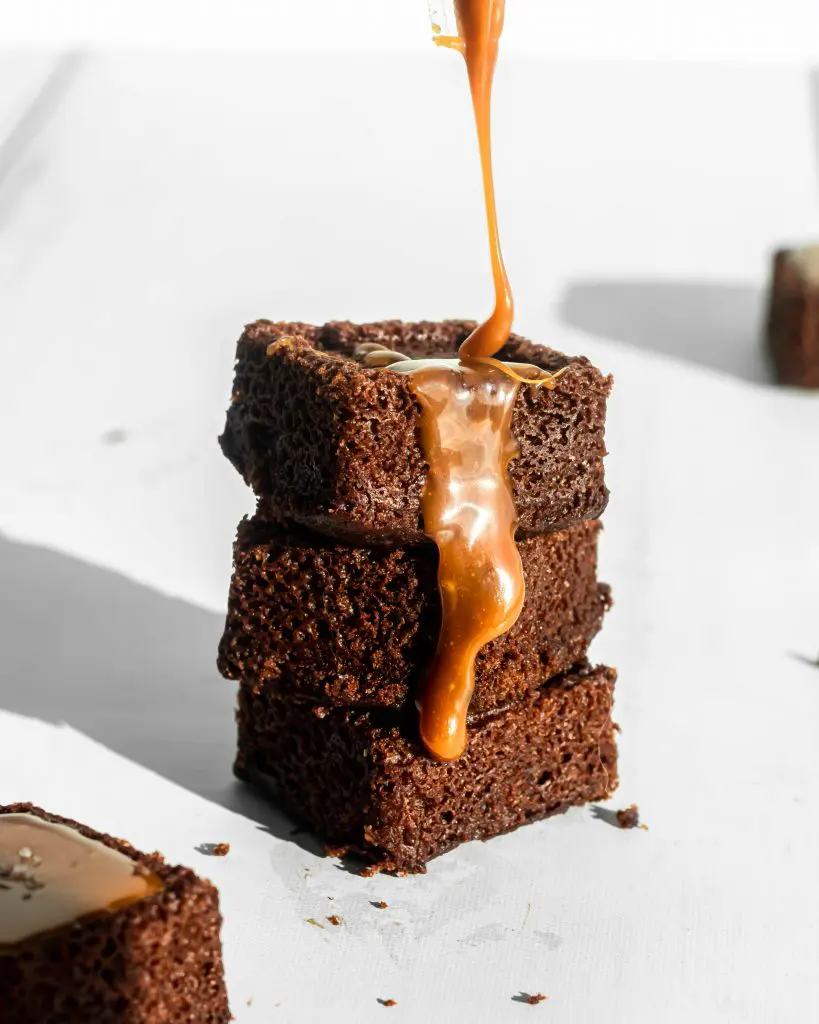 Alternatives to Making Your Own Caramel Filling
Caramel is super easy to make, but sometimes you just want a quick fix! If you want to make these chocolate and salted caramel bites but don't want to make the caramel yourself you can melt some caramel candies in the microwave in 30-second increments and pour that in as normal. Alternatively, you could use a caramel sauce from a bottle, but this won't set the same way so might be a little messier.
You could also skip the caramel entirely and fill with some kind of chocolate ganache, strawberry sauce - whatever you like really!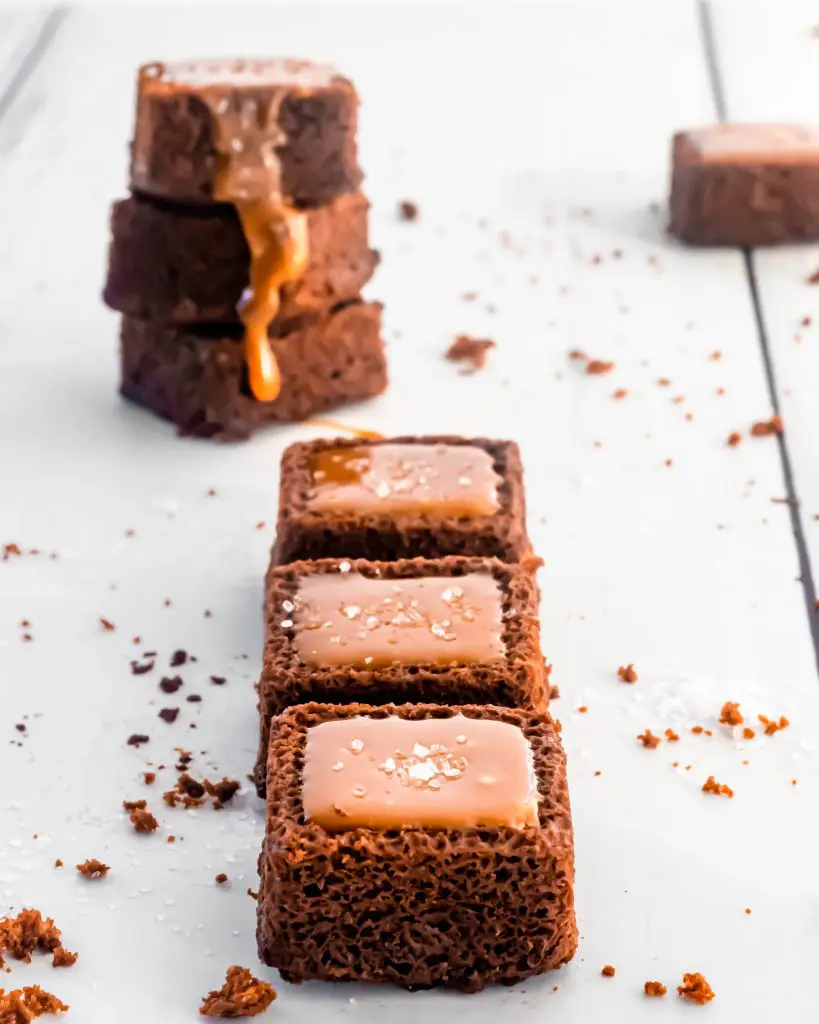 What are Chocolate and Salted Caramel Bites good for?
Chocolate cake of any description is always a winner, but the real feature of these chocolate and salted caramel bites for me is their size. The fact that these are bite-sized means they are fantastic for parties or events where people are standing up, walking around etc - they don't need a fork or even a plate to enjoy these. They are also perfect to add to packed lunches as an extra special treat that's not too big or filling. If serving at a dinner party, you could even place two or three on a place and fill with different fillings - chocolate cake goes with a lot of things!
Recipe
Chocolate and Salted Caramel Bites
Bite-sized chocolate cakes with a gooey salted caramel topping
Ingredients
For the Chocolate Cake Bites
¾

cup

All-purpose Flour

¾

cup

White Sugar

¼

cup

Cocoa Powder

1

teaspoon

Baking Powder

½

teaspoon

Salt

1

Egg

¼

cup

Vegetable Oil

6

tablespoon

Milk

1

teaspoon

Vanilla Extract

⅛

cup

Hot Water
For the Caramel
½

cup

White Sugar

⅛

cup

Water

3

tablespoon

Butter

¼

cup

Whipping Cream

2

tablespoon

Sea Salt
Instructions
Preheat oven to 350°F / 180°C and spray brownie bites pan lightly with cooking spray (if you aren't using the brownie bites pan, see post above for what to use instead)

Sieve all the dry ingredients for the cake into a bowl

Add the egg, vegetable oil, milk and vanilla and stir until everything is smooth and combined

Add the hot water and mix in - the batter will be very liquid

Pour the batter into the brownie pan, fill the cavities about ¾ full

Bake for 15 minutes or until a skewer inserted comes out clean

Allow to cool in the pan for about 30 minutes before trying to remove
Make the Caramel
Put the sugar and water in a saucepan over a medium-low heat

Don't stir the sugar, just let it melt and dissolve into the water, once it has totally dissolved, keep stirring until it starts to turn a light amber colour, then add the butter

Once the butter has totally melted, keep cooking, stirring constantly for about a minute

Slowly pour in the cream, stirring constantly - the mixture will bubble up and might spit a little, so be careful

Once the cream is totally incorporated, check the colour of your caramel, if you are happy with the colour, remove from the heat, if you want it darker, keep going until it is how you like it - don't leave it unattended though as it can burn very quickly!

Allow it to cool and thicken a little before trying to put into the chocolate squares - use a spoon or piping bag to put a small amount on there, just until it fills up, then gently tap the square on your worktop to tease it into the corners

Sprinkle with sea salt and leave to set
Nutrition
Calories:
154
kcal
Carbohydrates:
21
g
Protein:
1
g
Fat:
8
g
Saturated Fat:
5
g
Trans Fat:
1
g
Cholesterol:
22
mg
Sodium:
998
mg
Potassium:
42
mg
Fiber:
1
g
Sugar:
16
g
Vitamin A:
144
IU
Vitamin C:
1
mg
Calcium:
29
mg
Iron:
1
mg