The most creamy, luxurious, baked Caramel Cheesecake you will ever taste.  With a buttery biscuit base and homemade caramel sauce on top, this salted caramel cheesecake is a winner all around.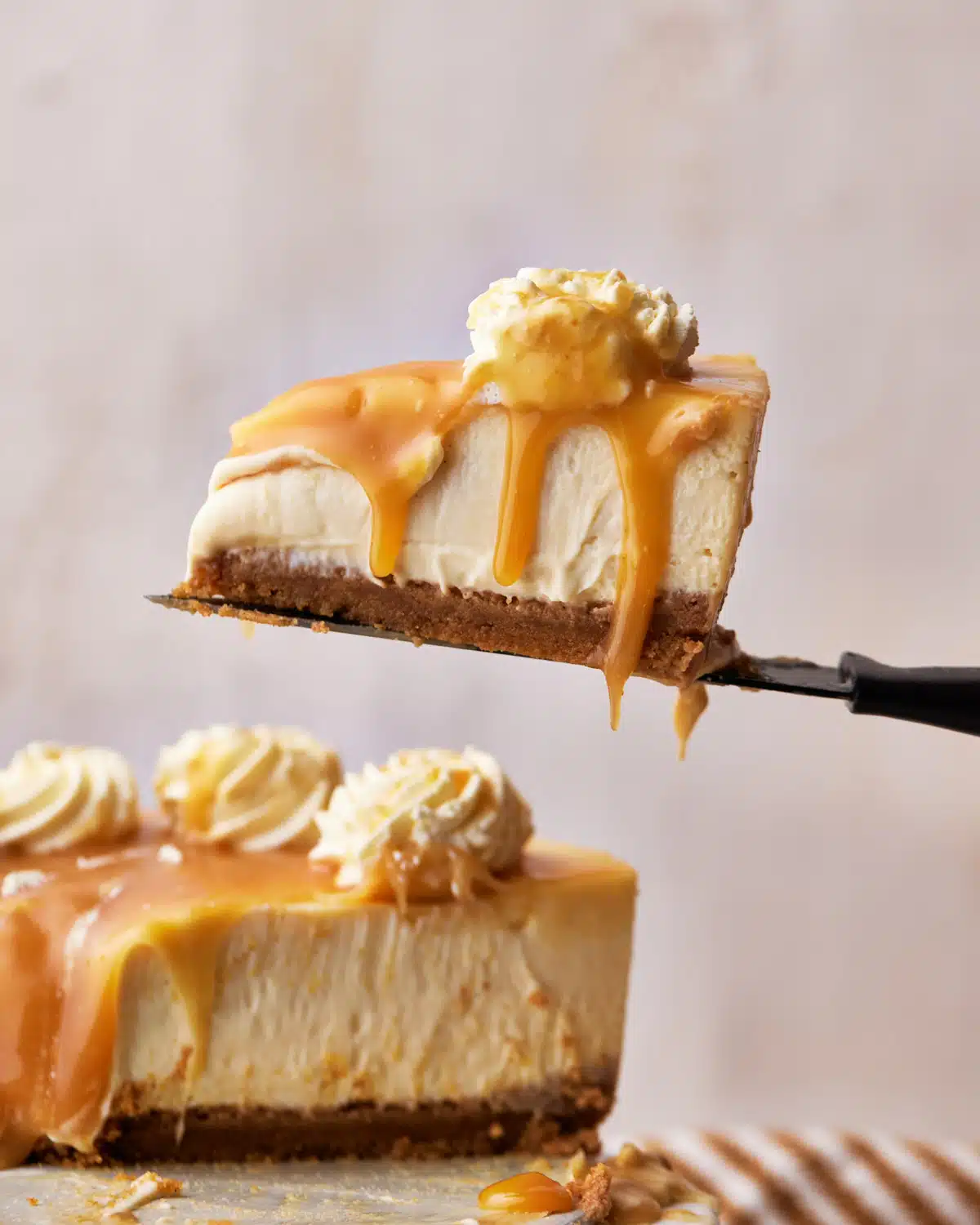 When it comes to caramel, so much relies on the texture and mouth feel.  There's nothing like the silky smooth feeling of caramel on your tongue.  That's why this delicious cheesecake recipe is the best - the texture of the cheesecake is super smooth and creamy to complement the delicious caramel sauce on top.  
I often find baked cheesecakes to be dry and a little crumbly, but I love the texture of an unbaked cheesecake like my Biscoff Cheesecake recipe. This Caramel cheesecake has the best of both worlds - deep and elegant flavor but with a super soft, almost custard-like texture. 
Jump to:
Why You'll Love This Recipe
Homemade Caramel Sauce is the star of the show both in the cheesecake and drizzled on top - this liquid gold is absolutely to die for! 
This is the creamiest, best cheesecake you will ever taste - the texture is sinfully smooth and doesn't even feel like a baked cheesecake. 
A relatively easy-to-make dessert recipe that looks and tastes like restaurant quality.
Ingredients
Sugar - Of course, the main ingredient in caramel is sugar. You want to use extra-fine white sugar (caster sugar in the UK) as we'll be using it to make the caramel sauce as well as a little extra in the cheesecake itself.

Butter - It's best to use unsalted butter so you can control the level of salt in the cheesecake. There's no need to bring it to room temperature as we'll be melting it for both the caramel and the biscuit base.

Heavy Cream - Make sure you are using heavy cream, heavy whipping cream or double cream - it should have at least 36% fat content.

Corn Syrup - This will help to make sure your caramel turns out smooth and lovely and lowers the risk of things going wrong - like crystallization. It will kind of 'teach' the rest of the sugar how to behave so you don't get large crystals forming as it melts. If you can't find corn syrup you can also use glucose syrup or golden syrup.

Salt - I like to use sea salt for this. How much salt you use depends on whether you want to make a salted caramel cheesecake or a regular caramel cheesecake. I recommend adding a little salt either way, but definitely ramp it up according to taste!

Graham Crackers - For the crumbly cheesecake base. If graham crackers aren't available where you are you can also use Digestive Biscuits.

Light Brown Sugar - This is completely optional, but I like to add a couple of tablespoons of light brown sugar to the buttery graham cracker crust just to add to the caramel flavor. It will still be delicious without this though.

Cream Cheese - Of course, you'll need cream cheese. Make sure it's a brand that isn't too soft or watery, you can never go wrong with Philadelphia. It will incorporate much more easily if it's at room temperature before you try to mix it in.

Cornstarch - Adding cornstarch just helps with the texture of the cheesecake.

Eggs - This cheesecake recipe calls for both whole eggs and egg yolk.. The extra egg yolk adds to the richness.

Vanilla - I recommend using a high-quality vanilla extract or vanilla bean paste here as you'll really be able to taste the flavor of it in the cheesecake.
See recipe card for quantities. 
Make the Caramel Sauce
The caramel sauce will be used to flavor the actual cheesecake batter, as well as on top of the cheesecake, so there will be delicious caramel flavor in every bite. Don't be intimidated by making your own caramel, it's actually incredibly easy and you don't need a candy thermometer to make it like other caramel recipes.
Put the sugar, water, and corn syrup in a medium saucepan over medium heat.  Don't stir it, just let it all melt and combine together on its own. 
Once the sugar has dissolved and starts to boil, watch it closely, still without stirring, until it starts to get a little bit of color. 
Let it keep bubbling until it is light amber in color, then add the butter and stir until the butter is totally melted and incorporated. 
Slowly and carefully add the heavy cream - it will bubble up and might spit a little.  Mix in completely. 
At this point, check the color of your caramel, if it looks how you'd like it, remove it from the heat.  If you'd like it a little darker you can leave it on for a bit longer, but don't walk away as it will deepen in color very quickly and you don't want to risk burning the caramel! 
Once removed from the heat, stir in the sea salt and then let cool completely before using in your cheesecake.
Make the Graham Cracker Crust
​This recipe makes a nice thick graham cracker crust, which is the perfect texture addition to the silky smooth cheesecake.
Start by crushing the graham crackers into fine crumbs.  You can either do this in a food processor, or you can place them in a plastic bag and bash them with a rolling pin.  Put into a medium bowl with the light brown sugar (or you can continue to mix the rest in the bowl of the food processor). 
Melt the butter in the microwave in 30-second increments, pour the melted butter into the crumb mixture, and mix everything together until well combined.  It should look like wet sand and you should be able to clump it together if you squeeze it in your hands.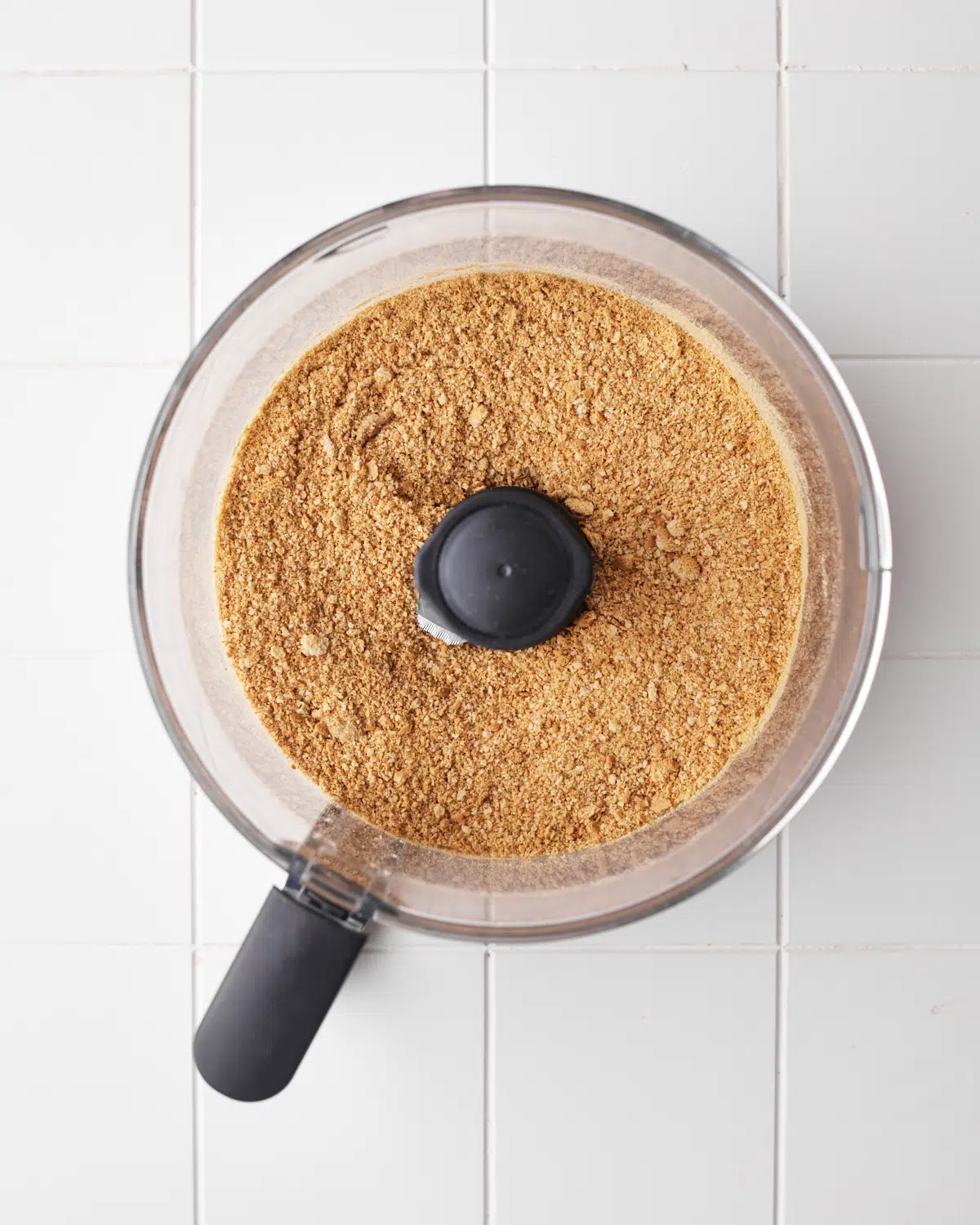 Tip the mixture into a loose-bottomed cake pan or a spring form pan. I used an 8-inch pan, but a 7 or 9-inch pan would also work (you'll just get a taller or shorter cheesecake with different sizes of pan). Spread the crust mixture evenly across the bottom of the pan and use your hands or the bottom of a glass to compact it down tightly. Set aside until your cheesecake is ready.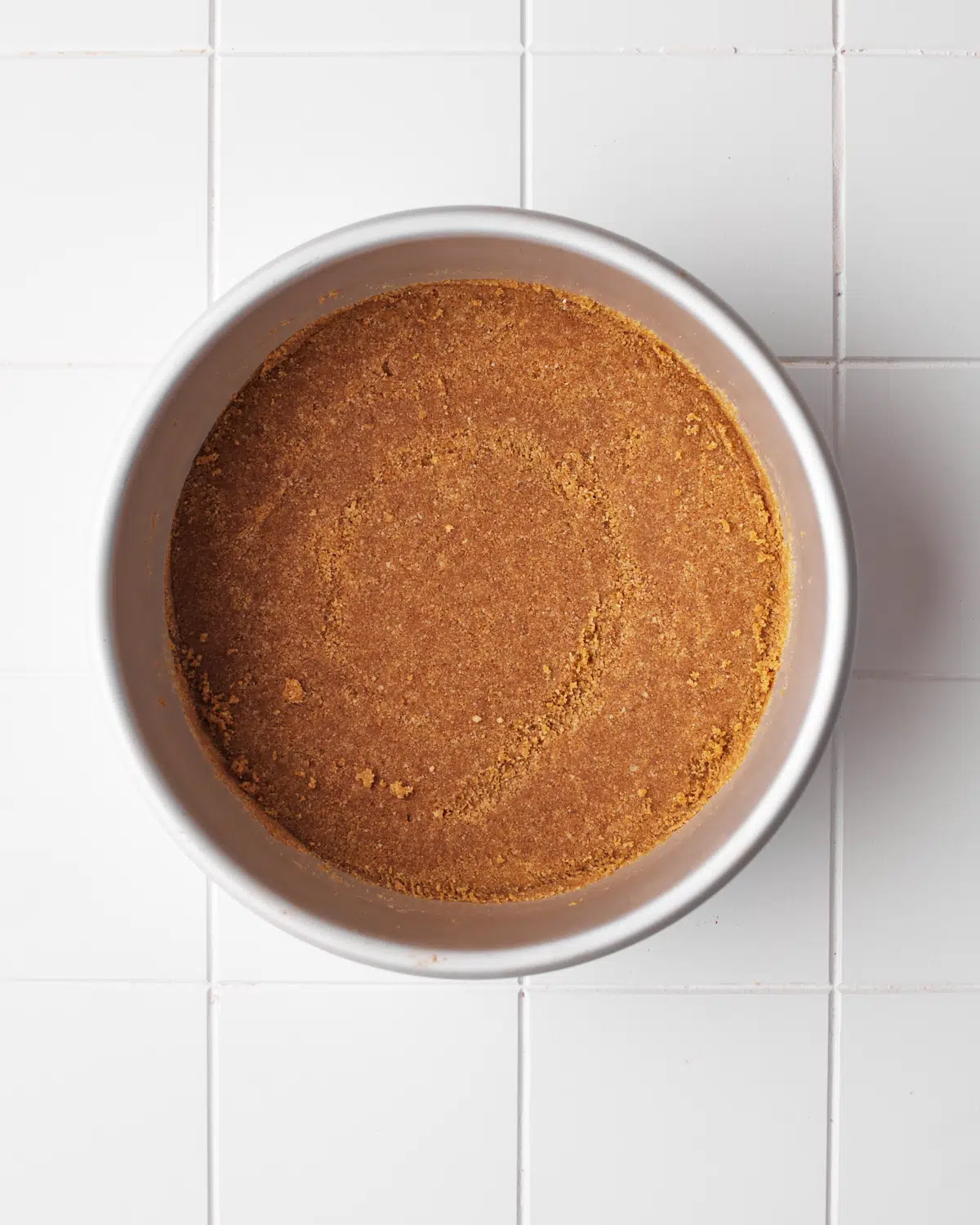 Make the Caramel Cheesecake
Once your caramel sauce has completely cooled to room temperature, it's time to make the cheesecake.
Start by preparing your cake pan for a water bath by wrapping the sides tightly in aluminum foil.  The sides will be submerged in water so make sure the foil comes high enough that no water will leak in and ruin your lovely crust. 
Preheat the oven temperature to 335°F / 170°C. 
In a large bowl, cream together the cream cheese, sugar, and cornstarch until they are completely smooth and free from lumps.  You can use an electric mixer or a stand mixer with a paddle attachment for this, but it also works great with just a wooden spoon or rubber spatula.  Everything will be incorporated more easily if you are using room temperature ingredients (except for the heavy cream - that should be cold).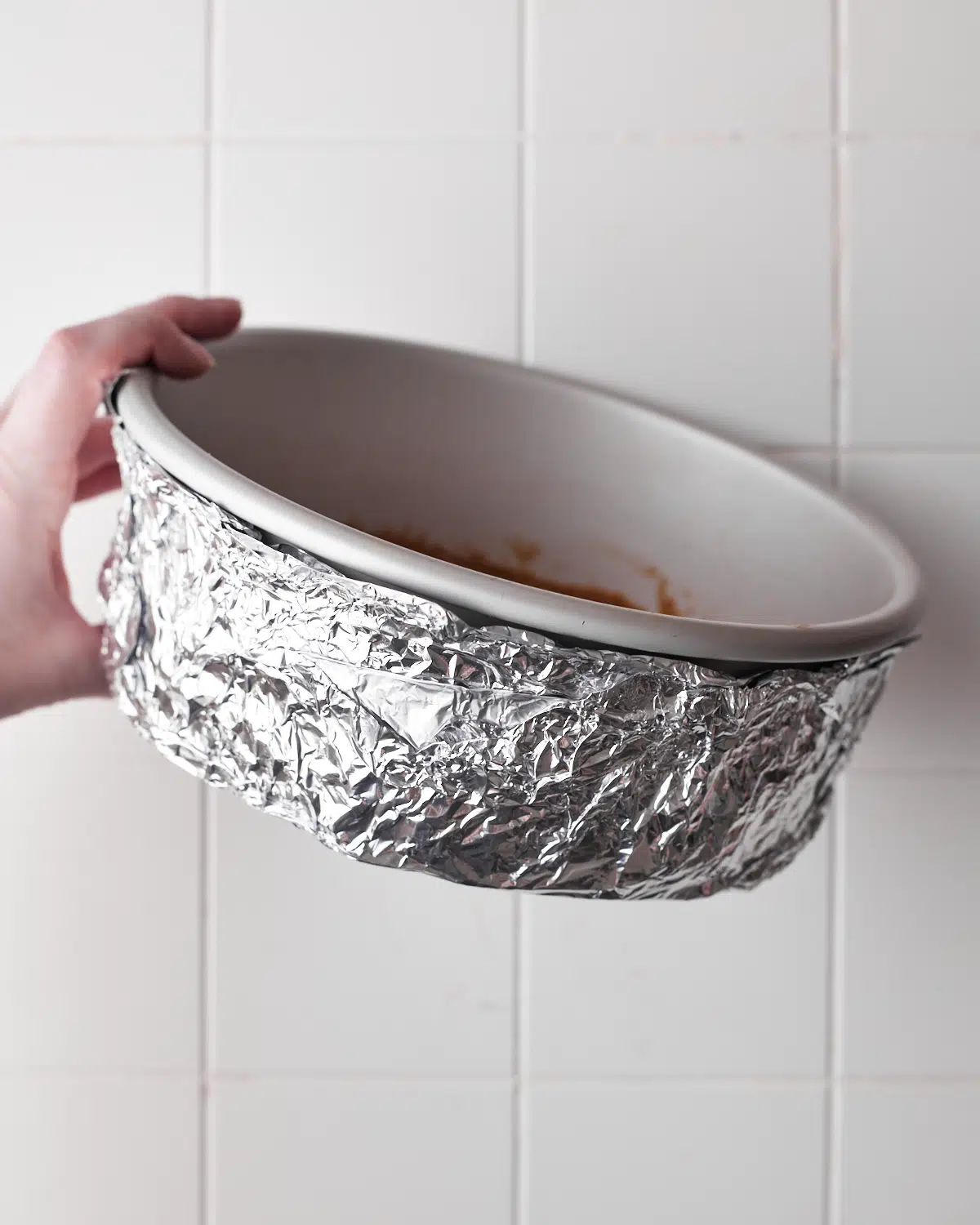 Add the eggs and egg yolk and beat in just until combined - you're not trying to incorporate much air into the batter so be careful not to overmix. 
Scrape the sides of the bowl, add the vanilla, and mix it in completely.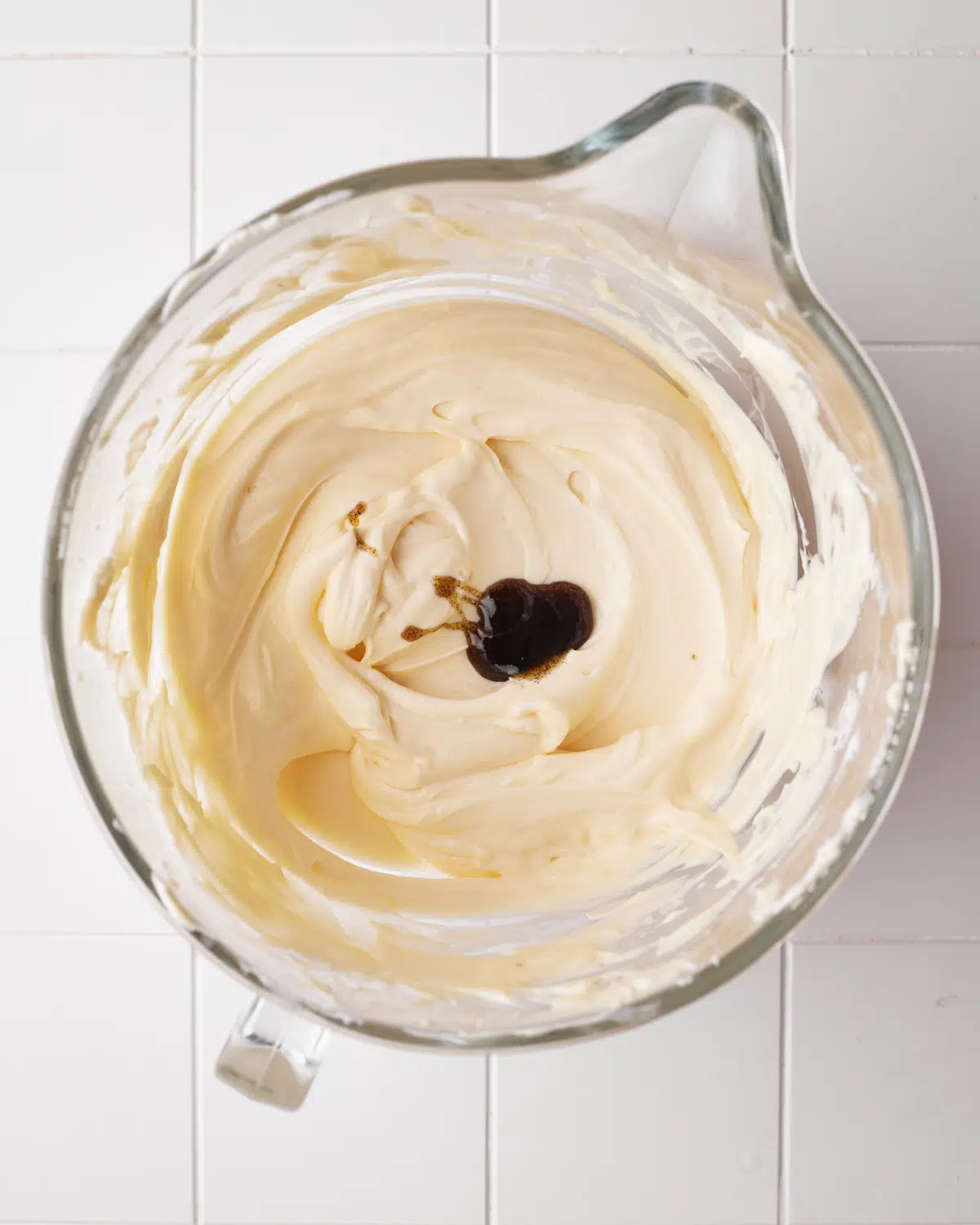 Slowly pour in the heavy cream, mixing as you go on a low speed. 
Add ¾ cup of your homemade caramel sauce and mix it in completely.
Once everything is well incorporated, pour batter into your prepared cake pan and put it into the oven inside a large roasting pan.  Pour water into the roasting dish until it reaches about halfway up the side of the cheesecake.  This is where it's important your cake pan is well wrapped so the water doesn't leak inside and ruin your lovely cheesecake crust. 
Close the oven and bake for about 40 minutes.  When it's ready, the outer 1-2 inches of cheesecake will be set and firm, but the middle will still be wobbly.  Turn the oven off and crack the oven door open slightly, leave the cheesecake in there for an hour.
After an hour, remove from the oven and from the water bath, and then let the cheesecake cool to room temperature on the counter before transferring to the fridge for at least 4 hours, until you're ready to serve.
Decorate the Caramel Cheesecake
I highly recommend adding the caramel sauce to your cheesecake AFTER slicing.  You can technically put it ton op of the entire cheesecake before, like I did for these photos, but for serving multiple slices you will have a much nicer end result if you slice the cheesecake first and then drizzle the caramel sauce on top. 
Remove the cheesecake from the fridge and let it sit at room temp for about 5 minutes, this should be enough to soften up the sides so it will release from the cake pan easily.  

If you find it is still hard to get out, you can try applying heat to the sides of the pan by briefly running a hairdryer or kitchen torch around the outside (just for a split second in each area). 
Push the cheesecake out of the pan slowly and set it down on the worktop. (or release the sides of the springform pan - depending on what kind of pan you are using). 
Slice your cheesecake into individual slices (see tips below on how to get the perfect slices).  When you are ready to serve, place individual slices on a plate and then drizzle generously with the caramel topping.  

The caramel sauce should be fairly liquid at room temperature, but if it is not, or if it has been in the fridge, you can put it in the microwave for 20 seconds to loosen it up.    Personally, I like the look of caramel drizzling down the side of each slice, but you can make it as neat or as messy as you like.  

I wouldn't advise doing the caramel drizzle too long before serving, as it may drip right off the side and lose some of the effect. 
For a finishing touch, you can whip up some cream with a little of the leftover salted caramel sauce and pipe some cream rosettes onto each slice of cheesecake.
It's definitely best to serve up and decorate each slice of cheesecake as it's about to be served as the caramel sauce may run off the side, so drizzle that caramel right before serving each time. Put any undecorated slices back in the fridge until ready to serve.  
Tips for Perfect Slices of Cheesecake
After all that hard work, you want to give your gorgeous caramel cheesecake the presentation it deserves. Here are some of my tips for getting the perfect slices of cheesecake:
For perfectly evenly sized slices, I like to use a cake portioner.  This is just a big plastic circle that will make a small indent on the cake to mark where you should cut - it ensures that every slice is the exact same size.  I use mine all the time and it makes a world of difference in the presentation of slices of cake, cheesecake, and other desserts.  

Make sure it is lined up perfectly in the center of the cheesecake before pressing it down slightly onto the surface of the cheesecake, it will leave tiny little marks around the outside for you to follow with your knife. 
Get a tall jug of very hot water, a large, sharp knife, and a roll of kitchen towel.  Start by letting the knife sit in the hot water for a few seconds, until it heats up.  Remove the knife from the water and use kitchen towel to wipe off the water so it's dry. 
Line the warmed knife up with one of the little indents, with the point of the knife in the center of the cheesecake, Make sure the knife is straight and perpendicular to the base of the cheesecake. 
Push all the way down, leading with the point of the knife, until you reach the base, then slowly pull the knife towards the outside of the cheesecake. 
Rinse the knife off in the hot water and let it re-warm and dry in between every single cut to make sure each slice is perfect.
Do I Need a Water Bath for my Cheesecake?
Technically no, you can make this cheesecake without a water bath, but I promise you the difference in results is well worth the extra step! Baked cheesecake can often come out crumbly and dry, but with a hot water bath, this caramel cheesecake recipe makes the most incredibly, creamy cheesecake filling that just feels like silk on your tongue. It's absolutely worth the effort!
Aside from making a dreamy texture, the water bath also helps to prevent cracks, so your cheesecake will look professional and perfect. 
Substitutions
Caramel Sauce - If you don't want to make your own caramel sauce, you can absolutely substitute it for a storebought one instead, just make sure it is real caramel and not a caramel-flavored topping like you'd use for ice cream. Carnation caramel works well. 
Corn Syrup - If you can't find light corn syrup, you can use glucose syrup or golden syrup. 
Variations
Salted Caramel Cheesecake or Plain Caramel Cheesecake - This caramel cheesecake is easy to switch between a salted caramel cheesecake or plain caramel cheesecake.  Simply add or omit the salt in the caramel when making it.  
Caramel Cheesecake Bars - If you don't fancy a round cheesecake, you could also use this recipe to make caramel cheesecake bars by baking it in a square or rectangular baking pan instead. 
Oreo Crust - If you want to switch it up and add a touch of chocolate, you could use Oreo crumbs instead of graham crumbs to make an Oreo crust on this cheesecake instead. All crumb crusts are winners in. my book! 
Equipment
Loose-bottomed Cake Pan - It doesn't matter if you use a cake pan with a loose base or a spring form cake pan, as long as the base comes out one way or another.  I used an 8-inch pan, but you could also use a 9-inch or 7-inch pan.
Roasting Dish - You'll need some kind of larger dish to put your cheesecake pan inside to make your water bath. 
Saucepan - To make your caramel you'll want a medium saucepan, preferably with high sides as the caramel tends to bubble up when you add the cream. 
Cake Portioner - Not a necessity, but if you're following my tips for perfect cheesecake slices, you might want to get yourself a cake portioner - I use mine all the time!
Storage
As with any cheesecake, you'll need to store this caramel cheesecake in the fridge, preferably in an airtight container.  It should be good in the fridge for 3 - 5 days.  
You can also store the caramel sauce in a glass jar or a bowl covered with plastic wrap for up to a week.  
More Caramel Recipes
Looking for other recipes like this? Try these:
Recipe
Caramel Cheesecake
Creamy baked caramel cheesecake smothered in homemade caramel sauce.
Ingredients
For the Caramel Sauce
1

cup

Sugar

200g

¼

cup

Water

56g

6

tablespoon

Butter

86g

½

cup

Heavy Cream

120g

1

tablespoon

Corn Syrup

(or liquid glucose, or golden syrup)

½

teaspoon

Salt
For the Cheesecake Base
1 ½

cups

Graham Cracker Crumbs

180g (or Digestive Biscuits)

¾

stick

Unsalted Butter

86g

2

tablespoon

Light Brown Sugar
For the Cheesecake
31

oz

Cream Cheese

900g

½

cup

Heavy Cream

120g

½

cup

Sugar

100g

3

tablespoon

Cornstarch

2

Eggs

1

Egg Yolk

1

teaspoon

Vanilla

¾

cup

Caramel Sauce

250g (as prepared above)
Instructions
Make the Caramel Sauce
Put the Sugar, water, and Corn Syrup in a saucepan over medium-low heat. Do not stir, just let everything melt and dissolve.

1 cup Sugar,

¼ cup Water,

1 tablespoon Corn Syrup

Let the mixture bubble, still not stirring, until it starts to get a bit of color. Watch it closely to avoid burning. Once it turns amber, add the butter and stir it in

Let the mixture boil for about a minute, stirring every few seconds. After a minute, slowly add the cream and stir in - it will bubble up and might spit, so be careful.

Once the caramel has settled back down after adding the cream, check the color - if you are happy with the color, remove it from the heat and stir in the salt. If you'd like it darker, keep boiling for a little longer until you reach the desired color. Just be careful not to let it burn!

Let the caramel cool completely to room temperature before using.
Make the Cheesecake Base
Blitz up your graham crackers in a food processor until they are fine crumbs. If you don't have a food processor, you can also put them in a plastic bag and bash them with a rolling pin.

1 ½ cups Graham Cracker Crumbs

Add the brown sugar to the graham cracker crumbs.

2 tablespoon Light Brown Sugar

Melt the butter in the microwave in 30-second increments, then pour melted butter into the graham cracker crumbs and mix together. Once combined, it should look a little like wet sand, you should be able to squeeze it together in your hands.

Pour into the base of a loose-bottomed cake pan and use your hands or a glass to press it down and pack it tightly.
Make the Cheesecake
Prepare the cheesecake pan for a water bath by wrapping the outside of the pan tightly in aluminium foil. Make sure no water is going to get in! Preheat your oven to 335°F / 170°C.

Cream together the cream cheese, sugar, and cornstarch until smooth and free from lumps. It's best if the cream cheese is at room temperature first.

31 oz Cream Cheese,

½ cup Sugar,

3 tablespoon Cornstarch

Add in the eggs and egg yolk and beat until combined. Don't overmix, we just want to combine the ingredients, not incorporate any air into the batter.

Add vanilla and caramel sauce, then mix them in completely.

1 teaspoon Vanilla,

¾ cup Caramel Sauce

Gradually add the heavy cream, while mixing it in slowly.

Pour the cheesecake batter into the prepared cake pan. Put it in a deep roasting dish and place on the middle shelf of your oven. Once it is on the shelf, pour water in until it comes about halfway up the cheesecake. Be careful not to splash any water inside the cheesecake.

Bake for 45 minutes or until the outer 1-2 inches of the cheesecake are set and firm, but the middle is still wobbly.

Turn the oven off and crack the door open slightly, let the cheesecake sit in there for about an hour.

After an hour, remove the cheesecake and let it cool completely on the countertop, then transfer to the fridge and chill for at least 4 hours before serving.

When you are ready to serve, slice the cheesecake and then drizzle the leftover caramel sauce on top of each slice. Top with whipped cream for an extra touch.
Notes
I always recommend weighing your ingredients with a scale for the most accurate measurements and the best results.   
See blog post above for tips on how to get the perfect slices of cheesecake. 
Note: I highly recommend slicing your cheesecake slices first and then drizzling with caramel sauce right before serving.  This is the best way I have found of serving so it looks beautiful and fresh. 
Nutrition
Calories:
633
kcal
Carbohydrates:
51
g
Protein:
7
g
Fat:
46
g
Saturated Fat:
27
g
Polyunsaturated Fat:
2
g
Monounsaturated Fat:
12
g
Trans Fat:
0.5
g
Cholesterol:
170
mg
Sodium:
509
mg
Potassium:
162
mg
Fiber:
0.4
g
Sugar:
42
g
Vitamin A:
1700
IU
Vitamin C:
0.2
mg
Calcium:
111
mg
Iron:
1
mg