This no-bake Biscoff Cheesecake is about to blow your Biscoff-loving socks off. With Biscoff cookie butter in the base, the creamy cheesecake, and the topping, it's any Biscoff fan's perfect dessert.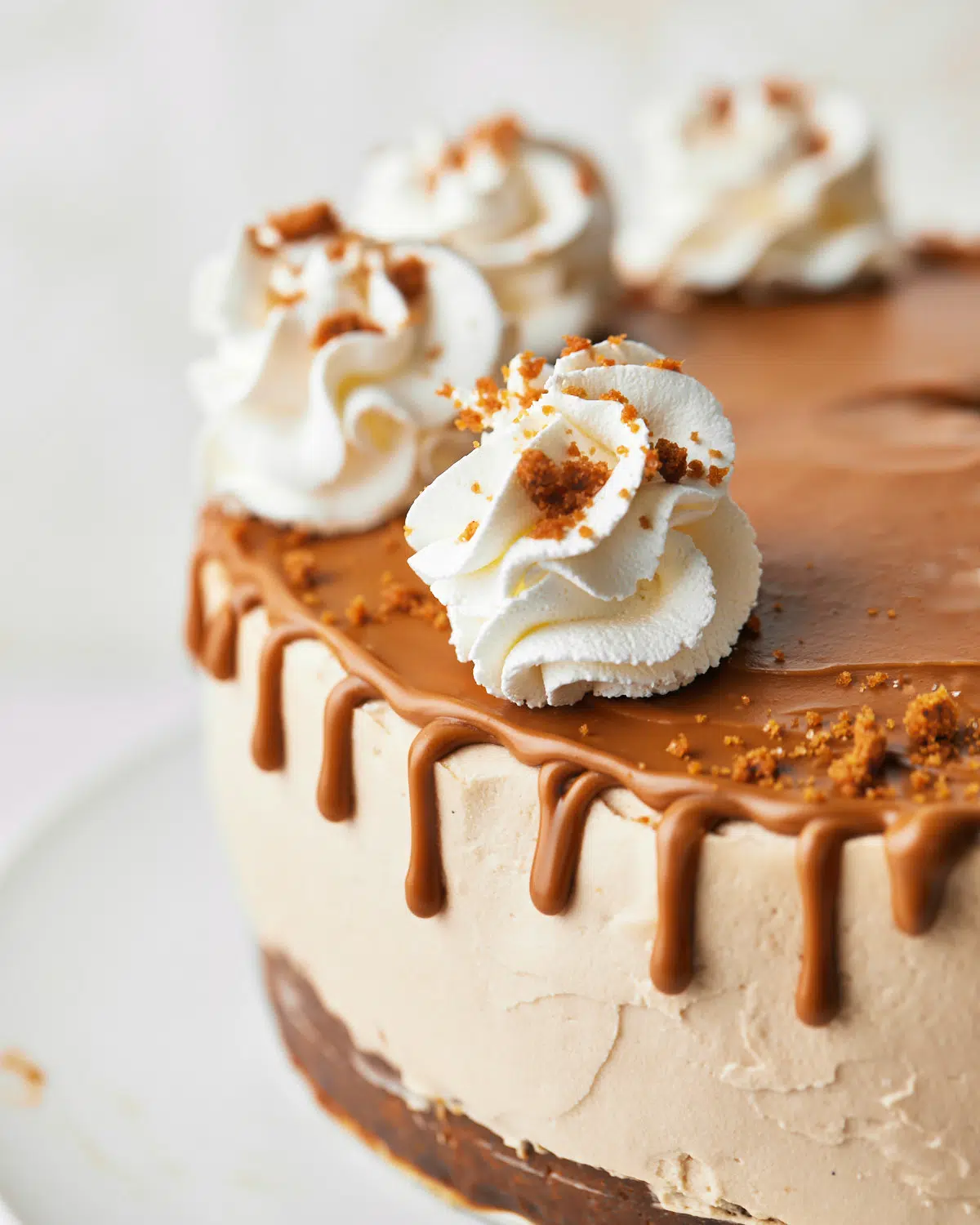 I have to be honest, I didn't get the whole Biscoff craze before. The Lotus biscuits always just reminded me of the little tea and coffee stations in hotel rooms and I was never a huge fan. But with all these Biscoff recipes popping up all over the internet lately, I figured it was time I revisit - and I'm glad I did! This Biscoff cheesecake recipe is undeniably delicious and the cookie butter flavor just mixes so amazingly well with the cream cheese to make a super smooth, creamy, no-bake cheesecake that is absolutely irresistible.
No-bake cheesecakes are always a winner in my books because they come together so quickly and easily but make for wonderful desserts. Some of my other favorites include my Cookie Dough Cheesecake and my Millionaire's Cheesecake. Be sure to check those out if you're a fan of the no-bake cheesecake. But for now, enjoy this super smooth and creamy, delightful Biscoff cheesecake!
Jump to: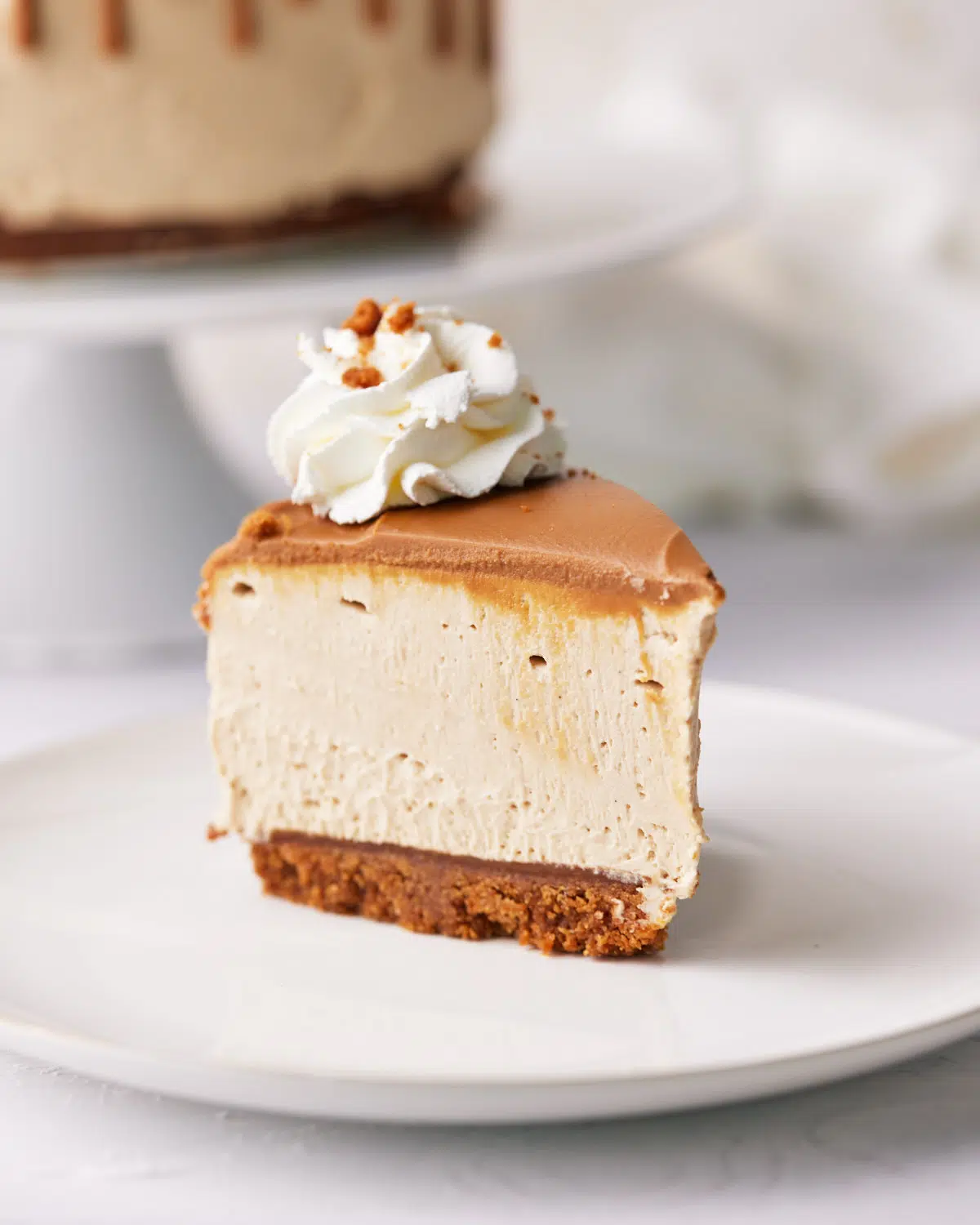 Ingredients
This is a large and tall cheesecake. I love tall cheesecakes, but you will need a taller (loose-bottomed) cake pan to accommodate it. If you don't have a tall cake pan, or you would prefer a smaller cheesecake, you can half the recipe.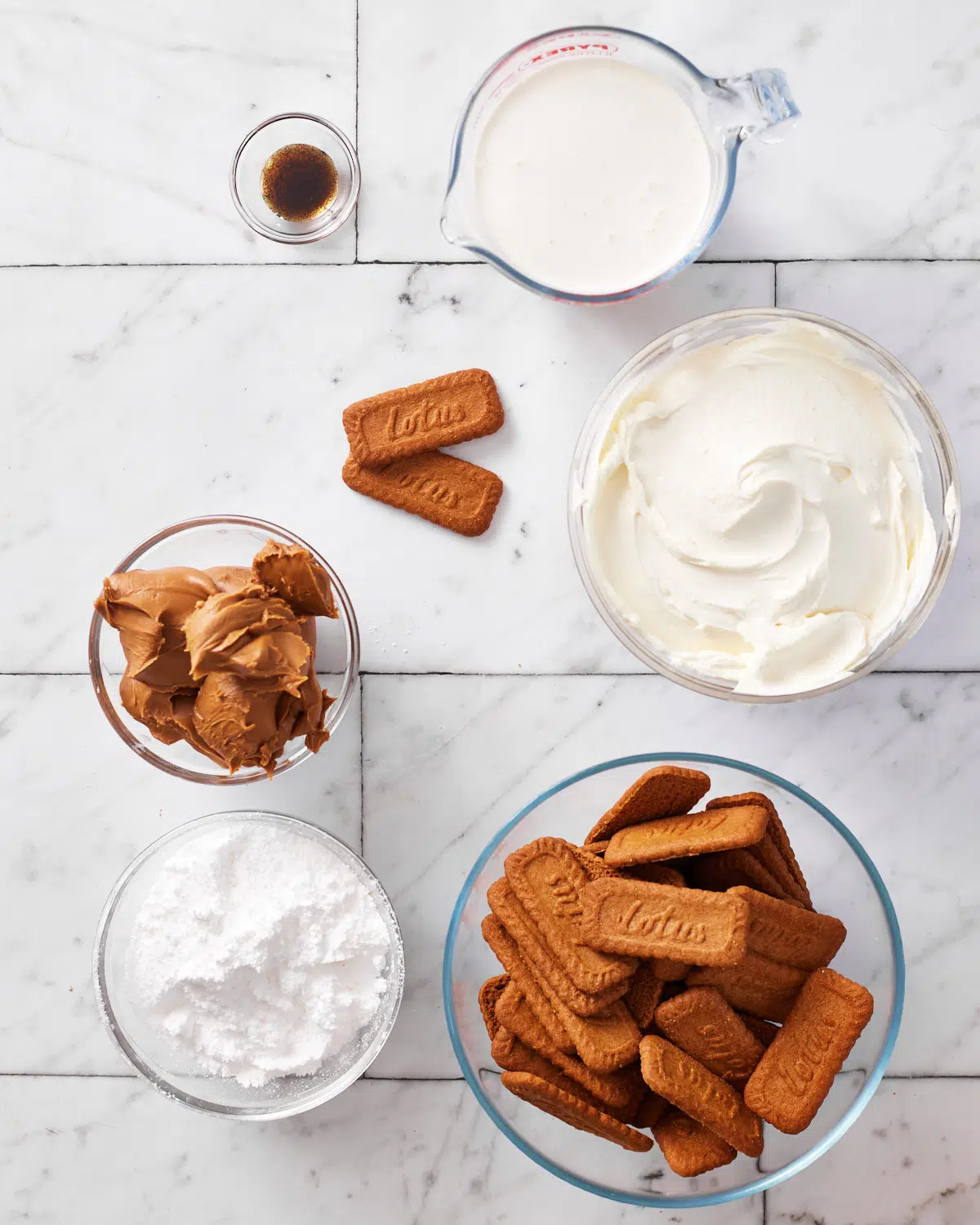 Lotus Biscoff Cookies - These little speculoos cookies are everywhere, you should be able to find them at most grocery stores. You'll need 1 and a bit packets of lotus Biscoff biscuits for this recipe, so you'll have some left over for snacking on while you wait for your cheesecake to set!
Butter - You can use salted or unsalted butter here, it doesn't really matter.
Cream Cheese - Make sure you use full-fat cream cheese so it should be nice and firm. If there is any liquid in your packaging, make sure to drain that out before adding your cream cheese into the mixture. Make sure you use room temperature cream cheese for this recipe.
Heavy Cream - This is very important. Your cream MUST be at least 36% fat or the cheesecake will not set. If you are in the UK, this means using double cream. In North America, heavy cream or heavy whipping cream should do the trick. But regular whipping cream may not be thick enough so make sure to check the packaging. In Europe, it can be harder to find high-fat cream. If you really can't find cream above 36%, you can still make this delicious cheesecake, you will just need to add some gelatin to the cheesecake to help it set. See the section below for how to add gelatin to a cheesecake.
Lotus Biscoff Spread - This is the jar of spreadable cookie butter that you will often see in the grocery store - usually near where they keep the Nutella. If you can't find specifically Lotus Biscoff, you can use another brand of cookie butter instead - they are all made with speculoos cookies and will give the same flavor. I think the best results come from using the smooth Biscoff spread, but you could also use the crunchy spread if you prefer. We'll use one whole jar of Biscoff spread in the cheesecake and another few tablespoons to decorate (optional). So you'll need to buy two jars for this recipe.
Powdered Sugar - Also known as icing sugar or confectioners sugar. This will add some sweetness and stability to the creamy Biscoff cheesecake filling. It will also dissolve into the cheesecake much easier than granulated sugar or caster sugar.
Vanilla - Any vanilla extract or vanilla bean paste will do. Try to avoid vanilla essence.
See recipe card for quantities.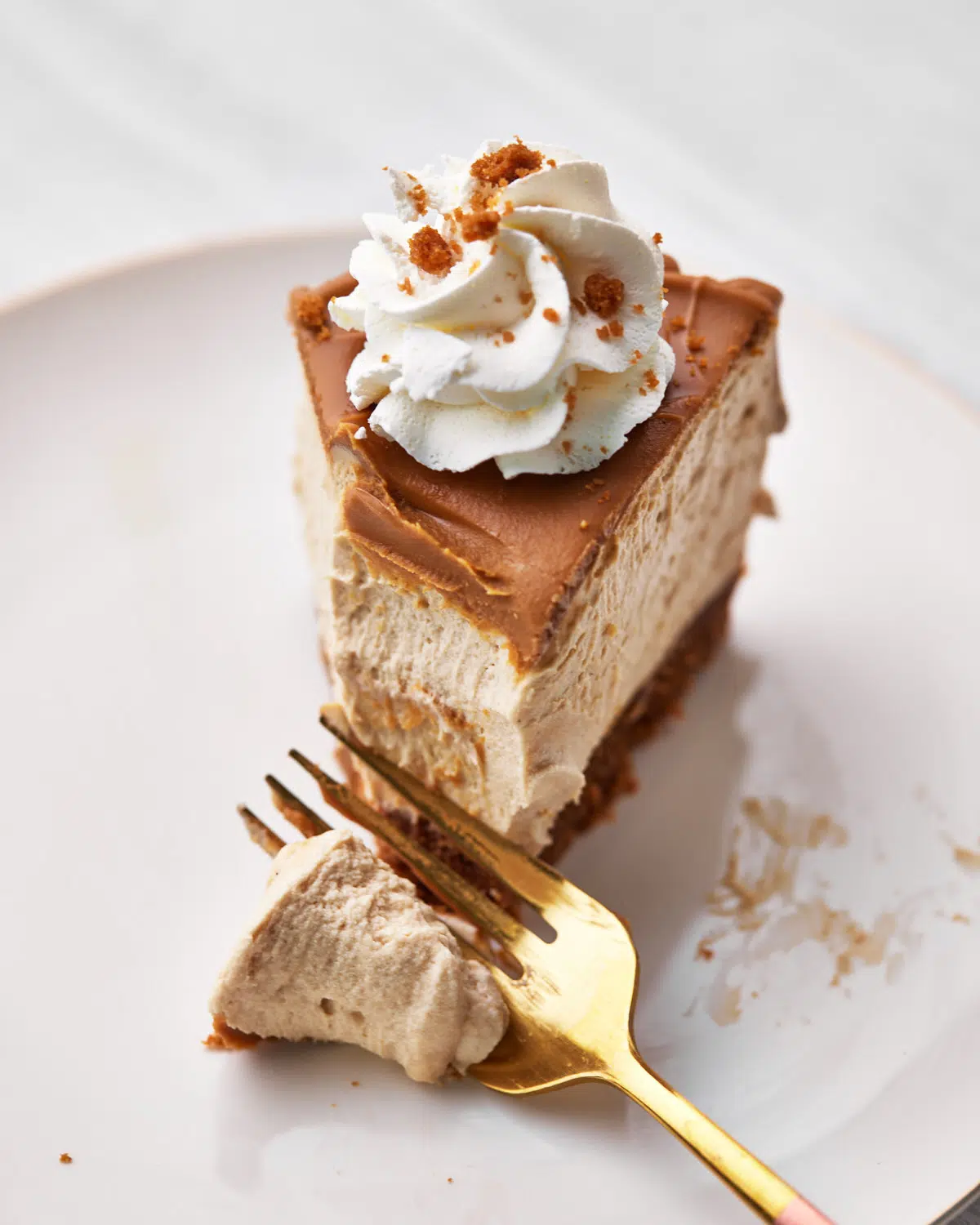 How to Make the Biscoff Cookie Crust
The Biscoff cheesecake crust is super easy to make and only has two ingredients.
Start by crushing up your lotus Biscoff biscuits. I pulsed mine in a food processor until they were fine crumbs. If you don't have a food processor, you could also do this by putting the cookies in a plastic bag and whacking them with a rolling pin until the desired consistency is reached - either method works!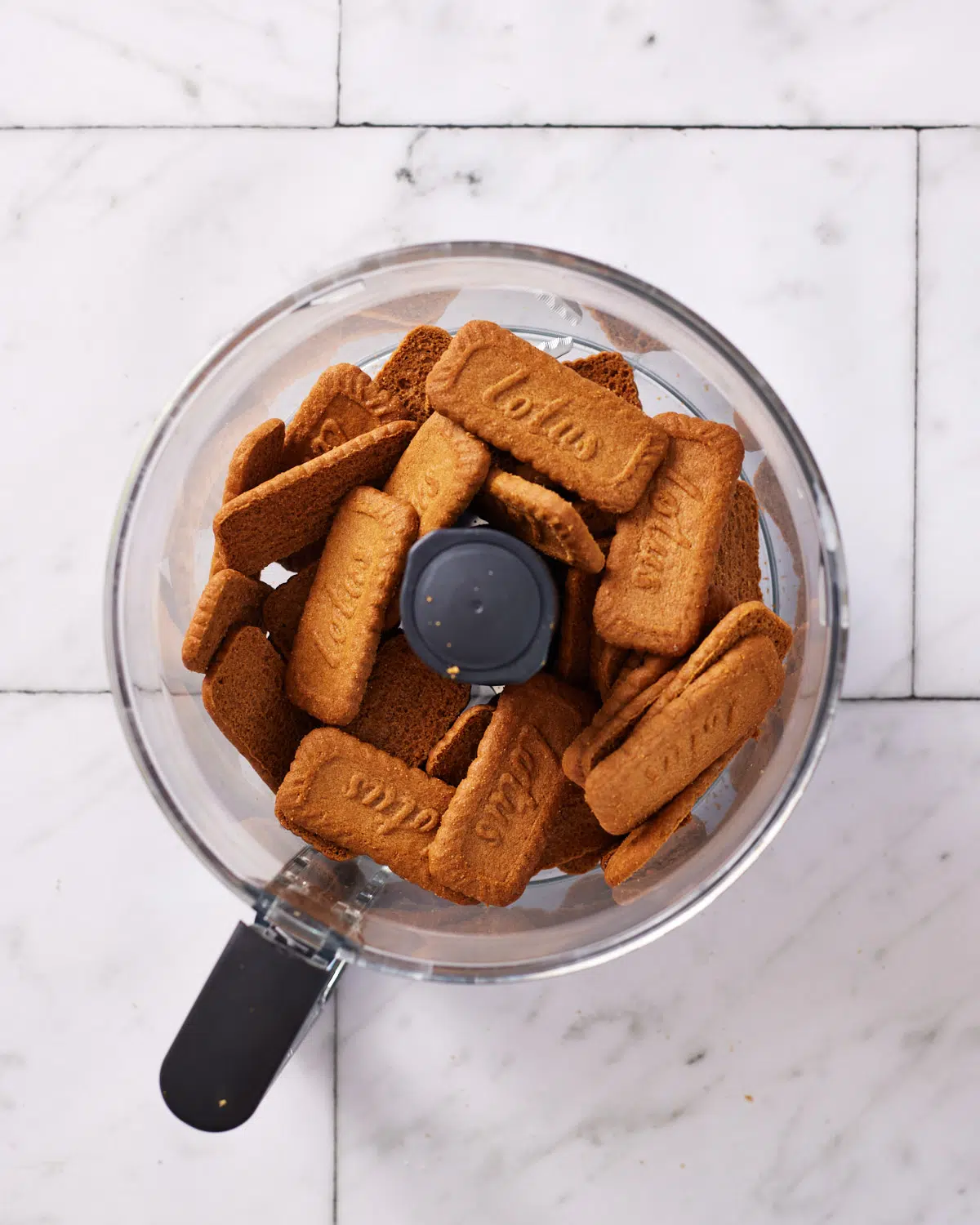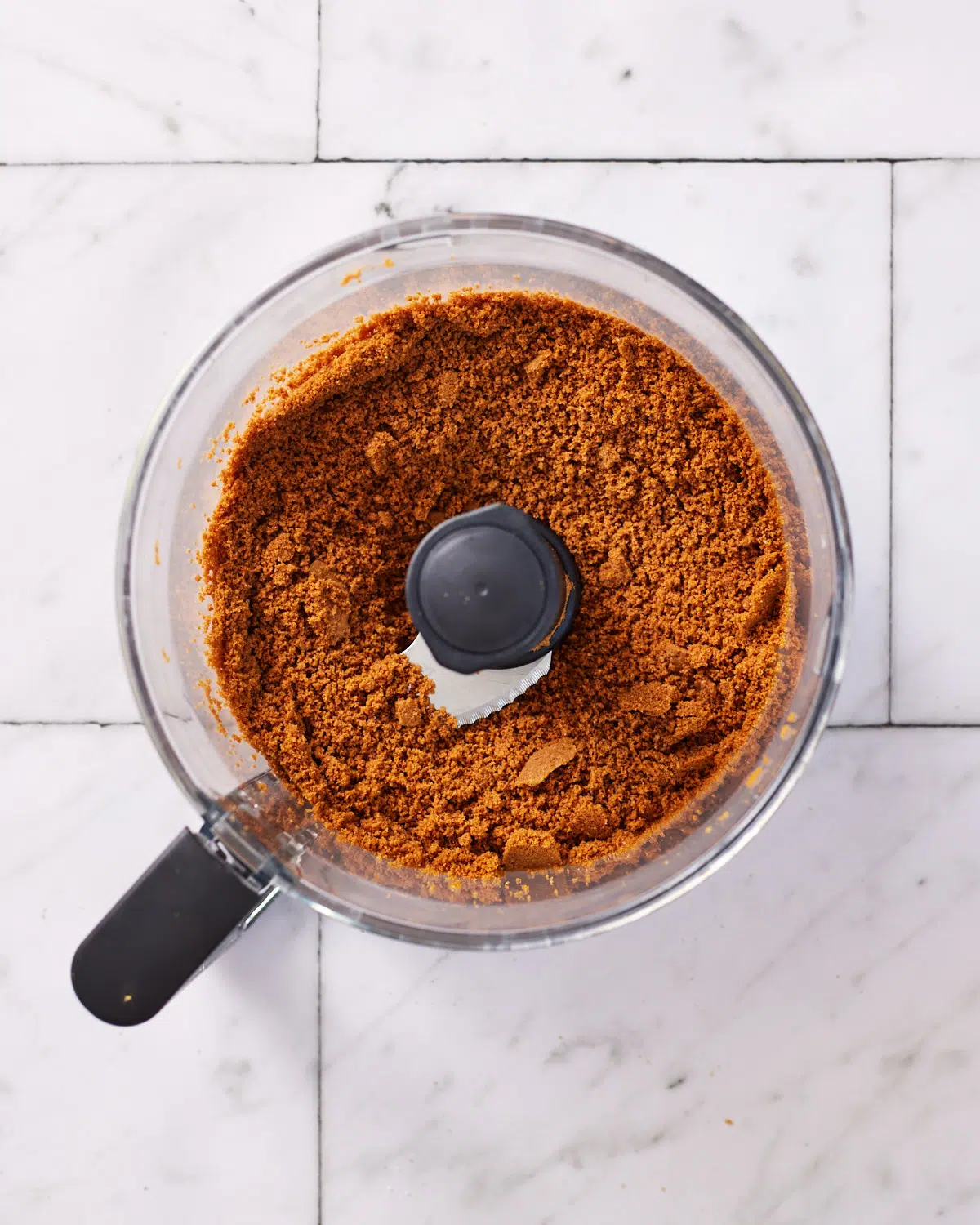 Melt the butter in the microwave in 30-second increments.
Pour the melted butter into your Biscoff cookie crumbs and mix them together until completely coated. If using the food processor you can just pour the butter right into the processor and continue to blitz.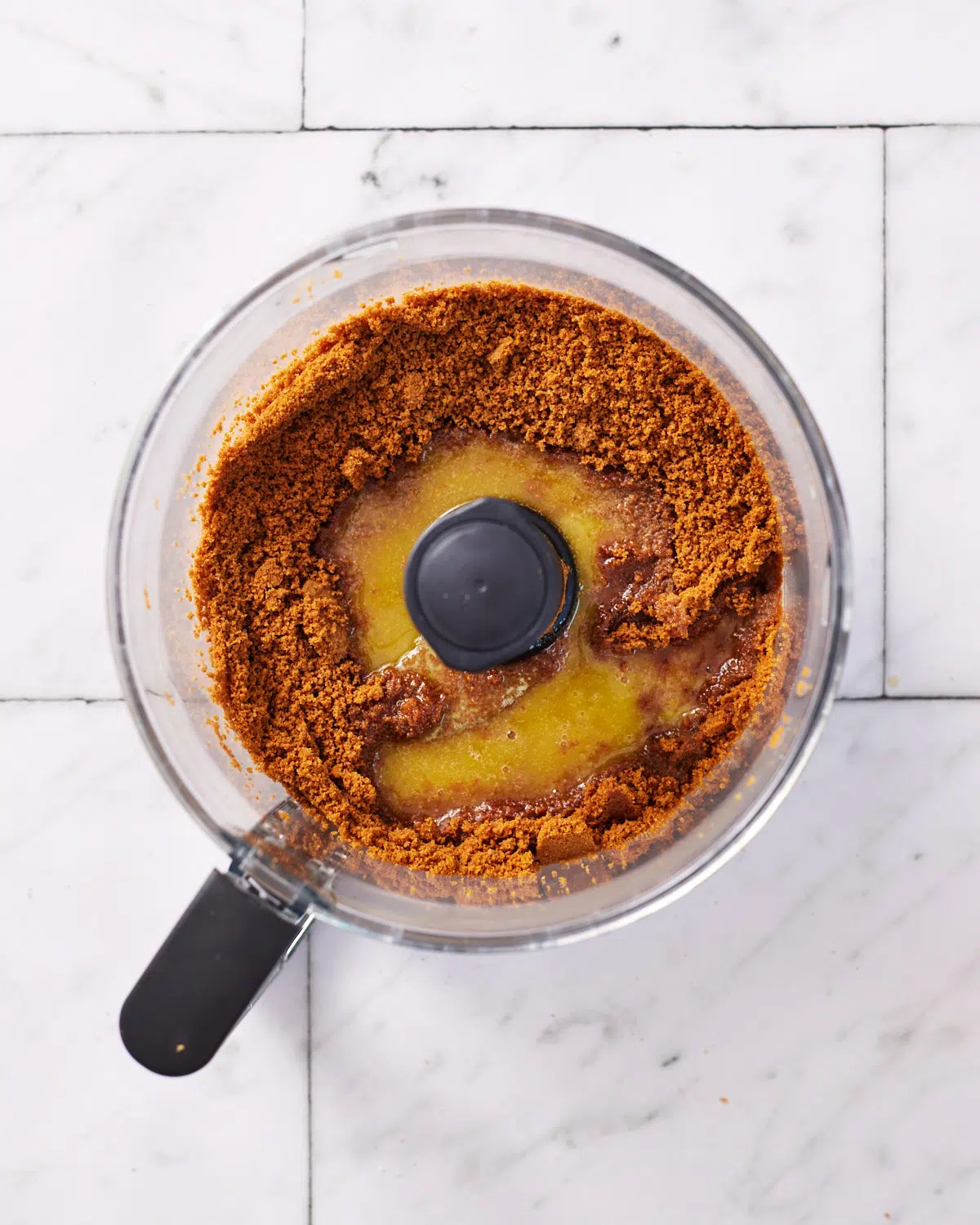 Once the butter and crumbs are totally combined, you should be able to squeeze the mixture with your fingers and it should hold its shape.
Pour the mixture into the bottom of the springform pan (or loose-bottomed pan) and press it down with your hands to form an even layer of Biscoff crust all along the bottom of the pan. You do not want the crust to go up the sides of the pan for this lotus cheesecake.
Use the bottom of a glass or measuring cup to press the cookie crust in tightly. Set aside until needed.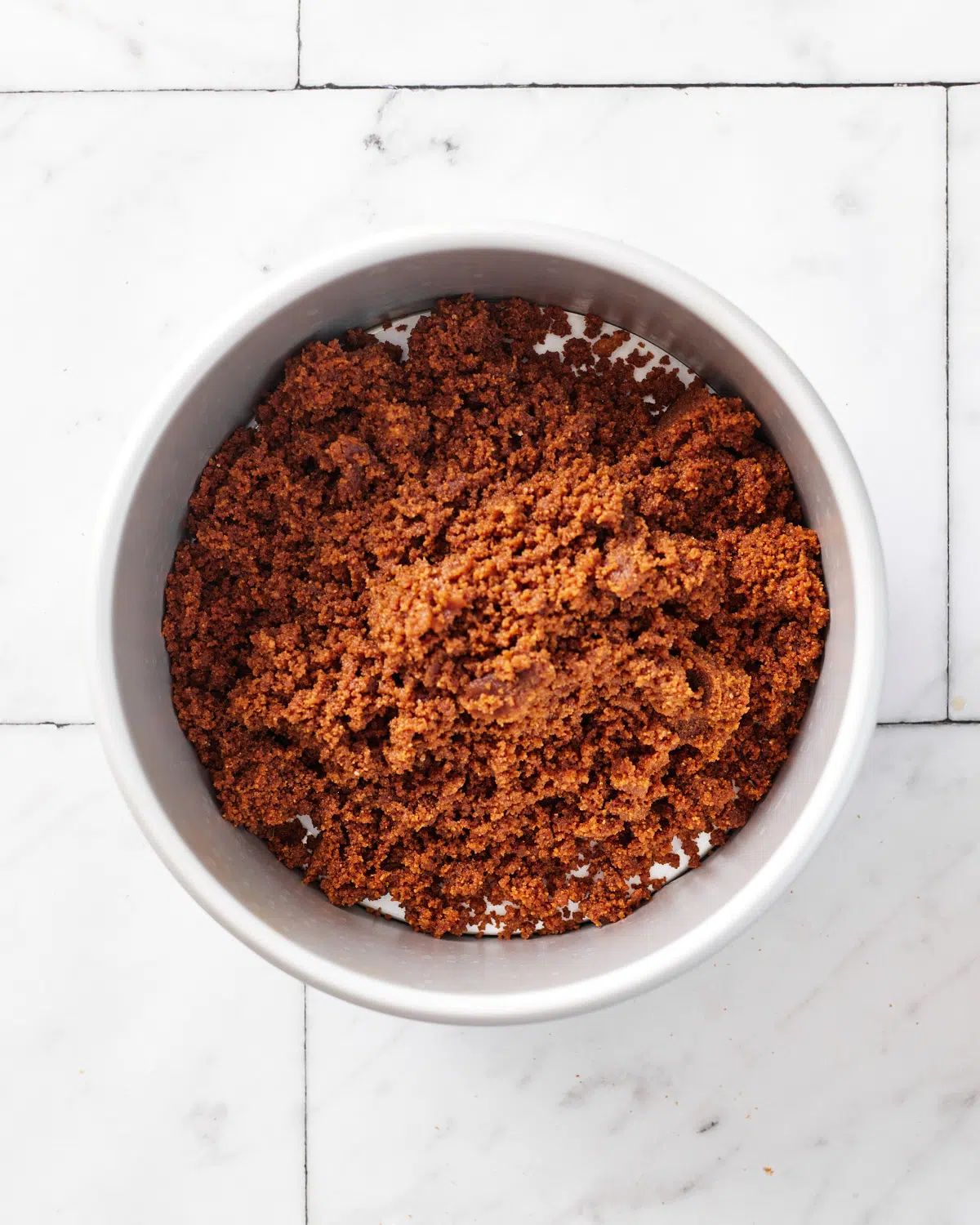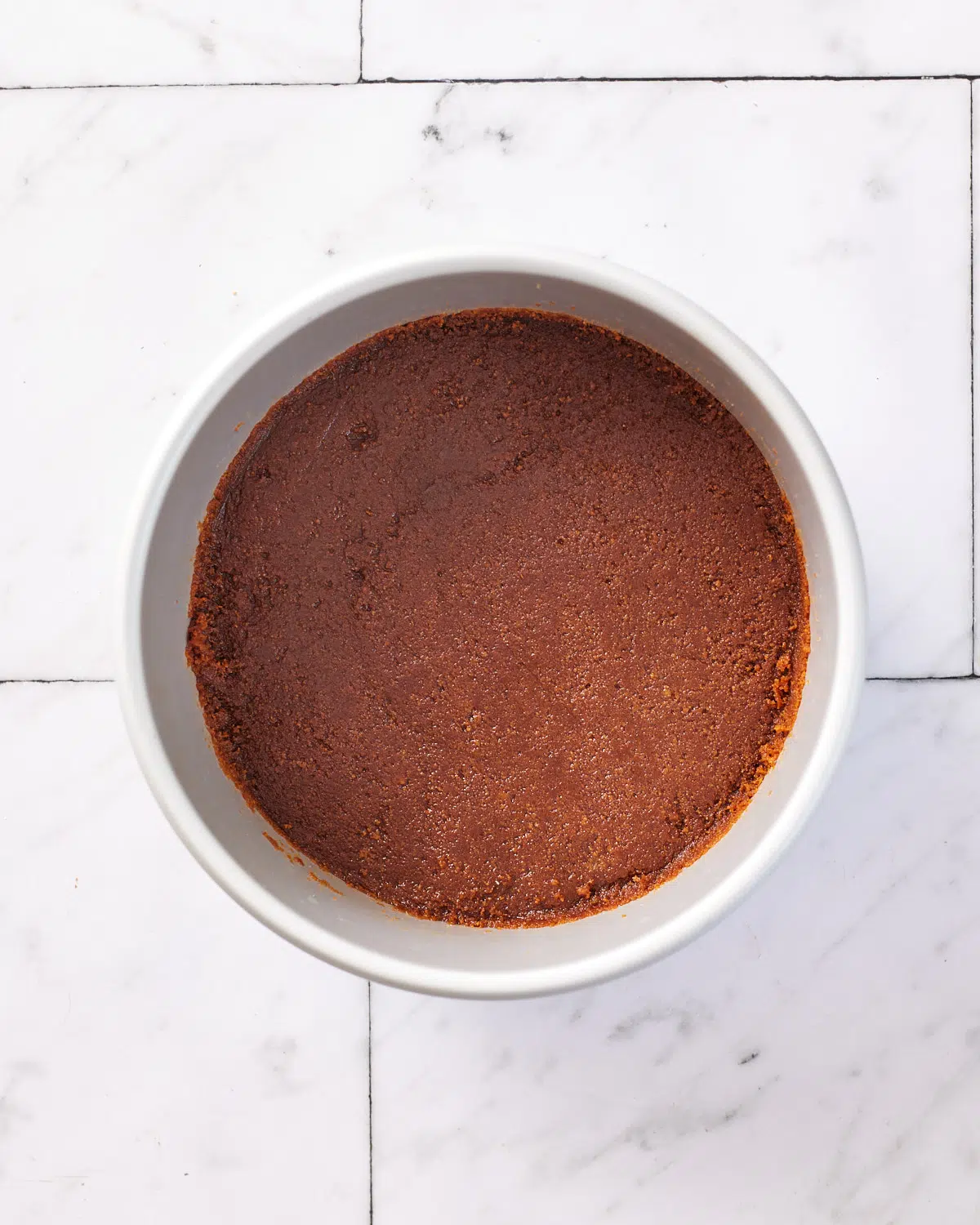 How to Make the Biscoff Cheesecake Filling
This is really the ultimate Biscoff cheesecake, it has an entire jar of cookie butter spread in the cheesecake filling - I think that says it all!
Make sure your cream cheese is at room temperature (but your heavy cream is cold).
Whip up your heavy cream until it reaches stiff peaks. It's very important that the cream is whipped enough. If it is only whipped to soft peaks, the cheesecake will not set properly. Set the cream aside while you prepare the other ingredients.
Put the cream cheese, powdered sugar, vanilla, and Biscoff spread into a large bowl and beat together until smooth and well combined. I like to do this in my stand mixer with the whisk attachment, on medium speed. You could technically use a paddle attachment for this, but I find the best way is to use a whisk attachment for a super creamy cheesecake. You could also use a hand mixer or do it by hand if you wanted. If you are using a stand mixer, you can whip the cream in there first and then transfer it into a separate bowl while you whip the cream cheese mixture. No need to clean the bowl in between as we'll be mixing it all together anyway.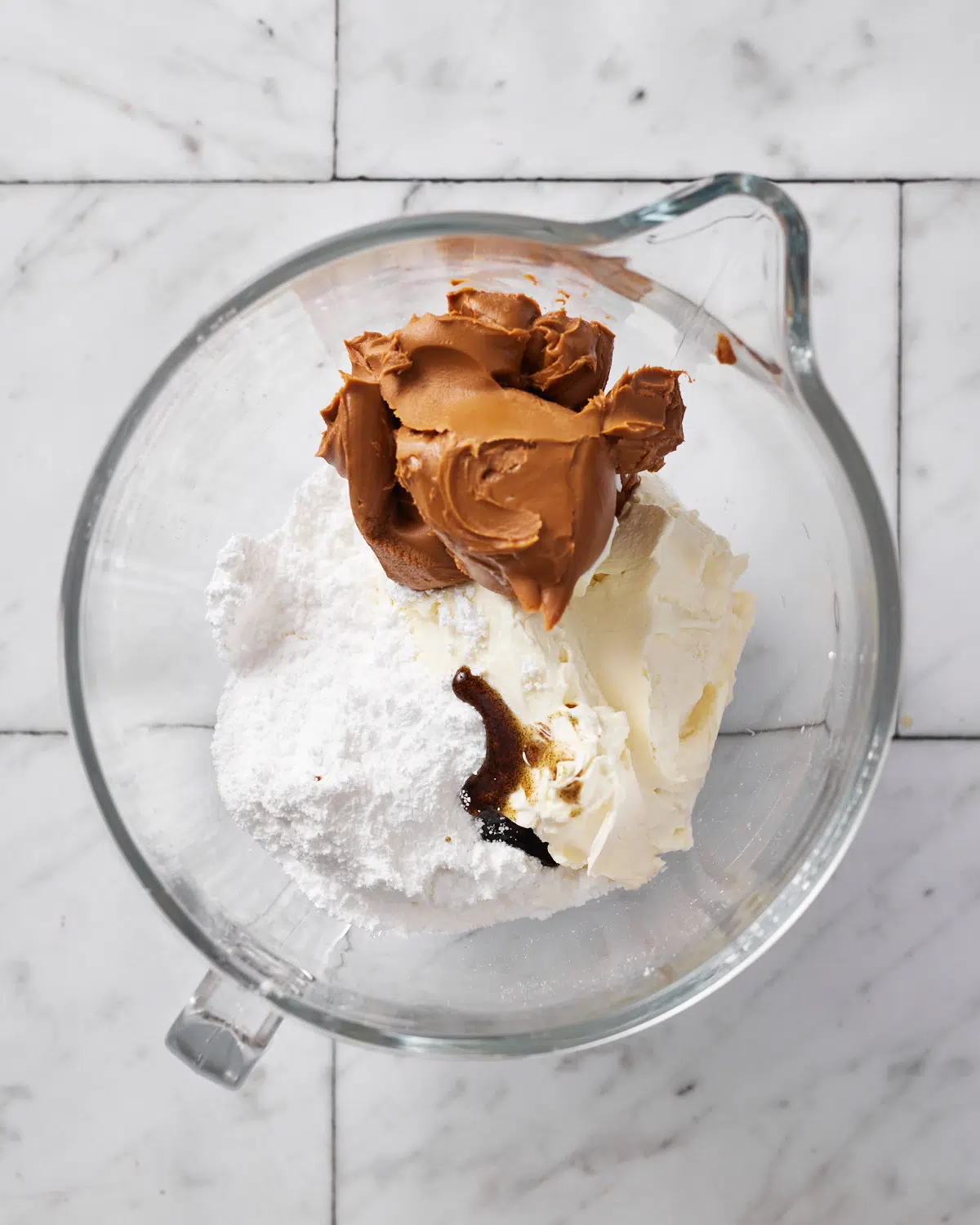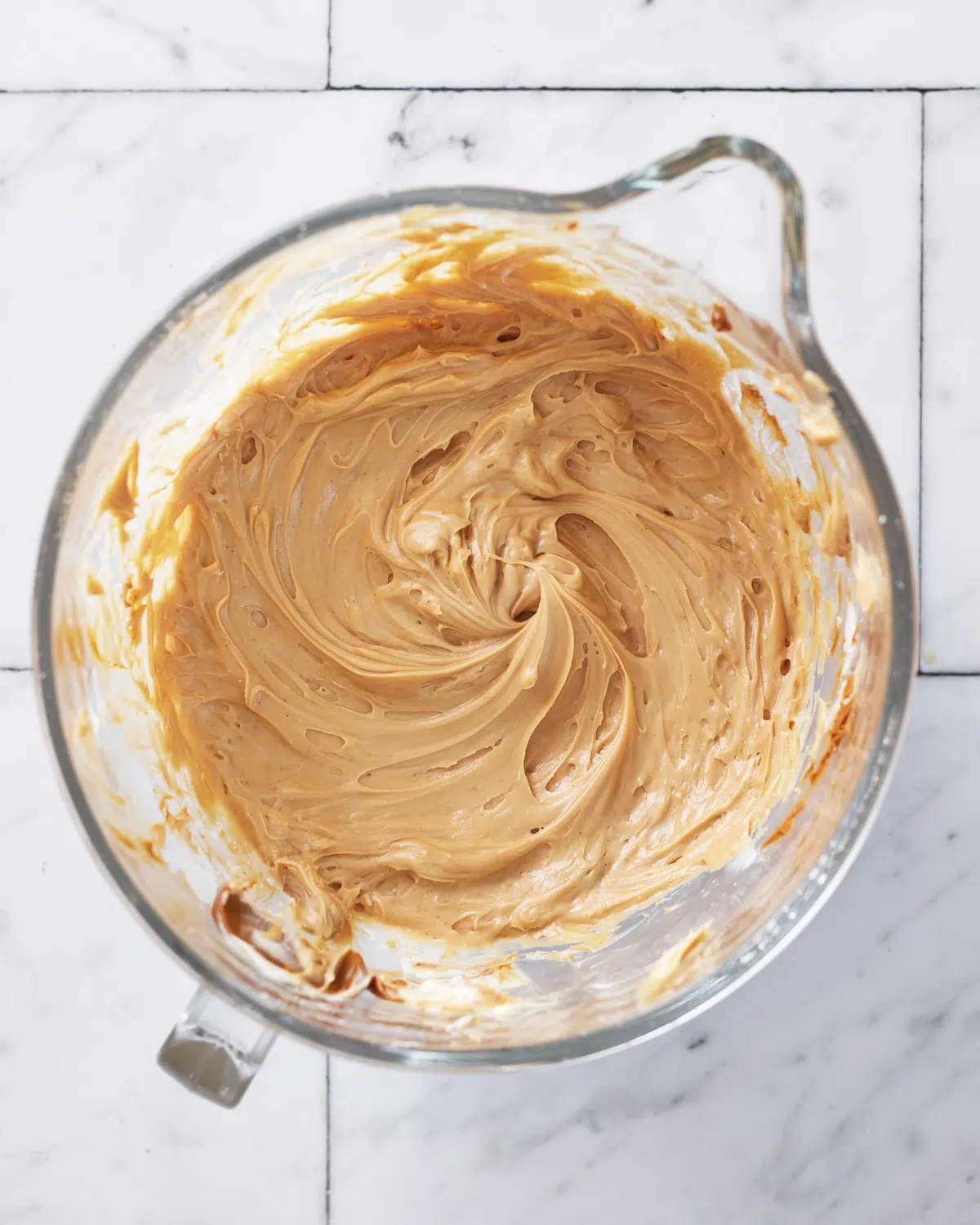 Once the cream cheese mixture is totally combined, take a dollop of the whipped cream and stir it into the mixture to loosen it up a little. Make sure you scrape down the sides of the bowl to get any unmixed chunks of cream cheese.
Fold in the remaining whipped cream gently until it is completely incorporated.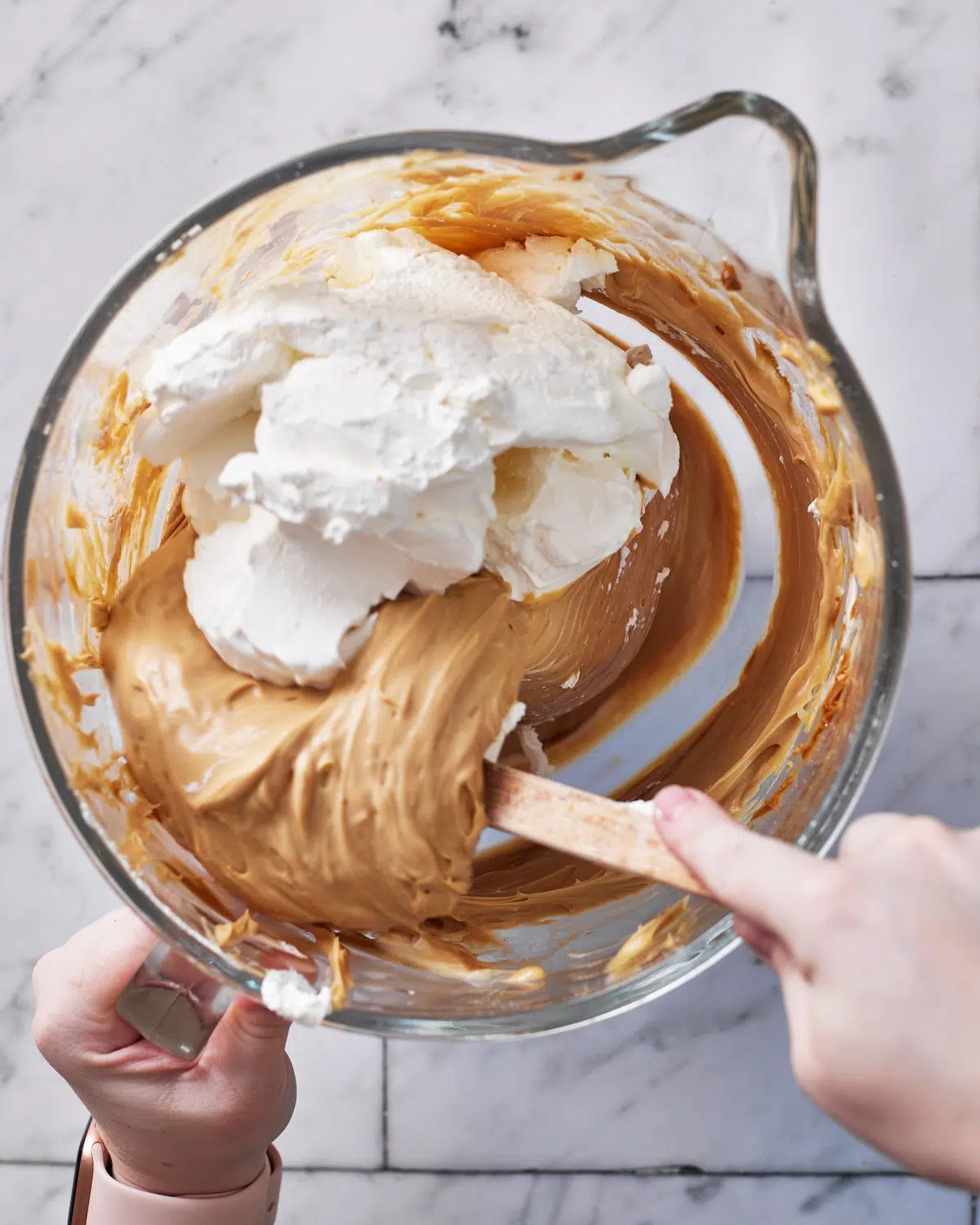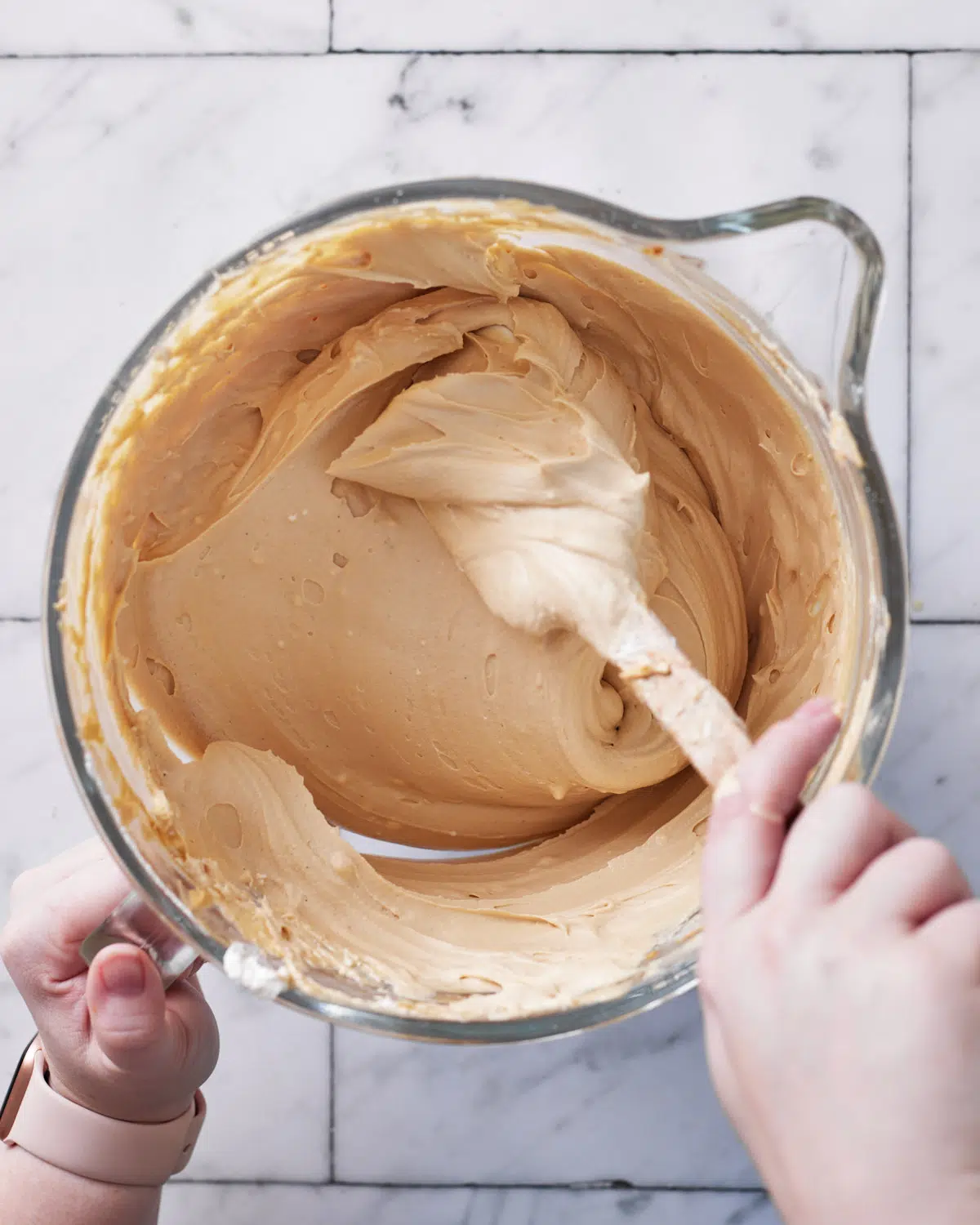 Pour the Biscoff cheesecake batter into the prepared pan on top of the crust and smooth it out with a rubber spatula or offset spatula.
Place the cheesecake into the fridge and leave to set overnight (or for at least eight hours).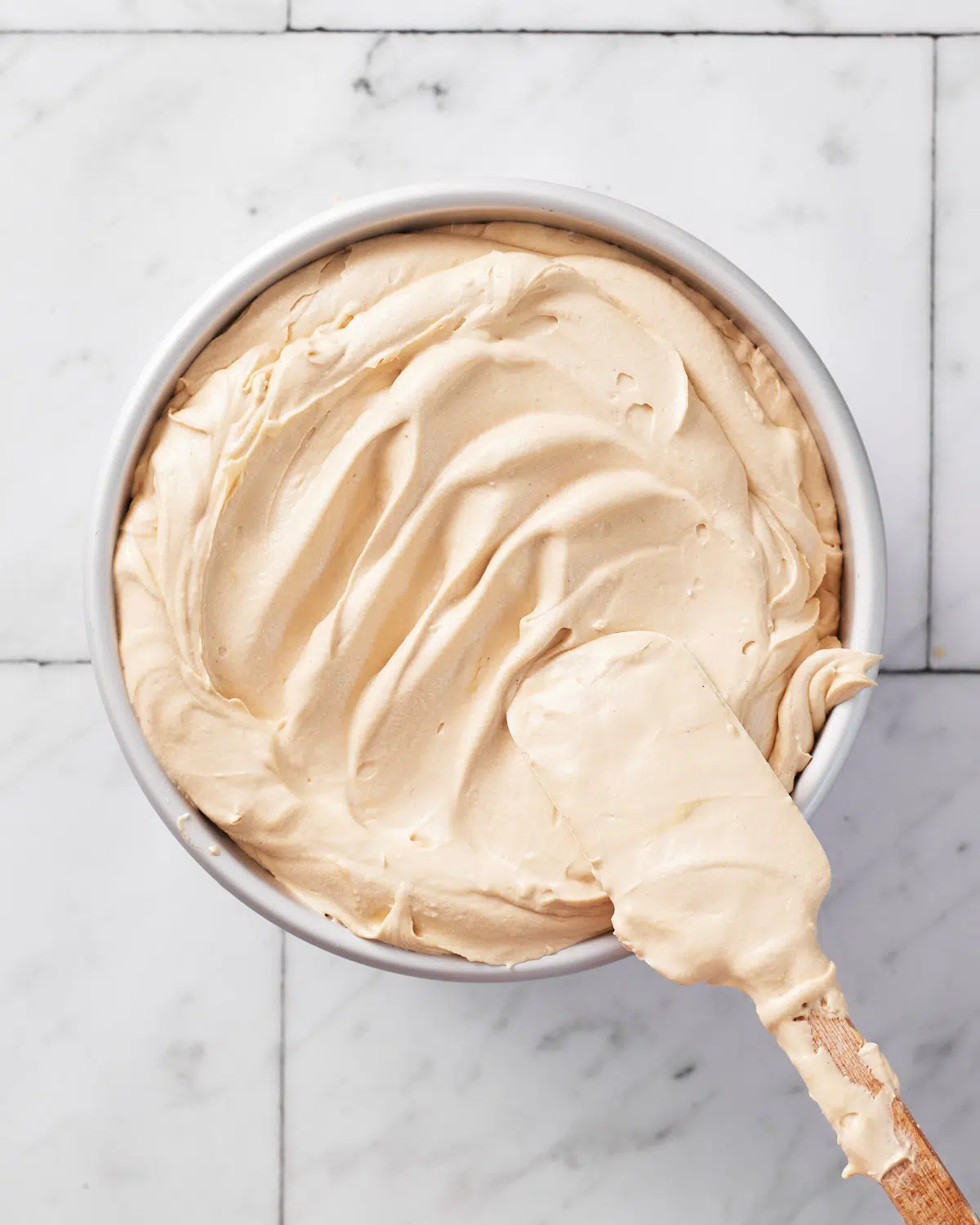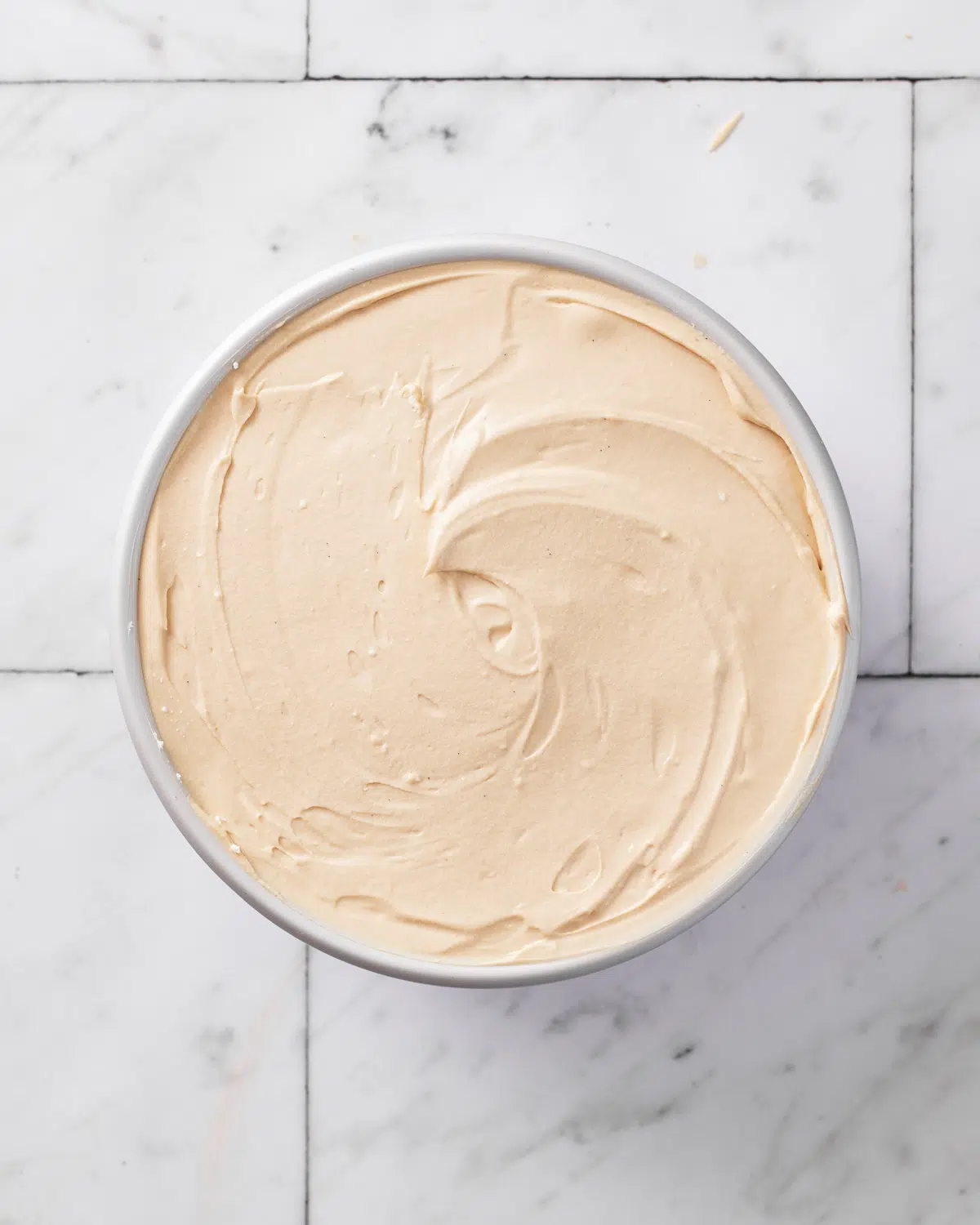 How to Get No-Bake Cheesecake Out of the Pan
First of all, it goes without saying that you need to make this cheesecake in a pan where you can remove the bottom. That can be a loose-bottomed cake pan (the one where you can push the base of the tin out of the top), or it can be a springform cake pan (the kind where you release a clasp and loosen the sides of the pan. Either will work great.
There is no need to grease your cake pans for cheesecake, but if you want to you could put a parchment paper cake circle underneath the base of the cheesecake to make it easier to transfer off of the pan base onto a serving plate.
To remove a chilled cheesecake from the pan, remove it from the fridge and leave it to sit on the counter for about 5 minutes.
Very slowly try to push up the base of the pan (or loosen the sides if it's a springform pan). If it seems like it is moving easily, you can release it all the way. If there is some resistance, don't force it or you might break the cheesecake. If it won't come out easily, you can either wrap the sides of the pan in a dish towel soaked with warm water and let it sit for a minute or so, or you can use a blowtorch to lightly heat the outside of the pan (only if it's a metal pan!). Then try pushing it out again - it should slip out easily.
If you want to you can then run a palette knife around the sides of the cheesecake to smooth it out and make it a little prettier.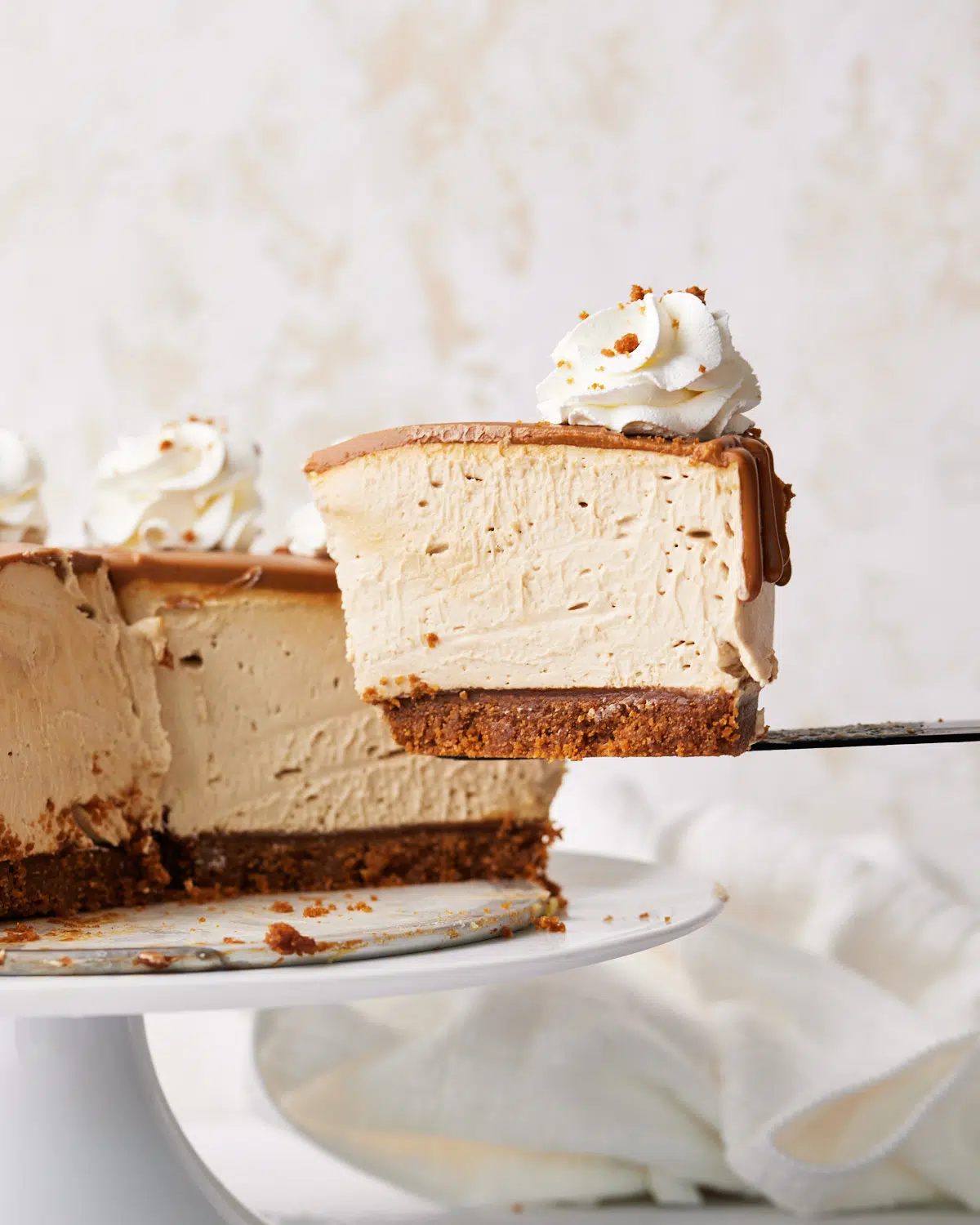 How to Decorate Cookie Butter Cheesecake
Decorating your Biscoff cheesecake is optional, but here's a rundown of how I did it. I opted for a melted Biscoff drip (arguably the best part of this lotus Biscoff cheesecake recipe!)
Once your cheesecake is out of the pan, melt some Biscoff/cookie butter in the microwave for 15-20 seconds.
Spoon the melted cookie butter into a piping bag and snip a tiny bit off of the end to make a small hole.
Gently squeeze the melted Biscoff around the edge of the cheesecake, letting it run down the side to create a drip.
Once you have a Biscoff drip all around the outside of the cheesecake, pour the remaining melted cookie butter all over the top of the cheesecake and spread it out smooth.
If you'd like some whipped cream rosettes as I had in the pictures, you can whip up a little more cream and pipe it on top. You could also whip up some extra cream at the same time as whipping the cream for the cheesecake batter, then scoop a little out and reserve it until you are ready to decorate. This saves you from having to whip cream twice. Don't worry about measurements not being exact - it won't affect the cheesecake too much.
For a finishing touch, break up a Biscoff cookie with your fingers and sprinkle the crumbs on top of the whipped cream swirls.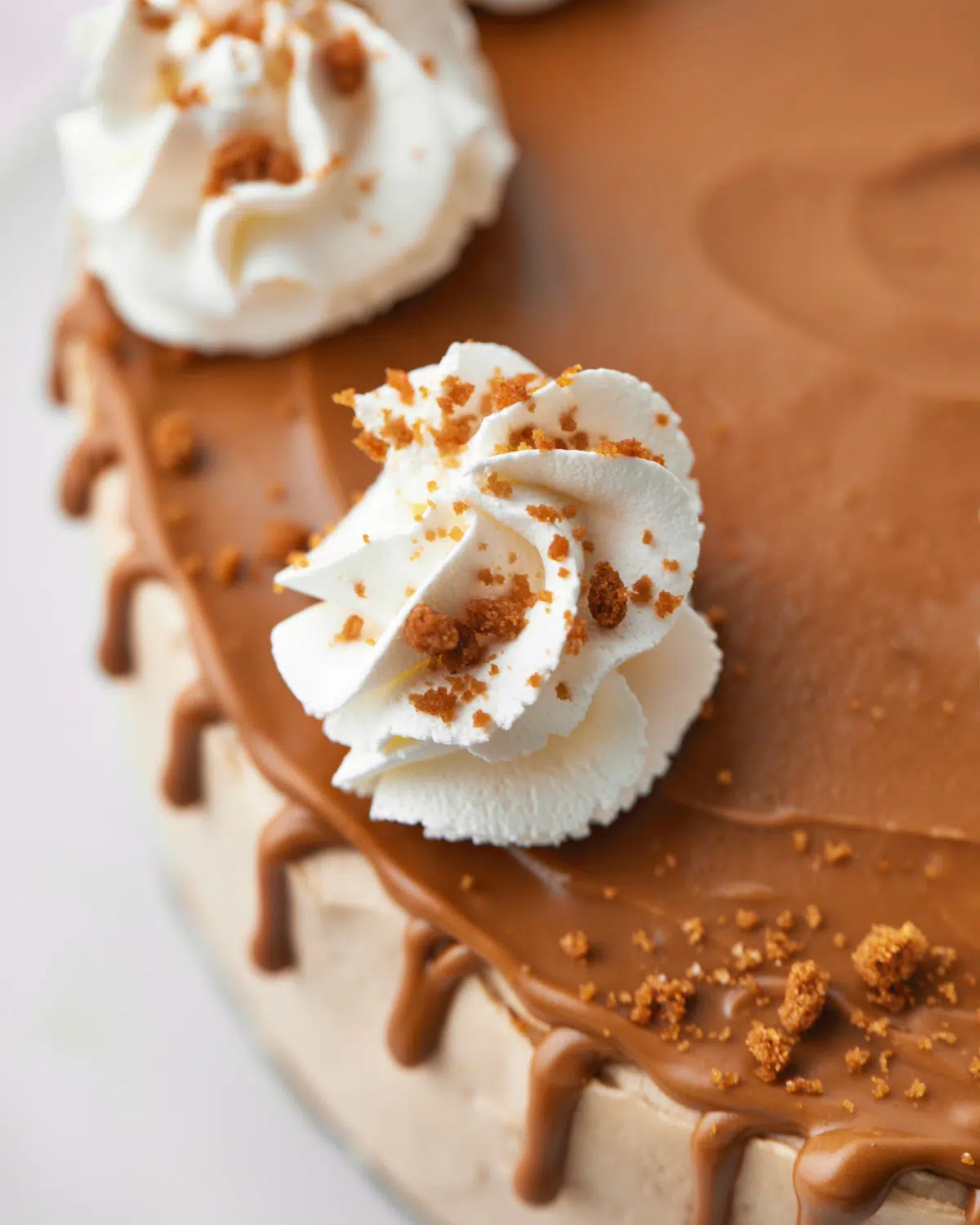 Video
If you prefer to watch this Biscoff cheesecake recipe being made, you can check out my full video tutorial here:
Adding Gelatin to a No-Bake Cheesecake
As I mentioned above, it is very important to use a cream with a fat content of at least 36%. Anything less than that and the cheesecake will not set and will fall into a sad Biscoff puddle when you remove it from the pan. Trust me, I've done it, it's not pretty.
Read my notes in the Ingredients section for info on finding the right cream to use in this cheesecake recipe. If you can't find a cream with a high enough fat percentage, you can still make this no-bake Biscoff cheesecake, you just need to add a little gelatin to make sure it sets up.
Gelatin gets a bad rep, but it can do wonderful things for a dessert if used properly. The key is using the right amount of gelatin. Too little and the cheesecake won't set, too much and it starts to mess with the lovely creamy consistency of the cheesecake and might make it too 'jelly-like'. I've found the optimum amount of gelatin for this specific cheesecake is 3 or 4 sheets of gelatin or ¾ tablespoon - 1 tablespoon of powdered gelatin. Go for the higher or lower value depending on how high/low your fat percentage is in your cream and how much you need to compensate for.
To use the gelatin, you want to 'bloom' it for about 10 minutes before you begin making the cheesecake.
For gelatin sheets - soak the sheets in water for 10 minutes, then remove them from the water (do not squeeze), and microwave for 30 seconds, then stir. The gelatin should be completely dissolved and the liquid clear.
For gelatin powder - bloom the gelatin in a small amount of water for 10 minutes, then microwave for 30 seconds and stir.
Once the gelatin has melted, let it cool slightly while you prepare the rest of the cheesecake batter.
Add the gelatin to the cheesecake mixture once the cream cheese, powdered sugar, and Biscoff have been combined, and before folding in the whipped cream. Then continue the recipe as normal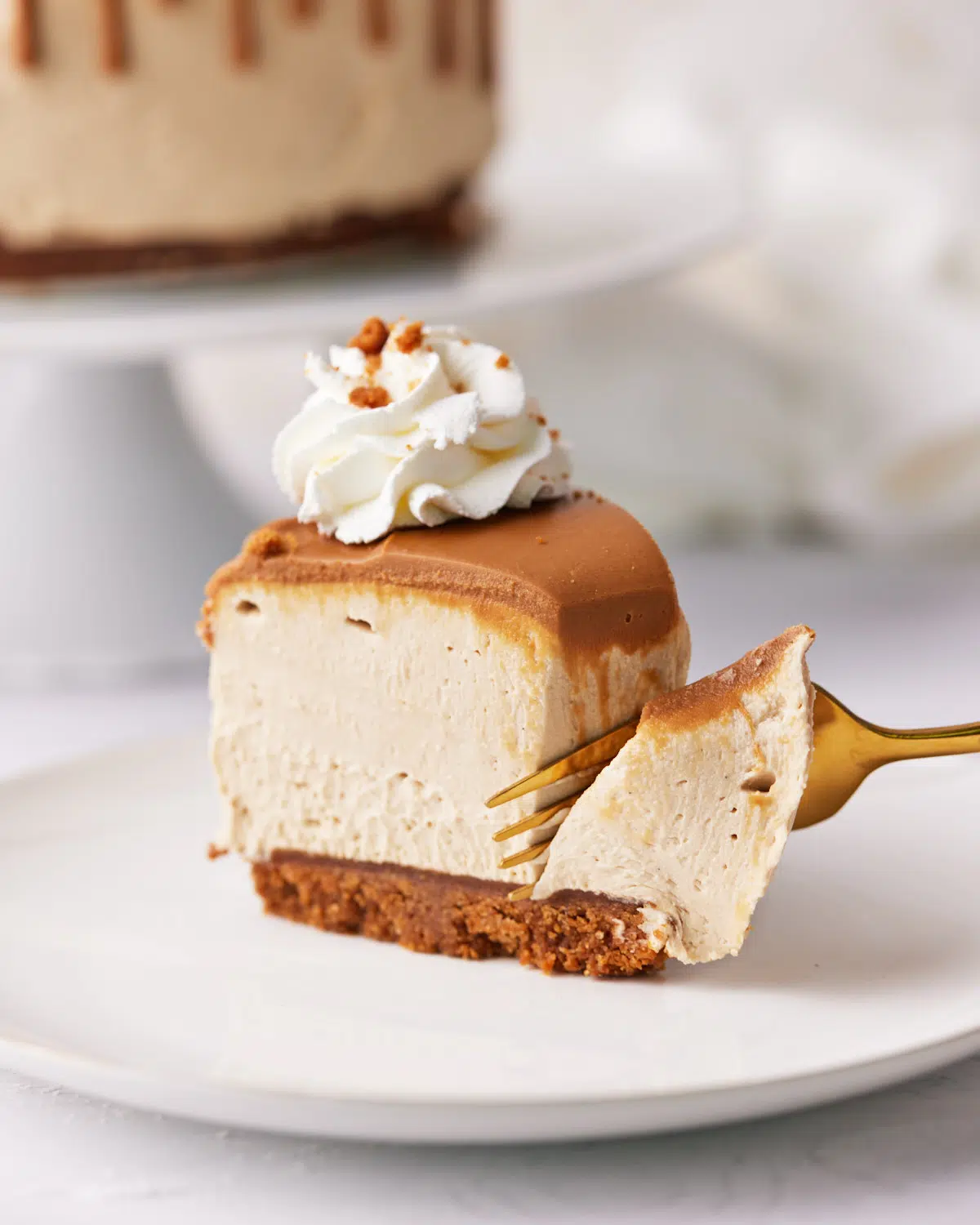 Equipment
Cake pan - As with all cheesecakes, this has to be made in a loose-bottomed cake pan or a springform cake pan so you are able to release the cheesecake from the pan. Also, this is quite a tall cheesecake so make sure you have a pan that is tall enough to accommodate it.
Mixer - You could make the cheesecake filling by hand, but whipping the cream will definitely be easier with a stand mixer or an electric whisk.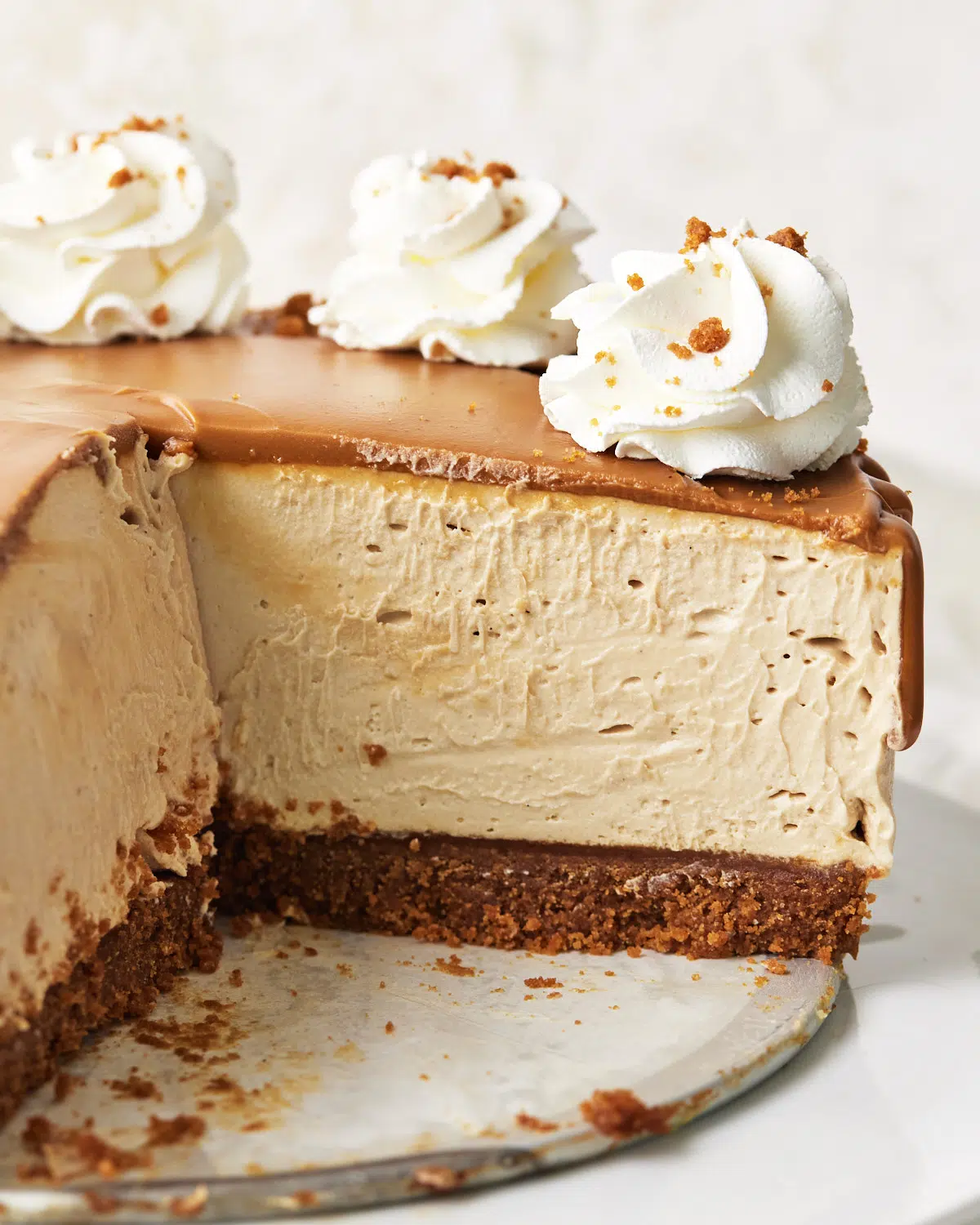 Variations
This Biscoff cheesecake recipe is already golden in my opinion. But if you wanted to switch it up a bit, here are some ideas for you:
Adding other spreads - You could substitute some of the cookie butter for some Nutella or peanut butter for a more interesting flavor profile.
Crunchy Biscoff - This recipe uses smooth Biscoff spread, but you can also use crunchy cookie butter if you prefer, it just won't have quite such a smooth finish.
Mini Biscoff Cheesecakes - Instead of one big cheesecake you could put these into mini little pans to make tiny Biscoff cheesecakes.
Gingerbread Biscoff Cheesecake - For a Christmassy take on this recipe, try adding some gingerbread cookies into the mix. You could add them to the base, then add some ground ginger to the cheesecake filling and crumble some more gingerbread crumbs on top.
Storage
Of course, you will need to store your Biscoff cheesecake in the fridge. If possible, it's best to keep it in an airtight container in the fridge, but if that's not possible you can cover it in plastic wrap instead. It should be good like this for up to 5 days.
Recipe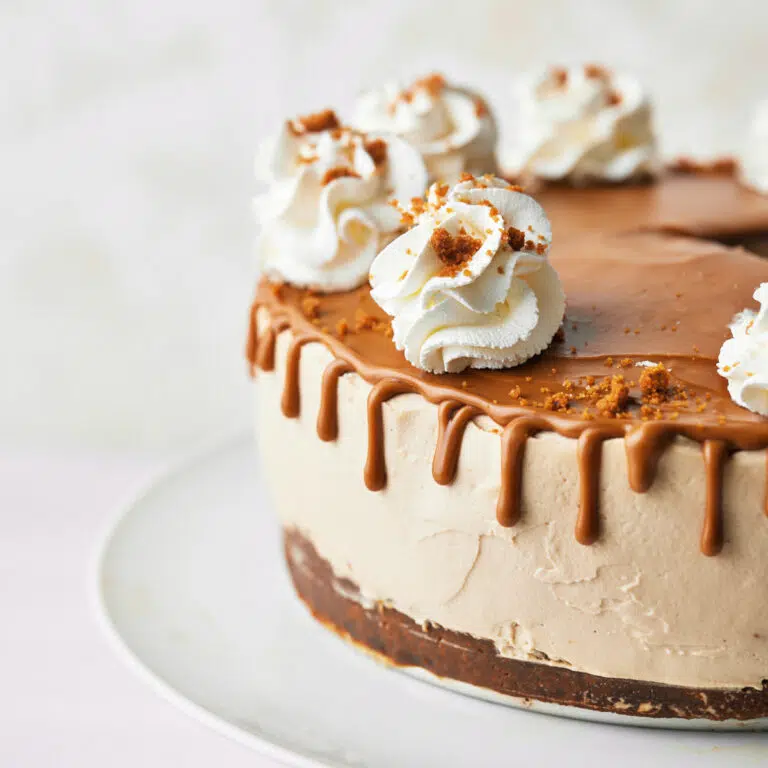 Biscoff Cheesecake
Amazingly creamy Biscoff cheesecake with Lotus Biscoff in the base, cheesecake and topping!
Equipment
Mixer

stand mixer or electric whisk
Ingredients
For the Biscoff Base
300

g

Biscoff Cookies

(about 1 whole packet + 6 biscuits)

1

stick

Butter

115g
For the Cheesecake
6 ¼

cups

Cream Cheese

750g (or 3 and a ⅓ x 8oz packets)

1 ½

cups

Powdered Sugar

150g

1

jar

Biscoff Cookie Butter

375g (or any cookie butter will do)

2

cups

Heavy Cream

470ml / 470g (see notes)

1

teaspoon

Vanilla Extract
To Decorate
3

tablespoon

Biscoff Cookie Butter

1

cup

Heavy Cream

236ml /235g

1

Biscoff Cookie

for crumbling
Instructions
Make the Biscoff Base
Crush the Biscoff cookies in a food processor or in a bag with a rolling pin.

Melt the butter in the microwave.

Combine the Biscoff crumbs and melted butter until well incorporated, then press into the base of the cake pan. Set aside.
Make the Cheesecake Filling
Whip the cream to stiff peaks and then set aside.

Add the cream cheese, powdered sugar, Biscoff spread and vanilla to a large mixing bowl and beat together until smooth and combined.

6 ¼ cups Cream Cheese,

1 ½ cups Powdered Sugar,

1 teaspoon Vanilla Extract,

1 jar Biscoff Cookie Butter

Scoop a dollop of whipped cream into the cream cheese mixture and stir it in to loose up the mixture.

Gently fold the reaming cream into the cheesecake mixture until totally combined.

Pour the cheesecake batter into the cake pan, on top of the crust and smooth out.

Chill in the fridge overnight, or for at least 8 hours.
Decorate the Cheesecake
Once the cheesecake has chilled, remove it from the pan (see post above for tips on how to do this).

Melt a few tablespoons of Biscoff spread in the microwave for 15-20 seconds and put into a piping bag. Snip a small hole in the end of the bag.

Pipe a drip of Biscoff around the outside of the cheesecake, then pour the rest of the melted Biscoff on top of the cheesecake and smooth.

3 tablespoon Biscoff Cookie Butter

Whip up some more cream and pipe some swirls on top of the cheesecake.

Crumble a Biscoff cookie with your fingers and sprinkle it on top of the cream for a finishing touch.
VIDEO
Notes
*Note: This is a very tall cheesecake, you will need a tall (loose-bottomed) cake pan to accommodate it.  If you want to make a smaller cheesecake you can half the recipe. 
**It is SUPER important that you use a cream with at least 36% fat content.  Heavy cream, heavy whipping cream or double cream should all be okay - but check the packaging.  If you can't find a cream with a fat content of at least 36%, you'll need to add some gelatin to help the cheesecake set.  See the section above about adding gelatin to a no-bake cheesecake. 
Nutrition
Calories:
766
kcal
Carbohydrates:
25
g
Protein:
9
g
Fat:
71
g
Saturated Fat:
43
g
Polyunsaturated Fat:
3
g
Monounsaturated Fat:
18
g
Trans Fat:
0.3
g
Cholesterol:
207
mg
Sodium:
448
mg
Potassium:
216
mg
Sugar:
22
g
Vitamin A:
2698
IU
Vitamin C:
0.4
mg
Calcium:
156
mg
Iron:
0.2
mg