How do you eat copious amounts of raw cookie dough without feeling like a glutton? Put it inside another dessert of course! This delicious no-bake cheesecake is absolutely packed with balls of cookie dough and chocolate chips, topped with lashings of milk chocolate ganache and a perfect swirl of, you guessed it - MORE cookie dough! If this doesn't hit the cookie dough craving I don't know what will.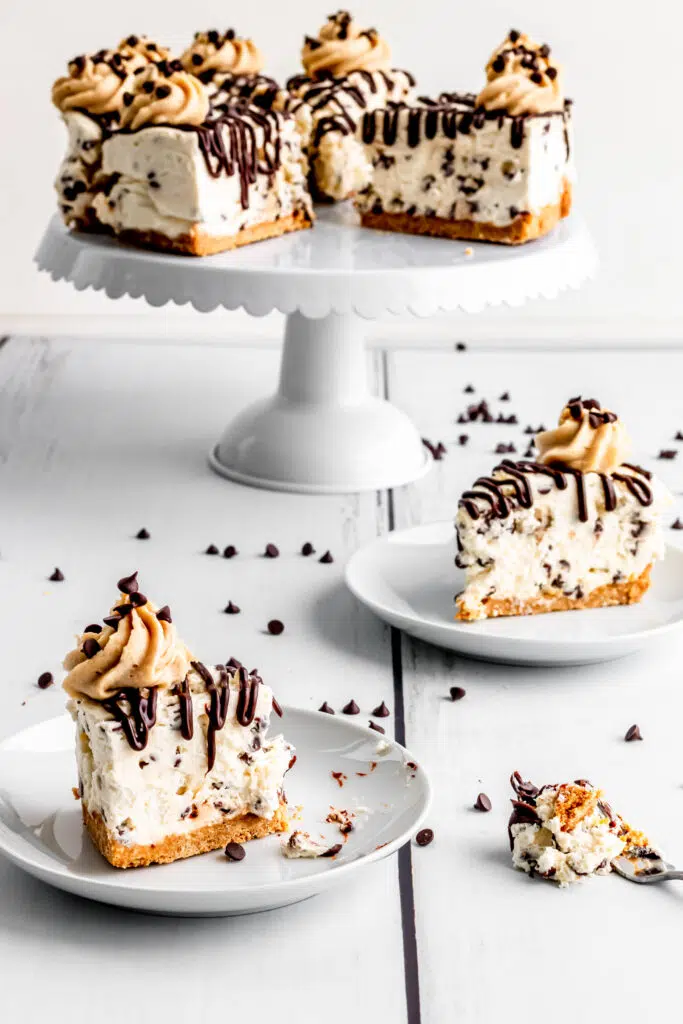 Is raw cookie dough safe to eat?
This one is! The recipe for the cookie dough doesn't contain any eggs, and you can heat treat the flour as well if you are sensitive to uncooked flour, so it's totally safe to eat and totally delicious!
The cookie dough inside the cheesecake and the cookie dough swirl on top are made from the same batch of edible cookie dough. Split the dough mixture in half before adding the chocolate chips and set one half aside for decoration before rolling the cookie dough balls to go in the cheesecake.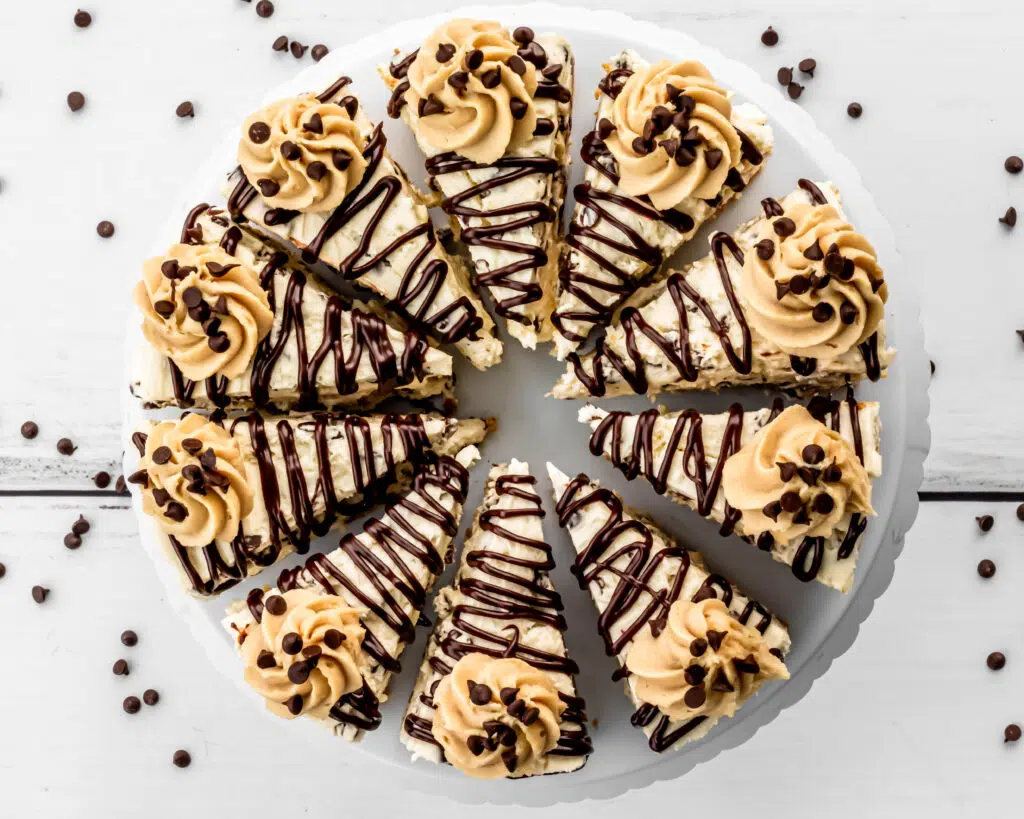 Do you need to use gelatine?
The gelatine is not totally necessary but I do recommend it if you want to be able to get nice clean slices. The cheesecake will still hold its shape enough to serve without slopping into a big mess on the plate, but it will be very soft and not terribly neat. If you are going to skip the gelatine just make sure that you whip the cream until it's nice and stiff and chill an extra hour before serving.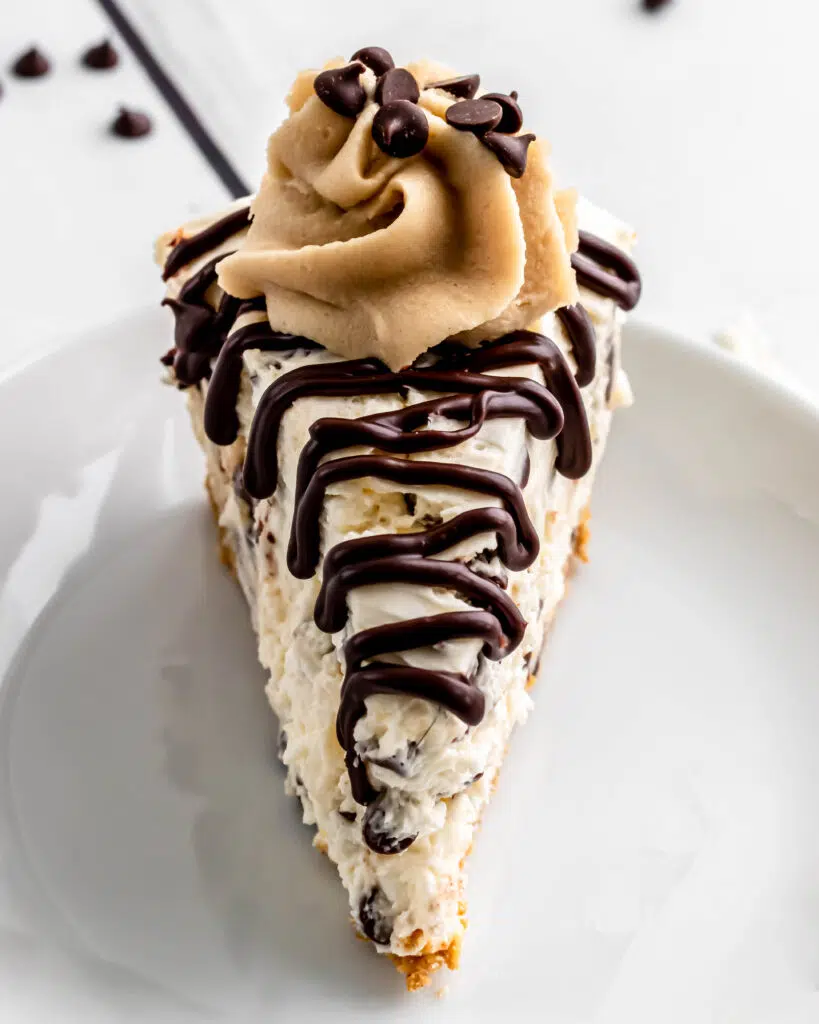 Tips for Assembling Cookie Dough Cheesecake
I built this cheesecake up in layers of cheesecake and cookie dough. I laid down a thin layer of cheesecake first on top of the base, then rolled out balls of chocolate chip cookie dough and laid them all over the cheesecake (see image in instructions). Then I put a few more spoonfuls of cheesecake on top and filled in the gaps, creating a new fresh layer of cheesecake to build on. It was kind of like constructing a wall. This cheesecake mix smooths out very nicely so it's quite a satisfying process!
In total I had two layers of cheesecake balls and three layers of cheesecake. This mixture should be enough to fill up an 8-inch cake pan perfectly.
Make sure you don't place any cookie dough balls directly in the centre of the cheesecake as this will stop you being able to cut neat slices and make a mess in the middle.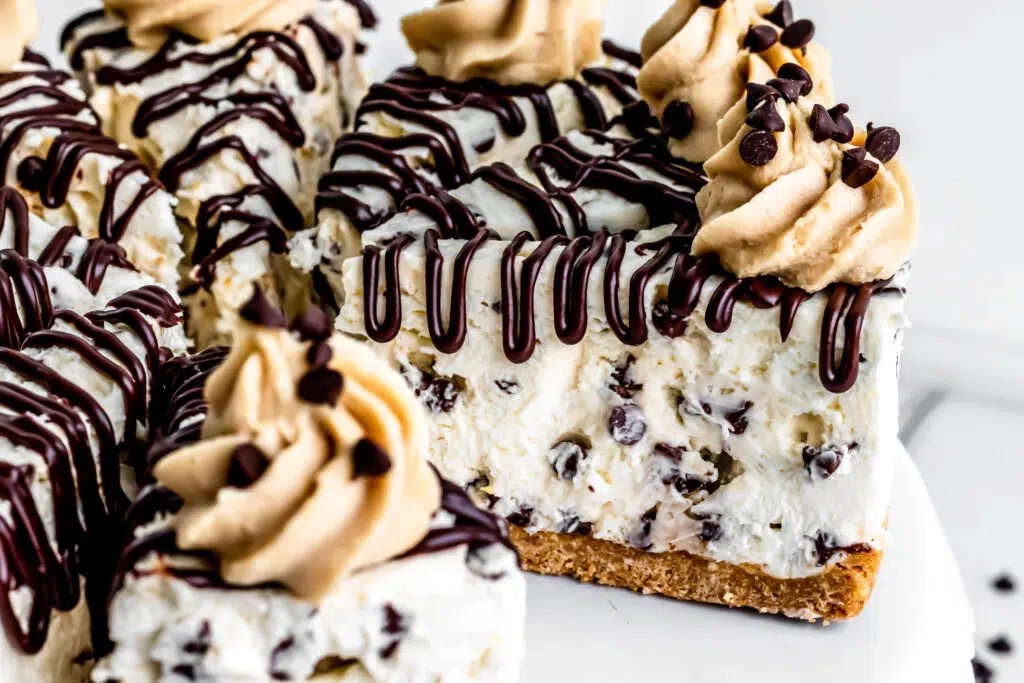 How to Decorate
The decoration is, of course, entirely up to you. You can leave out the ganache completely, but I find it adds a wow factor which is worthy of this mouth watering dessert. I sliced the cheesecake into slices before decorating to allow for a more even coverage and to get the nice drippy sides down the side, but you can just as easily pipe on top of the cheesecake before slicing - it will make no difference to the end result.
The cookie dough swirls on top are made from the exact same dough as the cookie dough balls inside the cheesecake, only without the chocolate chips. The reason for leaving the chocolate chips out is that they can clog up your piping bag and make it very difficult to pipe, so it's best to pipe the swirls first and then add the chocolate chips on top afterward. If you find the frosting is too stiff to pipe you can put it in the microwave for 10 seconds to soften it up a little.
Recipe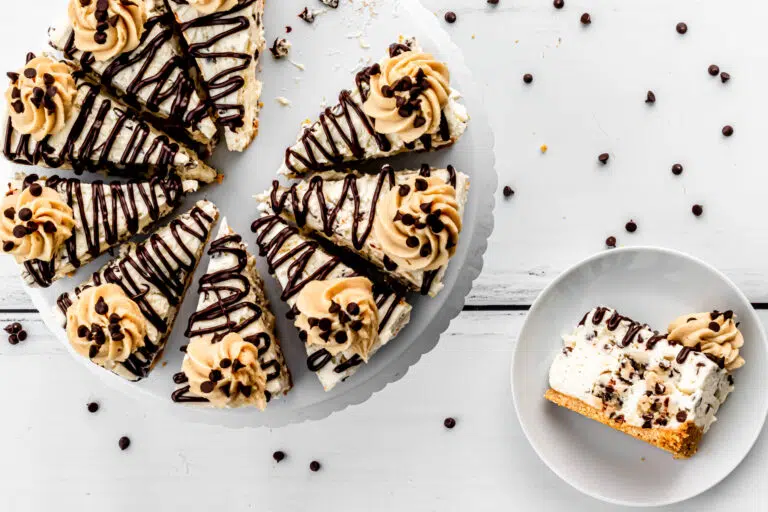 Cookie Dough Cheesecake
No-bake cheesecake packed with chunks of cookie dough and chocolate chips
Equipment
8 inch sprringform cake pan
Ingredients
For the base
1 ½

cups

Graham Cracker Crumbs

5

tablespoon

Unsalted Butter

¼

teaspoon

Salt
For the Cookie Dough
2

sticks

Unsalted Butter

1 ½

cups

Golden Sugar

(light brown sugar)

2

teaspoon

Vanilla Extract

2

cups

All-purpose Flour

1

teaspoon

Salt

½

cup

Milk

½

cup

Mini Chocolate Chips

plus extra to decorate
For the Cheesecake
2

250g blocks

Cream Cheese

(500g total)

1

cup

Caster Sugar

1 ¼

cup

Whipping Cream

1

tablespoon

Vanilla Extract

2

sheets

Gelatine

or 1 pack of powdered gelatine

1

cup

Mini Chocolate Chips
For the Chocolate Ganache
1

cup

Milk Chocolate Chunks

½

cup

Whipping Cream
Instructions
Make the base
Melt the butter in the microwave

Put graham cracker crumbs and salt in a bowl and pour in the melted butter

Stir together and then pack into an 8-inch springform cake pan
Make the Cookie Dough
If you want to, heat treat the flour before you begin by heating it in the microwave for 50 seconds. This is not necessary but some may prefer not to use raw flour. Sieve after heating

Cream the butter and sugar until fluffy

Add the flour and salt slowly and stir until doughy

Add the milk and beat until soft and creamy

At this point, put half the cookie dough in a bowl and cover with cling wrap (we'll use this later for the topping)

To the remaining cookie dough, add the chocolate chips and stir in
Make the Cheesecake
Put the gelatine leaves in a bowl of cold water to soak

Whip the cream until stiff, transfer into another bowl and set aside

whip the cream cheese, caster sugar and vanilla until combined and creamy (no need to clean the bowl after the cream)

Lift the gelatine leaves out of the water and pour out the water from the bowl, but do not squeeze the excess water from the gelatine. Melt the gelatine in the microwave until completely melted and not grainy (about 30 seconds)

Pour into the cheesecake mix immediately and whip it into the mix

Fold the whipped cream into the cheesecake mix gently until totally combined

Add the chocolate chips and stir through the mix
Assemble the Cookie Dough Cheesecake
Put a few spoonfuls of cheesecake into the pan over the cheesecake base and spread out

Add another layer of cheesecake, followed by another layer of cookie dough balls and finish it off with a final layer of cheesecake. This should be exactly enough to fill an 8 inch cake pan perfectly

TIP: Don't put any cookie dough right in the middle of the cheesecake as it will make it difficult to cut neat slices if there is dough at the centre point

Put the cheesecake in the fridge to set for at least two hours
Decorate
Once the cheeesecake has set, remove from the cake pan

To make the ganache heat the cream in a saucepan over a medium heat until scalding (just before boiling, small bubbles starting to form)

Remove from the heat and pour over the chocolate chunks, stir until smooth and glossy

Pour or pipe the ganache over the cheesecake in whatever pattern you like (or just solidly over the top. I just did a simple back and forth line over the cheesecake, but I cut it into slices first as I wanted to have the chocolate drip down the side slightly. Either way is good!

Take the reserved cookie dough mix from earlier and pipe it into swirls on the cheesecake, it's best to add the chocolate chips on top of the swirls after piping so that the chocolate doesn't clog up your piping bag