These no-bake cookie dough bites are made from edible cookie dough, rolled up and dipped in chocolate - the perfect sweet treat!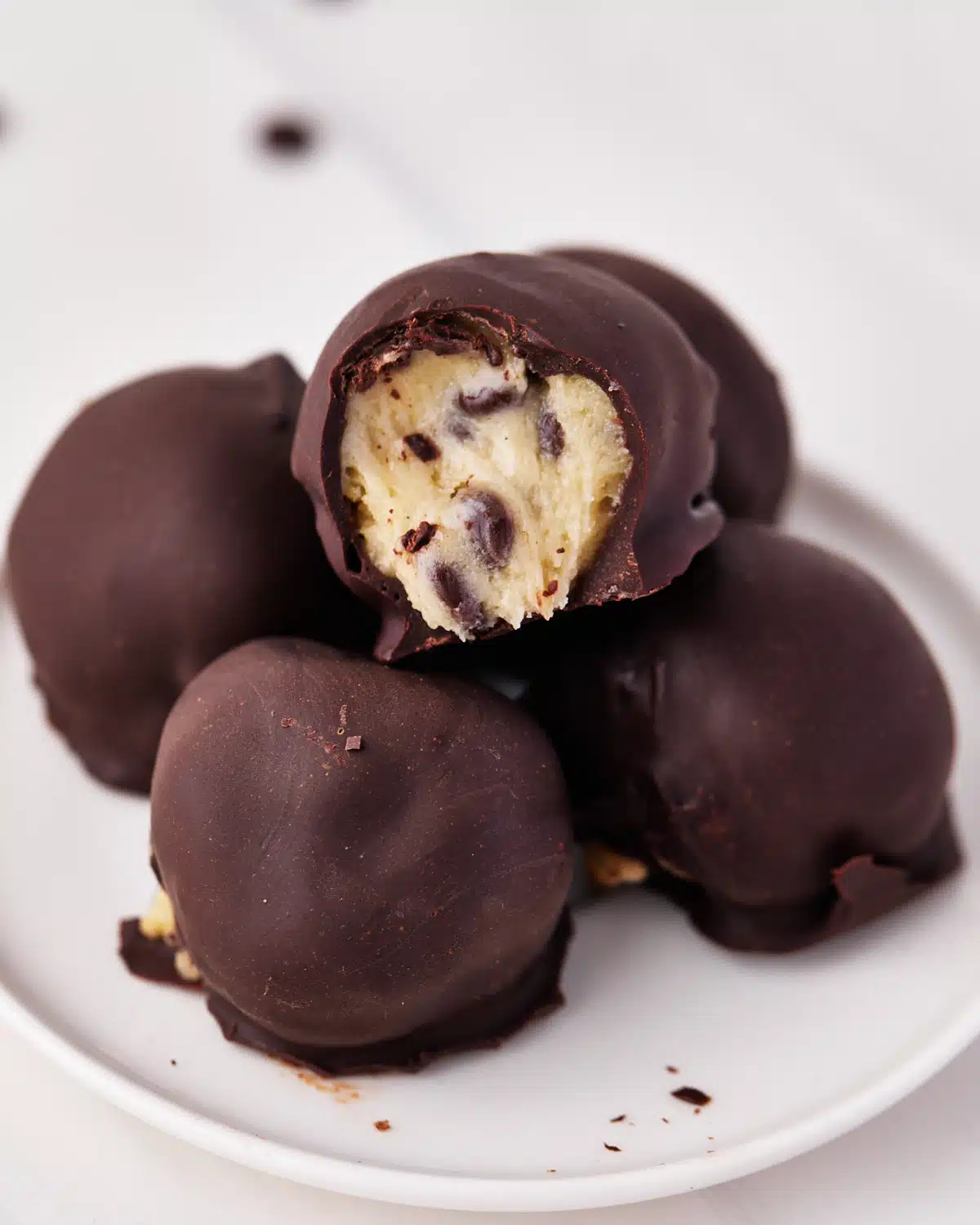 Let's be honest, the best part about making cookies is munching on the cookie dough before it even makes it to the oven!
Now with these edible cookie dough bites, you can skip the pretense of making cookies, and get straight to the good stuff! This no-bake recipe is super easy and is made without eggs so they are safe to eat raw.
I have many a cookie recipe on this site, some of my favorites including my Brown Butter Pecan Cookies and my Dark Chocolate Sea Salt Cookies, but sometimes you just want good old fashioned raw cookie dough.
This edible cookie dough recipe is actually an adaption of the cookie dough I use inside my Cookie Dough Cheesecake, but it has been rolled into balls and dipped in chocolate to make chocolate chip cookie dough bites instead - almost like cookie dough truffles!
Jump to:
Ingredients
You are just a few simple ingredients away from your delicious edible chocolate chip cookie dough!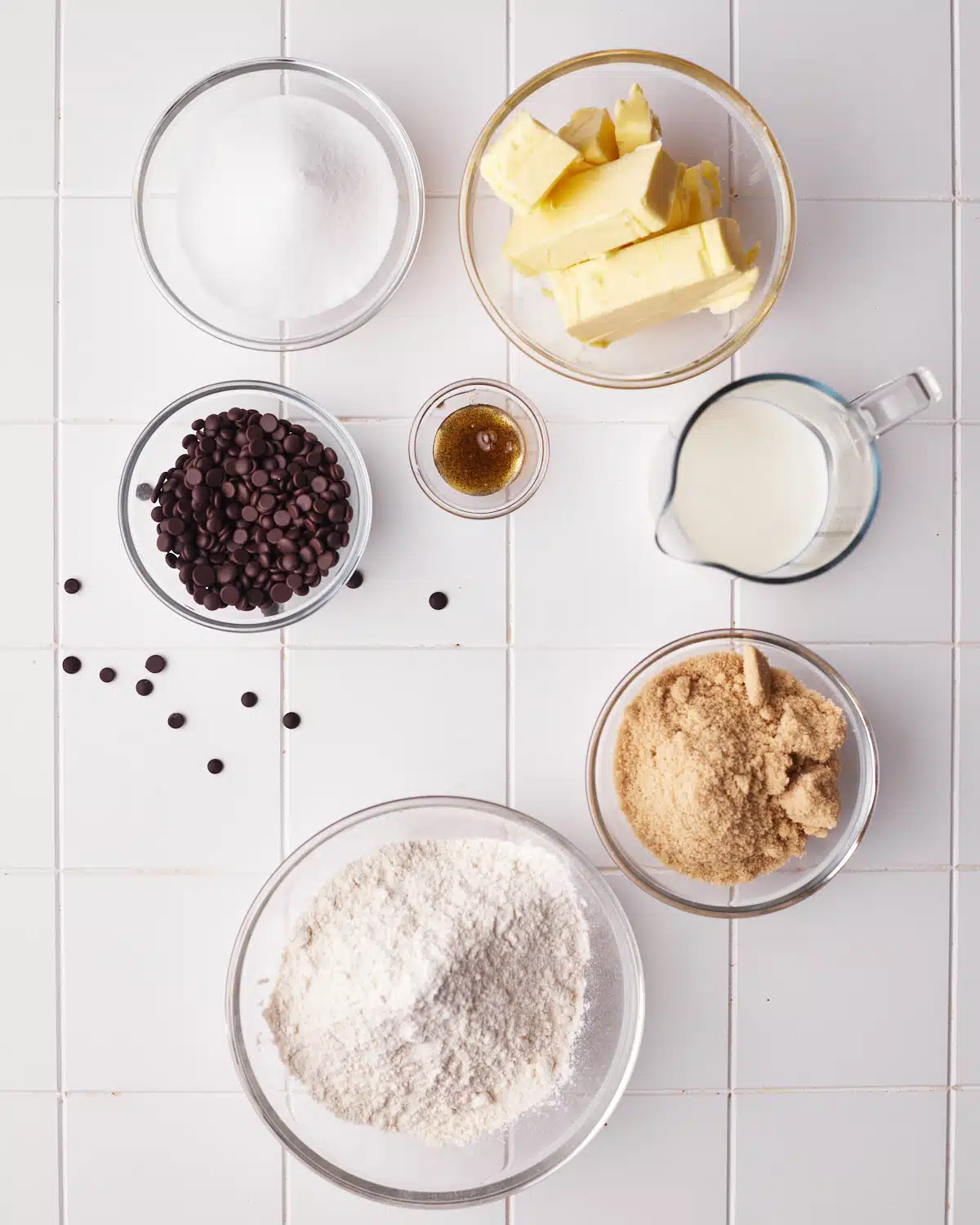 Butter - You can use salted or unsalted butter for this recipe, make sure the butter is softened to room temperature before beginning.
White Sugar - We'll use two kinds of sugar in this cookie dough, the first is white sugar, make sure it's extra fine (caster sugar in the UK).
Light Brown Sugar - We'll also use light brown sugar, the natural flavor of the brown sugar will make a deeper, slightly caramel flavor to the cookie dough. You could also use dark brown sugar if you like, but this will have a stronger molasses flavor.
Flour - Use all-purpose flour. To be extra safe, or if you have a compromised immune system, you can also heat treat the flour. See the section on this below for more information.
Milk - The milk helps to make this a super soft cookie dough that has a luxurious, smooth feeling when you bite into it. I used whole milk, but you can use any kind of milk you like.
Salt - The salt really adds something to this cookie dough, bringing out the flavor and making the bites very moreish!
Vanilla - You can use vanilla extract or vanilla bean paste.
Chocolate Chips - I like to use mini chocolate chips for these, but you can use the regular size chips too. You can use any kind of chocolate you like, milk chocolate chips, dark chocolate chips, white chocolate chips or semi-sweet chocolate chips.
Chocolate - The chocolate is for dipping the cookie dough bites in. Make sure you use real chocolate, not a chocolate candy bar or chocolate chips for this part, as these both have extra ingredients which will stop the chocolate form melting and setting the way we want it to. Use milk, dark or white chocolate.
See recipe card for quantities.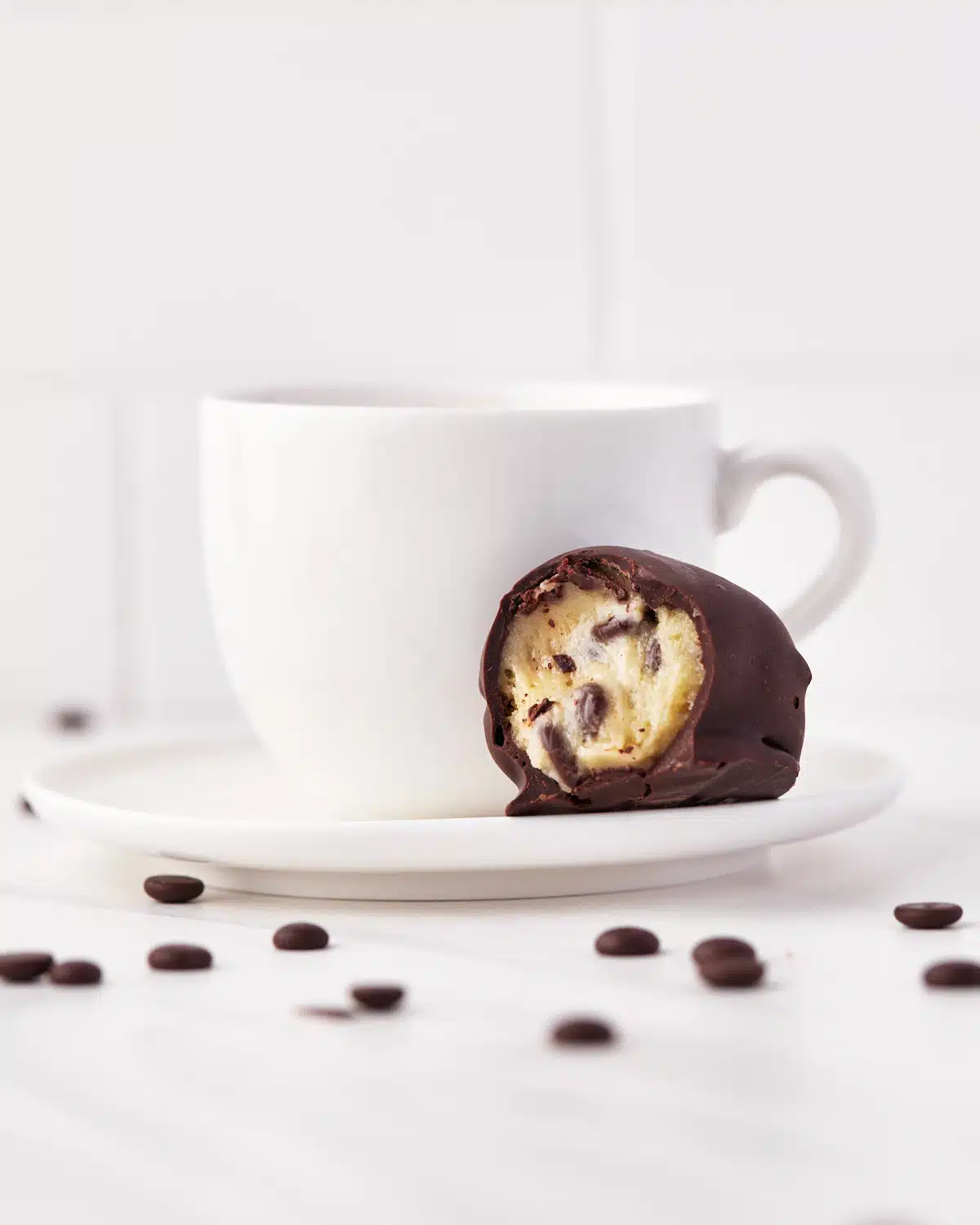 How to Make Edible Cookie Dough
This super easy edible cookie dough recipe comes together in just 3-4. minutes. Perfect to whip up for the whole family for movie night!
If you want to heat treat your flour, do this first thing before anything else. Measure it into a microwave-safe bowl, microwave for 50 seconds and then let cool completely before sifting it.
Put the butter, white sugar and brown sugar into a large mixing bowl and mix together until fluffy. It may be easiest to do this in a stand mixer or a hand mixer, but you can also just use a wooden spoon.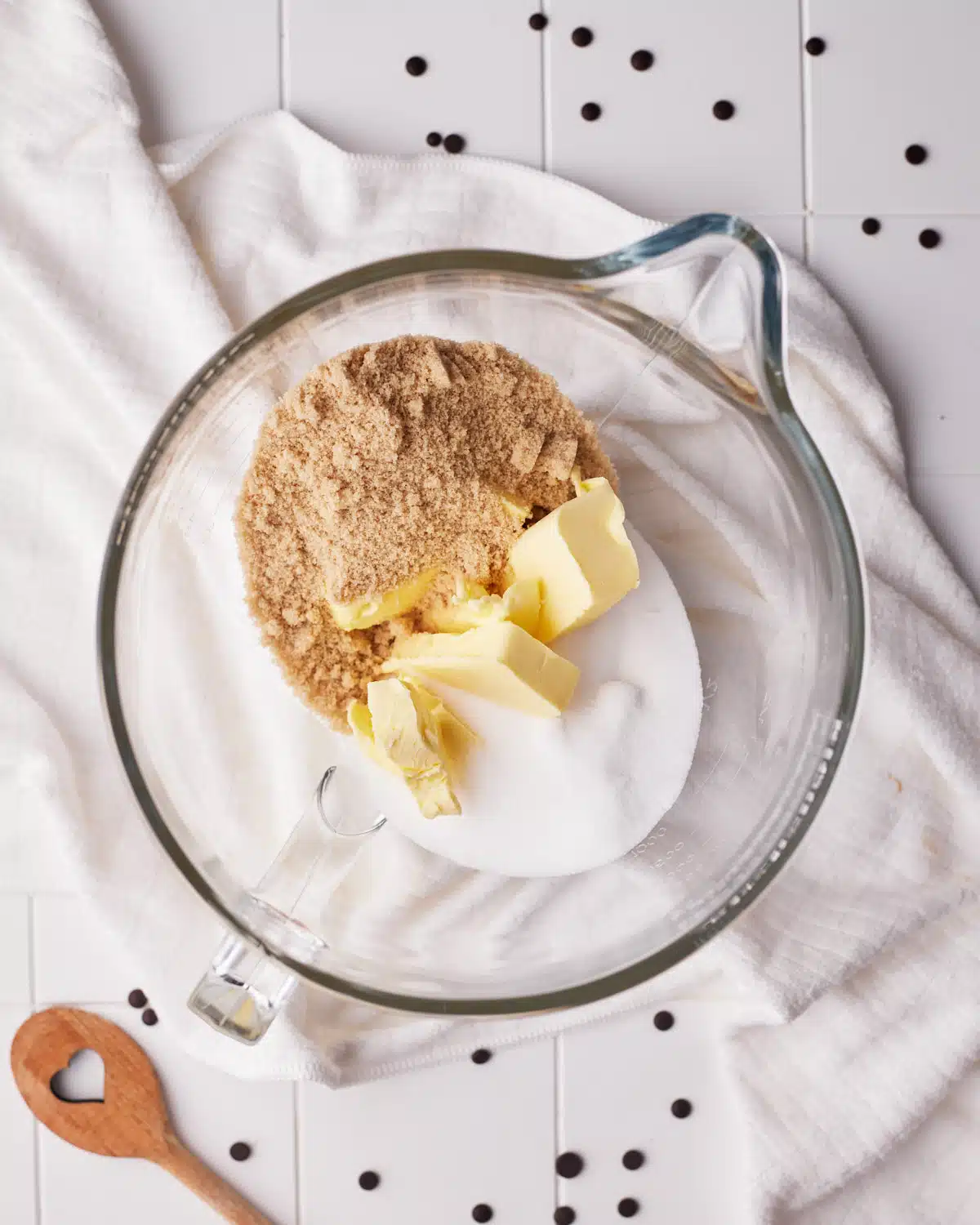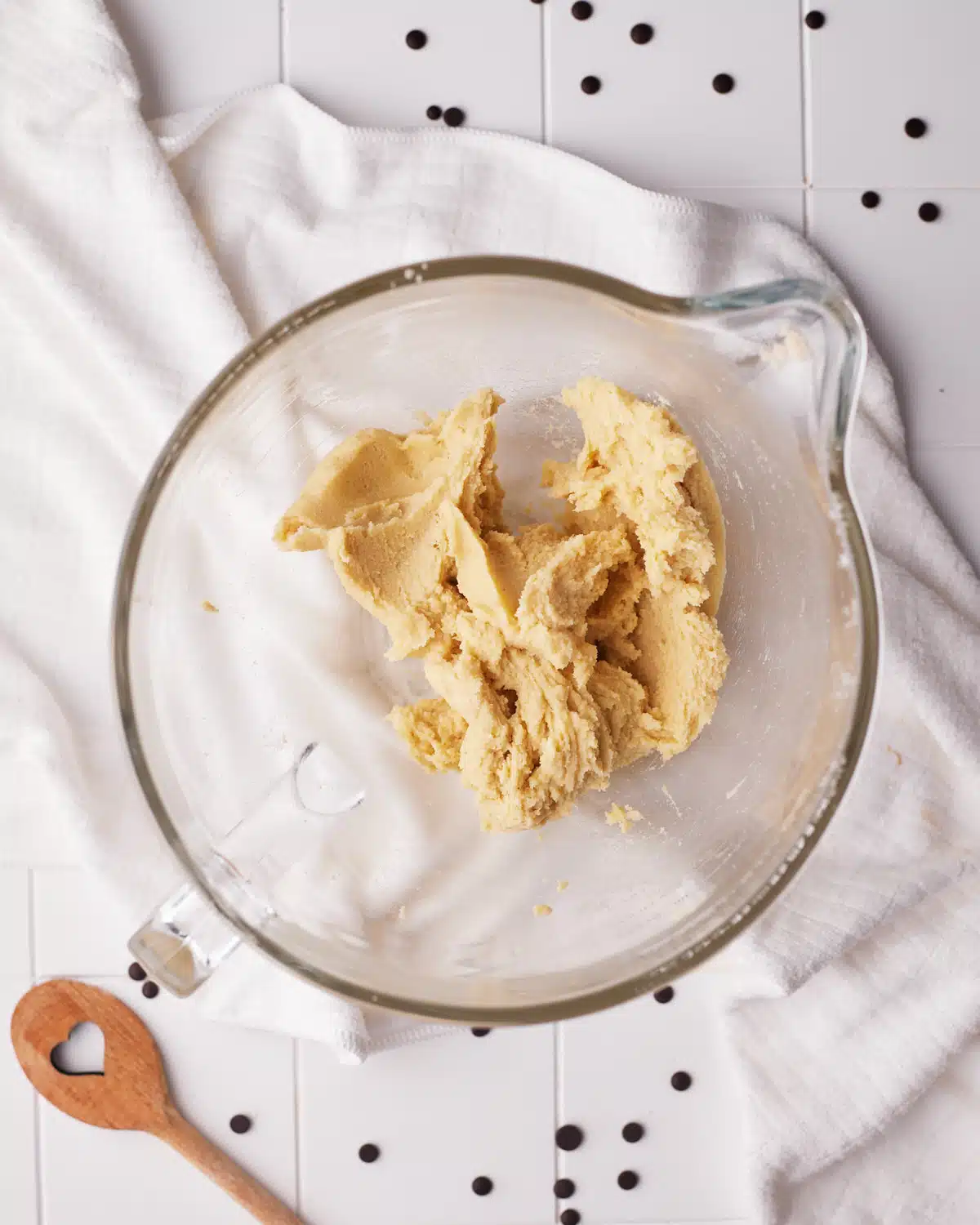 Add the vanilla and mix in.
Add the dry ingredients, including the heat-treated flour and salt and mix until a dough forms.
Add the milk, a little at a time, stirring until the cookie dough reaches the consistency you would like. If you don't want to cover them in chocolate, you won't want to use much of the milk, so the cookie dough balls can hold their shape. But if you will be dipping them, you can add all of it so make a nice, smooth, creamy center for the cookie dough truffles.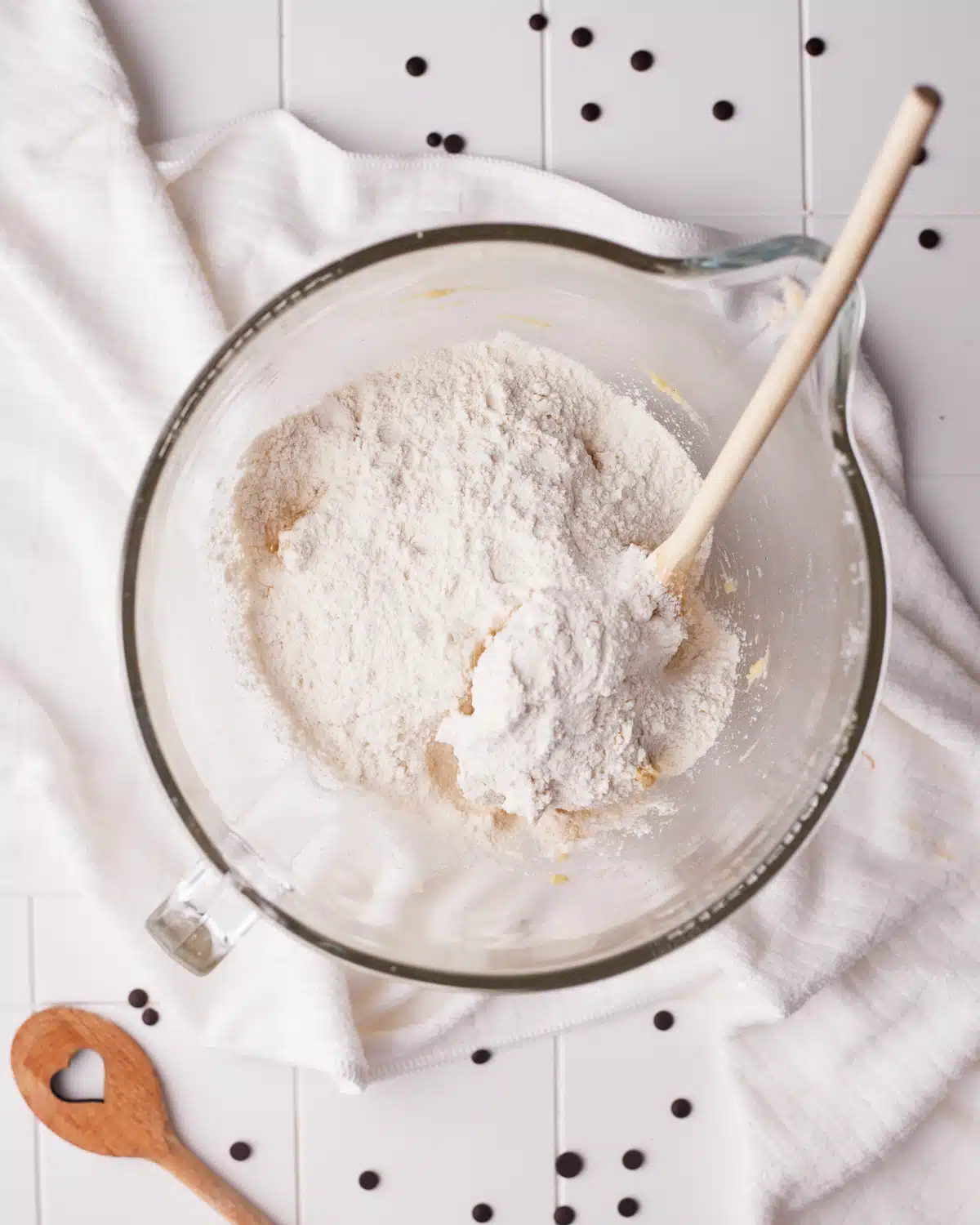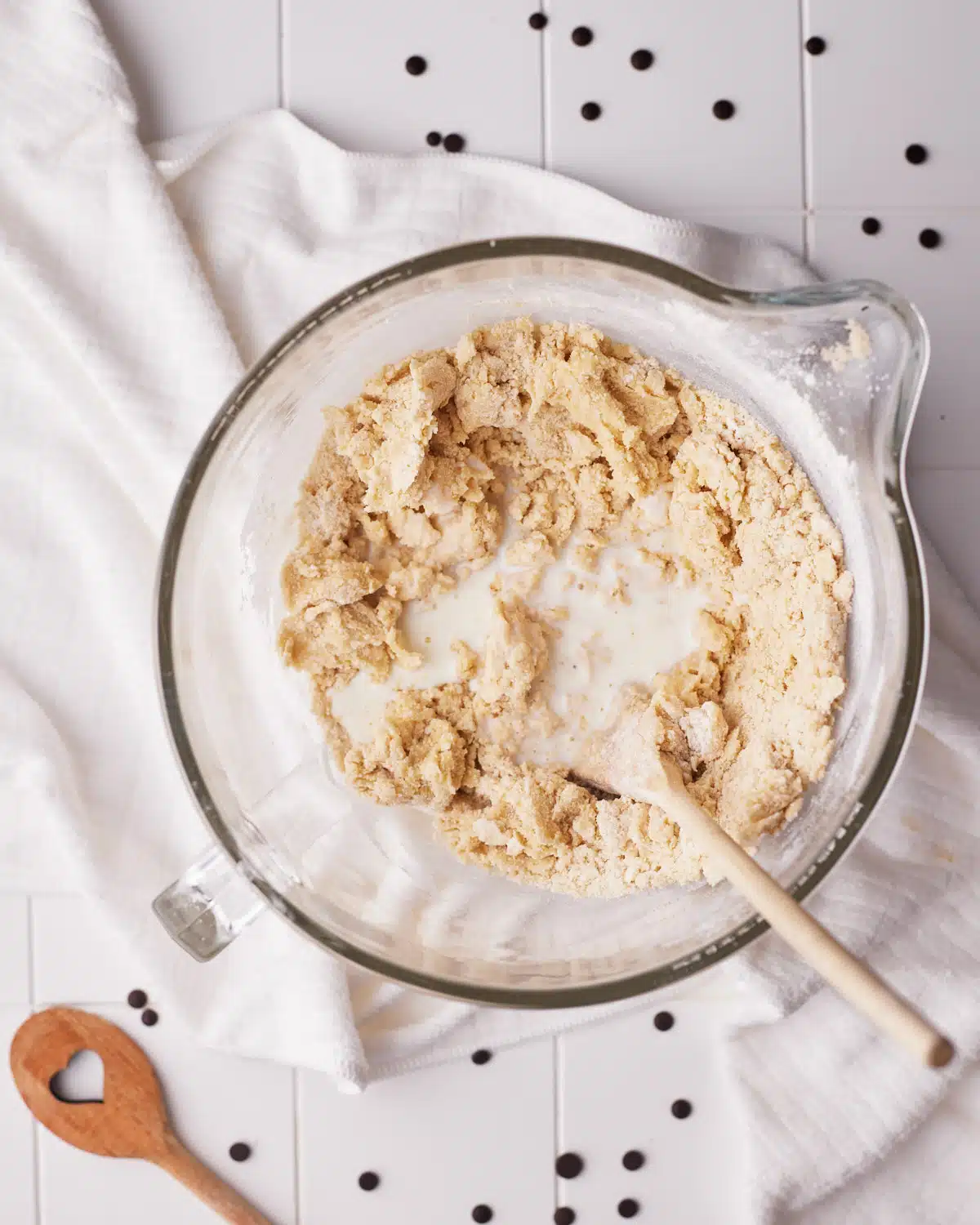 Once the milk is incorporated and the dough is the thickness you would like, add the chocolate chips and mix until evenly dispersed.
If the cookie dough is very soft, you may want to refrigerate for 20 minutes before moving on to the next step, just to make it easier to handle.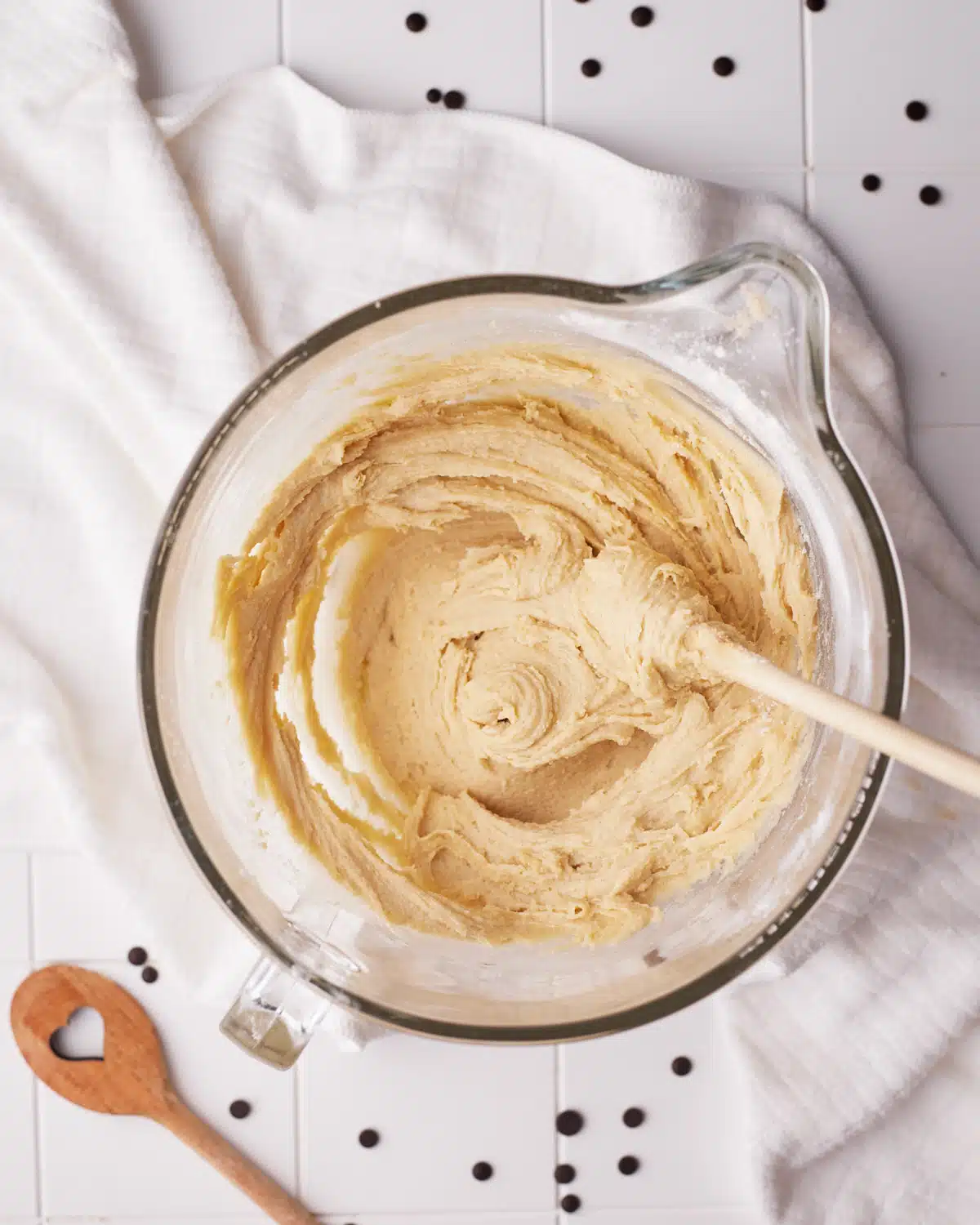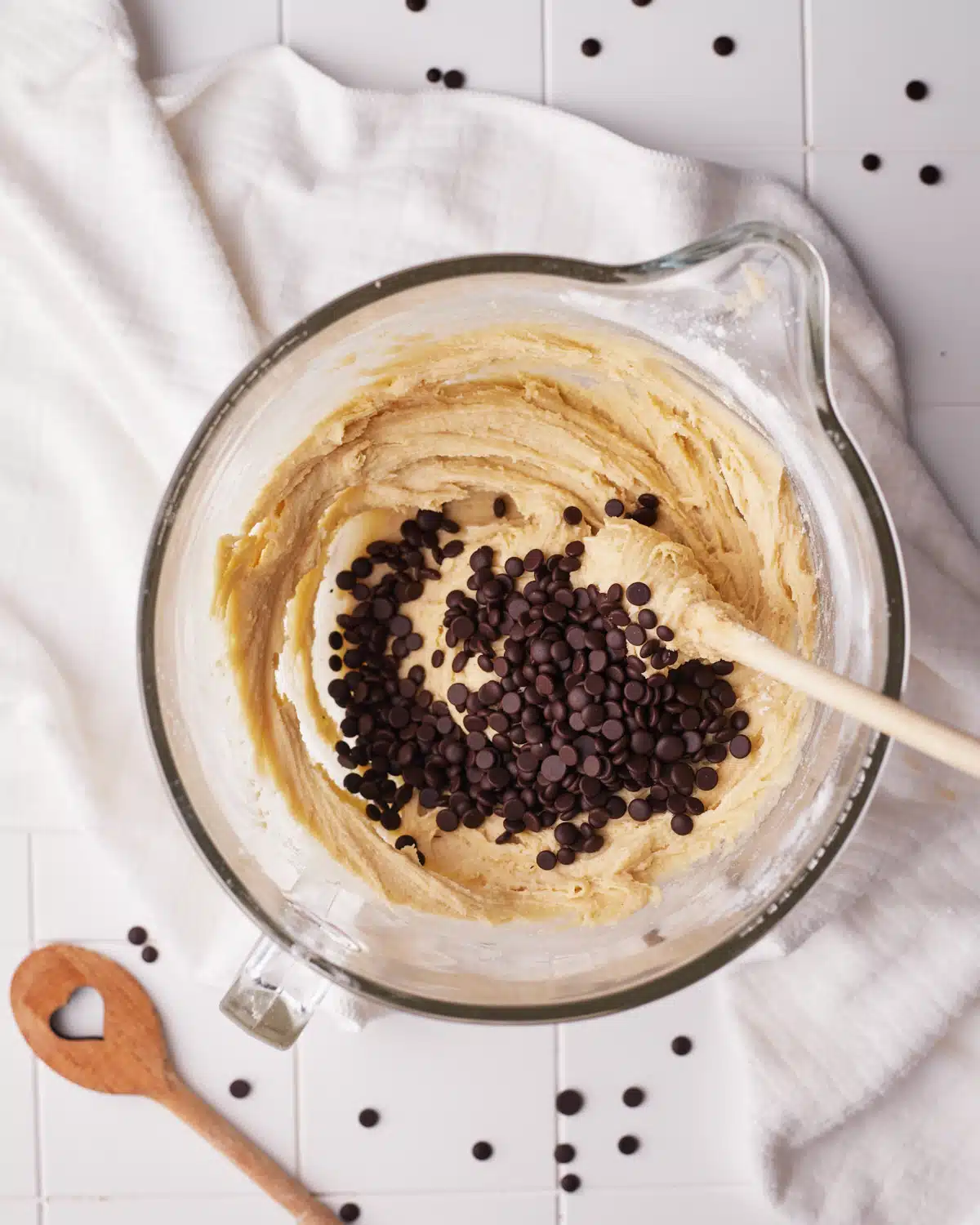 Line a baking sheet with parchment paper.
Use a small cookie scoop, mini ice cream scoop or a spoon to take a small scoop of cookie dough, then roll it into a ball in your hands and place on the cookie sheet. Repeat until all the cookie dough is used up.
Let the edible cookie dough balls chill in the fridge while you prepare the chocolate.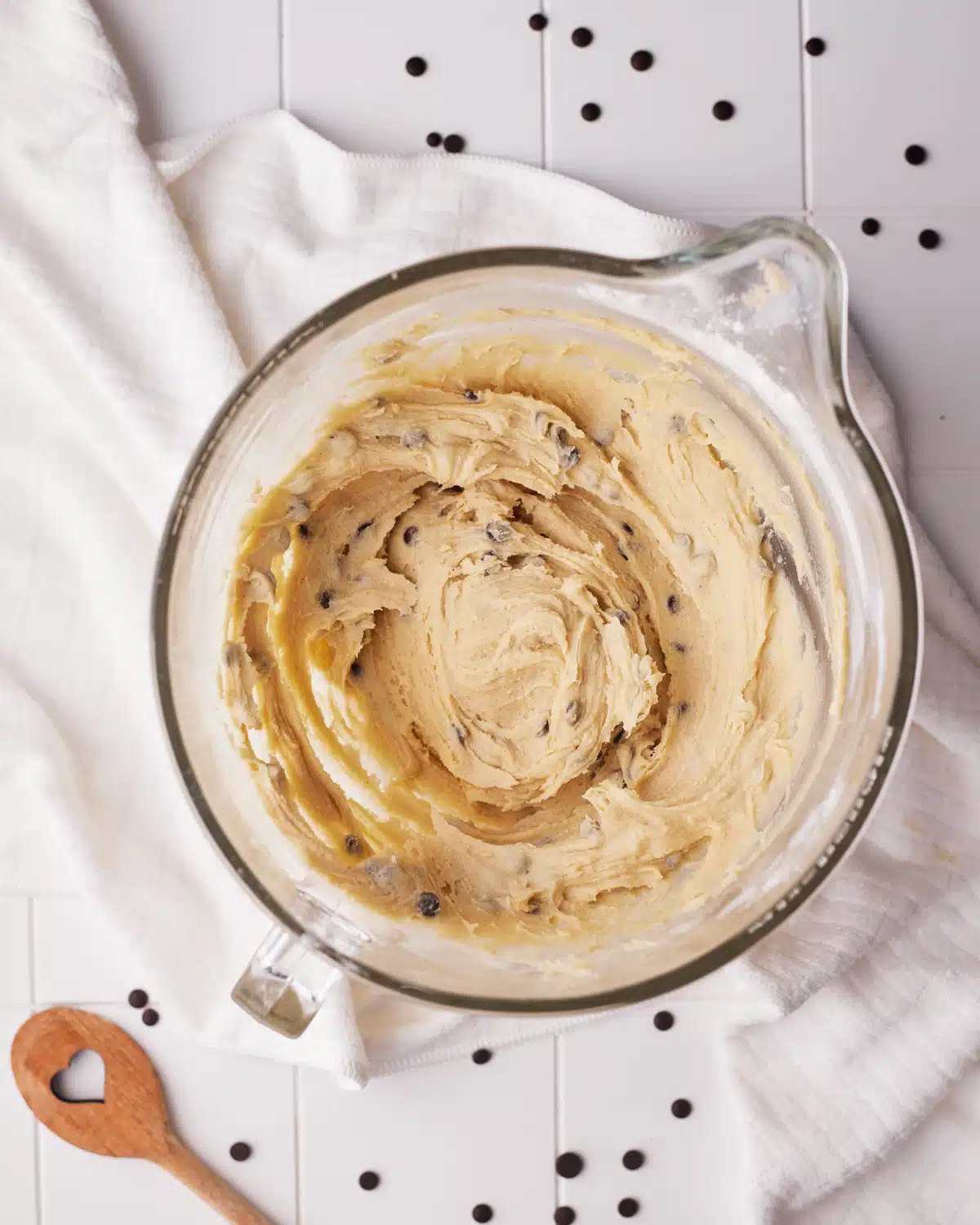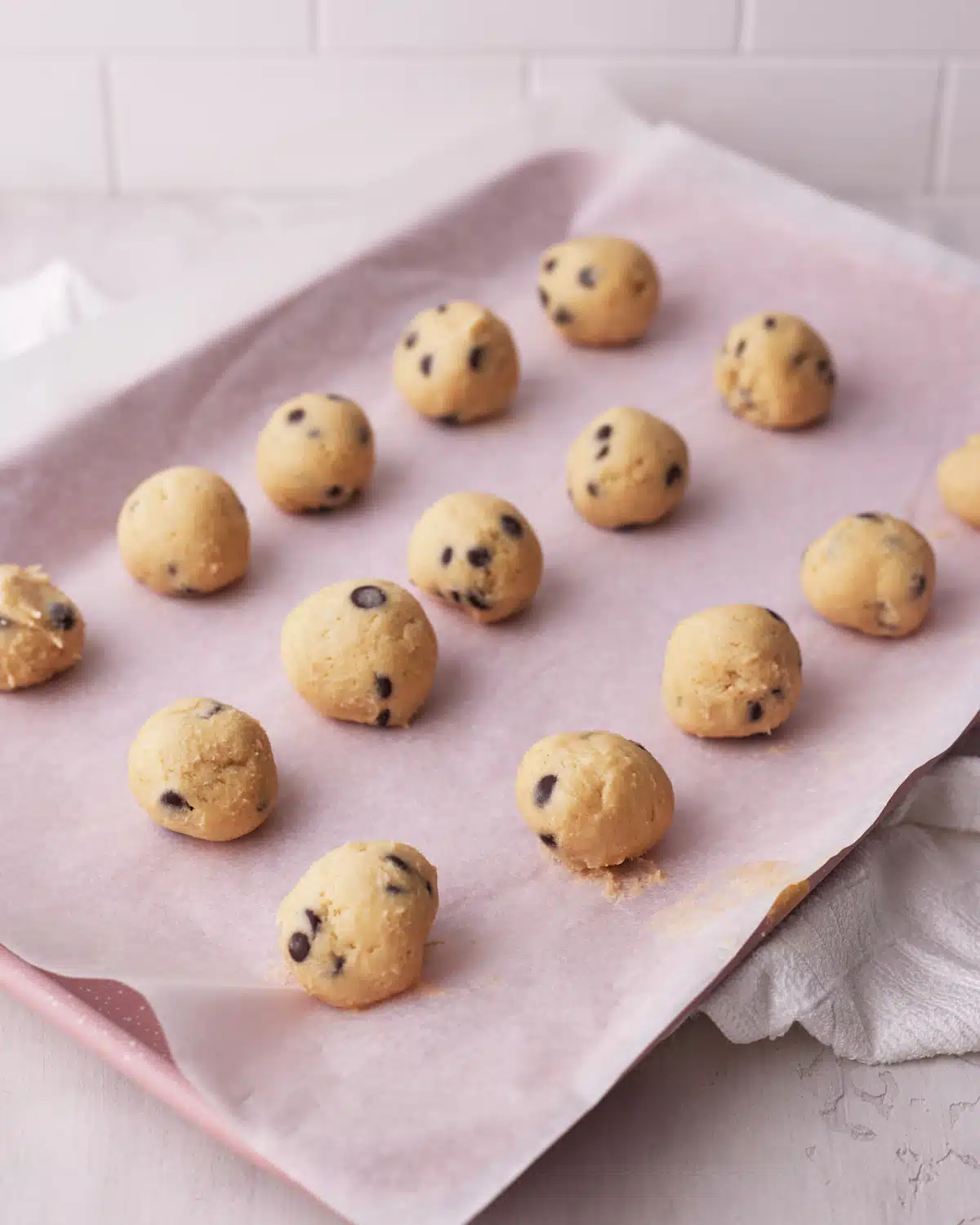 How to Coat the Cookie Dough Bites in Chocolate
For best results, I strongly recommend you temper your chocolate. I have a full guide on how to do this easily, at home, with or without a thermometer.

Lots of people find the idea of tempering chocolate a little daunting but I promise it's easier than you think - you can even do it in the microwave! Check out my Chocolate Tempering Blog post, which also includes a video tutorial.

If you don't want to temper the chocolate, you can just melt it in the microwave in 30-second increments, but it may not set as well as it would if it were tempered.
There are two ways to encase the cookie dough bites in chocolate. Dipping or using a mold. The dipping method is quicker and easier, but the mold method will produce a much more polished, finessed result.
For the dipping method, pour your melted chocolate into a small bowl or jug, and dip the chilled cookie dough bites into the chocolate, one at a time, using a fork to move it around so it is evenly coated all over.

Lift it out with the fork and wiggle the fork a little to shake off any excess chocolate. Place the chocolate-coated cookie dough bite back onto the baking sheet and let the chocolate set. (If this chocolate is tempered, it should set very quickly - within a minute or two.

If it is not tempered, you may need to put them in the fridge to set).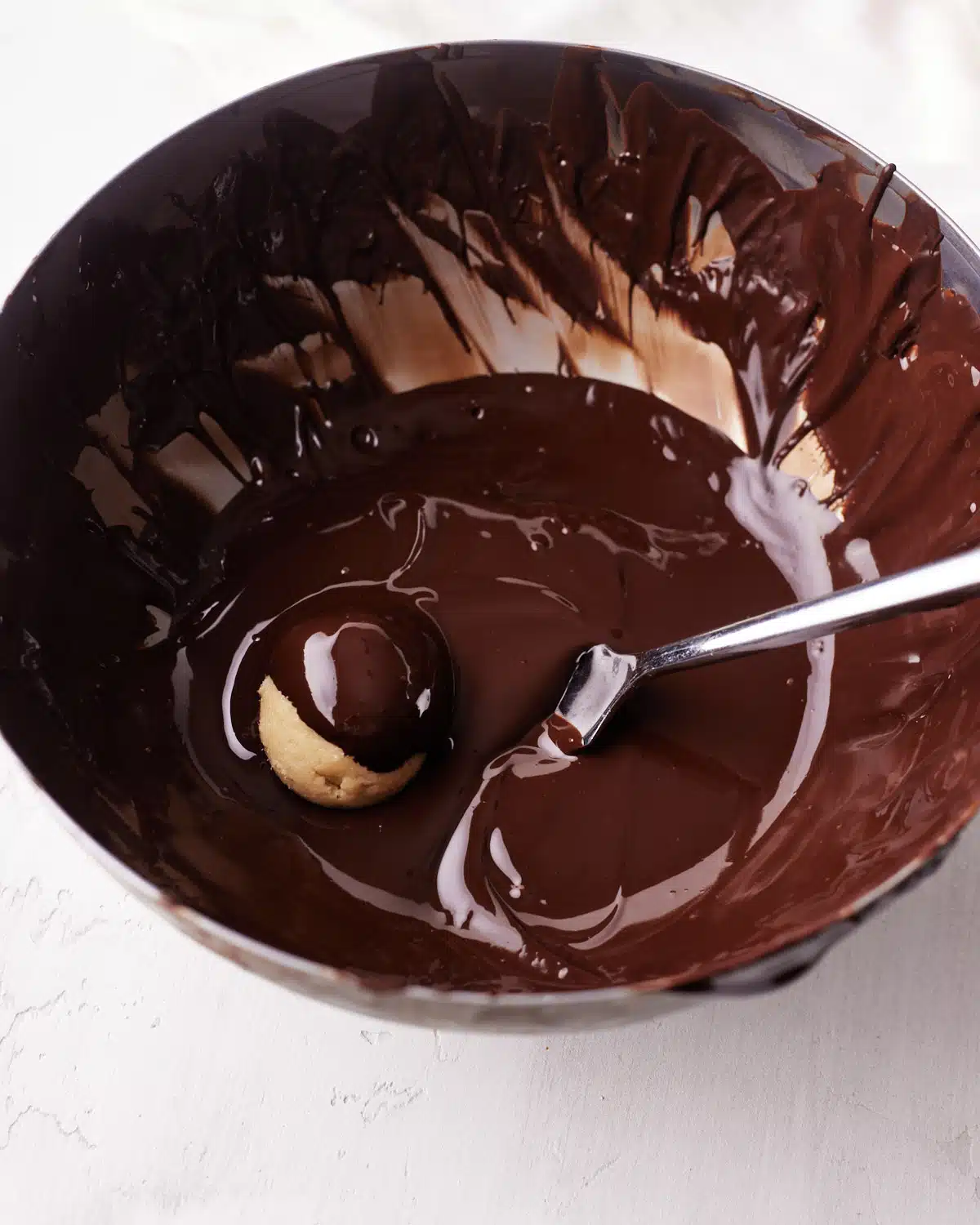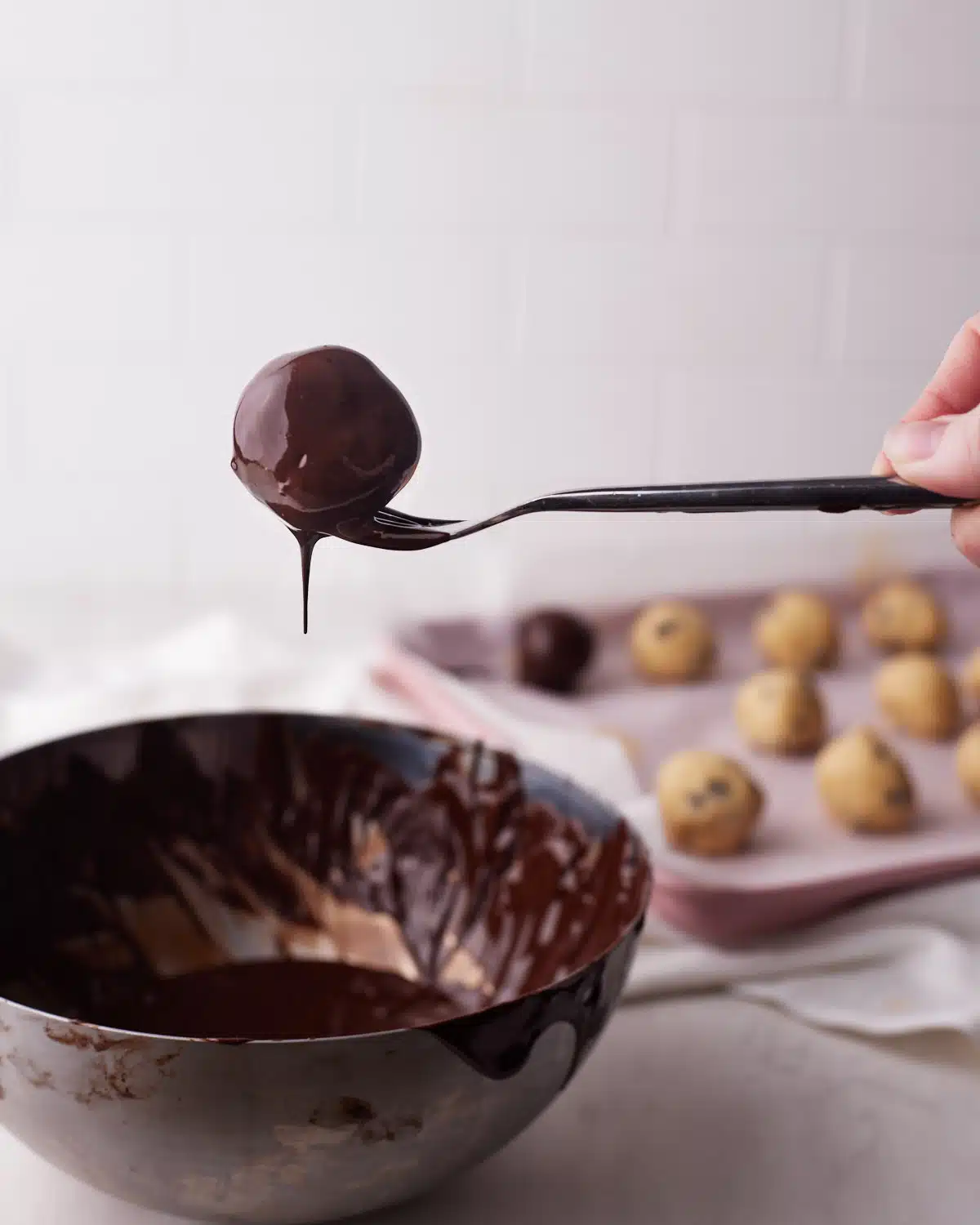 For the mold method, it really is best to temper the chocolate. Choose any kind of chocolate or truffle mold you like, I opted for these pretty hearts. Once the chocolate is tempered, Pour chocolate into each cavity of the mold, filling almost to the top.
Once filled, tip the mold upside down over a large bowl or baking sheet, in order to capture all the chocolate (we don't want to waste good chocolate!) Let the chocolate drizzle out until it naturally slows down, then flip the mold back over and use a pastry scraper or something similar to smooth the top of the mold and wipe away any excess. Let the chocolate set.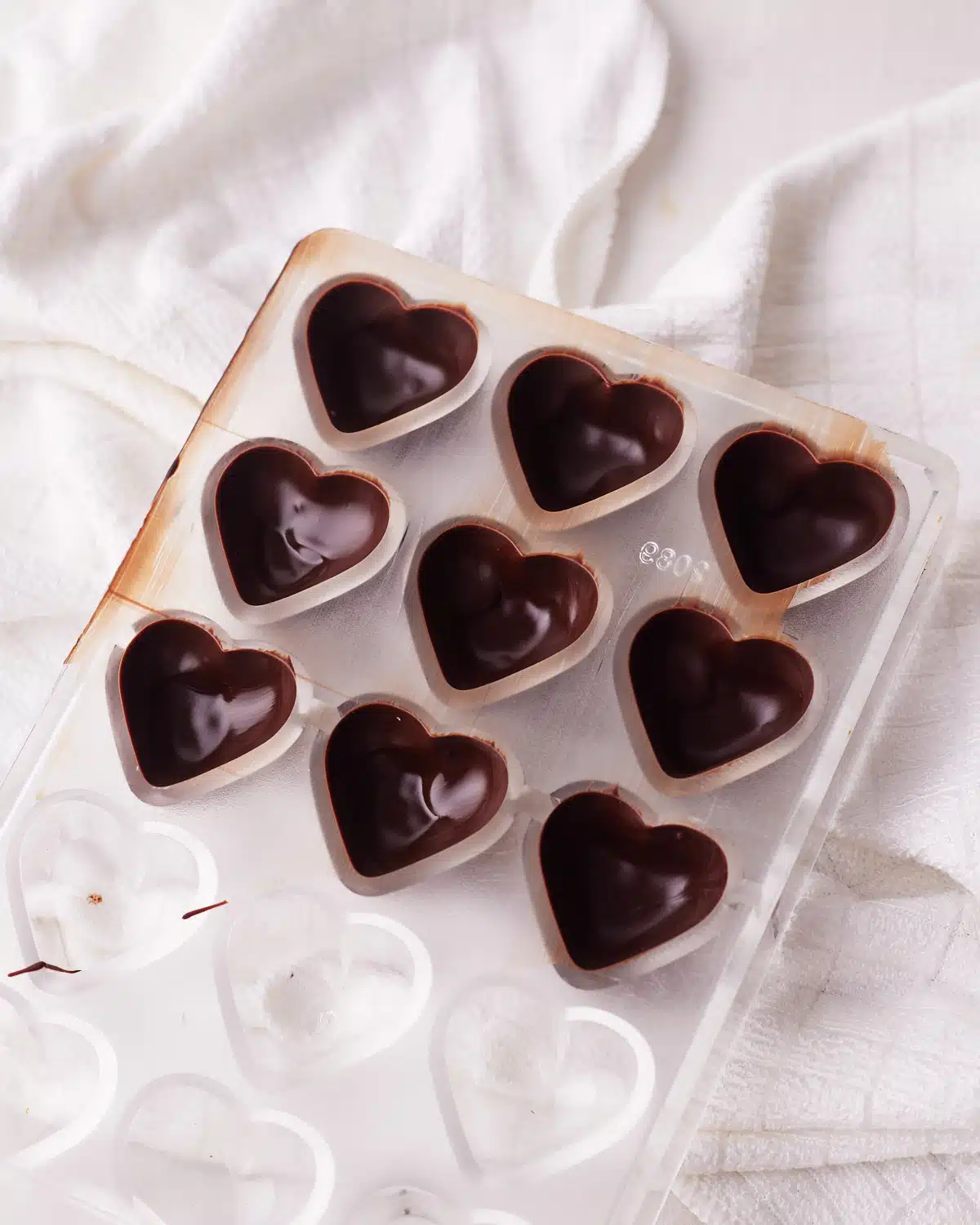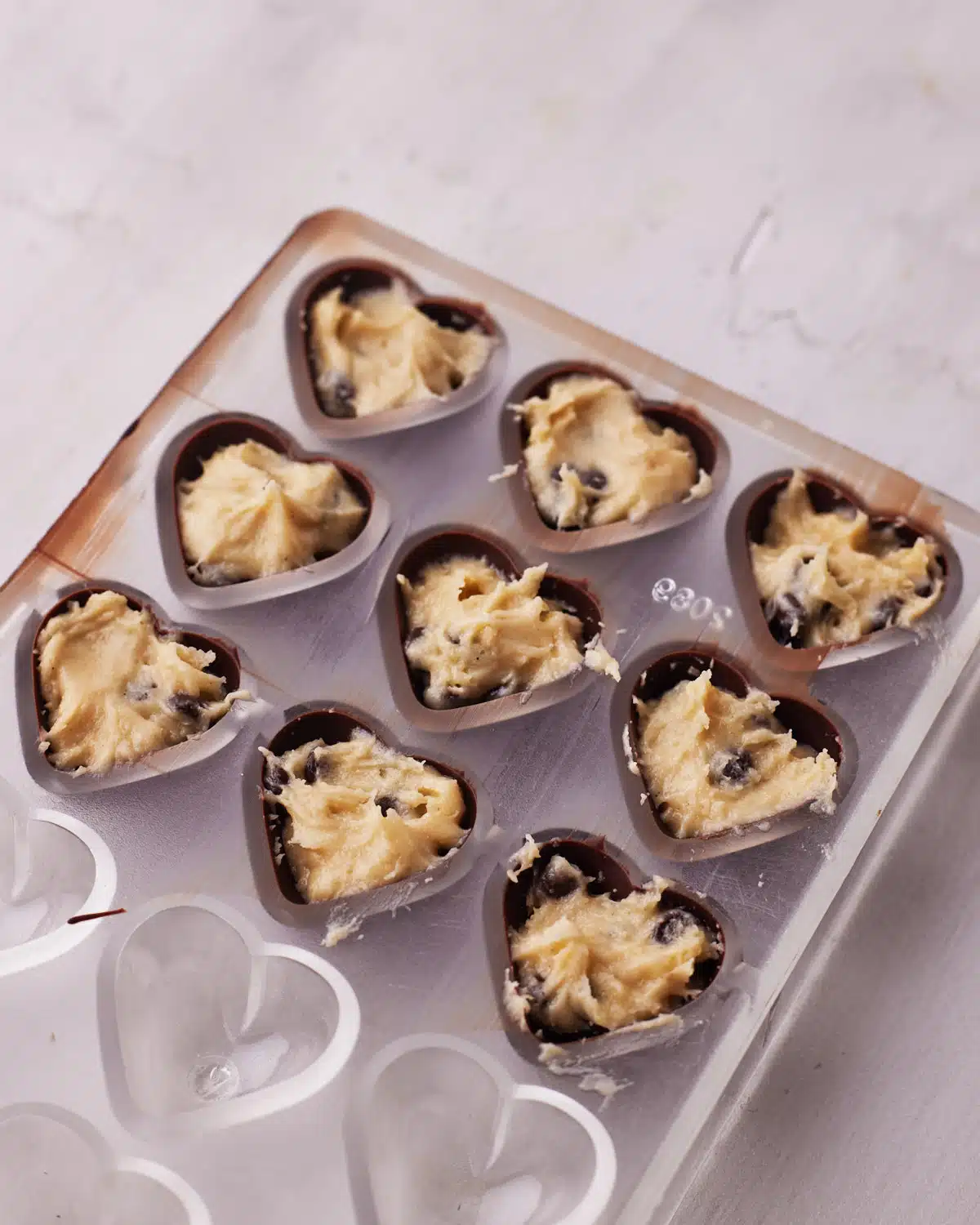 Once the chocolate has set, use your hands to press the edible cookie dough into the molds, making sure to press to the sides. Don't overfill them or you won't be able to seal them properly.
Pour more chocolate over the top to fill in any extra space and seal the chocolates, smooth over again with your pastry scraper and let set entirely before unmolding.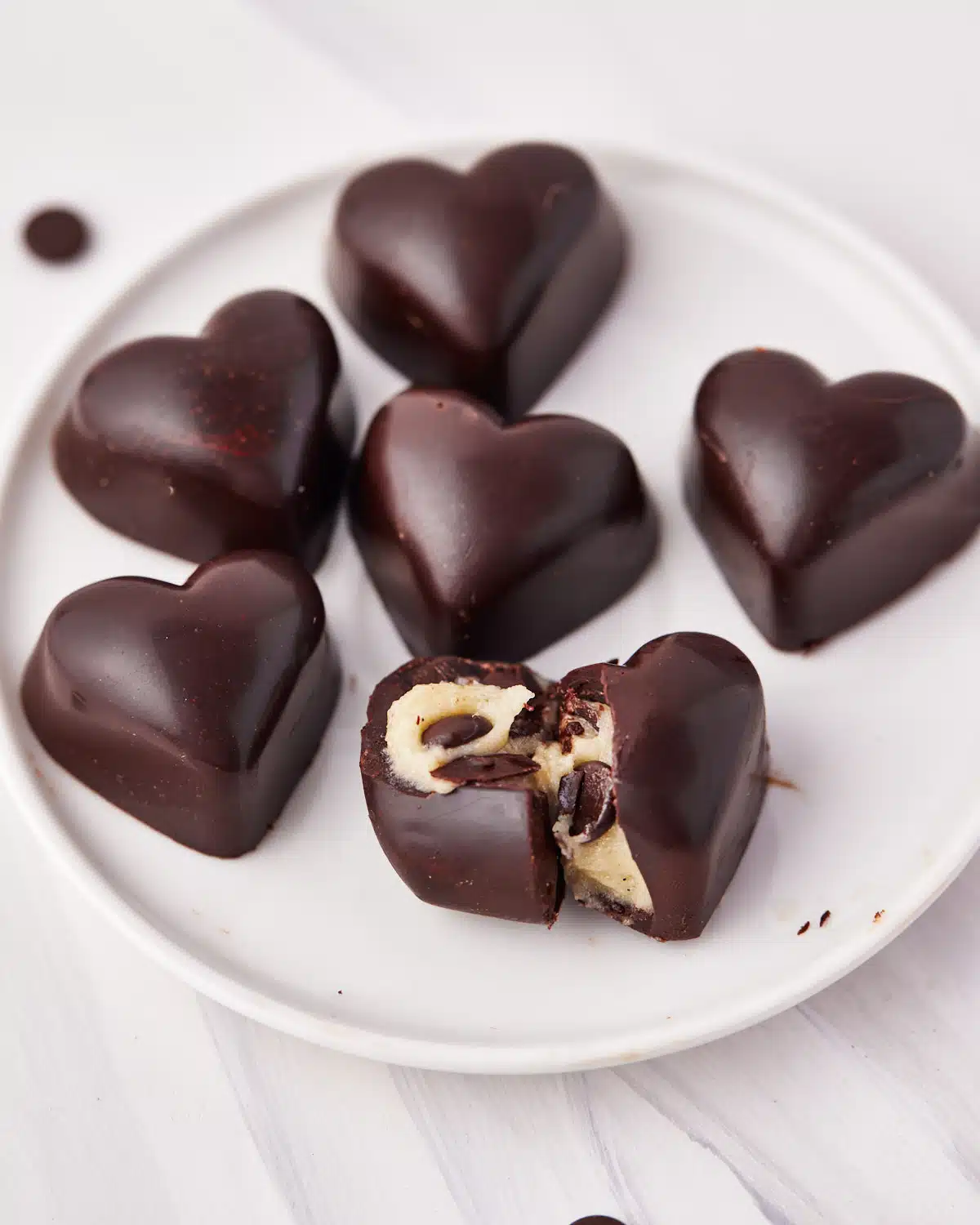 How is this Different Than Regular Cookie Dough?
Classic cookie dough contains raw eggs which a lot of people are skeptical about eating, as historically, eating raw eggs could give you E. coli.
These days, all eggs that you can buy in the supermarket have actually been pasteurized, which means they are perfectly safe to eat raw. I use raw eggs in many of my recipes, such as my Baileys Chocolate Mousse. I've also been licking the cake batter off the spoon for 30 years and have never once gotten sick from it.
However, some people have a weaker immune system than others and if you are getting eggs fresh from a farm or are unsure about whether your eggs have been pasteurized, this edible cookie dough recipe skips the raw eggs entirely.
If you are baking for someone who is pregnant, immuno-compromised or elderly, it's always better to err on the side of caution. That's why this recipe is completely safe to eat with no raw eggs at all.
The other potential risk factor is the raw flour. In some cases, flour can contain some harmful bacteria which may cause an upset stomach. This is usually not an issue as the flour is heated in the baking process, killing any potential risks.
But since this is a no-bake recipe, you can heat-treat the flour before beginning, in order to protect your digestive health. It's super quick and easy, you can just microwave the flour in the microwave for 50 seconds, then let it cool completely before using it in the recipe.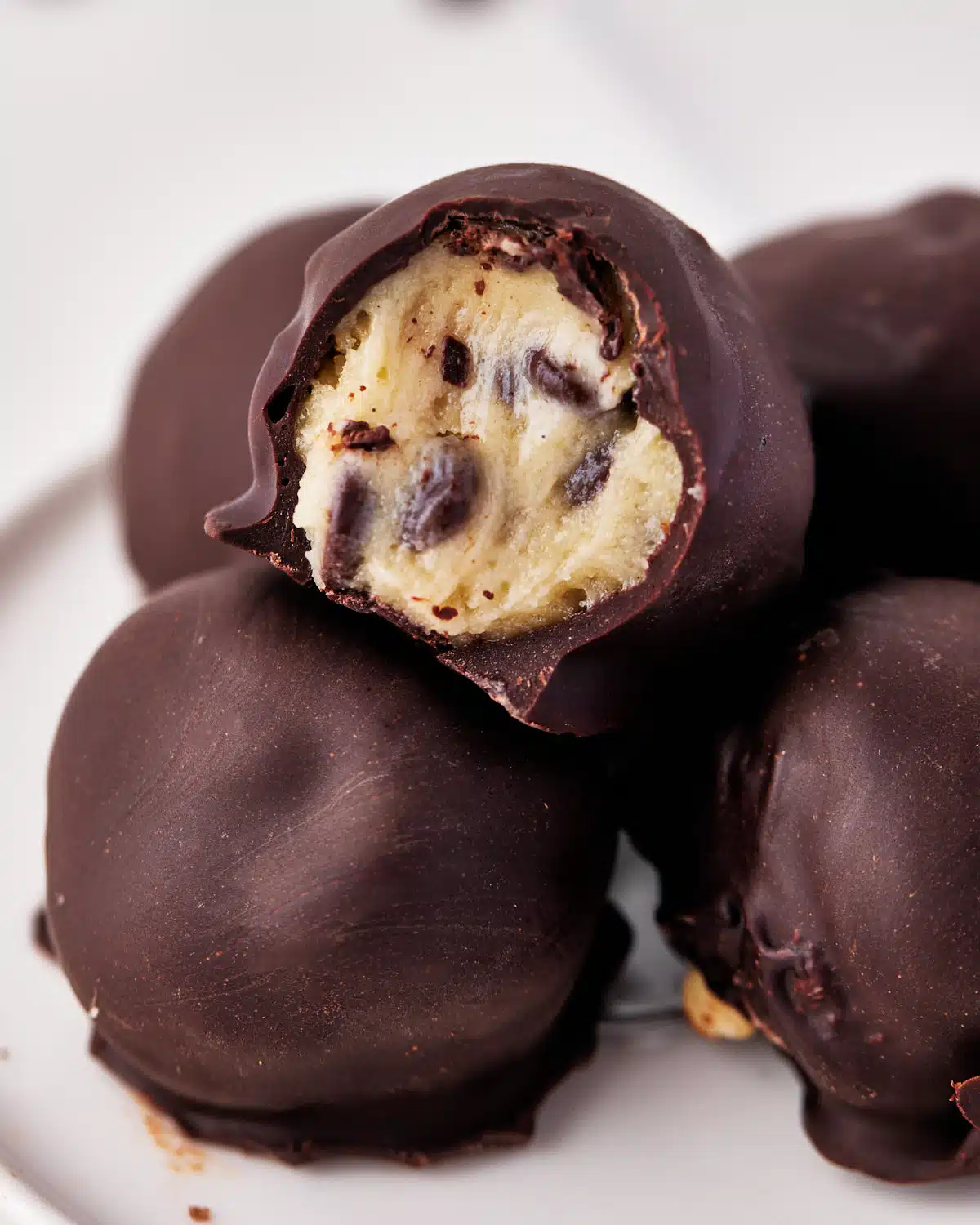 Do I have to Cover Them In Chocolate?
You don't have to but.... why wouldn't you?! If you would prefer to skip the chocolate outer shell, you can just roll the cookie dough into balls and serve them as they are. In this case, I would add less milk to the dough so they will be a bit sturdier and more likely to hold their shape.
I do highly recommend the chocolate-covered cookie dough though, they're pretty, easy to handle, and who doesn't love anything covered in chocolate?
Can I Bake Edible Cookie Dough?
This recipe has been specifically formulated to be eaten as cookie dough. Technically you could bake it, but it wouldn't give as good results as an actual cookie recipe - like these Pistachio Cookies, or these Brown Butter Chocolate Chip Cookies.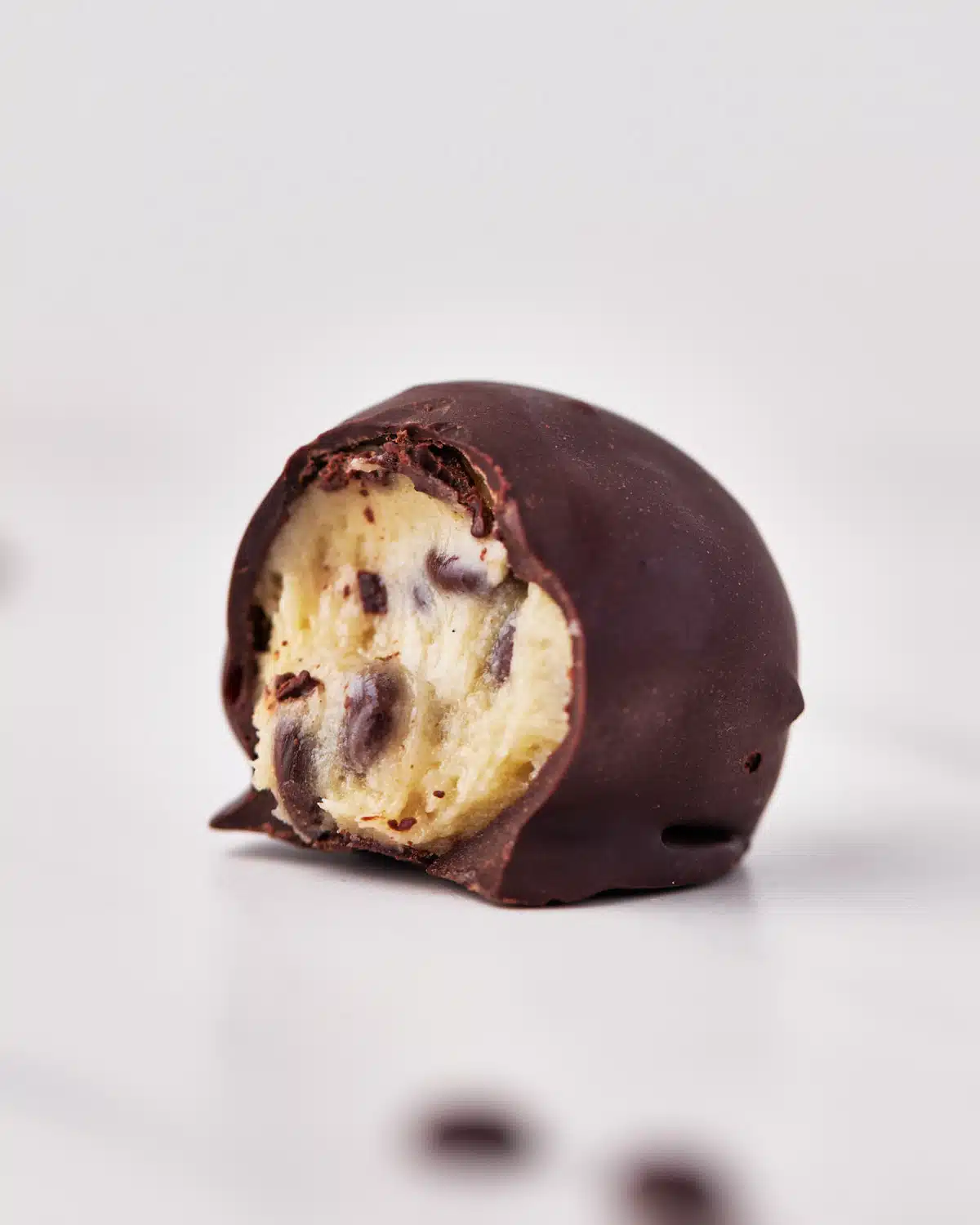 Storage
Store the cookie dough bites in an airtight container. You can keep them at room temperature or in the fridge, depending on your preference. If you don't do the chocolate coating, I recommend storing them in the fridge. They will be good like this for a week.
You can also freeze the cookie dough bites for up to a month in a Ziploc bag and enjoy them whenever the cookie dough cravings hit!
Recipe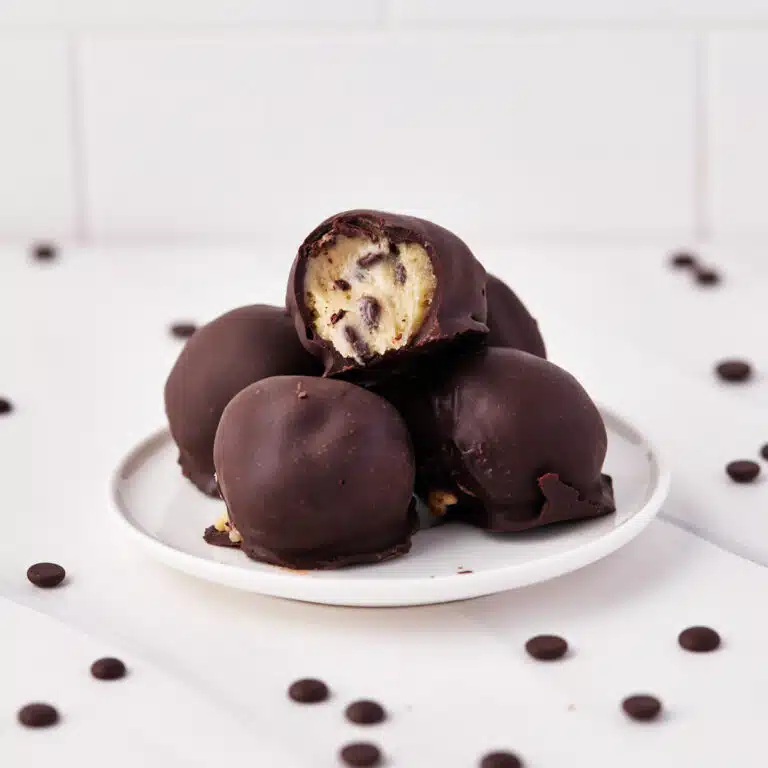 Cookie Dough Bites
Edible no-bake cookie dough, rolled into bite-sized balls and covered in chocolate.
Ingredients
2

sticks

Butter

227g

¾

cup

White Sugar

150g

¾

cup

Light Brown Sugar

165g

2

cups

All-purpose Flour

250g

⅓

cup

Milk

1

teaspoon

Salt

1

teaspoon

Vanilla

⅔

cup

Mini Chocolate Chips

120g

200

g

Chocolate

Milk or Dark
Instructions
Beat the butter and both sugars in a bowl until fluffy.

2 sticks Butter,

¾ cup White Sugar,

¾ cup Light Brown Sugar

Add the vanilla and mix in.

Add the flour and salt and stir in until a dough forms.

2 cups All-purpose Flour,

1 teaspoon Salt

Add the milk, a little at a time, mixing in between additions, until the cookie dough is as soft as you would like it. For a soft, gooey cookie dough, add all of the milk, for something firmer, add less.

Add the chocolate chips and mix them in until evenly dispersed.

⅔ cup Mini Chocolate Chips

Take a heaped teaspoon of cookie dough and roll it in your hands to form a ball. Repeat until you have used up all the dough.

Place the cookie dough balls in the fridge while you melt the chocolate.

For the best results, I strongly recommend tempering the chocolate, otherwise, it won't set as well and won't be crisp and shiny. Read my guide about how to easily temper chocolate, with or without a thermometer. If you don't want to temper, just melt the chocolate in 30-second increments in the microwave.

Dip the cookie dough balls in the chocolate and coat completely, use a fork to lift them out and let any excess chocolate drip off before transferring to a lined baking sheet to set. Alternatively, you can use a chocolate mold (see post above).

Let the chocolate set completely before serving. You can put them in the fridge to speed this up.
Notes
You will have the best results if you temper the chocolate, a lot of people are intimidated by tempering chocolate because they think it is complicated or they need special equipment, but my post will tell you how to easily temper chocolate with or without a thermometer - you can even do it in the microwave! 
Nutrition
Calories:
225
kcal
Carbohydrates:
30
g
Protein:
2
g
Fat:
12
g
Saturated Fat:
7
g
Polyunsaturated Fat:
0.4
g
Monounsaturated Fat:
3
g
Trans Fat:
0.3
g
Cholesterol:
21
mg
Sodium:
166
mg
Potassium:
52
mg
Fiber:
1
g
Sugar:
21
g
Vitamin A:
252
IU
Vitamin C:
0.03
mg
Calcium:
22
mg
Iron:
1
mg