There's nothing more luxurious than a classic French chocolate mousse. Except maybe Baileys chocolate mousse! This Baileys Chocolate Mousse is rich, silky, chocolatey, and has a nice hard kick of that unmistakable Baileys flavour.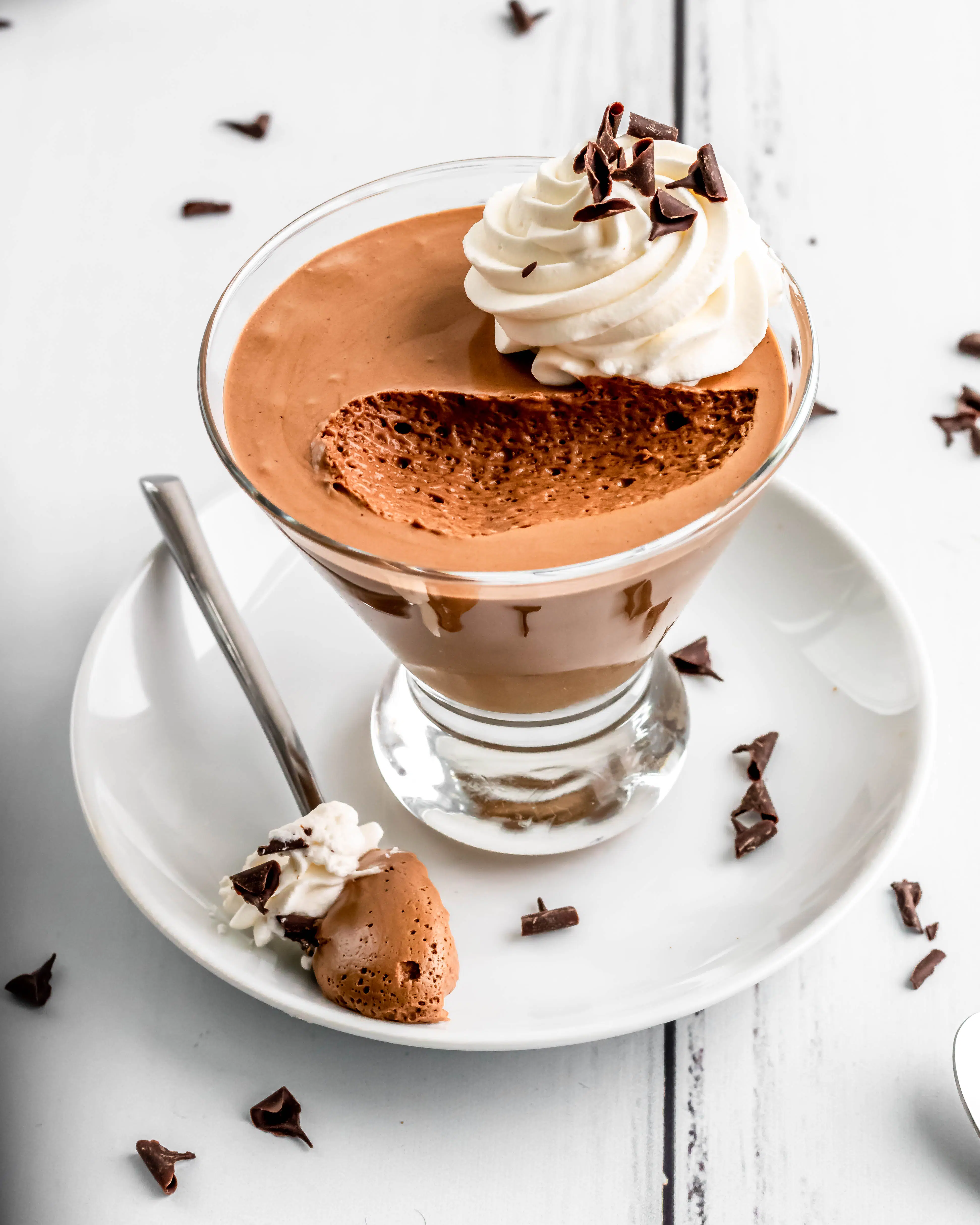 This is a great recipe to make for dinner parties because you prepare it ahead of time and let it chill in the fridge while you prepare all your other food. It's also an impressive dessert that is deceptively easy to make. The use of Baileys Irish cream makes it a great dessert around st. patrick's day. It's also the perfect dessert for a special occasion or around the holiday period when you're looking for a celebratory and boozy dessert!
There are plenty of recipes on this site that are chocolatey, such as my Molten Chocolate Lava Cakes, and boozy such as my Tiramisu Cake with Amaretto, but this easy Baileys Chocolate Mousse recipe is BOTH!
Jump to:
Ingredients
As a classic dessert really only uses a handful of ingredients to make the classic chocolate mousse base, then the addition of bailey's irish cream liqueur to take it to the next level.
Egg Whites - The eggs are raw in this recipe which should be perfectly safe with modern farming, but if you are concerned about raw eggs you can either use pasteurized egg whites or read about how to cook them out in the below section.
Egg Yolk - same as above.
White Sugar - You want to use superfine sugar to make this baileys chocolate mousse (caster sugar in the UK). We are essentially going to make a meringue with the egg whites and sugar which is then folded into the ganache, so the finer the sugar, the easier it will dissolve into the egg whites.
Whipping Cream - You want to use whipping cream for this recipe. Make sure it is full-fat heavy whipping cream, you can also use 'heavy cream' or 'double cream'. Basically any kind of thick, high-fat content cream. Single cream or half-and-half will not work.
Baileys - You can use any alcohol you like here, or even just skip the alcohol entirely. Personally, I love the flavor of Baileys and think it pairs beautifully with this silky chocolate mousse recipe.
Semi-sweet Chocolate - Make sure it's the best quality semi-sweet chocolate as the deep chocolate flavor will really come through. You could also use dark chocolate, milk chocolate or bittersweet chocolate if you like, just make sure it's high-quality chocolate and do not try to use chocolate chips as they have extra ingredients added so they won't melt properly.
Butter - This little pat of butter just adds to the great texture and shine of the mousse.
See recipe card for quantities.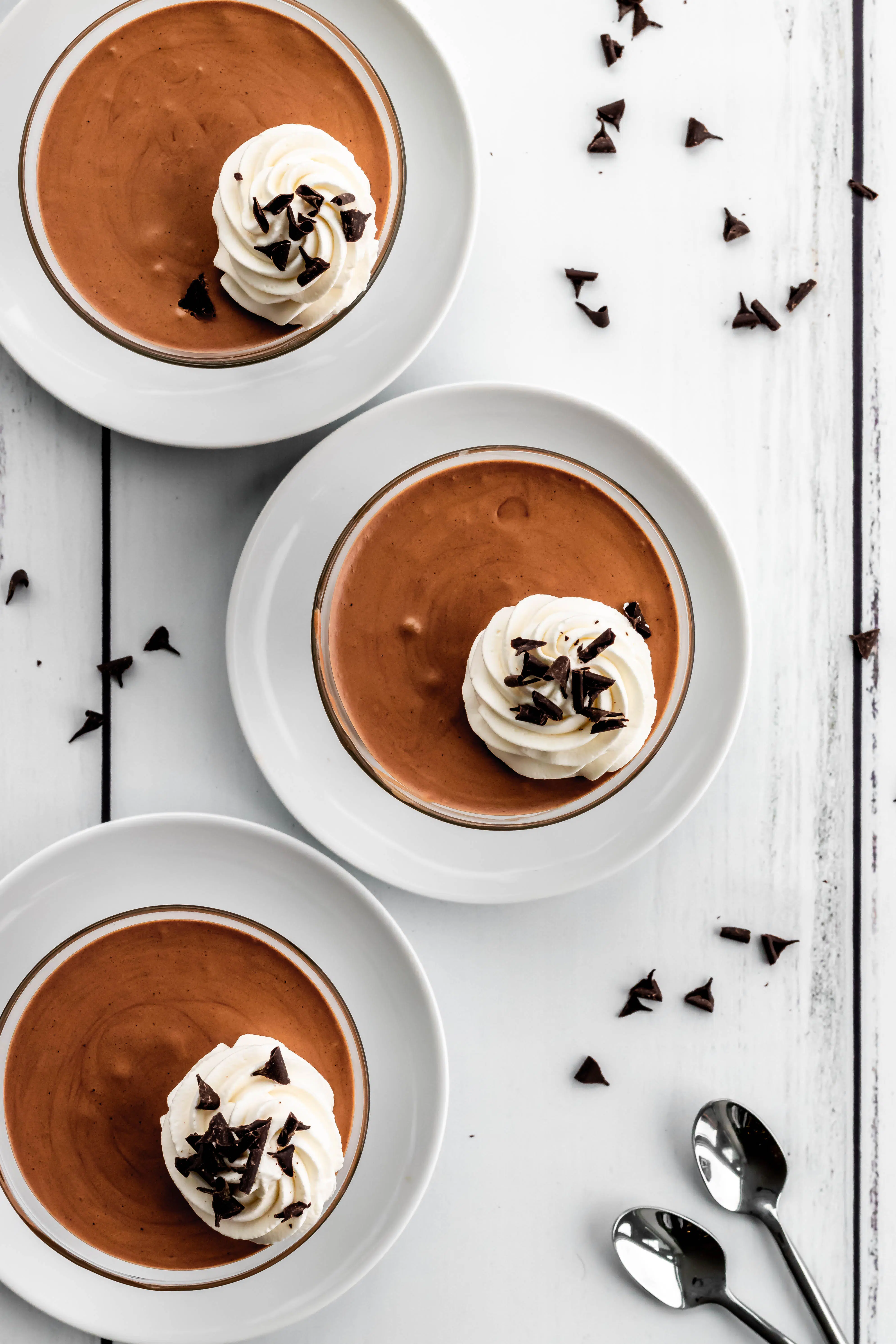 Instructions
This bailey's chocolate mousse recipe is super easy to make - I promise you! People are often intimidated by mousse because they think it's a complicated or difficult thing to make - but it's really not! There are a few different steps involved but there is nothing tricky in the recipe - just take it follow the step-by-step instructions and you'll be on your way to chocolate mousse glory. The hardest part about this recipe is not drinking all the Baileys before it goes into the chocolate!
I also find it a really relaxing recipe to make - it's a good de-stressor and there's nothing more satisfying than stirring that chocolate mix together.
Start by making a chocolate ganache. Put your chopped chocolate in a heat proof bowl.
In a small saucepan, heat the cream and baileys over medium heat. (If you want a strong Baileys flavor, add the full ½ cup of Baileys. If you want more of a subtle flavor, cut it back to ¼ cup and replace it with an extra ¼ cup of whipping cream).
Stirring constantly, heat until just before it begins to boil, you will see small bubbles starting to pop on the surface. Remove from the heat and pour the cream/baileys mixture into the bowl with the chocolate.
Stir until smooth, combined and glossy (this is my favorite part!)
Add the egg yolk and whisk until combined, add the butter in small pieces and keep whisking until it is all melted in. Your mixture should still be warm enough to melt the butter and warm the egg, but if it isn't, you can put it back on very low heat or over a bain-marie briefly while you whisk. Set aside to cool slightly while we prepare the meringue.
Next, we'll make a basic French meringue. Put the egg whites in the bowl of a stand mixer fitted with a whisk attachment. Make sure the bowl is super clean and doesn't have any grease on it, or the egg whites won't whip up properly. Whip the egg whites until they are frothy.
Slowly add the sugar to the egg whites, 1-2 tablespoons at a time, whipping at high speed for at least 40 seconds in between each addition. This lets the sugar dissolve into the egg whites properly so you don't end up with grainy meringue.
Whip until stiff peaks are formed and the mixture is thick and glossy.
Take one spoonful of the meringue and stir it into your chocolate mix to loosen it up a little bit, then pour the remaining chocolate mixture into the meringue and continue to whip it just until everything is combined.
Pour into the glass/bowl/container of your choice and put in the fridge to set for 2 hours. They work great as individual servings in serving glasses, or you could even pour the mousse into little shot glasses for smaller servings.
Note: If you are concerned about using raw eggs, see my section below about how to adjust the recipe to cook them out.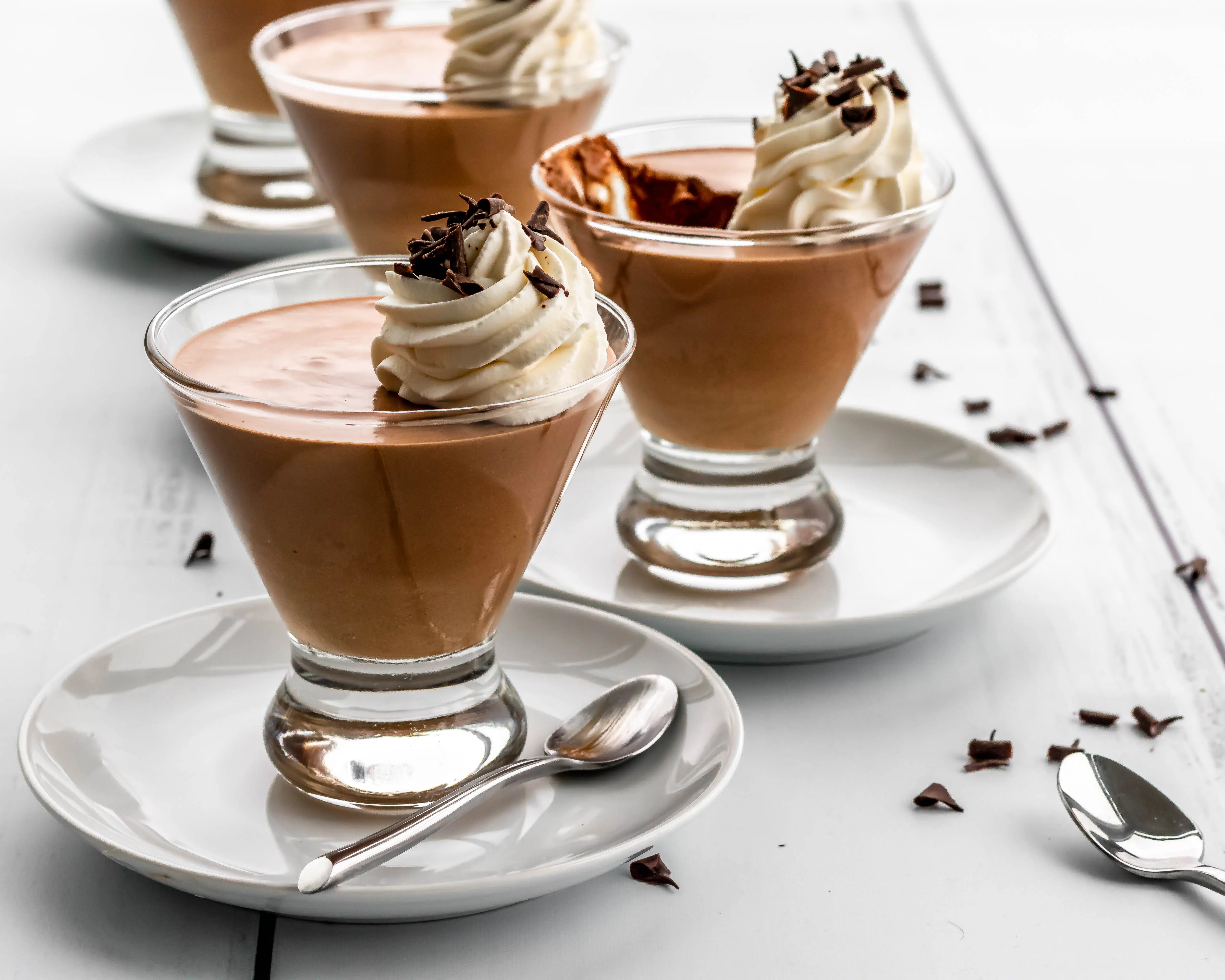 Decoration
To make the whipped cream topping, whip the cream until soft peaks form.
Add powdered sugar and vanilla and continue to whip until it reaches stiff peaks.
You can pipe swirls of cream onto your mousse like I did, or simply dollop it on. Both ways are good!
Finish off with some chocolate shavings or chocolate curls.
What about the raw eggs?
There are raw eggs in this baileys chocolate mousse recipe but if you are using good quality eggs it really shouldn't be an issue. Most supermarkets these days will only sell pasteurized eggs, which means the risk has been removed. You can check with the supermarket or manufacturer. But if you are still worried you can either use carton egg whites (which are always pasteurized) or make a small tweak to the recipe to cook the eggs.
All you would do differently is make a sugar syrup by boiling the sugar in a saucepan with ⅓ cup of water until it reaches 240°F, and then slowly dribble the syrup into the whipped egg whites, while whisking them in your mixer. This is making an Italian meringue rather than a French meringue, and it means the heat from the sugar syrup will cook the egg whites as it incorporates. For more info on this, see my Italian Meringue Buttercream post.
Keep whipping until the meringue is totally cooled before mixing it with the chocolate. The egg yolk is similarly cooked out when you heat it with the chocolate.
Foolproof Recipe
I made this Baileys chocolate mousse last night after three failed attempts at a cookie recipe that just wasn't doing what I wanted it to. That's the part of recipe development that you don't see - all the failures and messes! I was utterly exasperated and in a bad mood, I was going to call it quits for the night and I reached for a glass of Baileys, then I thought to make this instead. I knew that chocolate mousse is reliable and always delicious and let's be honest - I needed a win!
There's a quote in one of my favorite movies, Julie & Julia that says:
"You know what I love about cooking? I love that after a day when nothing is sure and when I say nothing, I mean nothing. You can come home and absolutely know that if you add egg yolks to chocolate and sugar and milk, it will get thick".
That always sticks in my head when I make chocolate mousse because I know I can count on it to turn out beautifully. And adding the fact it's a Baileys Chocolate Mousse just makes it extra fun!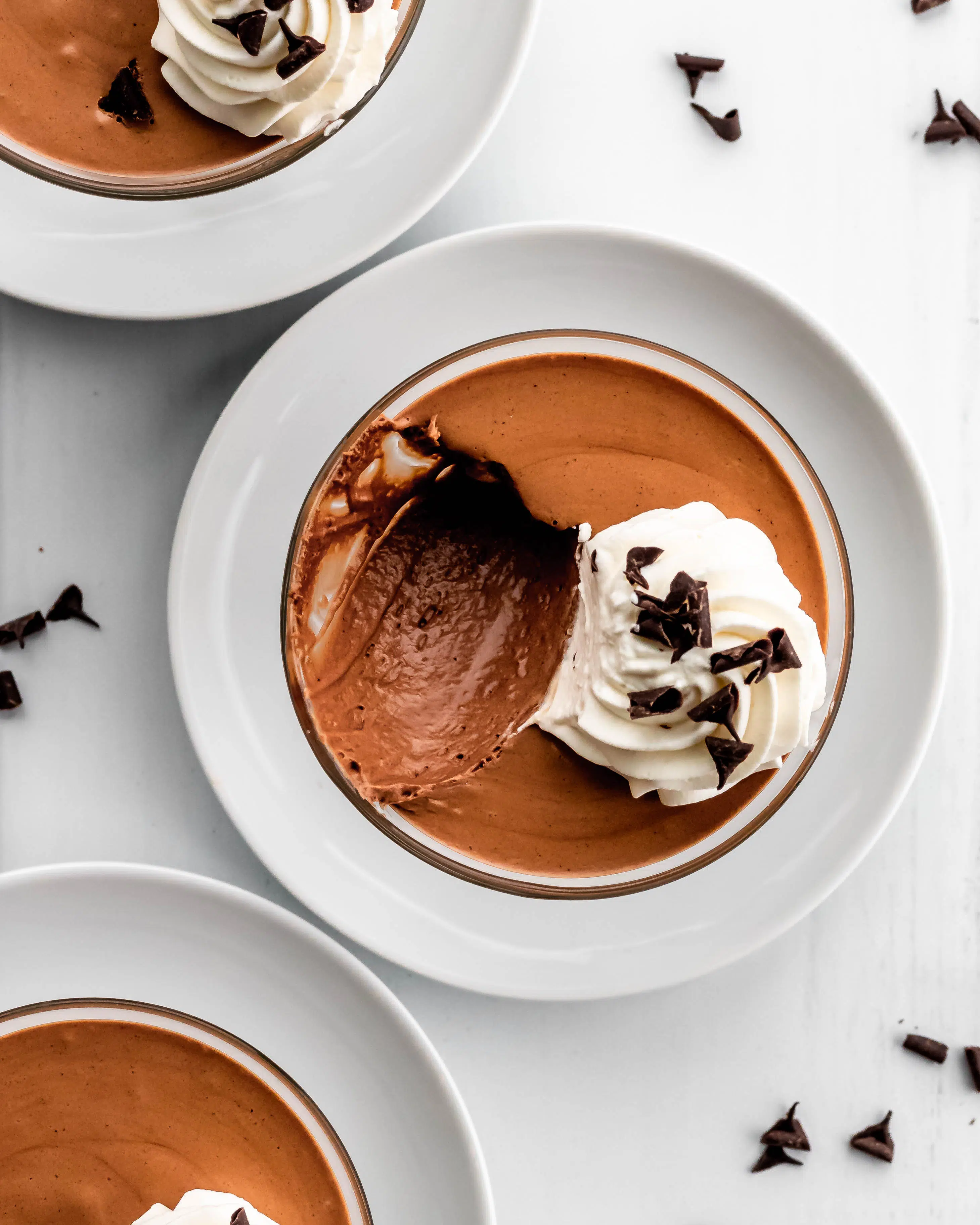 Does it have to be Baileys?
Definitely not, you can use any Irish Cream you like in this recipe. Or even another alcohol if you like. Also, you can adjust the amount of Baileys you include in the recipe depending on how much of a kick you want. This recipe calls for ½ cup of Baileys which gives it a good, strong flavour, but if you want more of a subtle hint, cut this back to ¼ cup and replace with an extra ¼ cup whipping cream. You could also leave the alcohol out entirely and just substitute it with more cream.

Summary
This Bailey's chocolate mousse is simply nothing short of divine. The gorgeous silky, creamy texture and plenty of chocolate flavor make it a winner every time in my book. Many chocolate mousse recipes are lackluster or a little disappointing, but if you are a chocolate lover, this will for sure be your new favorite recipe!
Recipe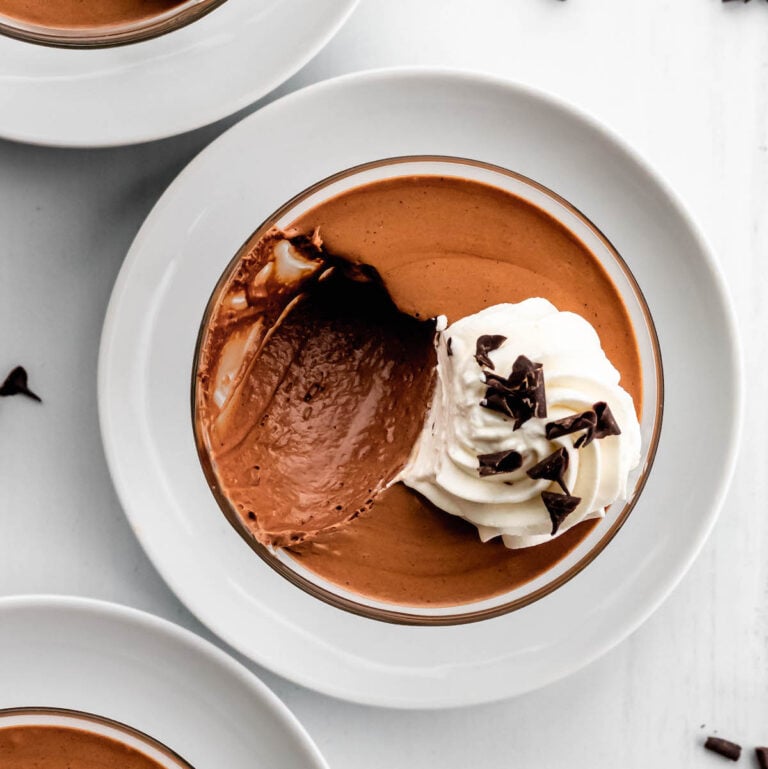 Baileys Chocolate Mousse
Rich, silky, chocolatey, and a nice hard kick of that unmistakable Baileys flavour
Ingredients
Baileys Chocolate Mousse
4

Egg Whites

1

Egg Yolk

1

cup

White Sugar

(caster sugar in the UK)

½

cup

Whipping Cream

½

cup

Baileys

or any Irish Cream

1

cup

Semi-sweet Chocolate

chopped small

1

tablespoon

Butter
Whipped Cream Topping (optional)
1

cup

Whipping Cream

2

tablespoon

Icing Sugar

1

teaspoon

Vanilla Extract
Instructions
Make the Mousse
Put your chopped chocolate into a heatproof bowl

1 cup Semi-sweet Chocolate

In a small saucepan, heat the cream and baileys over a medium heat. (If you want a strong Baileys flavour, add the full ½ cup of Baileys. If you want more of a subtle flavour, cut it back to ¼ cup and replace with an extra ¼ cup of whipping cream)

½ cup Whipping Cream,

½ cup Baileys

Stirring constantly, heat until just before it begins to boil, you will see small bubbles starting to pop on the surface. Remove from the heat and pour the cream/baileys mixture into the bowl with the chocolate

Stir until smooth, combined and glossy (this is my favourite part!)

Add the egg yolk and whisk until combined, add the butter in small pieces and keep whisking until it is all melted in. Your mixture should still be warm enough to melt the butter and warm the egg, but if it isn't, you can put it back on very low heat or over a bain-marie briefly while you whisk. Set aside to cool slightly while you prepare the meringue.

1 Egg Yolk,

1 tablespoon Butter

Whip the egg whites until frothy.

Slowly add the sugar to the egg whites, 1-2 tablespoons at a time, whipping in between each addition to make a meringue. This lets the sugar dissolve into the egg whites properly so you don't end up with grainy meringue

Whip until stiff peaks are formed and the mixture is thick and glossy. Set aside

Take one spoonful of the meringue and stir it into your chocolate mix to loosen it up a little, then pour the whole chocolate mixture into the meringue and continue to whip it just until everything is combined

Pour into the glass/bowl/container of your choice and put in the fridge to set for 2 hours
To Decorate
Whip cream until soft peaks form

Add icing sugar and vanilla and continue to whip until stiff peaks form

2 tablespoon Icing Sugar,

1 teaspoon Vanilla Extract

You can pipe the cream onto the mousse or simply dollop it on - both ways are good!

For an extra touch, you can add some sprinkles, chocolate curls or grated chocolate on top of the cream
Nutrition
Calories:
549
kcal
Carbohydrates:
53
g
Protein:
6
g
Fat:
35
g
Saturated Fat:
22
g
Polyunsaturated Fat:
1
g
Monounsaturated Fat:
10
g
Trans Fat:
1
g
Cholesterol:
106
mg
Sodium:
69
mg
Potassium:
260
mg
Fiber:
2
g
Sugar:
49
g
Vitamin A:
991
IU
Vitamin C:
1
mg
Calcium:
64
mg
Iron:
2
mg