Molten Chocolate Lava Cakes are every chocaholic's weakness. Chocolate cake is cool and all, but give it a gooey, melty, liquid centre and that wins every time, hands down! There are a lot of recipes out there that make kind of 'cheat' versions of this that mimic the concept but don't really deliver on the intense chocolatey flavour - but this recipe is the real deal baby. You will not find a more satisfying, indulgent dessert to fulfil your chocolate craving than this one - I guarantee it!
How to get your Molten Chocolate Lava Cakes juuuuust right
The actual batter for this is super simple, melt some ingredients then mix everything together and bam. But the part that takes some finesse is the baking process. Take it out of the oven a minute too soon and you will have a plate full of chocolate soup. Take it out a minute too late and you'll be disappointed to dig into your molten chocolate lava cake to discover no oozing lava. You need to get these out at precisely the right time, and because every oven is different and you may have any size of ramekin, you need to watch for the signs that they are ready, rather than relying on the bake times.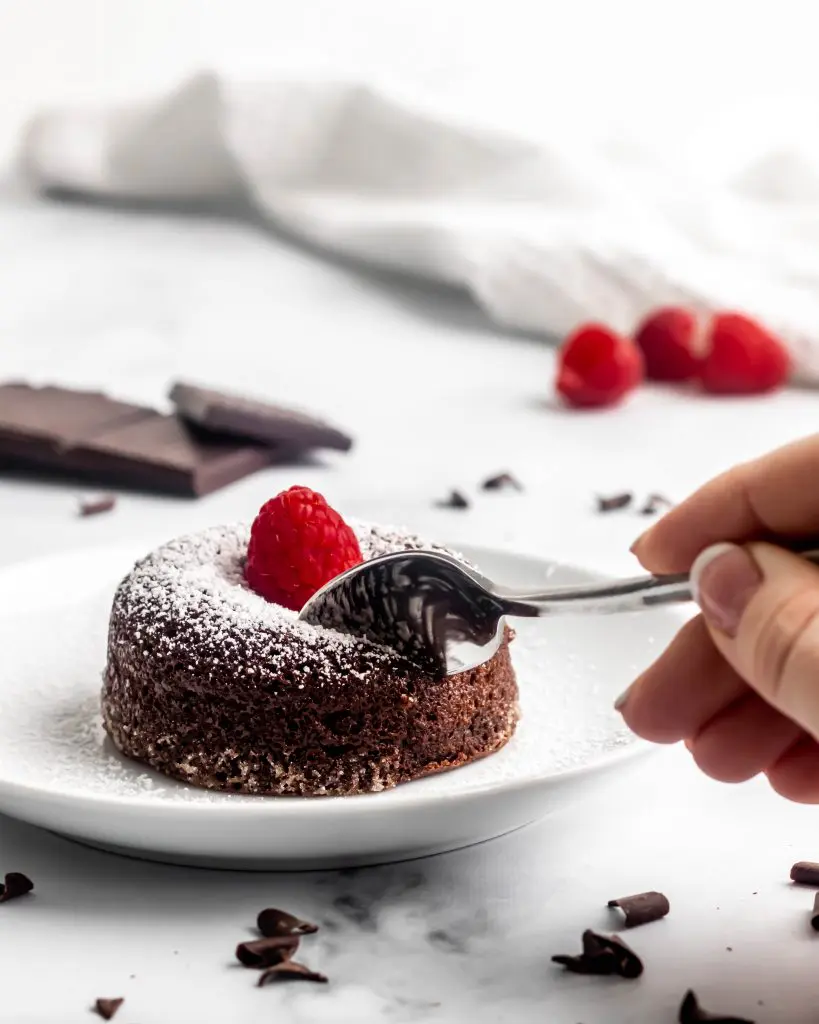 What I suggest is setting a timer for 10 minutes, then once the ten-minute mark passes, watch your puddings like a hawk. At 10 minutes they will likely still look completely unbaked on top, but over the next minute or so they will start to gradually look baked from the outside and slowly bake more and more towards the centre. You still want there to be a puddle of 'wet' looking chocolate batter in the middle when you take them out, but the trick is to check the wobble before removing from the oven. If you give the ramekins a gentle shake, there should definitely still be a noticeable wobble, but the point where it is perfectly baked should mean that the whole pudding wobbles together as a whole, rather than like liquid moving around in a container. This will ensure you have the perfect molten chocolate lava cakes that are the ideal amount of melty in the middle.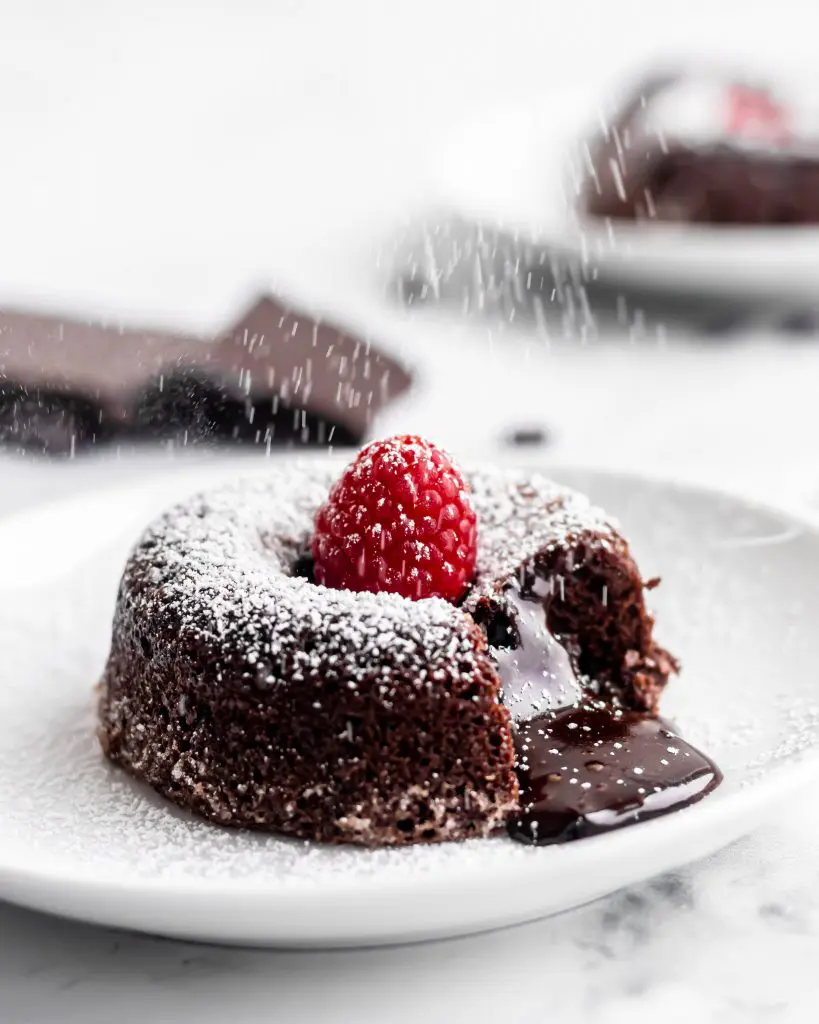 Do you have to refrigerate over night?
The short answer is no, but the results will likely be much better if you do. Chilling the chocolate fondants overnight allows them to set so they will be more likely to hold their shape when turned out onto the plate. It also keeps the batter cool in the middle longer as the outside bakes. If you don't have time to chill, don't worry, you can still make delicious molten chocolate lava cakes, you may just want to bake them for a minute or so less. More important is that you properly coat your ramekins to to make sure the puddings don't stick to the inside.
Recipe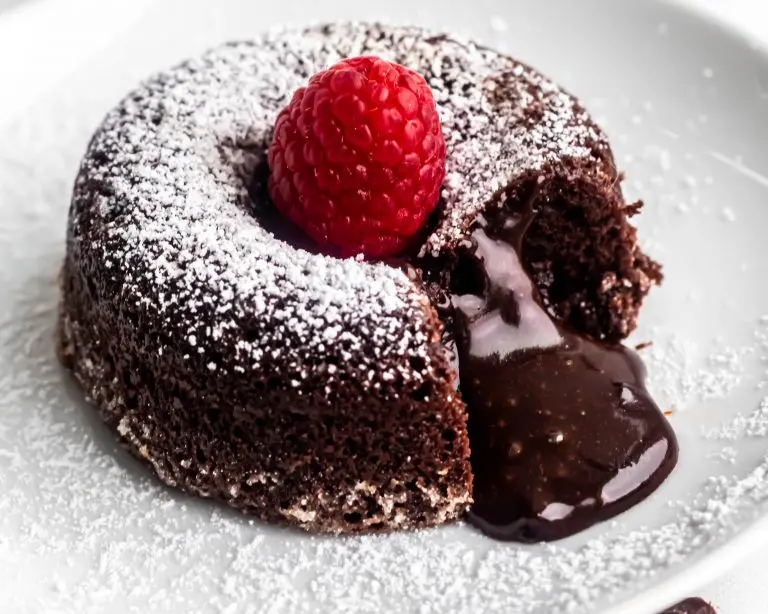 Molten Chocolate Lava Cakes
Every chocaholic's weakness - chocolate cake with an oozing, gooey molten chocolate centre that spills out when you dig in with your spoon
Ingredients
3

Eggs

½

cup

Sugar

(plus extra for ramekins)

75

g

Dark Chocolate

80% or above is best

6

tablespoon

Butter

(plus extra for ramekins)

1

tablespoon

Cocoa Powder

⅓

cup

All-purpose Flour
Instructions
Prepare ramekins by covering the inside with butter and then coating well with a layer of sugar

Break the chocolate into small pieces and put in a microwave-safe bowl along with the butter and cocoa powder

75 g Dark Chocolate,

6 tablespoon Butter,

1 tablespoon Cocoa Powder

Microwave in 30 second increments until everything is totally melted

In a separate bowl, whisk together the eggs and sugar, just until combined - you are not trying to add any air here

Slowly add the melted chocolate mixture to the egg mix and stir until everything is combined

Fold in the flour, be careful not to overmix

Pour the batter into the ramekins, they should be about ¾ full. Put in the fridge to firm up until right before you are ready to serve.

When ready to serve, preheat oven to 375°F / 190°C and prepare the plates you want to serve on, it's important to serve these as quickly as possible once they come out of the oven

Bake for 8 - 14 minutes depending on your oven and the size of your ramekins. After the 8 minute mark, watch your lava cakes like a hawk, they change very quickly from the stage where they will make a chocolatey puddle on your plate to the stage where they are overbaked and won't ooze properly. You'll know they are ready when the outside looks baked and is pulling away from the edges slightly, but the middle still looks like there is a puddle of wet chocolate in there - if you shake the ramekins, it should wobble but it will all wobble together as a whole, rather than glooping around the ramekin - that's when they are ready!

Remove from the oven and let sit for a minute, then place a plate over the top of the ramekin and invert it, then carefully remove the ramekin. Repeat for all the puddings

Sprinkle with a dusting of icing sugar and serve with ice cream and raspberries!
Nutrition
Calories:
447
kcal
Carbohydrates:
43
g
Protein:
7
g
Fat:
28
g
Saturated Fat:
17
g
Trans Fat:
1
g
Cholesterol:
168
mg
Sodium:
201
mg
Potassium:
215
mg
Fiber:
3
g
Sugar:
30
g
Vitamin A:
710
IU
Calcium:
41
mg
Iron:
3
mg