These coffee cupcakes are every coffee lover's dream. Fluffy coffee-infused sponge topped with silky smooth coffee buttercream. Perfection.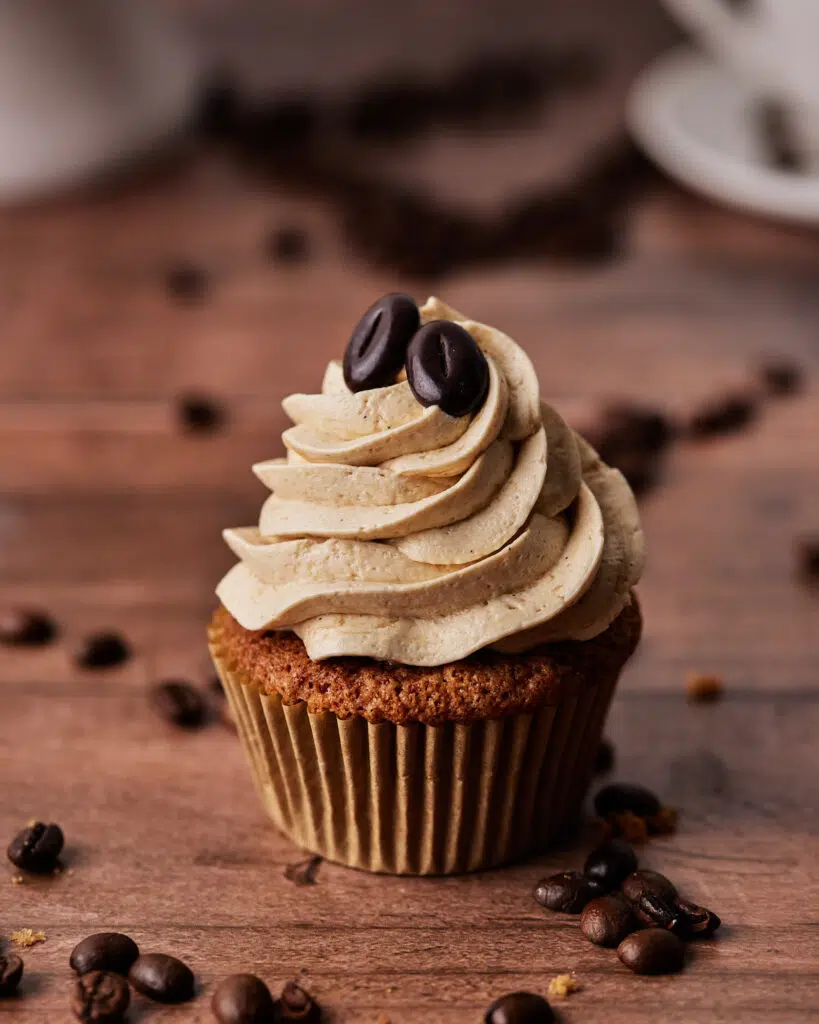 Chris has been begging me for months to make a coffee flavoured bake. It's been on his mind ever since my last coffee dessert, which was my Tiramisu Cake with Amaretto. Finally, I got around to making these coffee cupcakes, which are a new and improved adaption of the coffee cupcakes we used to sell in the bakery.
They were hugely popular with all the University students who would come in between classes to refuel on caffeine and sugar. (Our first store was right next to a University campus). These were always a hit with the students, along with our Red Velvet Cupcakes and Cinnamon Swirl Muffins.
Jump to:
Ingredients for Coffee Cupcakes
Ingredients for the Coffee Cupcakes:
Butter - Salted or Unsalted will be fine, but if you use salted, just omit the extra salt from the recipe
White Sugar - Extra fine white sugar will incorporate best into the cake batter
Golden Sugar - also known as soft light brown sugar, this will help add a slight caramel note to the sponge cake
Egg - large eggs are best, and always free range
Vanilla - vanilla extract or vanilla bean paste will work great, try to avoid vanilla essence
Espresso Powder - this is the super finely ground powder, it's not the same as instant coffee granules, look specifically for 'espresso powder'
All-purpose Flour - All-purpose flour, cake flour or self raising flour will all work. If you use self raising flour just omit the baking soda and baking powder
Ingredients for the Coffee Buttercream:
This is an unusual kind of buttercream, it's an adaption on a Russian Buttercream, which contains no icing sugar, but instead gets its sweetness from condensed milk. It's silky and delicious - you have to try it!
Butter - the most critical part of making this frosting is that the butter is at the right temperature. You want it to be room temperature, but not too warm. For best results, remove it from the fridge about 1 hour before starting to make your frosting
Espresso Powder - this is the same as what you will use for the coffee cupcakes batter
Vanilla Extract - the vanilla is optional, but adds another layer to the frosting
Sweetened Condensed Milk - in a lot of cultures, they add condensed milk to coffee, so it seems fitting to use this russian buttercream recipe for these cupcakes!
See recipe card for quantities.
Video
If you'd like to watch a step by step guide to making this recipe, check out this video:
Can you use real espresso instead of espresso powder?
The first time I recipe tested these coffee cupcakes, I made them with real, fresh espresso instead of the espresso powder. They worked nicely and had a wonderful soft crumb, but the coffee flavour just wasn't coming through as powerfully as I wanted it to.
The espresso powder packs much more of a punch and the flavour comes through better after the batter has been baked. So you could use espresso, but the coffee flavour will be less obvious, and you don't want to add too many espresso shots as the liquid will mess with the consistency of the cupcake batter.
You can find espresso powder in most grocery stores. But if you're having trouble, you can also find it online. This espresso powder is one of the best ones I recommend for baking.
Why doesn't the frosting have icing sugar in it?
The coffee buttercream is an adaption of Russian Buttercream. I only recently discovered Russian Buttercream and honestly now I'm a little obsessed!
Classically, it only has two ingredients - butter and sweetened condensed milk, which sounded absolutely mad to me at first. But after playing around with it for a bit I absolutely love both the flavour and texture of this frosting.
Adding the coffee to it just takes it to a whole new level and creates the most delicious, silky smooth, sweet, but not-too-sweet frosting that was just perfect for these coffee cupcakes. You just have to try it to believe it.
The sweetness comes from the condensed milk, and the consistency comes from whipping the butter up until it's thick and silky. So no icing sugar is required. It tastes kind of like a cross between American Buttercream and Italian Meringue Buttercream.
For more info and tips on how to make this frosting, check out my Russian Buttercream post.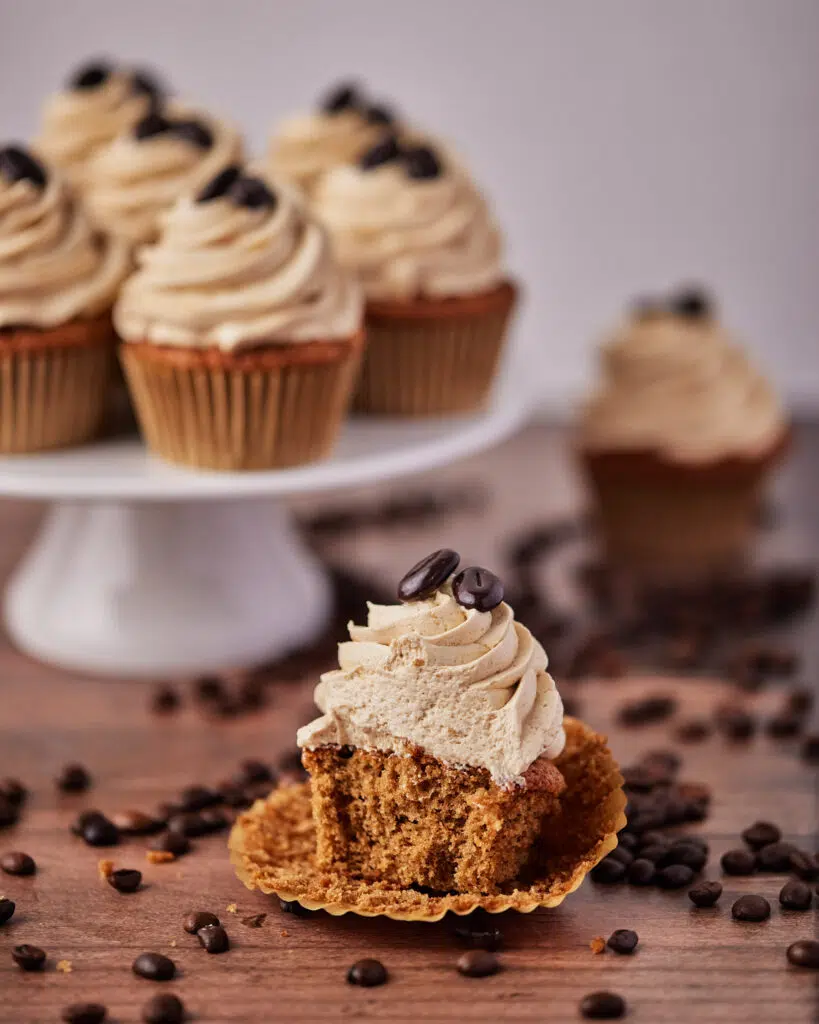 Variations
While these are already a winning combination, there are many ways you could enjoy these coffee cupcakes!
Mocha Cupcakes - If you wanted to make a mocha cupcake instead, you could use my chocolate cake recipe for the batter to make chocolate cupcakes topped with the coffee Russian Buttercream.
Switch out the Frosting - The coffee batter also works nicely with many different frostings. Try pairing them with Cream Cheese Frosting instead.
Add a filling - The simplicity of these cupcakes is pretty fantastic, but if you wanted to step it up a notch, you could core out the centre of the cupcake and fill with a coffee flavoured ganache
Recipe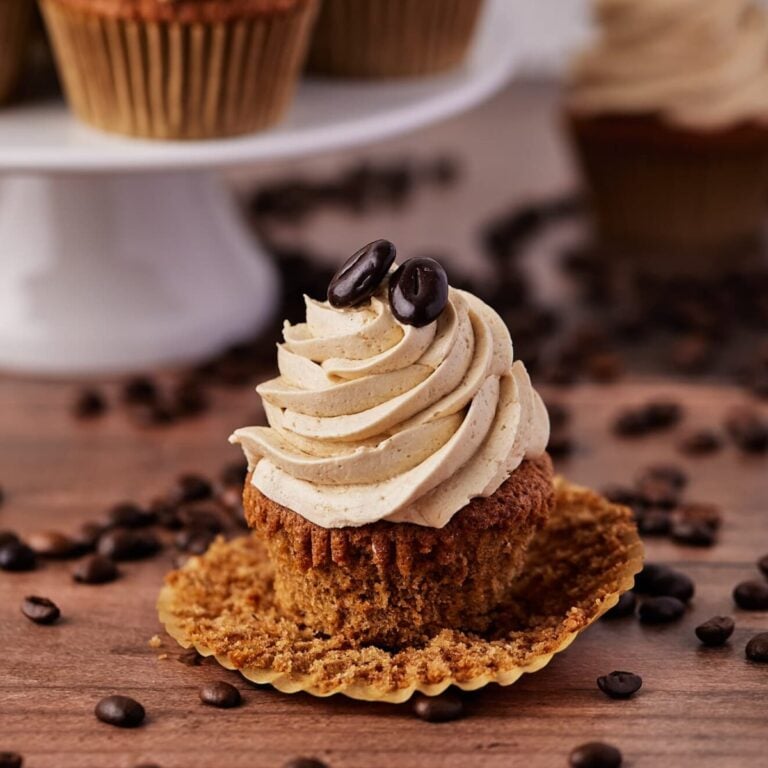 Coffee Cupcakes with Silky Coffee Buttercream
Fluffy coffee-infused sponge topped with a silky coffee buttercream. Every coffee lovers dream.
Ingredients
For the Coffee Cupcakes
½

cup

Butter

½

cup

White Sugar

½

cup

Golden Sugar

(light brown sugar)

1

Egg

1

teaspoon

Vanilla Extract

2

tablespoon

Espresso Powder

1 ½

cups

All-purpose Flour

½

cup

Whole Milk

½

teaspoon

Baking Soda

1

teaspoon

Baking Powder

1

teaspoon

Salt
For the Coffee Buttercream
1

cup

Butter

room temperature

1

can

Condensed Milk

1

teaspoon

Vanilla Extract

½

teaspoon

Salt

2

teaspoon

Espresso Powder
Instructions
Make the Coffee Cupcakes
Preheat oven to 350°F / 180 °C and line a muffin pan with cupcake liners

Cream the butter and both sugars together until light and fluffy

½ cup Butter,

½ cup White Sugar,

½ cup Golden Sugar

Add the egg and vanilla extract and beat until combined

1 Egg,

1 teaspoon Vanilla Extract

Sift the flour, baking powder, baking soda and salt into a bowl, then pour half of it into the batter and mix in slowly until completely incorporated

1 ½ cups All-purpose Flour,

½ teaspoon Baking Soda,

1 teaspoon Baking Powder,

1 teaspoon Salt

Dissolve the espresso powder in the milk. Pour into the batter and mix until incorporated

½ cup Whole Milk,

2 tablespoon Espresso Powder

Add the remaining flour and mix until incorporated

Scoop batter into cupcake liners and bake for 18 minutes or until the tops of the cupcakes bounce back when lightly pressed
Make the Coffee Buttercream
Whip the butter with a stand mixer or hand mixer, on high for 5 minutes. It should be lighter in colour and silky smooth

Dissolve the espresso powder in a tiny drizzle of water and pour into the butter along with the vanilla and salt, whip for another minute

1 teaspoon Vanilla Extract,

2 teaspoon Espresso Powder,

½ teaspoon Salt

Add the condensed milk in gradually, whipping slowly in between additions

Once all the condensed milk is added, turn the mixer on high again for 1 minute. Frosting should be silky and should make stiff peaks

If the frosting splits, try placing it in the fridge for 10 minutes, or add a few tablespoons of icing sugar to thicken it up and bring it back together

Once the cupcakes have cooled completely, top them with the coffee buttercream. I chose to decorate with chocolate coffee beans, but you could also sprinkle with cocoa powder or just leave them plain
Notes
It is crucial that the butter is at the right temperature for this frosting to work, if it is too warm or too cold it won't whip up properly.  I recommend removing from the fridge about 1 hour before use.
Nutrition
Calories:
450
kcal
Carbohydrates:
49
g
Protein:
5
g
Fat:
27
g
Saturated Fat:
17
g
Polyunsaturated Fat:
1
g
Monounsaturated Fat:
7
g
Trans Fat:
1
g
Cholesterol:
87
mg
Sodium:
629
mg
Potassium:
213
mg
Fiber:
1
g
Sugar:
36
g
Vitamin A:
833
IU
Vitamin C:
1
mg
Calcium:
145
mg
Iron:
1
mg