Red Velvet Cupcakes have always been, and will likely always be, my favourite flavour of cupcake. It's so unusual with the deep tangy flavour and the delicious cream cheese frosting!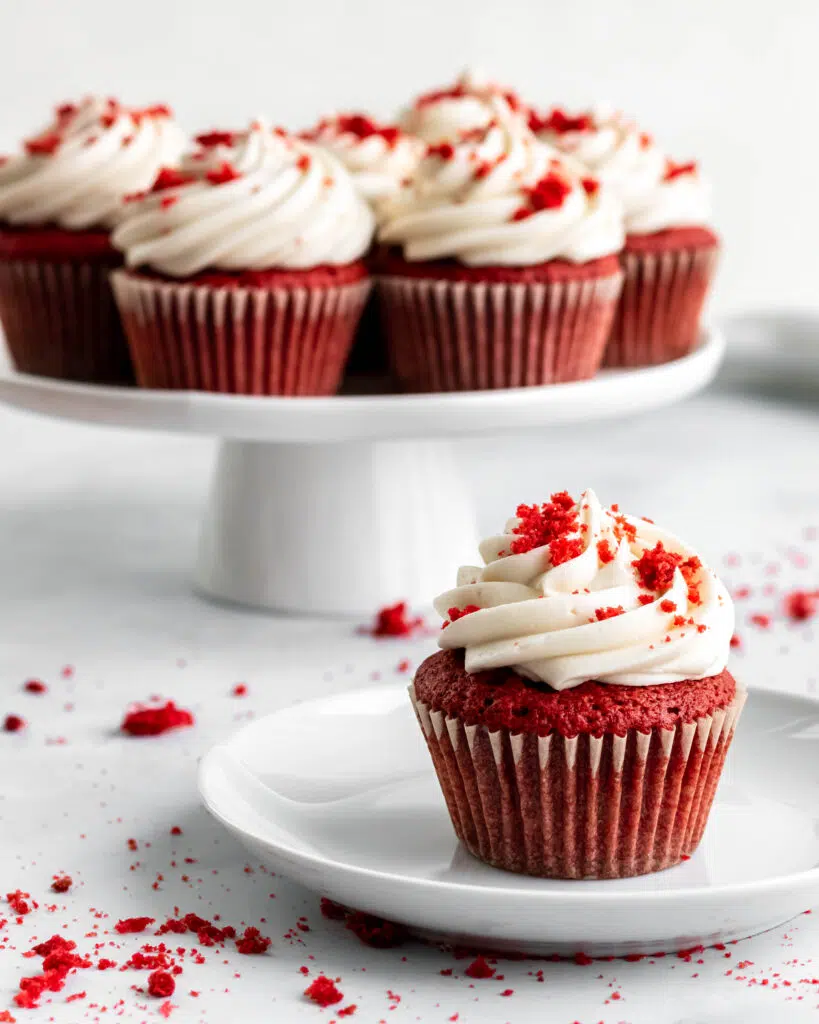 These are great for so many different things, I'm posting them now in the run up to Valentines Day, they would make a great, easy-to-make treat for your sweetheart if you want to give them something homemade. Red Velvet was also one of our most popular wedding cake flavours, and perfect for kids birthday parties too because of the bright colour. If you love red velvet as much as I do, you might also like my Red Velvet Brownies recipe, or my Red Velvet Cakesicles.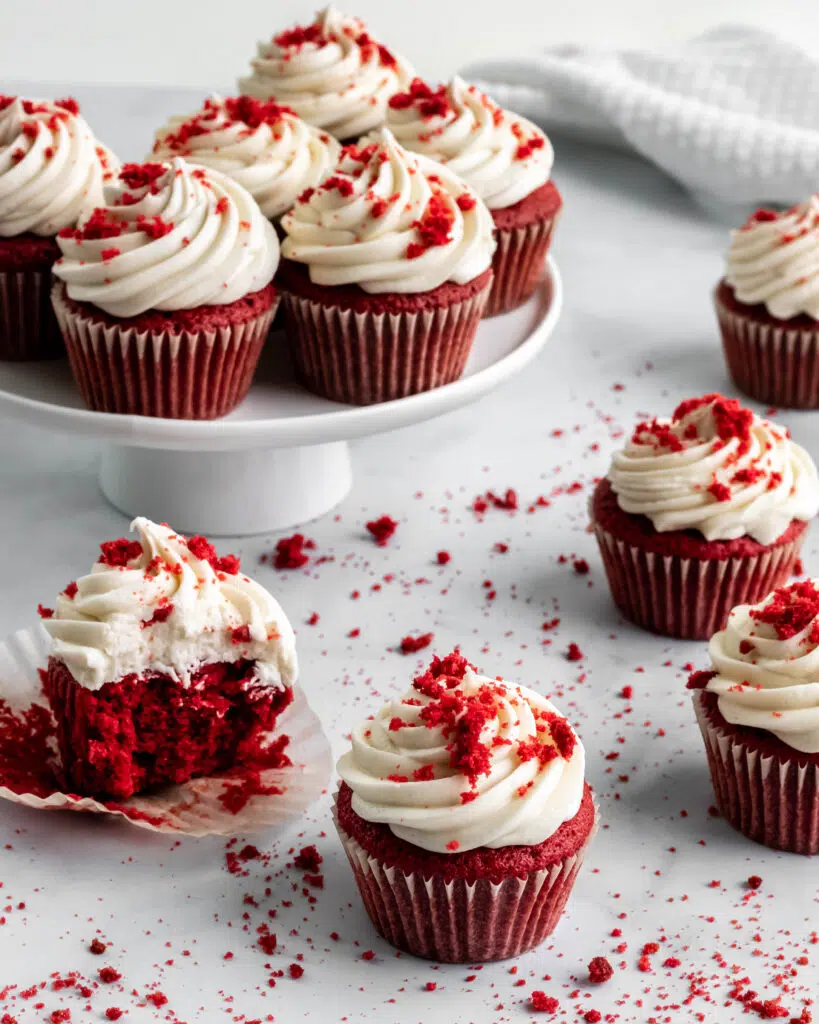 What makes Red Velvet Cupcakes Red Velvet-y?
There are a few things in this batter that give it that special red velvet flavour. First of all, the buttermilk adds both texture and flavour, creating a lovely soft crumb which has a noticeable tang to it. Secondly, the hint of cocoa powder, though it's only a small amount, adds a lot to the flavour, giving it that rich, chocolatey depth of a chocolate cake. Lastly, the way we make the cake rise, by adding vinegar to baking soda, creates a reaction in the batter which is responsible for the velvety texture of the cupcakes.
And of course, let's not forget the frosting, because they are not red velvet cupcakes without the cream cheese frosting!
How to Make Red Velvet Cupcakes Video
To see me make these red velvet cupcakes step by step, check out my Youtube video below: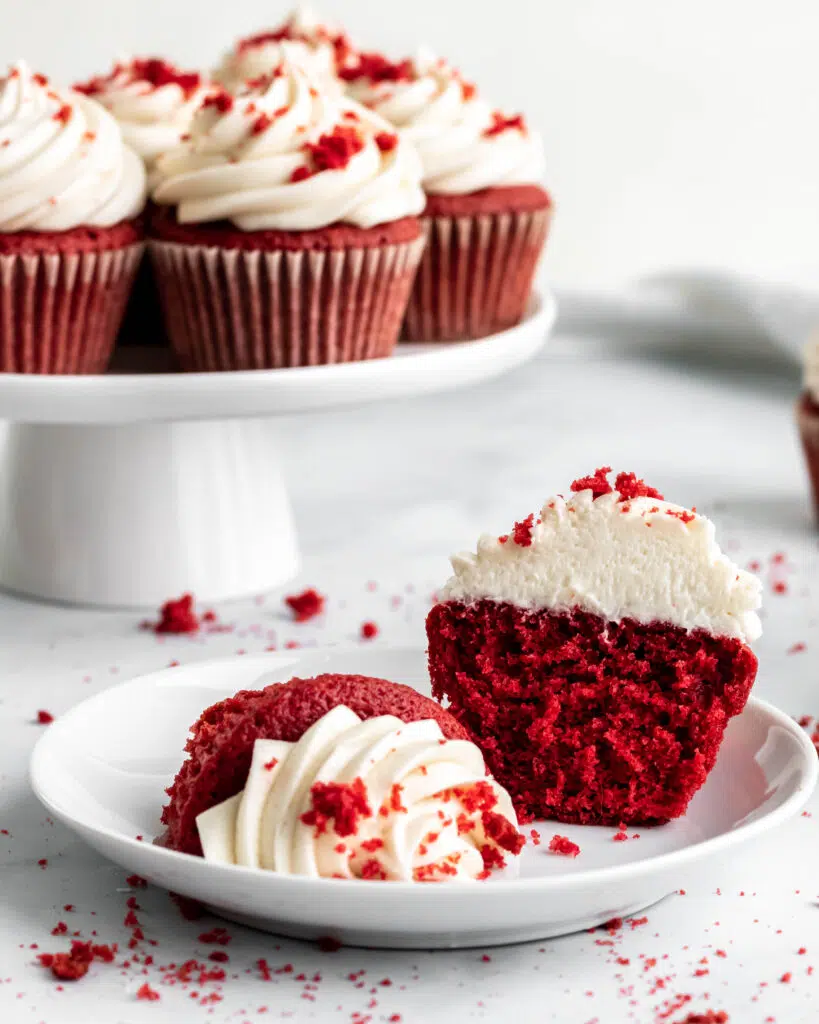 How else can you use this batter?
This recipe makes 24 cupcakes, but you could also use it to make full-sized layer cakes, the recipe translates well to different shapes and sizes. Another fun thing to do is to bake a sheet cake of red velvet and then mash it together with the cream cheese frosting and roll into balls and dip in white or milk chocolate to make cake pops or red velvet truffles.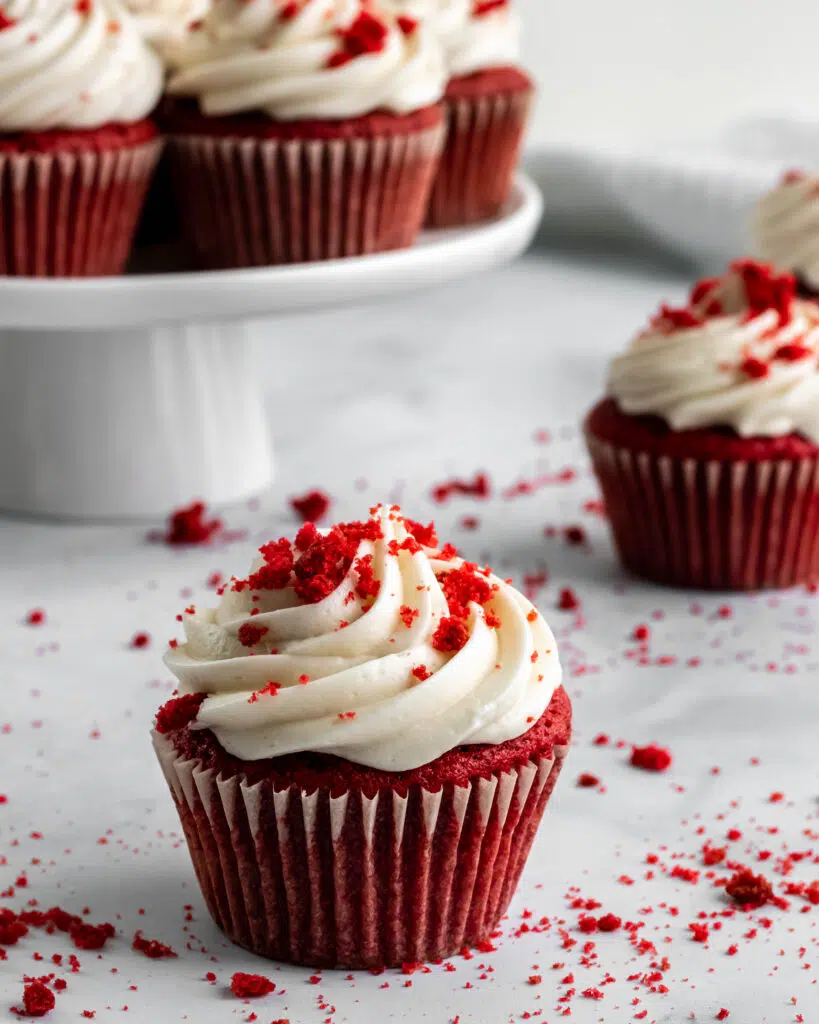 You Might Also Like...
Recipe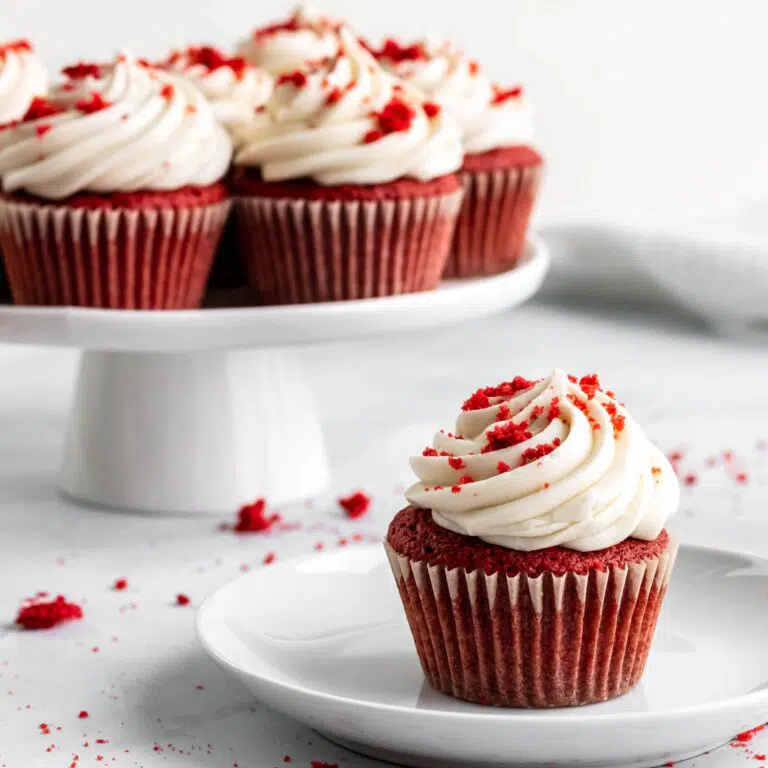 Red Velvet Cupcakes
Tangy and moist Red Velvet Cupcakes with sweet Cream Cheese Frosting
Ingredients
2 ½

cups

All-purpose Flour

2

cups

Sugar

1

tablespoon

Cocoa Powder

1

teaspoon

Salt

1

teaspoon

Baking Soda

2

Eggs

1 ½

cups

Vegetable Oil

1

cup

Buttermilk

1

tablespoon

White Wine Vinegar

1

teaspoon

Vanilla Extract

1

teaspoon

Gel Red Food Colouring

1

batch

Cream Cheese Frosting
Instructions
Preheat oven to 325°F and line a muffin pan with cupcake liners

Lightly whisk the eggs, buttermilk, oil and vanilla together until blended

2 Eggs,

1 ½ cups Vegetable Oil,

1 cup Buttermilk,

1 teaspoon Vanilla Extract

Add the sugar, flour, cocoa powder and salt and mix for about a minute

2 ½ cups All-purpose Flour,

2 cups Sugar,

1 tablespoon Cocoa Powder,

1 teaspoon Salt

Add red food colouring and mix until the batter is the shade of red you want

1 teaspoon Gel Red Food Colouring

In a small bowl, pour the white wine vinegar over the baking soda, quickly mix together and then pour into the batter. Mix the batter together

1 tablespoon White Wine Vinegar,

1 teaspoon Baking Soda

Scoop batter into cupcake liners and bake for 20-22 minutes or until a skewer comes out clean

Allow to cool completely and then decorate with Cream Cheese Frosting
VIDEO
Nutrition
Calories:
242
kcal
Carbohydrates:
27
g
Protein:
2
g
Fat:
14
g
Saturated Fat:
11
g
Trans Fat:
1
g
Cholesterol:
15
mg
Sodium:
159
mg
Potassium:
37
mg
Fiber:
1
g
Sugar:
17
g
Vitamin A:
36
IU
Vitamin C:
1
mg
Calcium:
16
mg
Iron:
1
mg