These cinnamon swirl muffins were my Mum's favourite thing we made in the bakery. They have the delicious sweet, cinnamon topping of a cinnamon roll, but it's balanced out with muffin so it is a lot lighter and less intense than a cinnamon roll (which means you can eat more of them!)
I made them today (Christmas Eve) because I think they're the perfect breakfast to have on Christmas morning, or even Boxing Day. On an average day I enjoy something like my Raspberry Crumble Muffins for breakfast, but on a special occasion, these Cinnamon Swirl Muffins are always a winner. Honestly, does anything beat the smell of warm cinnamon wafting through your kitchen first thing in the morning? I think not!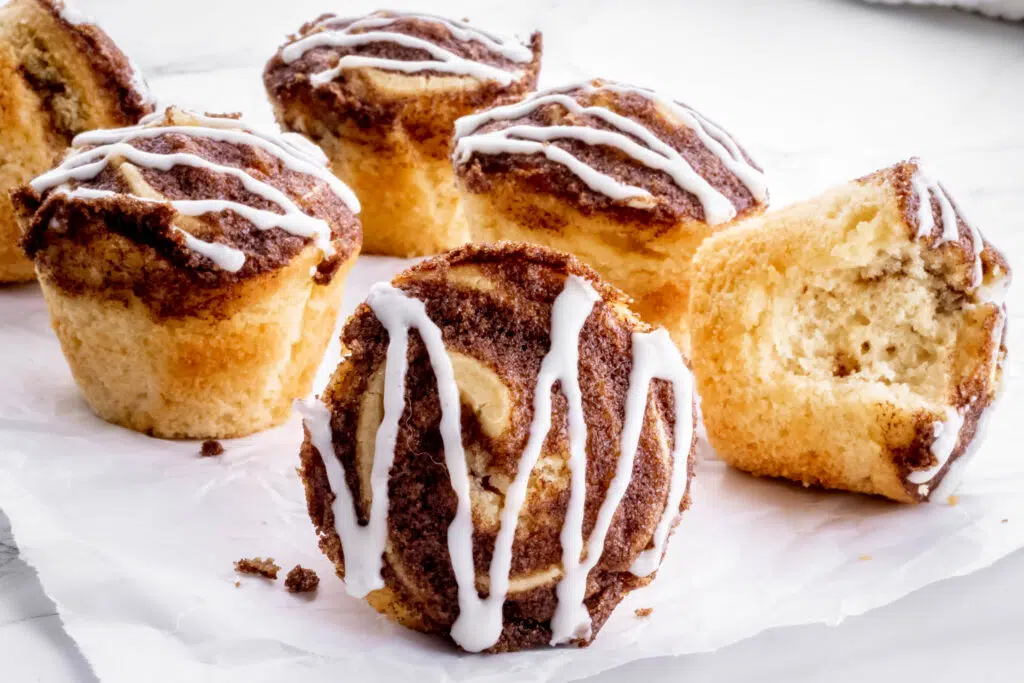 The Cinnamon Swirl
The batter of these muffins, while scrumptious and fluffy, doesn't actually contain any cinnamon on its own. All the cinnamon flavour comes from the swirl which goes through the batter and on top of the muffin. You want to make sure this is thick enough that you can pipe it and it will hold its shape, rather than just melting into the rest of the batter. It's not a cinnamon swirl muffin without the cinnamon swirl! If you make the swirl mix and it's too runny, just let it sit out for a while so the butter firms up a little before piping.
I always add the cinnamon swirl in two parts. I use ice cream scoops to fill my muffin liners, so I put one scoop in all the liners, then put some cinnamon swirl mix on top and sort of swirl it around into the batter a little with a toothpick. Then i put the second scoop in and pipe a swirl on top. The tighter you make the swirl, the more of the muffin top will be covered as it rises and spreads out.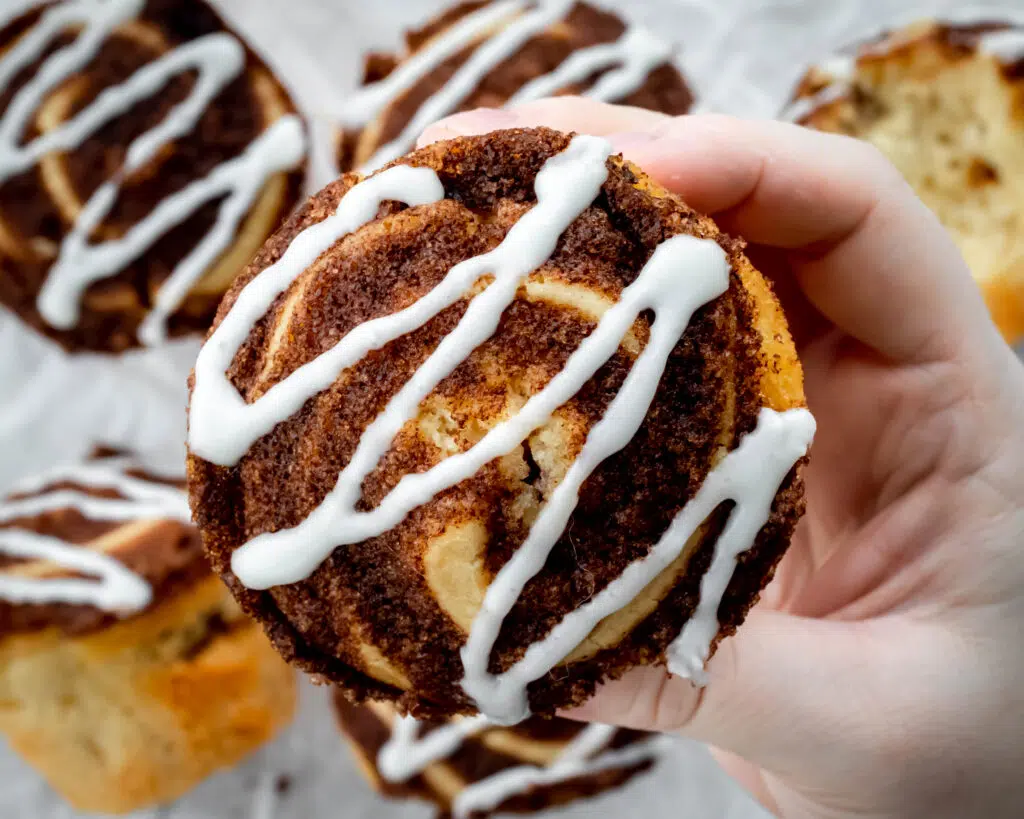 Cream Cheese Glaze
The cream cheese glaze on top is optional, but I believe there are very few baked goods that aren't made better with a bit of cream cheese frosting! You can either put the glaze on while the muffins are still hot and let it kind of melt into the top, or if you want to be able to see the glaze, wait until the muffins cool down and pipe it on. You don't want to go crazy with it as you still want to be able to see that beautiful cinnamon swirl on top of the muffin, and a little cream cheese glaze goes a long way! It's the perfect finishing touch to these delectable cinnamon swirl muffins!
Recipe
Cinnamon Swirl Muffins
These cinnamon swirl muffins are the perfect breakfast snack. They're also my Mum's favourite!
Ingredients
For the Muffin Batter
1

cup

White Sugar

(caster sugar in the UK)

½

cup

Golden Sugar

(light brown sugar)

2

Eggs

3

cups

All-purpose Flour

4

teaspoon

Baking Powder

½

cup

Vegetable Oil

1 ½

cup

Milk

1

tablespoon

Vanilla Extract

2

tablespoon

Golden Corn Syrup

(golden syrup)
For the Cinnamon Swirl
½

cup

Brown Sugar

(dark brown sugar)

3

teaspoon

Ground Cinnamon

3

tablespoon

Butter

(melted)
For the Cream Cheese Glaze
1

cup

Icing Sugar

¼

cup

Cream Cheese

2

tablespoon

Milk

½

teaspoon

Vanilla Extract
Instructions
Preheat oven to 350°F and line a muffin tray with liners
Make the Cinnamon Swirl Mix
Make the cinnamon swirl mix before you start the muffin batter so it has time to thicken slightly as the butter cools. Add all swirl ingredients into a bowl and mix until smooth. Set aside.
Make the Muffin Batter
Whisk together the sugars and egg until combined

Add the flour, baking powder, oil, milk, vanilla, corn syrup and salt and whisk until batter is smooth

Put one scoop or large spoonful of muffin batter into the muffin cases

Put the cinnamon mixture in a piping bag and pipe a swirl on top, use a toothpick to swirl the cinnamon mix into the batter a little

Add another scoop of batter and then pipe a final swirl on the top of the muffins, do not swirl it this time

Bake for 20 minutes or until a toothpick inserted in the middle comes out clean
Make the Glaze
Mix all the glaze ingredients together in a bowl until smooth and then drizzle over the cooled muffins