Brandy snaps are a dessert that it never really occurred to me to make, I always just thought of them as a fancy 'extra' in restaurant desserts. But after making these brandy snaps with amaretto cream, I think these delicate little desserts are going to become a staple at my dinner parties from now on! Delightfully crunchy brandy snaps encase a smooth and boozy amaretto cream, the texture and flavour combination is just wonderful, and the dipped chocolate on the edges just gives the first and last bite an extra smack of indulgence.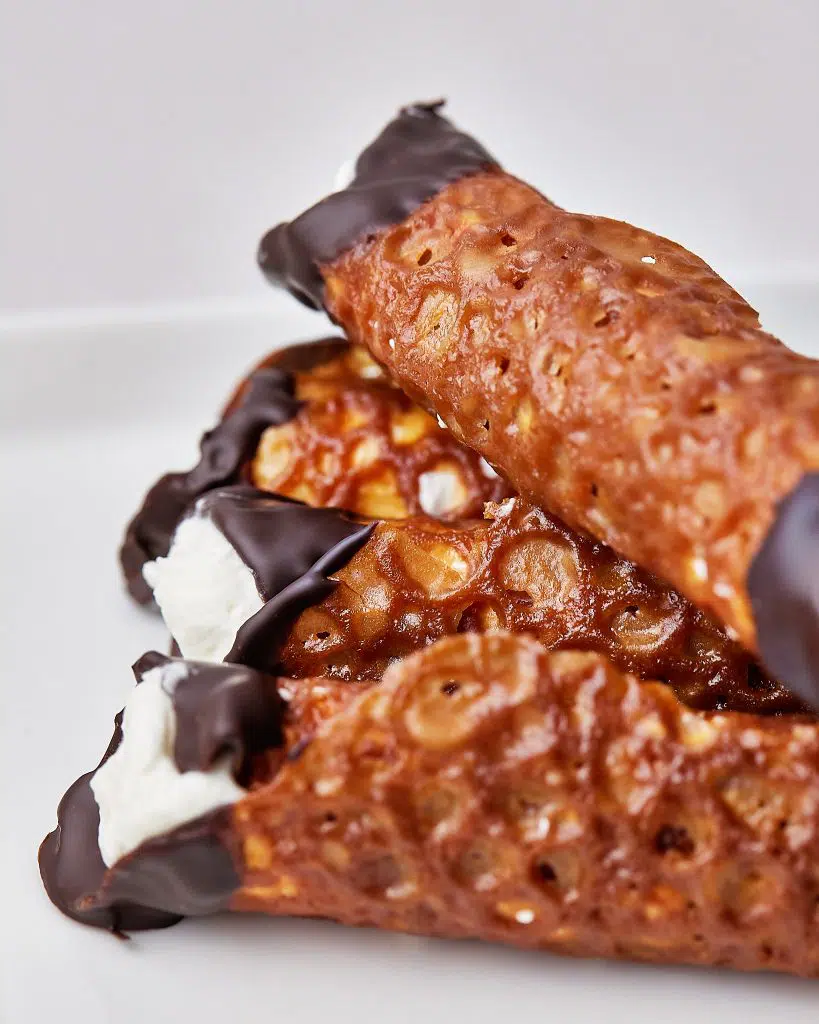 Great British Bake of Bake Along
Every year, for the past decade, I have told myself that when the Great British Bake Off starts I will do a GBBO Bakealong. It never happens. But this year I'm finally doing it! This week was biscuit week and I chose to take on the Signature Challenge - Brandy snaps!
What are Brandy Snaps?
Even if you don't know what brandy snaps are, you've probably seen them in restaurants or cafes somewhere. They are usually served as a very elegant little dessert with cream, ice cream or creme patissiere. In the UK we often get little brandy snap baskets filled with scoops of vanilla ice cream. The traditional way though is for them to be rolled into a cylinder and piped with a filling.
The brandy snap mixture itself is actually pretty basic and consists of butter, golden sugar, golden syrup, flour and ginger. Contrary to popular belief, they are actually not named after brandy, the alcohol, but get their name from the colour they turn once they are fully baked. Though despite this, many people will include a dash of brandy in the mixture for an extra kick.
I chose to keep my brandy snap mixture basic, mainly because I started baking late at night and we didn't happen to have any brandy in the house! But I actually really love the way these turned out and I chose to get the boozy kick from the amaretto cream instead.
The mixture itself is baked in a flat circle in the oven, then rolled or moulded into shape once removed from the oven. The signature lacy texture of the brandy snap comes from the way the mixture bubbles up and spreads in the oven. It's really quite fun to watch these baking!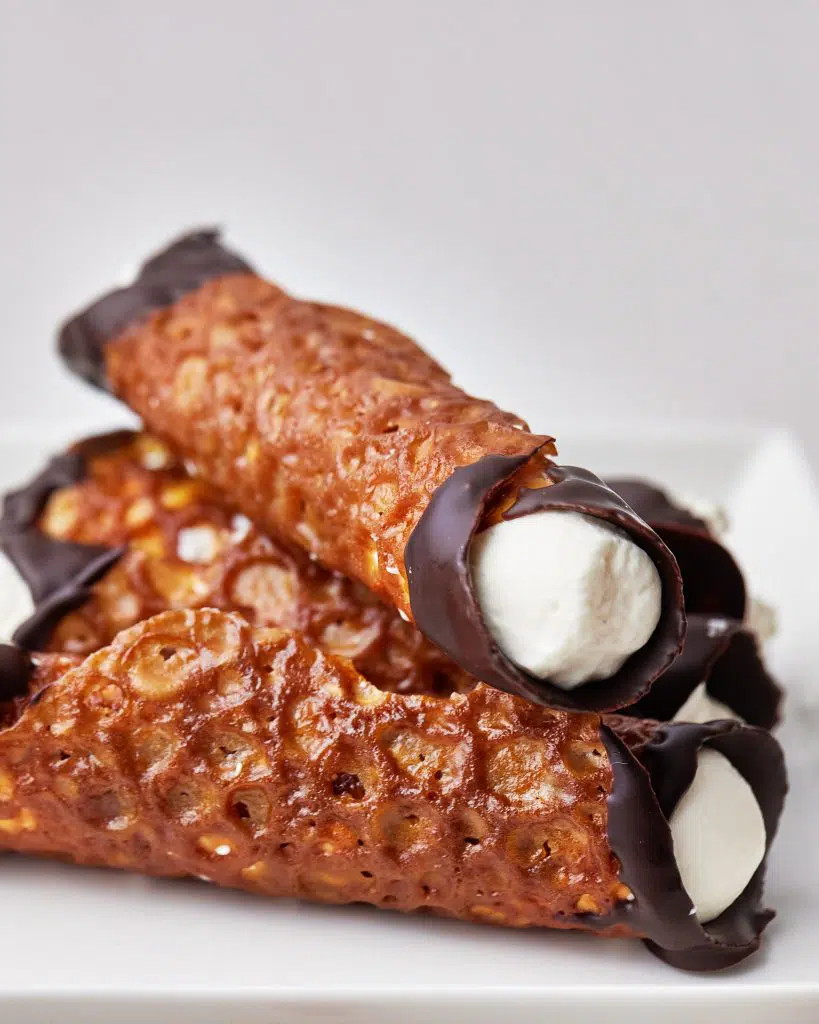 How to Make Brandy Snaps
There are four stages to making brandy snaps: making, baking, rolling and filling. They are all fairly easy stages, but each one has its own critical timing which you must pay attention to for successful crunchy and well-shaped brandy snaps.
Making the Brandy Snap Mixture
The important thing with making the mixture is not to rush it, if you try to dissolve the sugar too quickly it may crystalise. Take it low and slow and be patient with it. Enjoy this step, it's the only part of the process where you don't have to move quickly! Once the sugar has dissolved, let the mixture sit and thicken for a minute or two before adding the flour, then stir vigorously until it looks silky and smooth.
How to Bake Brandy Snaps
It's best to bake the brandy snaps only a few at a time. Partly because they spread a lot, but mostly because once you start rolling them you really only have a window of a few seconds to get them all rolled before they start to crisp up too much to be moldable. If you just do a few at a time it's much easier to roll them in stages without having to worry about reheating etc. Put 3 or 4 little dollops of brandy snap mix onto your baking tray, making sure they are well spread apart - these babies will grow! Pop them in the oven and watch them like a hawk. There is a matter of seconds between them being underbaked and burnt - you need to watch them very closely. They will spread out and start to bubble up. This is good! The bubbling is what creates the gorgeous lace texture that we are looking for. Once they are all spread, they'll start to darken. As soon as they hit that beautiful deep golden colour, it's time to take them out.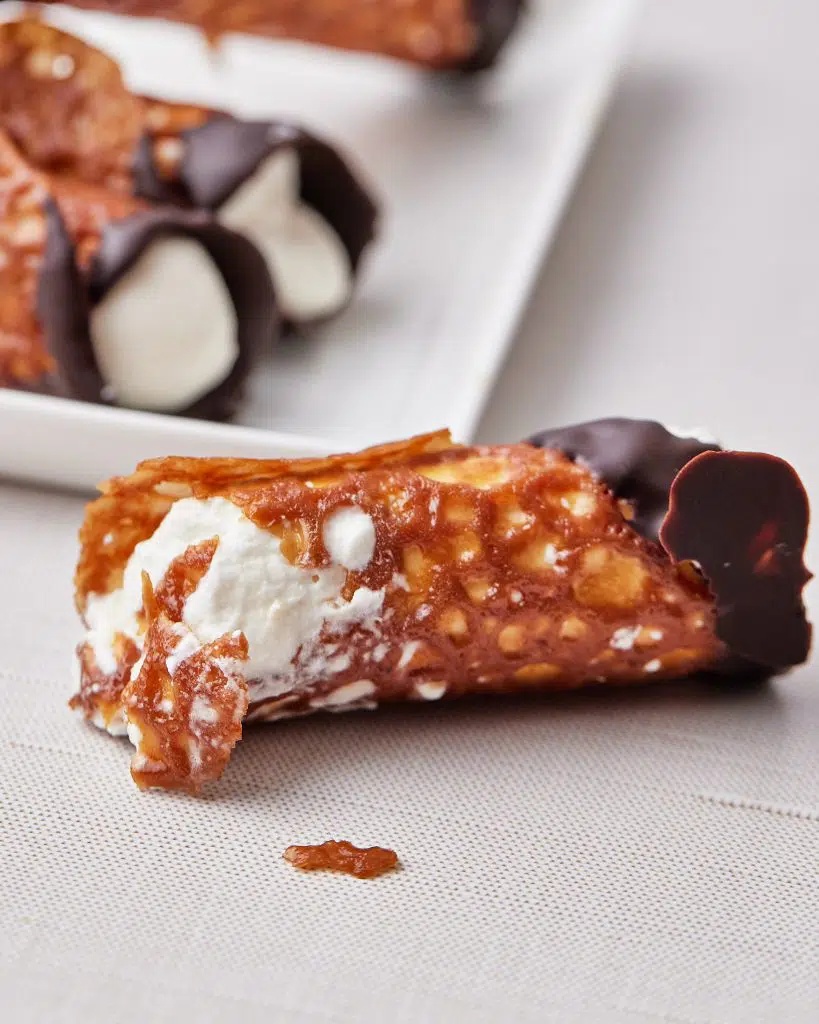 How to Roll Brandy Snaps
Once the brandy snaps come out of the oven, you have to act quickly, so it's best to have everything prepared before they come out. Find a thick-handled wooden spoon or something similar to use to shape your brandy snaps, then coat it in a flavourless oil. I actually just used a cooking spray. You need to let the brandy snaps cool for about 30 seconds or so before they are hardened enough to work with, check by putting a knife under the edge. If you can lift up the side of the brandy snap without it squishing - they are ready to use.
Working quickly, pick up the brandy snap and wrap it around the wooden spoon handle, wrapping it around itself with the lacy side facing outward. You will probably slightly burn your fingertips. I'm sorry. I wish I had some trick for you to avoid this, but it's kind of just part of making these! Let the first brandy snap sit on the wooden spoon for a few seconds while you prepare and pick up the next one, then slide it off and shape the next one. Within a matter of seconds the brandy snaps will cool to a point where they are no longer pliable, and trying to wrap them will just make them snap. If this happens, put them back in the oven for a few seconds and to soften them up.
How to Fill Brandy Snaps with Amaretto Cream
It's best to fill your brandy snaps right before serving, to make sure they are perfectly crisp. If you let them sit for too long with filling inside them they will start to soften and won't give that satisfying crunch. You can fill brandy snaps with any number of delicious fillings, but I find this amaretto cream is an absolute killer combination with the ginger, crunchy goodness. If you want to dip the edges of your brandy snaps in chocolate, you should do this before filling. Temper some chocolate and just lightly dip the edges in and place them on a baking sheet to set. If you'd like tips on how to temper chocolate easily, with or without a thermometer, check out my post: How to Temper Chocolate.
Once you are ready to fill, put your amaretto cream in a piping bag. You don't need a piping nozzle for this, just snip the end off of the piping bag. Put the end of the bag into the brandy snap, as far as it will go and squeeze gently until the cream reaches the other side. Then, slowly pull the piping bag backward, squeezing consistently until you reach the end. Don't squeeze too hard or you will end up with little cream worms sneaking out of the lacy holes in the brandy snaps. If you are squeezing gently and this is still happening, it could mean your cream is not whipped firmly enough.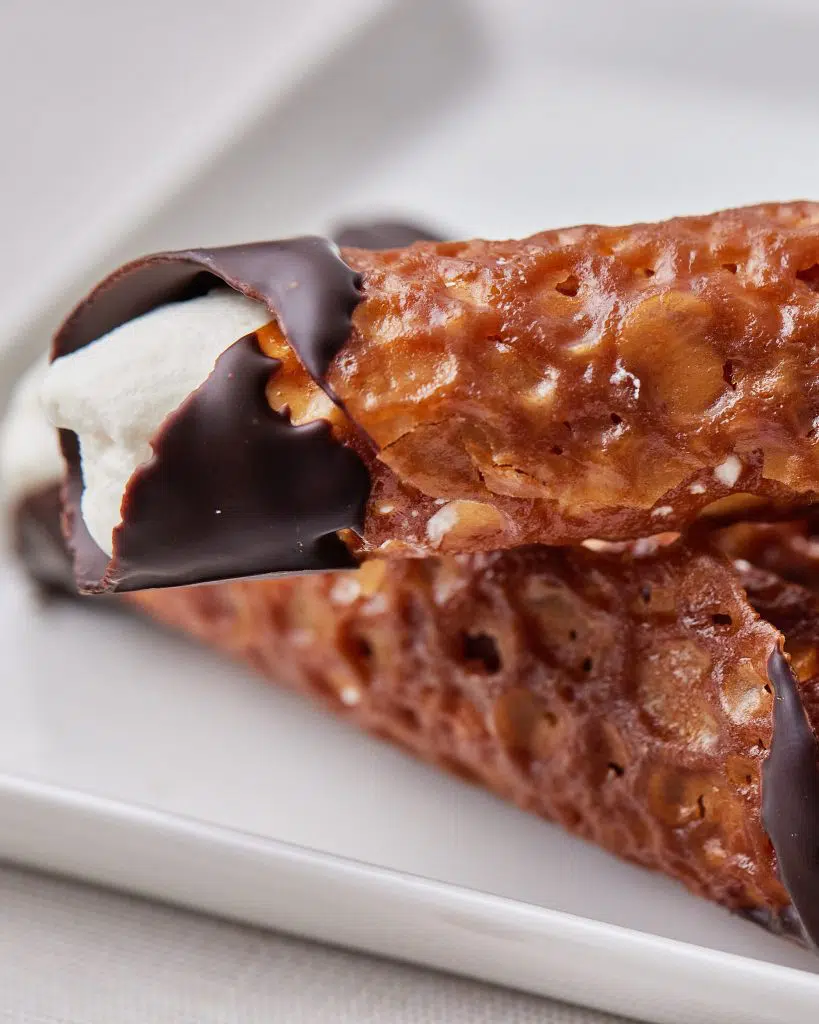 Great Dessert for Dinner Parties
I can't wait to whip these brandy snaps up for my next dinner party. They really are perfect for it. First of all, they are impressive, yet deceptively simple to make. People expect to see these in a restaurant setting and very rarely think to make homemade brandy snaps. They are the kind of dessert that you would expect to be difficult to make, but in fact, they are a super easy and quick dessert. They're also versatile, you can fill them with whatever you fancy from whipped cream to creme patissiere to ice cream. I love the amaretto cream because it doesn't overpower the brandy snap, but complements it beautifully, and the amaretto just adds the perfect boozy punch. I do love adding amaretto to anything I can though, such as my Tiramisu Cake and Black Forest Cupcakes!
They are so small and elegant, great to have with tea or coffee after dinner. But most of all, you can make these days ahead of time and then just fill them right before serving for a stress-free dessert. I think I might make a batch for our Thanksgiving Dinner this weekend! Quick and easy, impressive and delicious - brandy snaps are the way to go!
Recipe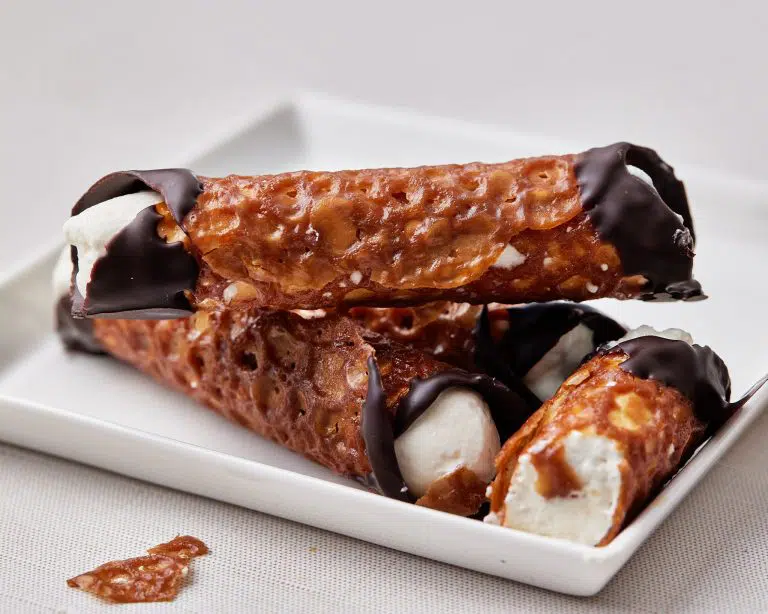 Brandy Snaps with Amaretto Cream
Crunchy brandy snaps dipped in dark chocolate and filled with a boozy amaretto cream
Ingredients
For the Brandy Snaps
½

stick

Butter

¼

cup

Golden Sugar

light brown sugar

2 ½

tablespoon

Golden Corn Syrup

(golden syrup)

⅓

cup

All-purpose Flour

½

teaspoon

Ground Ginger

¼

teaspoon

Salt
For the Amaretto Cream Filling
1

cup

Whipping Cream

¼

teaspoon

Cream of Tartar

3

tablespoon

Icing Sugar

4

tablespoon

Amaretto

50

g

Dark Chocolate

Optional - for dipping
Instructions
Make the Brandy Snaps
Preheat oven to 350°F / 180°C and line a baking sheet with parchment paper

Heat the sugar, butter and golden syrup in a saucepan over a low heat, stirring gently

Keep heating gently and stirring until the sugar entirely dissolves - this should take about 10 - 15 minutes. You'll know it's done when you can't feel any grains of sugar and the mixture looks shiny

Remove from the heat and let sit for 1-2 minutes, then add in the flour and ginger and stir vigorously until smooth and silky

Take about a teaspoon of mixture at a time and dollop onto the baking sheet. Make sure your dollops are very well spaced as they will spread substantially. It's best to only do 3 or 4 at a time so you can roll them quickly after each batch

Bake for about 9 minutes, watching very closely. Once the brandy snaps have spread and turned a deep golden colour, remove them from the oven

Let sit for 30 seconds or so and then roll into shape (for more tips on this, read the post above) and let cool

If desired, once cool dip the ends of the brandy snaps in tempered chocolate before filling
Make the Amaretto Cream
Whip the cream and cream of tartar on high until it starts to stiffen

Add the icing sugar and amaretto and continue to whip until it is stiff

Put into a piping bag and fill your brandy snaps (tips in post above)
Nutrition
Calories:
121
kcal
Carbohydrates:
9
g
Protein:
1
g
Fat:
9
g
Saturated Fat:
5
g
Polyunsaturated Fat:
1
g
Monounsaturated Fat:
2
g
Trans Fat:
1
g
Cholesterol:
25
mg
Sodium:
62
mg
Potassium:
46
mg
Fiber:
1
g
Sugar:
6
g
Vitamin A:
274
IU
Vitamin C:
1
mg
Calcium:
14
mg
Iron:
1
mg