Black Forest Cake is a cake we have all tried, it has survived through the ages as a classic. With these Black Forest Cupcakes, I wanted to create that old classic's cool teenage niece. Deliciously moist chocolate cupcakes soaked in a reduction of cherry syrup, cherry brandy, and amaretto for an Italian twist, a surprise centre of two whole cherries and topped with freshly whipped cream - just as it should be.
What's so great about Black Forest Cake?
When I was a kid I used to just see the chocolate in Black Forest Cake and think 'I want that!' But the beauty of Black Forest Cake is that it ticks a lot of boxes for very different tastes. Though all the ingredients sound incredibly rich, when brought together it makes actually a rather light cake - at least in comparison to your standard piece of cake with layers of thick, sweet frosting etc.
Cake soaked in booze sounds like a pretty great idea no matter how you think of it. Traditional Black Forest Cake uses Kirsch, but I like the flavour combination of cherry brandy and amaretto - and that's what goes into these cupcakes!
The whipped cream topping compliments the other flavours but doesn't overpower - it makes the cake lighter. At the same time, the cherry soak and filling lift up the chocolate sponge into something a little more sophisticated. You rarely feel that stuffed, bloated feeling after eating Black Forest Cake.... unless you attempted to eat the entire cake solo.
What makes these Black Forest Cupcakes different and special? First of all, I use the recipe from my Irresistible Chocolate Cake for the chocolate cupcakes - that's always a winner. But the real star of the show is that sweet cherry filling. Personally, I think it's the addition of Amaretto which just gives it that extra something special.
What is the sweet cherry filling?
The sweet cherry filling is arguably the best part of this cupcake! It's real cherries in an irresistible sweet and boozy syrup that soaks right into the cherry flesh. It's so hard not to just eat this all right out of the pan!
There are two 'cherry' parts to my Black Forest Cupcakes. First of all the cherry soak which is soaked into the chocolate sponge. Then the cherry filling in the middle of the cupcakes. The good news is you can make both at the same time.
Both start with a can of pitted, dark sweet cherries. You can get these in most grocery stores. If you can't get ahold of them though, you can use frozen cherries or even fresh ones, see the next section for info on that. I start by pouring the can into a saucepan, liquid and all. The can says the cherries come in a 'heavy syrup' but really it's not a syrup at all - not yet anyway!
Heat the cherries over medium heat until the liquid is bubbling and starting to evaporate a little. Let it bubble for a couple of minutes then add your alcohol (or coffee syrup if you want alcohol-free). Boil for another minute or so, then siphon off most of the liquid into another container, leaving the cherries and a little liquid in the saucepan. Add sugar to the cherries, stir and let continue to boil until it is reduced to a more syrupy texture. Remove from the heat and let cool. I find it's best if they are left overnight as then the cherries really absorb the flavour.
For the liquid you siphoned off, taste test it and see if you want to add any more of either alcohol for extra flavour - Black Forest Cupcakes really do need to be made to personal preference, so if you want them more boozy - have at her!
What kind of cherries should you use?
The short answer here is - whatever you can get your hands on. Most supermarkets have the cans of pitted cherries which are absolutely ideal. They should say 'sweet dark cherries' or something along those lines. But as we are going to turn them into a delicious Black Forest Cupcake filling, you can also use frozen cherries or even fresh ones. Just don't use maraschino cherries (the bright red ones in a jar). They should definitely be dark cherries - preferably sweet, not sour.
If you are using frozen cherries: You will just need to add about 1 cup of water and ⅓ cup of sugar to your cherries when adding them to the saucepan and heat them for longer. You want the cherries to be very soft and starting to look a little mushy before removing the liquid.
If you are using fresh cherries: Start by pitting the cherries and removing any stalks. Then add them to the saucepan with 1 cup of water and ⅓ cup sugar and continue the recipe as normal.
Can you make Black Forest Cupcakes without alcohol?
While Black Forest Cake is traditionally boozy, you can absolutely make an alternative without alcohol. The alcohol I chose for these Black Forest Cupcakes was Cherry Brandy and Amaretto, as I like the flavour they create, but you can achieve this without alcohol!
The easiest substitution is to try and get cherry flavoured coffee syrup - a lot of places will sell these for the at-home baristas. This would replace the cherry brandy. Then for the amaretto flavour you can get amaretto syrup or even almond syrup will do the job. If substituting the alcohol for syrup though, just use a few pumps of syrup rather than the quantities of alcohol in the recipe!
If you can't get coffee syrup then you can experiment with whatever you can find - cherry ice cream sauce, cherry puree etc - just play around until you have a flavour you like.
Please note - the liquid in the can of cherries on its own will not be flavourful enough to make a 'Black Forest' flavour.
Tips for awesome Black Forest Cupcakes
Let the cherries sit overnight for maximum flavour - they will soak up all that delicious flavour into the cherry flesh overnight so there is a burst of 'Black Forest' flavour when you bite into them.
Use a cupcake corer - if you have a cupcake corer, it makes the process of filling the cupcakes a lot easier! If you don't have one you can just scoop out the middle with a spoon, but it's a little messier.
Use a tray when soaking - I learned this the hard way! Make sure you put the cupcakes over some sort of tray or baking pan when you are soaking them as that stuff goes everywhere!
Be generous with the soak - it might look like a lot, but the chocolate sponge can absorb a lot of liquid. If you don't use enough soak then the flavour won't come through. Try it with a test cupcake to make sure the level of flavour is where you want it!
Recipe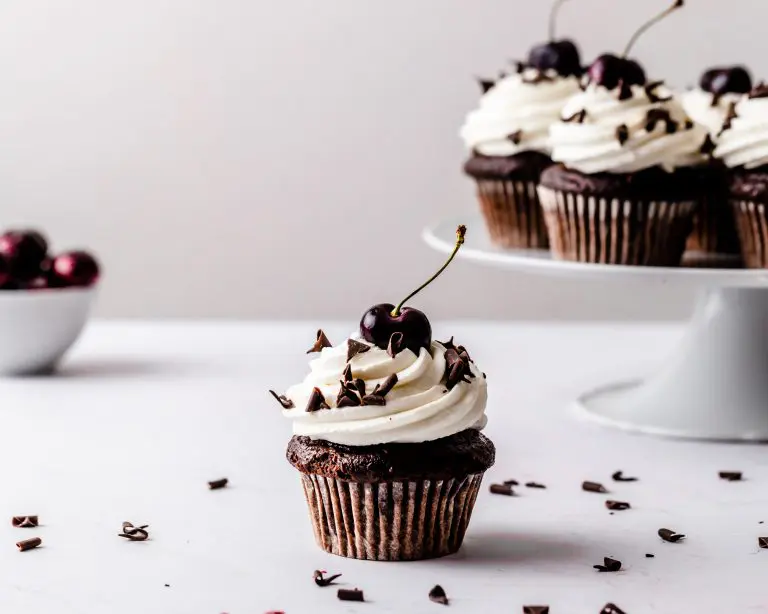 Black Forest Cupcakes
Moist chocoalte sponge soaked with boozy cherry goodness, filled with dark cherries in an amaretto syrup and toppd with fresh whipped cream
Ingredients
For the Chocolate Cupcakes
1 ½

cups

All-purpose Flour

⅔

cup

Cocoa Powder

1 ½

cups

Sugar

1 ½

teaspoon

Baking Powder

½

teaspoon

Salt

2

Eggs

½

cup

Vegetable Oil

¾

cup

Milk

1

teaspoon

Vanilla Extract

⅓

cup

Hot Water
For the Cherry Filling
1

can

Sweet Pitted Dark Cherries

½

cup

Cherry Brandy

¾

cup

Amaretto

3

tablespoon

White Sugar
To Decorate
3

cups

Whipping Cream

½

cup

Icing Sugar

1

teaspoon

Vanilla Extract

Chocolate Curls

18

Fresh Cherries
Instructions
Make the Chocolate Cupcakes
Preheat oven to 350°F / 180°C and prepare line a muffin pan with cupcake cases

Sift all the dry ingredients for the cake into a large bowl and stir together

Add the eggs, oil, milk and vanilla and mix everything together until it is combined and there are no lumps

Add the hot water and continue to mix until totally incorporated

Pour batter into cupcake cases, the cases should be about ¾ full

Bake for 22 mins or until a skewer comes out clean
Make the Cherry Soak and Filling
Pour the can of cherries and all the liquid into a saucepan and heat over medium heat

Bring to a boil and let it bubble for about 3 minutes, then add the cherry brandy and amaretto (or alcohol substitutes - see blog post)

Let bubble for another minute, then siphon off most of the liquid into another container, leaving cherries and a little liquid in the saucepan (about ¼ cup)

Taste test the liquid you took out of the pan and add more alcohol if desired, leave to cool

Add sugar to the cherries and stir, continue to boil until the liquid is reduced to a thicker, more syrupy texture

Remove from the heat and allow to cool completely. It's evren better if you can leave them overnight to soak up the flavour
Make the Whipped Cream
Whip cream with stand mixer or electric whisk until it begins to stiffen

Add icing sugar and vanilla and contineu to whip until stiff peaks form
Assemble and Decorate
Core out the middle of the cupcakes using either a cupcake corer or a spoon

Soak the cupcakes with the cherry soak. You can either spoon it, pour it or brush it on

Let the liquid soak in for a minute, then soak them all again - you want to be generous with the flavour here!

Take the cherries in syrup and put one or two into the core of each cupcake with a little syrup

Top cupcakes with whipped cream - you can use a piping bag as I did or you can just spoon it on for a more rustic look

Top with some chocoalte shavings and a fresh cherry (remember to remove the stone from the cherries!)
Nutrition
Calories:
364
kcal
Carbohydrates:
37
g
Protein:
3
g
Fat:
22
g
Saturated Fat:
15
g
Polyunsaturated Fat:
1
g
Monounsaturated Fat:
5
g
Trans Fat:
1
g
Cholesterol:
74
mg
Sodium:
128
mg
Potassium:
114
mg
Fiber:
1
g
Sugar:
26
g
Vitamin A:
626
IU
Vitamin C:
1
mg
Calcium:
66
mg
Iron:
1
mg