Strawberry Custard Tarts are an absolute classic and when done well they are just unbeatable. These tarts have a shortcake pastry base, are filled with a silky custard filling and topped with fresh strawberries and a sticky sweet strawberry glaze.
In Scotland, there is a classic little strawberry tartlet which is a staple in every bakery, it's filled with whipped cream and topped with just one strawberry and the most delicious strawberry glaze which I tried to replicate in this recipe. It was my favourite when I was a kid. I would always save the sticky strawberry til the end, but more often than not I would drop the strawberry on the ground before I got the chance to enjoy it! These strawberry custard tarts are a slightly more elegant evolution of the traditional Scottish ones, they are bigger, made with a shortcake pastry, filled with elegant pastry cream and topped with way more strawberries - so less chance of droppage!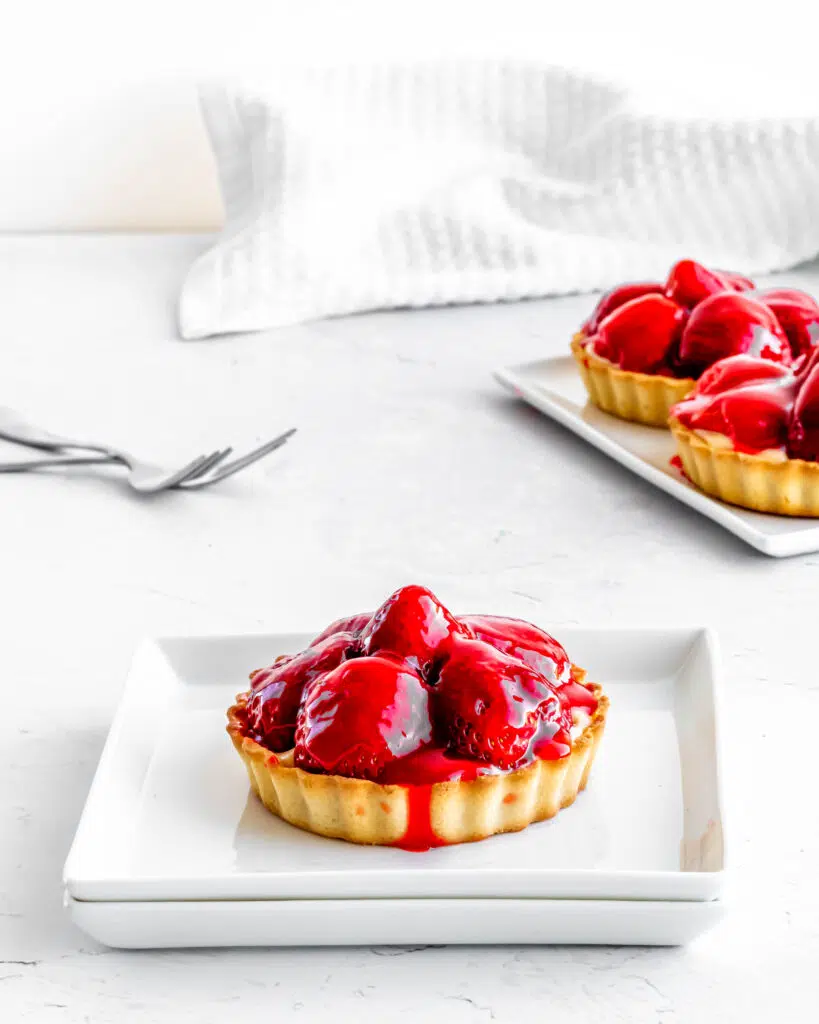 What is Creme Patissiere?
My boyfriend asked me to bake him something "with custard in it but not too custardy". After several attempts to understand what he meant, we discovered he wanted something with a pastry cream filling. As much as I made fun of him for not knowing what he wanted, a lot of people actually don't know that what they are eating or craving is a creme patissiere (vanilla pastry cream) which is the custard filling often found in eclairs, profiteroles and tarts. This homemade french custard is the base filling for these strawberry custard tarts - it's light, creamy and decadent and just pairs perfectly with the fresh strawberries.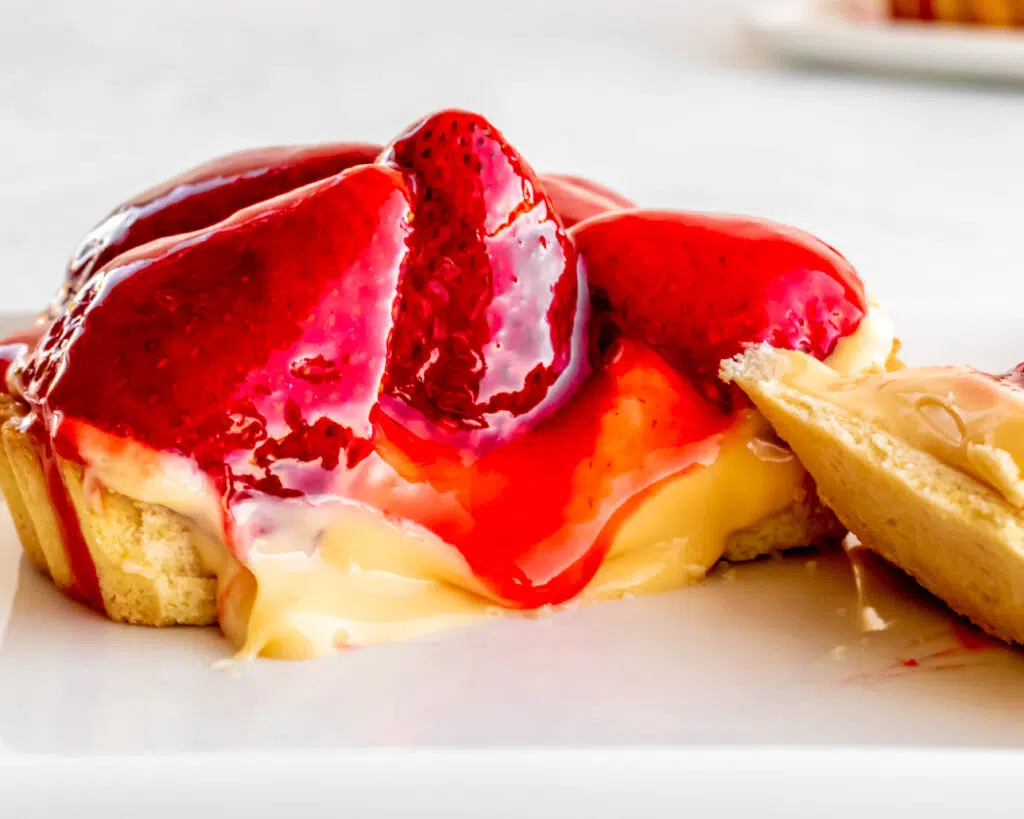 Make Strawberry Custard Tart Elements Ahead of Time
The strawberry custard tarts are best assembled right before serving, as they can go a little soggy if left to sit for a long time. The good news is that all the elements can be prepared ahead of time and stored until you need them. I like to make the creme patissiere the day before to let it rest in the fridge. The tart cases and glaze can be made up to five days in advance.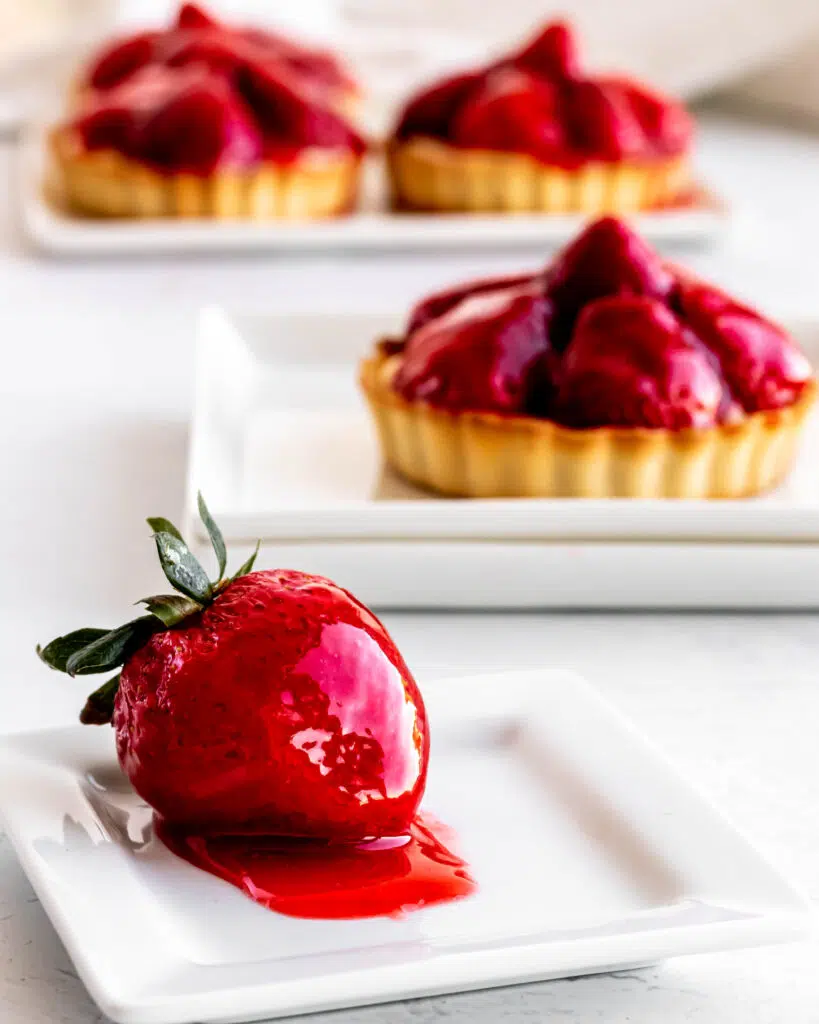 Easier Alternatives
If you are looking for an easier or faster way to make this recipe, there are a few alternatives you can use:
Ready Made Pastry
Firstly, you can buy either pre-made pastry or pre-made tart cases. Most supermarkets will have both of these in the frozen section. If using pre-made tart cases then just follow the instructions on the package, and for store-bought pastry you should be able to use as directed in this recipe.
Whipped Cream Filling
You can also substitute the pastry cream for a whipped cream alternative if you prefer, just like the traditional Scottish strawberry tarts. Just whip up 2 cups of cream with a teaspoon of vanilla and 2 tablespoons of icing sugar until stiff peaks form, then put right into your tart cases and top with the strawberries and glaze.
Store-bought Strawberry Glaze
I don't recommend skipping the glaze as, in my opinion, it is the best part of the tart. But if you don't want to make your own there are plenty of options in the supermarket you can use instead. Even a strawberry sauce for ice cream would probably do the trick. I highly recommend trying this glaze at some point though as it is truly delicious!
Recipe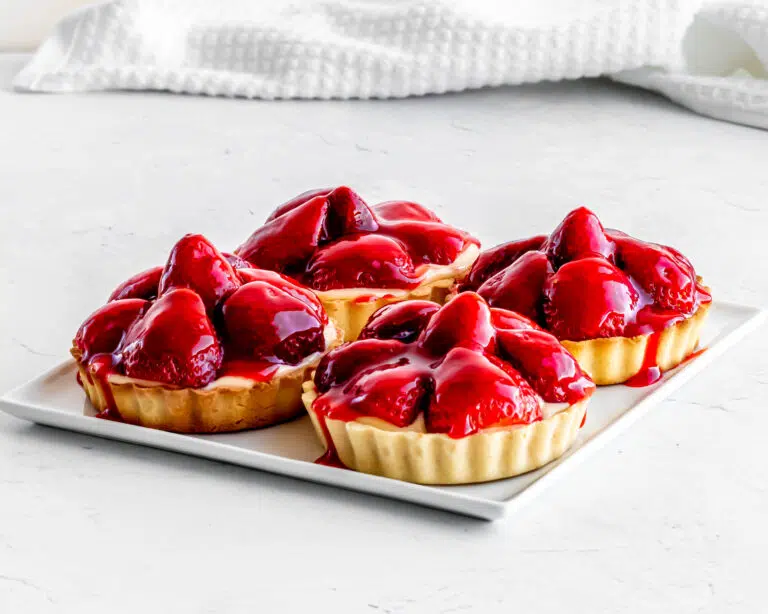 Strawberry Custard Tarts
Shortcake pastry with a silky creme patissiere custard filling, topped with fresh strawberries and a sticky sweet strawberry glaze
Ingredients
For the Tart Cases
½

stick

Unsalted Butter

56g

¼

cup

Shortening

47g

1

cup

Icing Sugar

120g

1

Egg

⅓

cup

Ground Almonds

37g

½

cup

Corn starch

64g

1 ⅓

cups

All-purpose Flour

167g

¼

teaspoon

Salt

2

tablespoon

Milk
For the Filling
1

punnet

Fresh Strawberries

500g
For the Glaze
½

punnet

Strawberries

250g (fresh or frozen)

1

cup

Icing Sugar

120g

⅓

cup

Water

80ml

1

tablespoon

Corn starch
Instructions
Make the Creme Patissiere ahead of time. It needs to be at least two hours ahead, but I like to make it the day before and let it rest overnight
Make the Tart Cases
Beat the butter, shortening and icing sugar together until there are no lumps

½ stick Unsalted Butter,

¼ cup Shortening,

1 cup Icing Sugar

Add the egg and beat until smooth

Combine the flour, ground almonds, corn starch and salt in a bowl, then add to the wet mixture and beat just until a dough starts to form

⅓ cup Ground Almonds,

½ cup Corn starch,

1 ⅓ cups All-purpose Flour,

¼ teaspoon Salt

If the dough doesn't come together or it seems too dry, add a small splash of milk until it comes together, don't add too much

Wrap the dough in cling film and chill in the fridge for 30 minutes

Once chilled, roll the dough out gently to about 3mm thickness. It is a very crumbly dough so may crack easily. If it's too crumbly to work with splash a little more milk on top and work in gently, don't work the pastry more than absolutely necessary

Cut out circles slightly bigger than your tart cases and press the pastry into the cases, push the pastry right to the edge of the cases and trim the top, place back in the fridge to chill for 20 minutes while you preheat your oven to 400°F

Blind bake the tart cases by filling with baking paper and baking beans or uncooked rice. Bake for 6 minutes and then remove the beans/rice and baking paper and bake for a further 6-7 minutes

Remove from the oven and allow to cool completely before filling
Make the Strawberry Glaze
Put all glaze ingredients into a saucepan over a medium heat

½ punnet Strawberries,

1 cup Icing Sugar,

⅓ cup Water,

1 tablespoon Corn starch

Stirring constantly, heat until the strawberries start to break down and the mixture begins to thicken. Use a potato masher to break down the strawberries completely

Bring the strawberry glaze to a boil until thick bubbles are popping

Remove from the heat and pass through a sieve to remove the strawberry seeds and lumps

Let cool completely before using
Assemble the Strawberry Tarts
Assemble these tarts right before serving as they will go slightly soggy if left to sit for too long

Fill the tart cases evenly with pastry cream

1 batch Creme Patissiere (vanilla pastry cream)

Top with fresh strawberries in whatever way you want - sliced/whole/piled up/in a pattern, whatever tickles your fancy. Try to look for the prettiest strawberries, but don't worry too much as the glaze will cover up most of the imperfections

1 punnet Fresh Strawberries

Generously brush the cooled strawberry glaze over the strawberries

Enjoy! These are best eaten right away or at least on the same day
Notes
If you don't want to make the tart cases from scratch you can buy ready-made tart cases or buy a ready-made pastry and bake them at home.