Creme Brulee is arguably one of the classiest desserts out there. Silky, creamy custard topped with a crunchy brûléed caramel - eating this is not just about the flavour but the sensation! A mixture of smooth and crunchy as well as hot and cold, all at the same time - it's a real treat! A lot of people shy away from making it at home because they assume it's a complicated process, but this elegant French dessert is actually incredibly easy to make - it only has four ingredients and comes together very simply and quickly.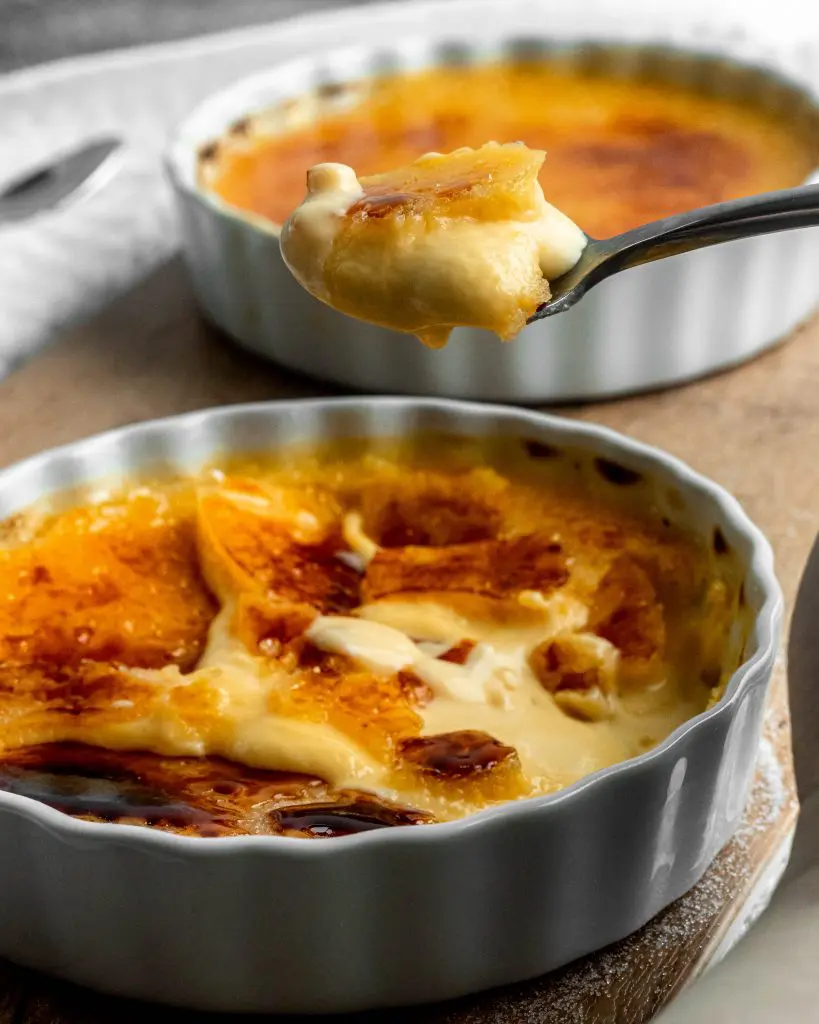 Do You Need a Blowtorch for Creme Brulee?
No! It's absolutely possible to make this without a kitchen blowtorch. Although I have to say I prefer the results with a blowtorch as it's helps create that hot/cold sensation by caramelising the sugar without heating up the custard. But if you don't have a kitchen blowtorch at home then you don't have to miss out from this creamy deliciousness! You can brrulee sugar under your oven broiler/grill.
How to make creme brulee with an oven broiler / grill
The key here is to watch it like a hawk! Make sure your broiler or grill is on it's highest temperature and properly preheated. Note: when I say grill, I'm using the British term for broiler - I do not recommend trying to brûlée on a barbecue! Take the set custards out of the fridge right before you put them in and sprinkle with a generous topping of sugar - make sure there is no custard visible through the sugar. Put them into the oven and watch them carefully - as soon as the desired colour is reached, get them out of there and serve right away.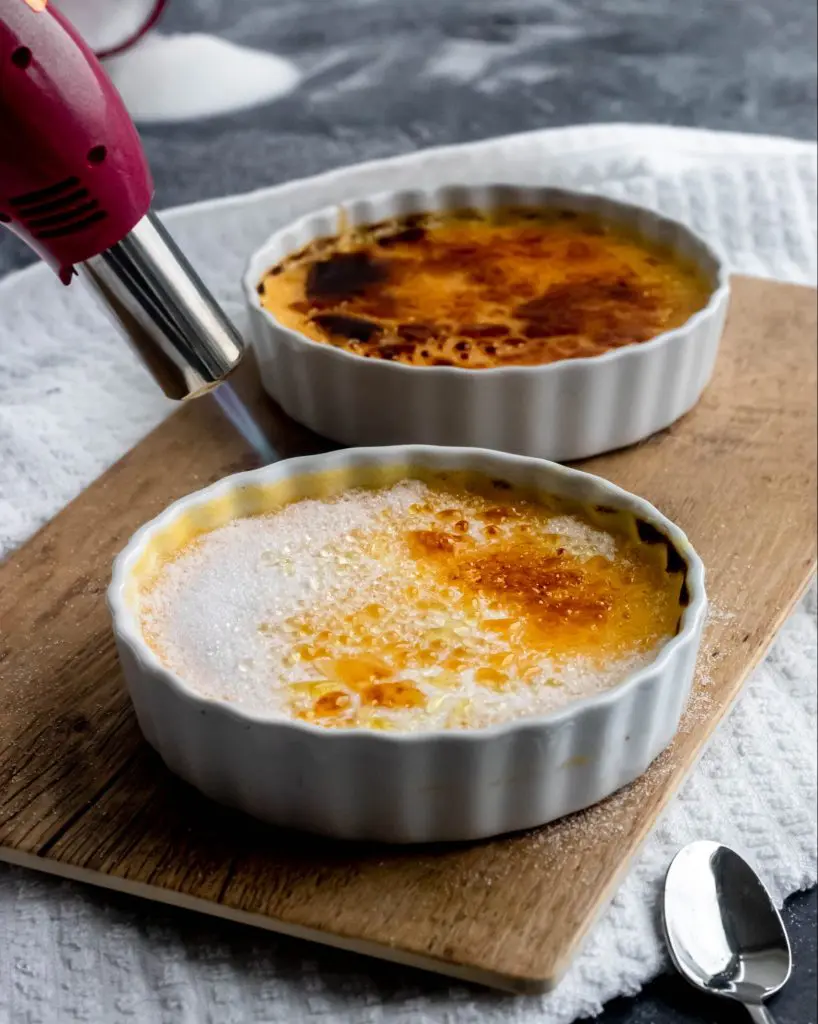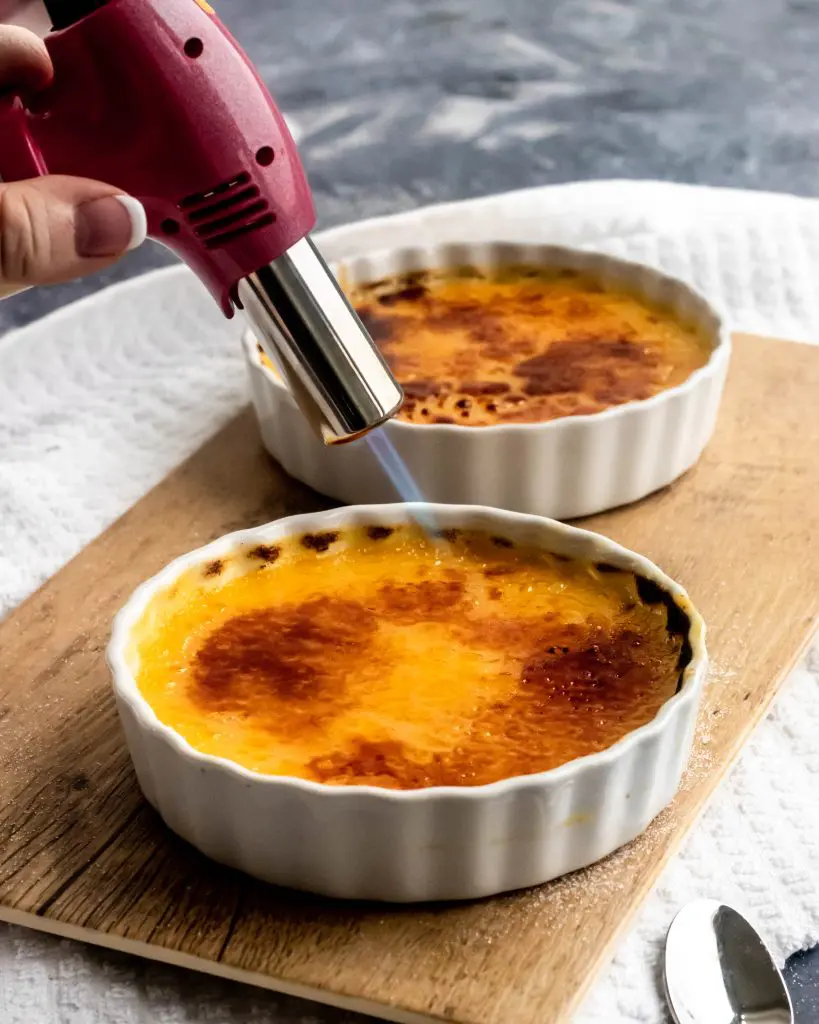 Tips for the Perfect Crème Brûlée
Every step of this recipe is very simple, there is honestly nothing complicated in any of the steps, it's just about doing them all patiently and properly. Here are some more in depth tips to make sure your creme brulee turns out magnifique!
First, make sure you don't overheat your cream in the saucepan. In the first stage, we don't want it to get too hot as we're going to use it to temper the eggs. This means we are slowly bringing the eggs closer to the temperature of the cream so that they don't scramble when introduced to the heat. By doing this gradually you are getting them used to the temperature, kind of like when you slowly lower yourself into a super hot bath so you don't burn your skin!
When you add the cream to the eggs, do it slowly and steadily, pouring a stream of cream into the eggs while you whisk. If you don't want to whisk and pour at the same time then just add the cream a little at a time and then stop to whisk in between. You're not trying to whisk frantically to add air in here, it's just to combine everything and make sure it's properly incorporated.
Once the mixture is added back to the saucepan, be careful not to overcook here either. We don't want to boil the mixture, we just want to heat it until you just see the first signs of a simmer, then remove. If the tempering is done properly you shouldn't have any lumps in your custard, but if you do, don't panic, they are not ruined! Just pass the custard through a sieve to remove any lumps of egg and you'll have a beautifully smooth custard again!
Impressive and Elegant Dinner Party Dessert
So there you have it, how easy is that? Serve this at a dinner party and everyone will be super impressed with your skills - but you and I will know it was insanely easy! Once served, these will have a beautiful crunchy, glass like topping which you can crack with your spoon to reveal the creamy, sumptuous custard underneath. Absolute perfection in a ramekin!
Recipe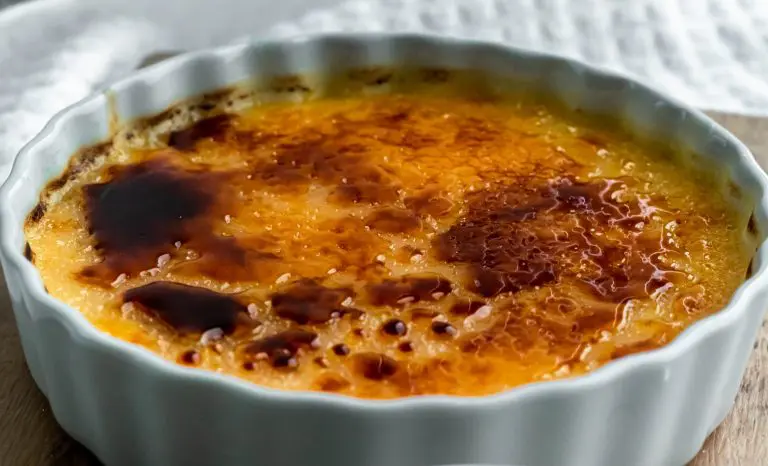 Crème Brûlée
Classic French dessert of creamy custard topped with a crunchy 'brulee' caramel
Ingredients
2

cups

Whipping Cream

1

teaspoon

Vanilla Extract

⅓

cup

Sugar

plus extra for topping

3

Egg Yolks
Instructions
Heat the whipping cream and vanilla in a saucepan over a medium heat

Meanwhile, whisk together the eggs and sugar, just until combined and smooth

Once the cream is warmed, slowly add a small amount of it to the egg mixture and whisk in, repeat, then add all the cream in a slow, steady stream, while whisking, to bring the eggs up to temperature without scrambling

Once all the cream is added, pour the whole mixture back into the saucepan and bring it to a simmer, mixing constantly. As soon as it starts to simmer slightly, remove from the heat

If you have lumps in your mixture, pass it through a sieve to remove, but if the custard looks smooth feel free to skip this step

Pour the custard into ramekins and place them in a baking tray so you can create a water bath

Pour hot water into the tray, being careful not to spill into the ramekins. The water should come up to about half-way up the height of the ramekins. TIP: It's much easier to do this once you have already put the tray on the rack in the oven so you are not trying to move the tray with water in it - just work quickly so the oven door isn't open for too long!

Bake for 35-50 minutes - this will depend on the depth of your ramekins. You'll know they are done when the edges are set but there is still a very distinct wobble in the middle

Remove from the oven and let sit in the water bath until they are cool enough to remove without burning your fingers. Place the ramekins in the fridge to set for at least 2 hours - the longer they have to set the better!

When you are ready to serve, sprinkle a generous amount of sugar all over the tops of the creme brulees, make sure there is no visible custard underneath

Use a blowtorch to 'brulee' the sugar, caramelising it until there is no white left. If you don't have a blowtorch you can do this under your oven broiler, just put it at the maximum heat and pay close attention to them while they are in the oven so they don't burn too much

Serve immediately after you have caramelised the sugar, part of the sensation of creme brulee is the mixture of cold custard and hot crunchy topping!