Holy. Moly. This sweet pecan butter is absolutely to die for. It's nutty, sweet and salty all at the same time and just utterly addictive. I literally can't keep going back to the fridge with a spoon for 'just one more mouthful'.
I don't really want to think about how many pecans I must have consumed this week in the form of pecan butter. I recipe tested about 6 batches of this to get it absolutely, irresistibly perfect. But it was worth it because perfection was achieved!
What do you need to make Sweet Pecan Butter?
Food Processor or Blender - In order to make any nut butter you're going to need some kind of high-powered food processor or blender. I have the Vitamix Ascent A3300 which does an amazing job - but it's definitely not cheap. Vitamix are famous for having that really high power that is able to make making nut butters an easy task - though it sounds like a jetplane taking off in my kitchen! You can use other food processors or blenders though, just check online to see if whatever make you have is capable of making nut butters. For a slightly less powerful machine, you may just have to blitz the pecans for a bit longer to get the smooth result you want.
Pecans - Of course to make sweet pecan butter you will need pecans! I found best results with unchopped pecans, as they didn't dry out as much in the toasting process, but this recipe definitely still works with pecan pieces if that's what you have on hand.
Oil - I used vegetable oil because that's what I had in the pantry, but you could use any flavourless oil. Or you could even add an extra layer of flavour by using coconut oil.
Icing Sugar - I spent ages trying to figure out how to sweeten this pecan butter without it messing with the consistency. I tried regular white sugar, golden sugar, sugar syrup and even date sugar. (We have a lot of sweet pecan butter in the fridge...). But the best result I found came from icing sugar because it added the perfect amount of sweetness without having any kind of grain, and it even helped to thicken the pecan butter a little.
Salt - Do not skip the salt! I promise you won't regret it. The touch of salt just brings the whole thing together and gives it that *chef's kiss* flavour. The way the sweet and salty play off each other and just round out the natural flavour of the nuts. Oh my goodness. Just don't skip the salt, okay?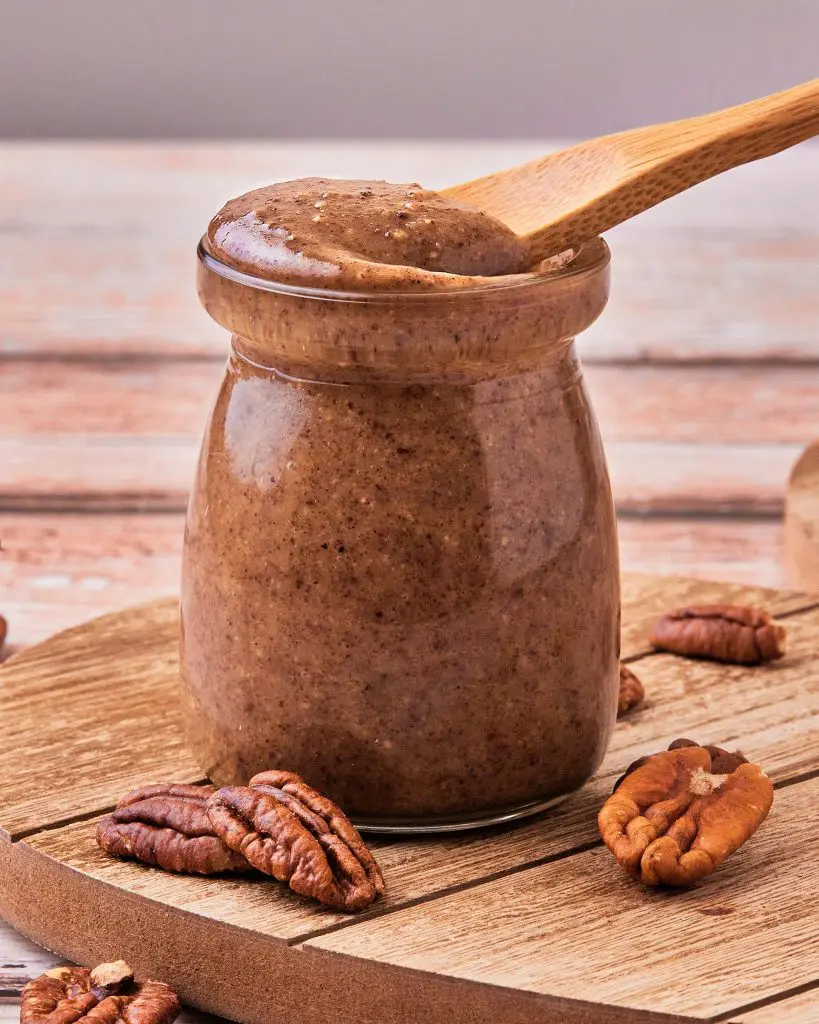 What can you do with Sweet Pecan Butter?
So. Many. Things. This is great on toast, or as a dip for fruit, you could put it on top of your ice cream or layer it in a cake. To be honest though, most of the time I am just going to the fridge with a spoon and eating it straight out of the jar. It's a great little treat that is actually fairly healthy and my god does it hit the spot!
I also used it to make Pecan Butter Muffins (recipe coming soon) which are great as a breakfast muffin or as a treat.
If you make this sweet pecan butter I'd love to hear what you use it for. Or if you're like me and just eat it with a spoon! Let me know in the comments or on instagram!
Want more like this?
It's no secret I'm a bit of a pecan fiend. If you are too you might enjoy my Maple Pecan Bundt or these White chocolate, butterscotch and pecan cookies.
Recipe
Sweet Pecan Butter
Absolutely addictive sweet pecan butter - it's nutty, sweet and salty all at the same time!
Ingredients
2

cups

Pecans

5

tablespoon

Icing Sugar

3

tablespoon

Vegetable Oil

or any flavourless oil

½

teaspoon

Salt
Instructions
Lay pecans out on a baking sheet and toast in the oven for 10 minutes at 350°F / 180 °C

Add the cooled pecans, oil and salt to the food processor/blender and blend on high for 90 seconds

Stir everything to make sure there are no clumps of pecan stuck on the bottom

Add the icing sugar and blitz again for 30 seconds

If the pecan butter is too thick and not blending together, add another tablespoon of oil and go for a further 30 seconds. Repeat until desired consistency is reached
Nutrition
Calories:
105
kcal
Carbohydrates:
4
g
Protein:
1
g
Fat:
10
g
Saturated Fat:
3
g
Polyunsaturated Fat:
2
g
Monounsaturated Fat:
5
g
Sodium:
65
mg
Potassium:
45
mg
Fiber:
1
g
Sugar:
3
g
Vitamin A:
6
IU
Vitamin C:
1
mg
Calcium:
8
mg
Iron:
1
mg