Homemade strawberry puree (or strawberry coulis) is a wonderful and easy recipe to have in your toolkit that will help you elevate your desserts. Use it to get the incredible strawberry flavor in your bakes, as a strawberry filling, or as a strawberry sauce or topping - it's so versatile!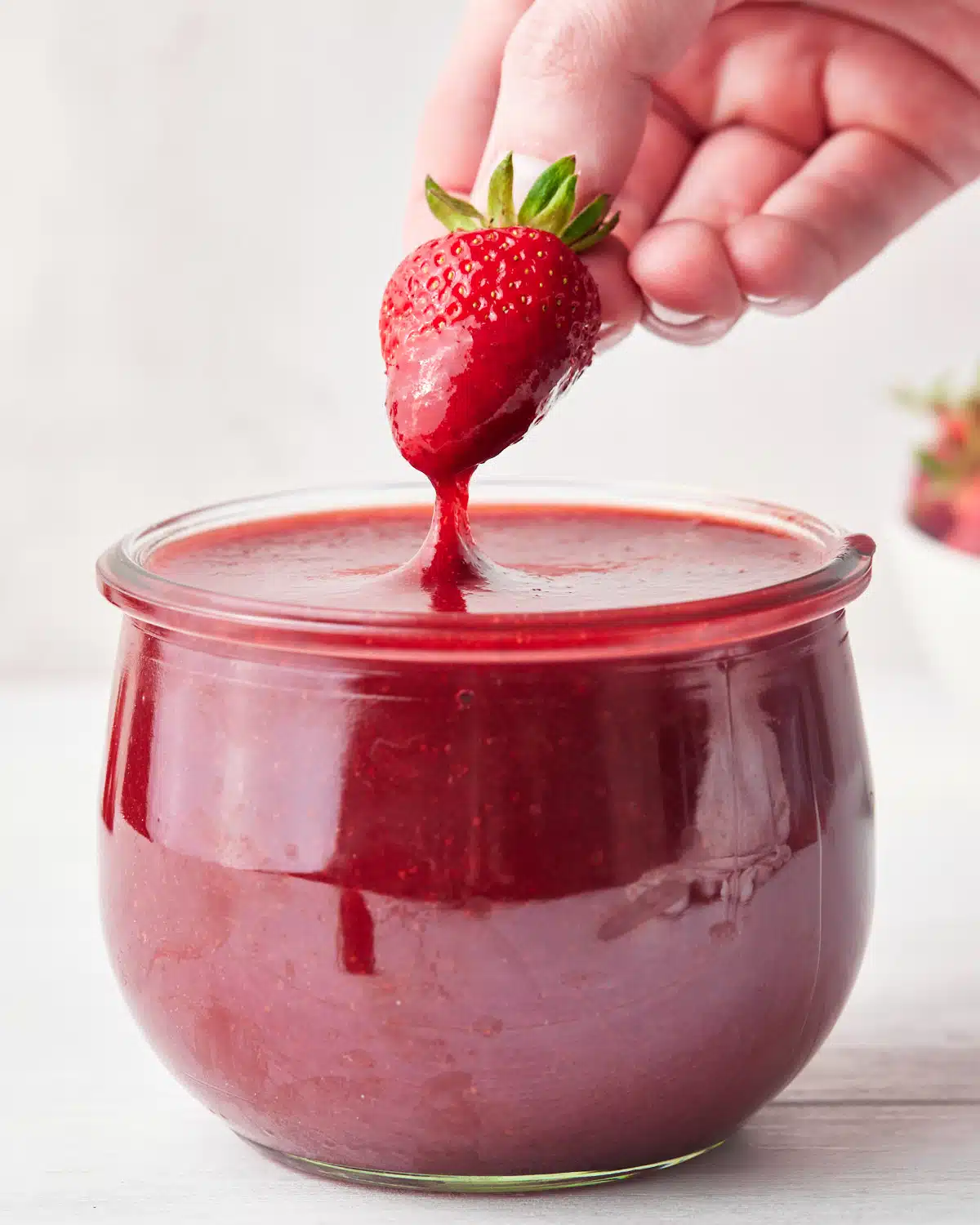 A lot of people are intimidated by the idea of making their own fresh fruit purees or coulis, but it really couldn't be a more simple process! With only two ingredients, this strawberry puree recipe will have you making the most delicious, fresh, strawberry-filled desserts in no time. You can use it to make Strawberry Cake, Strawberry Brownies, as a filling or topping, or even in drinks.
I try to develop my recipes using as many real and natural ingredients as possible. Sure, there is every kind of extract and emulsion out there - but not everybody has access to somewhere they can easily purchase them, and I love giving my bakes the most authentic, natural flavor possible.
So if I'm making something like Strawberry Cupcakes for example, and I want that real strawberry flavor, I will use strawberry purée as it allows me to pack in a lot of flavor without adding too much liquid, which results in a very strong and all-natural fresh strawberry flavor.  For that particular recipe, I use the fresh strawberry puree in the cupcakes themselves, as well as in the frosting - and I also fill the cupcakes with some of the leftover strawberry puree. 
Jump to:
Ingredients
This super simple strawberry puree has only two ingredients.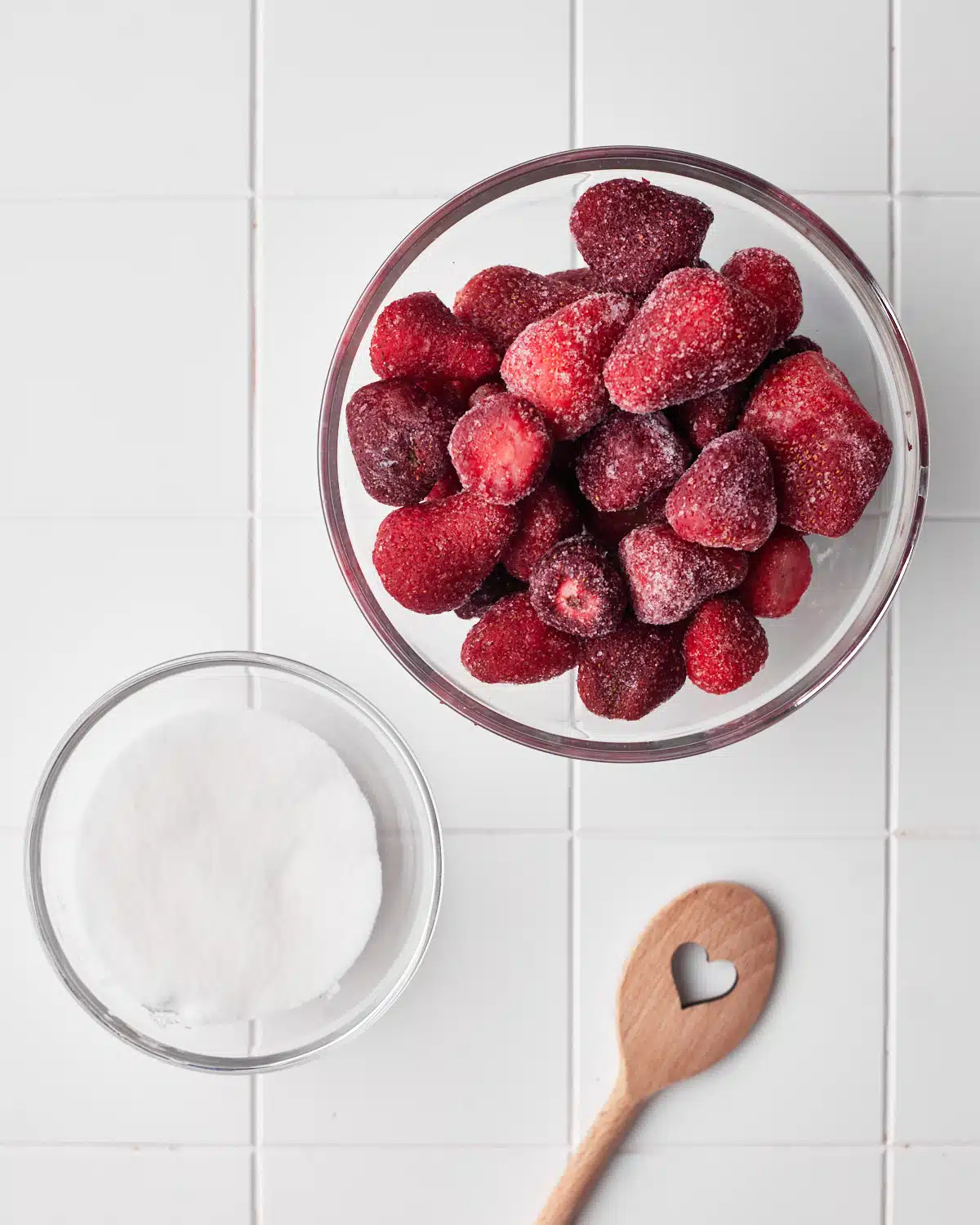 Strawberries - The star of the show - strawberries! You can use either fresh strawberries or frozen strawberries. If it's strawberry season and you can get your hands on some really high-quality sweet strawberries, then fresh is great. For the rest of the year, I like to use frozen as they are usually collected and frozen at peak strawberry time which means they will have more ripe strawberries with better flavor.
Sugar - You want regular extra-fine white sugar for this recipe (caster sugar in the UK).
​See recipe card for quantities.
How to Make Strawberry Puree
Once you make this great fruit puree with very little effort, you'll never go back to store-bought!
Before you start, wash strawberries in cold water and drain the water in a sieve or colander.
Put the strawberries in a saucepan along with the sugar. If you are using fresh strawberries, add a small splash of water as well for some extra moisture to avoid burning (the frozen strawberries already have a lot of excess liquid). I highly recommend you use a saucepan with high sides if you can - later in the cooking process the puree can start to spit a little bit and you may end up with a countertop that looks like a murder scene if your pan isn't high enough to catch them!
Heat the strawberries and sugar over medium heat, stirring occasionally. The sugar will start to dissolve and the strawberries should begin to break down gradually. Once the strawberries are soft, you can help the process along by squishing them with a potato masher. Don't worry too much about getting them super small as we are going to put this strawberry reduction through a food processor anyway. Keep heating, stirring every now and again until the mixture starts to come to a boil.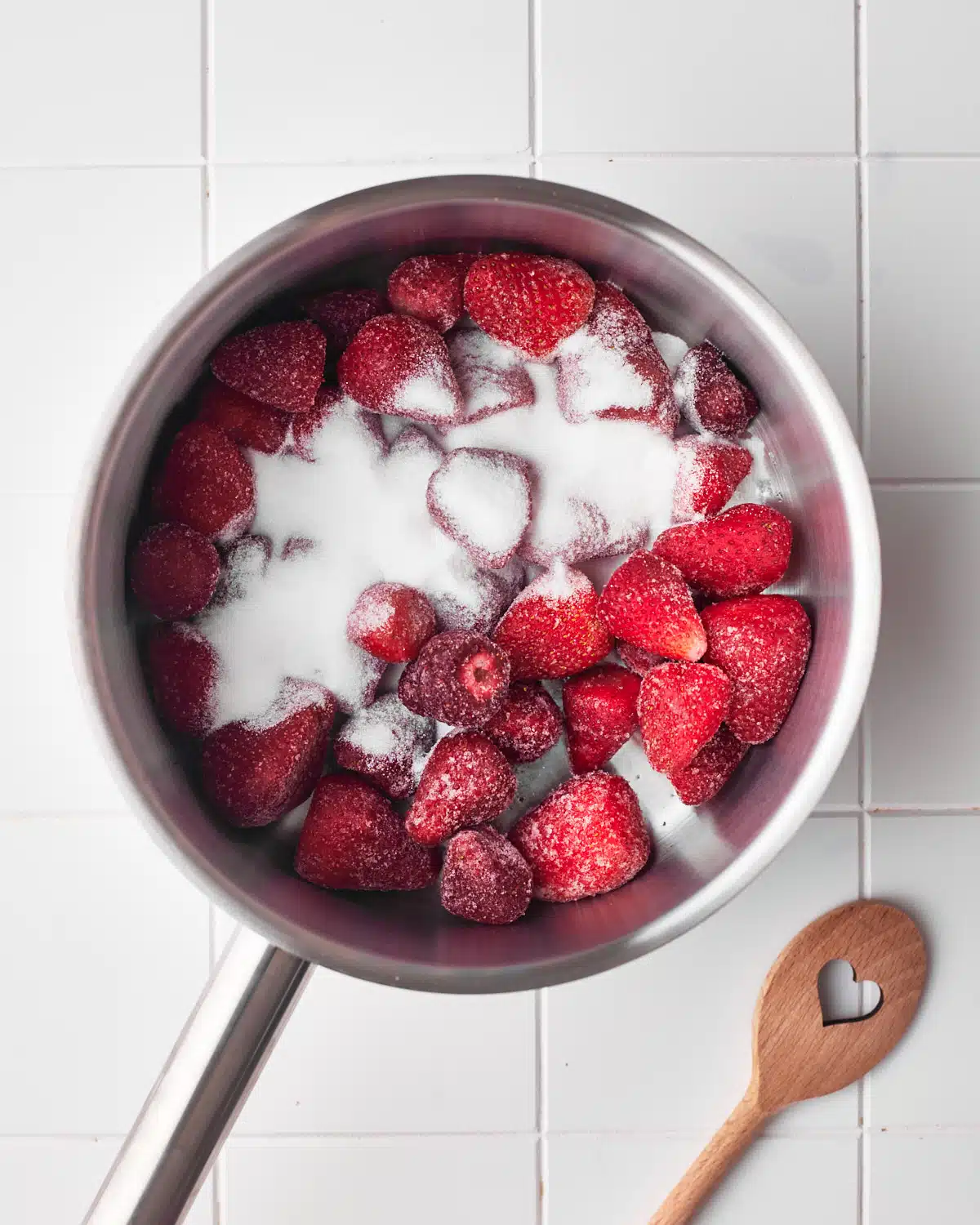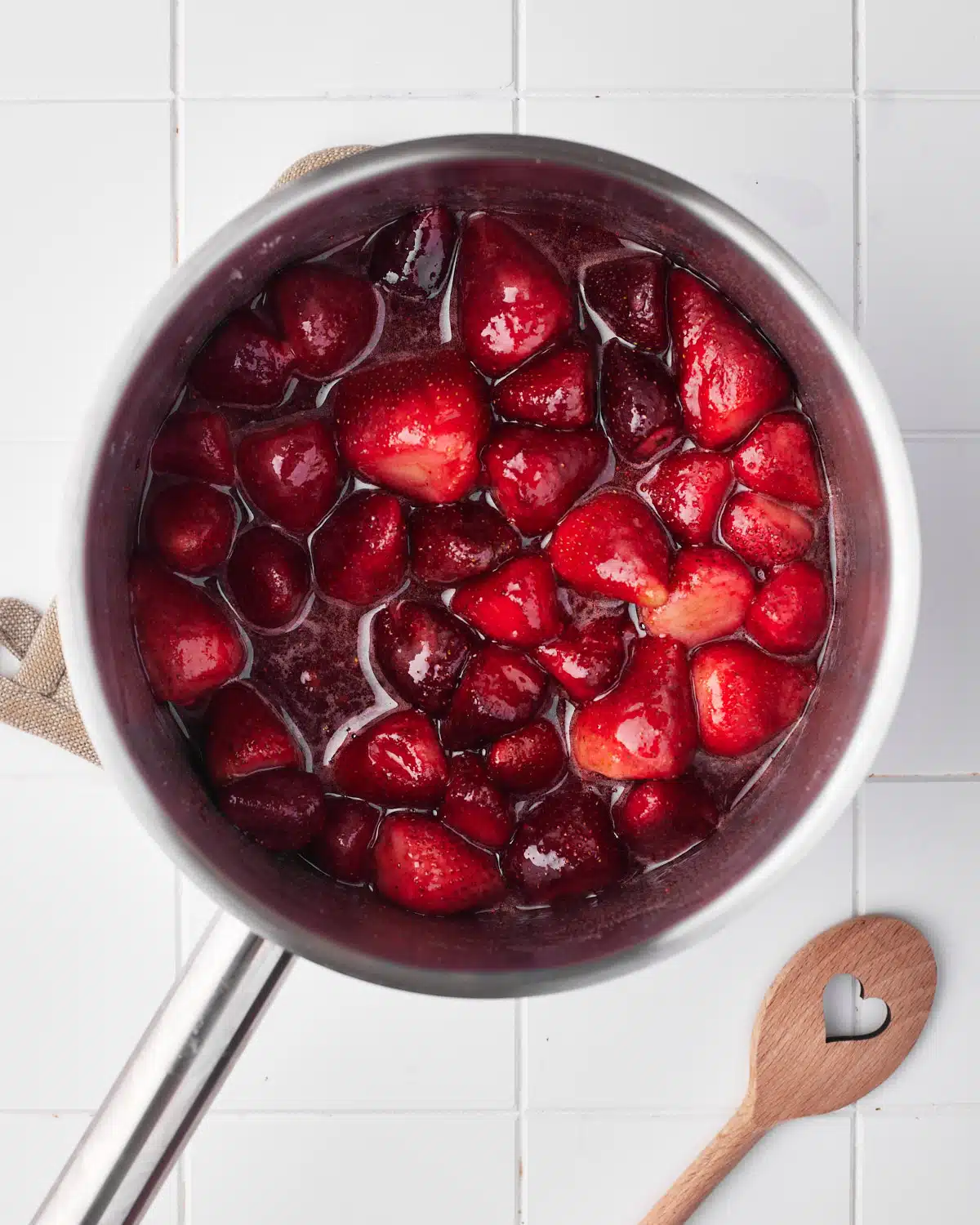 How long you boil the strawberries for depends on multiple things, I can't give you a length of time to go for as it will vary depending on the heat of your stovetop, the size of your pan, the temperature in your kitchen and the strawberries you are using.

The best way is to look out by eye for the thickness you want. For me, I like a thicker puree, so I keep boiling until the strawberry reduction thickens and has a slightly gelatinous look to it - this means that as you are mixing it around in the pan, it is kind of globbing together a bit and taking a split second longer to fall back into place. For baking, this is the ideal thickness as we want as much flavor as possible with the least amount of liquid. A more reduced strawberry puree will achieve that. This usually takes about 15 minutes for me.

However, if you are looking for something a little more runny, to use as a sauce for ice cream or dipping, you may want to stop a little before this point. Remember the puree will also thicken slightly as it cools.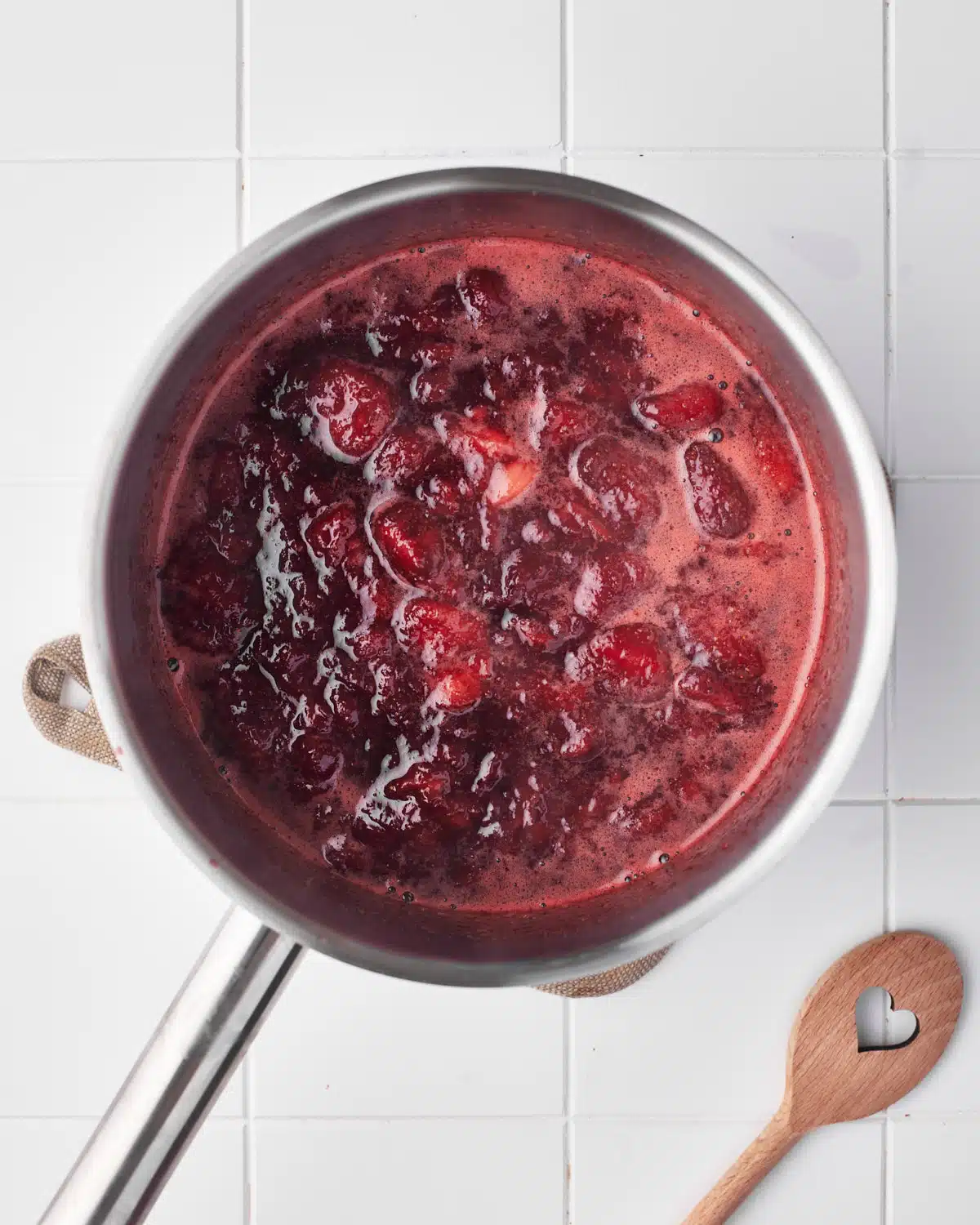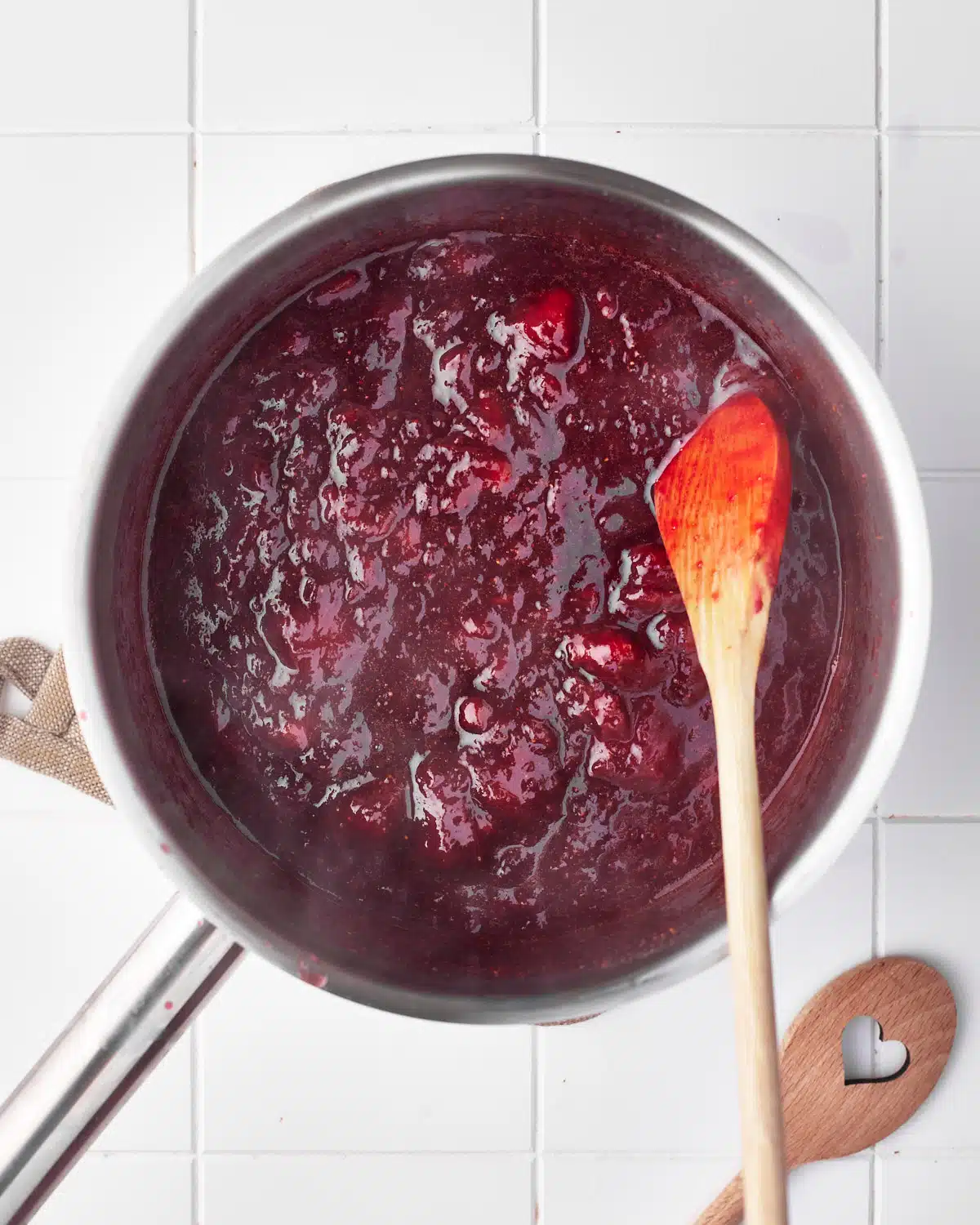 Once you have reached the desired thickness, remove the strawberry reduction from the heat and let it cool for 15 minutes or so. This is just so it's not quite so hot going into your food processor.
Pour the strawberries into your food processor or blender (you could also use an immersion blender and a large bowl). Blitz for a few seconds until the strawberry puree is completely smooth with no chunks of fruit in there.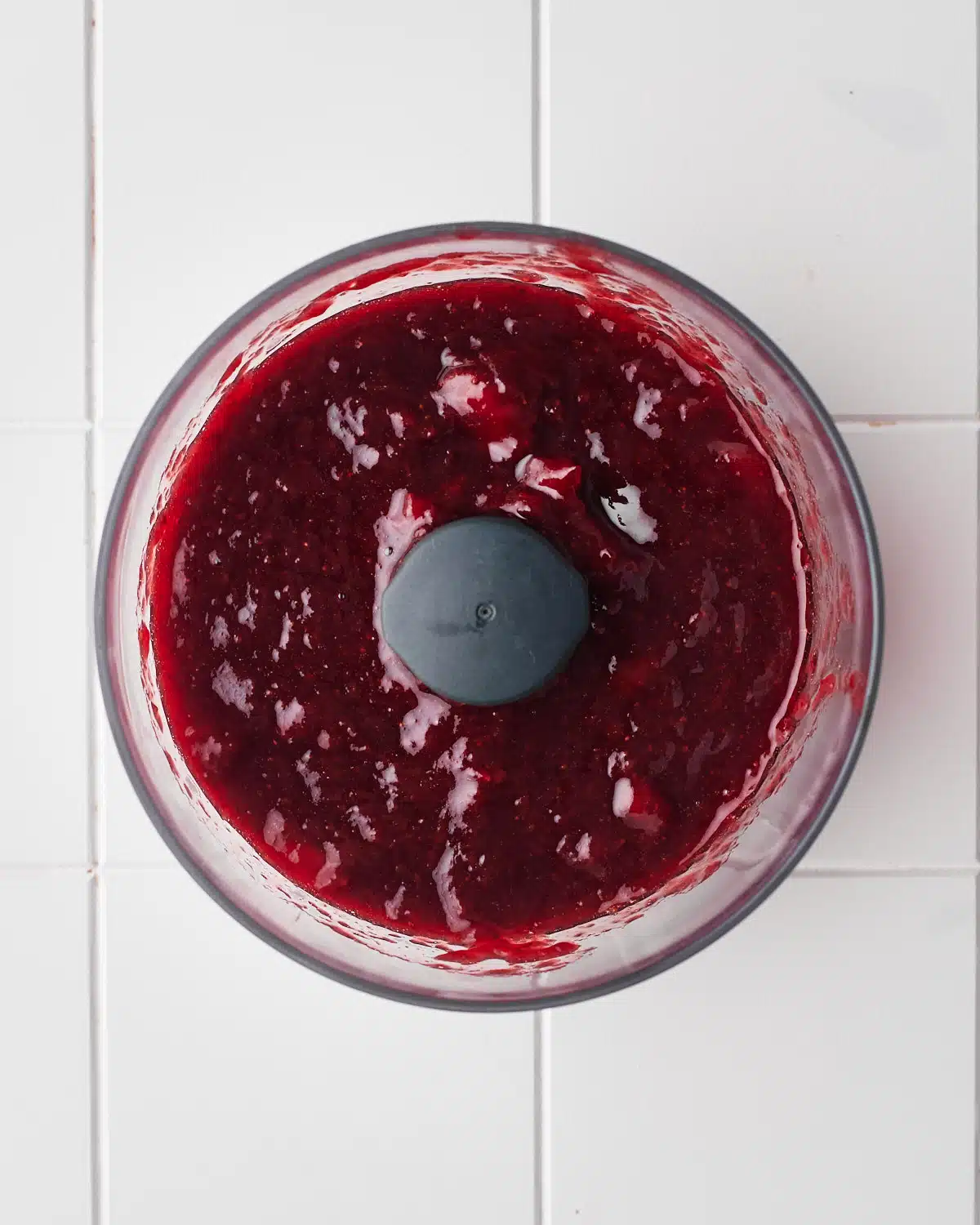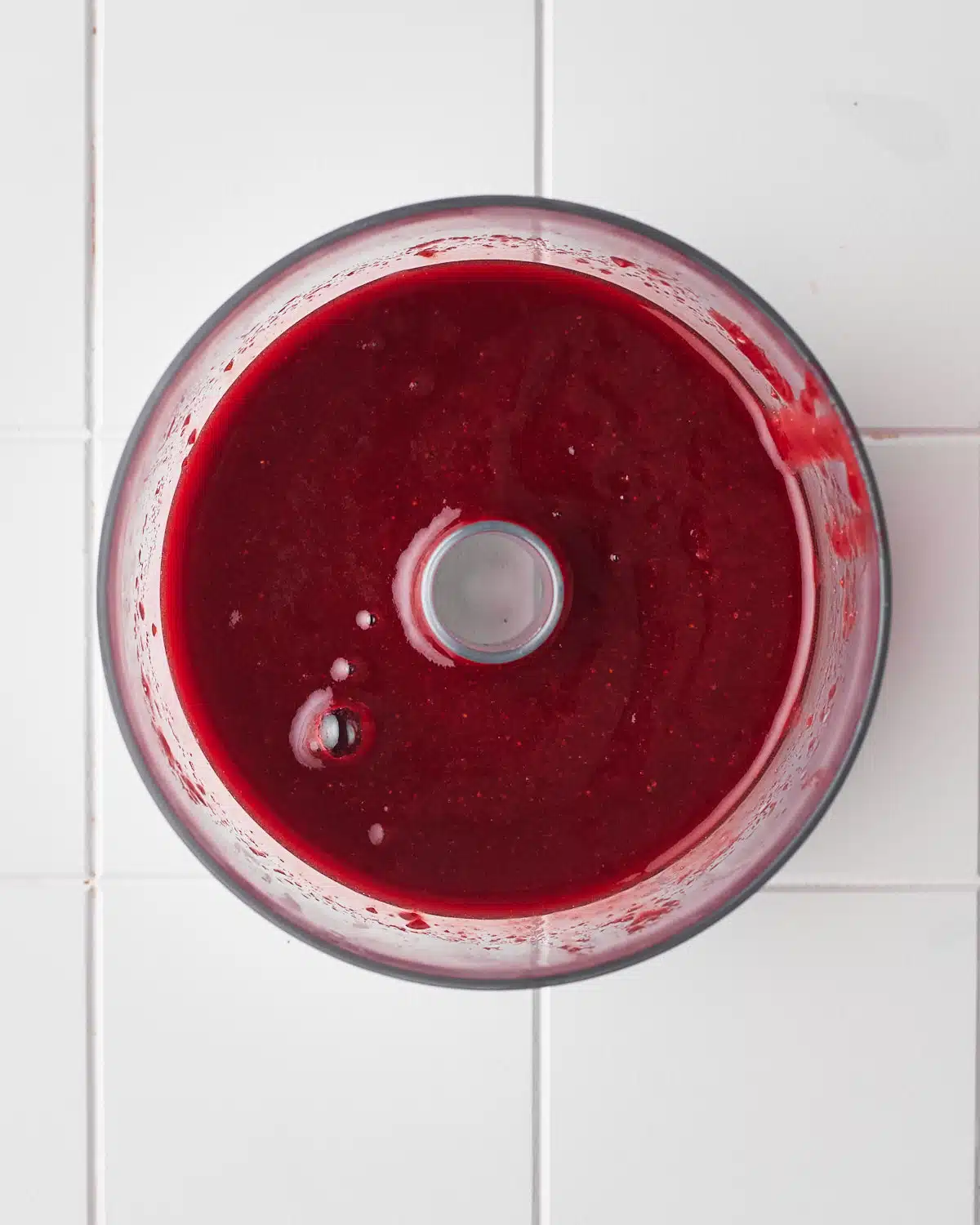 Your strawberry puree is now finished! If you want to go the extra step to turn this into a strawberry coulis, pass it through a fine mesh sieve into a bowl to remove any little pieces of fiber or seeds that may be remaining.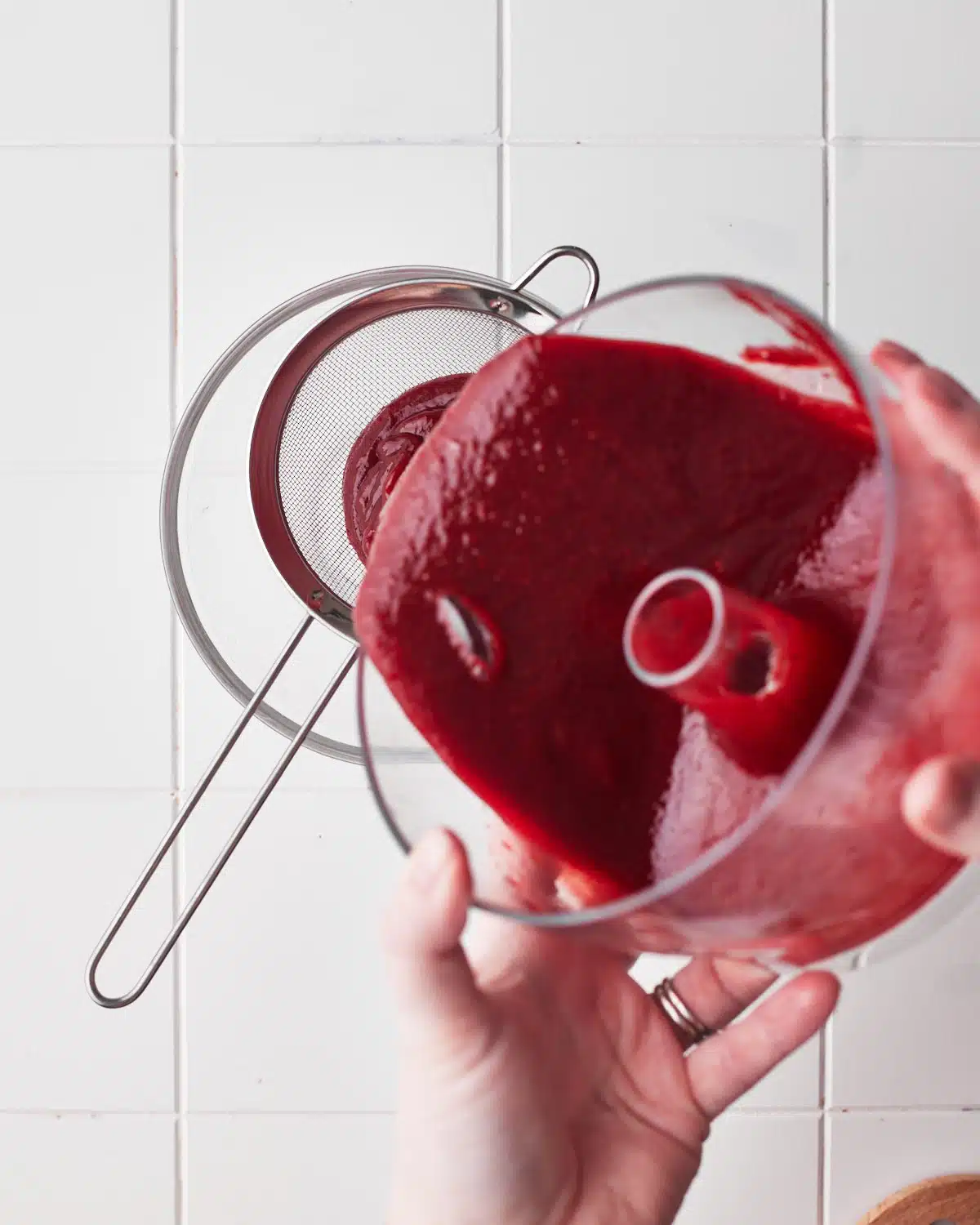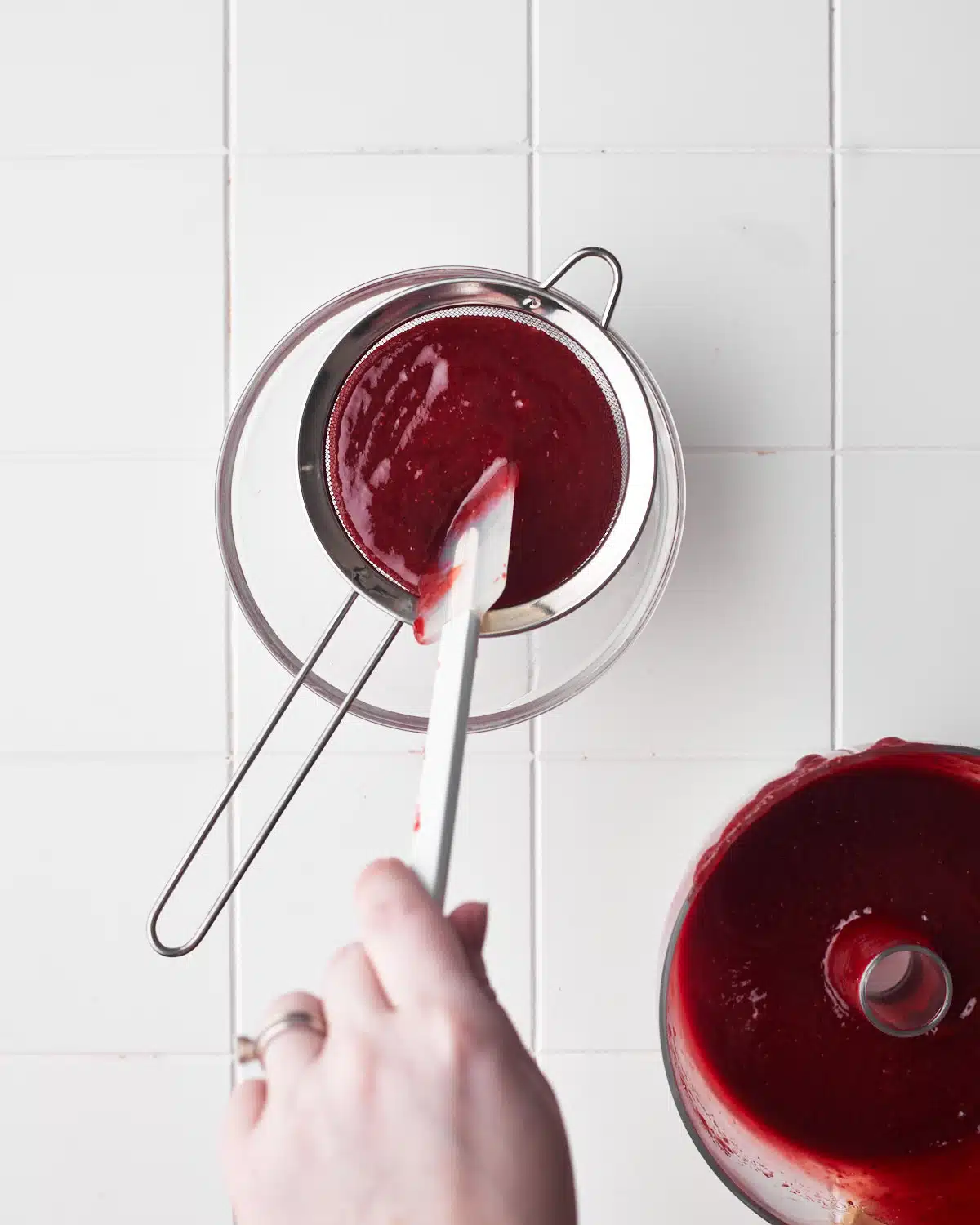 Let your strawberry puree or coulis cool to room temperature before using.
What is Strawberry Puree?
Strawberry purée really just means smooshed-up strawberries. Fruit puree is just any fruit that has been blended to a liquid or paste. Technically, if you just put whole strawberries into a food processor, that would be strawberry puree. But we are making a reduced strawberry puree, which means it has had the excess liquid removed.
This is great for baking because liquid is not our friend in cake batter or frosting, so it allows us to get a much stronger strawberry flavor without adding all the extra liquid.
Reducing is just the process of boiling the water out of something, you probably do it often with sauces in cooking - it's the exact same for fruit!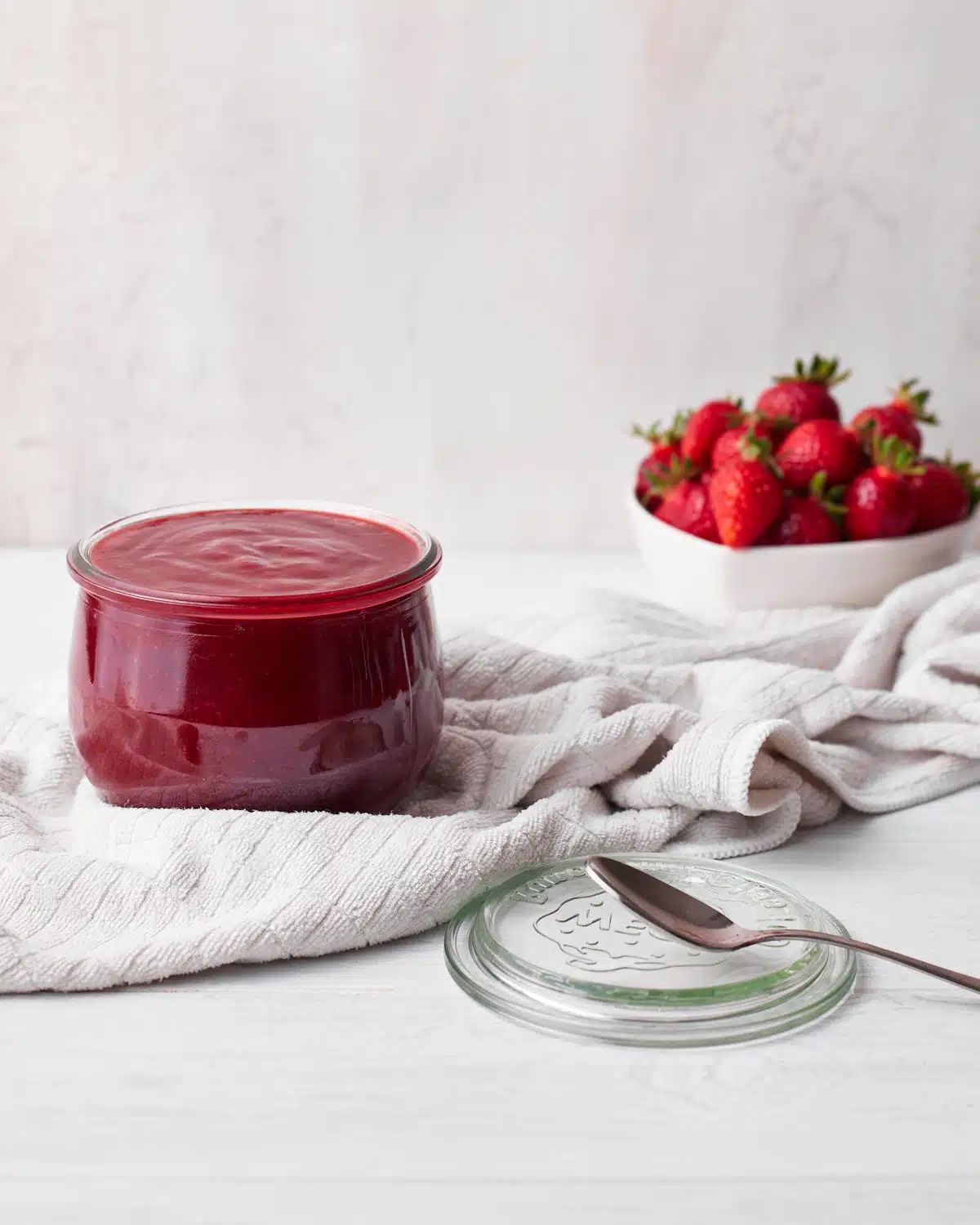 What is the Difference between Strawberry Puree and Strawberry Coulis?
Coulis is basically just puree that has been strained to make it more fine and pure. When we pass our strawberry puree through a fine mesh strainer to remove any fiber, chunks or seeds, it is then classed as coulis.
There are many different variations of 'squashed strawberries' that all mean slightly different things, so here's a rundown:
Strawberry Puree - Strawberries that have been blended or processed into a liquid or a paste. Often cooked in sugar syrup to sweeten and reduce some of the liquid.
Strawberry Coulis - Strawberry puree that has been passed through a fine mesh sieve to remove fiber and seeds - often used as a sauce or topping.
Strawberry Compote - Strawberries that have been cooked in sugar syrup, but not pureed - so there are large chunks of strawberry still intact.
Strawberry Jam - Similar process to puree, except it is cooked with more sugar and for a longer time. Often used to spread on toast.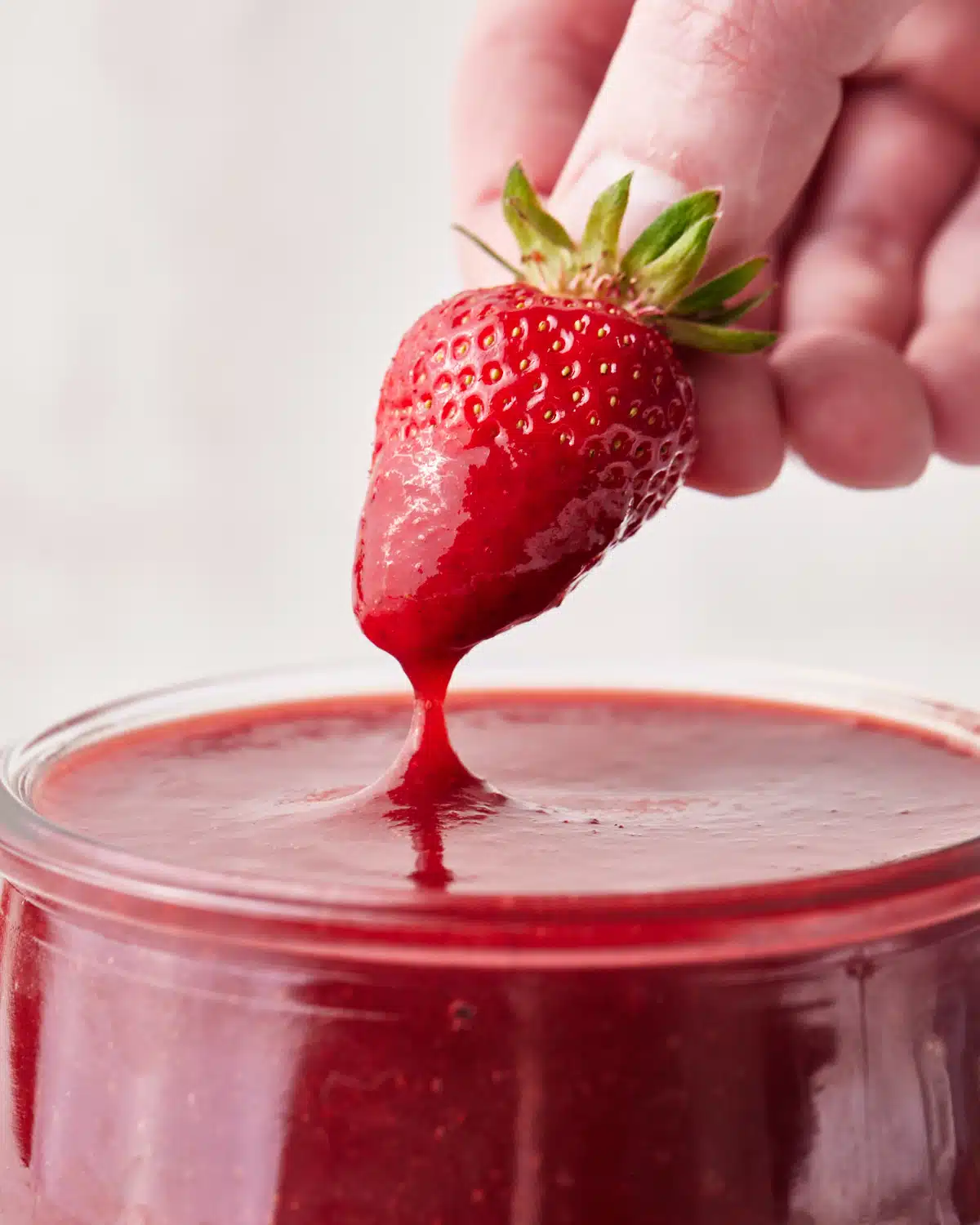 What to use Strawberry Coulis for
There are a variety of ways you can use your strawberry puree or strawberry coulis now that you know how easy it is to make! I love to make a big batch whenever I make it so I have leftover puree to use in other ways.
Baking - As mentioned above, it's great to use in cake batter or desserts to get a strong strawberry flavor without messing up the liquid ratios of a recipe. Try my Strawberry Cake.
Filling - Use it as for fresh fruit fillings inside desserts such as tarts, donuts or cupcakes - like in my Strawberry Cupcakes.
Dessert Toppings - It's really great as a topping on desserts or breakfasts, like on French Toast
Sauce - Strawberry coulis is great on ice cream, or it would make a great accompaniment to something like my Chocolate Lava Cakes.
Drinks - Add your strawberry coulis to drinks for some delicious cocktails or strawberry lemonade. You might also like my Strawberry Syrup recipe for this.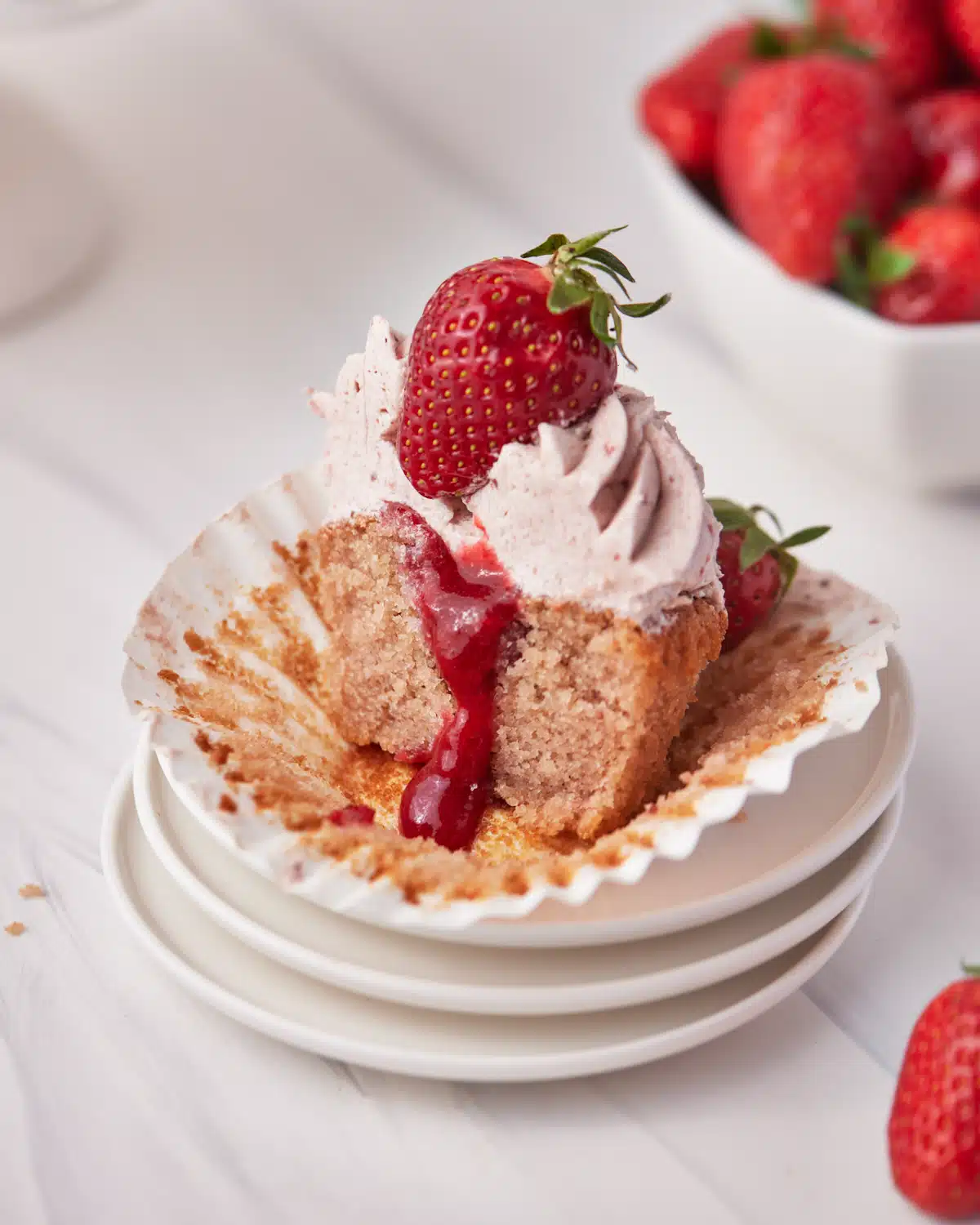 Variations
As this recipe has such simple ingredients, the sky is really the limit with what extra things you could add in there to customize it:
Strawberry Basil Coulis - For an elevated version of the coulis, add a few basil leaves into the saucepan at the beginning. Don't worry they will be blended and strained out, but they will leave their incredible flavor behind!
Spiced Strawberry Coulis - For a warm, holiday flavor, add ½ teaspoon of cinnamon, ginger or whatever spices you like for some heat and cosy vibes.
Lemon Juice - Some people like to add a squeeze of lemon or lime juice to their puree to balance out the natural sweetness. The citric acid also helps to preserve the puree.
Sweetness Variation - You can alter the amount of sugar in the coulis to suit your taste - whether you just add a little sugar, or lots of sugar, you can make this as sweet as you like!
Sugar Alternatives - You can also play with different natural sweeteners in there, try replacing some or all of the sugar with maple syrup or brown sugar.
Other Fruit - This strawberry puree recipe works really well with other fruits - especially fresh berries. Try it with blueberries, cherries or raspberries - like in my Raspberry Cupcakes.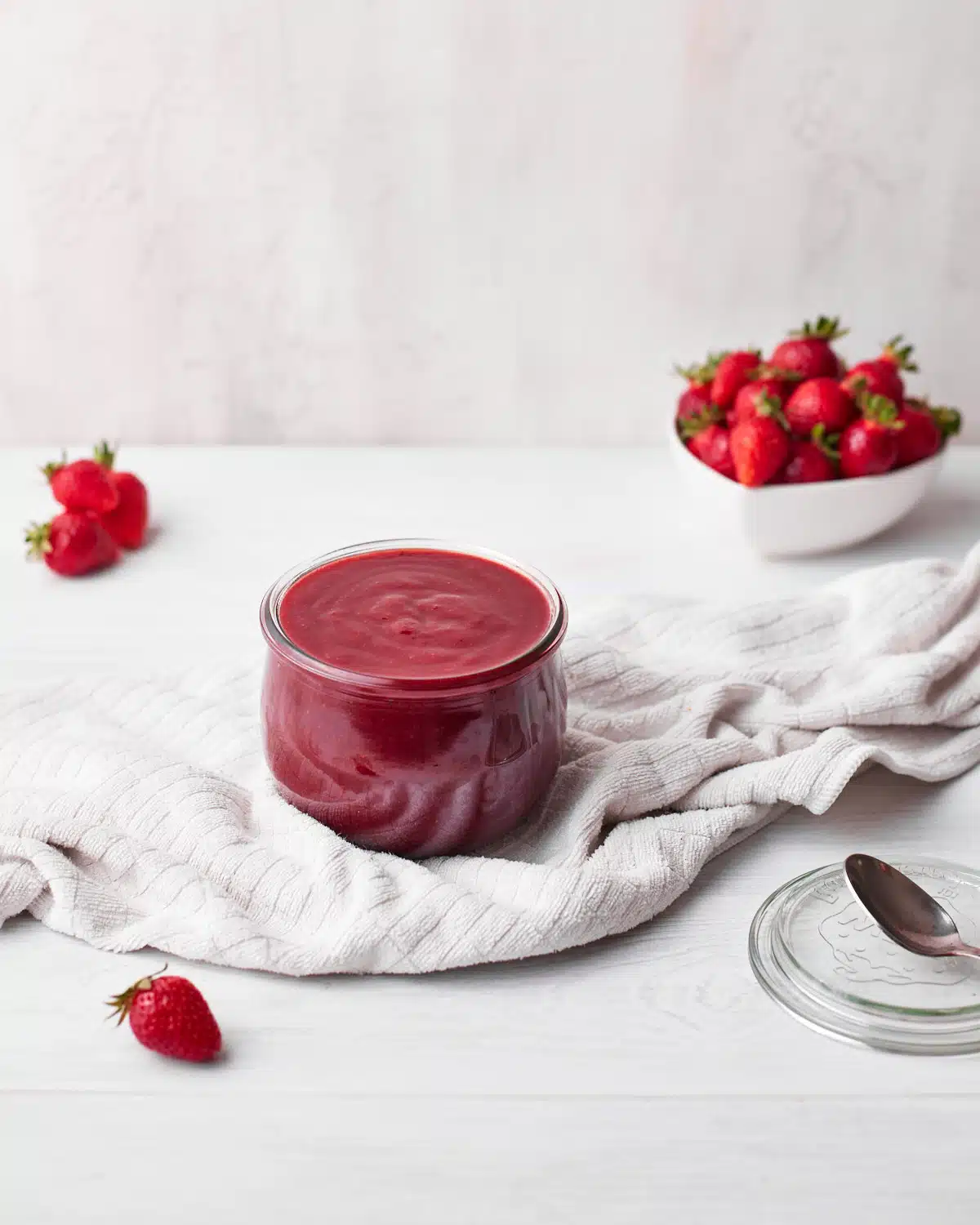 Equipment
Medium Saucepan - Preferably with high sides to catch the spitting strawberry puree.
Food Processor - Any food processor or regular blender will do. You could also use an immersion blender.
Fine Mesh Sieve - If you want to strain the puree to make a coulis, you'll need something to strain out the pieces of fiber.
Potato Masher - This is optional, but I like to squish the strawberries to help them along as they cook.
Storage
How you will use your strawberry puree will dictate how best to store it. If you plan on using it up quickly in a bake, you can simply keep it in a bowl with some plastic wrap over it. Store in the fridge but make sure to let it come to room temperature before adding to your cake batter or frosting. It will be fine like this for a couple of days.
If you plan to keep the puree a little longer, I like to store it in a mason jar - it helps to keep it fresher for longer. It should be fine in the fridge like this for about a week.
If you want to use it as a sauce or topping, you might also want to consider putting it straight into a squeeze bottle to make it easy to squeeze out onto a plate or bowl (or to make pretty designs). The squeeze bottle will be good in the fridge for about 5 days.
If you want to freeze your strawberry puree for later use, put it in a freezer bag or freezer-safe container with as little air as possible. Or if you only want to use a little puree at a time, you can freeze it in ice-cube trays (flexible ice cube trays are easiest to get out), so you can pop one or two fruity flavor ice cubes as you need them. You can freeze your strawberry puree for up to 3 months. To thaw out, just leave it in the fridge overnight or microwave for 20 - 30 seconds.
Recipes that Use Strawberry Coulis
Use your fruit puree or coulis in these awesome recipes:
You Might Also Like...
Other Strawberry Desserts you might love:
Recipe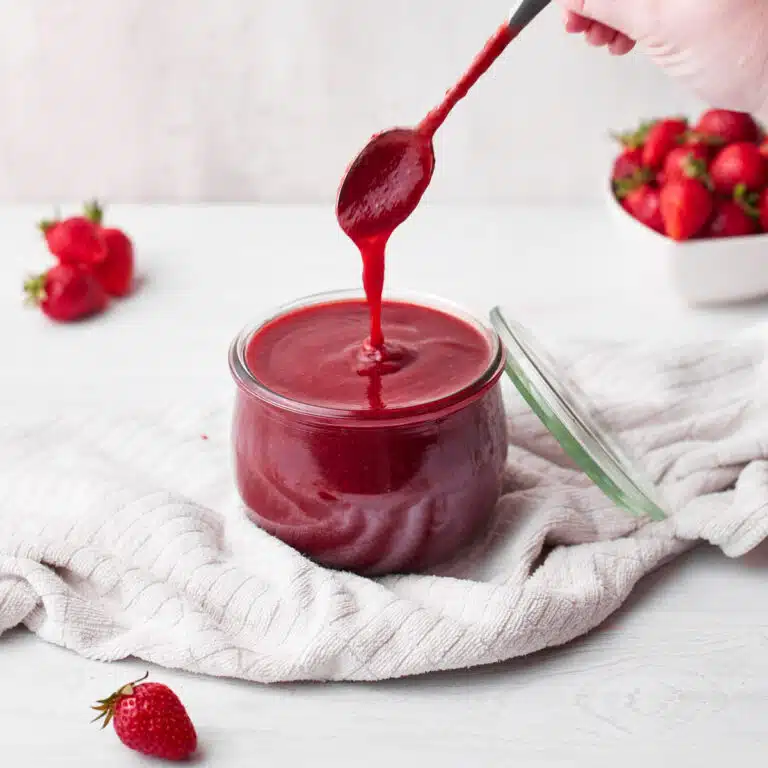 Strawberry Puree (Strawberry Coulis)
Delicious strawberry puree for use in your desserts.
Ingredients
16

oz

Strawberries

(450g) fresh or frozen

½

cup

Extra-Fine White Sugar

(100g)
Instructions
Wash the strawberries in cold water and drain the excess water.

Put the strawberries into the saucepan along with the sugar and heat on a medium heat. If the strawberries are fresh, add a small splash of water to the pan too (not required for frozen strawberries).

½ cup Extra-Fine White Sugar

Heat, stirring occasionally until the strawberries start to soften and break down. Mash them a little with a potato masher or wooden spoon to help them.

Let the strawberries come to a boil, keep stirring every now and again and boil them for about 15 minutes or until the mixture has thickened slightly and looks a little gelatinous.

Remove from the heat and let cool for 15 minutes.

Put the strawberry reduction into a food processor or blender and blitz for a few seconds until completely smooth.

Pour the strawberry puree into a bowl through a fine mesh sieve to remove any excess fiber or seeds.

Let cool completely before using.
Notes
It's best to use a high-sided saucepan as the strawberry puree can often spit as it cooks and make a mess on your countertop, or even splash your hands - it's very hot! 
Straining out the seeds and excess fiber is optional, you can skip this step if you like. 
Nutrition
Calories:
48
kcal
Carbohydrates:
12
g
Protein:
1
g
Fat:
0.5
g
Saturated Fat:
0.02
g
Polyunsaturated Fat:
0.2
g
Monounsaturated Fat:
0.1
g
Sodium:
2
mg
Potassium:
231
mg
Fiber:
3
g
Sugar:
7
g
Vitamin A:
18
IU
Vitamin C:
89
mg
Calcium:
24
mg
Iron:
1
mg