Who doesn't love strawberries? But it's SO hard to capture that fruity strawberry flavour in a cake. Using fresh strawberries in the batter means you lose the delicious berry-ness, and artificial flavourings often have a weird aftertaste. But this strawberry cake is juuuust right! The light sponge is just bursting with strawberry flavour and the cream cheese frosting compliments it perfectly. Your mouth is going to be very happy.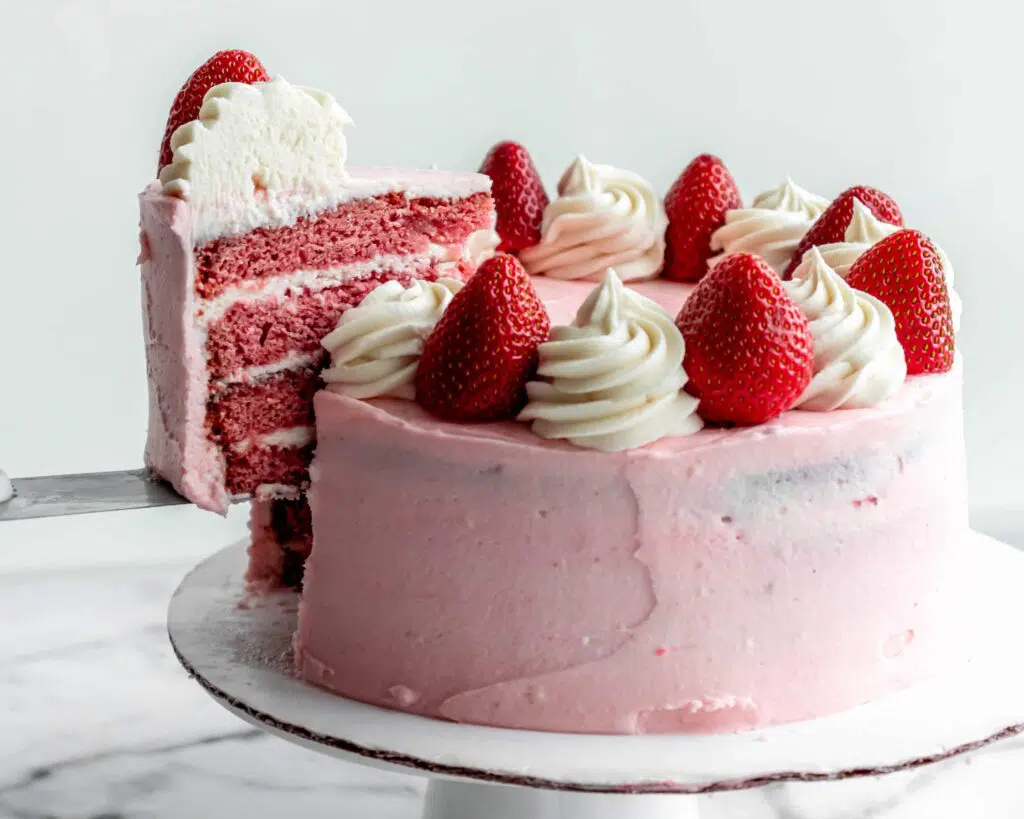 How to get a flavourful Strawberry Cake
This cake uses a strawberry reduction, which basically means we just cook some of the moisture out of the strawberries so we get concentrated berry flavour with less liquid. Taking the liquid out means you can add more strawberry to the mix without it messing with the consistency of the batter. This recipe makes plenty of reduction so you can also put some in between the layers of the cake if you. like and even mix some of it into your frosting. I use this method in many recipes such as my Strawberry Brownies and Strawberry Cupcakes.
It's optional, but you can also add a small amount of strawberry emulsion or extract just to give the berries a little bit of a boost. I don't like using just extract on it's own as it has a bit of an artificial taste, but along with the fresh strawberry reduction it gives a wonderful flavour. It is totally down to preference though - this strawberry cake is super tasty with just the reduction.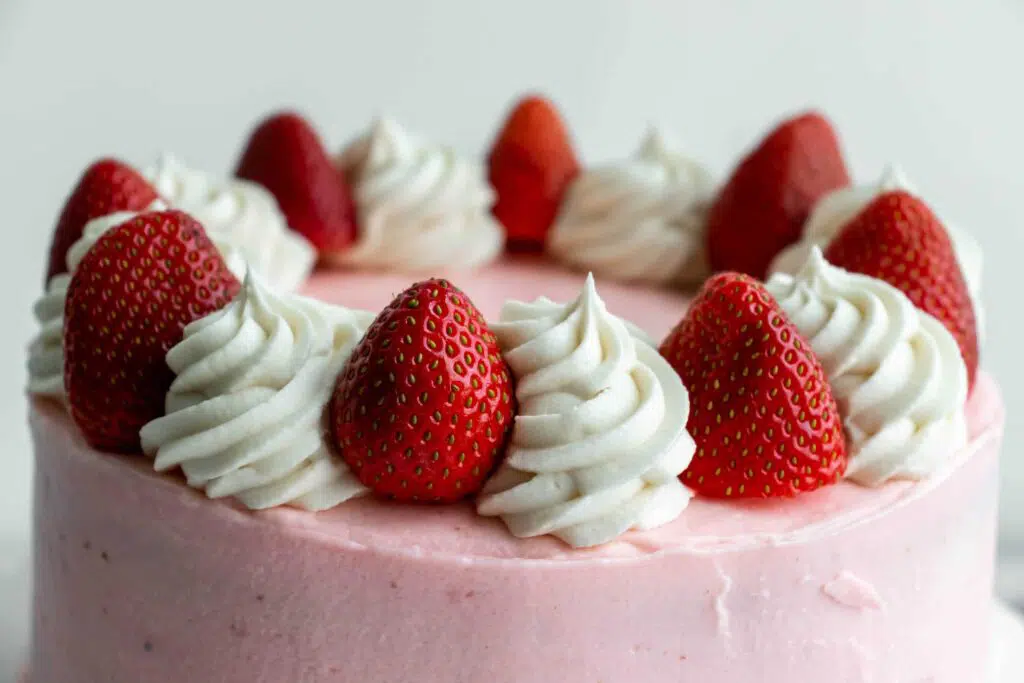 Making the Strawberry Reduction
You want to make the reduction ahead of time so it has a chance to cool before you need to put it in your batter. I find it's best to make it the day before and let it sit overnight in the fridge, then remove to bring to room temperature about an hour before using.
If you want a super smooth reduction, you can blend the strawberries before cooking them, but I quite like having chunks of berry in mine so it actually looks like a strawberry cake - so I just quartered them and threw them into the pot. I did mash them down with a potato masher though once they were hot to break them up a bit.
I highly recommend you use a pot with high sides and preferably a lid to make this as when the reduction gets thicker it can splatter a little bit and make a berry crime scene on your walls and counter!
For in-depth information on how to make strawberry puree, check out my strawberry puree recipe post.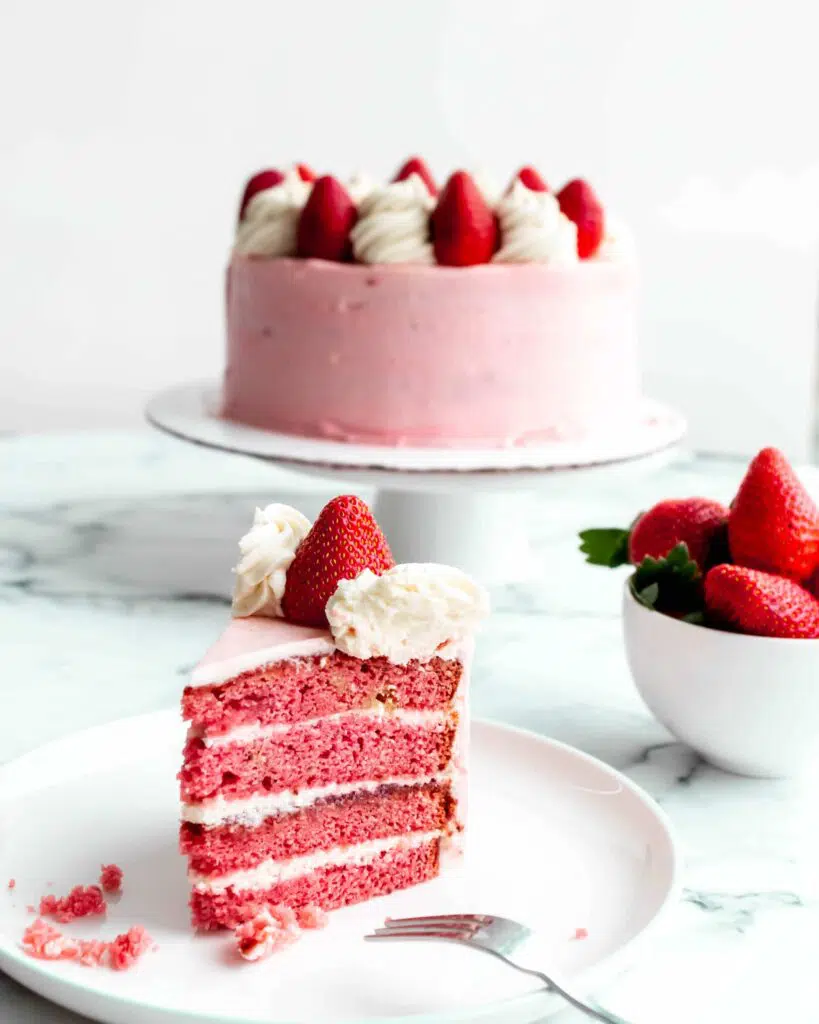 Assembling the Cake
I chose to make two 8 inch cakes and then cut them both in half to make four layers. You could also keep the two layers whole or even bake three thinner layers of cake. I filled in between every layer of strawberry cake with cream cheese frosting and also added a layer of strawberry reduction in the middle layer. Be careful not to put the reduction too near the edges or it will ooze out and get mixed up with your frosting. Then I mixed a little of the reduction into my cream cheese frosting and iced the whole cake. And voila! The perfect 'tastes like my childhood' strawberry cake!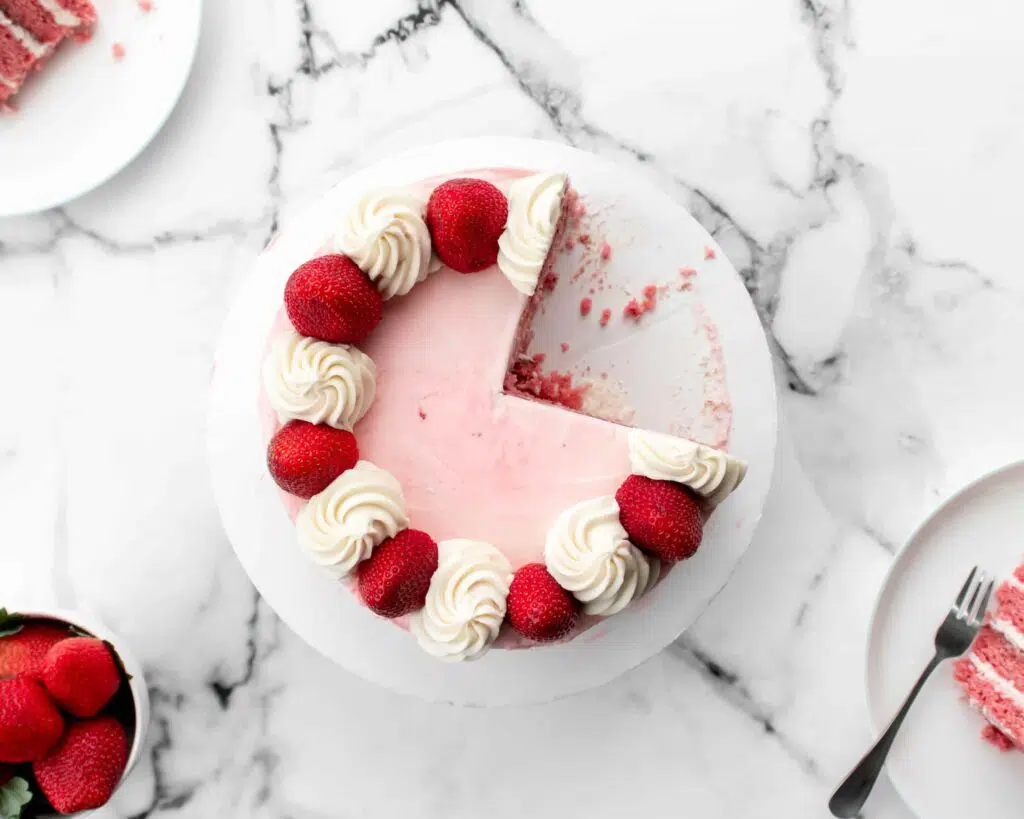 Storage
Normally I never advise storing cake in the fridge, but as this cake contains cream cheese frosting, it will keep best in the fridge. Make sure it is in an airtight container before placing it in the fridge to prevent it from drying out or taking on the odour of other items in your fridge!
More Strawberry Dessert Recipes
Recipe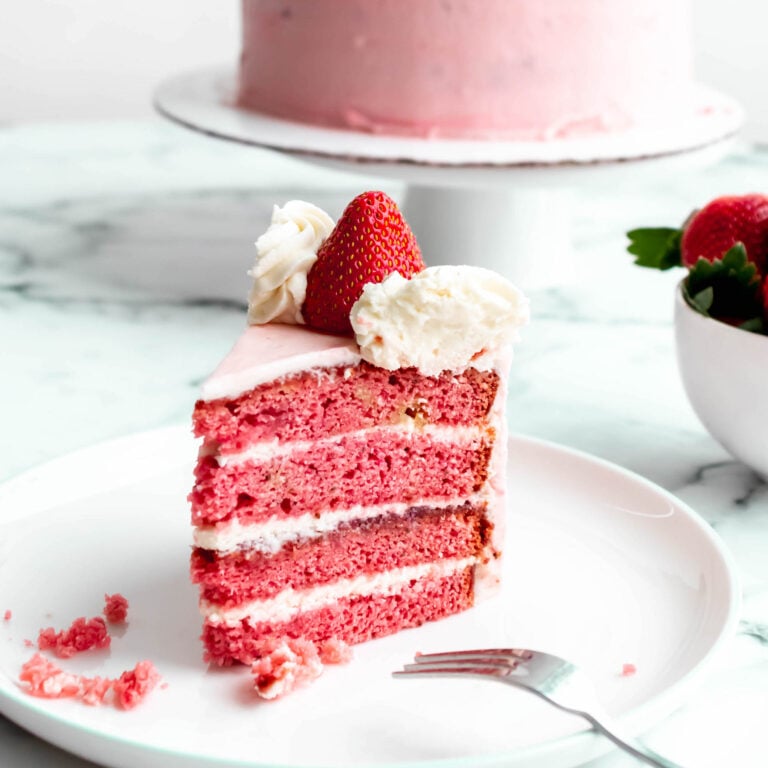 Strawberry Cake with Cream Cheese Frosting
Ingredients
For the Strawberry Reduction
2

punnets

Strawberries

(fresh or frozen - approx 900g)

⅓

cup

White Sugar

(caster sugar in the UK)

1

teaspoon

Lemon Juice

½

teaspoon

Salt
For the Strawberry Cake
1

cup

Butter

2

cups

White Sugar

(caster sugar in the UK)

3

cups

All-Purpose Flour

2

Eggs

2

teaspoon

Baking Powder

½

teaspoon

Baking Soda

½

teaspoon

Salt

1

teaspoon

Strawberry emulsion/extract

(optional)

2

drops

Pink gel food colouring

(optional)
Instructions
Make the Strawberry Reduction
Put the strawberries, sugar, lemon juice and salt into a saucepan over a medium heat

Heat, stirring constantly until the strawberries start to break down, you can help them along here with a potato masher

Bring the strawberry mix to a boil until it's thick and spitting large bubbles (about 10 minutes)

Remove from the heat, if you want completely smooth strawberry reduction, pass the mixture through a sieve into a bowl - It should produce approximately 1 cup of smooth strawberry reduction. If you want chunks of strawberry in your cake, you can skip the sieveing. Let cool and place in the fridge until you're ready to use
Make the Strawberry Cake
Preheat oven to 350°F and prepare two 9 inch cake pans

Cream the butter and sugar together until light and fluffy

Add the eggs, one at a time and beat until incorporated

Sieve the flour, baking soda, baking powder and salt into a bowl, then add a half of it to the cake batter and stir in completely

Add the strawberry reduction and/or strawberry emulsion/extract and mix in completely, then the remaining flour and stir until smooth and combined

If you want to boost the colour of the cake a little, add a few drops of food colouring at this stage

Pour the batter into the cake pans and bake for 35 - 45 minutes or until a skewer comes out clean

Allow to cool completely before frosting with Cream Cheese Frosting and decorating with fresh strawberries