This Strawberry Simple Syrup is fruity, flavorful, and super easy to make. Use it to elevate desserts, mix into drinks or pour over fresh fruit and ice cream.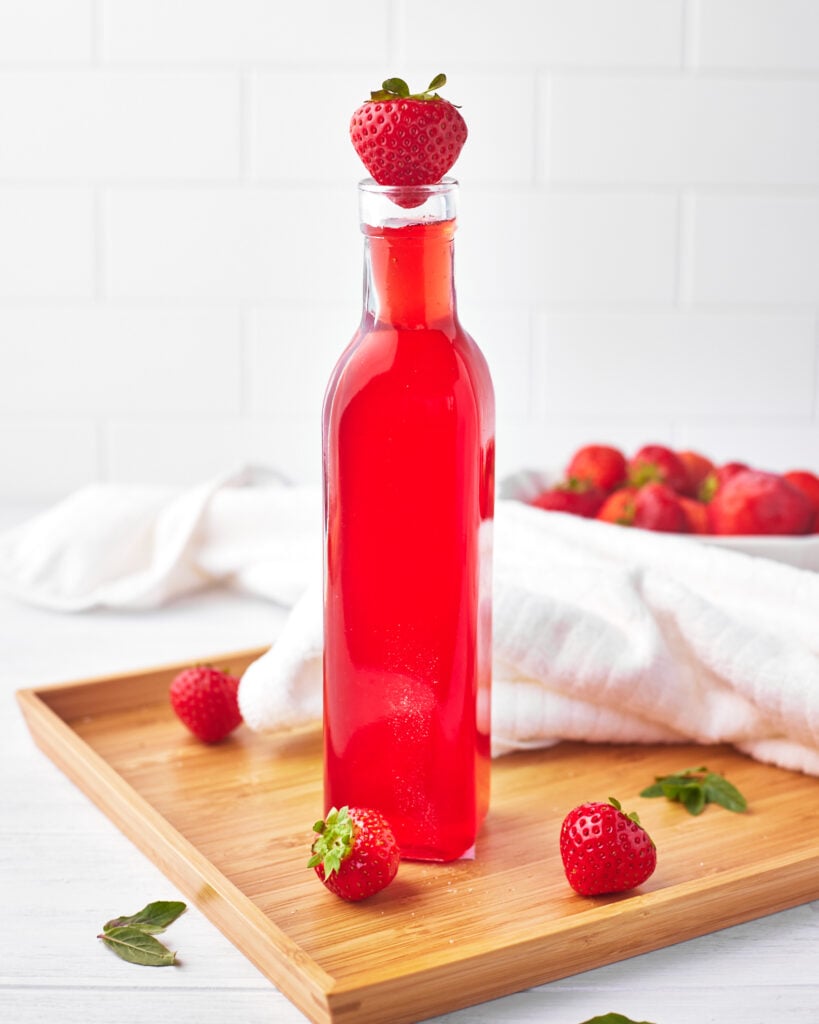 Simple syrup is a basic, sweet syrup that is often in baking to soak cakes and desserts - it's a great way to keep them moist and add flavor. It is thin and watery, not thick like pancake syrup. A regular simple syrup is made by heating equal parts water and sugar until the sugar dissolves. This simple syrup recipe has the addition of strawberries to create a fruity, summery strawberry syrup, and it's delicious!
I used this recently to soak into the sponge cake in my Fraisier cake. Fraisier cake is a classic French strawberry cake that is made with a genoise sponge. Genoise is light and airy, but can sometimes be a little dry, so the strawberry simple syrup keeps it nice and moist while adding an extra boost of strawberry flavor. It's a great way to take your cakes, desserts or cocktails to the next level.
Jump to:
Ingredients
This simple strawberry syrup recipe has just a few simple ingredients.
White Sugar - You definitely want to use white granulated sugar for this recipe, not brown sugar as it may confuse the flavor. Make sure you get superfine sugar (caster sugar in the UK) so it dissolves into the water easily.
Water - Regular tap water is what we will be dissolving the sugar in. Temperature doesn't matter as we are going to be heating it anyway.
Strawberries - The star of the show. You can use fresh strawberries or frozen strawberries in this recipe, it doesn't matter. I like to use frozen strawberries if it's not the peak of strawberry season, as they tend to be of higher quality.
Lemon Juice - This will help keep everything fresh and add a nice tart tang to your fruit syrup.
The quantities in the recipe card are mostly irrelevant, as long as you are using equal parts sugar and water - i.e. one cup of water to one cup of sugar. The amount of strawberries is also not important as they are just in there to infuse their lovely flavor, not to become a part of the final product.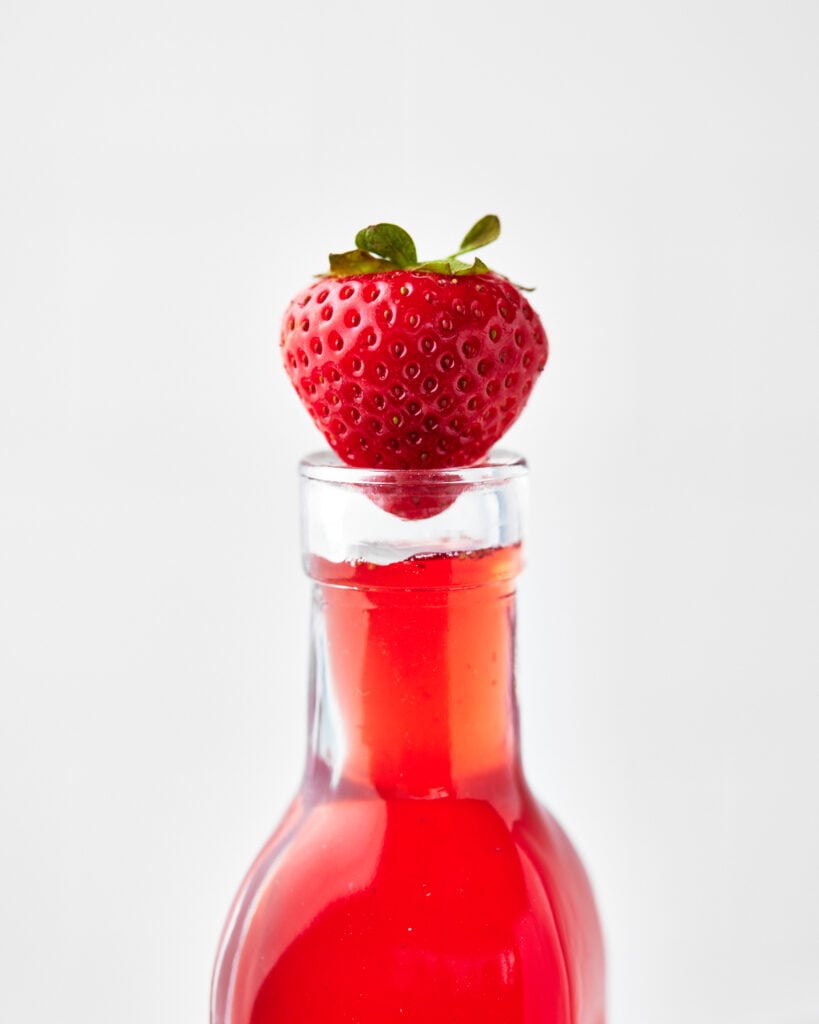 Instructions
This delicious strawberry syrup is such a simple process. You could buy simple syrup or even strawberry syrup at the grocery store, but honestly, it's such an easy recipe, once you've made it once at home you'll never want to go back to buying expensive syrups that are full of preservatives.
Add the sugar and water, lemon juice, and strawberries to a medium saucepan and heat over medium-high heat. You can stir it once at the beginning but try to just leave it alone most of the time as we don't want the sugar to crystalize.
As it's cooking the liquid will look cloudy, let it simmer gently until the sugar has totally dissolved and the liquid turns clear. That's all we need here, we are not looking to reduce or thicken the liquid at all, just to let the sugar dissolve.
The strawberries will likely break down a little as it goes. There's no need to squash them with a potato masher or anything like you would if we were making strawberry puree, just let them soak in the syrup and release their sweet strawberry flavor.
Once the liquid turns clear, remove the pan from the heat and pour the fresh strawberry syrup through a fine mesh strainer to remove the strawberries and any fruit pulp. Pour it into a mason jar or some other airtight container and let it come to room temperature before moving it to the fridge.
Don't throw away the leftover strawberries, they are super sweet and delicious. Put them over yogurt or ice cream for an easy strawberry dessert.
Top Tip: If you would like a thicker strawberry syrup, add half the amount of water to begin with and let it reduce a little bit in the saucepan until it reaches the desired consistency. Remember it will thicken a bit more as it cools.
What to Use Strawberry Simple Syrup For
There are so many delicious recipes that you can use this strawberry simple syrup. up. Here are a few ideas for you:
Cakes - Strawberry Simple Syrup is the perfect addition to various cakes and other strawberry recipes, such as my Fraisier Cake recipe.
Cocktails - Try adding strawberry simple syrup to some of your favorite drinks for a fruity new twist, such as:
Strawberry Mojitos
Strawberry Hugos
Strawberry Margarita
Or some non-alcoholic drinks:
Strawberry Iced Tea
Strawberry Lemonade
Strawberry Soda
Strawberry Bubble Tea
Fresh berries - Use the syrup to soak fresh berries before serving with ice cream or french toast.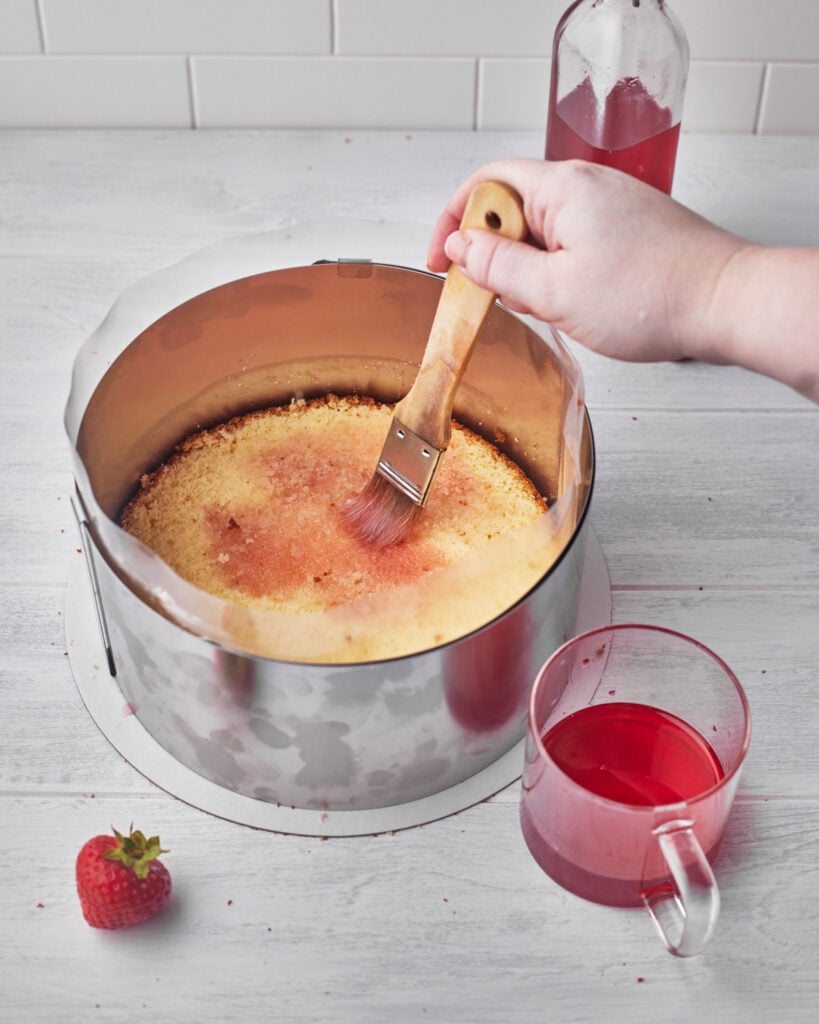 Variations
Really you could make this simple syrup recipe with any fruit. Choose your favorite fruit to replace the strawberries and make whatever type of fruit syrup you feel like.
As mentioned above, you could make a thicker syrup for pouring over pancakes and ice cream, just use half of the water at the beginning and reduce the simple syrup to remove any excess water until it reaches the consistency you would like.
Storage
Store your strawberry simple syrup in an airtight container such as a jar or bottle in the fridge. It should be good like this for up to 2 weeks. You can also freeze it by putting it in a freezer-safe container (like a Ziploc bag) and freeze it for up to 6 months.
Recipe
Strawberry Simple Syrup
Ingredients
1

cup

White Sugar

200g

1

cup

Water

236g

1

cup

Strawberries

fresh or frozen

1

teaspoon

Lemon Juice
Instructions
Add all ingredients to a saucepan and heat over medium-high heat, stirring occasionally.

1 cup White Sugar,

1 cup Water,

1 cup Strawberries,

1 teaspoon Lemon Juice

Keep simmering until the sugar has totally dissolved, the liquid will look clear instead of cloudy.

Remove from the heat and strain with a fine mesh sieve to remove the strawberries and any pieces of pulp.

Pour into an airtight container like a mason jar and let cool.
Notes
The quantity of strawberries does not need to be precise as they are just there to infuse the simple syrup.  
If you want a thicker syrup, use half the amount of water at the start and reduce the liquid until the desired consistency is reached.  Remember it will continue to thicken slightly as it cools. 
If you want to make more syrup, you can increase the quantities as you like as long as the ratios remain the same, i.e. equal parts water to sugar.  Add extra strawberries as you see fit.