One of my all-time favourite desserts, this baked chocolate cheesecake recipe is rich, creamy and decadent. Most importantly, it will satisfy even the most intense of chocolate cravings! Thick and insanely chocolatey cheesecake, a crumbly oreo crust, a topping of chocolate ganache and finished off with chocolate whipped cream. I give you - a chocoholic's dream!
Proudest baking moment
Chocolate cheesecake was actually the very first thing I ever baked entirely on my own. It was Nigella Lawson's chocolate cheesecake recipe and I remember it in detail. Baking late in the evening when I was maybe 14 years old, I remember finishing decorating it and standing back in awe at myself, so impressed that I had made something that actually looked really good. Straight away I ran upstairs with the cheesecake yelling 'Mum! Mum! Look what I made!" I was proud as punch, and that must have been when I was bitten by the baking bug! Who would have known at that moment that I would go on to start my own bakery?! All because of a well-turned-out chocolate cheesecake. Thank you Nigella!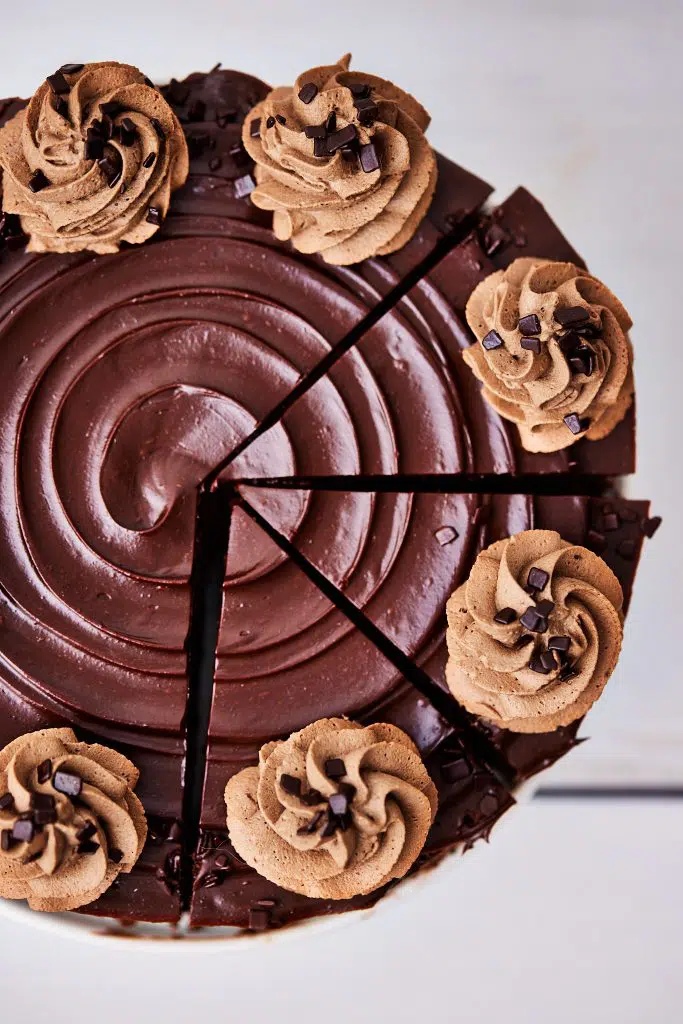 What is special about THIS Chocolate Cheesecake?
While Nigella's cheesecake may have been the launching pad for my love of baking, I have baked many a cheesecake since then. There are so many amazing chocolate cheesecake recipes out there! This chocolate cheesecake though is a culmination of all things indulgent. I feel that this is not the kind of dessert where you want to cut corners, scrimp on ingredients or do anything but pull out all the stops! That's why every single element of this cheesecake has been crafted to complement and play off of each other.
You could just make the cheesecake and the oreo crust and it will still be ridiculously delicious. But the ganache just adds an extra layer of rich indulgence, and the chocolate whipped cream offers something a little lighter to almost cleanse your palette a little (but in a chocolatey way) so that each bite of cheesecake keeps tasting like the most chocolatey thing you've ever tasted.
I realize I sound like I'm about to break into song over a piece of cheesecake - but it's just THAT good. You'll just have to make it and see for yourself!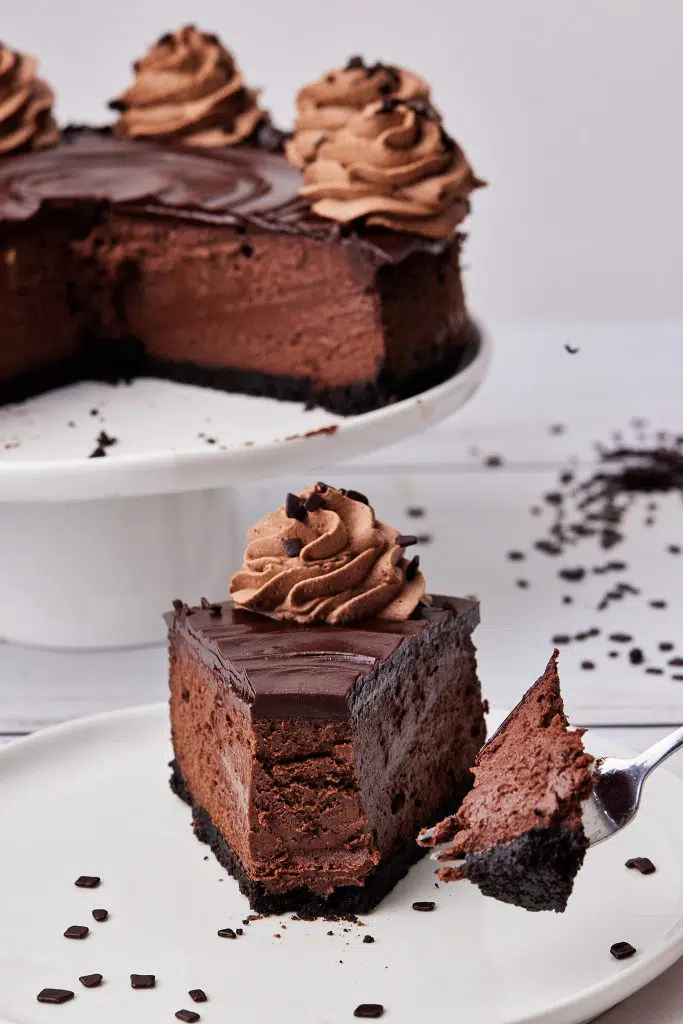 Ingredients for Chocolate Cheesecake
Even though this is a very special recipe, the ingredients for this chocolate cheesecake are pretty basic.
Cream Cheese - Of course you can't make a cheesecake without cream cheese. I used Philadelphia, but other brands will absolutely work, just make sure they are the thick kind of cream cheese, not too runny. Two 250g bricks of cream cheese work perfectly for this recipe.
Chocolate - As I mentioned above, you don't want to scrimp on ingredients for this recipe. You should absolutely use dark chocolate here, at least 70%. Using milk or semi-sweet just won't give the same indulgent taste. Even if you don't like dark chocolate, I recommend using it. The darkness is toned down substantially by all the creamy ingredients in the chocolate cheesecake.
Sugars - I used a blend of white sugar and golden sugar for a touch of interest, but you can substitute for all white sugar if you like here, it won't massively alter the recipe.
Eggs - You want to use large eggs here. I always use free-run eggs - a) because I don't believe in battery hens. We always used free-run eggs in the bakery, even when we were going through hundreds of eggs a day. And b) even if you don't care about the chickens, happier hens will always produce higher quality eggs. Your chocolate cheesecake will thank you.
Whipping Cream - or heavy cream or double cream, depending on where you are in the world. Fun tip for measuring cream - cream measurements read almost exactly the same for millimeters and grams. So if a recipe states 100ml, you can weigh out 100g and it will be nearly perfect, and vice versa.
Cocoa Powder - Although we have real chocolate in this chocolate cheesecake recipe, the cocoa powder just gives it that punch of extra chocolate flavour.
Oreo Crumbs - An oreo crust works wonderfully with this cheesecake. You can either buy pre-crushed oreo crumbs, or you can just buy a packet of Oreos and bash them to bits in a bag with a rolling pin. You could also use a food processor, but I feel that the bag bashing is way more fun...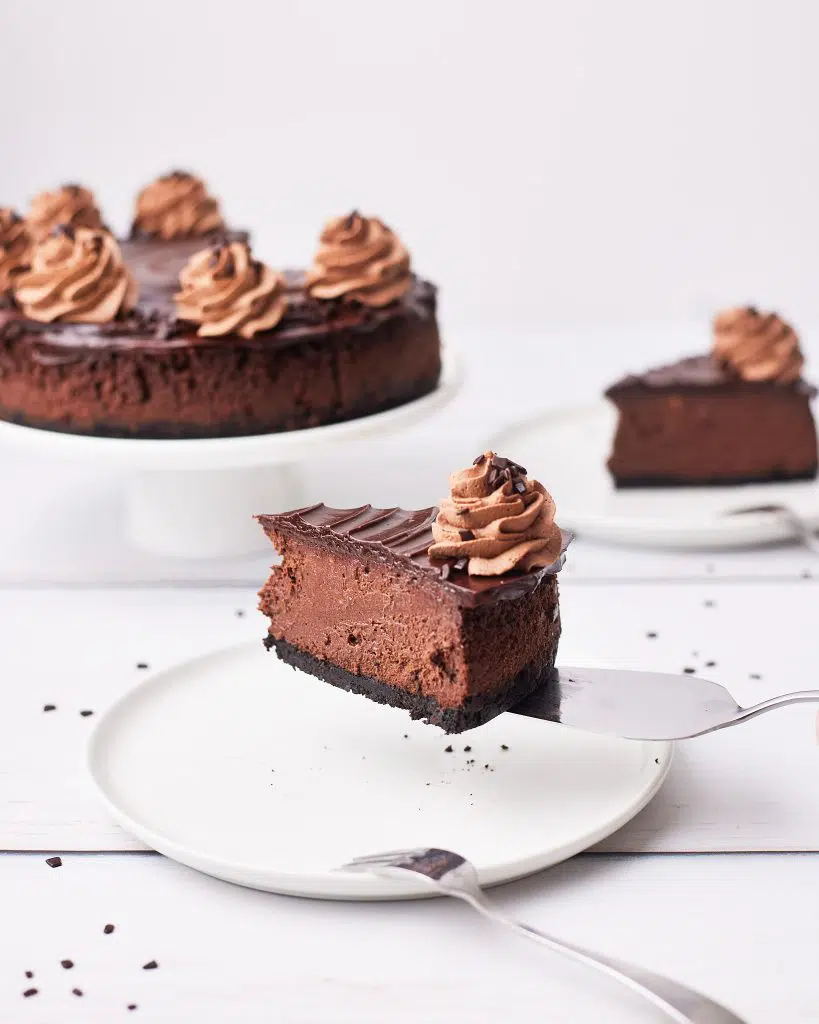 How to Make Chocolate Cheesecake
Some tips for making the very best chocolate cheesecake:
Wrap your cake pan VERY well in aluminium foil so there is no chance of water leaking in from your water bath. Make sure you cover it from every angle - nobody wants a soggy bottom!
Bake the oreo crust for 10 minutes before adding the cheesecake mix. I used to skip this step as it seemed unneccesary, but I find that that 10 minutes of baking makes the oreo crust hold together so much better when slicing the chocolate cheesecake later on
Make sure your cream cheese is at room temperature before starting. This really goes for all your chilled ingredients. But especially the cream cheese or it will be very difficult to blend everything together properly
Scrape down the sides of the bowl regularly while mixing ingredients together. This goes without saying, but with this recipe I do it a little more than usual. We need everything to be smooth and combined very well at each stage
Tap your cheesecake on your work surface several times before putting into the oven. Once you have poured your batter into your pan, just give it a few taps. Not too aggressive, just lift it off the surface about 1cm and let it drop. This will get rid of any air bubbles to make sure you have a nice smooth top to your chocolate cheesecake
Don't overbake your cheesecake! People often keep baked cheesecakes in the oven for far too long for fear of them not being baked enough. See the section below about how to know when a baked cheesecake is done
Do not try to slice your cheesecake before it is properly set and chilled. This is a long process but it's so worth it. If you don't cool and chill your cheesecake sufficiently, you'll end up with a gooey mess when you try to cut into it.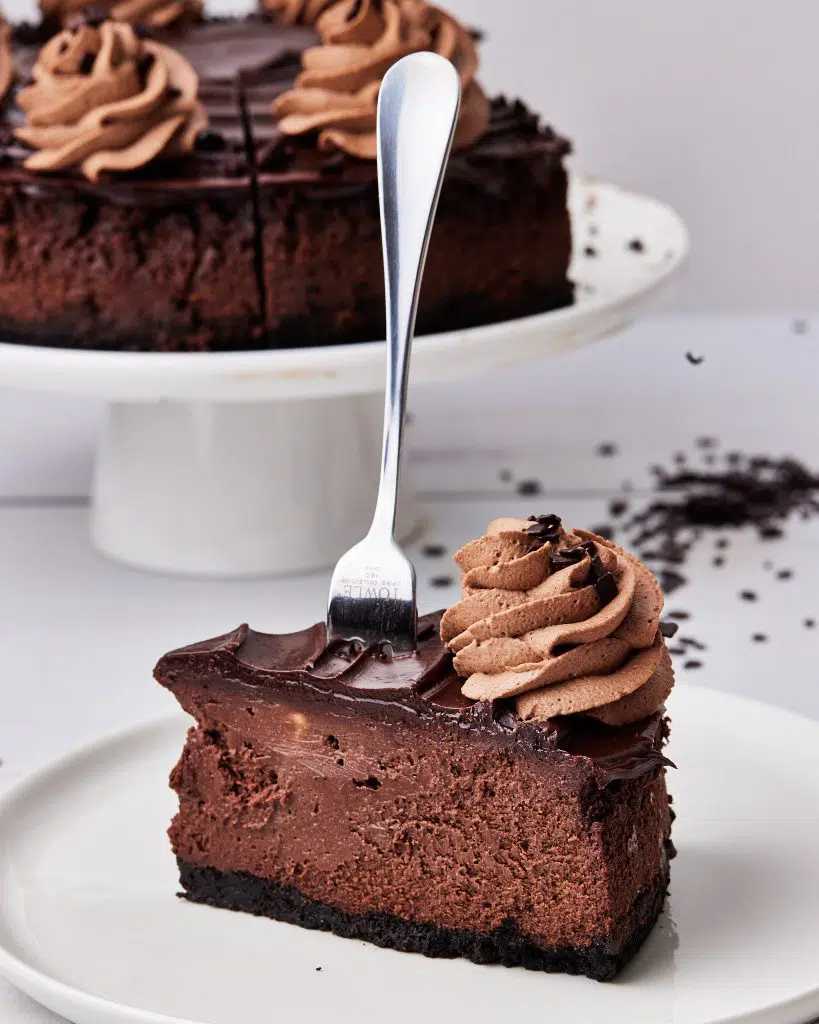 Do I need to use a water bath for Chocolate Cheesecake?
Whether or not you need to use water bath is entirely up to the result you want to achieve. For the best results I highly recommend always using a water bath when baking cheesecakes, it will give that smooth, silky, creamy texture that you want from the best cheesecake recipes. However, if you really can't be bothered, this chocolate cheesecake will still be delicious without the water bath, it just won't look quite as 'finished' and may have a couple of cracks along the top. If you plan to cover it in chocolate ganache like I did, the cracks don't really matter, but the texture will likely be a little more 'crumbly' than silky. So if you want the best chocolate cheesecake, use a water bath.
How to know when a baked cheesecake is done
Knowing when a baked cheesecake is done and ready to come out of the oven is an important skill in any keen baker's repertoire. Take it out too soon and your cheesecake won't set but take it out too late and the cheesecake will be crumbly and dry. Just relying on recipe bake times isn't always accurate, as it depends on a number of factors such as the heat distribution of your oven, how big your cake pan is, how. much of the cheesecake batter you couldn't resist eating while preparing it... Any number of things can alter the bake time, so it's important to be able to know when to take baked cheesecakes out of the oven.
The key thing to look for is that the cheesecake will be 'set' (as in not liquid anymore) but will still be jiggly in the centre, and so may LOOK underbaked - when in actual fact it's ready. This is the big mistake a lot of people make, they think it needs longer and they leave it in until the middle stops jiggling. The thing is, the cheesecake will continue to bake after you remove it from the oven, and then this will set further as it cools and then firm up even more as it chills.
If you think it may be ready, give it a little wobble. The edges of the cheesecake should be fairly still, but the middle will still jiggle around. If it's at that stage, you can also very gently touch the centre of the cheesecake to make sure it's not liquid. If a light touch doesn't leave anything on your finger, it's probably ready - take it out!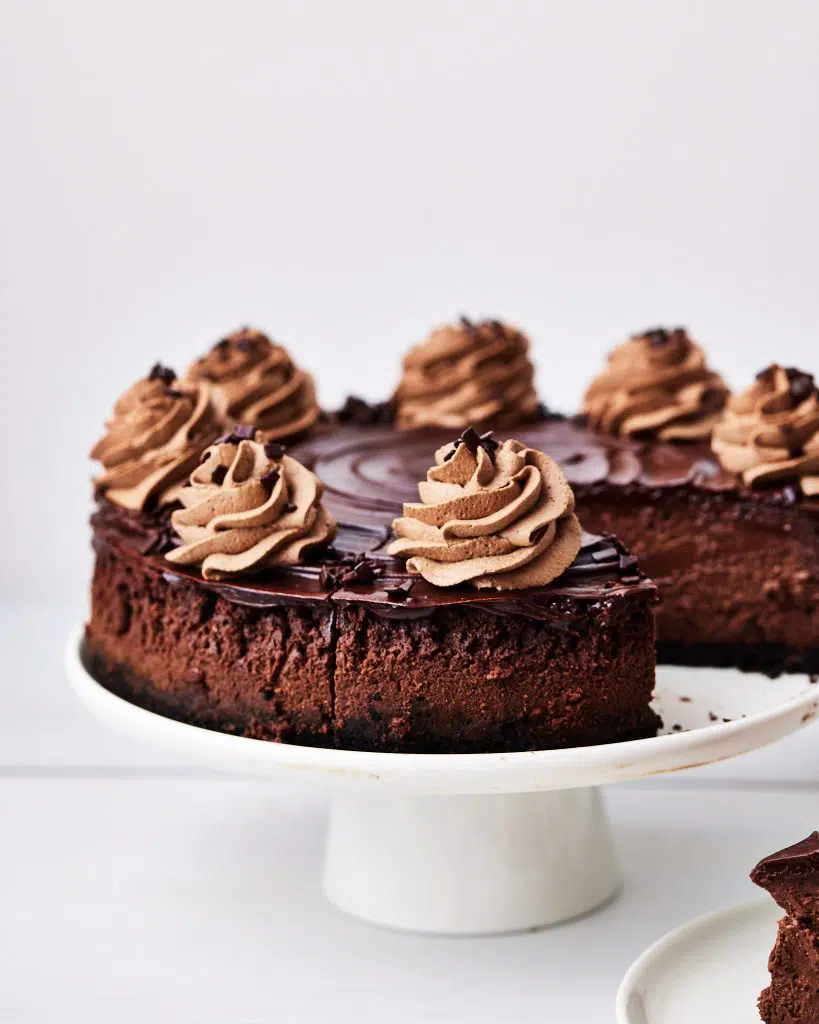 How to decorate Chocolate Cheesecake
As I mentioned above, this chocolate cheesecake is great on it's own, you don't need to add any of the fancy stuff on top, but by god is it worth it! But there are a number of things you can do.
If you want to decorate exactly as I did:
Make your chocolate ganache and wait until it has been cooling for about 30 minutes, it should be fairly stiff but still 'liquid'. Think like the consistency of really thick custard. Basically, the goal is that you can smooth it over your cake, but it isn't going to run down the edges. To test it, run your spatula across the middle of the bowl to make a parting, if it takes a second to fill back in - it's ready!
I dolloped the ganache right on top of my chocolate cheesecake and smoothed it out with a small spatula. Then once it was all smooth, I start spinning the plate around while holding the very edge of my spatula at an angle to the ganache, making a small dent and moving out slowly to create the spiral effect.
I then piped the chocolate whipped cream rosettes around the outside, roughly where I knew my slices would be and sprinkled with little chocolate flakes. A simple method with a really professional result.
Every Chocaholic's Dream
It's no secret that we love chocolate here at Bonni Bakery. In fact, most of the time when I'm deciding what to bake I have to remind myself that not EVERY recipe can be chocolate! We have a lot of great chocolate recipes for baking chocolate goods, such as my Ultimate Chocolate Brownies and my Molten Chocolate Lava Cakes (one of the most popular recipes on the blog!).
So with that love of chocolate, you can take me very seriously when I say THIS chocolate cheesecake recipe is the dessert for any chocoholic!
Recipe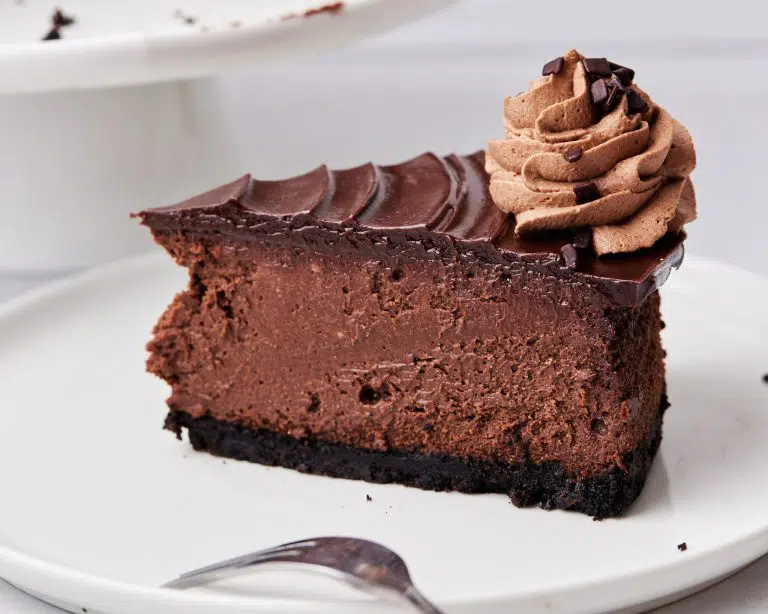 Baked Chocolate Cheesecake
Ingredients
For the crumb base
1.5

cups

Oreo Crumbs

¼

cup

Butter
For the Chocolate Cheesecake
500

g

Cream Cheese

2 x 250g packs (room temperature)

¾

cup

White Sugar

¼

cup

Golden Sugar

(light brown sugar)

3

Eggs

2

Egg Yolks

1

tablespoon

Vanilla Extract

3

tablespoon

Cocoa Powder

½

cup

Whipping Cream

255

g

Dark Chocolate
For the Chocolate Ganache
½

cup

Whipping Cream

1

cup

Semi-sweet Chocolate
For the Chocolate Whipped Cream
1 ½

cups

Whipping Cream

cold

1

tablespoon

Vanilla Extract

3

tablespoon

Cocoa Powder

3

tablespoon

Icing Sugar
Instructions
Make the crumb base
Preheat oven to 325°F / 160°C

Line the outside of your cake pan with several layers of aluminium foil. It's going into a water bath so needs to be watertight from the bottom!

Melt the butter and pour into the oreo crumbs

1.5 cups Oreo Crumbs,

¼ cup Butter

Mix together until totally combined, then pour into the prepared cake pan and smoosh it evenly along the bottom

Bake for 10 minutes. Remove from the oven and set aside, but leave the oven on for the cheesecake going in
Make the Chocolate Cheesecake
Melt chocolate in the microwave at 30-second increments until totally melted, then set aside

Beat the cream cheese with both the sugars until smooth

500 g Cream Cheese,

¾ cup White Sugar,

¼ cup Golden Sugar

Beat in the eggs, egg yolks and vanilla until combined

3 Eggs,

2 Egg Yolks,

1 tablespoon Vanilla Extract

3 tablespoon Cocoa Powder

Slowly add in the cream and mix until combined

Scrape down the sides of the bowl and make sure there are no big clumps, then beat the mixture for about 30 seconds to make sure everything is smooth and combined

Pour in the melted chocolate and mix until totally incorporated

Pour into the cake pan over the baked crumb base and tap on your work surface a few times to release any bubbles

Place inside a roasting dish and pour hot water into the dish until it comes about an inch up the side of the cake pan. (This is why it's super important your cake pan is well wrapped in aluminium foil - otherwise, the water will leak into the cheesecake!)

Bake for 50 minutes - 1 hour. The centre of the cheesecake will still be jiggly, but will be set to the touch. Remove from the oven and allow to cool completely

Once cooled, place cheesecake into the fridge and allow to chill for at least 4 hours, or overnight if you have time
Make the Chocolate Ganache
Chop chocolate into small pieces and put in a bowl

1 cup Semi-sweet Chocolate

Heat whipping cream in a saucepan until scalding (just starting to form tiny bubbles)

Remove from the heat and pour over the chocolate, let sit for 1 minute

Stir until chocolate is totally melted and everything is silky and smooth

Let cool until it is set enough not to run off the edge of the cheesecake
Make the Chocolate Whipped Cream
Whip cream until soft peaks form

Add in the vanilla, cocoa and icing sugar and continue to whip until stiff peaks form

1 tablespoon Vanilla Extract,

3 tablespoon Cocoa Powder,

3 tablespoon Icing Sugar
Nutrition
Calories:
647
kcal
Carbohydrates:
52
g
Protein:
9
g
Fat:
46
g
Saturated Fat:
25
g
Polyunsaturated Fat:
3
g
Monounsaturated Fat:
14
g
Trans Fat:
1
g
Cholesterol:
158
mg
Sodium:
292
mg
Potassium:
397
mg
Fiber:
4
g
Sugar:
37
g
Vitamin A:
1088
IU
Vitamin C:
1
mg
Calcium:
99
mg
Iron:
6
mg