If you've been searching for the ultimate chocolatey treat - your search is over! People lined up out the door of our bakery to get their hands on these brownies - and for good reason! They are perfectly fudgy and crumbly at the same time, they have a deep, craving-satisfying chocolate flavour that makes you close your eyes and say 'mmm!' when you first bite into them, and they are absolutely chock full of both semi-sweet and milk chocolate chunks so that every single bite is different and wonderful. For a chocolate fix, these brownies are seriously hard to beat.
Cocoa Powder vs Melted Chocolate
For most things I am an advocate of using real chocolate in my baking, but when it comes to brownies it actually pays off to use cocoa powder instead. The fats in chocolate are fantastic when they are warm, but when the brownies come down to room temperature, the fats solidify and you lose that wonderful fudginess that you want in a brownie. That's why so many brownies seem dry only a few hours after baking. But if you use cocoa powder instead and replace the fat with butter, butter stays soft at room temperature and so maintains the lovely fudgy consistency. And don't worry about flavour, this recipe has a wonderfully rich, deep chocolate flavour - I promise you won't be disappointed!
How to Know When Brownies are Baked
It can be tricky to tell when brownies are properly baked. Over-bake them and they'll be too dry and cakey - under-bake them and they will be a sticky mess and sink in the centre. There are a few telltale signs though that let you know they are ready to come out the oven.
The standard 'insert a toothpick and see if it comes out clean' test won't work on brownies, as a good brownie which is fudgy in the middle will still be a little gooey when it's hot.
You should see a smooth kind of topping form on the brownies as they bake, it will start off glossy and a little 'wet' looking. Once this smooth topping looks shiny but dry, the brownies are ready.
If you shake the pan gently, there may be a very slight wobble in the middle, but the mixture should seem mostly set and all moving together as one.
The very edges of the brownie will look more done than the middle and they will start to move away from the edges of the pan slightly once they are baked.
If you start to see small cracks forming on the surface of the brownie, this is another sign they are ready - take them out right away.
Recipe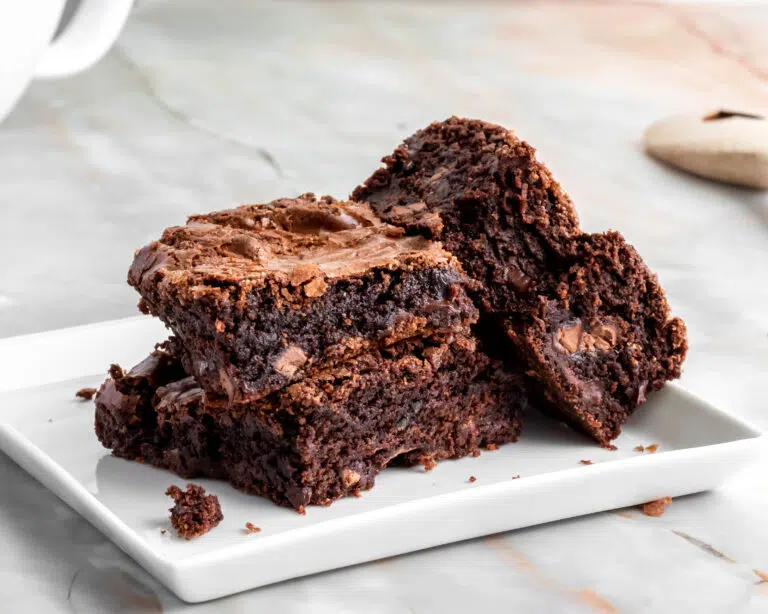 Ultimate Chocolate Brownies
Ingredients
1 ¾

sticks

Unsalted Butter

1 ½

cups

White Sugar

(caster sugar in the UK)

3

Eggs

½

cup

Cocoa Powder

¾

cup

All-purpose Flour

2

teaspoon

Baking Powder

¼

teaspoon

Baking Soda

1

tablespoon

Vanilla Extract

1

teaspoon

Salt

2

tablespoon

Vegetable Oil

1

cup

Semi-sweet Chocolate Chunks

1

cup

Milk Chocolate Chunks
Instructions
Preheat oven to 350°F and line a 9 inch square baking pan

Whisk the eggs and sugar together until it looks like a thick custard

Melt the butter in the microwave and add to the egg/sugar mix, continue to whisk

Sieve the flour, cocoa powder, baking powder, baking soda and salt into a large bowl, then fold into the batter

Add the vanilla and vegetable oil and fold until just combined

Add the chocolate chunks and stir into the batter

Pour batter into prepared baking pan and smooth out the top

Bake for 20 minutes or until the top looks dull and a skewer comes out mostly clean

Allow to cool completely in the pan before removing and slicing