Prinzregententorte is a traditional German layer cake consisting of eight layers of fluffy Genoise Sponge sandwiched with a smooth, creamy Chocolate German Buttercream and topped with a poured chocolate ganache. It's delicious and chocolatey, but not too rich.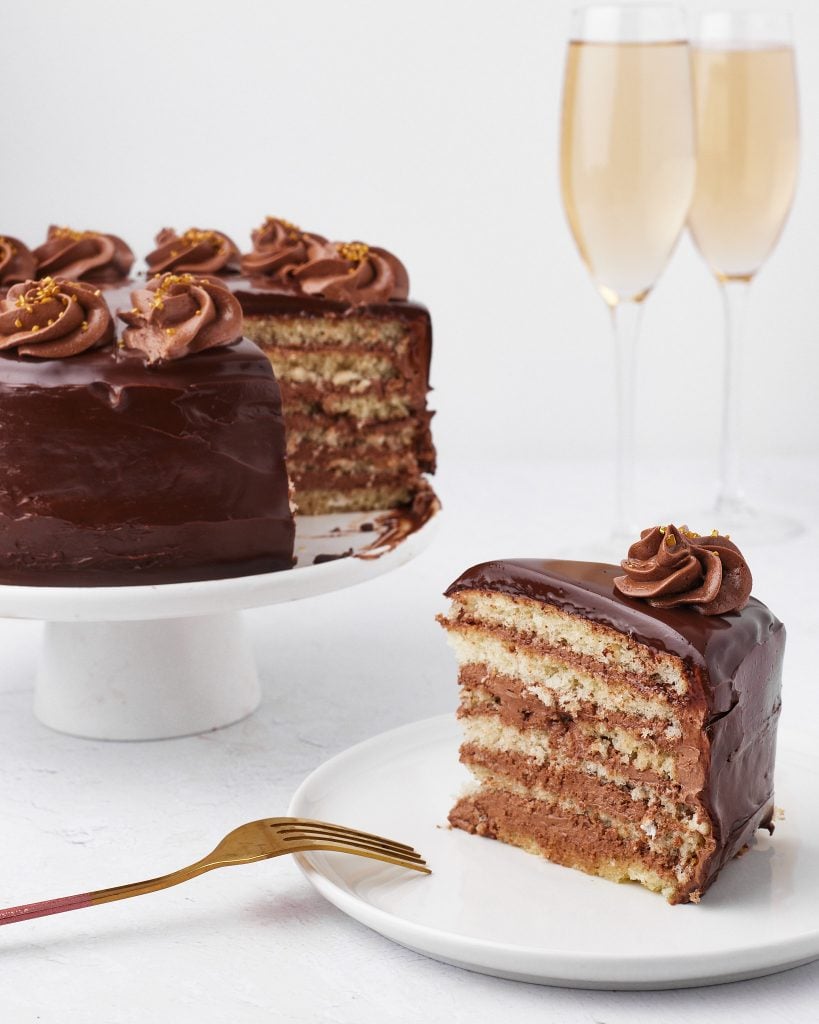 I had never heard of this until this week's Great British Bake Off episode had 'German Week' and asked the bakers to make this Prinzregententorte for the technical challenge. But I'm so glad I know about it now!
What is Prinzregententorte?
Prinzregententorte is a traditional German dessert from Bavaria. It was named after Luitpold, prince regent of Bavaria from 1886 and its 8 layers of cake and buttercream represent the eight districts of Bavaria. There are now seven districts so is now often made with seven layers, but the cake should have a minimum of six layers to be considered a Prinzregententorte.
The layers themselves consist of:
Genoise sponge - a very light Italian sponge made by whipping eggs to create air.
Chocolate German Buttercream - a deliciously creamy chocolate custard buttercream
Ganache - a basic ganache poured over to create a shiny, smooth surface
It all comes together to create a sophisticated and elegant dessert that is delicious but not overpoweringly sweet or rich. It also cuts like a dream as you run your fork through it and it's very easy to eat since it's not too decadent. Prinzregententorte is, in my opinion, the epitome of German Layer Cakes.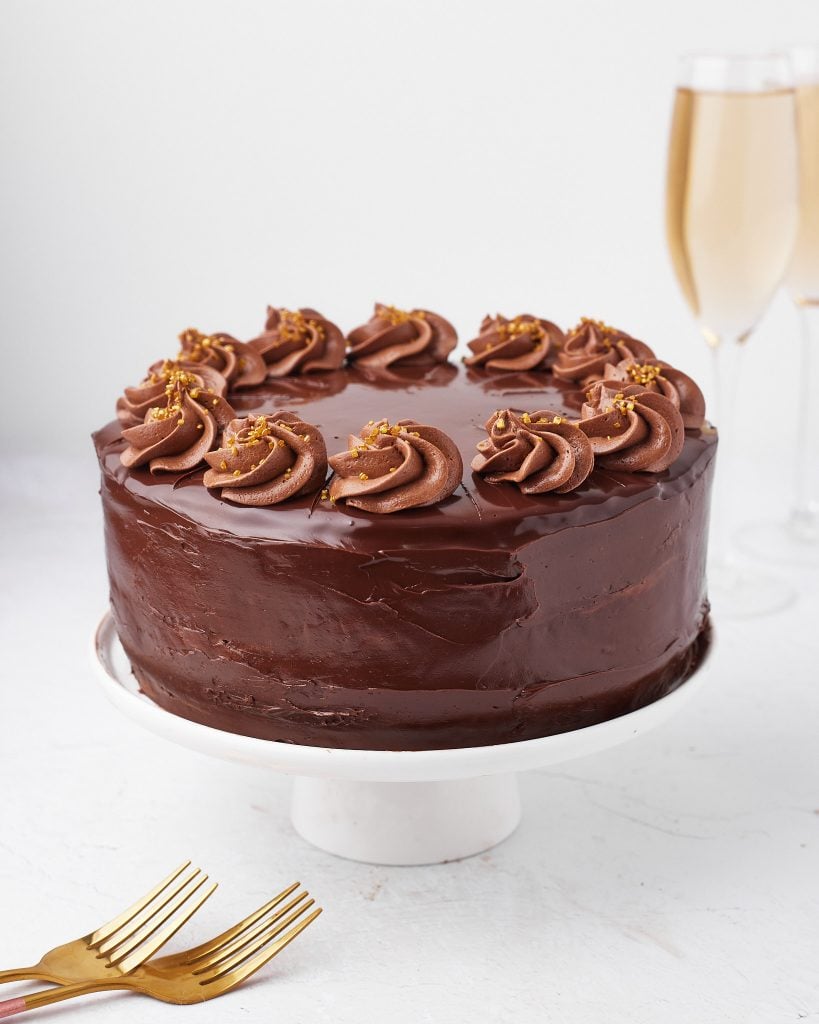 Great British Bake Off Bake Along
This Prinzregententorte is part of my GBBO Bake Along where I'm attempting to make a recipe from one of the challenges each week of the Great British Bake Off. As this bake was a technical challenge, there is already a fantastic recipe out there for Prinzregententorte from Prue Leith, so I wanted to see how I could make a slightly easier process and tweak the recipe for at-home bakers.
If you'd like to try my other GBBO Bake Along recipes, check out my Brandy Snaps with Amaretto Cream or Pumpkin Pavlova.
How Prinzregententorte is Traditionally Made
Traditionally, and in the Bake Off, you are supposed to spread the genoise cake batter into very thin circles on your baking parchment, kind of like a crepe, and bake the layers off individually to create beautifully thin layers for the Prinzregententorte. The trick with this is to be able to make every single layer exactly the same thickness and size so they come out evenly in the end result. Also, you must bake every layer to precisely the same level, otherwise, your Prinzregententorte will turn out with different coloured layers.
My Easier Method of Making Prinzregententorte
The traditional method of making Prinzregententorte just sounded like way too much faff for me and too much opportunity for things to go wrong. So I made a simplified recipe that allows you to bake two large layers of genoise sponge and then slice them very thinly to create the same effect. It means every layer will be the same size without having to measure any batter, and everything bakes at the same time so they are guaranteed to all be the same colour.
The most important thing to be aware of when using this easier method though is that you really need to get the layers as thin as you possibly can. I used a cake leveller to make sure my layers well all perfectly even and flat. If you don't have a cake leveller you could also use a serrated knife and use something as a guide on either side of the cake to keep it level.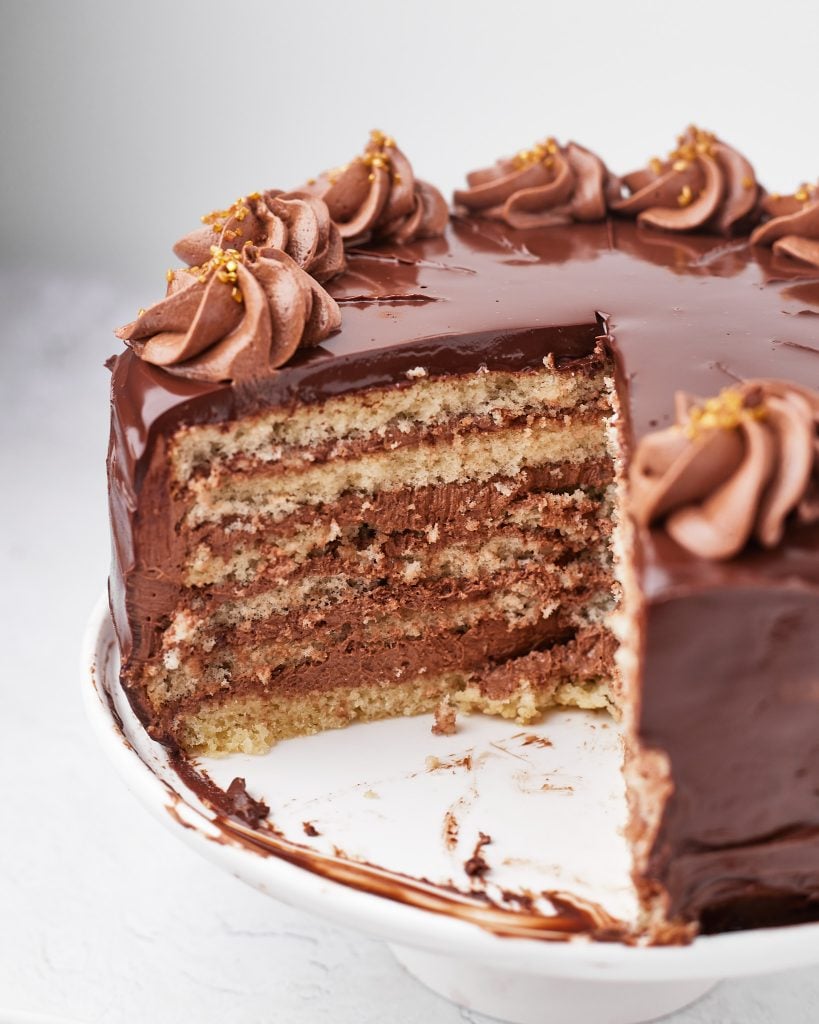 What is Genoise Sponge?
Genoise sponge is an Italian sponge cake named after the region of Genoa in Italy. It is very popular in a lot of French and Italian patisserie as it is an incredibly light cake which is fantastic when paired with all kinds of syrups, creams, frostings and fillings. It is made with absolutely no leavening agent (such as baking powder or baking soda) and all the air in the genoise sponge comes from whipping the eggs together like crazy. The genoise sponge makes a fantastic base for the Prinzregententorte as it can stack up with the Chocolate German Buttercream and is light enough not to squish or cave under the weight. It also has a subtle flavour which shows off the chocolate custard taste of the buttercream better. Read more about Genoise Sponge here.
What is Chocolate German Buttercream?
Chocolate German Buttercream is potentially my new favourite frosting! It's a twist on my classic German Buttercream which is pastry cream (custard), whipped into butter and icing sugar to make a deliciously smooth and sophisticated frosting. The Prinzregententorte called for CHOCOLATE German Buttercream so I was very excited to adapt that recipe to make a chocolate version. The Chocolate German Buttercream is made by beating cocoa powder into the butter and sugar before adding the pastry cream and then whipping melted dark chocolate into the frosting. It is absolutely divine!
How to Assemble Prinzregententorte
The assembling of a Prinzregententorte is super simple. Grab a cake pan the same size as your cake layers - make sure it's a tall one. Start by placing a layer of genoise sponge in the bottom of the cake pan, then dollop some of the Chocolate German Buttercream on top and smooth it out as evenly as you can. You want to use just enough frosting so that the buttercream layer is the same thickness as the sponge. Repeat this with every layer until the very top, which should finish in just bare sponge at the top. I actually ran out of room in my cake pan as I didn't use one that was tall enough, so my Prinzregententorte only had six layers instead of eight! But I mean who's counting...?
Once you have all the layers assembled, put the cake in the fridge to chill for about 30 minutes. After 30 minutes, you should be able to remove it from the cake pan. I found it easiest to use a loose-bottomed cake pan so I could just push the whole thing up and out. But if you don't have a loose-bottomed cake pan you can just turn it out gently like a regular baked cake. Smooth a small amount of German Buttercream Frosting all over the cake to create a crumb coat and give a nice smooth surface for our ganache, then put it back in the fridge to chill while you make the ganache.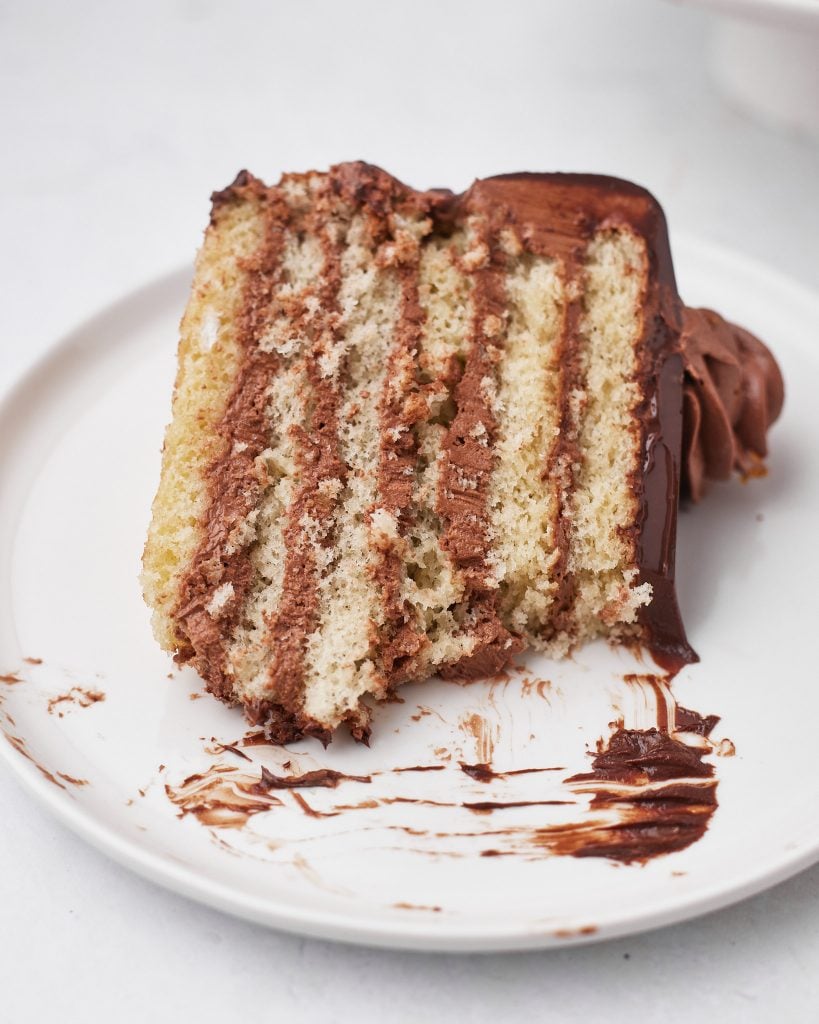 How to Decorate Prinzregententorte
Ready to decorate your Prinzregententorte? This is the really fun part! The ganache on a Prinzregententorte is poured to create a beautiful smooth and shiny finished look. Once your ganache is ready, you want to prepare your cake for pouring. I had my cake on a cardboard cake circle and then placed that on top of a glass. You could also use the base of your cake pan, or just put the cake on a wire rack. The goal here is to allow the ganache to drip off the sides of the cake without pooling at the bottom and creating a big mess. Make sure you also put a sheet pan or something underneath to collect all the extra ganache, otherwise you'll have a pretty hefty cleanup job on your hands!
Once you are all set up and the ganache is at the right temperature (about 89°F / 32°C), you can pour it on. Try and keep a steady stream and make sure you move around so you cover all sides of the Prinzregententorte. It should just glide beautifully down the sides. Empty the whole bowl of ganache onto the cake and then let it just drip off and set up. If the sides look uneven or you have missed a spot, you can run a palette knife around it gently to smooth it out. I don't advise touching the top as you may ruin the beautiful shiny surface!
Let it sit for 10-15 minutes. About halfway through you can mark the top of the cake to show where your slices will be. I have this handy cake portioner which I LOVE. But you can also just use a knife and eyeball it. Once the ganache has set, use some of the reserved Chocolate German Buttercream to pipe a rosette on each slice.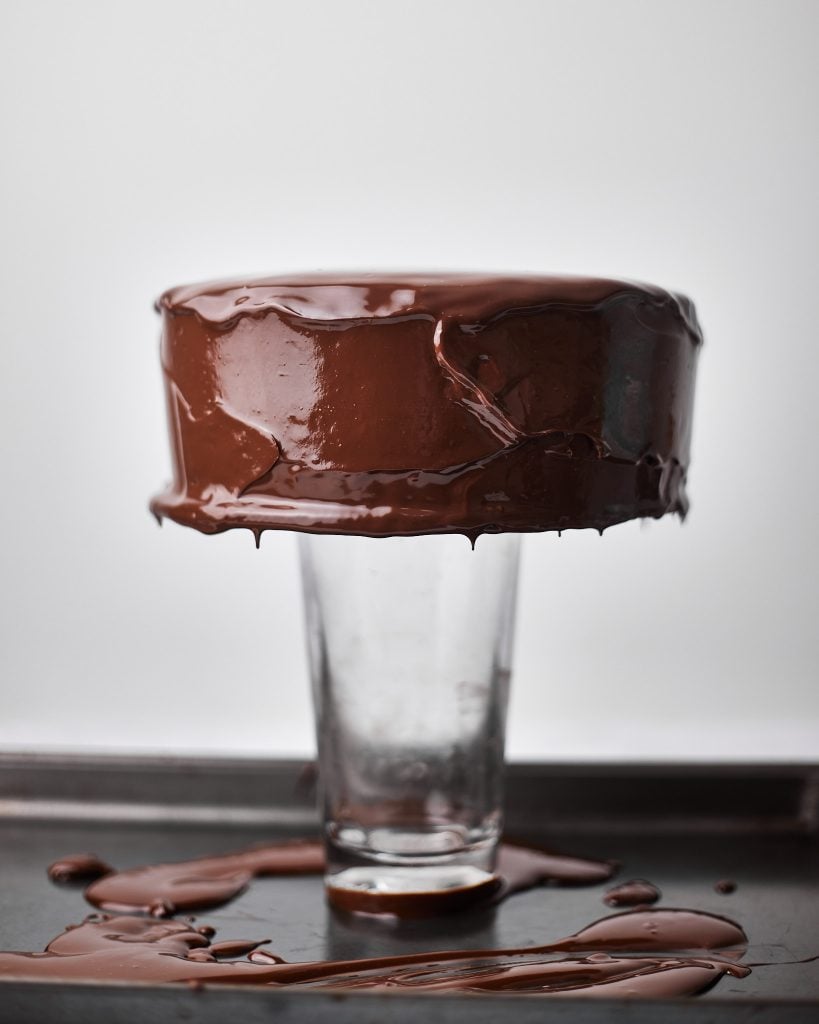 How to Slice Layer Cakes Perfectly
You don't want to go to all the trouble of making these beautiful layers just to destroy them when you cut into the cake. Here is my trick for getting perfect slices of cake every single time. Get a tall glass or jug of hot water - very hot like just from the kettle. Use a long sharp knife and soak it in the hot water to heat the metal. Remove the knife from the hot water and give it a quick wipe with a paper towel, then make your cut slowly and confidently. Make sure you rest the knife down with the tip right in the middle of the cake so it goes all the way through in one try. Then put the knife back in the hot water and repeat for every single slice. It's worth the hassle! Especially for something like a Prinzregententorte where you want to show off those gorgeous layers!
Recipe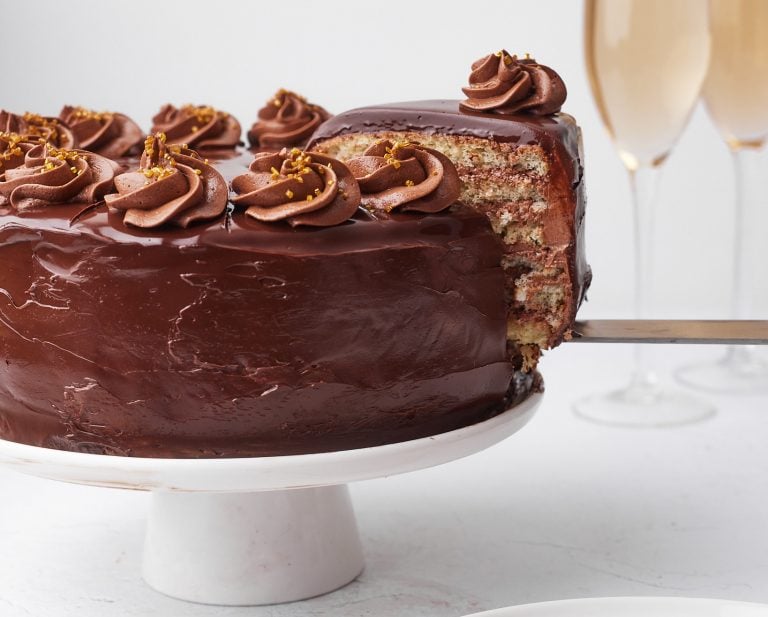 Prinzregententorte
Thin layers of genoise sponge and chocolate custard buttercream make up this traditional german cake
Equipment
Stand Mixer with Whisk attachment
Ingredients
9

Eggs

1 ¼

cups

White Sugar

2

cups

Cake Flour

⅓

cup

Vegetable Oil

1

teaspoon

Vanilla Extract
Instructions
Preheat oven to 325°C / 160°C and line two 8 inch cake pans.

(For more information on making genoise, check out my genoise cake recipe post)

Put the eggs and sugar into a large heatproof bowl and whisk together

Place bowl over a pot of simmering water to warm the mixture while you whisk

Heat until all the sugar is dissolved and the mixture feels slightly warm to the touch (just above body temperature). If using a thermometer, you want it to reach 120°F / 40°C

Move the mixture to a stand mixture an whip on the highest setting for 5 full minutes

After 5 minutes, turn the mixer down to a medium speed and whip for a further 10 minutes

Sift flour into the mixture gradually and fold it in very gently, it's crucial you don't knock too much air out of the batter

Put oil and vanilla in a small bowl, then add a dollop of the cake batter to the oil (about the size of an apple). Mix it together thoroughly to incorporate the oil into the batter, then pour back into the cake batter and very gently fold in

Pour batter into cake pans and bake for 25-30 minutes or until the sponge is springy and bounces back when you press it

Remove from the oven and flip the pans upside down onto a cooling rack or piece of parchment paper and allow to cool entirely in this position. While it's cooling you can make the Chocolate German Buttercream
Assemble the Prinzregententorte
Once the sponges are completely cooled, cut them into extremely thin layers, as thin as you can get them. I find it easiest to use a cake slicer, but you could use a serrated knife

Take your prepared chocolate german buttercream and a small amount of it aside - enough to pipe rosettes on top of the cake at the end

Place a layer of sponge in the bottom of a tall cake pan, put some of the chocolate german buttercream on top and smooth it out evenly. You want to use just enough buttercream that you can achieve a layer roughly as thick as the sponge

Repeat until the last layer which should just be plain sponge with no buttercream on top. Traditionally, Prinzregententorte should have eight layers of sponge (mine only had six as I ran out of room in my cake pan!)

Place cake in the fridge to cool for 30 minutes

After 30 minutes, remove the cake from the pan carefully

Smooth a small amount of chocolate german buttercream all over the cake to lock in the crumbs and create a smooth base

Place cake in the fridge to chill until ready to decorate
Make the Ganache
Chop up chocolate and place in a bowl

Heat cream in a saucepan until scalding (tiny bubbles form before it gets to boiling temp)

Pour the cream over the chocolate and stir together until all the chocolate has melted and it is smooth and glossy

Add the butter and stir until combined

Let the mixture cool for about 15 minutes so it can reach a good pouring consistency. It should be slightly thicker but still liquid enough to pour smoothly. The ideal temperature is 89°F / 32°C if you are using a thermometer
Decorate the Prinzregententorte
Remove cake from the fridge and prepare it for ganache pouring. You can either keep the cake on a cardboard cake circle or the base of a cake pan and put it on a glass, or you could put the cake on a wire rack, you just want to be able to let the ganache drip down the sides of the cake without pooling at the bottom. Also make sure you have a sheet pan or something underneath to collect the ganache that drips

Pour the ganache over the cake, ensuring it covers all sides

Let it set up for about 15 minutes. About halfway through, you can mark the top of the cake with where your slices will be

Put the reserved chocolate german buttercream in a piping bag with a star nozzle and pipe a rosette on each slice of the cake

To slice, run a sharp knife under hot water to heat the metal, then wipe off with paper towel and make a steady cut into the cake. Repeat with every single slice you make so that the slices are clean and the layers stay defined
Nutrition
Calories:
398
kcal
Carbohydrates:
45
g
Protein:
8
g
Fat:
21
g
Saturated Fat:
11
g
Polyunsaturated Fat:
1
g
Monounsaturated Fat:
6
g
Trans Fat:
1
g
Cholesterol:
160
mg
Sodium:
69
mg
Potassium:
205
mg
Fiber:
2
g
Sugar:
25
g
Vitamin A:
579
IU
Vitamin C:
1
mg
Calcium:
50
mg
Iron:
3
mg