I'll be honest, I didn't know if or how this Pumpkin Pavlova was going to work when I first started making it. Pavlova are famous for being a light, fresh, summery dessert, could I make a fall pavlova work? All I can say is you absolutely have to try this!
The sweet, crunchy and mallowy pavlova is topped with my latest invention - my pumpkin spice curd (which, by the way, we need to have a whole conversation about, because yum!).
The chopped pecans and chocolate shavings add a richness and texture variation that are an absolute delight, and the whipped cream just makes everything dance together beautifully in your mouth. It's somehow light and rich at the same time. The different elements are various levels of sweet so they all really balance each other out. It's also a 10/10 for mouthfeel - with all the soft, chewy, and crunchy textures going on all at the same time. I no longer consider pavlova a summertime dessert. You have to give this pumpkin pavlova a try this fall!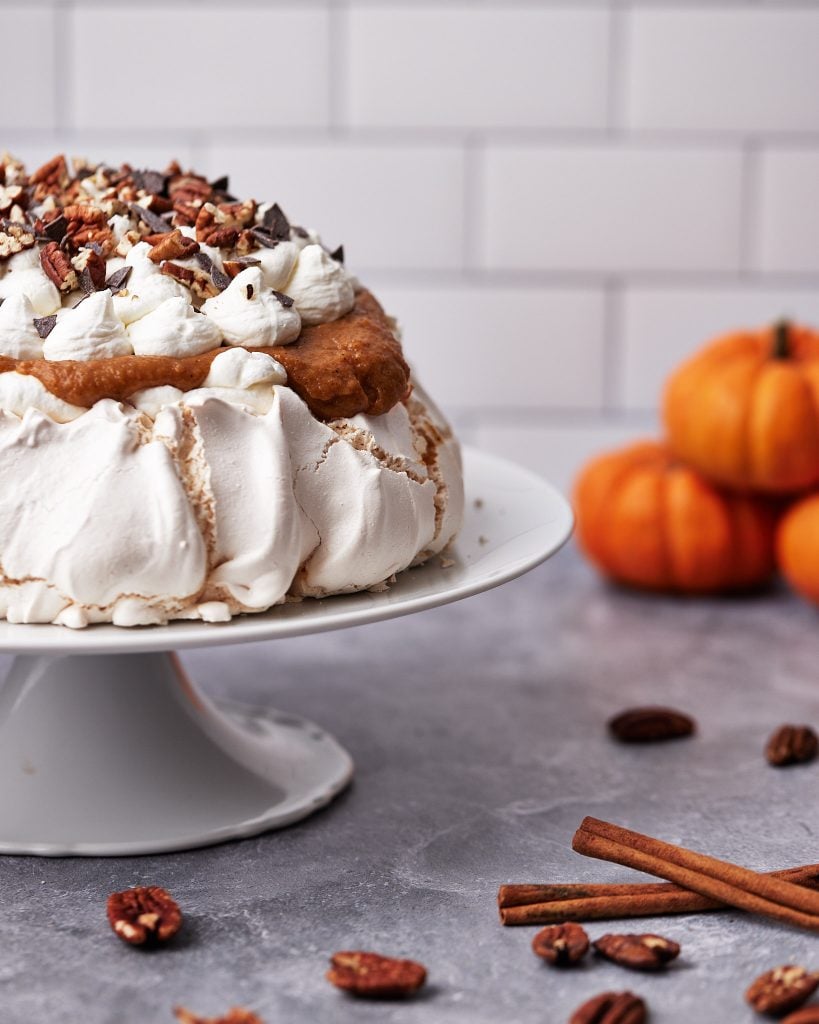 What is a Pavlova?
Pavlova is basically a giant meringue which has been baked in such a way that the outside is crunchy, sweet meringue and the inside is a wonderfully soft marshmallow texture. It is usually topped with whipped cream and fresh fruit and is a very popular dessert in Australia and New Zealand.
Great British Bake Off Bake Along
If you follow me regularly, you may know I'm doing a Great British Bake Off Bake Along this season, choosing one challenge from each episode to take on myself and develop a recipe for. This week was Dessert Week and the signature challenge was to bake a Pavlova. I wasn't very keen on making Pavlova at first, as it is typically a very summery dessert. But then I had the idea to make a perfect FALL Pavlova and the inspiration just started flowing! And so the pumpkin pavlova was born!
If you'd like to see my other #GBBO bakes so far, check out my Brandy Snaps with Amaretto Cream.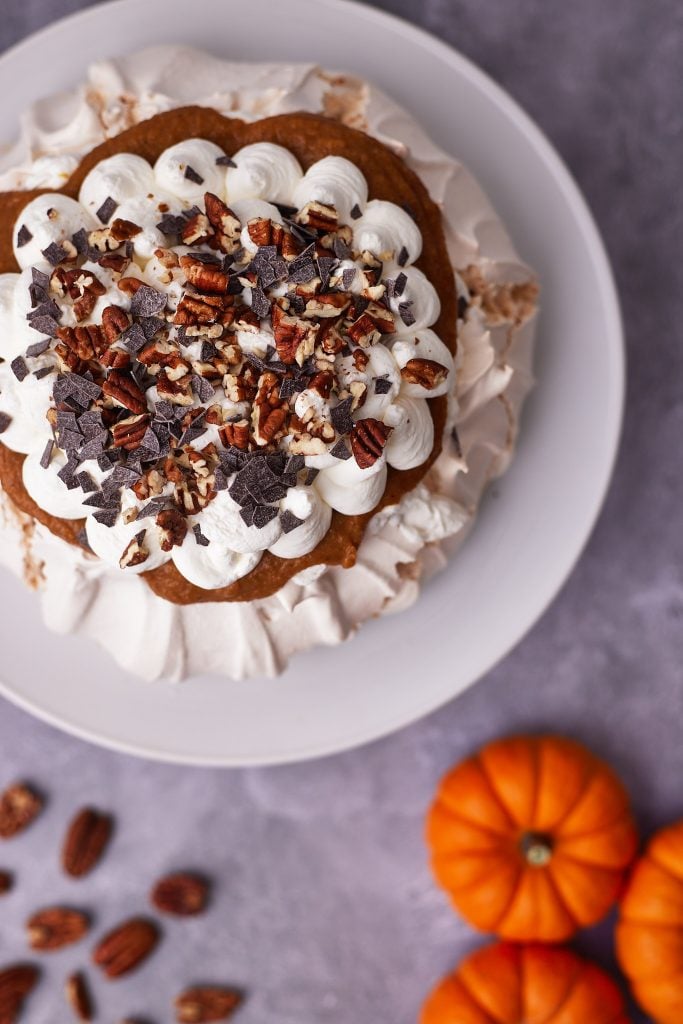 How to Make the Perfect Pavlova
It's all in the baking! At its core, Pavlova is just egg whites and sugar, like any normal meringue. But what creates the coveted marshmallowy centre is the way you bake it! Here are my tips for baking the absolute PERFECT pavlova:
Whip Slowly - When whipping up the egg whites, start on a low speed and gradually increase the speed every minute or so. This helps build a strong structure within the egg whites which will make for a better texture in your meringue
Add Sugar GRADUALLY - I cannot stress this point enough, add your sugar a tiiiny bit at a time, and whip thoroughly in between each addition. Not doing this will seriously ruin your meringue as the sugar won't be able to dissolve properly and the whole thing will be gritty. Yes it's a tedious process but you can multi-task, or just put on your favourite music and dance in between additions
Don't Stress About the Shape - Part of the beauty of a pavlova is that you never know exactly what it's going to look like. You could spend forever sculpting a perfect pavlova shape only to have it totally deform in the oven. In my experience, it's best to play with the meringue as little as possible. The more you play with it the more likely you are to develop cracks or weird deformities. The rustic shape of a pavlova is part of its charm, so just let it be what it wants to be!
Bake Slowly - Don't be tempted to crank the temperature up. The low and slow method is what makes the marshmallow magic in the centre of the pavlova. The Pavlova should not turn brown, if it does your oven is probably too hot
Leave the Oven Door Shut - The last thing you want to do is shock the pavlova with a temperature change, so leave it to cool in the oven with the door closed. It takes a long time, but it will dry out beautifully and prevent cracking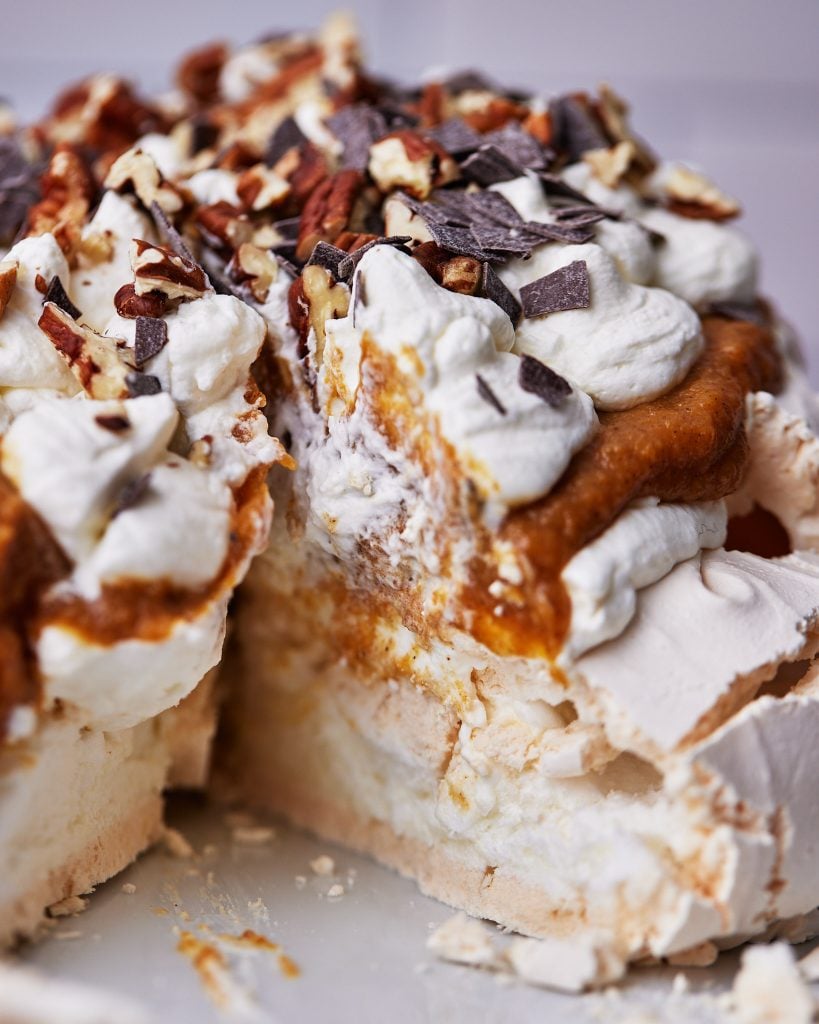 What makes this a Fall Pavlova?
The base of the pumpkin pavlova is a regular pavlova. Truth be told I actually baked two at the same time as I wasn't totally convinced that the pumpkin flavour was going to work and wanted a backup. Spoiler alert: it works VERY well.
But with the base a regular pavlova, what makes this a fall pavlova? For starters, the pumpkin spice curd is the real star of the show here. It's sweet, smooth and spicy and really just has an essence of fall flavour. I will absolutely be using this in more of my fall baking recipes! The beauty of this pumpkin pavlova is that all the ingredients kind of swirl together so every bite has that moreish pumpkin spice flavour.
Secondly, the pecans (and chocolate shavings) on top give crunch and an additional smack of fall. Originally I was going to candy the pecans, but I'm glad I didn't as their natural flavour was exactly what was needed to finish the pumpkin pavlova off perfectly.
Ingredients in Pumpkin Pavlova
Egg Whites - You can crack and separate regular eggs or you can use a carton of egg whites from the supermarket and just measure them out. The whites of one large egg is equivalent to about 30g, so just multiply the number of egg whites you need by 30g and weigh out that much
Fine White Sugar - It's very important that you don't use sugar that is too coarse or it will never dissolve. In the UK we use what we call 'caster sugar', but in other countries, you will be looking for either 'Berry Sugar' or 'Superfine Granulated Sugar'. If you can't get your hands on superfine sugar, you can give granulated sugar a quick blitz in a food processor
Cornstarch - Also known as cornflour. This combined with the white wine vinegar will help to keep the pavlova soft and give it the marshmallowy texture inside
White Wine Vinegar - if you don't have any you can substitute for lemon juice or cream of tartar
Pumpkin Spice Curd - this is a brand new recipe I just made literally as my pavlova was in the oven and it's probably going to be my favourite for a while! Think like a mango curd but with pumpkin and beautiful fall spices instead! Get the recipe for my pumpkin spice curd here.
Whipped Cream - The whipped cream brings all the other elements of this pumpkin pavlova together. I left it completely unsweetened as the meringue and pumpkin spice curd have plenty of sweetness and need something to cut through it. Don't scrimp on your whipped cream, it's an important part of the dessert!
Pecans - The pecans and chocolate shavings are totally optional, but I feel like they just add an extra something special to this pumpkin pavlova. I just chopped them up, unroasted, and sprinkled them on top of the whipped cream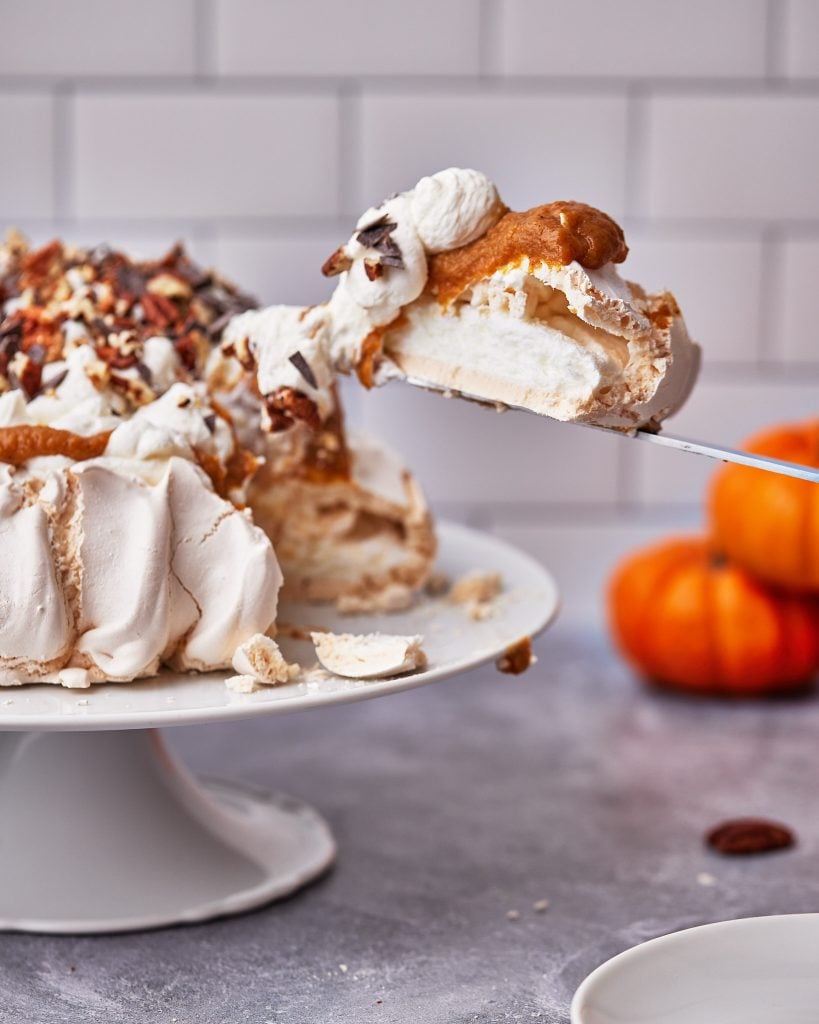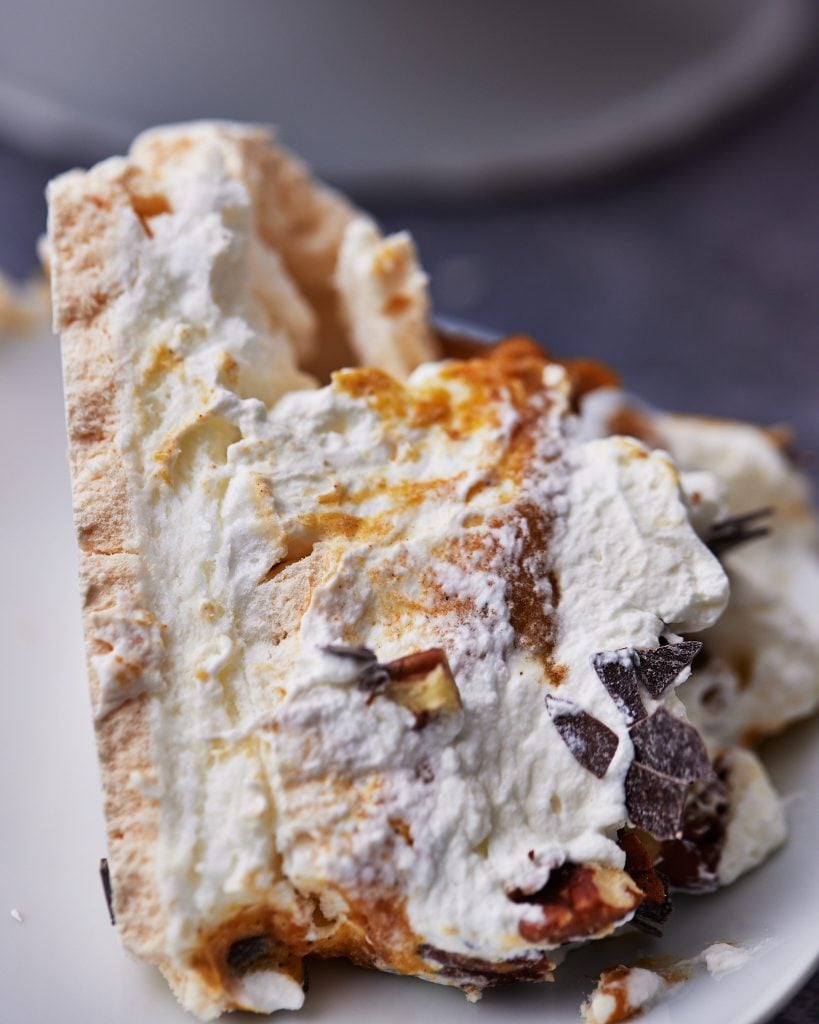 Making Pumpkin Pavlova as a Fall Dessert
Long story short, I am completely converted to thinking of this fall pavlova as a great autumn dessert! The pumpkin and the spices work so beautifully with the meringue and the cream, and the textures are just divine! SOLD.
If you are looking for some other fall baking recipes, check out my Maple Pecan Bundt Cake or my Pumpkin Spice Donuts!
Recipe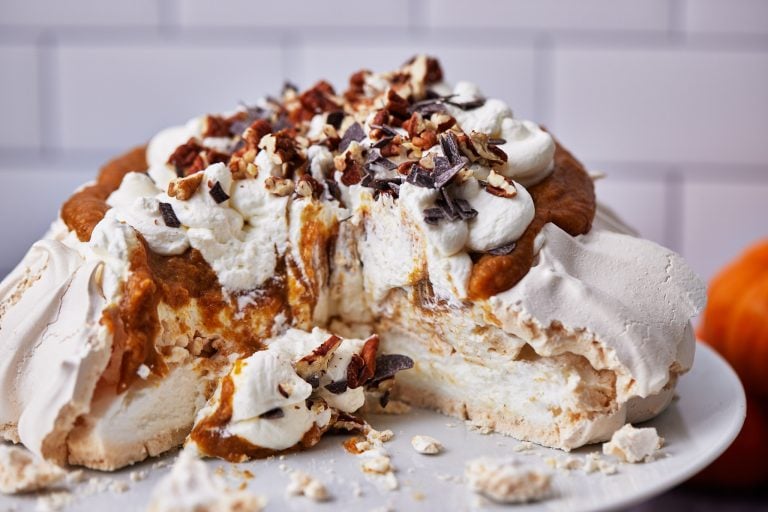 Pumpkin Pavlova
Crunchy, sweet meringue with a marshmallowy centre, topped with pumpkin spice curd and whipped cream
Ingredients
For the Pavlova
4

Egg Whites

1

cup

Fine White Sugar

2

teaspoon

Cornstarch

2

teaspoon

White Wine Vinegar
To Decorate
1

batch

Pumpkin Spice Curd

2

cups

Whipping Cream

⅓

cup

Pecans

2

tablespoon

Chocolate Shavings
Instructions
Make the Pavlova
Preheat oven to 320°C / 160 °C

Line a baking sheet with parchment paper and trace a circle onto the paper using an 8 inch cake pan

Whip up the egg whites until they are thick and frothy

Add the sugar one tablespoon at a time, whipping well in between each addition. Do not rush this step or your sugar won't dissolve properly and you'll have a grainy meringue. Check the sugar is dissolved by rubbing some meringue in between your fingers, it should be smooth and not gritty. If it is gritty, keep whisking

Once sugar is entirely incorporated, mix cornstarch and vinegar in a bowl, then add to the meringue and whip to combine

Pour the meringue mixture out onto the parchment paper, inside the circle you traced. Spread it out to the edges of the circle to form a round mass. You can make this as rustic or as neat as you like

Put into the oven and immediately lower the temperature to 250°F / 120°C

Bake for one hour and 15 minutes. The pavlova should look crispy on the outside and be firm to the touch, not wet. It should also lift off of the baking paper easily

Turn off the oven and leave the pavlova in there until it has completely cooled. If you need the oven back before then, you can take it out after an hour, but do not take it out right away or the temperature change will cause cracking

In the meantime you can prepare the pumpkin spice curd
Assemble and Decorate
Whip the cream until soft peaks form

If there are any big dips, cracks or cavities in your pavlova, you can use the whipped cream to fill the gaps. No shame here! Pavlova is meant to be rustic!

Once you have a nice level surface, spoon the pumpkin spice curd on top and use a knife to push it out to the edges

Top with more cream - be generous!

Chop up some pecans and sprinkle on top of the cream along with a few chocolate shavings
Nutrition
Calories:
241
kcal
Carbohydrates:
20
g
Protein:
2
g
Fat:
18
g
Saturated Fat:
10
g
Polyunsaturated Fat:
1
g
Monounsaturated Fat:
6
g
Trans Fat:
1
g
Cholesterol:
54
mg
Sodium:
32
mg
Potassium:
72
mg
Fiber:
1
g
Sugar:
18
g
Vitamin A:
586
IU
Vitamin C:
1
mg
Calcium:
30
mg
Iron:
1
mg