Oh boy are you in for a treat with these Pumpkin Spice Donuts with Maple Cream Cheese Glaze. You can just go ahead and start drooling now. These fluffy baked donuts are absolutely packed with fall flavours and the glaze is so good I had to hide it in the back of the fridge to stop Chris from eating it with a spoon!
How to make Homemade Baked Donuts
To be honest, up until these I had always shied away from making donuts at home. I was somewhat of a donut purist in that I thought donuts should always be fried, and I didn't want to faff about with a deep frier at home. When making Pumpkin Spice Cupcakes last week I had some leftover batter and I already had way too many cupcakes, so I fished out a Wilton Donut Pan which I have had in the back of my bakeware closet forever and piped some of the batter in, thinking I had nothing to lose with spare batter anyways. I was SO impressed with the result! Perfect cute little pumpkin spice donuts which just rose perfectly and popped right out of the pan. Here's all I did:
Take regular a regular cake batter and put it into a piping bag
Spray Donut Pan lightly with cooking spray
Pipe batter in a ring into the pan, coming up about ⅔ of the way
Bake until springy (if you touch the top, it should bounce back slightly)
It was that easy. All this time I've been living a homemade donut-less existence. Who knew pumpkin spice donuts would change everything!
What is Pumpkin Spice?
In case you have been living under a rock, pumpkin spice is a very popular fall flavour comprised of cinnamon, ginger, nutmeg and cloves. Personally, I don't like cloves so I have left those out of this recipe, but if you want to add some then go ahead!
If you are a Pumpkin Spice Latte lover (don't be shy), then these pumpkin spice donuts are WONDERFUL dipped in a regular old coffee to give you that full PSL experience.
How to make Pumpkin Spice Donuts
These pumpkin spice donuts are extremely easy to make, but here are some of my tips for best results:
Room Temp Ingredients - Make sure all your ingredients are at room temperature before starting to mix everything together, this will help prevent curdling
Curdled Pumpkin - If your batter does look curdled after adding the pumpkin puree, just keep going, the mixture should smooth out again once you add the flour
Measure with the Heart - When it comes to spices I think you should always measure with the heart! If you taste the batter and it's not 'pumpkin spicy' enough for you, add some more!
Don't Overfill your Donut Pan - Keep in mind that the donuts will rise as they bake. If you fill the cavities too full you'll end up with big muffin tops instead of donuts. Although I'm not saying that would be a bad thing...
Follow the recipe and these tips and you'll have the most perfect pumpkin spice donuts to enjoy!
How to Decorate Pumpkin Spice Donuts
The Maple Cream Cheese Glaze is so easy to make, there is literally only one line in the instructions: put everything in a bowl and mix until smooth and runny. This is actually the same Maple Cream Cheese Glaze I use for my Maple Pecan Bundt Cake, and it works magically with these pumpkin spice donuts!
To decorate, I just held the donuts roughly in the middle and dipped them, head first, into the glaze. Then I kind of shook them a bit over the bowl to get off any excess and laid them down. The glaze kind of naturally smoothes itself out. Then I sprinkled with some chopped pecans just to add some texture. The glaze is thick enough that you should only need to dip the pumpkin spice donuts once.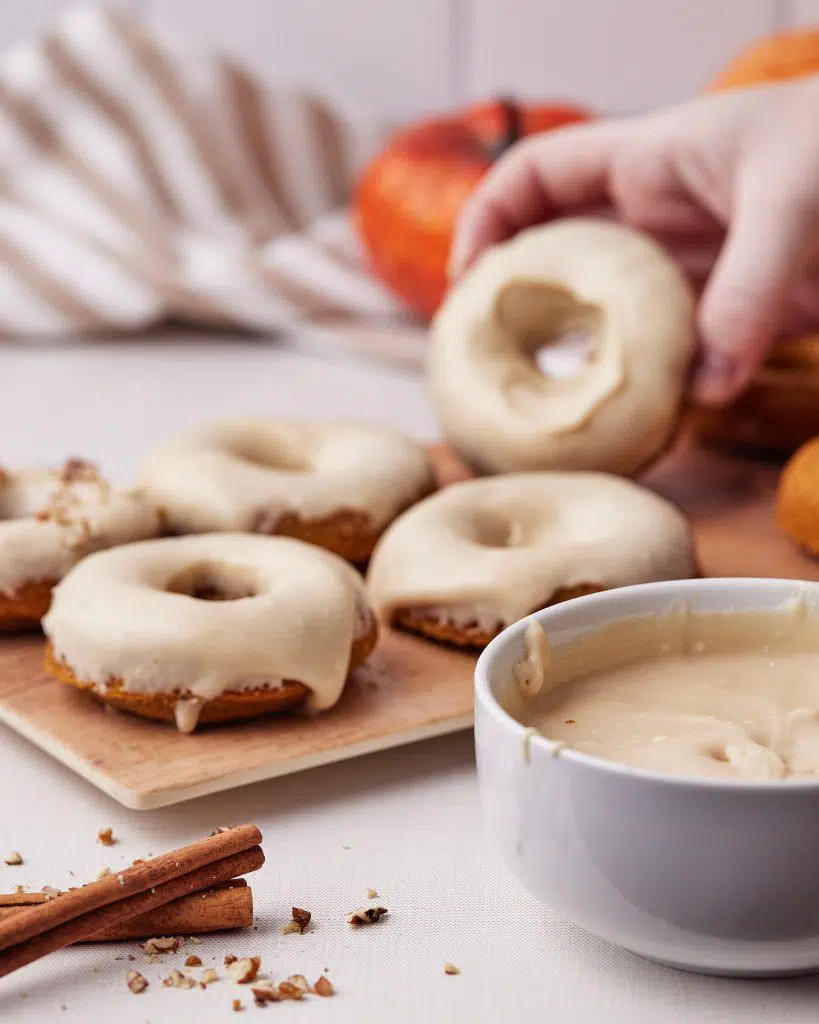 Baked Donuts vs Fried Donuts
I had always thought that donuts HAD to be fried and baked donuts were a bit of a cop-out, but after making these pumpkin spice donuts I am a changed woman! Though I am partial to a good old-fashioned fried donut like my Custard Donuts, these baked donuts are light and fluffy but still have that donutty deliciousness. And they are undoubtedly healthier than their fried counterparts. I will definitely be making a lot more homemade donut recipes now that I know how yummy baked donuts can be. And rather than faffing around with a big deep fat fryer, or even a pot with oil, all you need to make these pumpkin spice donuts is a donut pan.
More Pumpkin Recipes:
Recipe
Pumpkin Spice Donuts
Delicious pumpkin spice donuts coated in a maple cream cheese glaze
Ingredients
For the Pumpkin Spice Donuts
2

sticks

Butter

1

cup

White sugar

1

cup

Golden Sugar

(light brown sugar)

4

Eggs

1

can

Pumpkin Puree

about 400g

2 ¾

cups

All Purpose Flour

1

tablespoon

Baking powder

1

teaspoon

Baking Soda

¼

cup

Vegetable Oil

½

cup

Milk

1

teaspoon

Vanilla Extract

4

teaspoon

Cinnamon

2

teaspoon

Nutmeg

2

teaspoon

Ginger

½

teaspoon

Salt
For the Maple Cream Cheese Glaze
½

cup

Cream Cheese

¼

cup

Butter

1

cup

Icing Sugar

¼

cup

Maple Syrup

1

tablespoon

Vanilla Extract
Instructions
Make the Pumpkin Spice Donuts
Preheat oven to 350°F /180 °C and lightly spray your donut pan with cooking spray

Cream the butter and sugars together

2 sticks Butter,

1 cup Golden Sugar,

1 cup White sugar

Add eggs, one at a time and mix until combined

Add the pumpkin puree and vanilla, mix until totally combined. If the mixture looks curdled after adding the pumpkin, don't panic, it will smooth out once the flour is added

1 can Pumpkin Puree,

1 teaspoon Vanilla Extract

Add the cinnamon, ginger, nutmeg and salt to the mix and stir in

4 teaspoon Cinnamon,

2 teaspoon Nutmeg,

2 teaspoon Ginger,

½ teaspoon Salt

Sieve the flour into a bowl with the baking powder and baking soda

2 ¾ cups All Purpose Flour,

1 tablespoon Baking powder,

1 teaspoon Baking Soda

Put half the flour into the batter and fold in slowly until completely combined

Pour in the vegetable oil and milk and stir until combined

Add the remaining flour and mix until totally combined, making sure to scrape down the sides of the bowl

Put the batter into a piping bag and pipe in rings into the donut pan, filling each cavity to about ⅔ full

Bake for 12-15 minutes, until the donuts spring back slightly when you touch them
Make the Maple Cream Cheese Glaze
Put all the ingredients into a mixer and beat until smooth and slightly runny

½ cup Cream Cheese,

¼ cup Butter,

1 cup Icing Sugar,

¼ cup Maple Syrup,

1 tablespoon Vanilla Extract

Dip the donuts into the glaze to coat as much as you like

*Optional* Sprinkle with some chopped pecans to finish
Nutrition
Calories:
292
kcal
Carbohydrates:
38
g
Protein:
3
g
Fat:
15
g
Saturated Fat:
9
g
Polyunsaturated Fat:
1
g
Monounsaturated Fat:
3
g
Trans Fat:
1
g
Cholesterol:
58
mg
Sodium:
263
mg
Potassium:
102
mg
Fiber:
1
g
Sugar:
25
g
Vitamin A:
3163
IU
Vitamin C:
1
mg
Calcium:
69
mg
Iron:
1
mg