San Sebastián cheesecake is rustic and unassuming on the outside, yet creamy and decadent on the inside. With its classic 'burnt' basque top and its soft, custardy center, this Spanish cheesecake may take you by surprise.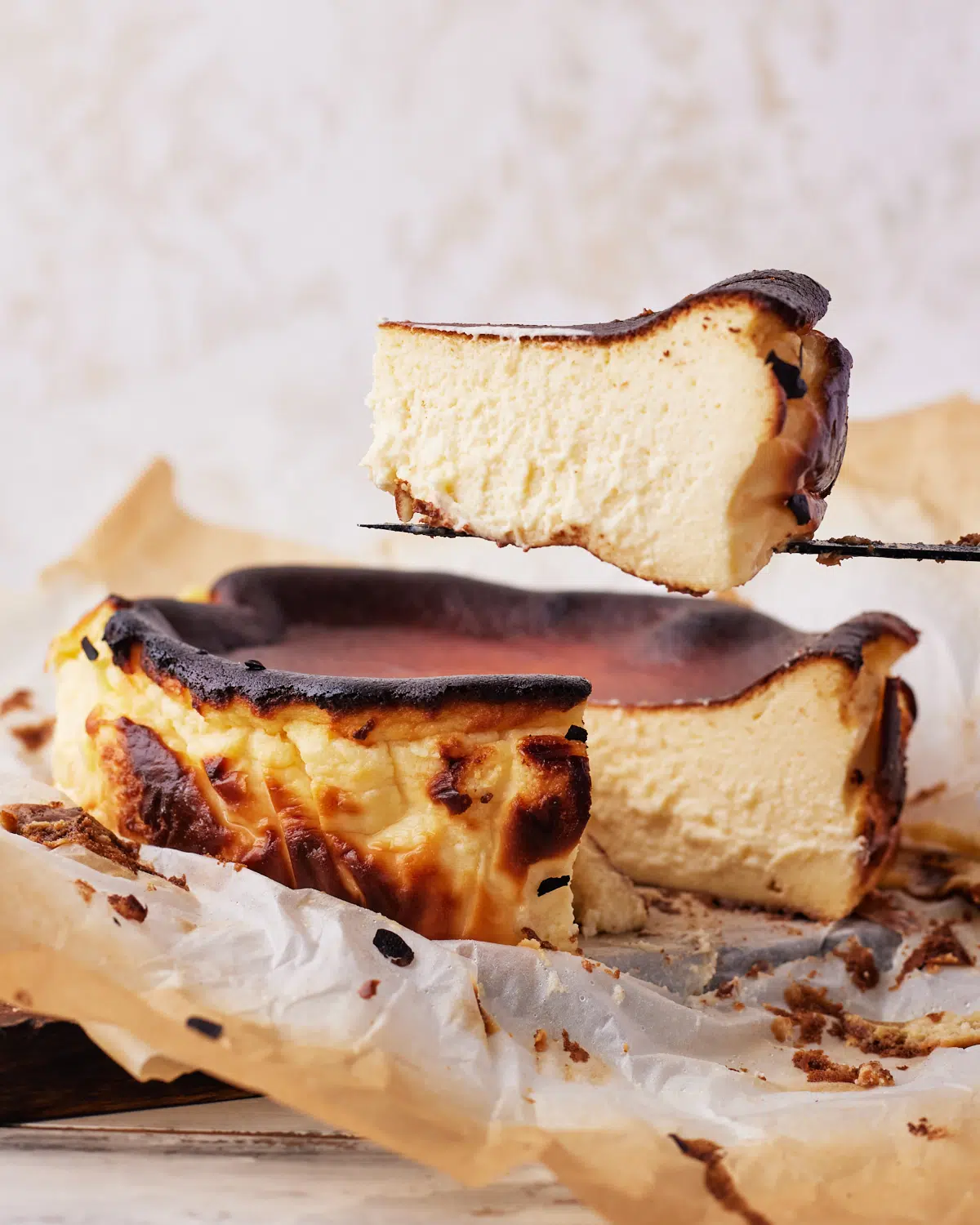 San Sebastian or 'Burnt Basque' cheesecake has been sweeping the internet lately and becoming increasingly popular. A perfect burnt basque cheesecake has all the characteristics we would normally try to avoid when making a cheesecake - rustic edges from the baking paper, a burnt top, and a sunken middle - maybe even a few cracks. The great thing about that is that it takes the pressure off of having to make a perfect-looking cheesecake and puts all the attention on flavor.
Aside from eliminating 'cheesecake fail' worries, San Sebastian cheesecake is also incredibly easy to make. Because you don't need to think about cracks or sinking, there is no need to bake it in a water bath, unlike regular cheesecakes. And there is no need to stress about the top of the cheesecake burning before the center has set. While I love some of my cheesecake recipes, such as my Caramel Cheesecake and Baked Chocolate Cheesecake, any true cheesecake lover must appreciate the simplicity and authenticity of this burnt basque cheesecake recipe.
Jump to:
What does San Sebastián cheesecake taste like?
Though it has similarities with a New York style cheesecake, the Spanish San Sebastián cheesecake has a very different texture and flavor. For starters, it is much lighter and smoother than a New York cheesecake and feels less heavy in the stomach and on the tongue. The texture is smoother, and more pudding-like than a typical baked cheesecake.
As for the flavor, it's not too sweet and tastes a lot like a creme brulee. The center is creamy and tastes like custard, and the deeply caramelized outer crust adds a depth of flavor and a slightly toasted taste. When baked the traditional way, the inner part of the cheesecake should be barely set and still have a gooey, custard-like texture.
Unlike traditional cheesecakes, basque-style cheesecake is a crustless cheesecake (i.e. no graham cracker base). Instead, it is baked in scrunched sheets of parchment paper, which helps to form the rustic look and caramelized sides of the cake.
Ingredients
This great thing about this delicious cheesecake is that it only has a few, very simple ingredients:
Cream Cheese - It's important to use full-fat cream cheese for this recipe, both for flavor and to help with the texture and structure of the cheesecake. As it's a very creamy cheesecake, we want to make sure it has the stability to not just fall apart when you cut into it. I used Philadelphia cream cheese, but any kind of thick, full-fat cream cheese will be great.
Sugar - It's best to use white sugar for this recipe - make sure it is extra fine sugar (caster sugar in the UK), as we need to be able to dissolve it into the cream cheese. Some cheesecake recipes use powdered sugar, but we want to stick to regular sugar for this to create the most authentic cheesecake.
Eggs - We'll use 4 whole eggs and one egg yolk in this cheesecake recipe. Use large eggs and always free range if you can.
Heavy Cream - The fat content in the cream is very important, it needs to be at least 33% fat. Most heavy cream or whipping cream should be above this point, as is double cream. If unsure, check the packaging of your cream.
Cake Flour - The recipe uses a little flour just for structure. I used cake flour as it is easier to dissolve into the cheesecake batter, but if you don't have cake flour you can use all-purpose flour, or just omit the flour entirely for a gluten-free cheesecake.
Note: Some versions of this basque burnt cheesecake recipe include vanilla extract, lemon zest, and lemon juice for flavoring in the cheesecake. This is not the traditional way to make San Sebastián cheesecake so I have left it out, but feel free to add those for an extra touch of flavor.
Make sure the cream cheese, eggs, and heavy cream are all at room temperature before you begin making your cheesecake.
See recipe card for quantities.
Instructions
This really is the easiest cheesecake to make.
Preheat your oven to 425°F / 220°C and prepare a cake pan by lining it with two sheets of parchment paper. This does not need to be neat and tidy, as the scrunches of parchment paper will actually help to create the classic, rustic look of the San Sebastián cheesecake. Just make sure that all edges of the pan are covered by parchment paper. There is no need to grease the pan or add anything else.
Beat the room temperature cream cheese and sugar together until it is completely smooth and there are no lumps of cream cheese. After about a minute of beating on medium speed, the sugar should have dissolved into the cream cheese and should no longer feel grainy. You can use a stand mixer with a paddle attachment or whisk attachment, or you can also just do this in a large mixing bowl with an electric mixer or by hand with a regular whisk.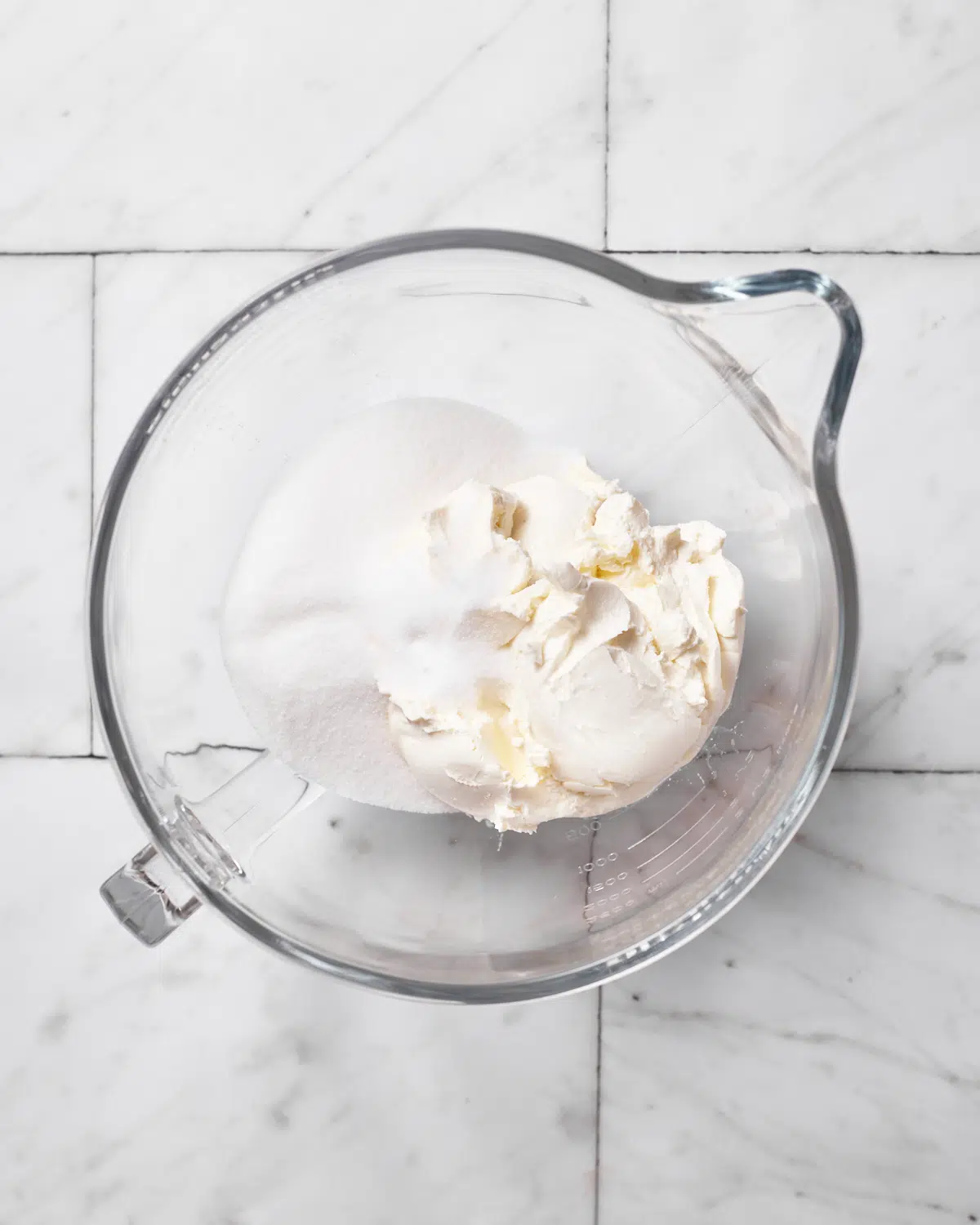 Add the eggs and egg yolk, one at a time, beating on medium speed in between each addition.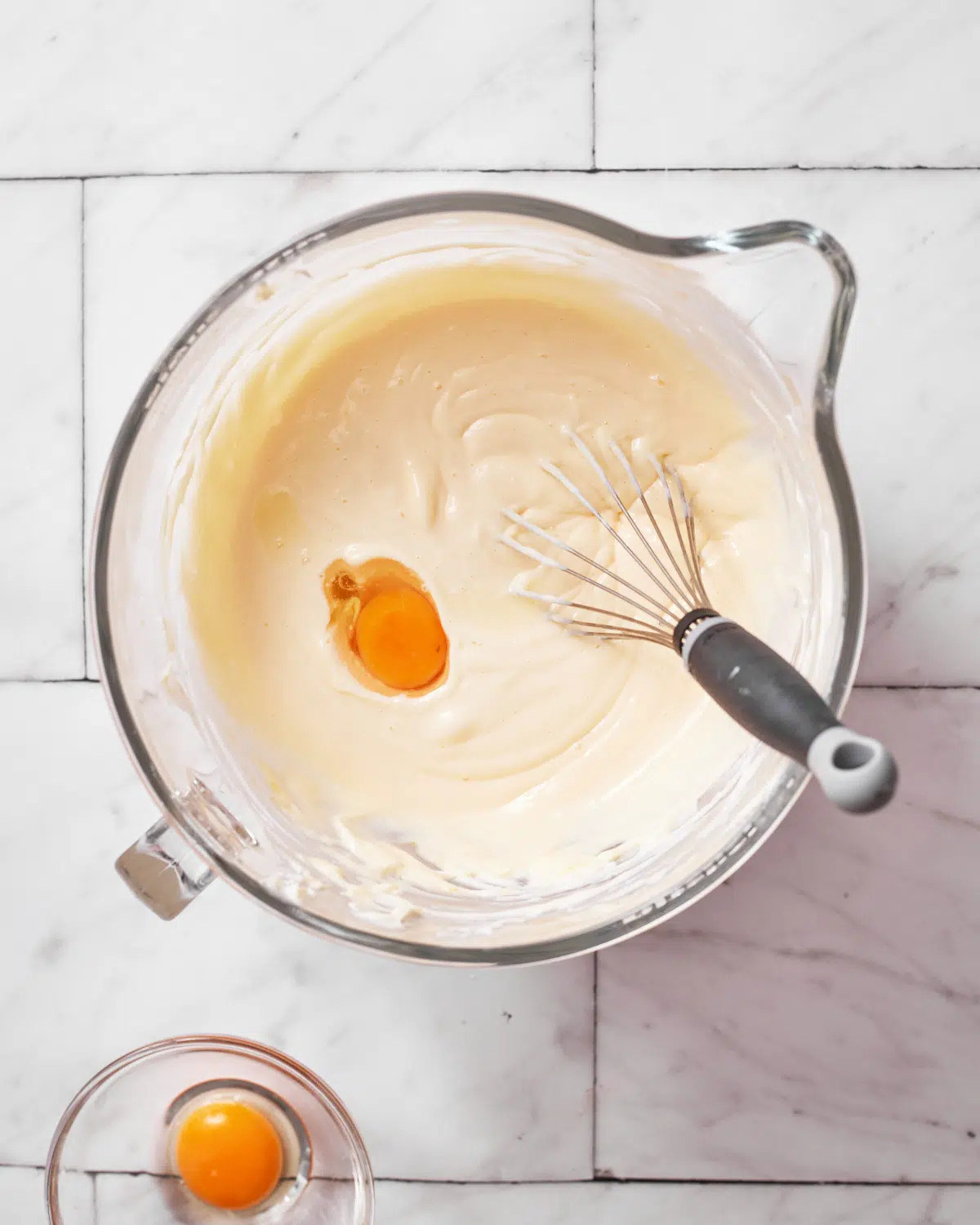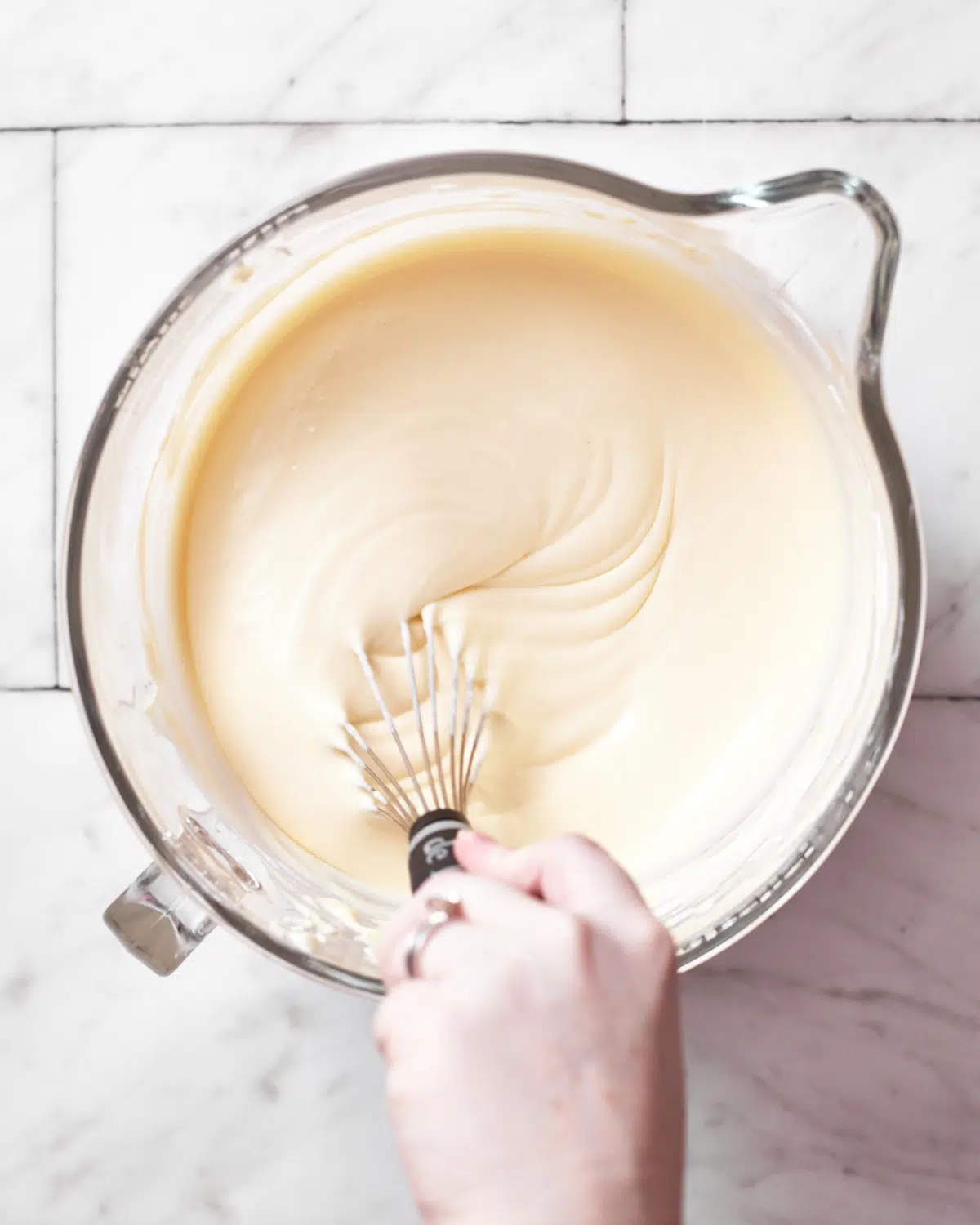 In a separate bowl or jug, mix together the cream and cake flour. It can help to start with just a little cream to make a paste with the flour, then slowly add a little more cream until it's all incorporated - this makes sure there are no lumps of flour in your cheesecake.
Slowly add the cream and flour mixture to the cheesecake mixture, whisking on low speed as you go, until everything is incorporated. You don't want to incorporate too much air into the cheesecake, we just want to mix it until it is smooth.
Scrape down the sides of the bowl and give it one last good mix to make sure everything is properly mixed in.
Pour the cheesecake batter into the prepared pan. Tap the pan on the countertop a few times to release any air bubbles, then put it into the oven on the middle rack.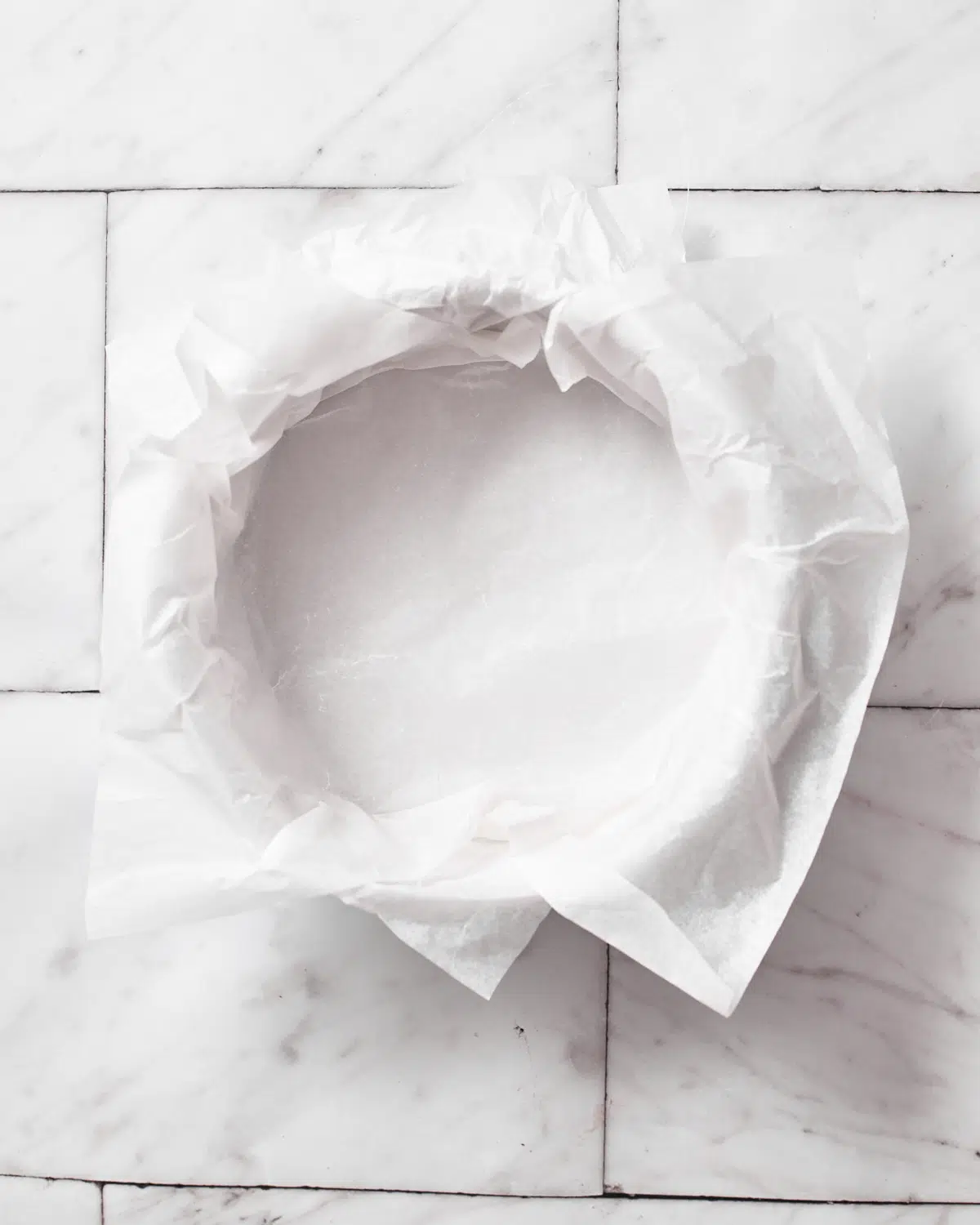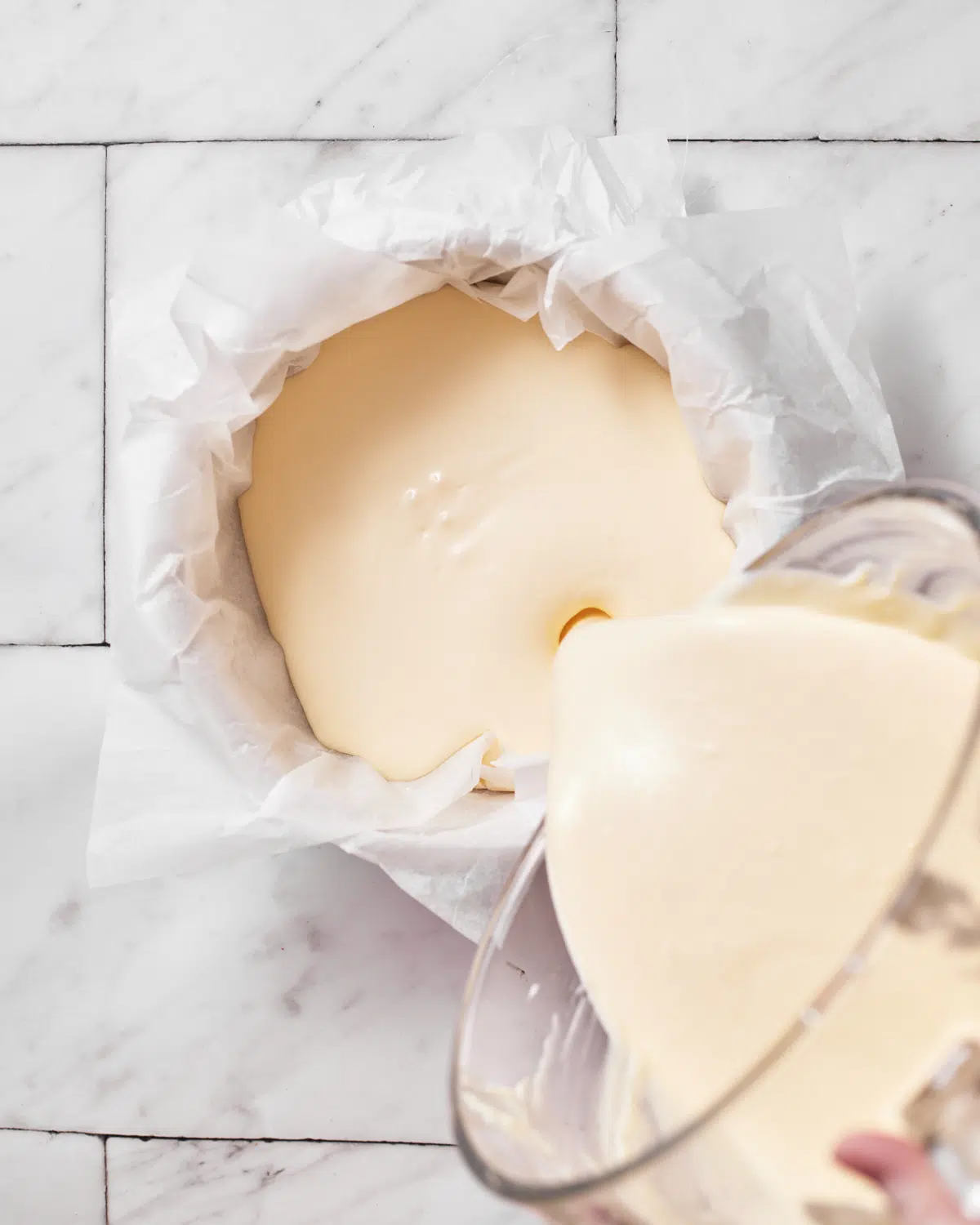 Bake for 35-45 minutes. When it's done the edges should be set but the middle will still be jiggly. The caramelized top should be a dark brown color. If your cheesecake looks like it is nearly done but the top is not brown enough yet, you can turn the broiler on to a high temperature to scorch the top for a few minutes. If the cheesecake is not baked yet and the browned top is looking too dark, you can put some foil across the top of the pan to stop it from browning any further. You should always prioritize the cheesecake baking properly over the brown top, or you will lose that creamy texture that the San Sebastian cheesecake is famous for.
Once baked, remove the cheesecake from the oven and allow it to cool completely on the countertop. Do not try to cut into it before it has cooled or you will end up with a gooey mess all over your counter.
If you want your cheesecake to have the classic creamy interior that is juuust set and has a custard-like texture, serve your cheesecake at room temperature. If you prefer a firmer cheesecake, let it chill in the fridge for a few hours before serving. (If you're going to be serving the next day, you should store it in the fridge anyway - but the best way to serve is to take it out about an hour before it's going to be eaten to bring back some of that creamy center).
When serving, unwrap the parchment paper - the edges of the cheesecake should also be nicely caramelized in the grooves of where the parchment paper was. I like to serve it on the parchment paper as i think it adds to the pretty, rustic charm, but you can transfer the whole thing to a cake plate if you prefer.
Variations
Extra flavor - As mentioned above, some people like to add some vanilla. lemon zest and lemon juice to their San Sebastian cheesecake for a bit of extra flavor. Personally, I like the classic flavor best and don't think it needs anything else, but you can absolutely add these for a bit of extra lift.
Chocolate version - If you're looking for a baked chocolate custard, my French Chocolate Flan could hit the spot! To add chocolate to this recipe, many people on social media have been pouring a river of chocolate ganache over their slices of burnt basque cheesecake before serving.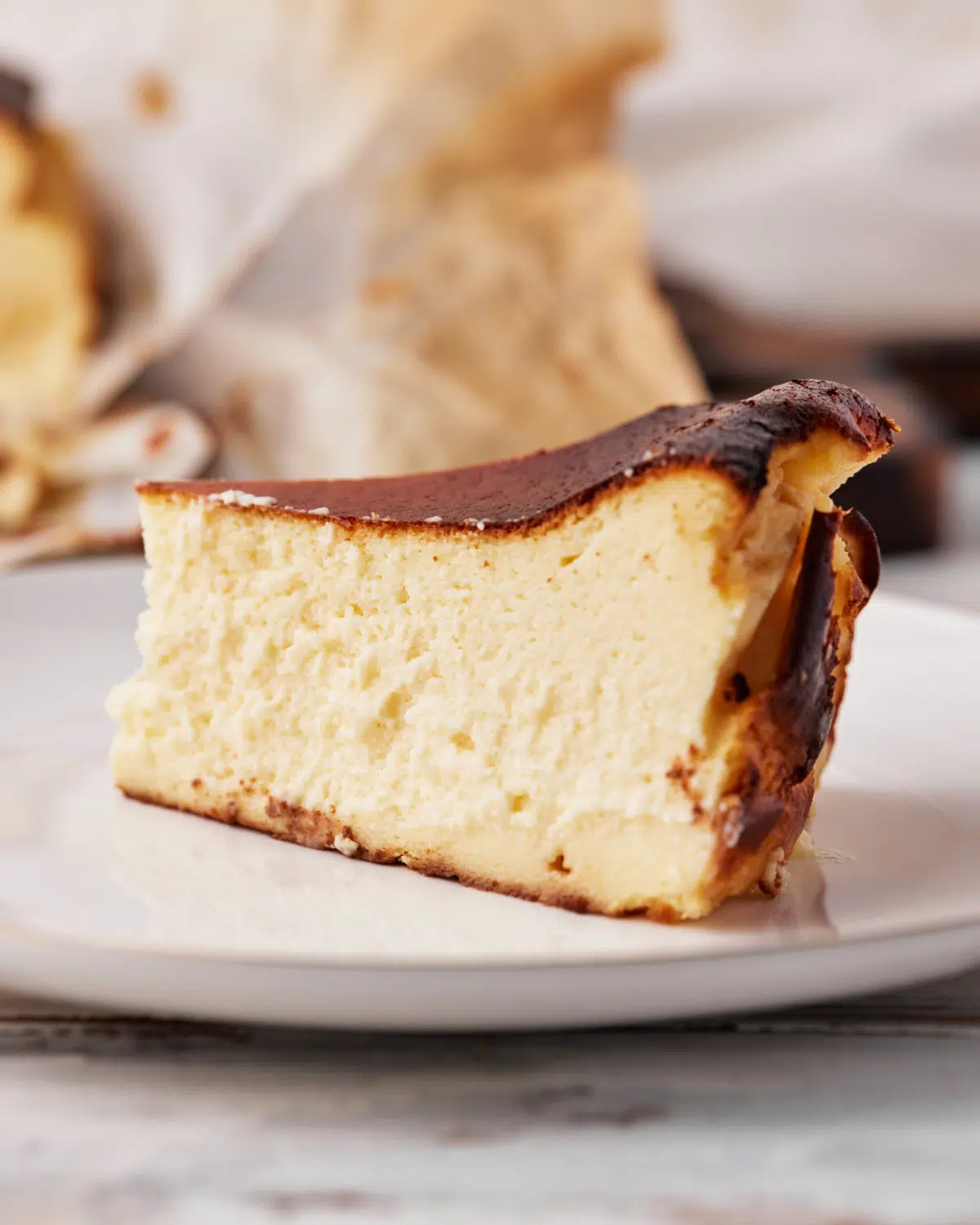 Equipment
Whisk - you don't need any machinery or fancy equipment to make a burnt basque cheesecake, it can easily be done with just a bowl and a whisk. But if you want to you can use a stand mixer or electric hand mixer to do the job.
8-inch Cake pan - Unlike most cheesecakes, you don't need a spring form pan for this unique cheesecake recipe as it is baked in a wrapper of parchment paper and can be easily lifted out of a regular cake pan. (Although a springform pan may still make your life easier!)
Storage
As this cheesecake contains dairy, it does need to be stored in the fridge. It's best to store it inside an airtight container to keep it as fresh as possible. It should be good like this for up to a week.
Recipe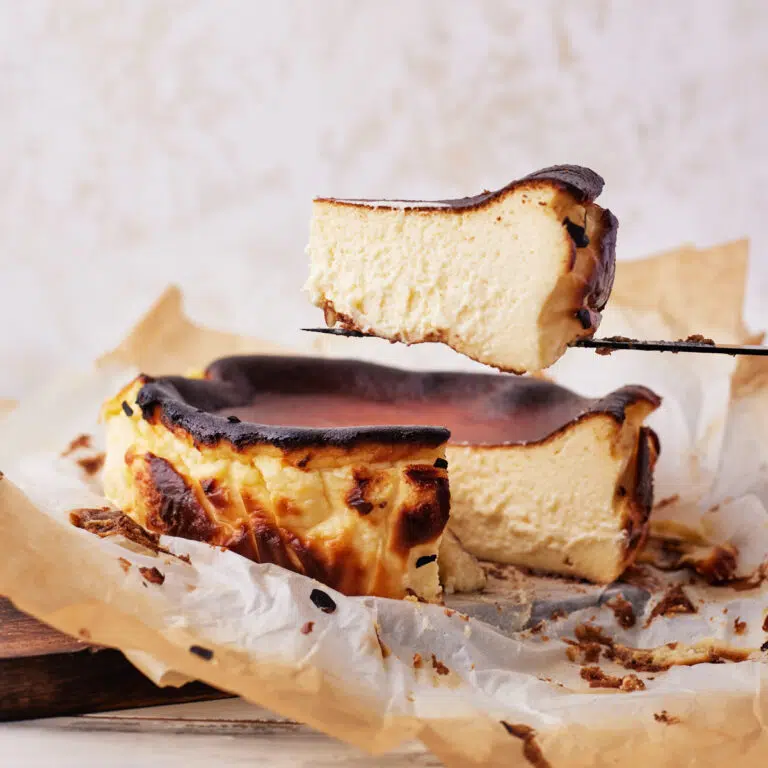 San Sebastian Cheesecake
Deliciously light and creamy baked cheesecake with a deeply caramelized top.
Ingredients
3

cups

Cream Cheese

680g (equivalent to 3 x 8 ounce packages)

1 ⅔

cups

Heavy Cream

400g

4

Eggs

1

Egg Yolk

1

cup

White Sugar

200g

¼

cup

Cake Flour

30g
Instructions
Preheat the oven to 425°F / 220°C and line an 8-inch cake pan with two pieces of parchment paper. There is no need for any grease or spray, and the paper does not need to be neat.

Beat the sugar and cream cheese together on medium speed until smooth and combined.

3 cups Cream Cheese,

1 cup White Sugar

Add eggs, one at a time, beating in between each addition. Add the egg yolk in the same way.

In a separate bowl, mix together the cake flour and a small splash of the cream, mix until the flour turns into a paste, then gradually add the rest of the cream, stirring the whole time.

¼ cup Cake Flour,

1 ⅔ cups Heavy Cream

Gradually add the cream mixture to the cream cheese mixture, stirring as you go. Mix well until everything is combined and there are no lumps.

Pour the cheesecake mixture into the prepared cake pan and tap it on the counter a few times to release any big air bubbles.

Put the cheesecake on the middle rack of the oven and bake for 35-45 minutes or until the edges are set but the inside is still wobbly. The top of the cheesecake should go dark brown or even black in some places - this is good!

Remove from the oven and let the cheesecake cool on the countertop completely. As it cools, it will sink slightly and may even crack - don't worry this is all part of the rustic charm of this cheesecake!

For the classic San Sebastian cheesecake with a soft, custardy center, serve it at room temperature without chilling. For a firmer, more set cheesecake, chill it first for at least 2 hours before serving.
Notes
Make sure your cream cheese, eggs, and heavy cream are all at room temperature before beginning to bake.  This will ensure that they incorporate properly and you won't have any lumps. 
Some people like to add a little vanilla and lemon zest to this recipe to give it some extra lift.  Personally, I like the classic recipe as it is, but if you'd like to add these flavorings, add them in after the eggs and before the cream. 
Nutrition
Calories:
213
kcal
Carbohydrates:
20
g
Protein:
3
g
Fat:
14
g
Saturated Fat:
8
g
Polyunsaturated Fat:
1
g
Monounsaturated Fat:
4
g
Trans Fat:
0.01
g
Cholesterol:
108
mg
Sodium:
31
mg
Potassium:
57
mg
Fiber:
0.1
g
Sugar:
18
g
Vitamin A:
590
IU
Vitamin C:
0.2
mg
Calcium:
33
mg
Iron:
0.4
mg
Where is San Sebastian cheesecake from?

San Sebastian cheesecake is a famous cheesecake invented by Chef Santiago Rivera in his restaurant - La Viña Bar in the town of San Sebastian, northern Spain.
How is Burnt Basque cheesecake different to a new york slice?

Aside from the obvious aesthetic differences, burnt basque, or San Sebastian cheesecake is much lighter and has a smoother, creamier texture than other baked cheesecakes. The modern Spanish dessert also gets a lot of its flavor from the deeply caramelized top.