Maple cream, or maple butter, is thick, sweet, spreadable goodness made from just one ingredient - maple syrup!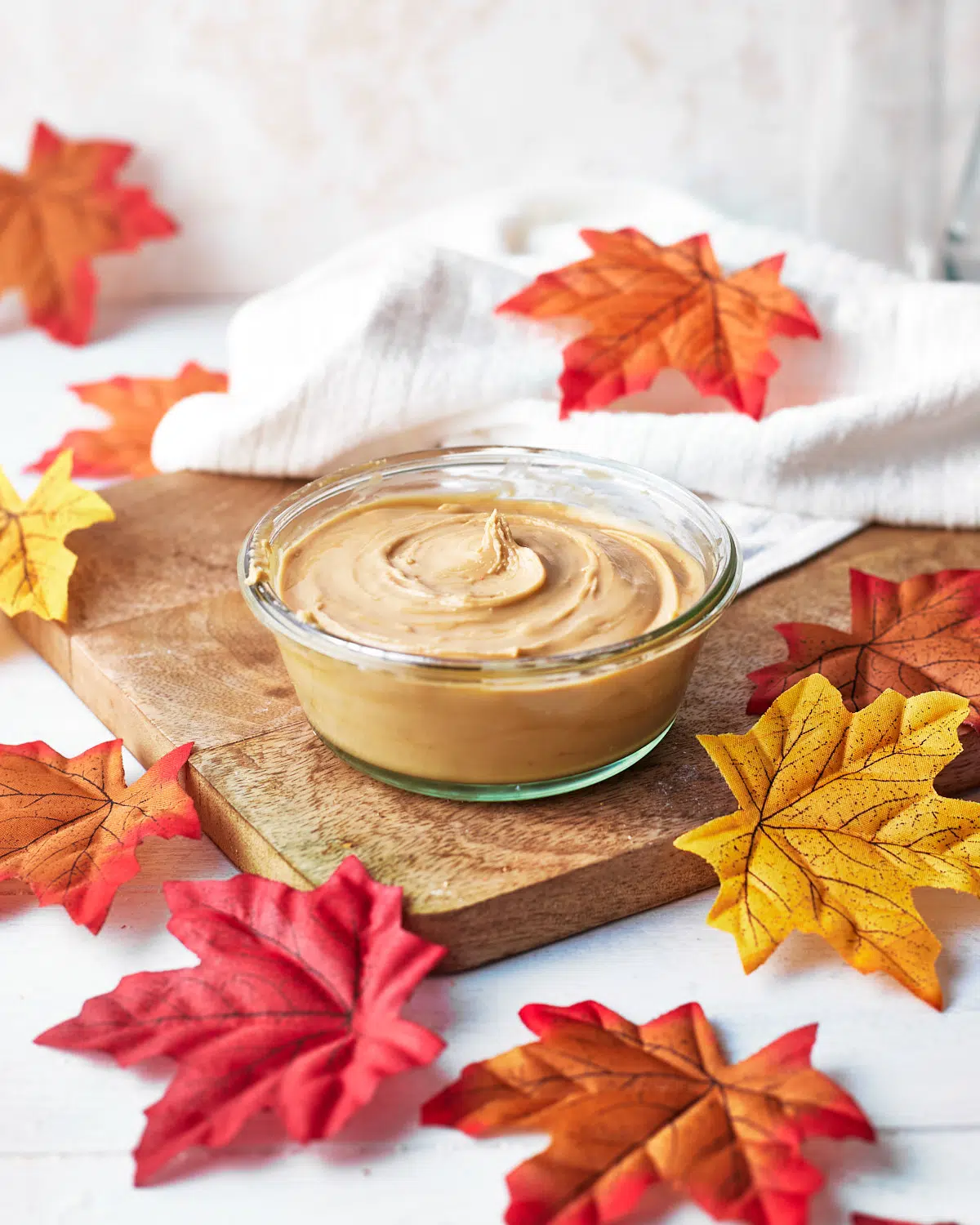 It can be a bit of a labor of love - so why make maple cream? Well, if you love that wonderful, sweet maple flavor but are frustrated that you can only really drizzle or soak things with maple syrup - maple butter is your answer! It's thick and spreadable like peanut butter, but with that classic maple taste, so you can spread it on toast or waffles, or even just lick it off the spoon.
If you are enough of a maple fiend to want to make your own homemade maple cream, you'll probably enjoy my Maple Pecan Bundt Cake recipe or my Pumpkin Spice Donuts with Maple Cream Cheese Glaze. For more new spreadable flavors, you might also want to check out my Sweet Pecan Butter.
Jump to:
What is Maple Cream?
Maple cream is a thickened, crystalized version of maple syrup which means it is spreadable and has a peanut butter-like consistency, but with all the sweetness and flavor of maple syrup. It is traditionally made with just one ingredient - maple syrup.
The best way to describe maple cream is as spreadable maple syrup - because that's exactly what it is! Living in Canada for a few years, I saw maple butter on a regular basis in grocery stores and those touristy shops with the giant moose outside. But it never occurred to me to look into what it's made of or the process behind making your own maple cream. Turns out, maple cream is literally just made from pure maple syrup - that's it! The difference in consistency is achieved through crystalization in what is, on close inspection, a very scientific process, but in practice really just means heating and stirring.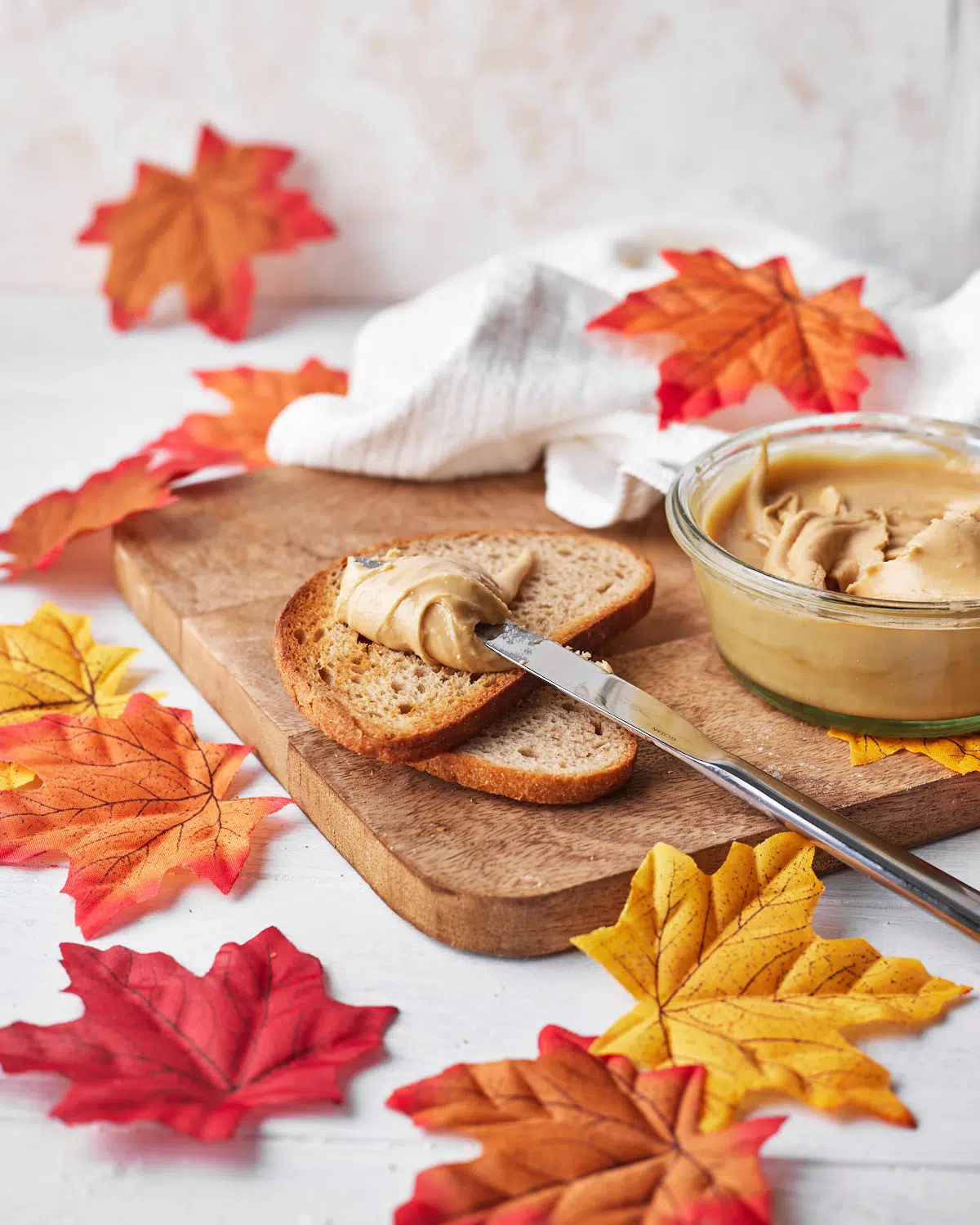 Ingredients
Maple Syrup - Yes there really is only one ingredient! Make sure it is real maple syrup and high quality. It should be pure maple syrup, so no other additives or extra things added. Also, I prefer the results with lighter maple syrup, rather than dark syrup. Some people harvest their own maple syrup which is really cool - but it's absolutely not necessary to make great maple cream. The store-bought syrup is fine, as long as it's the real thing.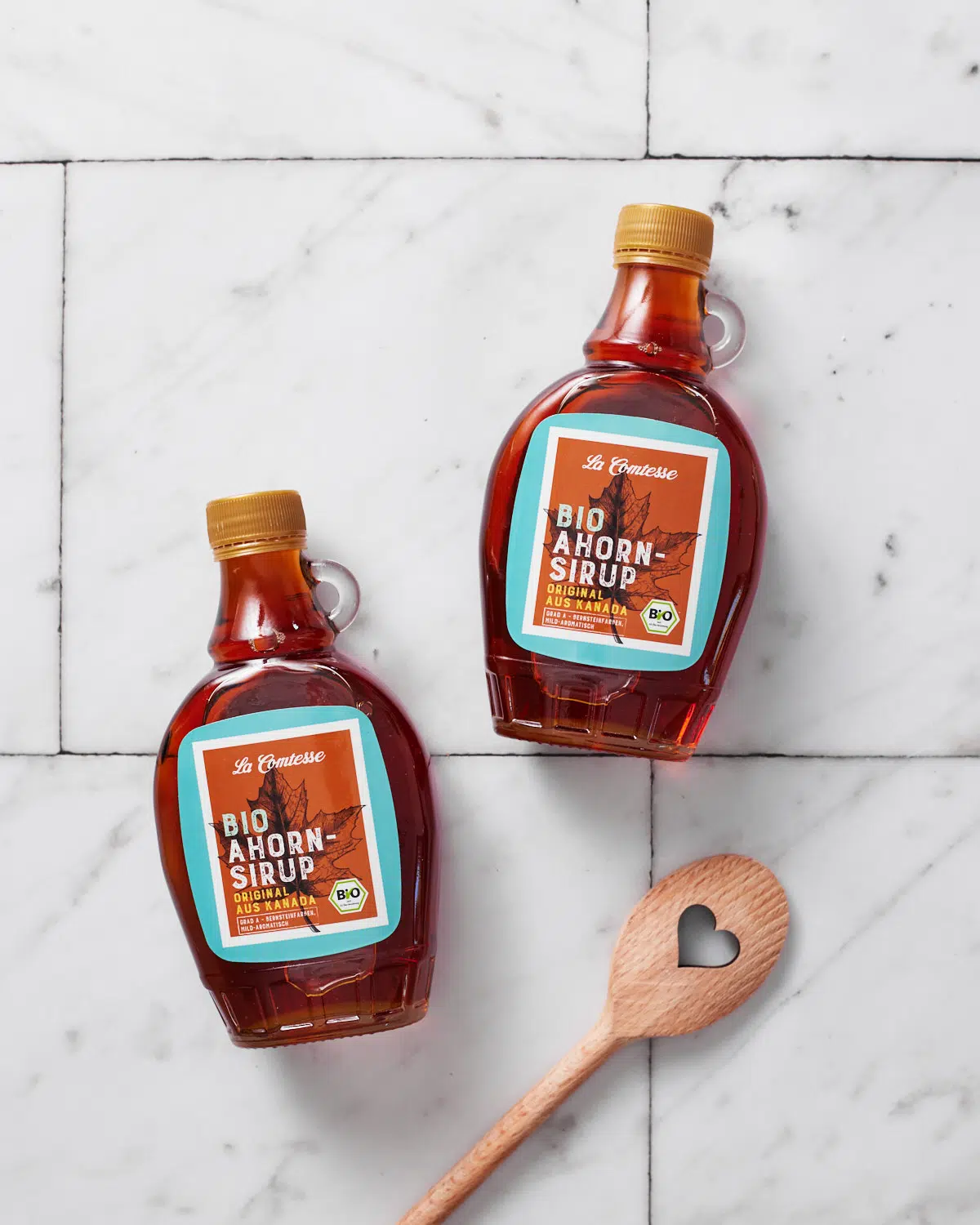 How to Make Maple Cream
Okay, while this may be a simple recipe, I'm not going to lie to you and say this process is quick and easy. It does require a bit of time and attention - but the results are so worth it! There is limited information out there on how to do this properly, and it took me a few tries to get it right. But I'm sharing everything I learned in that process so hopefully, you will have wonderful homemade maple cream first time!
Start by pouring your maple syrup into a medium saucepan. It's best to use a tall saucepan as this does bubble up a little bit.
Heat the saucepan over medium heat and do not stir. Begin to monitor the temperature. We want to eventually heat it to 235°F / 113°C. This is unfortunately not one of those recipes where you can get by without a candy thermometer - it's a scientific process and the temperature has to be pretty precise.
Let the maple syrup come to a boil, you may notice that it hovers around the 212°F / 100°F mark for quite a while - it's okay this is normal, there is no need to turn your temperature up or change anything. The reason for this is the boiling point of water. We are currently boiling the water out of the syrup and water can't reach higher than that temperature without turning to steam and evaporating (which is what we want). So as long as there is still plenty of water in the syrup, it won't be able to heat past that point while the water boils, until it has evaporated. Just keep going and let it bubble and evaporate away.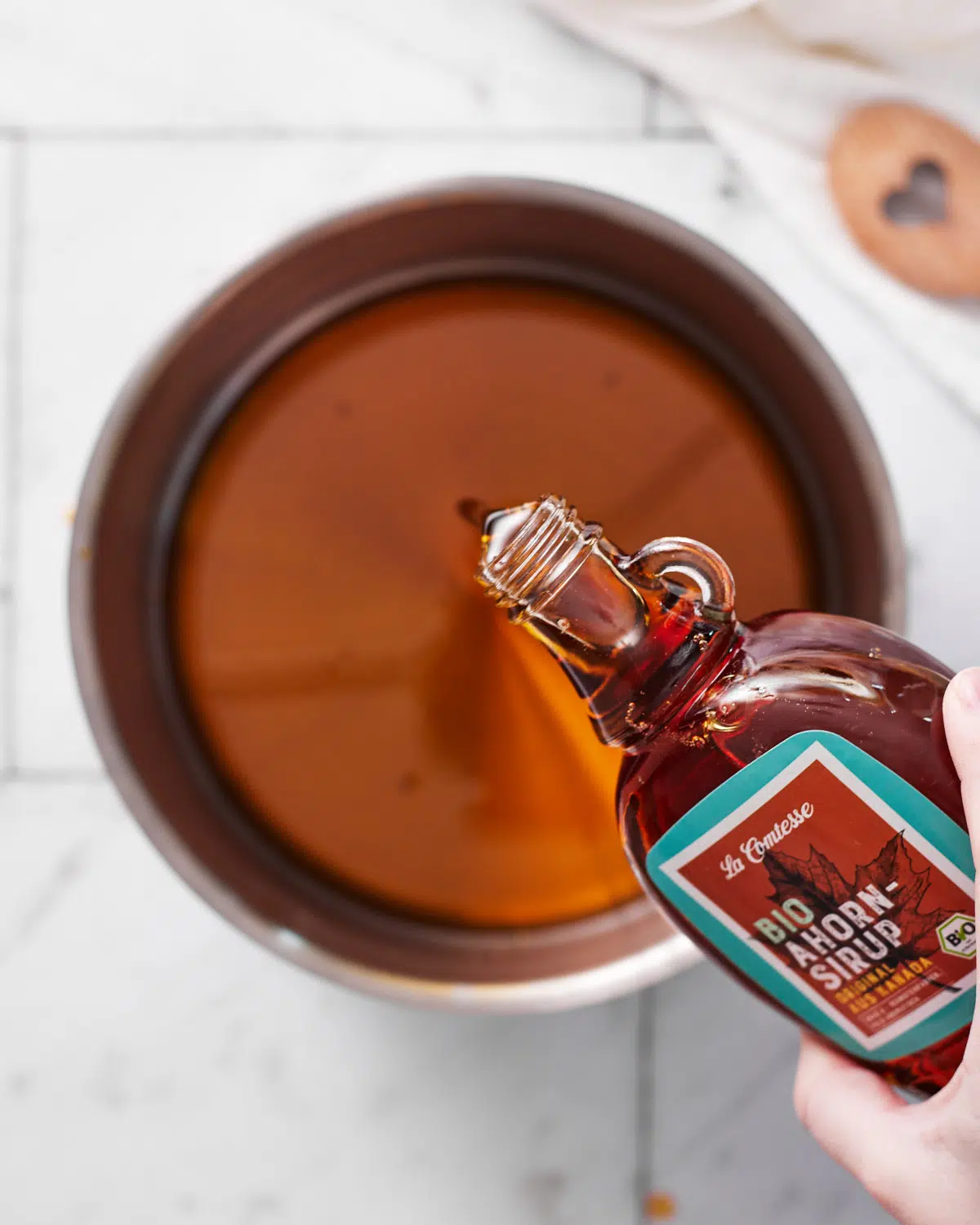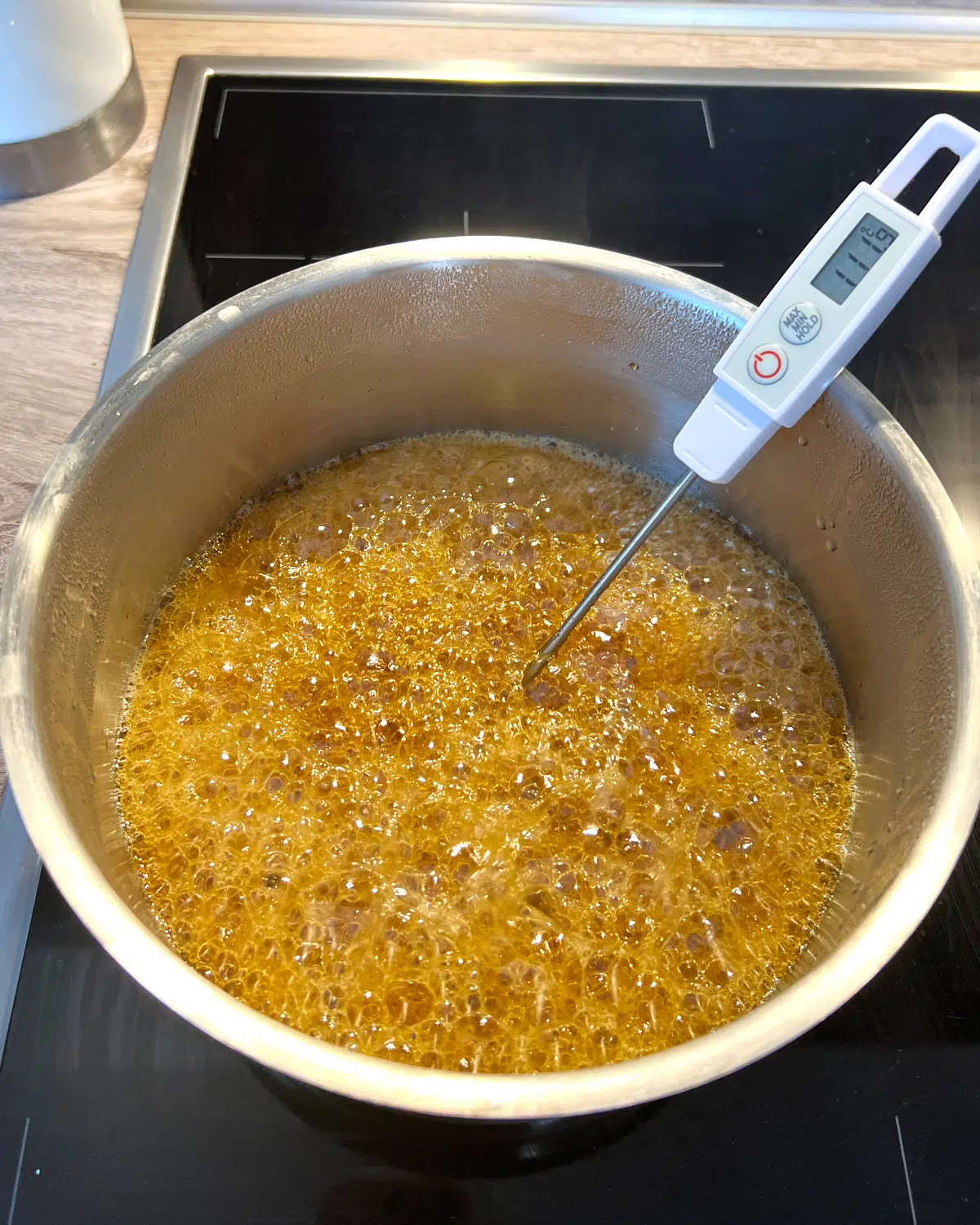 Keep a close eye on the thermometer, as once it evaporates enough water, the temperature will rise fairly quickly. Remove from the heat at precisely 235°F / 113°C. If you let it heat much beyond the right temperature, then you're going to end up with maple candy instead of maple butter.
Immediately pour the hot maple syrup into whatever bowl you are going to be stirring in. It's best to use a stainless steel bowl or something that can take sudden temperature changes. Submerge the bowl in an ice bath (or just a large bowl with water and ice cubes in it) to help bring the temperature down quickly. The faster it cools, the less chance there is of really large crystals forming. Make sure not to get any water from the water bath into the maple syrup.
Let the maple syrup come down to just about room temperature - roughly 80°F / 26°C - the exact temperature is not as important in this step as before. Try not to touch or agitate the maple syrup while it is cooling as this may encourage large crystals to form. It's best to leave your thermometer sitting in the syrup so you don't have to insert it in and out to check the temperature. Once it comes down to temperature, you can remove it from the bowl of ice to make it easier to stir.
Once the maple syrup has cooled enough, start stirring with a wooden spoon or something similar. You don't need to stir fast or hard here, just a slow and steady stir will help to keep the mixture moving and encourage the large crystals to break up and small crystals to form. This process can take up to 30 minutes of slow and steady stirring, so be prepared to have sore arms. It may be a good idea to have a second stirrer who can swap out with you when your arms get tired. The maple syrup should be fairly thick, kind of like maple taffy and it should get harder and harder to stir as you go. If it's not thick at all, see the troubleshooting section below. (You could use a stand mixer but read the section below on using a stand mixer first).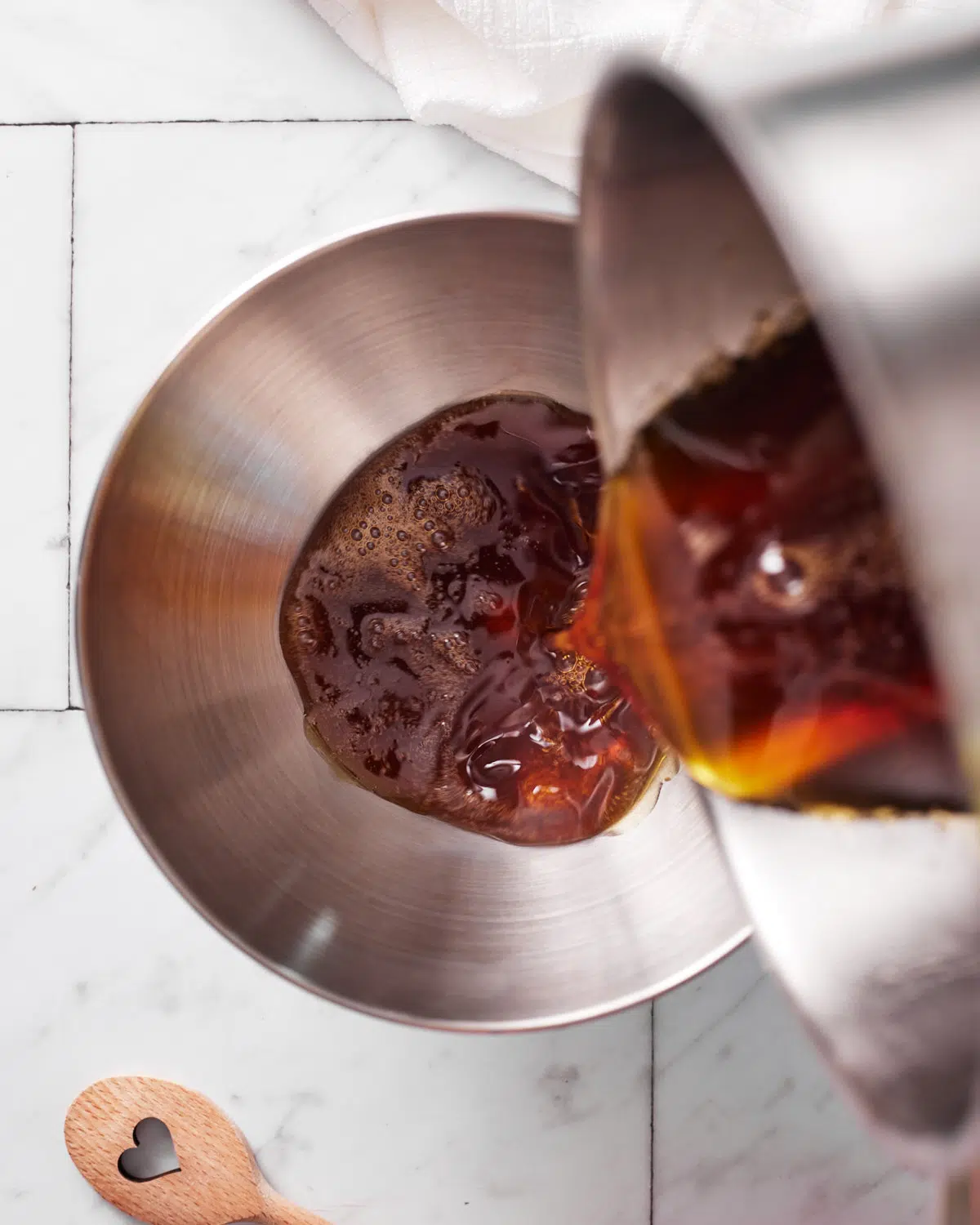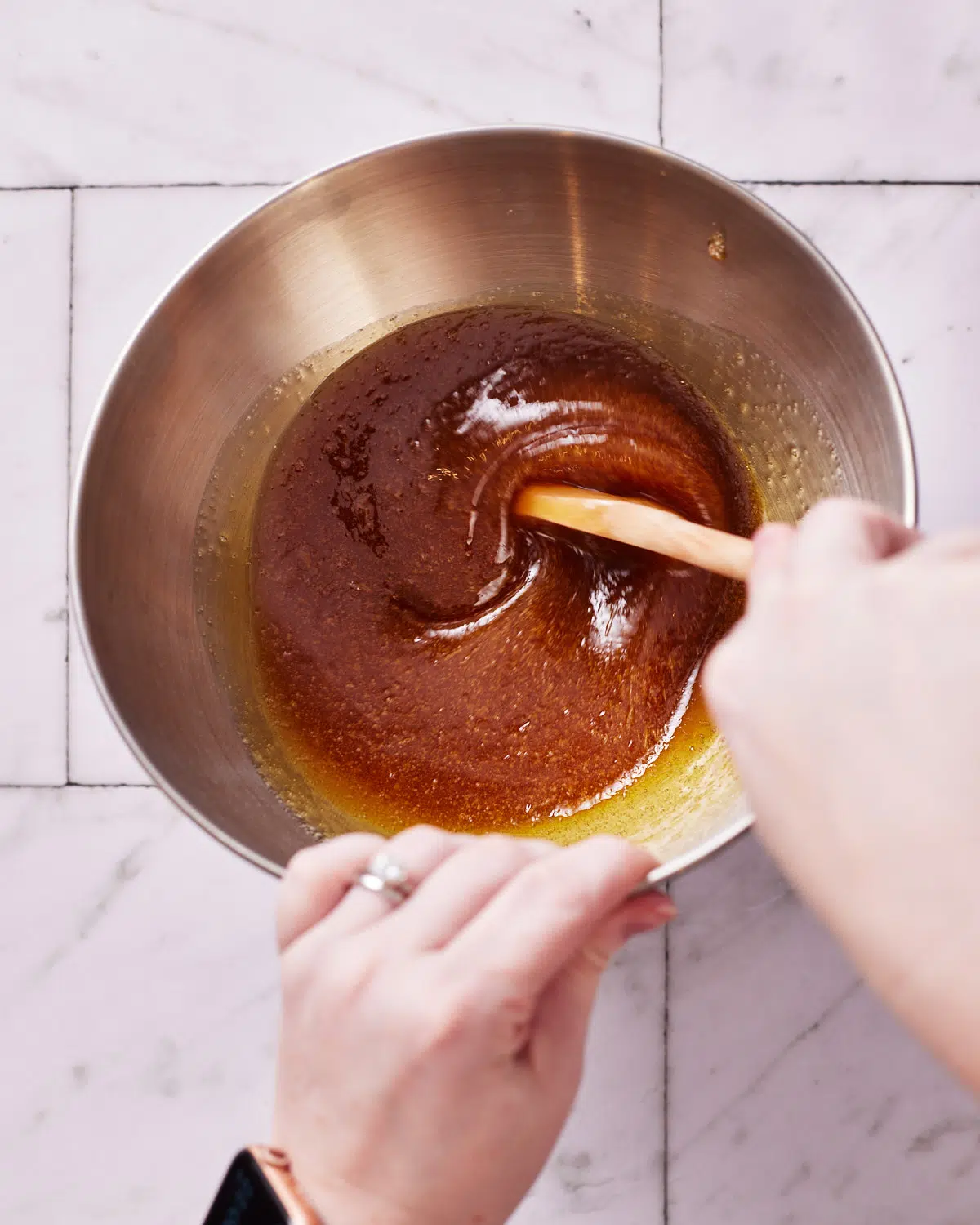 As you stir, the maple syrup should slowly start to get lighter in color. It will get lighter and lighter until it reaches kind of a pale latte color. Once it reaches this color, that means it's almost ready. It may have loosened slightly at this stage so it's looser and slightly easier to stir. Like I said this can be a long process so just be patient and keep going.
Once the right color is reached, keep stirring and watching your maple cream closely for a subtle change. It will be glossy and shiny, then it will lose its shine and will be a thick creamy spread - kind of like the consistency of peanut butter. Once this change happens - it's ready!
As soon as you notice the change, pour your lovely maple spread into a jar or container immediately as it won't stay pourable for long. Leave it to set until ready to serve.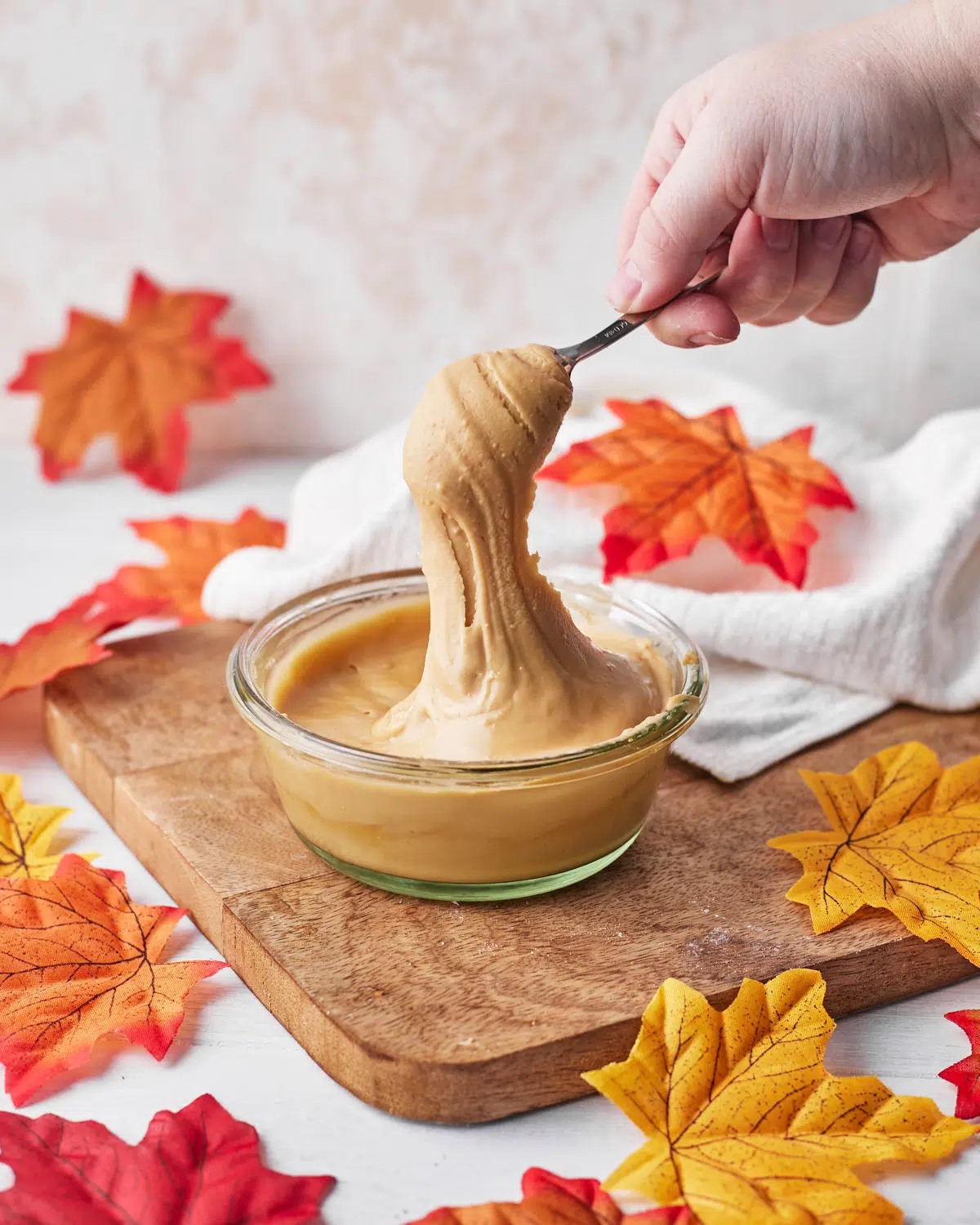 Equipment
Saucepan - you want a medium-sized, tall saucepan as the maple syrup may bubble up as it boils.
Candy Thermometer - you really need a candy thermometer for this maple cream recipe as precise temperatures are crucial.
Mixing Bowl - Whatever bowl you are stirring your maple cream in, it needs to be able to handle sudden temperature changes. Stainless steel is ideal.
Large bowl for ice bath - You need a bowl that is big enough to fit your mixing bowl inside to create an ice bath around it.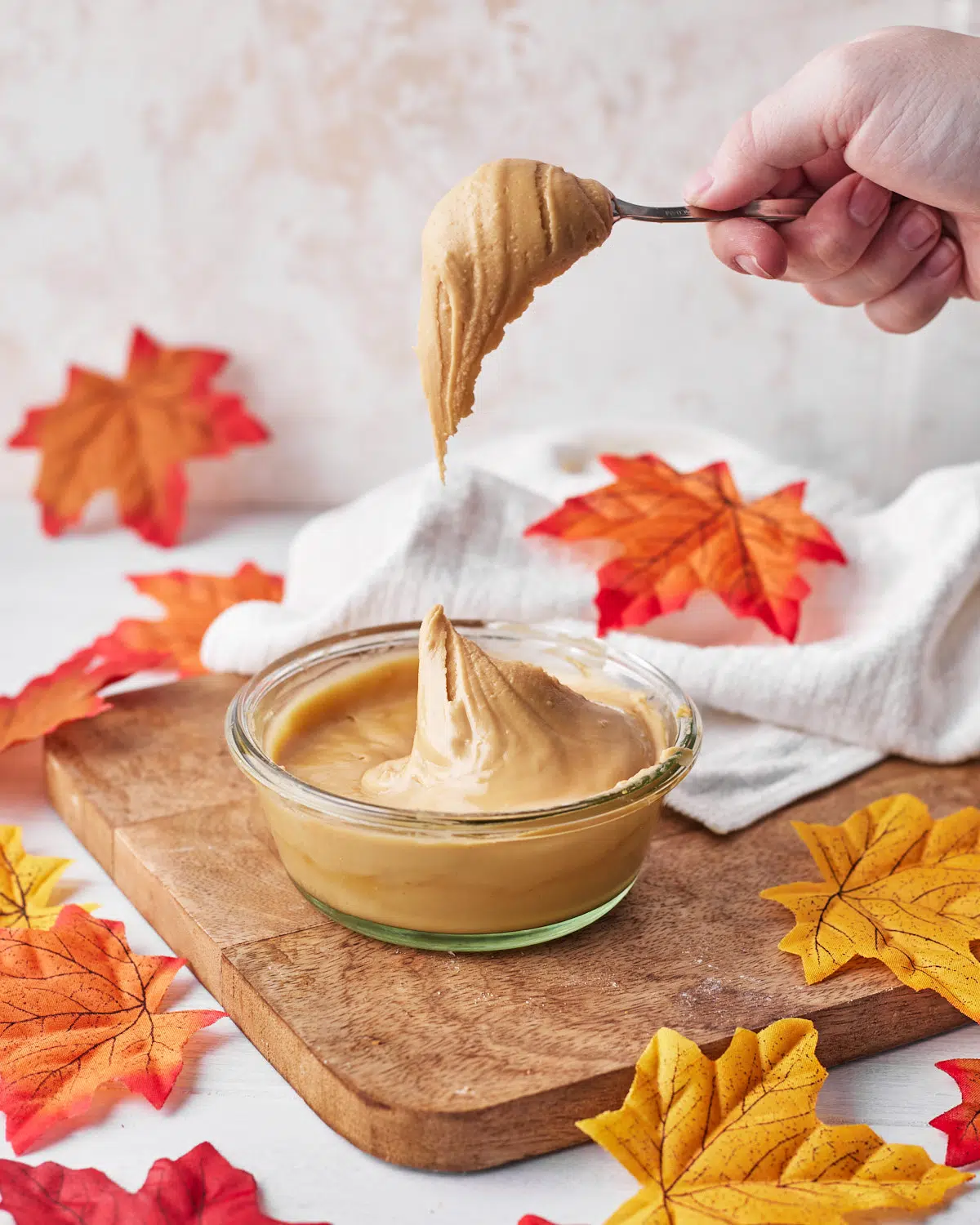 Can you Make Maple Cream with a Stand Mixer?
Technically yes. But I want to preface this with a warning that unless you have a very powerful, durable mixer, I wouldn't advise it. The first time I made maple cream I did it entirely in the stand mixer and my Kitchenaid's motor nearly burned out - it's currently still making funny noises whenever I use it. So I don't recommend doing this purely in the stand mixer.
That being said, it is a lot of work for one person to do by hand, so I recommend either swapping out with a second person or try splitting the load with your mixer. I found the best way is to let my mixer stir for the first 15 minutes, then I took over when it started to get thicker and harder to stir. This way you don't have to do it all by hand but you protect your mixer's motor.
If you do use your stand mixer, make sure you use the paddle attachment and put the mixer on the lowest setting. Check your mixer regularly, if it seems like it is struggling or starts to get warm, turn it off and take over the mixing by hand.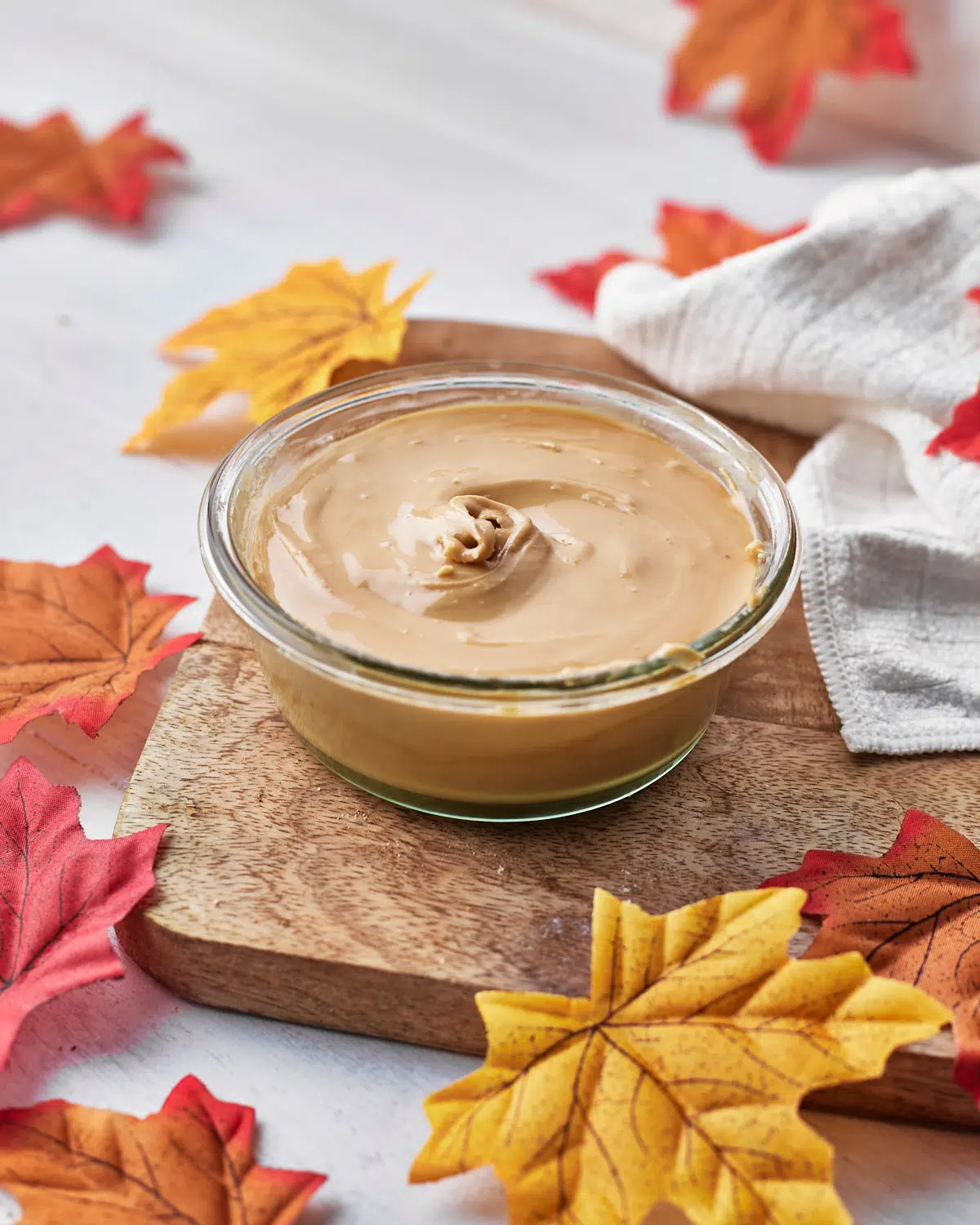 Ways to Use Maple Cream
As a breakfast spread - Of course, maple syrup is classically used in breakfasts! Now you can have a lovely maple cream spread to smear onto your toast, waffles, pancakes, or french toast. It's also lovely on warm biscuits or English muffins - as they balance out the sweetness a bit.
In Ice cream - Sweet on sweet isn't always good, but if you took just a little of this maple cream and swirled it into some ice cream, it takes it to the next level and gives a boring ice cream a whole new life.
As a dip - Because it is the consistency of a spreadable cream, maple butter makes for a really lovely dip for fruit. Try some apple slices dunked into the maple cream! (Green apples are probably best as they are quite tart and would balance out the sweetness).
In savory dishes - Maple cream is very sweet, but I think a tiny bit of sweetness can really compliment a savory dish. Try spreading a very small amount of maple cream onto your bread before making a grilled cheese with bacon - I think this is definitely a winning combination. The sweetness with the saltiness of the bacon would just be sublime!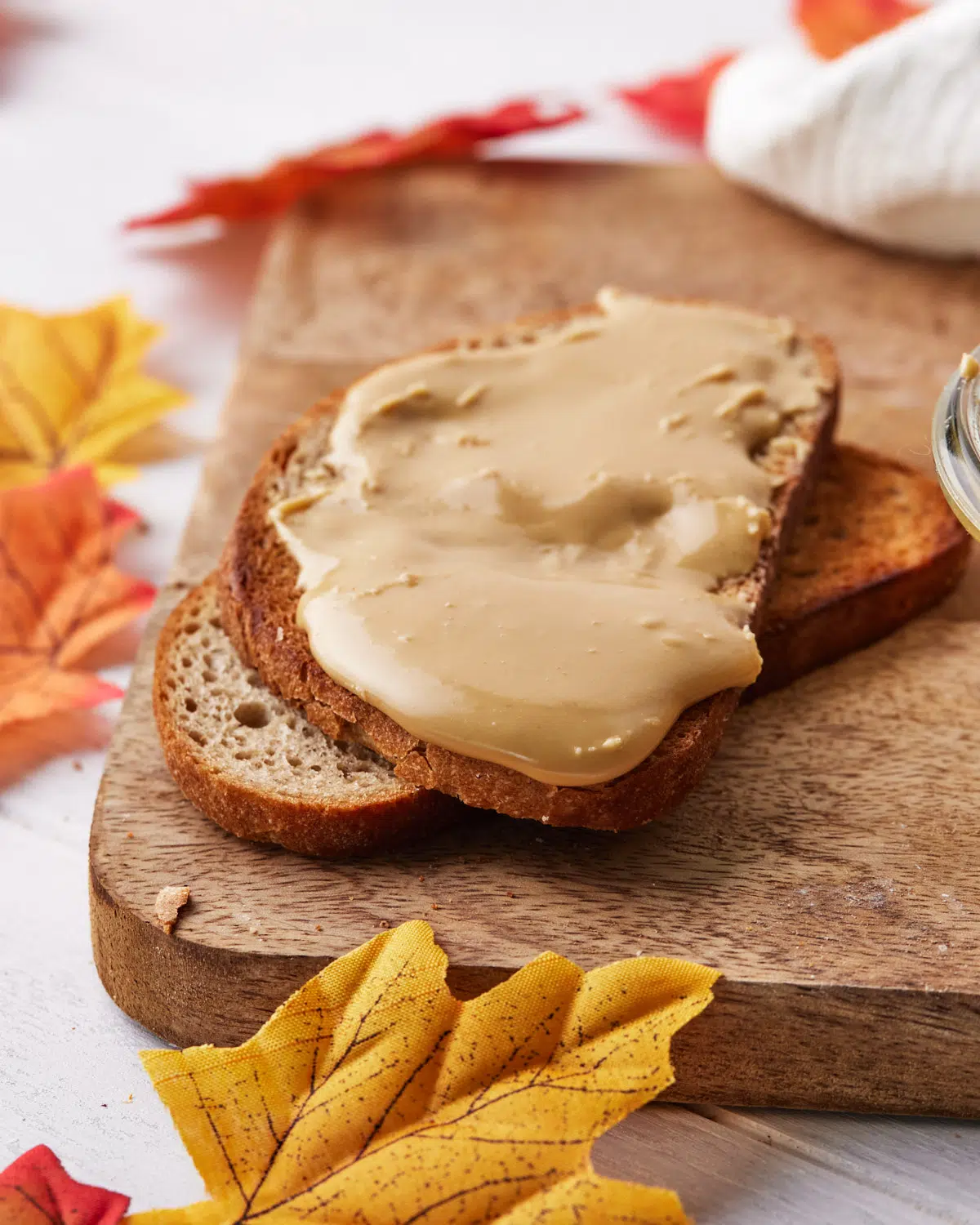 Maple Cream Troubleshooting
Maple cream won't get thick
If you've been stirring and stirring and your maple cream just won't get thick, it's probably because it didn't get hot enough to break down the right crystals. This isn't your fault, as maple syrup is a natural product, the sugar levels are not carefully controlled, so it could be that the sugar levels are slightly higher or lower in one batch of maple syrup to the next, meaning you have to heat it to a slightly higher temperature. Don't worry, your syrup won't' be wasted - just put the same batch back in the saucepan and start again - this time heating to 3 or 4 degrees higher than the last time.
Maple cream is too thick or crystallized
If the maple syrup is too thick to stir or has chunks of crystals in it, it likely got a little too hot and you're going to end up with maple candies. Just add the maple syrup back into the pot with a few tablespoons of water and start again, this time heating to 3 or 4 degrees less than last time.
Note: If you're really having trouble getting the small crystals to form, you can try adding 1-2 tablespoons of powdered sugar to the maple syrup when heating - this will encourage the growth of the smaller crystals. However, this will then technically not be 'pure maple cream' as that is traditionally made with just maple syrup.
Storage
You can store your maple cream at room temperature in an airtight container or jar. You can also keep it in the fridge if you prefer, but it will be even thicker if it is kept cold. The shelf life of your maple cream depends on the shelf life of the maple syrup you used - it will last the same amount of time.
Recipe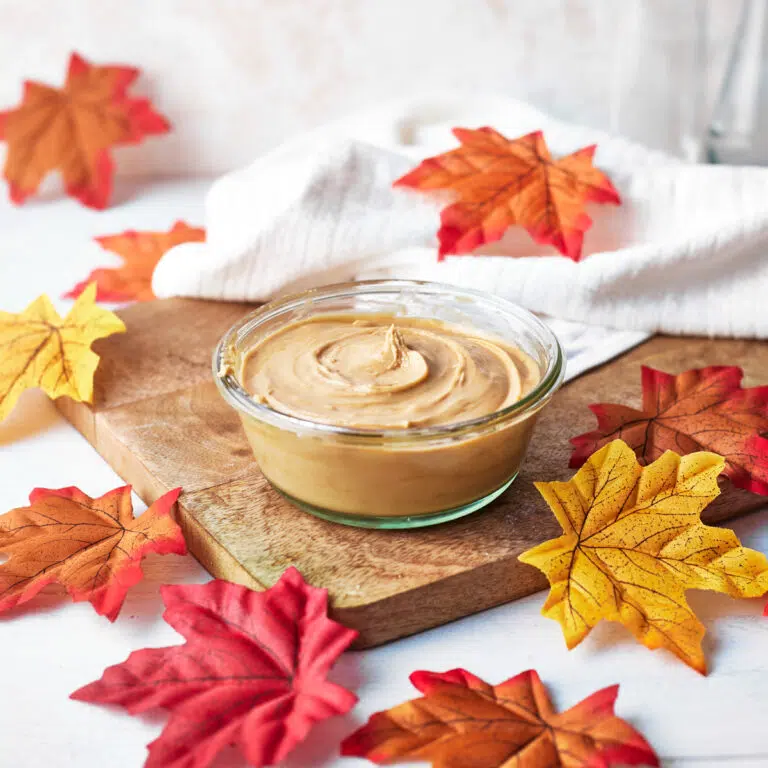 Maple Cream (Maple Butter)
Thick and spreadable maple cream - made with only maple syrup!
Equipment
Medium Saucepan

Large Bowl
Instructions
Pour the maple syrup into a medium saucepan and heat over medium heat.

Heat, without stirring and monitor the temperature with a candy thermometer.

Let the maple syrup boil until it comes to a temperature of 235°F / 113°C

Remove from the heat and pour into whatever bowl you will be stirring in. Submerge the bowl in an ice bath to help the maple syrup cool down quickly.

Do not stir or agitate the cooling syrup in any way. Keep your thermometer in the syrup so you can monitor the temp without inserting it in and out.

Once the syrup is about 80°F / 26°C, start stirring with a wooden spoon or something similar. The maple syrup should be thick like maple taffy. Stir slowly and steadily - this process could take up to 30 minutes of stirring! (For info on how to use a stand mixer for this, read the post above).

As you stir, the maple syrup will thicken and lighten in color. Keep going until it is a pale 'latte' color.

Once it is pale enough, keep an eye on the maple cream, it will go from shiny to matte and will look a little like peanut butter. As soon as this happens, transfer it into a jar or airtight container that you intend to store it in. It will only be pourable for about 30 seconds so move quickly.

Your maple cream is ready! Store at room temperature or in the fridge.
Notes
Make sure to use pure maple syrup. Also, the lighter-colored syrups give the best results. 
If your maple cream doesn't thicken or crystalizes too much - see the 'troubleshooting' section in the blog post above for how to fix it.