These Chocolate Sandwich Cookies consist of two crumbly chocolate shortbread cookies smooshed together with a luxurious whipped chocolate ganache. This delicious and easy-to-make cookie recipe takes chocolate biscuits to a whole new level!
I'll be honest, this recipe was born out of being locked in quarantine with no access to new ingredients, trying to figure out what I could bake with the ingredients I did have. A bit of lockdown baking is fun but can be challenging to figure out what you can bake with very basic ingredients. However, I am happy that this challenge came up because these chocolate sandwich cookies are absolutely scrumptious!
Being Scottish, I feel it is essential to be able to whip up a good shortbread. My chocolate chip shortbread recipe is one of my all-time favourite snacks. But this chocolate shortbread recipe takes it just a little bit further and makes for a rather fancy looking cookie which is deceptively easy to make and doesn't require many ingredients.
Jump to:
Ingredients to make Chocolate Shortbread
One of the best things about this chocolate sandwich cookie recipe is that it really doesn't require many ingredients. In fact, you probably have most of these things already lying around in your cupboard.
Butter - an essential part of any shortbread recipe, make sure your butter is at room temperature before you start so it will fluff up nicely.

Sugar - Regular white sugar is all you need.

Flour - All purpose flour is used in the dough and you'll also want extra to flour your surface with for rolling out the chocolate shortbread dough.

Cocoa Powder - Use dutch processed cocoa powder if you can, but any good quality cooca powder will do.

Vanilla Extract - Any high quality vanilla extract will be great.

Salt - Don't skip the salt! It adds a whole layer other layer to these chocolate sandwich cookeis and cuts through the sweetness of the whipped ganache.
See recipe card for quantities.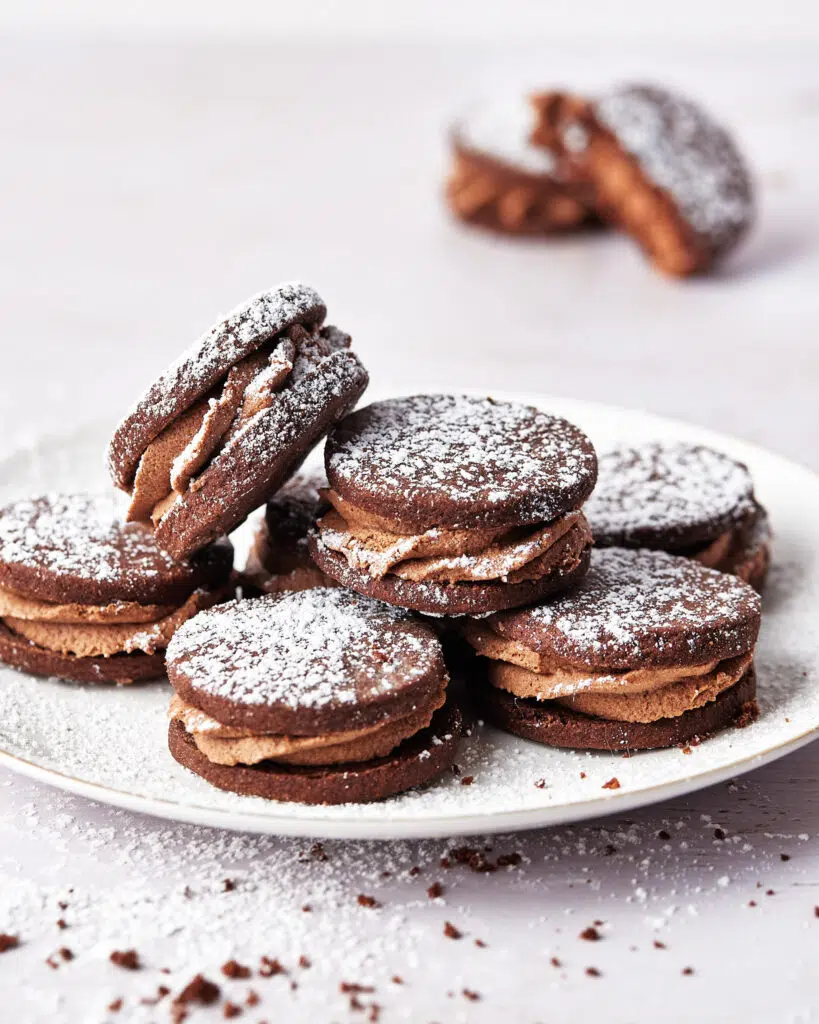 Tips for Making Chocolate Sandwich Cookies
This recipe is incredibly easy to make, but here are a few tips to make sure you make the best chocolate sandwich cookies!
Butter Temperature - Make sure your butter is nice and soft before you start putting ingredients together. This will ensure it gets nice and fluffy which will give the chocolate shortbread its lovely texture.
Chill the Dough - Once the dough is ready, chill it in the fridge for at least an hour before attempting to roll it out. This is a very soft dough and it will be almost impossible to work with if you attempt to do it right away.
Be Gentle - As the chocolate shortbread dough is so soft, you'll need to be very gentle when transferring your cut out dough shapes to your cookie sheet, I always have great results using a cookie lifter.
Don't Overbake - The bake time will vary depending on how thick you roll out your dough and what size of cookie cutter you are using. A great way to tell when they are baked is to watch for the surface of the cookie. When they are unbaked they will have a sheen on top of the dough, as soon as this sheen disappears your cookies are ready to come out. They will still feel very soft, but they will continue to bake on the tray after coming out of the oven.
Cool on the Tray - Let your chocolate shortbread cool completely on the tray before attempting to move them. This allows them to finish baking and to harden up slightly.
Chill the Ganache - If you find your ganache is too soft when trying to fill the chocolate sandwich cookies, put it in the fridge for 10 minutes and then try again.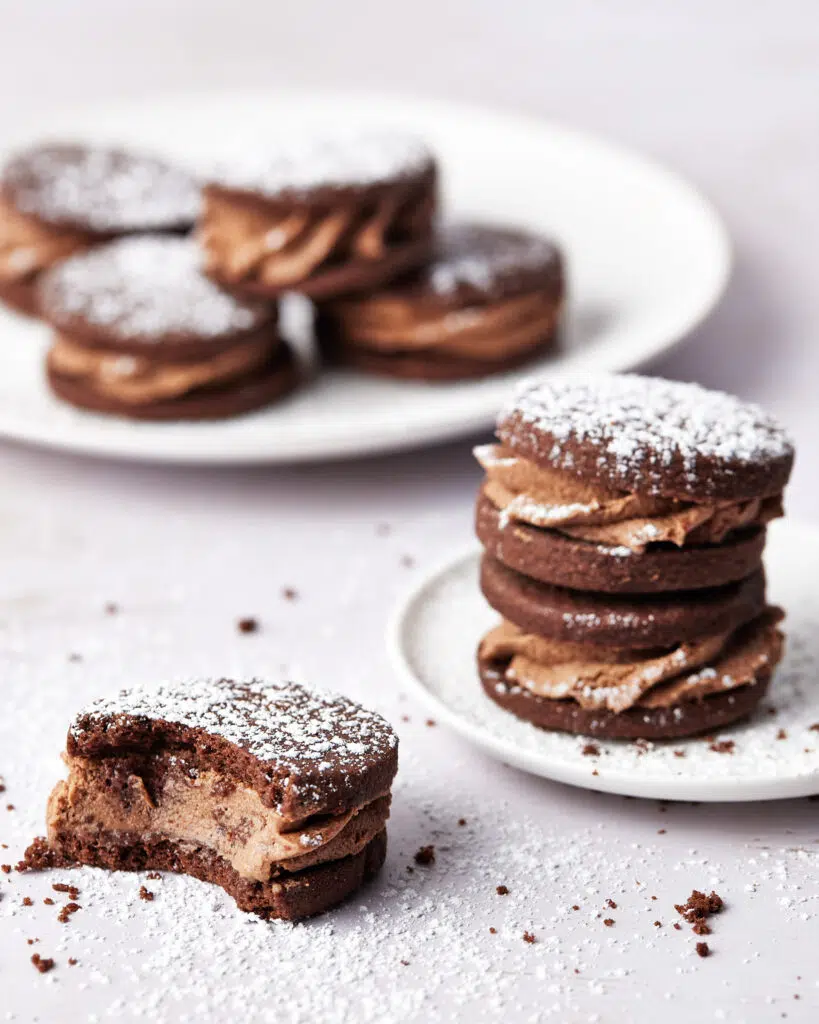 What is Whipped Ganache?
Ganache is a wonderful, versatile thing that can elevate many desserts. It's made with just two ingredients - chocolate and whipping cream. You can use different ratios of chocolate to cream to make ganache suitable for different uses, such as as a chocolate truffle, as a frosting, or as a pouring glaze. I use ganache in a lot of my favourite recipes. It's a topping on my Baked Chocolate Cheesecake and my Chocolate Banana Squares, it's a filling in my Melty S'mores Cupcakes, and it is a glaze for my Prinzregententorte, (German Layer Cake) and it makes every one of those desserts 10 times better!
These chocolate sandwich cookies are filled with a whipped ganache, which is, exactly as it sounds, just regular ganache which has had air whipped into it to make it light and fluffy. Honestly they cookies are fantastic with regular ganache as a filling as well, so it really just comes down to preference if you want to whip it or not. The 'regular' ganache is richer, smoother and more intensely chocolatey, whereas the whipped ganache is a little lighter, fluffier and not quite as rich. But both cookies are delicious!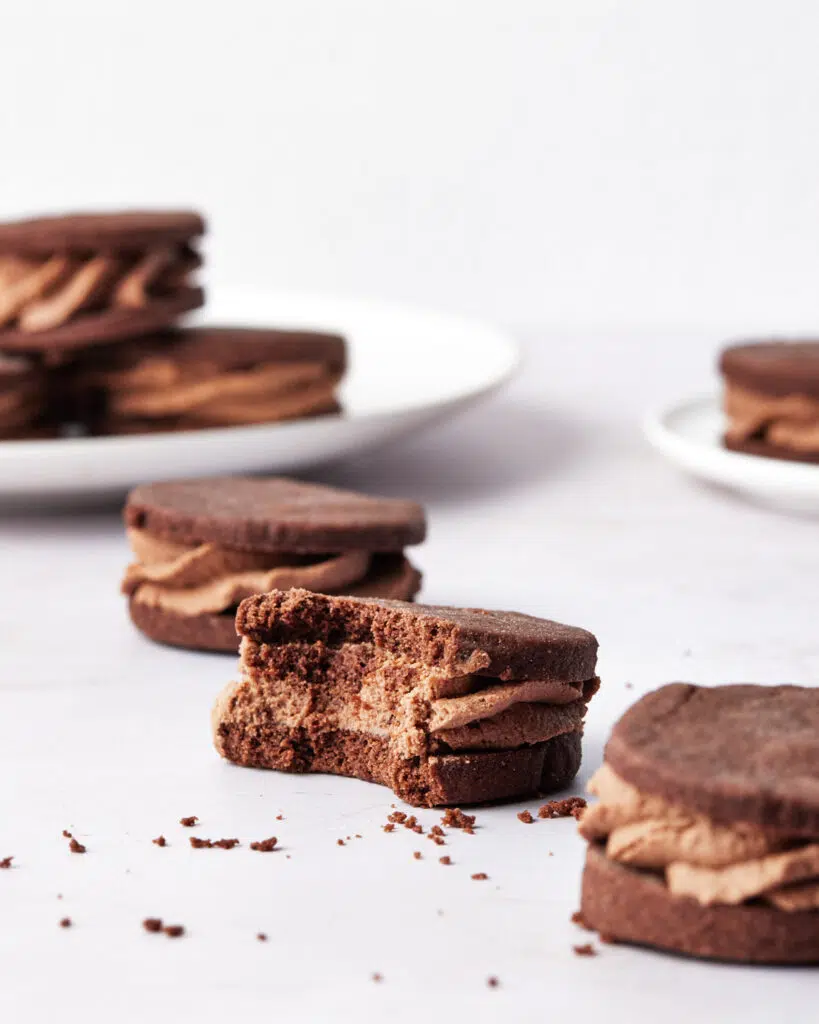 Alternative Fillings for Chocolate Sandwich Cookies
There are so many alternatives to fill your chocolate sandwich cookies with!
Buttercream Frosting - chocolate or vanilla would work well, just make sure you make a thick frosting so the filling doesn't smoosh out the sides of the cookie when you bite.
Regular Ganache - okay there's nothing regular about ganache, it felt wrong just typing that! But a normal, unwhipped ganache makes these cookies VERY rich and chocolatey.
Marshmallow Fluff - for a super sweet and sticky centre, fill the cookies with marshmallow fluff.
Recipe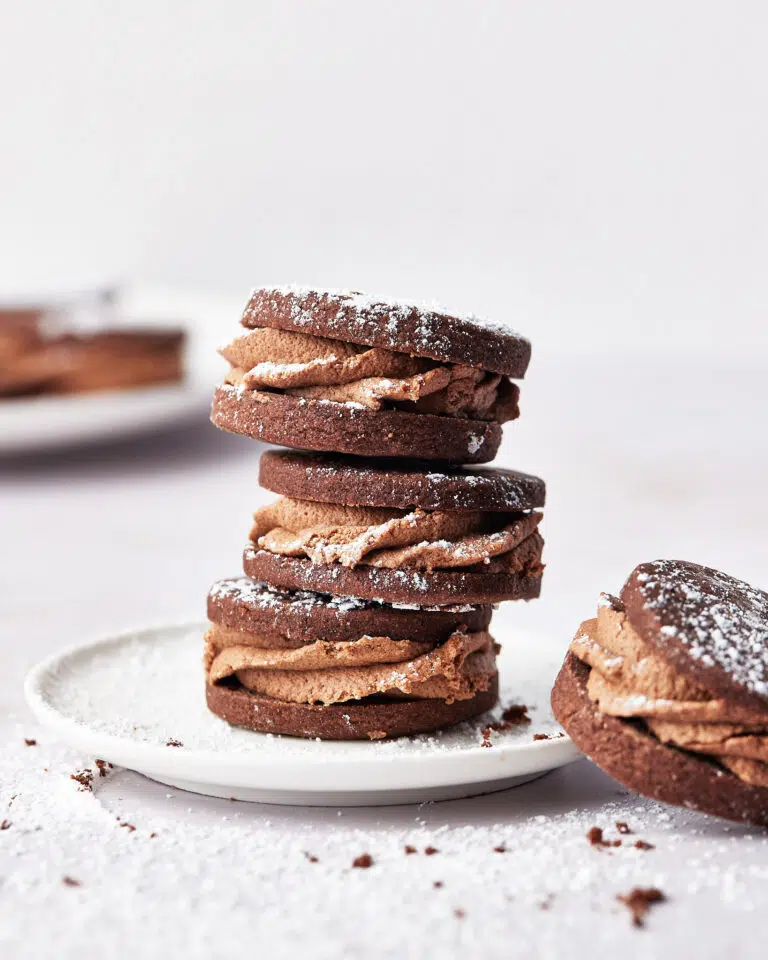 Chocolate Sandwich Cookies with Whipped Ganache
Two crumbly chocolate shortbread cookies sandwiched together with a luxurious whipped chocolate ganache
Ingredients
For the Chocolate Shortbread Cookies
1

cup

Butter

½

cup

White Sugar

1 ¾

cups

All Purpose Flour

½

cup

Cocoa Powder

1

teaspoon

Vanilla Extract

1

teaspoon

Salt
For the Whipped Ganache
300

g

Semi-sweet Chocolate

200

g

Whipping Cream
Instructions
Make the Chocolate Shortbread Cookies
Beat the butter and sugar together until ligiht and fluffy

1 cup Butter,

½ cup White Sugar

Add in the cocoa and vanilla and beat until combined

½ cup Cocoa Powder,

1 teaspoon Vanilla Extract

Add in the flour and salt and mix everything together until everything is combined and a dough starts to form

1 ¾ cups All Purpose Flour,

1 teaspoon Salt

Use your hands to bring the dough together into a ball and knead very lightly. Wrap in clingfilm and put in the fridge to chill for 1 hour

Once the dough has chilled, preheat the oven to 350°F/180°C and line a cookie sheet with parchment paper

Flour your work surface and roll out dough very gently to about ¼ inch thick

Cut out rounds and place them on the cookie sheet

Bake for 8-12 minutes. The cookies will have a sort of shiny look to them as they bake, as soon as the shine disappears, the cookies are ready. They will still be very soft to touch, they will continue to bake on the tray as they cool

Remove from the oven but leave the cookies on the tray until completely cooled
Make the Ganache
Chop the chocolate into small chunks and place in a bowl. Set aside

300 g Semi-sweet Chocolate

Heat the cream in a saucepan over medium-low heat. Don't let it boil, you want to heat it just until tiny bubbles start to form, then remove it from the heat immediately

Pour the cream over the chocolate and let it start to melt. Stir constantly until all the chocolate has melted and the ganache is shiny and smooth. Let cool.
Assemble the Sandwich Cookies
Make sure the cookies and ganache have both completely cooled before assembling. Ganache should be soft but solid (.i.e. not liquid)

If you are whipping the ganache, do it right before assembling the cookies. Use a stand or hand mixer and whip it on high until the desired fluffiness is reached. I beat mine for about two minutes.

Line up your cookies with cookie twins that are similar in shape and size

Pipe or spread ganache onto one of the cookies and sandwich together with the other. Enjoy!
Notes
If the ganache is too soft when trying to eat, put them in the fridge for 10 mins before serving and it will firm up perfectly. 
Nutrition
Calories:
267
kcal
Carbohydrates:
23
g
Protein:
3
g
Fat:
19
g
Saturated Fat:
12
g
Polyunsaturated Fat:
1
g
Monounsaturated Fat:
5
g
Trans Fat:
1
g
Cholesterol:
39
mg
Sodium:
203
mg
Potassium:
140
mg
Fiber:
2
g
Sugar:
11
g
Vitamin A:
438
IU
Vitamin C:
1
mg
Calcium:
23
mg
Iron:
2
mg