S'mores cupcakes. It's not hard to understand why this was one of our most popular cupcake flavours in the bakery. You have a moist, rich, chocolatey sponge filled with oozing chocolate ganache and topped with a toasted marshmallow frosting. If that doesn't make you think of summer campfires I don't know what will!
These are great for both kids and adults and are appropriate at pretty much any kind of party or event and there are so many different possibilities for how you could decorate them. The bottom line is that s'mores cupcakes will always look great and always look delicious, so if you need a win - this one is for you!
The Melty Middle
These s'mores cupcakes are pretty awesome without the melty chocolate filling, but if you want a true gooey s'mores effect then don't skip this step! The filling is basically just a chocolate ganache with the chocolate to cream ratio tweaked slightly so that it will stay fluid and ooze out when you bite into the cupcake.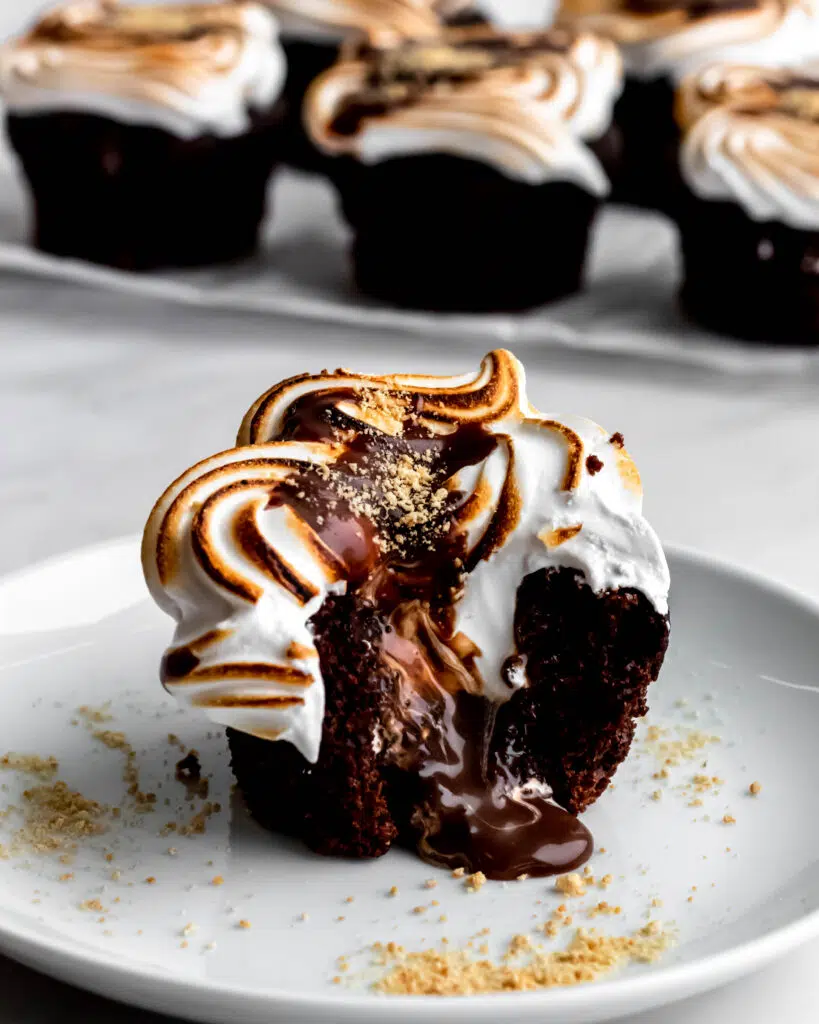 Options for the Marshmallow Frosting
It wouldn't be a s'mores cupcake without the marshmallow frosting. This frosting is a meringue with extra sugar and vanilla added in to give it that thick, marshmallowy texture and sweet, sticky taste. The meringue in the recipe below is an Italian meringue, which means you heat the sugar to make a sugar syrup and pour that into the egg whites to form the meringue - the heat from the hot syrup cooks the egg whites so this version is better if you are concerned about eating raw eggs.
However, if you prefer, you can also make a French meringue, which is a much easier and more common method of just whipping the egg whites and adding sugar one tablespoon at a time until it has all dissolved into the egg. This method is just as delicious, but the eggs are not cooked in any way so it's up to you which meringue you prefer.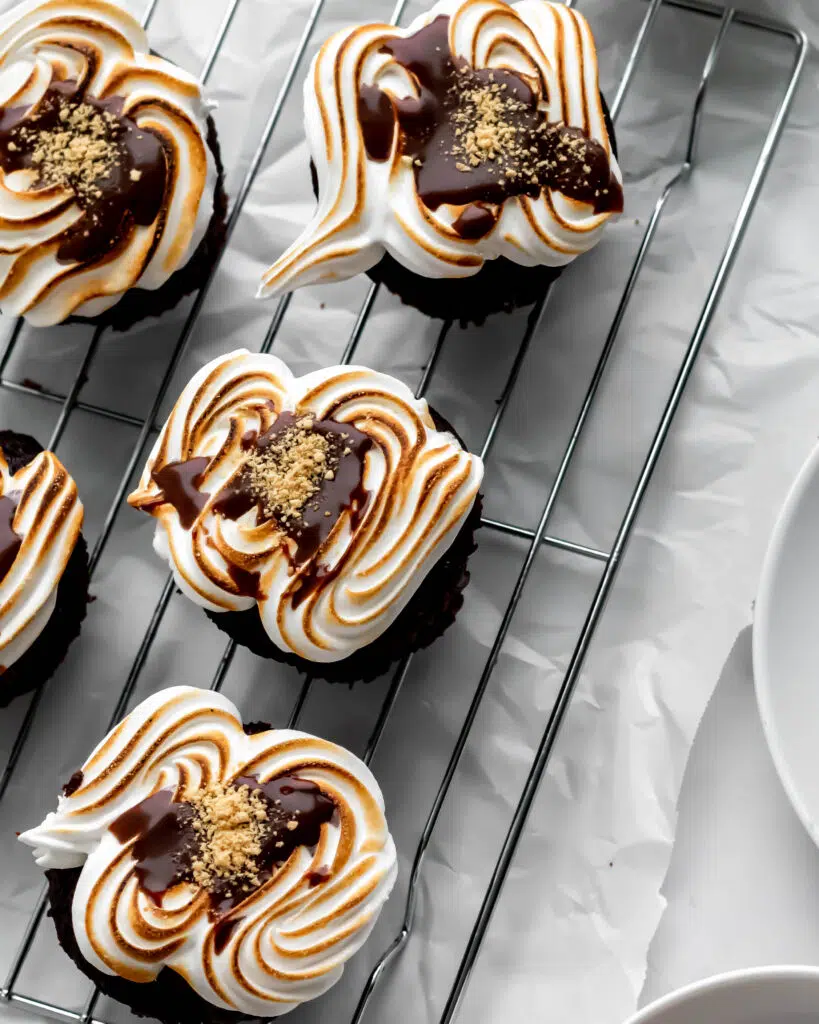 How to Decorate S'mores Cupcakes
Part of the beauty of these is that there is really no wrong way to decorate them. S'mores are messy by nature so it's impossible to make these look bad! The marshmallow frosting pipes like a dream so you can do any kind of top you want on the cupcakes, whether it's a tall swirl, zig zags, little rosettes or just a bit spooned dollop - they all look amazing.
If you have a blowtorch, these toast beautifully and it adds a nice element to the design, but the toasting doesn't really affect the flavour at all so if you don't happen to have a kitchen blowtorch lying around then don't worry, your s'mores cupcakes will still be showstoppers!
Recipe
Melty S'mores Cupcakes
Rich chocolate sponge with a melty, gooey chocolate ganache centre and topped with toasted marshmallow frosting
Ingredients
For the Chocolate Cupcakes
1 ½

cups

All-purpose Flour

⅔

cup

Cocoa Powder

1 ½

cups

White Sugar

(caster sugar)

2

Eggs

½

cup

Vegetable Oil

1

teaspoon

Vanilla Extract

¾

cup

Milk

⅓

cup

Hot Water

2

teaspoon

Baking Powder

¼

teaspoon

Baking Soda

½

teaspoon

Salt
For the Melty Chocolate Filling
½

cup

Whipping Cream

150

g

Milk Chocolate
For the Marshmallow Frosting
4

Egg Whites

1 ½

cups

White Sugar

(caster sugar)

1

teaspoon

Cream of Tartar

¼

cup

Water
Instructions
Preheat oven to 350°F and line a muffin pan with cupcake liners
Make the Chocolate Cupcakes
Sieve all the dry ingredients into a large mixing bowl

Add the eggs, oil, milk and vanilla and beat for a couple of minutes until combined

Add hot water and mix together. The batter will be fairly liquid

Spoon the batter into the cupcake liners and bake for 18 minutes or until a skewer comes out clean
Make the Melty Chocolate Filling
Chop your chocolate into small pieces and place in a bowl

Heat the cream in a small saucepan until it is scalding hot (little bubbles appear on the surface, this is the stage before is starts to boil)

Remove from the heat and pour the cream into the chopped chocolate, let sit for 30 seconds

Stir the mixture together until smooth and silky. Let cool
Make the Marshmallow Frosting
Whip the egg whites and cream of tartar on high until soft peaks form

Separate ½ a cup of the sugar into a bowl and slowly add it to the egg whites, one tablespoon at a time, whipping in between each addition

Add the remaining sugar and the water to a saucepan and heat to the soft ball stage/ 240°F (see description above if you don't have a candy thermometer)

While still whipping, slowly pour the sugar syrup into the egg whites in a slow, steady stream

Continue to whip on high until the mixture has completely cooled down. Your bowl should no longer feel warm to the touch once it's ready

Your meringue should be thick and glossy
Construct your S'mores Cupcakes
Once the cupcakes have completely cooled, core out the middle of the cupcake using a cupcake corer or teaspoon

Fill the cavity with chocolate filling

Pipe or spread the marshmallow frosting onto the cupcakes

If you want to, you can blowtorch the marshmallow frosting for a 'toasted marshmallow' look

Drizzle remaining chocolate filling over the top of the marshmallow frosting and sprinkle with some graham crackers crumbs