Finally, a pistachio cake with a real, punchy pistachio flavor! Deliciously soft pistachio cake made with real pistachios, topped with pistachio Italian meringue buttercream!
I love pistachios and LOVE pistachio flavor - it's my favorite flavor of ice cream or dessert.
Unfortunately, a lot of the desserts and cakes out there that claim to be pistachio are either seriously lacking in flavor or taste entirely fake. Or even worse, they're made with instant pistachio pudding mix - please don't do this! But this delicious cake recipe is so packed full of pistachios - and you can really tell from the taste!
This pistachio layer cake is made from actual pistachios! The fluffy pistachio sponge cake has both pistachio paste in the batter and chopped pistachios baked into it. Then the pistachio Italian Meringue Buttercream just makes sure you're getting multiple levels of pistachio yumminess in every bite. I think this may be my favorite invention so far! If you're a pistachio lover like me, you should check out my Pistachio Crumble Muffins, my Pistachio Cannoli recipe, or my show-stopping Pistachio Dacquoise.
Jump to:
Ingredients
The pistachio cake ingredients are very simple and are all things you should be able to easily find. The trickiest ingredient is the pistachio paste, but I will show you how to easily make it yourself if you can't get your hands on any.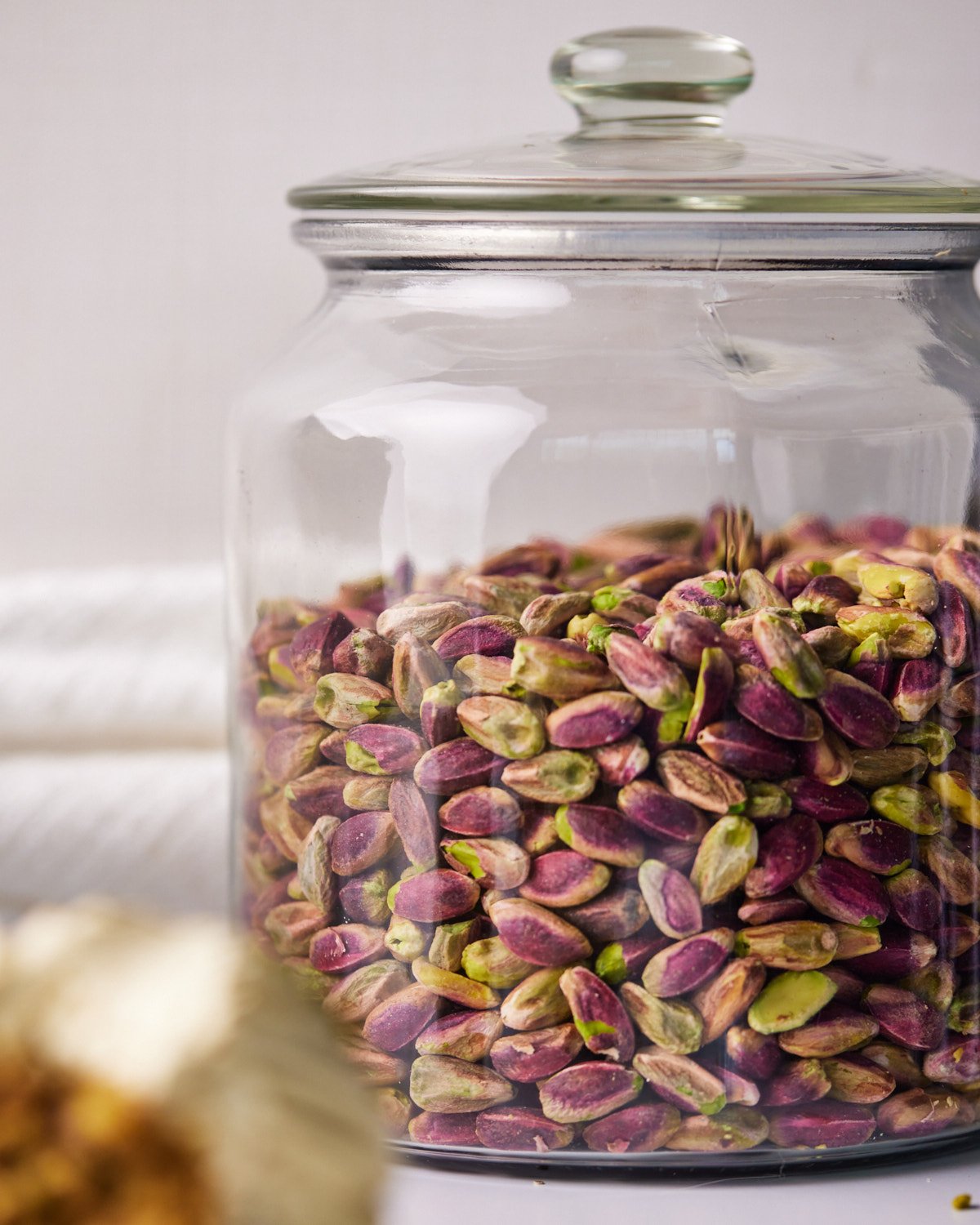 Butter - We'll be using butter in both the cake batter and the pistachio frosting. You can use salted or unsalted butter for this, since pistachios are synonymous with that salty flavor.
Sugar - We'll use white sugar as this will provide the best structure and will show off the pistachios best. Make sure it's superfine sugar (caster sugar in the UK).
Flour - You can use all-purpose flour (plain flour) or cake flour. Cake flour will give a much more tender crumb whereas all-purpose will be a little more sturdy - it's down to personal preference.
Eggs - Be sure to use large eggs and always free range if you can.
Sour Cream - This will help give the pistachio cake that gorgeous fluffy texture.
Milk - The milk helps make a super moist cake. I used whole milk, but you can use whatever kind of milk you like.
Pistachio Paste - This is how we pack in all that amazing pistachio flavor. Pistachio paste (also known as pistachio butter) is made from 100% pistachios, crushed up in the food processor to make a smooth, buttery texture. You can buy it in specialty stores, order online or you can make your own. Note: If you are buying it, make sure you get pistachio paste or pistachio butter, and NOT pistachio cream - see below for more info.
Almond Extract - This really shows off the pistachios and brings out the nutty flavor. Pistachios don't have a naturally strong flavor by themselves. The almond extract kind of pulls it out and gives it a twirl around to show it off. You should find almond extract in the baking aisle of most grocery stores.
Vanilla - Use a high-quality vanilla extract or vanilla bean paste. Try to avoid vanilla essence.
Pistachios - Of course, we have actual pistachios through the pistachio cake! The nuts soften beautifully in the oven so they give just a tiny bit of bite, rather than a crunch. Most stores will stock roasted and salted pistachios. If you really don't want the salt in there you can shop around for unsalted ones. I actually used salted ones though and I loved how it tasted. You don't notice the salt at all, if anything it cuts through the sweetness a little which is nice.
Green Food Coloring (optional) - If you'd like to make your cake a punchy green color, you can add a few drops of green food coloring. I find the only kind of food coloring that is strong enough to come through a baked batter is the gel food colorings. For this cake, I used Colour Mill - Avocado Green. I also think it looks really nice with its natural color, so don't feel you need to add the green.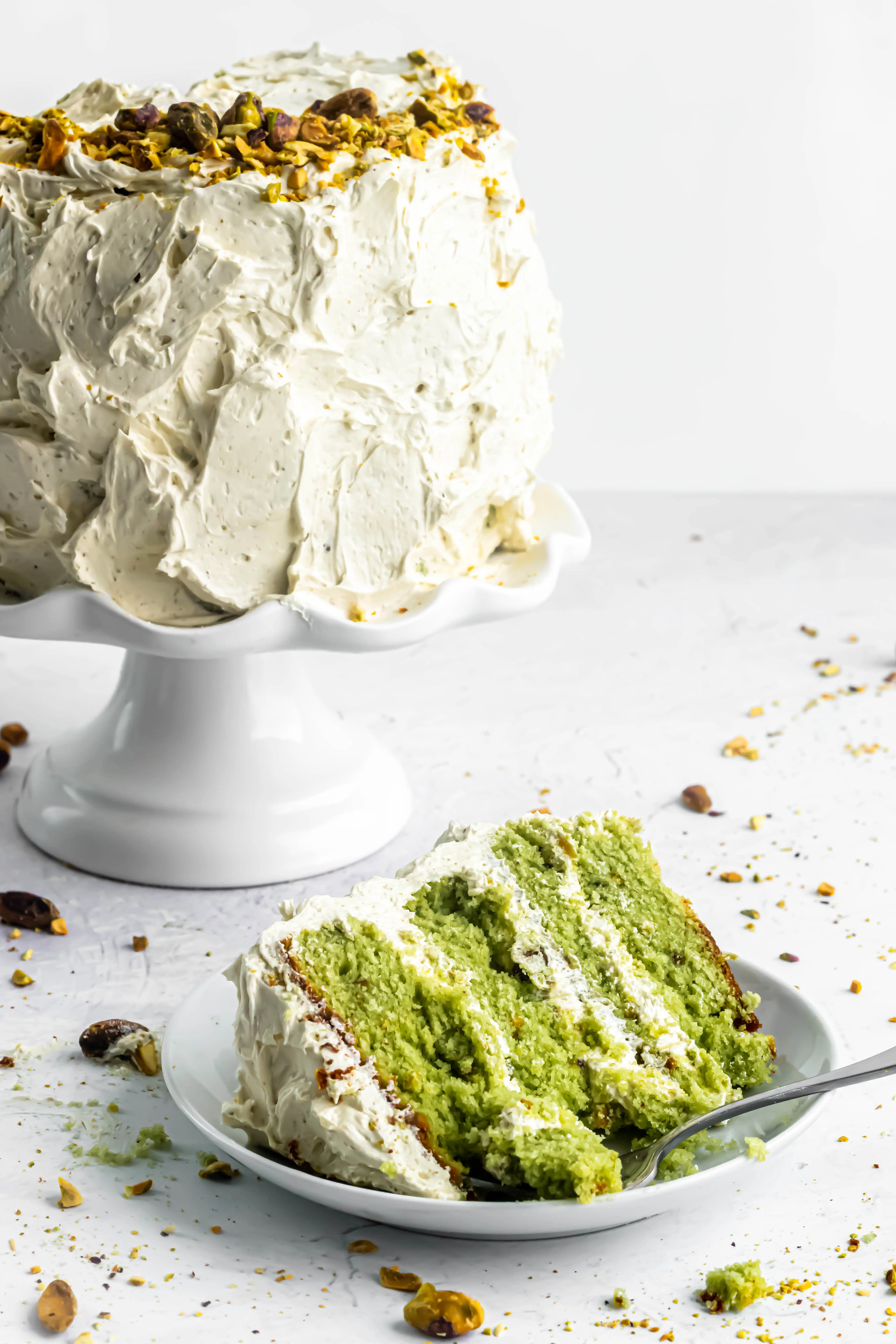 How to Make the Pistachio Cake
This is a very easy pistachio cake recipe with relatively simple ingredients, that just create a real wow factor. Follow these step-by-step instructions for a perfect pistachio dessert!
Preheat the oven to 350°F / 180°C and grease two 8-inch cake pans. I like to spray with nonstick spray and then use these parchment paper cake circles on the bottom of my cake pans to ensure there is no sticking.
Put the butter and sugar in a large bowl, or the bowl of a stand mixer, and beat on medium speed until light and fluffy. I used a stand mixer with a paddle attachment, but you could also use a large bowl and electric mixer.
Add the eggs and beat until combined.
Add the sour cream and beat until well incorporated.
Sift the dry ingredients into a bowl, including the flour, baking powder, baking soda, and salt. Add a third of the flour mixture to the cake batter and mix on a low speed until totally incorporated.
Add half of the milk and mix until totally incorporated.
Once the milk is totally mixed in, add another third of the flour mixture. It's important not to add the flour when there is still unmixed milk in the bowl, as the flour and milk will combine into a gluey mess. Mix in the flour.
Mix in the remaining milk completely, and then the remaining flour. Make sure you are regularly scraping down the sides and bottom of the bowl with a rubber spatula during this process to check for any lumps of flour that haven't mixed in.
Add the pistachio paste, vanilla extract, and almond extract and mix until just combined.
Lastly, chop up your pistachios and fold them into the batter. You can chop these as finely or as roughly as you would like. I like to have some nice big chunks of pistachio in mine.
Divide the batter between the two prepared cake pans and bake for 35-45 minutes, or until a skewer inserted comes out clean.
Allow the pistachio cakes to cool for about an hour before removing them from the pan and transferring them to a wire rack. This is a very soft cake so be gentle with it!
Note: If you'd like to make your pistachio cake nice and green, add a few drops of green food coloring at the same time as the paste and extracts. This is fun for something like St. Patrick's day or to really make the cake pop. Though I think it is perfectly pretty with its natural color.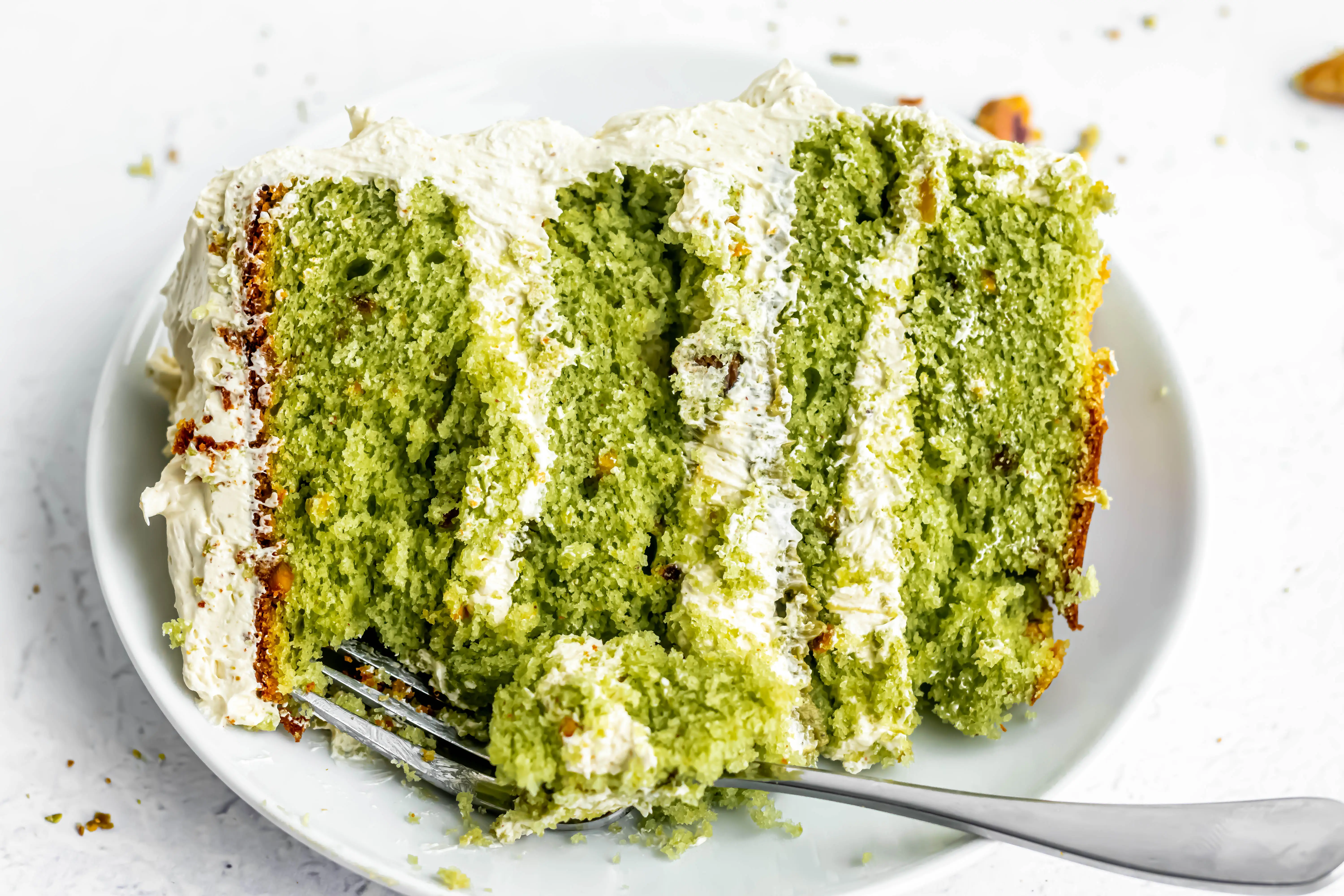 Video
If you'd like to watch how this recipe is made, check out my video below.
Pistachio Italian Meringue Buttercream
I actually baked the cake first before deciding what kind of frosting to put on this because I wasn't sure how it was going to taste. As soon as I tried a piece of the pistachio cake I knew I wanted to pair a pistachio Italian meringue buttercream with it. Firstly it's a very soft sponge, so an American buttercream or cream cheese frosting would weigh too heavily on it. Secondly, I wanted something which would take on the pistachio flavor well. Something like a cream cheese frosting would have competed with the flavor.
Also, and maybe this is just in my head, but I feel like this pistachio cake is a classy dessert and deserves a fittingly classy frosting to accompany it! In my opinion, Italian Meringue Buttercream is about as elegant as it gets!
First, I made a batch of my classic Italian Meringue Buttercream recipe. Then I added two tablespoons of Pistachio paste and a teaspoon of almond extract to it at the end. I could easily have just eaten this with a spoon! Silky smooth and pistachio flavored - it was like room temperature pistachio gelato! Here is a quick overview of the steps to making the frosting:
Whip egg whites in the bowl of a stand mixer with the whisk attachment on high speed. You can also use an electric whisk but your arm may get tired!
While the eggs are whipping, slowly add 1 cup of the sugar, 1 tablespoon at a time, letting it whip in between additions, to make a meringue.
Meanwhile, heat the sugar and water in a saucepan over medium heat.
Bring the sugar and water to a temperature of 240°F / 115°C.
By now all the sugar should be incorporated into the egg whites and they should be thick and glossy.
Gradually pour the hot sugar syrup into the egg whites, while they are whipping at low speed.
Turn the speed up to medium-high and whisk until the bowl no longer feels warm to the touch.
Gradually begin adding the butter, one cube at a time, until totally incorporated.
Once all the butter is mixed in, add the pistachio paste and almond extract and whip on high speed for one minute.
For the full recipe info and further tips on making this frosting, check out my Italian Meringue Buttercream post.
The pistachio frosting will naturally have a slight green color from the pistachio paste, but if you want to take this up a notch you can add some green food coloring to the frosting too.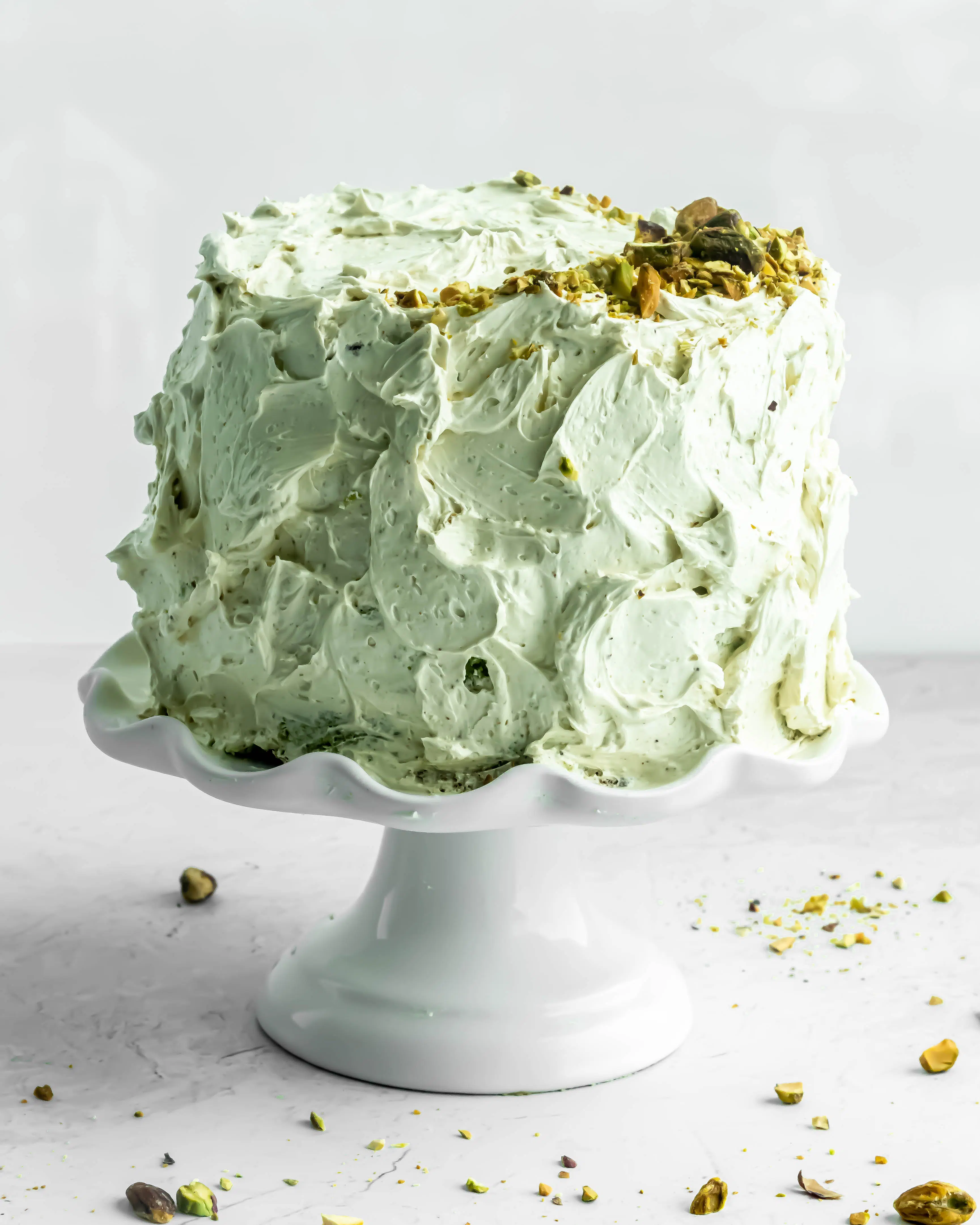 How to Assemble the Pistachio Layer Cake
Once your pistachio cake has cooled and your pistachio buttercream is ready to go, it's time to assemble the cake!
Start by cutting the domes off the tops of the cake. I like to use a cake leveler to ensure perfectly even slices - but you can use a large serrated knife too.
Decide if you want to have two thick layers of cake or four thinner layers. If you'd like four thinner layers, cut each of your cakes in half horizontally to make four even cake layers.
Place the first layer on your cake plate or board and then spoon a healthy dollop of pistachio buttercream on top. Use a palette knife or offset spatula to smooth it out to make a nice even layer of frosting. If you want to create perfectly even layers, use an ice cream scoop to measure out your frosting so you are applying the exact same amount in between each layer.
Add the next layer and repeat until you reach your last layer. Then spread a thin layer of frosting all over the sides of the cake and along the top of the cake. This will act as a crumb coat.
Let your cake chill for 15 minutes.
Apply a thicker layer of frosting all over the whole cake. You can use a bench scraper to smooth it out perfectly, or you can use the back of a spoon to create a pretty pattern.
Finish the cake off by topping with some more chopped pistachios in various sizes.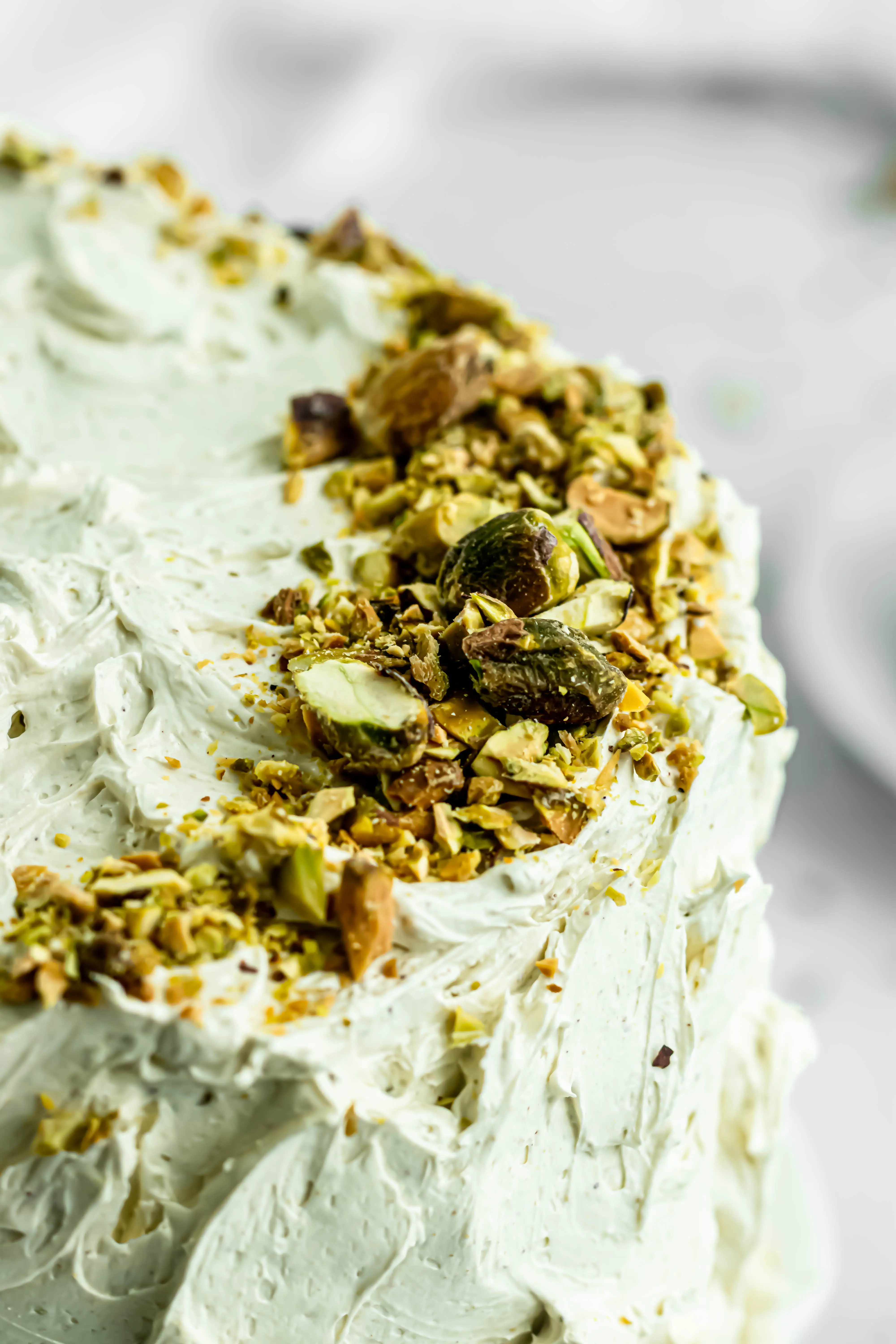 How to Make Your Own Pistachio Butter
The pistachio paste / pistachio butter is the key ingredient in this homemade pistachio cake. It's fairly easy to find pistachio paste or butter online (like here) or in specialty cooking stores. But if you can't find it you can easily make it at home with just a bag of pistachios and a food processor. (It's also cheaper to make it at home too!). I have an entire blog post on how to make your own pistachio butter, but here's a brief rundown.
To start, make your life easier by buying the shelled pistachios. This means you don't have to spend forever taking all the shells off, it's a real time saver! You can use salted or unsalted pistachios, according to your preference. Either will work in this cake recipe.
Put two cups of shelled pistachios into your food processor and turn it on high. You'll see the pistachios pretty quickly turn to ground pistachios. Keep going and they will slowly turn into pistachio butter.
If your pistachios don't seem to be turning into a paste after a couple of minutes, add a few tablespoons of vegetable oil (or any flavorless oil) and keep going.
It should be beautifully smooth and spoonable.
Spoon the pistachio butter into a jar and store in the fridge for up to a month.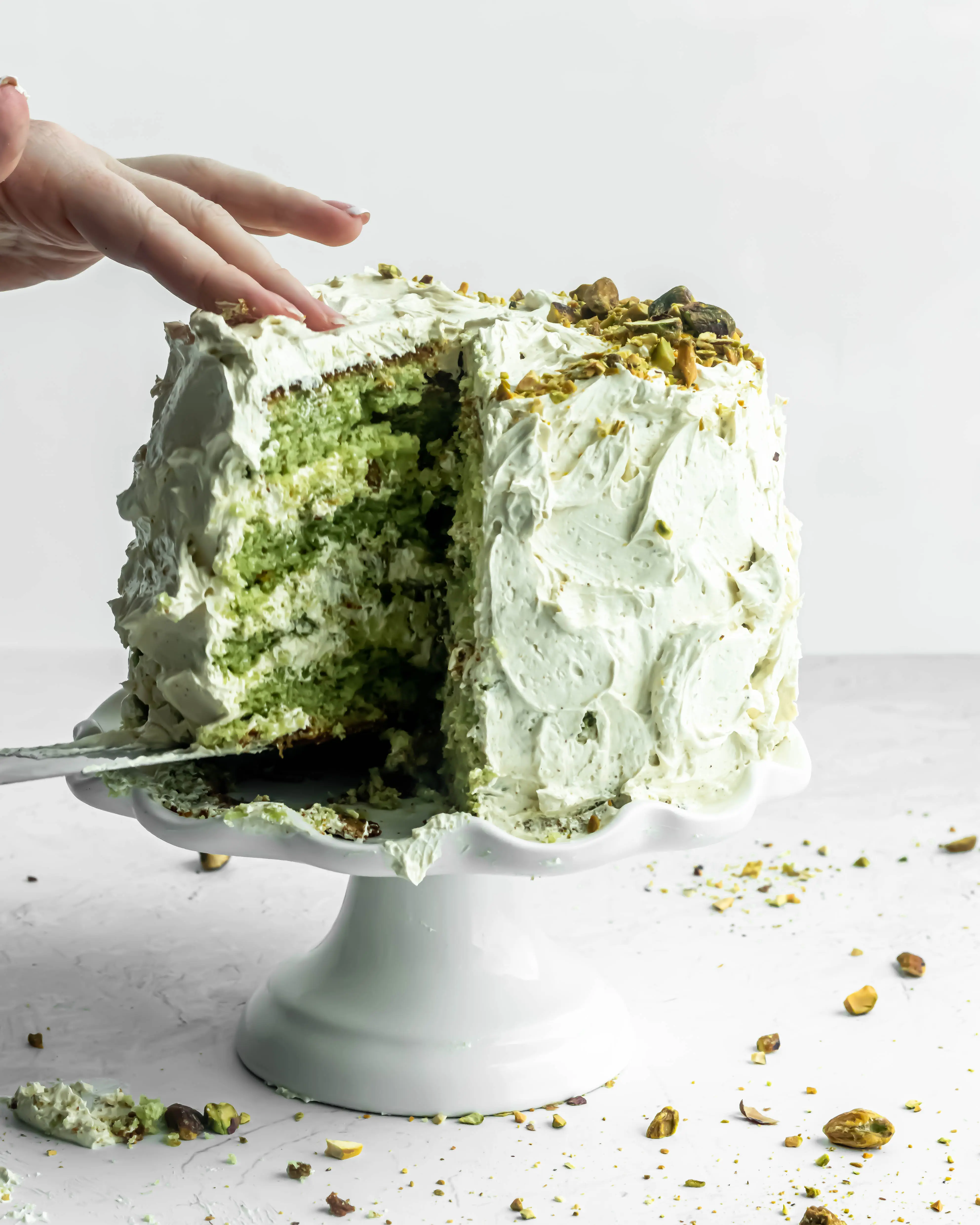 The Difference Between Pistachio Paste and Pistachio Cream
If you are buying pistachio paste to use in this pistachio cake recipe, make sure you do pick up pistachio paste and not pistachio cream. The containers may look similar but they are totally different products. Pistachio paste is made from 100% pistachios - that's the only ingredient. They are just blended up extremely finely until the natural oils turn them into a paste. As I mentioned above it's really easy to make your own at home if you can't get your hands on the premade stuff.
Pistachio Cream is an entirely different product. Though personally I always buy some of this too because it's utterly delicious. It still has real pistachios in it but there are a few other things in the mix too. It tastes like a really creamy, delicious kind of pistachio Nutella - that's the best way I can think to describe it! I use it in a few other recipes as a filling or topping and may have also spread it on toast once or twice... It is absolutely divine, but for this pistachio cake recipe, you definitely want 100% pistachio paste.
Note: Pistachio paste and pistachio butter are the same thing - but pistachio cream is different.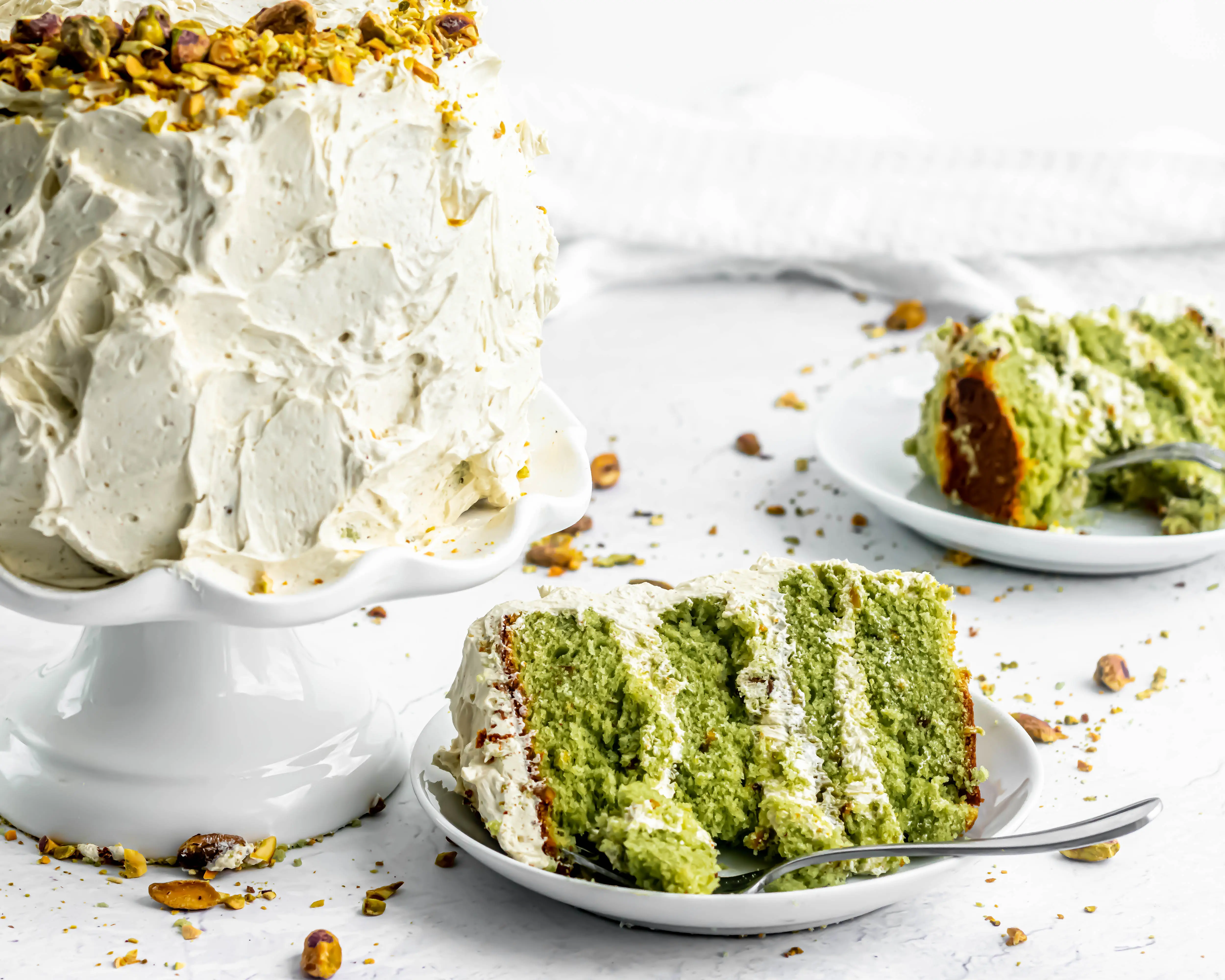 Can this Recipe Make Pistachio Cupcakes?
Yes, it can! In fact, I actually have a whole post dedicated to Pistachio Cupcakes. For the cupcakes, I actually left them as their natural color and didn't add any food coloring, so if you check out that post you can see how this cake would look without the green color. (Spoiler alert: still super pretty!)
You can also use this recipe in a bundt cake pan to make a pistachio bundt cake, just make sure you grease your bundt pan VERY thoroughly as this is a very soft cake.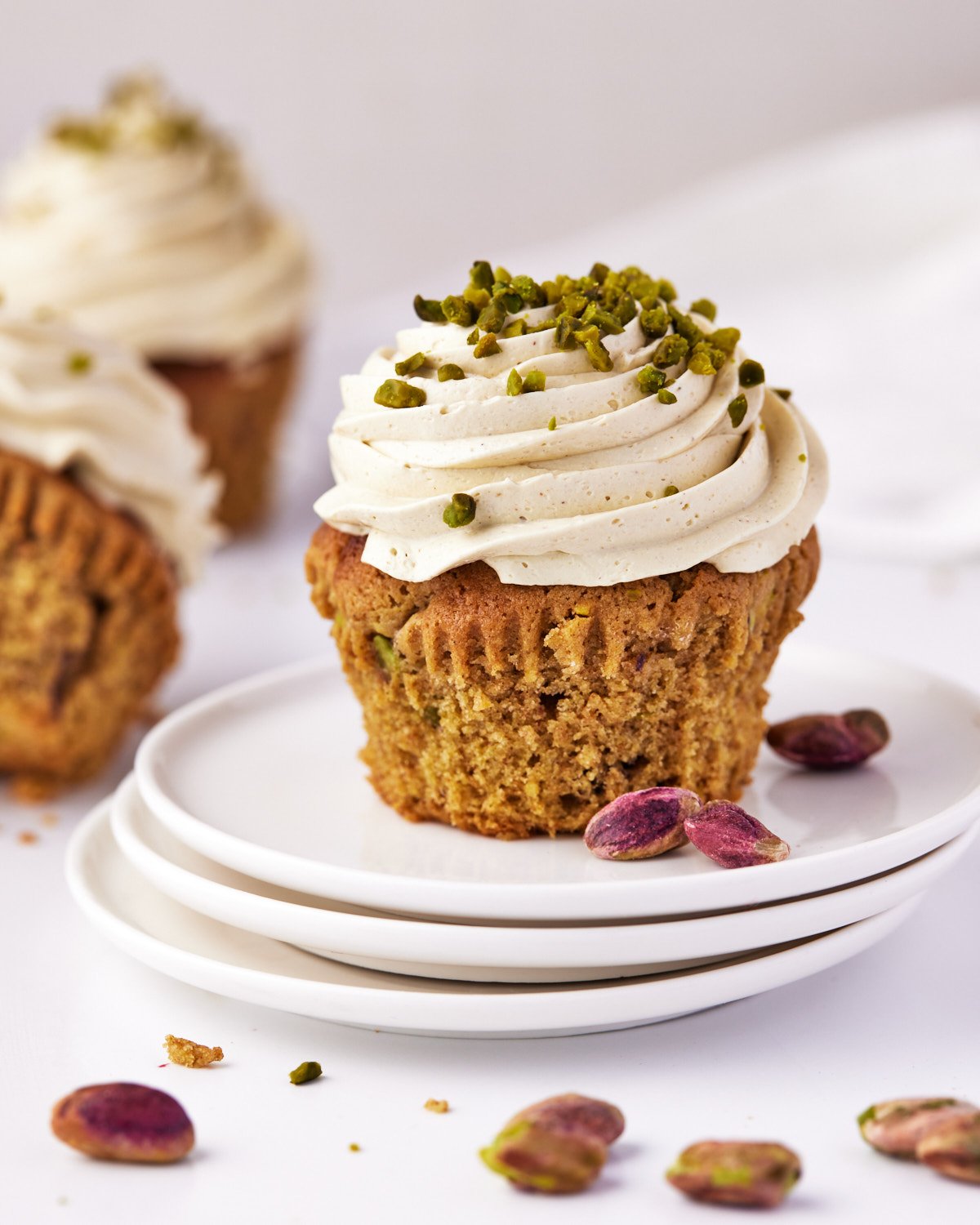 Variations
There are so many possibilities for this pistachio cake!
Different Frosting - If the pistachio Italian meringue buttercream isn't for you, you can pair this pistachio cake with so many other frostings. For an easier frosting that is equally glossy and delicious, but much simpler to make, try adding 2 tablespoons of pistachio butter to my Russian Buttercream recipe.
Add fruit or jam - Pistachio pairs so beautifully with many fruits. Try adding a raspberry jam underneath your layers of pistachio frosting to take it to the next level.
Whipped Cream - If you don't want a frosting at all or don't like the sweetness of buttercream, try pairing this cake with whipped cream or cool whip instead. You could also optionally fold some pistachio paste into the cream.
Citrus - It's no secret that pistachio and citrus are a wonderful combination. Try adding some lemon zest or orange zest and a little juice to the cake batter at the same time as the extracts.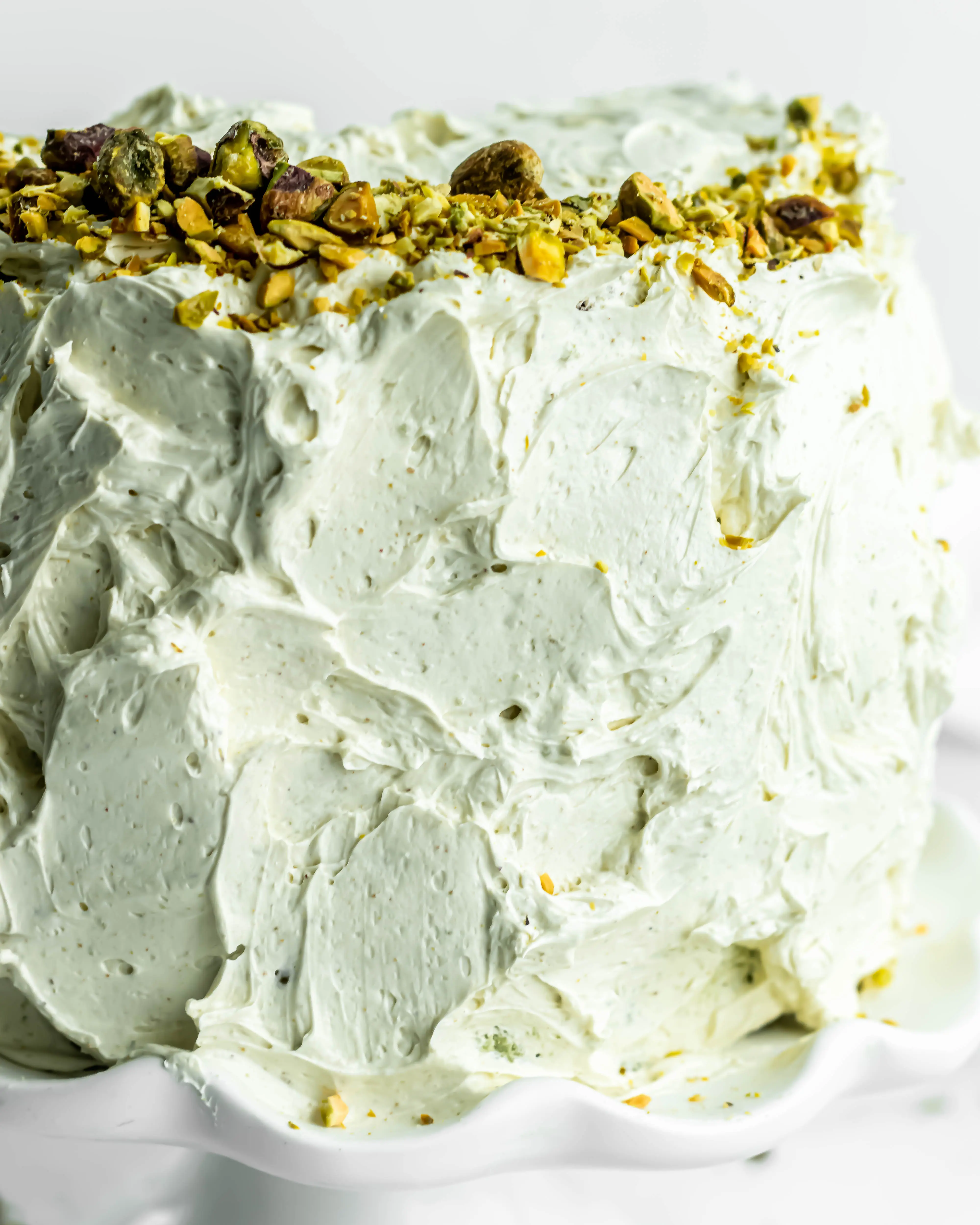 Storage
This cake can be stored at room temperature in an airtight container for up to 3 days.
Normally I don't recommend storing cakes in the fridge unless they have an ingredient that needs to be refrigerated, but if you live in a really warm climate you may wish to keep this pistachio cake in the fridge as the Italian meringue buttercream is quite soft.
Why Make This Pistachio Cake
Okay so getting your hands on pistachio paste or making your own may make this slightly trickier than a standard cake recipe, but believe me, this pistachio cake is worth it! It's a real showstopper and perfect for special occasions or a really classy affair.
Also, the fact that it uses no cake mixes or instant pudding with weird chemical pistachio flavoring means it has a truly authentic pistachio flavor, which is always better - the proof is in the pudding!
Ultimately, if you love pistachio ice cream and pistachio desserts, then you are going to absolutely adore this great recipe for pistachio cake. I promise you it really does deliver on that pistachio flavor that I am often fiending for!
Related
Some more pistachio desserts you might enjoy...
Recipe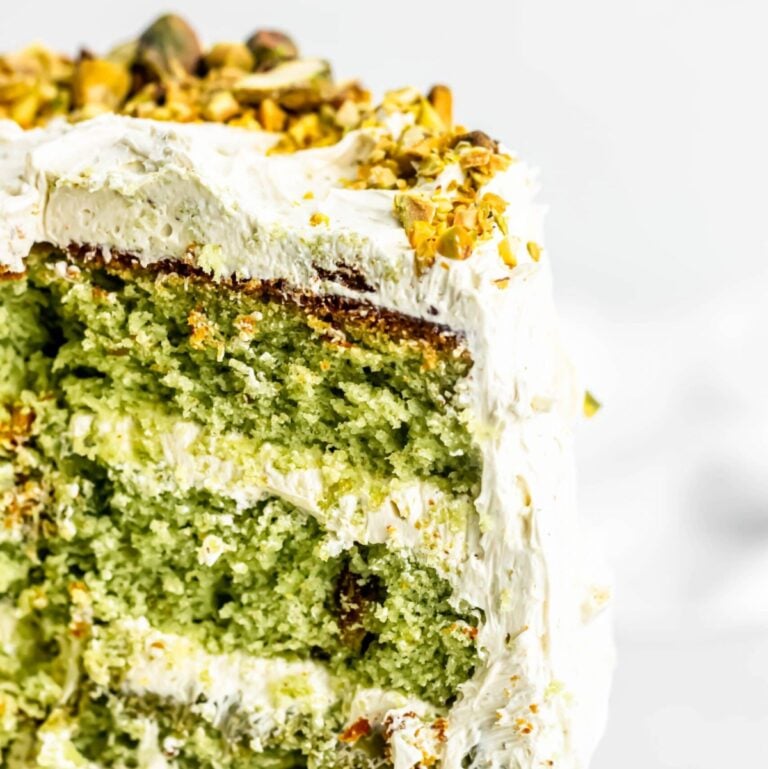 Pistachio Cake
Soft pistachio sponge layered with glossy pistachio Italian Meringue Buttercream - a pistachio lover's dream!
Ingredients
For the Pistachio Cake
1

cup

Butter

227g

2

cups

White Sugar

400g

3

cups

All-purpose Flour

375g

1

teaspoon

Baking powder

½

teaspoon

Baking soda

1

teaspoon

Salt

2

Eggs

½

cup

Sour Cream

115g

1

cup

Milk

240ml / 240g

6

tablespoon

Pistachio Paste

2

tablespoon

Almond Extract

2

teaspoon

Vanilla Extract

⅔

cup

Pistachios

80g (chopped)

1

drop

Avocado Green Food Colour

(optional)
Instructions
Make the Pistachio Cake
Preheat oven to 350°F / 180°C and line two 8 inch cake pans

Cream together the butter and sugar until light and fluffy

1 cup Butter,

2 cups White Sugar

Add eggs and beat until combined

Add sour cream and beat until combined

Sift the flour, baking powder, baking soda and salt and add a third of it to the batter, mix in slowly until fully incorporated

3 cups All-purpose Flour,

1 teaspoon Baking powder,

½ teaspoon Baking soda,

1 teaspoon Salt

Add half the milk and mix in until fully incorporated. Repeat with another third of the flour, the remaining milk, and then the remaining flour

Add the pistachio paste and extracts and stir in until fully incorporated

6 tablespoon Pistachio Paste

If you want to add a touch of green colour to the sponge, add a drop of colouring now, though it's beautiful without

1 drop Avocado Green Food Colour

Lastly, stir the chopped pistachios into the batter - make these as fine or as chunky as you'd like

Divide the batter between the cake pans and bake for about 45 minutes, or until a skewer inserted comes out clean

Allow to cool completely before removing from the cake pan - this is a very soft sponge so be gentle with it
Make the Frostting
Once the frosting is ready, whip in the pistachio paste and almond extract - add more or less according to taste
Fill and Decorate
Level the cakes and cut each cake in half to make four even layers

Stack the layers, filling an even layer of pistachio Italian meringue buttercream in between each one

Cover the entire top and sides in buttercream and decorate how you like, I just used a palette knife to create little waves in the frosting - I like how that looks with Italian meringue buttercream as it's so glossy!

Top with some chopped pistachios of varying sizes
Notes
If you can't find pistachio butter / pistachio paste, you can easily make your own! Follow my step-by-step instructions in the blog post above for how to make your own pistachio paste. 
Nutrition
Calories:
465
kcal
Carbohydrates:
61
g
Protein:
6
g
Fat:
22
g
Saturated Fat:
12
g
Trans Fat:
1
g
Cholesterol:
68
mg
Sodium:
435
mg
Potassium:
161
mg
Fiber:
2
g
Sugar:
36
g
Vitamin A:
623
IU
Vitamin C:
1
mg
Calcium:
73
mg
Iron:
2
mg
Are pistachio paste and pistachio butter the same thing?
Yes, pistachio paste and pistachio butter are two names for the same thing. They are both made with 100% pistachios (and sometimes a little oil). Not to be confused with pistachio cream, which is sweeter and has other ingredients added.
What is the difference between pistachio paste and pistachio cream?
Pistachio paste is made with 100% pistachios, whereas pistachio cream has lots of other ingredients added to make it a sweet spread or filling.
Can I omit the chopped pistachios or will this change the recipe?
Yes, you can leave out the chopped pistachios if you like. They add texture to the cake but will not alter the cake itself if you leave them out.
Can you use cake flour instead of all-purpose flour in this recipe?
Yes, you can use cake flour instead of all-purpose flour, but the cake will be very tender and may be difficult to cut cleanly. The texture is lovely though.
Can you use salted pistachios to make pistachio cake?
Yes, you can use salted or unsalted pistachios to make this pistachio cake. You won't really taste the flavor of the salt too much - but it's all down to personal preference.