These soft pumpkin oatmeal cookies are chewy and delicious. Full of pumpkin flavor and lightly spiced - they are the perfect cookie to slide into pumpkin season.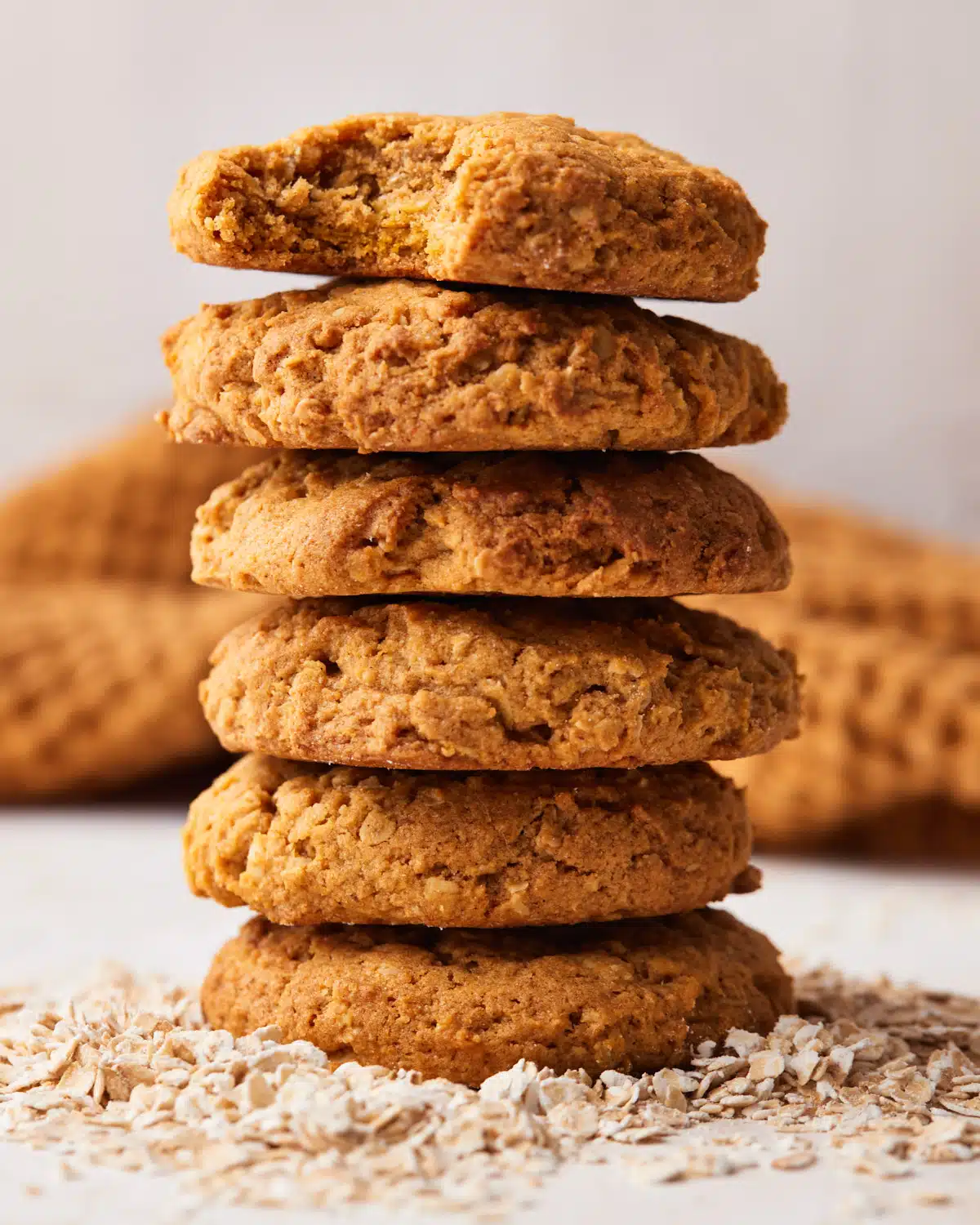 ​You know I love my pumpkin recipes on this blog, when the leaves start to turn and the air gets chillier, I know it's time to crack out that pumpkin pie spice and put on a fall-colored apron. Last year you all loved my Pumpkin Cheesecake Cookies, but this year I wanted to make a fall cookie recipe that was a little more rustic and traditional. Cue the pumpkin oatmeal cookies!
These cookies taste like home, with the oats, pumpkin, and warm spices just giving you that warm fuzzy feeling with every bite.  If you're looking for some pumpkin treats with a bit more pizzazz, check out my Pumpkin Spiced Creme Brulee (baked inside a mini pumpkin) or my Pumpkin Bundt Cake.
Jump to:
Ingredients
Just a few simple ingredients make up this pumpkin oatmeal cookie recipe.
Pumpkin Purée - Make sure you buy pure pumpkin puree and NOT pumpkin pie filling - they are often in the same part of the grocery store so look out. Also, it's better to use canned pumpkin puree over homemade pumpkin puree, as the homemade will usually have way too much liquid in it for a cookie recipe.
Butter - Unsalted butter is best. There's no need to bring it to room temperature as we'll be melting it anyway.
Sugar - Superfine white sugar is best (caster sugar in the UK).
Light Brown Sugar - We'll also use light brown sugar to add a bit more depth to the flavor of the cookie.
Egg Yolk - We only need the egg yolk, not the whole egg. This is to add richness, but we don't need the egg yolk as the pumpkin actually acts as a binding agent and replaces the need for egg white.
Vanilla - Vanilla extract or vanilla bean paste provides a nice base for the rest of the flavors to build on.
Flour - Use all-purpose flour for the best texture in this recipe. I don't recommend using cake four as this will make a much more fragile, cakey cookie, rather than the chewy pumpkin oatmeal cookies we are going for.
Spices - I used ground cinnamon and ground ginger, but really you can use whatever cozy fall spices you like. You can even use a pre-mixed pumpkin spice blend if you like.
Oats - This recipe calls for quick oats, rather than rolled oats. A lot of classic oatmeal cookies will call for rolled oats, but I like how the quick oats create lovely soft cookies. You can use rolled oats instead, but the texture will be slightly thicker and you'll have a more chewy cookie. Please note, quick oats are different from instant oats.
See recipe card for quantities.
Instructions
Step 1: Preheat your oven to 350°F / 180°C and line a baking sheet with parchment paper.
Step 2: Blot the pumpkin puree. Pumpkin has a lot of liquid in it which can throw off the consistency of our cookie dough, so we need to blot some of the moisture away from the pumpkin puree. Most decent pumpkin cookie recipes will require this step to get that real pumpkin flavor through without too much liquid being added.

Just put the pumpkin puree on a plate and use paper towels to pat away the liquid. At first, the paper towels will become completely saturated immediately, but the more liquid you remove, the more you'll have to press down to catch the liquid. We aren't trying to remove all the liquid, but keep going until the paper towel is no longer becoming completely saturated quickly.

The pumpkin will look less shiny and will bunch up and almost 'crumble' if you run a spoon through it. You will probably need several paper towels to achieve this, I used 5 or 6 for mine.
The pumpkin puree before it is blotted.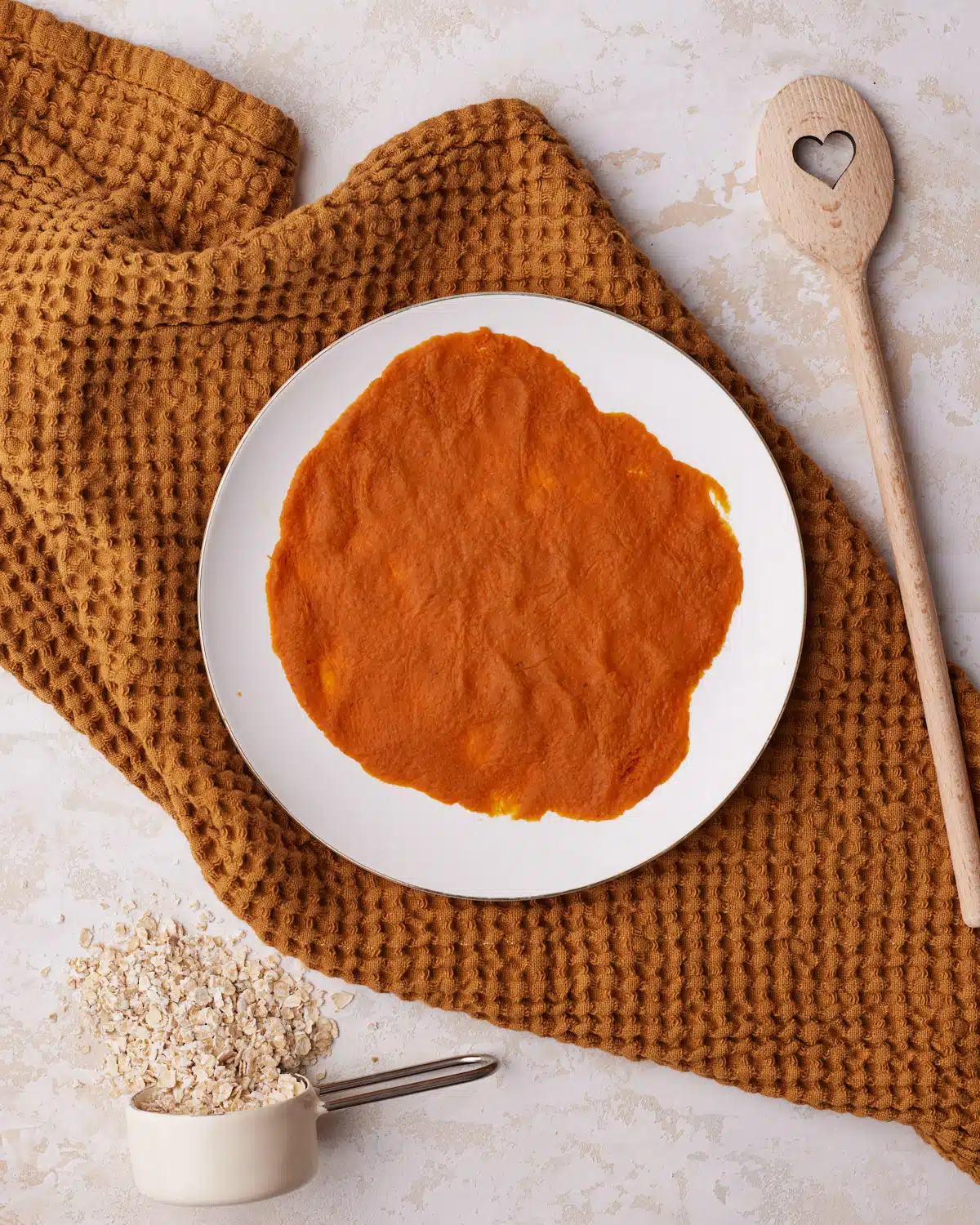 Pumpkin puree after blotting.
Step 3: Melt the butter in the microwave in 30-second increments until completely melted. Pour it into a large mixing bowl along with the white sugar, light brown sugar, and blotted pumpkin. Mix everything together until combined, you should be able to do this easily with just a wooden spoon or spatula, the mixture comes together very easily.
Tip: For extra flavor, try browning the butter in a pan instead of just microwaving it to make brown butter pumpkin oatmeal cookies!
Step 4: Add the remaining wet ingredients - the egg yolk and the vanilla, and mix in.
Melted butter, blotted pumpkin, white sugar and light brown sugar in the mixing bowl.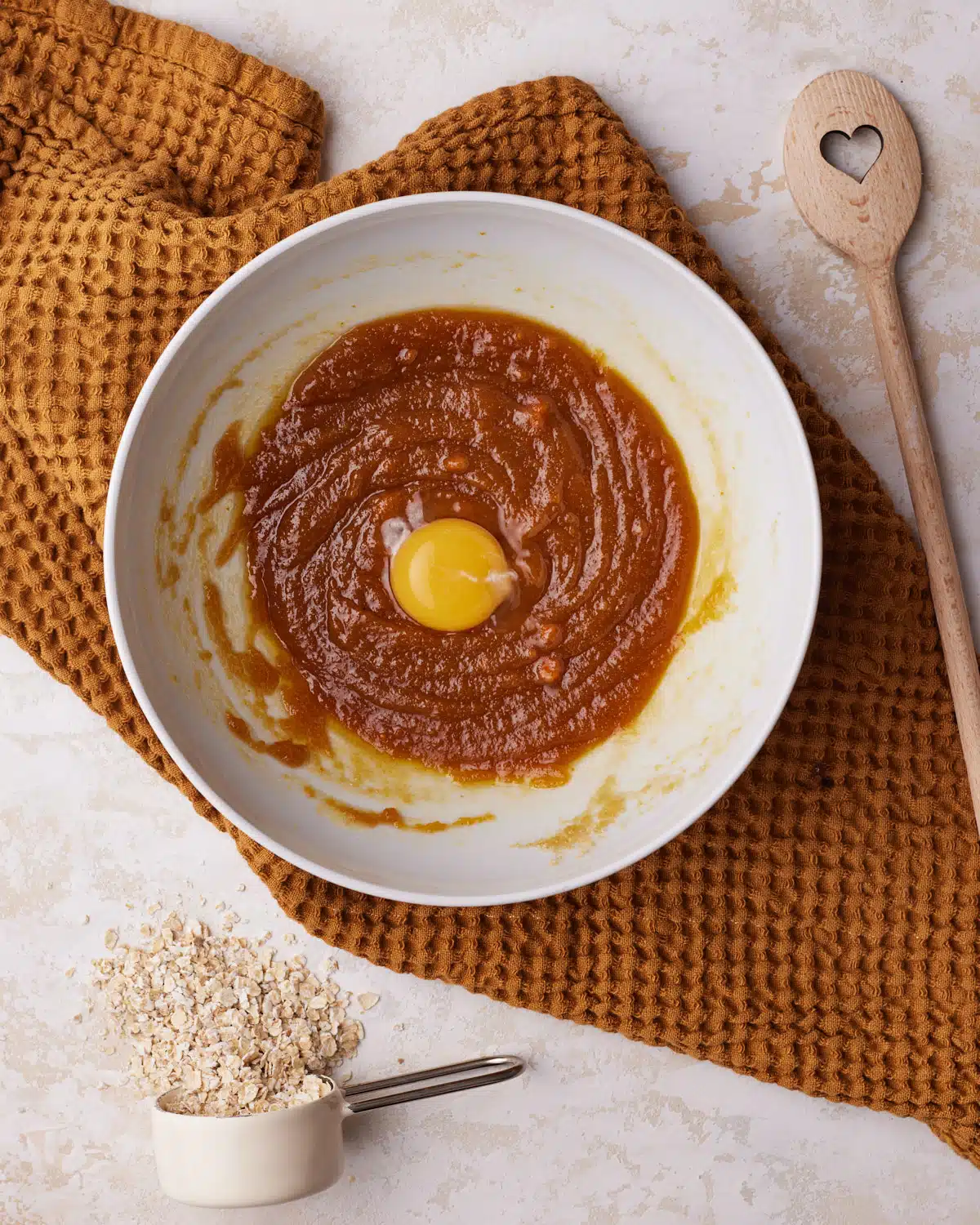 Adding the egg and vanilla.
Step 5: In a separate bowl, sift together the dry ingredients, including the flour, baking powder, baking soda, salt, ginger, and cinnamon - but not the oats. Mix them together briefly, then add the flour mixture in with the other ingredients. Mix everything together until well combined.
Wet ingredients all mixed together.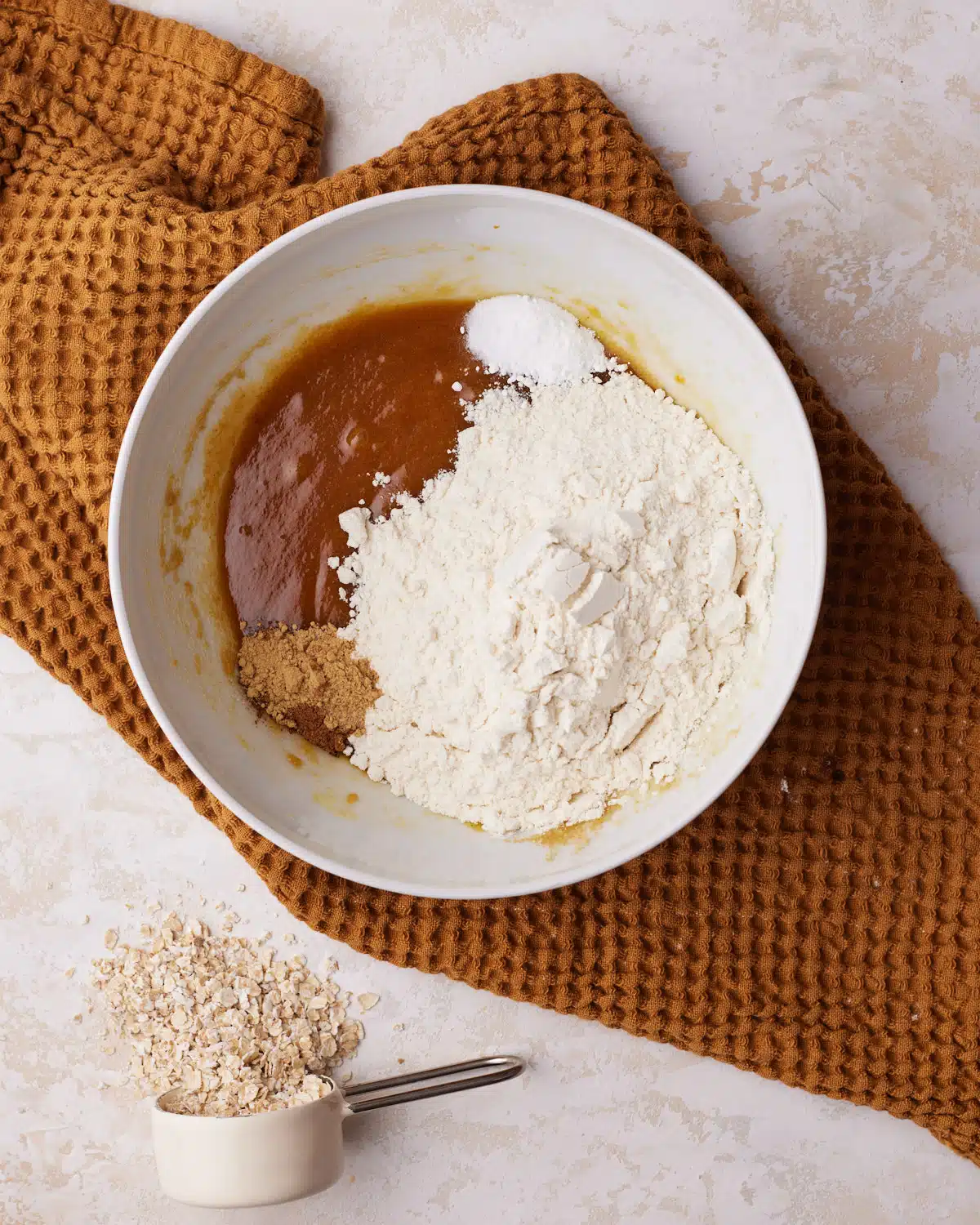 Adding the dry ingredients (except oats).
Step 6: Add the oats to the cookie dough and stir them in until evenly distributed.
Mixed cookie dough, before oats are added.
Oats being added to the pumpkin cookie dough.
Step 7: Use a medium cookie scoop or tablespoons to scoop out mounds of pumpkin cookie dough, about the size of a ping pong ball. Roll them into balls and place them on the baking pan, evenly spaced out. You may want to bake your cookies in multiple batches to avoid overcrowding the cookie sheet. I did two batches of 6 cookies. Use your hand or a glass to slightly flatten the cookie dough balls.
Step 8: Bake pumpkin oatmeal cookies in the preheated oven for 14 minutes, or until the edges of the pumpkin cookies start to brown slightly. Let sit on the baking sheet for a few minutes before transferring to a wire rack to cool. (Although I believe cookies are often best enjoyed warm, so feel free to skip the cooling rack and just enjoy your delicious pumpkin oatmeal cookies right away!)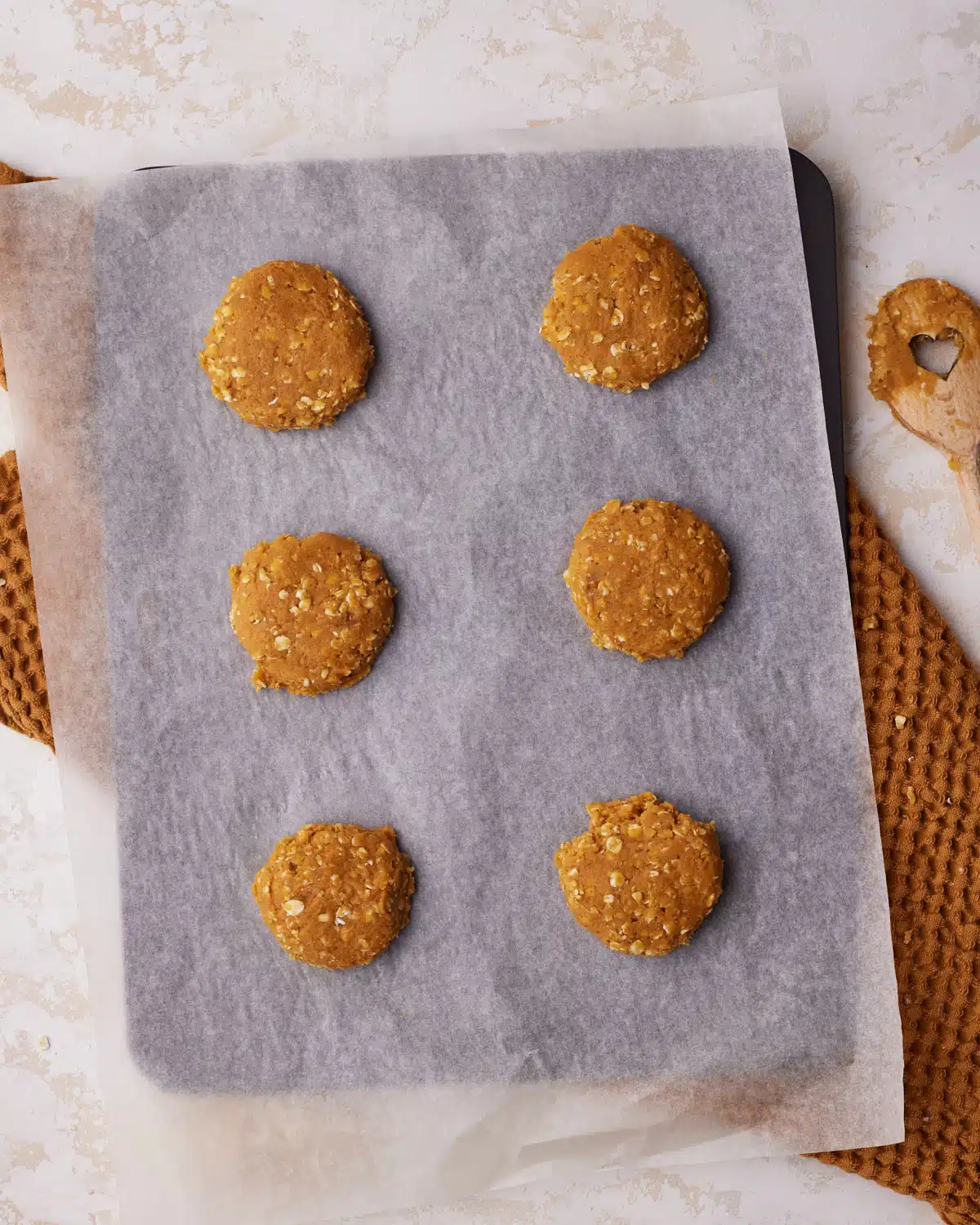 Raw cookie dough balls, slightly pressed down on the cookie sheet before baking.
Baked cookies coming out of the oven.
Substitutions
Quick Oats - You could also use rolled oats (also known as old-fashioned oats) instead of quick oats. They will still work fine but you will get a more chewy texture and more obvious chunks - a bit more like a regular oatmeal cookie.
Spices - Use any blend of spices that you like. This time of year is all about the spices and fall flavors, so use whatever combination of spices you fancy to bring out that delicious pumpkin flavor.
Variations
​Chocolate Chips - Add some milk or dark chocolate chips into the cookies to make pumpkin oatmeal chocolate chip cookies.
Glazed Cookies - For some extra indulgence, top your oatmeal pumpkin cookies with a delicious cream cheese glaze for extra sweetness that compliments that perfect pumpkin flavor.
Browned Butter - For an extra boost of flavor, brown the butter first to make brown butter pumpkin oatmeal cookies.
Equipment
This recipe is so quick and easy that you really don't need any fancy equipment to make it. It can all be done in a large bowl with a wooden spoon.
Storage
Store your pumpkin oatmeal cookies in an airtight container at room temperature. They will be good like this for up to a week.
You can freeze the cookies in Ziploc bags, but I actually prefer to freeze the pre-rolled balls of cookie dough and then bake them off right before serving for a fresher, tastier cookie. The cookie dough will be good in the freezer for up to 3 months.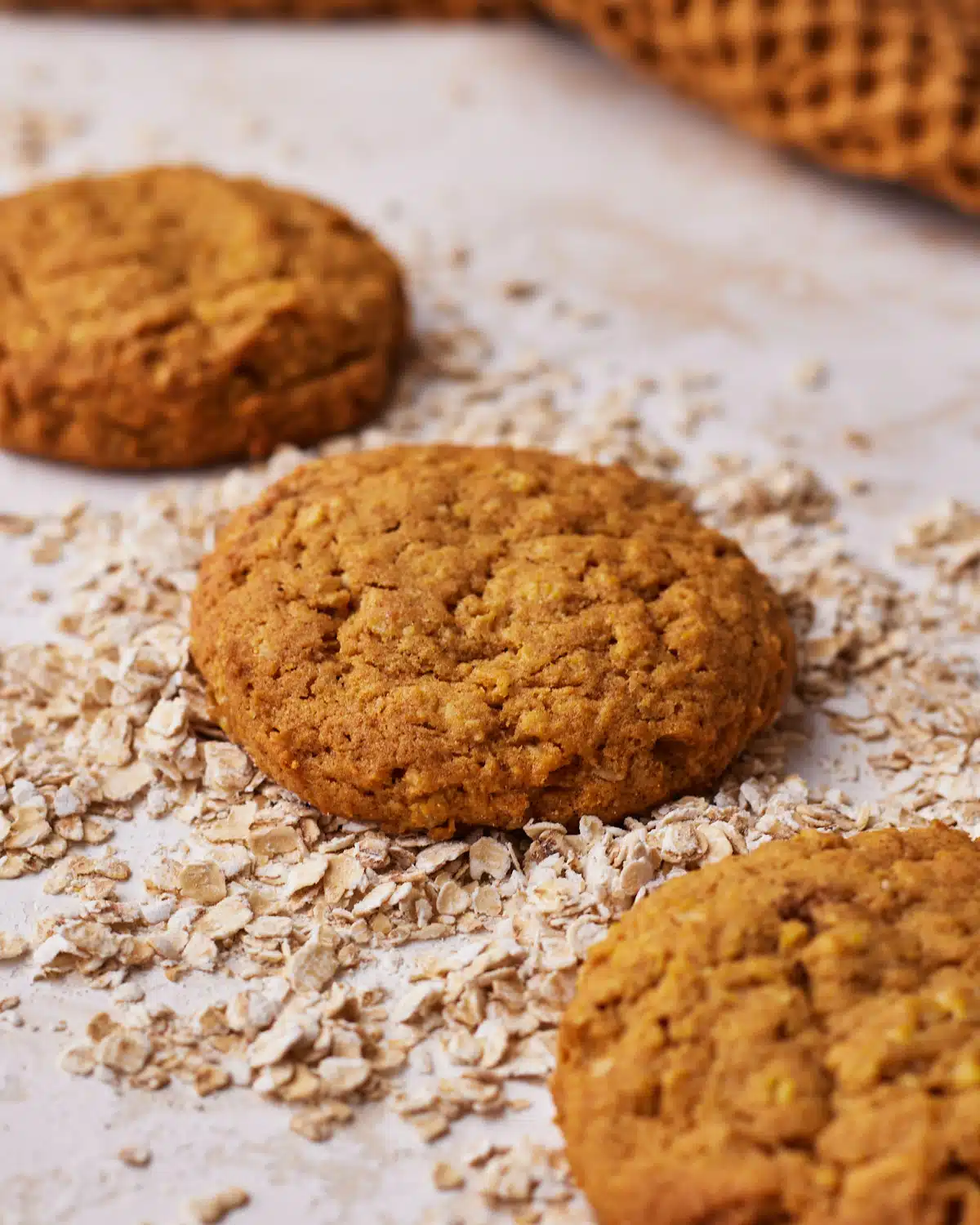 Top tip
I always recommend measuring your ingredients with a scale, rather than with cups. It's incredibly hard to measure accurately with cups and getting it wrong can throw off your entire recipe. All my recipes give measurements in both cups and grams so you can choose what works best for you.
FAQ
What is the difference between quick oats and rolled oats? 

Rolled oats, or old-fashioned oats, have been flattened to help with the cooking process, but they remain whole.  Quick oats are flattened too, but they are also cut into smaller pieces to allow them to cook even faster, so they no longer have the same size and shape as rolled oats.  Instant oats are different again, they have been processed even further. 
Can I make pumpkin cookies with homemade pumpkin puree?

I wouldn't recommend using homemade pumpkin puree for cookies as it usually contains a lot more moisture than canned pumpkin puree, and this can mess with the consistency of the cookie dough.  

More Pumpkin Dessert Recipes
Love all things pumpkin flavored? Check out these other recipes you might love.
Recipe
Pumpkin Oatmeal Cookies
Soft and chewy pumpkin oatmeal cookies, lightly spiced.
Ingredients
1

stick

Unsalted Butter

113g

¾

cup

Pumpkin Puree

168g

½

cup

White Sugar

100g

½

cup

Light Brown Sugar

110g

1

Egg Yolk

1

teaspoon

Vanilla

1 ½

cups

All-purpose Flour

187g

1

cup

Quick Oats

81g

½

teaspoon

Baking Soda

½

teaspoon

Baking Powder

1

teaspoon

Ground Cinnamon

1

teaspoon

Ground Ginger

½

teaspoon

Salt
Instructions
Preheat oven to 350°F / 180°C and line a baking sheet with parchment paper.

Put the pumpkin puree on a plate and use paper towels to blot away some of the moisture. You want to keep blotting with fresh paper towels until the new paper towels are no longer becoming immediately saturated. This may take several paper towels, I used about 5 or 6.

Melt the butter in the microwave in 30-second increments, then pour into a mixing bowl along with the white sugar, brown sugar and blotted pumpkin. Mix everything together until combined.

1 stick Unsalted Butter,

½ cup White Sugar,

½ cup Light Brown Sugar

Add the egg yolk and vanilla and mix those in until completely combined.

1 Egg Yolk,

1 teaspoon Vanilla

Add the dry ingredients to the bowl (except the oats), this includes the flour, baking powder, baking soda, salt, ground cinnamon and ground ginger. Mix everything together until totally incorporated.

1 ½ cups All-purpose Flour,

½ teaspoon Baking Soda,

½ teaspoon Baking Powder,

1 teaspoon Ground Cinnamon,

1 teaspoon Ground Ginger,

½ teaspoon Salt

Finally, add in the oats and mix them through until they are evenly distributed in the cookie dough.

Use a cookie scoop or a tablespoon to scoop out ping pong ball sized mounds of dough. Roll them into balls and place them on the baking sheet, well spaced.

Use the heel of your hand or a glass to gently squish down each cookie dough ball slightly. Bake for 14 minutes or until slightly starting to brown.
Notes
What kind of oats to use - I used quick oats for these cookies.  You can also substitute for rolled oats but just know the texture will be slightly more chewy and rough.  Steel-cut oats won't work in these cookies as they take too long to cook. 
Nutrition
Calories:
228
kcal
Carbohydrates:
35
g
Protein:
3
g
Fat:
9
g
Saturated Fat:
5
g
Polyunsaturated Fat:
1
g
Monounsaturated Fat:
2
g
Trans Fat:
0.3
g
Cholesterol:
36
mg
Sodium:
166
mg
Potassium:
92
mg
Fiber:
2
g
Sugar:
18
g
Vitamin A:
2641
IU
Vitamin C:
1
mg
Calcium:
33
mg
Iron:
1
mg