This dessert is not messing around. It is here to deliver a chocolate hit and it is serious about its mission! Dense and truffley chocolate torte with a dusting of cocoa powder - because that's all it needs! No frosting, no sauce, just chocolatey deliciousness.
The consistency of this chocolate torte is hard to describe, it's not like a cake and it's not like a mousse - it's almost like you took both and then squeezed them together really tightly to deliver as much flavour as possible in every bite!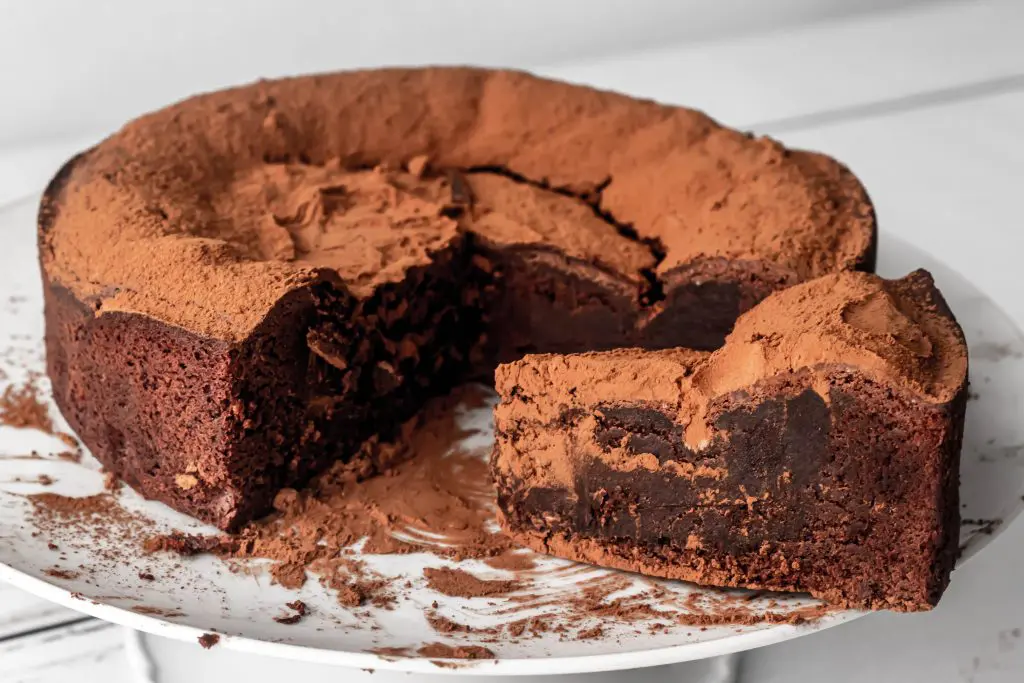 What is the difference between a Cake and a Torte?
Cakes are generally light, spongy and fluffy in texture, you can easily crumble them apart with your fork or fingers. Tortes usually have little or no flour in the recipe which makes the end result much more dense, heavy and rich. This chocolate torte for example uses a little flour and a little ground almonds (almond flour). Not only does this give it that thick, heavy torte consistency, but it adds another layer of flavour which is just so good!
Because of the dense centre, a properly baked torte should sink in the middle slightly as it cools, creating that classic torte shape on every slice. There should also be some big, beautiful cracks along the top of the chocolate torte. So unlike with a cake, when your torte begins to crack and fall, you should celebrate because that means you got it perfectly right!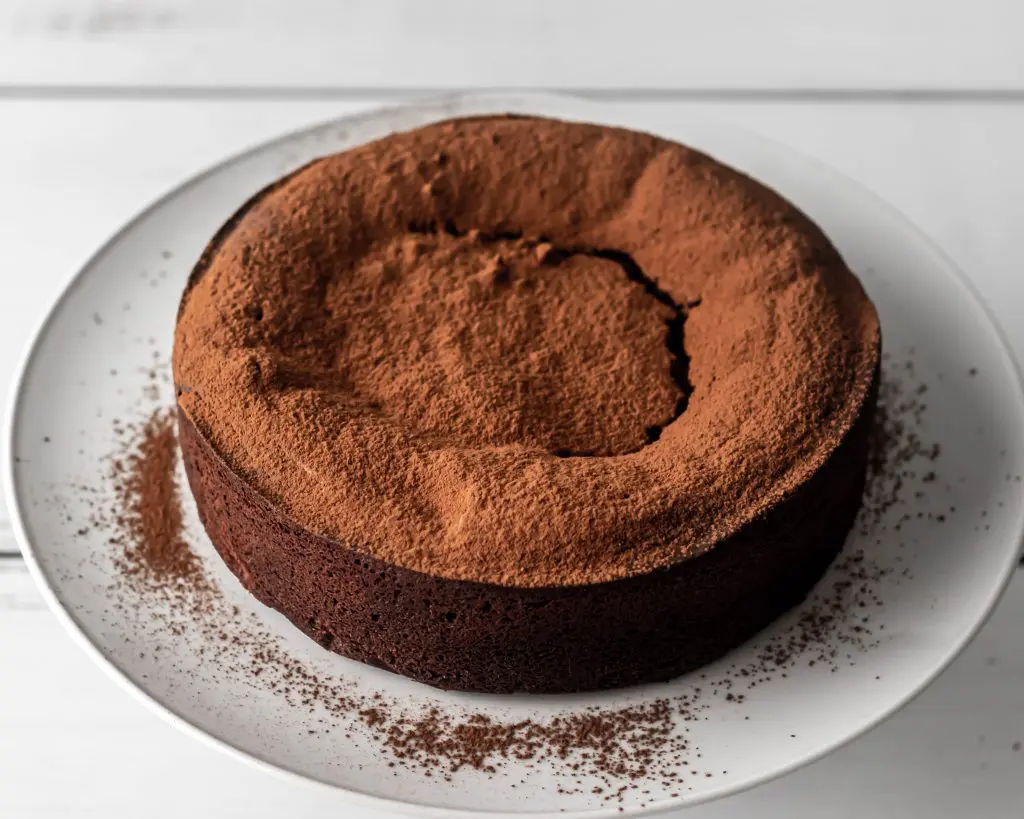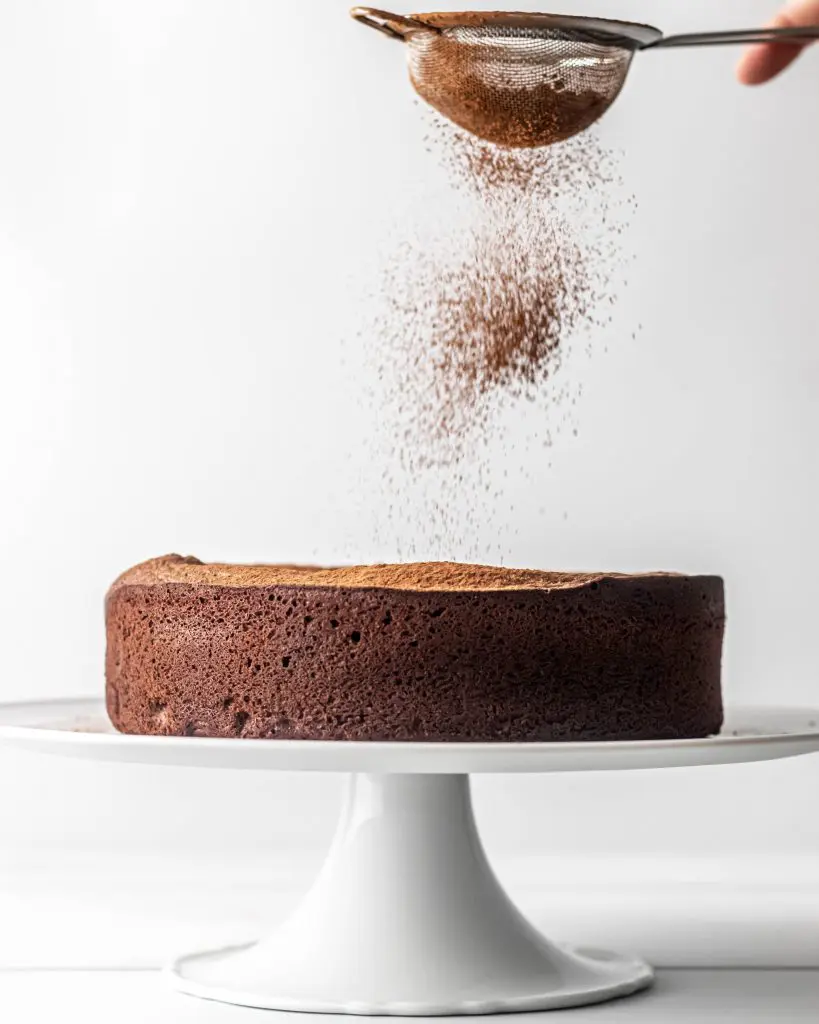 Ingredients for Chocolate Torte
Eggs: There are quite a lot of eggs in this recipe relative to the size of the end result, the eggs are whipped together with the sugar in the first step, this helps to create that fudgey centre. I do the same thing with my Cheesecake Brownie recipe for super dense and gooey brownies.
Sugar: Any white sugar will do for this chocolate torte. We don't use any vanilla extract in this recipe so the sugar is the only sweetener.
Chocolate: I like to use Dark Chocolate for this as it adds to the intense chocolatey flavour - but you can use milk or semi-sweet if you prefer.
Butter: You can use salted or unsalted butter for this, just be sure to add a little extra salt (about ½ tsp) if you use unsalted.
Cocoa Powder: Even though there is real chocolate in this chocolate torte, the cocoa powder just helps give it that additional boost of flavour. It's also the only decoration we use here as the torte is so simple and delicious, it really doesn't need any fancy decorations!
Flour: The flour/ground almond ratio is a preference thing, I personally like the way this chocolate torte turns out with a 50/50 split of flour and almond flour - but if you want to make a gluten free version of the cake you can leave the flour out and double the ground almonds!
Ground Almonds: The addition of ground almonds to this recipe does SO MUCH. It helps create the dense, heavy torte we are looking for, but it also adds a wonderful depth of flavour and a subtle nuttiness - so good!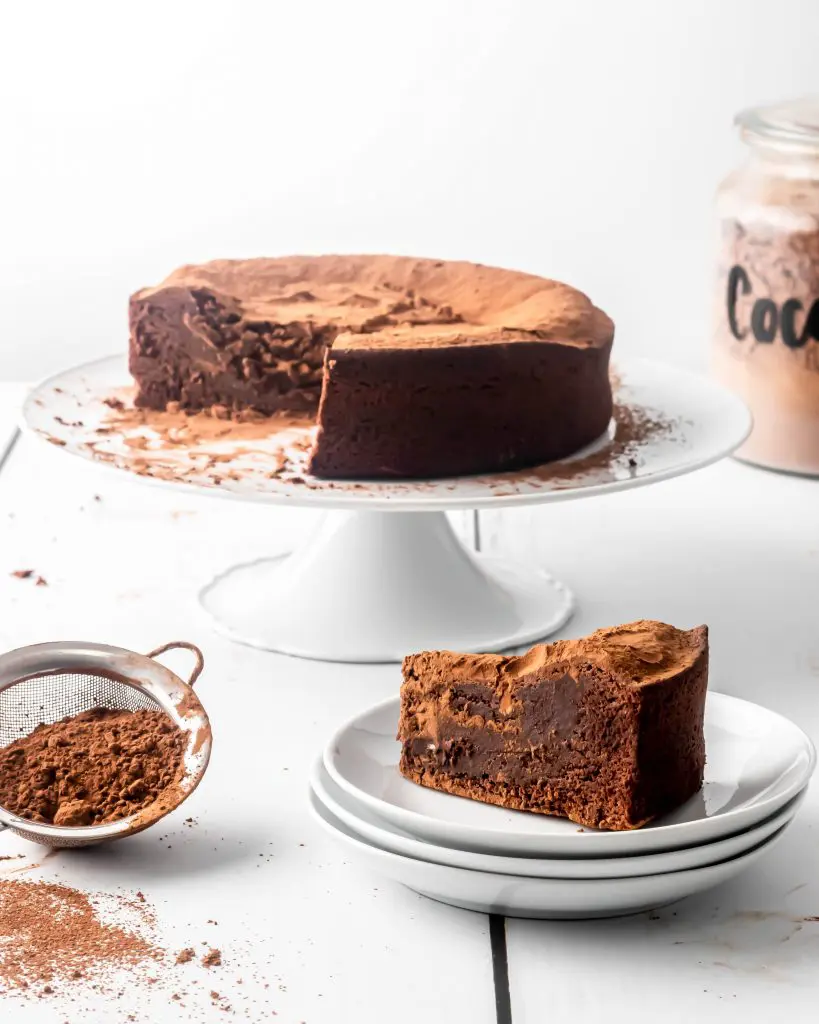 Tips for Baking the Perfect Chocolate Torte
Consistency is a huge part of what makes this torte so great, so it's crucial that you get the bake time right! Bake too long and the torte will dry out and be difficult to eat. Bake too little and it will be too gooey and raw inside. You can't always just go by the bake time on a recipe, as every oven is different - so it's good to learn how to know when your bakes are done without the timer.
For this chocolate torte, the way to tell is to look out for some cracks just beginning to form on the top of the torte. At this point, insert a toothpick into the very centre to test it. Unlike with cakes, we are not looking for the toothpick to come out clean, there should be moist crumbs sticking to the toothpick. If that is the case, take the torte out of the oven and let it cool completely before transferring to the fridge to set a little more for a few hours.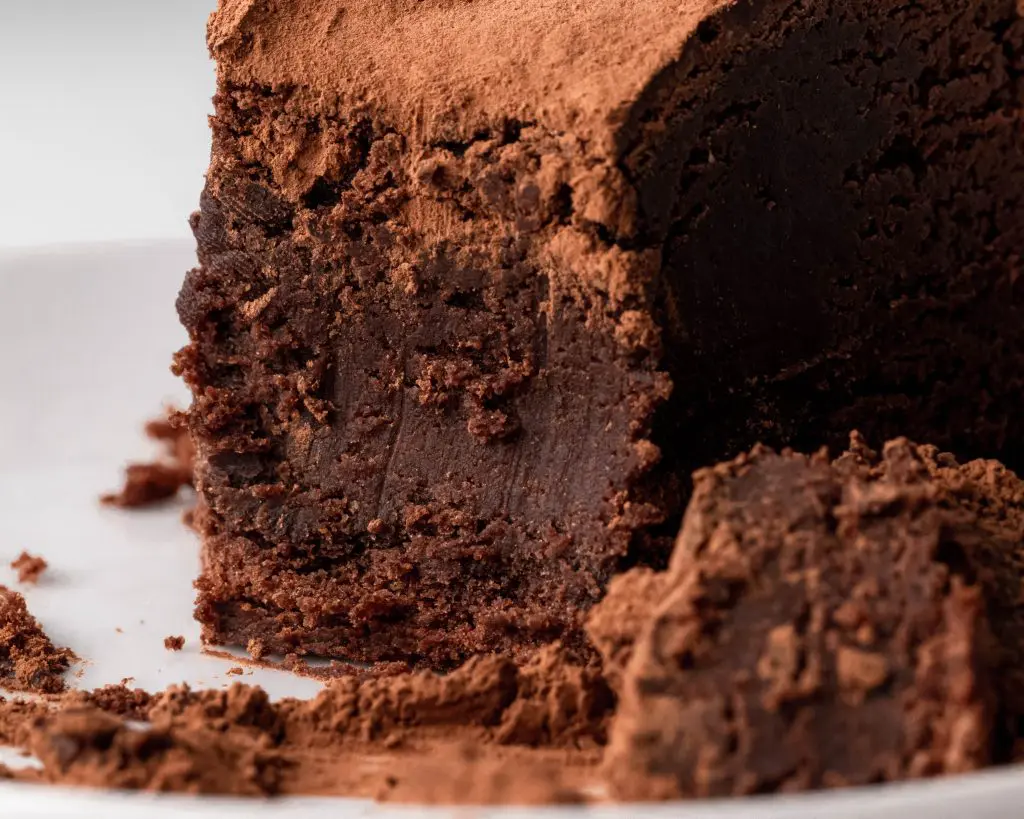 How to Serve Chocolate Torte
Honestly there are so many ways to enjoy this chocolate torte! One of the reason's it's so great is that it really is a no fuss dessert. You can make it ahead of time and it's just sitting there ready to be enjoyed when you need it!
You can really enjoy it hot or cold. If you warm it up it will be softer and more gooey - which I am usually a huge fan of. But this torte is actually really nice when it's cold, it holds a beautiful, firm slice and has a consistency kind of like truffle that melts in your mouth. Either way, i recommend serving with a dollop of mascarpone. The mascarpone is light and subtle and compliments the rich torte flavour really nicely.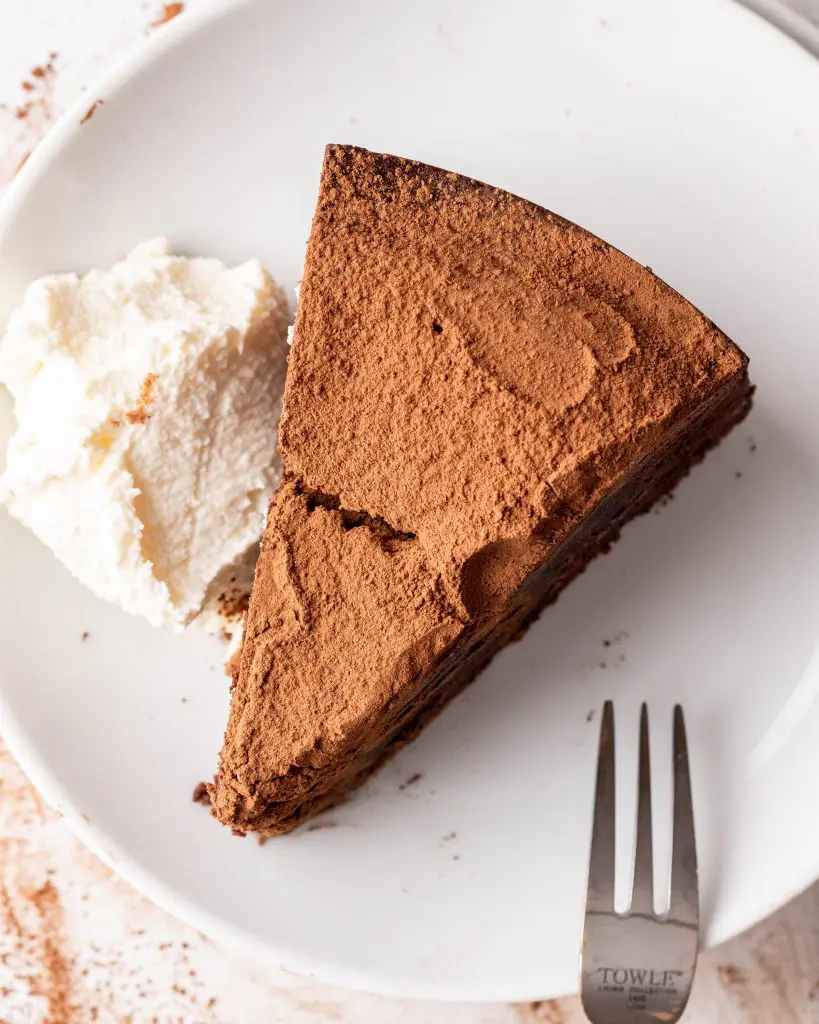 One of History's Most Fortunate Mistakes
I don't often talk about the history of the goodies I bake on here, but the background of the chocolate torte is just too good not to share. There are many legends about the exact way this invention came about, but they all relate to somebody making a mistake - forgetting to add flour or not knowing how to bake a traditional cake etc. That's how this Italian masterpiece got the nickname "uno dei pasticci più fortunati della storia" - "One of history's most fortunate mistakes". I just love that!
Recipe
Chocolate Torte
Dense, truffly chocolate torte - not for the faint hearted!
Ingredients
4

Eggs

1

cup

White Sugar

1.75

sticks

Butter

0.5

cups

All Purpose Flour

150g

Chocolate

0.5

cups

Ground Almonds

½

teaspoon

Salt

3

tablespoon

Cocoa Powder

plus extra for dusting
Instructions
Preheat oven to 350°F/180°C and line an 8 inch cake pan

Whisk together the eggs and sugar until thick and pale

Melt the butter and chocolate together in the microwave in 30 second bursts until totally melted, pour into the egg/sugar mixture and stir until combined

Stir in the flour, ground almonds, salt and cocoa powder. It's fine to keep using the whisk!

Pour into the cake pan and spread the top to be level. Bake for 40 minutes or until a skewer inserted in the middle comes out with moist crumbs (not clean, but not covered in batter)

Allow to cool completely and then put into the fridge for at least 3 hours before serving

Once ready to serve, remove from the pan and dust with cocoa powder or icing sugar
Notes
Gluten-Free Option:  You can easily make this chocolate torte gluten-free by leaving out the flour and doubling the ground almonds. 
Nutrition
Calories:
304
kcal
Carbohydrates:
27
g
Protein:
5
g
Fat:
21
g
Saturated Fat:
11
g
Trans Fat:
1
g
Cholesterol:
108
mg
Sodium:
285
mg
Potassium:
59
mg
Fiber:
1
g
Sugar:
20
g
Vitamin A:
595
IU
Calcium:
30
mg
Iron:
1
mg