Warm and fluffy cinnamon waffles topped with delicious cinnamon whipped cream - the perfect breakfast for this time of year!
If you love the smell of cinnamon rolls in the morning, you're bound to enjoy a stack of freshly made cinnamon waffles with a dollop of homemade whipped cream on top. Cover them in maple syrup and take a bite out of this perfect fall weekend breakfast.
While I've been using cinnamon in a lot of recipes this fall, such as in my Chai Cake or my Pumpkin Cheesecake Cookies, in this recipe, the cinnamon really is the star of the show. With cinnamon included in both the delicious waffles and the cinnamon whipped cream, that warm flavor hits you like a big, fall-time hug!
Jump to:
Ingredients
Butter - You can use salted or unsalted butter for these waffles. There is no need to bring the butter to room temperature as we'll be. melting it.
Milk - Whole milk works best, but you can use any milk you like.
Lemon Juice - You can use fresh lemon juice or the bottled kind, either will work.
Eggs - Use large eggs and always free-range eggs if you can. We'll be using the whole eggs for this recipe. (Some different recipes involve whipping up the egg whites, but this one keeps it super easy!)
White Sugar - Use regular white sugar, the extra-fine kind (caster sugar in the UK)
Light Brown Sugar - We'll also add some brown sugar for a deeper, more caramel flavor
Flour - All-purpose flour (plain flour) is the best type of flour to use for these homemade waffles. It will keep them nice, light and fluffy.
Salt - A pinch of salt really brings out the other flavors
Vanilla - Don't skip the vanilla, this waffle recipe doesn't use a whole lot of sugar, so the vanilla helps bring some sweetness. Use vanilla extract or vanilla bean paste.
Cinnamon - Of course, we need ground cinnamon for both the waffles and the cinnamon whipped cream.
Whipping Cream - For the whipped cream you'll need whipping cream or heavy whipping cream (double cream in the UK)
Powdered Sugar - Also known as icing sugar. A little powdered sugar adds a touch of sweetness to balance out the cinnamon in the whipped cream.
See recipe card for quantities.
How to Make the Cinnamon Waffles
This is one of the easiest waffle recipes you will ever make, it's super quick and easy.
Preheat your waffle maker to the highest setting while you prepare the waffle batter. This recipe will work with any kind of waffle maker, but I used a Belgian waffle maker for those deep syrup pockets!
Melt butter in the microwave, then pour the melted butter into a large bowl along with the other wet ingredients - milk, eggs, lemon juice and vanilla. Whisk everything together until combined.
Add the dry ingredients, including flour, white sugar, brown sugar, baking soda, baking powder, salt, and cinnamon. Whisk until you have a smooth batter and there are no more lumps. This is the best time to taste test your waffle mix and make sure you have the right amount of cinnamon in there, if you want more spice, add a little more.
Melt a little more butter and brush it onto the waffle iron using a food-grade pastry brush. The butter is not necessary to stop the waffle from sticking, as waffle irons have a non-stick coating, but it makes a wonderfully golden brown, caramelized waffle. You could also use vegetable oil or cooking spray, but butter is my favorite way to go.
Pour or scoop some of your waffle batter into the hot waffle iron. The amount of batter needed will vary depending on the size of the waffle form. (Mine was just under 1 cup batter per waffle). You want it to be just enough that you can spread it out to the edges, but not too much that it will drip down the sides when you close it. You might not get it spot on the first time, but that's okay!
Close the waffle iron and let it do its magic! The cooking time will also vary depending on your waffle maker, but after a few minutes, you can check to see if they are done by gently trying to open the waffle maker. If there is any resistance at all, the batter is still uncooked. If it lifts easily, you can take a peek at your waffle to see if it is brown enough for you. I like to go for a nice golden brown color all over for beautifully crisp outsides to lovely fluffy waffles inside.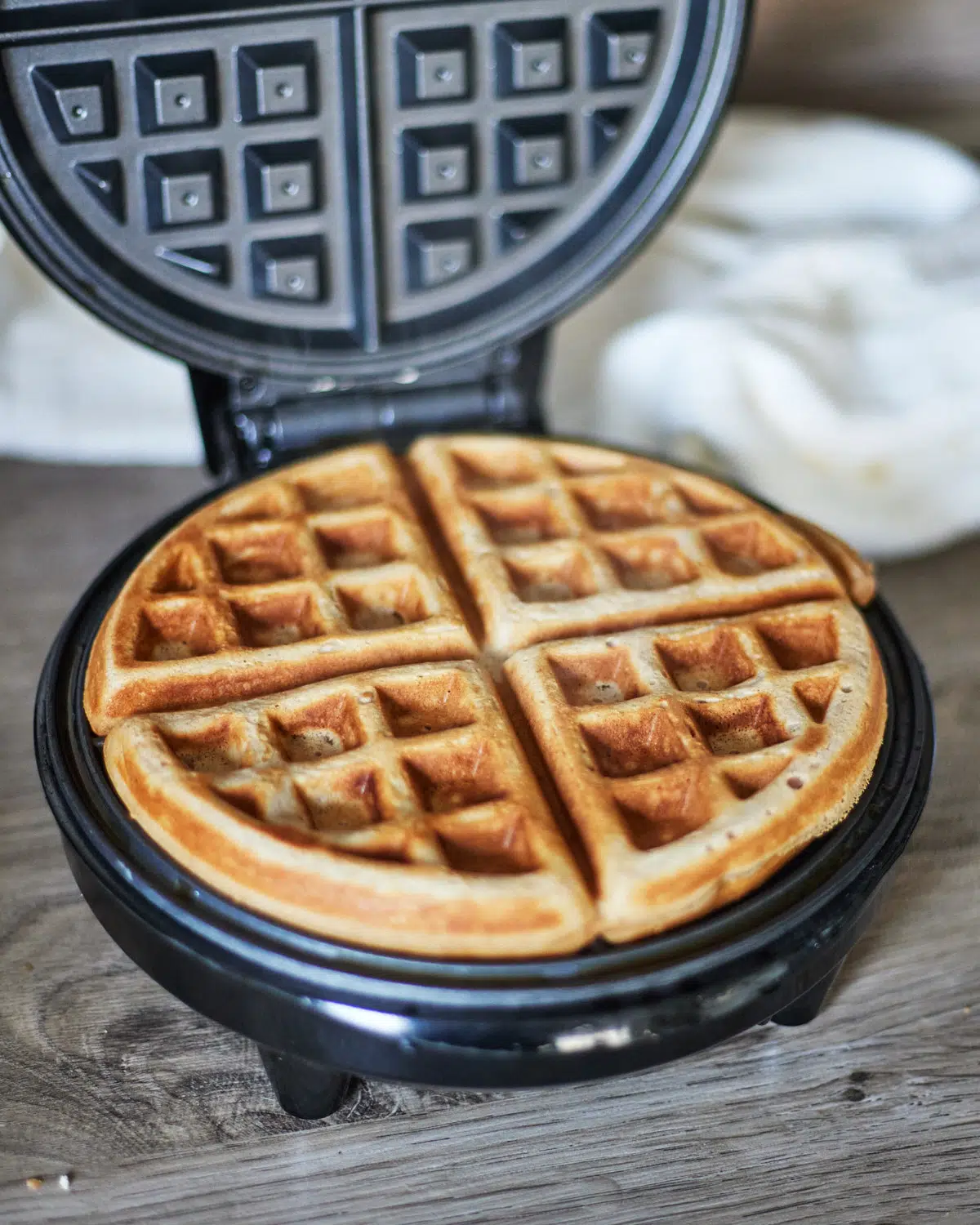 Carefully remove the waffle from the waffle maker and put on a plate under foil to keep it hot while you make the rest.
Serve hot with cinnamon whipped cream and maple syrup.

How to Make the Cinnamon Whipped Cream
I recommend making the cinnamon whipped cream before you start making your waffles so you can serve them right away while they are still hot. You can make the whipped cream ahead of time and just store it in the fridge until ready to eat.
Put the whipping cream, powdered sugar, vanilla and cinnamon to a medium bowl and whip together until it reaches stiff peaks. This is much easier in a stand mixer or with an electric whisk.
Store in the fridge until ready to serve.
This cinnamon whipped cream is really delicious and also goes great with French toast or banana waffles!
Belgian Waffles vs American Waffles
There is often some confusion about what exactly constitutes a 'Belgian' waffle. A traditional Belgian waffle is made with a yeast batter with little sugar crystals on top, it is much more dense and thick. They are utterly delicious but very different from what is often considered a 'Belgian waffle' outside of Europe.
In North America, the term 'Belgian waffle' usually refers to the shape of the waffle, which is the kind that has big deep pockets, rather than small, shallow ones found on American waffles. The batter for these two kinds of waffles though are similar and produce a light, fluffy waffle.
The waffles I made for this post are the 'American' version of a Belgian waffle (confusing, I know).
Equipment
Bowl
Whisk
Waffle Maker - Any kind of waffle maker will do - American or Belgian (see section above).
Electric Mixer - for cinnamon whipped cream
Variations
Apple Cinnamon Waffles - To add another fantastic fall flavor to your new favorite breakfast, serve with some cinnamon apples for a bit of bite and fruity flavor.
Churro Waffles - Try mixing together some white sugar and cinnamon to make a cinnamon sugar to sprinkle on top of the waffles for even more cinnamon flavor - the cinnamon sugar waffle tastes just like churros!
Fresh Fruit - The warmth of the cinnamon can be really nicely balanced with some fresh berries. They also go beautifully with the cinnamon whipped cream.
Cream Cheese Glaze - These cinnamon waffles would be absolutely to-die-for with a cream cheese glaze drizzled on top.
Storage
I strongly recommend eating these waffles right away, but if you want to keep them for later, wrap them tightly in aluminum foil and store them in an airtight container at room temperature.
When you are ready to re-heat them, I recommend you to cook waffles in the oven or a toaster oven, rather than the microwave, as the microwave may make them soggy.
Summary
This delicious waffle recipe is the perfect way to start your weekend morning this fall. Cinnamon waffles are THE best waffles to help welcome in that colder weather, and they are so quick and easy to make!
Recipe
Cinnamon Waffles with Cinnamon Whipped Cream
Fluffy cinnamon waffles with delicious cinnamon whipped cream
Ingredients
For the Cinnamon Waffles
¼

cup

Butter

57g (melted)

1 ½

cups

Milk

354g

1

teaspoon

Lemon Juice

2

Eggs

3

tablespoon

White Sugar

3

tablespoon

Light Brown Sugar

2 ½

cups

All-purpose Flour

300g

1

teaspoon

Baking Powder

½

teaspoon

Baking Soda

½

teaspoon

Salt

1

teaspoon

Vanilla Extract

2

tablespoon

Cinnamon
For the Cinnamon Whipped Cream
1

cup

Heavy Whipping Cream

240g

3

tablespoon

Powdered Sugar

1

teaspoon

Vanilla Extract

1

teaspoon

Cinnamon
Instructions
Make the Cinnamon Whipped Cream
Make the cinnamon whipped cream before the waffles, so it's ready to go while the waffles are still hot.

Put all the ingredients into a bowl and whip together until stiff peaks form. It's easiest to use a stand mixer or electric whisk for this.

1 cup Heavy Whipping Cream,

3 tablespoon Powdered Sugar,

1 teaspoon Vanilla Extract,

1 teaspoon Cinnamon
Make the Cinnamon Waffles
Turn your waffle iron on to its maximum heat setting and let it preheat while you mix together the ingredients.

Put the melted butter in a bowl with the milk, eggs, lemon juice, and vanilla and whisk together until combined.

¼ cup Butter,

1 ½ cups Milk,

1 teaspoon Lemon Juice,

2 Eggs,

1 teaspoon Vanilla Extract

Add the remaining ingredients and whisk together until there are no more lumps.

3 tablespoon White Sugar,

3 tablespoon Light Brown Sugar,

2 ½ cups All-purpose Flour,

1 teaspoon Baking Powder,

½ teaspoon Baking Soda,

½ teaspoon Salt,

2 tablespoon Cinnamon

Melt some more butter in the microwave and use a food-safe pastry brush to brush a thin layer all over the waffle iron. You don't need the butter to prevent sticking, but it does help to make the outside of the waffle nice, brown and caramelized.

Scoop some of the waffle batter into the waffle iron, just enough that it can be spread to the edges of the iron. Don't overfill it or it will drip down the edges.

Close the waffle iron and let it cook for a few minutes. Cooking time will vary between waffle irons, but after 3 or 4 minutes, you can gently test to see if you can easily open the waffle iron, if there is any resistance, the batter is still raw. Once you can open it, take a peek to see if it's the color you want it, close again and keep cooking if you'd like it to be darker.

Gently remove from the waffle iron and serve while hot.
Notes
Make sure you make the cinnamon whipped cream before you start the waffles so you can serve them together while the waffles are still hot. 
For a little more heat, you could add ½ teaspoon of ginger and/or nutmeg to the waffle batter as well for a more festive flavor. 
Nutrition
Calories:
523
kcal
Carbohydrates:
63
g
Protein:
11
g
Fat:
26
g
Saturated Fat:
16
g
Polyunsaturated Fat:
1
g
Monounsaturated Fat:
7
g
Trans Fat:
0.3
g
Cholesterol:
127
mg
Sodium:
474
mg
Potassium:
232
mg
Fiber:
3
g
Sugar:
20
g
Vitamin A:
1006
IU
Vitamin C:
1
mg
Calcium:
194
mg
Iron:
3
mg