These Swedish Oatmeal Lace Cookies are like nothing I've ever tried before. They are light, crispy, sweet, and lacy - and totally addictive! They are insanely easy to make and the whole process from start to finish takes less than 15 minutes (including bake time!)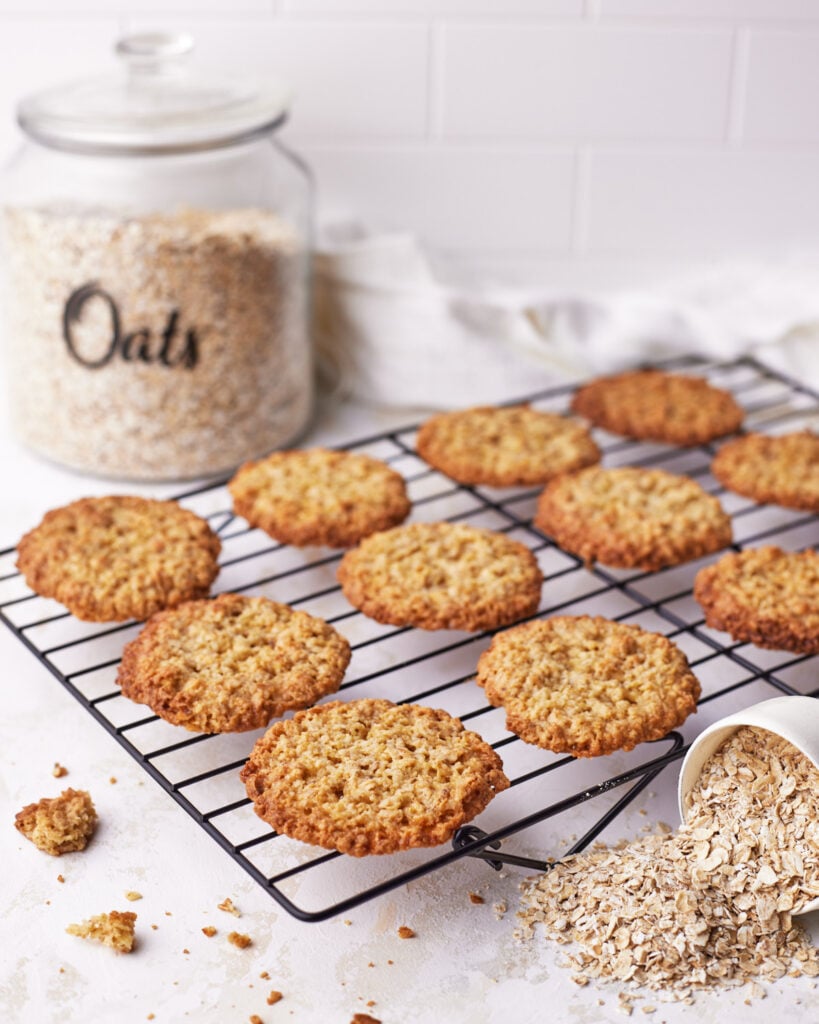 Someone gave me one of these thin and crispy oatmeal cookies with my cup of tea, shortly after I moved to Germany. I was blown away and knew instantly that I had to reverse engineer the recipe and make my own! After a bit of research, I discovered that they are Swedish cookies and that IKEA actually sells something similar in their food section, but homemade cookies are always better in my opinion - so I got to work!
I've had a lot of very good cookies in my time, but these Swedish oatmeal cookies are so different in both flavor and texture. The texture is beautiful, I can best describe them as oatmeal lace cookies - they kind of remind me of my Brandy Snap recipe, the way the dough spreads out to make lots of little holes in the cookie. But flavor-wise, they taste more like sweet oatcakes. I love experimenting with a new cookie recipe, such as my Dark Chocolate and Sea Salt Cookies or my Coconut Pecan Cookies, but these are so incredibly quick and easy to make I think they will be my new 'go-to' cookie recipe for when I have to whip up some sweet treats fast.
Jump to:
Ingredients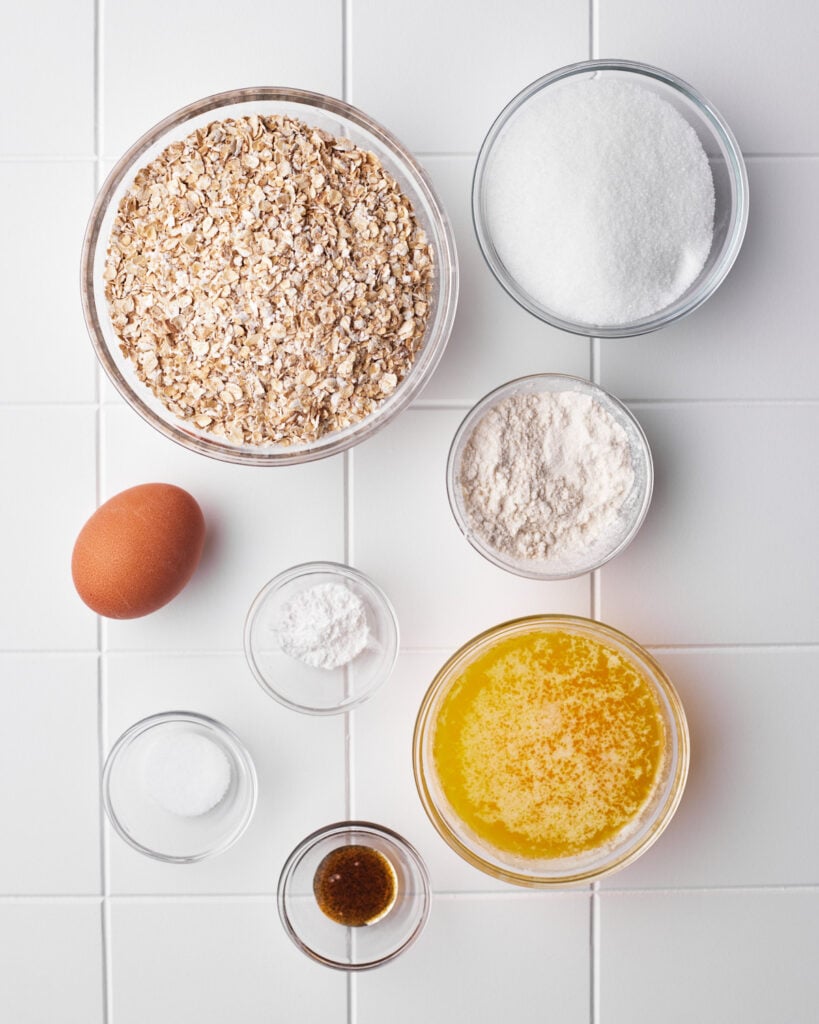 Sugar - White sugar is best, make sure you use extra-fine sugar (caster sugar in the UK). You could use brown sugar instead if you want more of a caramel taste to your cookies or a mixture of the two.
Egg - You need a large egg for this recipe, and always use free-range if you can.
Vanilla - Just a touch of vanilla extract rounds out the flavor of these oatmeal cookies. Try to use a good-quality brand of vanilla as you will really taste it when there are only a few ingredients, like in this recipe.
Butter - Use unsalted butter. There's no need to bring it to room temperature first because we are going to melt it anyway.
Oats - I used quick oats, but you could also use rolled oats for chunkier cookies and more visible pieces of oat flakes. Or you can use instant oats for finer cookies. If you're unsure about the different kinds of oats, basically anything but steel-cut oats will work. You could also ask in your local natural foods store or check out this article about the different kinds of oats.
Flour - All-purpose flour is best here. The flour just helps with texture and to form a usable dough, but if you wanted to you could leave it out to make these gluten-free, or you can replace with oat flour if you have it.
Baking Powder - Make sure you use baking powder and not baking soda, and don't add too much.
Salt - Personally I love when I can taste the salt in my baked goods, but if you prefer less salt you can reduce it to ½ a teaspoon.
See recipe card for quantities.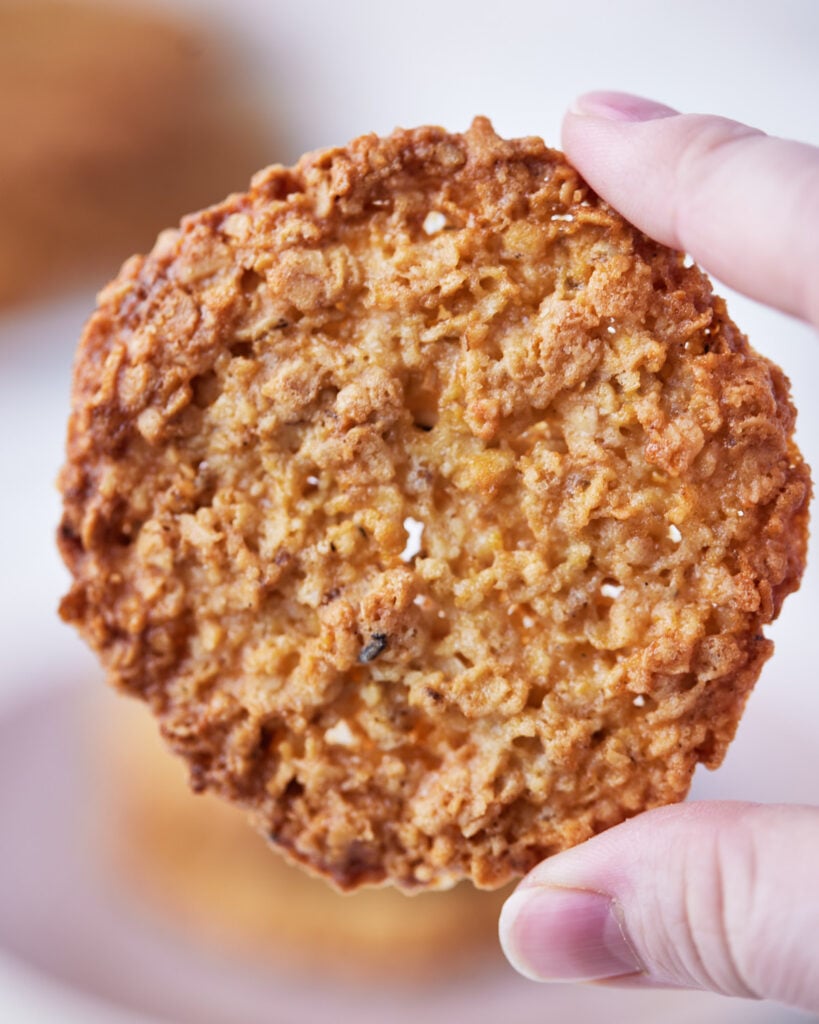 Instructions
These are seriously the easiest cookies to make, this process is so fast you won't even feel like you were baking! There is no need for any mixers or fancy equipment, just a bowl, a whisk and a spoon.
These step-by-step instructions will have you munching on crispy oatmeal cookies in 15 minutes.
Line a baking sheet with parchment paper and preheat the oven to 320°F / 160°C.
Combine sugar, egg, and vanilla in a large bowl and whisk together until pale and foamy. This should happen pretty fast, you'll see the color change as you are whisking, it should take about 20 seconds of vigorous whisking.
Melt the butter in a small bowl in the microwave, then pour the melted butter into the egg/sugar mixture and whisk it a little bit more, just until combined.
Add the remaining dry ingredients to the mixture, this includes the oats, flour, baking powder, and salt. Stir with a spoon until combined. I recommend you ditch the whisk at this stage as the dough will get stuck inside the whisk and it's not fun to pick out!
Scoop a heaped teaspoon of batter onto your cookie sheet to make small balls of dough. It doesn't have to be neat or perfectly shaped as the cookie batter will spread out into nice circles anyway as it bakes. If you want to you could use a spring-loaded ice cream scoop instead, but make sure it is a small one that scoops about the same portion of dough as a heaped teaspoon.
Make sure your spoonfuls of the batter have enough space between them as the cookie dough will spread in the oven. I find I comfortably fit about six oat cookies on my baking trays, and then I just do multiple batches to make a lot of cookies.
Bake the oatmeal lace cookies for about 12 minutes, or until the edges of the cookies turn golden brown. In the oven, the batter will spread out to form beautiful lacy, crisp oatmeal cookies, but this doesn't happen until the last few. minutes of baking, so watch them closely. When you take them out of the oven, the middle of the cookies may still look a little pale and underbaked, don't worry! The cookies will continue to bake a little on the baking sheet as they cool, and if you waited until the center looked baked then the cookies would end up being overdone and too crisp.
Let the cookies cool and firm up on the cookie sheet for about 10 minutes, then transfer to a wire rack to cool completely. At this point, I usually steal one or two off of the cooling rack for munching, but that is at your discretion!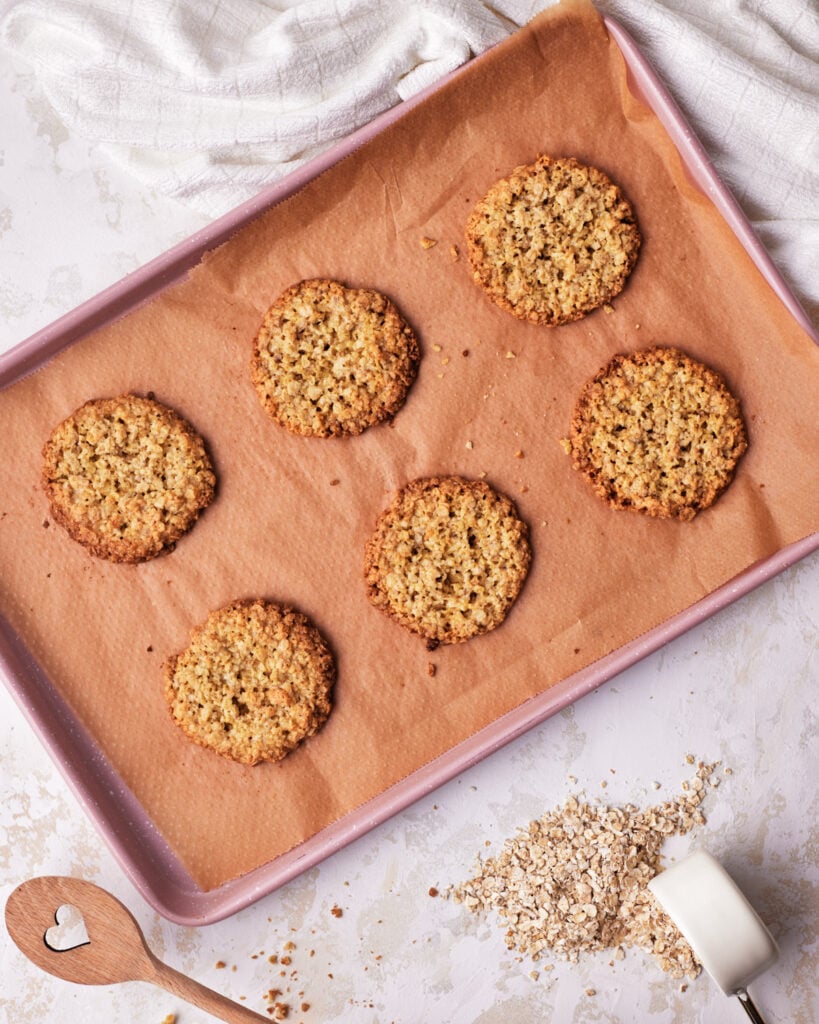 Video
See my full video tutorial on how to make these crispy Swedish oatmeal cookies:
Variations
Add Chocolate Decoration - These oatmeal cookies would pair really nicely with a bit of chocolate. You could drizzle some chocolate on top or dip half of the cookie into some melted chocolate to make a chocolate-dipped cookie. I recommend dark chocolate to offset the sweetness a little, but any kind of chocolate you like will work.
Make them Gluten-free - This recipe is almost gluten-free naturally, except for the flour. If you'd like to make them gluten-free you can substitute the flour for oat flour, or you can even just leave it out entirely. Leaving out the flour will not affect the flavor, it will just make the dough a little harder to handle when you are trying to scoop it out onto your cookie sheet.
Sandwiched Cookies (IKEA style) - As I mentioned above, I found out in my research that IKEA sells something similar to these oatmeal cookies, but theirs are sandwiched together with chocolate. To recreate this, just dip one of your cookies in chocolate, covering the top and sides of the cookie, then flip it and lay it down so the chocolate side is on top, and place another cookie on top of the chocolate and let them set.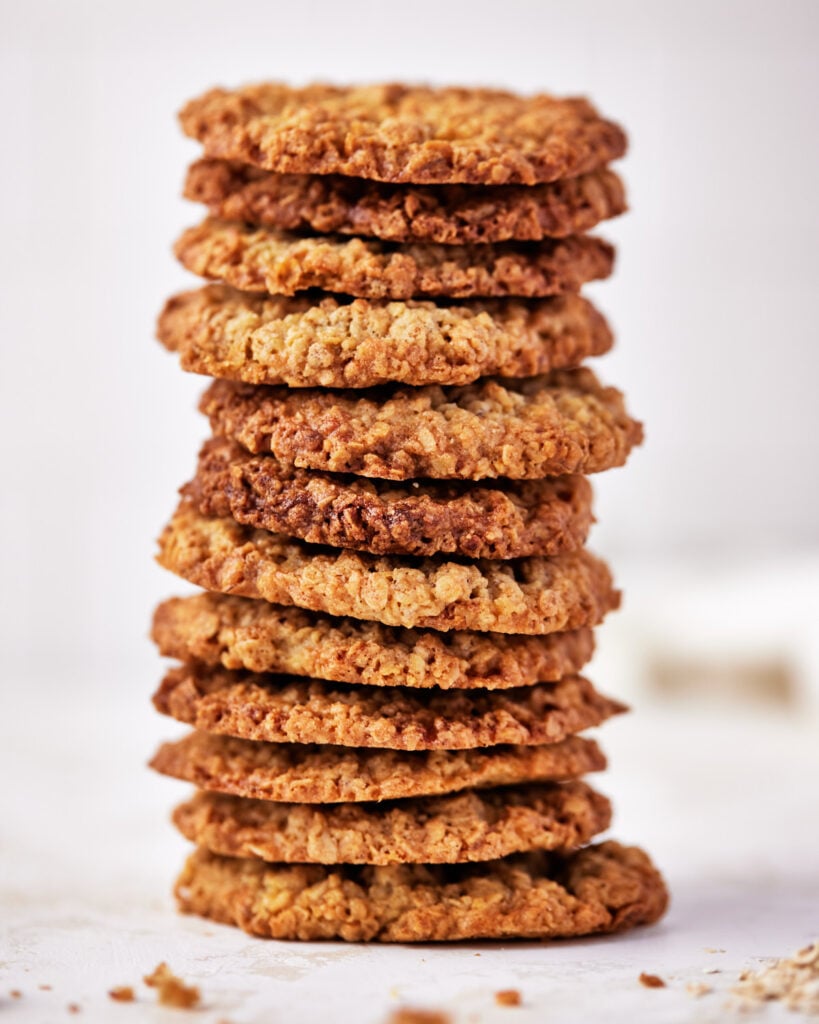 Storage
Store your crispy oatmeal cookies in an airtight container, or in a cookie jar. Do not keep them in the fridge. They will keep for a week, but I highly doubt they will last that long before they are all eaten!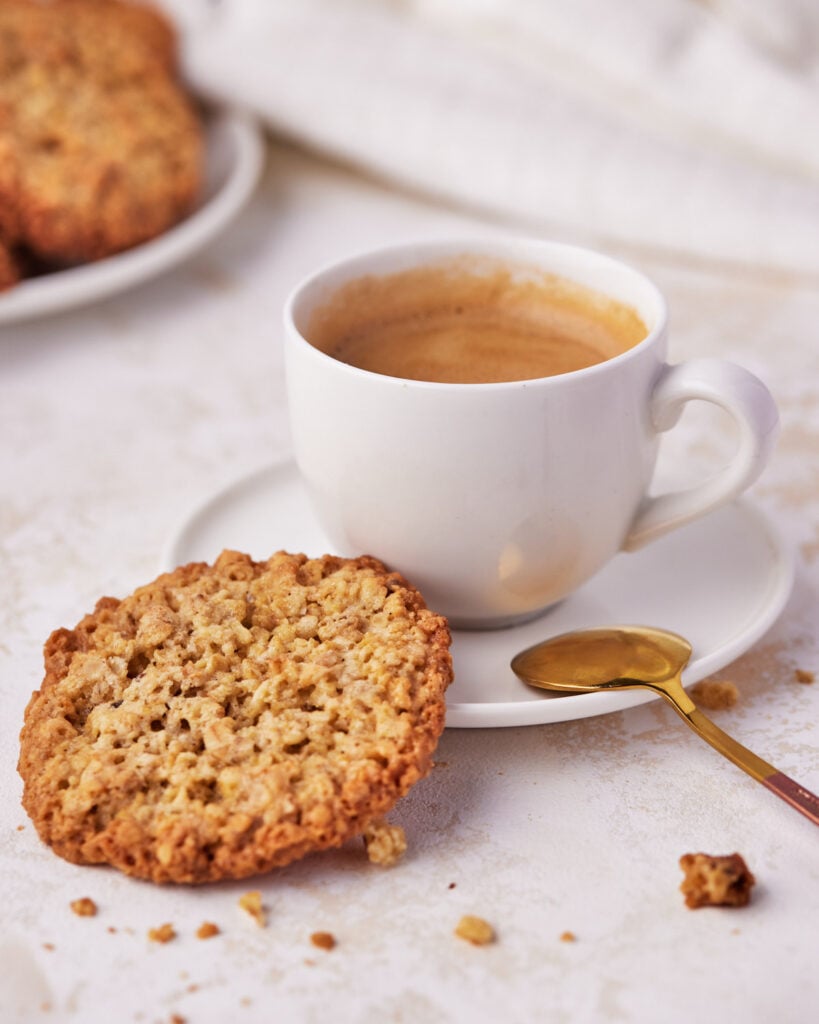 Summary
Quick, easy and delicious, these thin and crispy oatmeal lace cookies are a perfect sweet snack. They aren't hearty and filling like regular oatmeal cookies, so you can eat two or three of them in a row and still not feel like it's too much! Try them once and I'm sure they will become a new staple in your recipe repertoire like they now are in mine!
Recipe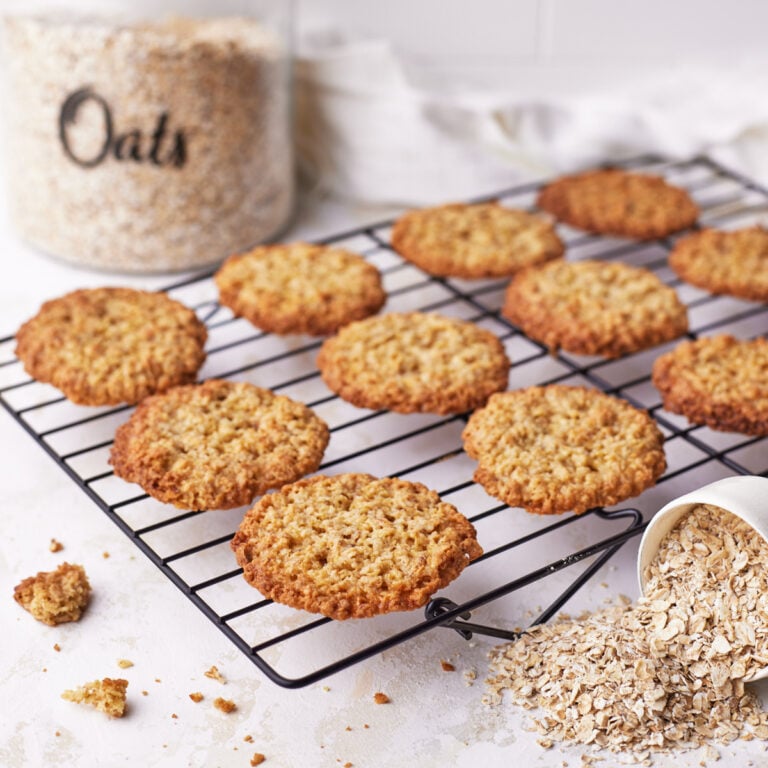 Swedish Oatmeal Lace Cookies
Thin and lacy oatmeal cookies that are wonderfully crispy and sweet.
Ingredients
¾

cup

White Sugar

150g

1

Egg

½

teaspoon

Vanilla Extract

1

stick

Butter

113g

2

cups

Oats

200g

2

tablespoon

All-purpose Flour

1

teaspoon

Baking Powder

1

teaspoon

Salt
Instructions
Preheat oven to 320°F / 160°C and line a baking sheet with parchment paper.

Add the sugar, egg and vanilla to a bowl and whisk until pale and frothy (about 20 seconds of whisking by hand). There's really no need for a stand mixer or electric mixer for this recipe as it comes together so easily.

Melt the butter in the microwave in 30 second increments, then add it to the sugar/egg mixture and whisk, just until combined.

Pour in the oats, flour, baking powder and salt and stir everything together. I recommend switching to a spoon for this so the mixture doesn't get stuck in your whisk.

Scoop a heaped teaspoon of cookie dough onto your baking sheet. It will look more like a blob than a perfect ball, but that's okay as it will spread out into a circle in the oven.

Bake for 12 minutes. You'll know the cookies are ready as they will have spread out into a thin, lacy cookie and the edges will be golden brown. The middle will still look a little underdone, but they will continue to bake a little as they cool.

Let the cookies sit on the cookie sheet for 10 minutes before transferring to a wire rack to cool completely.
Notes
Type of Oats - I used quick oats for my cookies, but you could also use rolled oats for chunkier cookies or instant oats for finer cookies.  
Perfectly round cookies - the cookies should spread into a perfect circle, but if they aren't perfect and you'd like them to be, you can use a round cookie cutter to gently scoot the edges in while they are still warm! 
Nutrition
Calories:
118
kcal
Carbohydrates:
15
g
Protein:
2
g
Fat:
6
g
Saturated Fat:
3
g
Polyunsaturated Fat:
1
g
Monounsaturated Fat:
2
g
Trans Fat:
1
g
Cholesterol:
23
mg
Sodium:
197
mg
Potassium:
39
mg
Fiber:
1
g
Sugar:
8
g
Vitamin A:
170
IU
Calcium:
21
mg
Iron:
1
mg