These Blueberry Cream Cheese Muffins consist of soft and crumbly muffins bursting with blueberries, stuffed with cheesecake and topped with a crunchy streusel topping. For breakfast baking or a tasty treat - these are the dream muffins!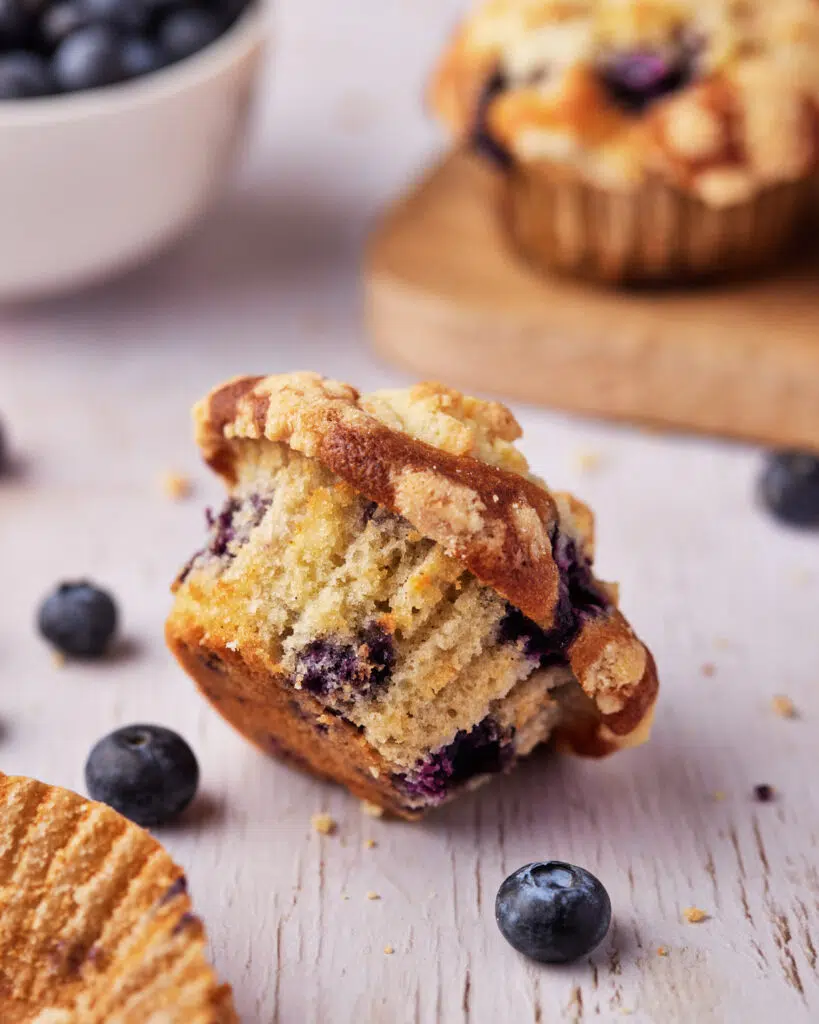 Blueberry muffins are a classic. Back when I had the bakery we would always add our signature crumb topping to the muffins to make them extra special. Now today we go one step further and stuff them with sweet cream cheese deliciousness!
The base recipe is the same as my Raspberry Crumble Muffins, and uses the same cheesecake filling as my Cheesecake Stuffed Carrot Muffins. And combined into these Blueberry Muffins with Cream Cheese Filling - it's a match made in heaven!
Jump to:
Ingredients
All-purpose Flour - Regular all-purpose flour is great for these muffins. If you are using self-raising flour instead, just skip the baking powder.
Eggs - Large eggs are best and I always recommend Free Range.
White Sugar - Try to find extra fine white sugar (caster sugar in the UK)
Sour Cream - The sour cream does wonders for the texture and flavour of these blueberry cream cheese muffins! It makes them beautifully soft and also adds a slight tang which compliments the blueberries and makes them a great breakfast option.
Vegetable Oil - The oil adds moisture, you can use different oil such as sunflower or canola, but make sure it's flavourless (i.e. not Olive Oil)
Vanilla Extract - The vanilla is more of a compliment than a feature in these muffins, it just brings all the other flavours together nicely and rounds them out.
Blueberries - You can use fresh or frozen blueberries. I actually like the way frozen blueberries behave in this batter, and they tend to give off a nice streak of colour as you mix them in, but fresh blueberries work beautifully in the muffins too.
Cream Cheese - you can't have cheesecake stuffed muffins without cream cheese! To make your life easier, make sure your cream cheese is at room temperature before starting, this will ensure a nice smooth cream cheese filling for your muffins without any lumps.
See recipe card for quantities.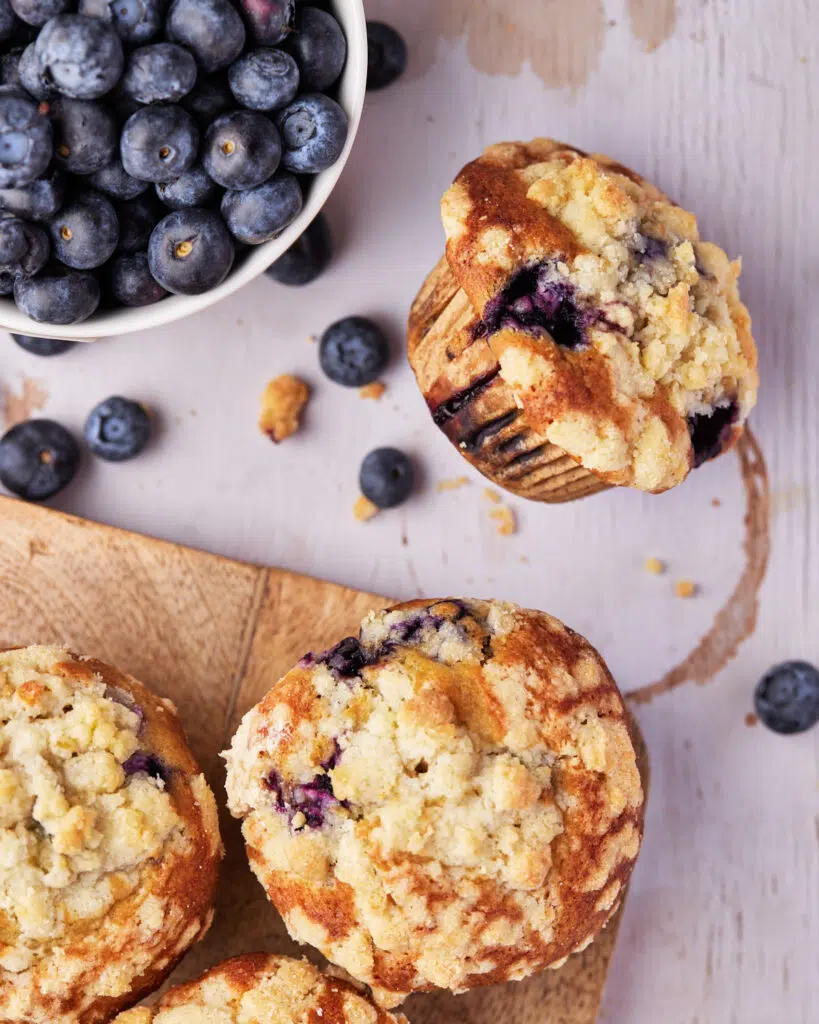 Instructions
These blueberry muffins with cream cheese filling are unbelievably easy to make. You don't need a mixer or any special equipment, just a bowl and a whisk! Make these muffins by hand in no time at all.
Make the Crumble First
Throw all the crumble ingredients in a bowl and mix with a fork until it is crumbly.
Prepare Cream Cheese Filling
Put all cream cheese filling ingredients in a bowl and beat together with a spoon until smooth
Make the Muffin Batter
Whisk together the eggs and sugar
Add oil, sour cream and vanilla and whisk until smooth
Add flour, baking powder and salt and whisk until smooth
Fold in the blueberries
Assemble the Blueberry Cream Cheese Muffins
Fill each muffin case half-way with blueberry muffin batter
Spoon 1 teaspoon of cream cheese filling into the centre of each muffin
Top with more batter, filling the cases to the top
Sprinkle a generous amount of crumble topping onto muffins
Bake
It's that easy! You can whip up some cheesecake stuffed blueberry muffins first thing in the morning for breakfast or anytime you are craving a sweet treat.
Hint: Try not to let the cream cheese filling spill out to the edges of the batter, do your best to keep it in the centre so the cheesecake will all be contained inside the muffin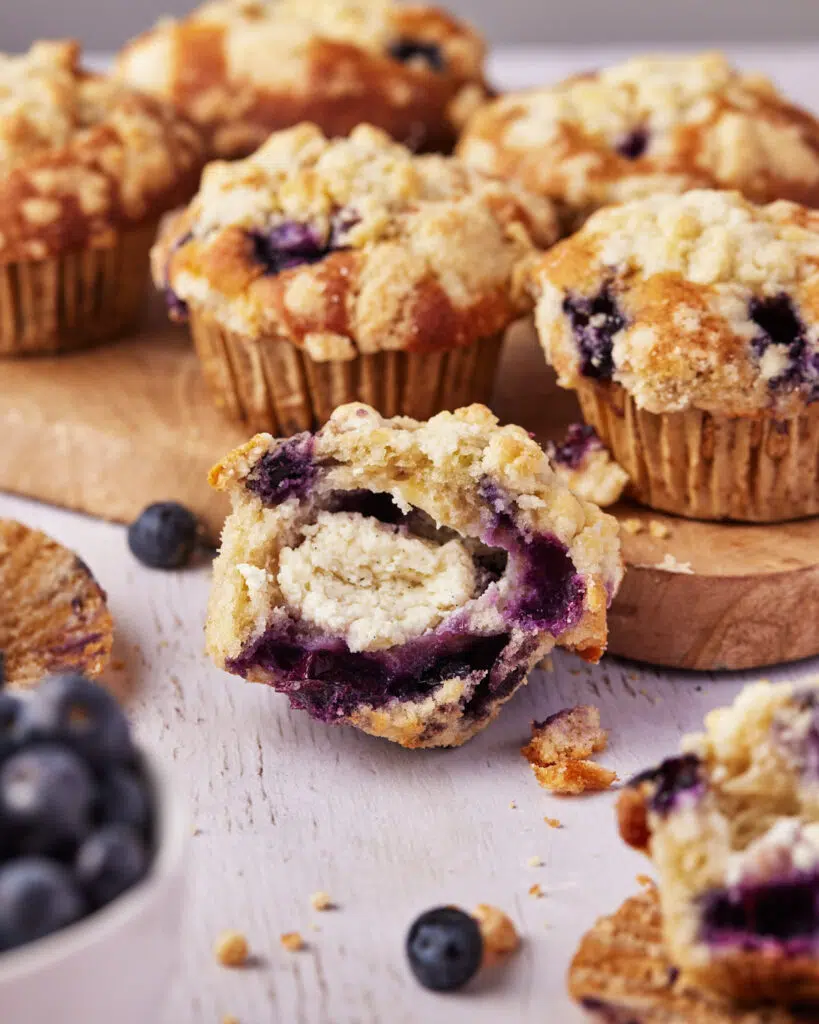 Variations
These cream cheese filled muffins work really well with any kind of berry, why not try with:
Raspberries
Strawberries
Blackberries
If you want to add another element to your blueberry cream cheese muffins, you could also throw in some nuts or even some chocolate chips.
Or if you want to bake with blueberries but want something other than muffins, you can try my Mini Blueberry Bundt Cakes with Blueberry Glaze.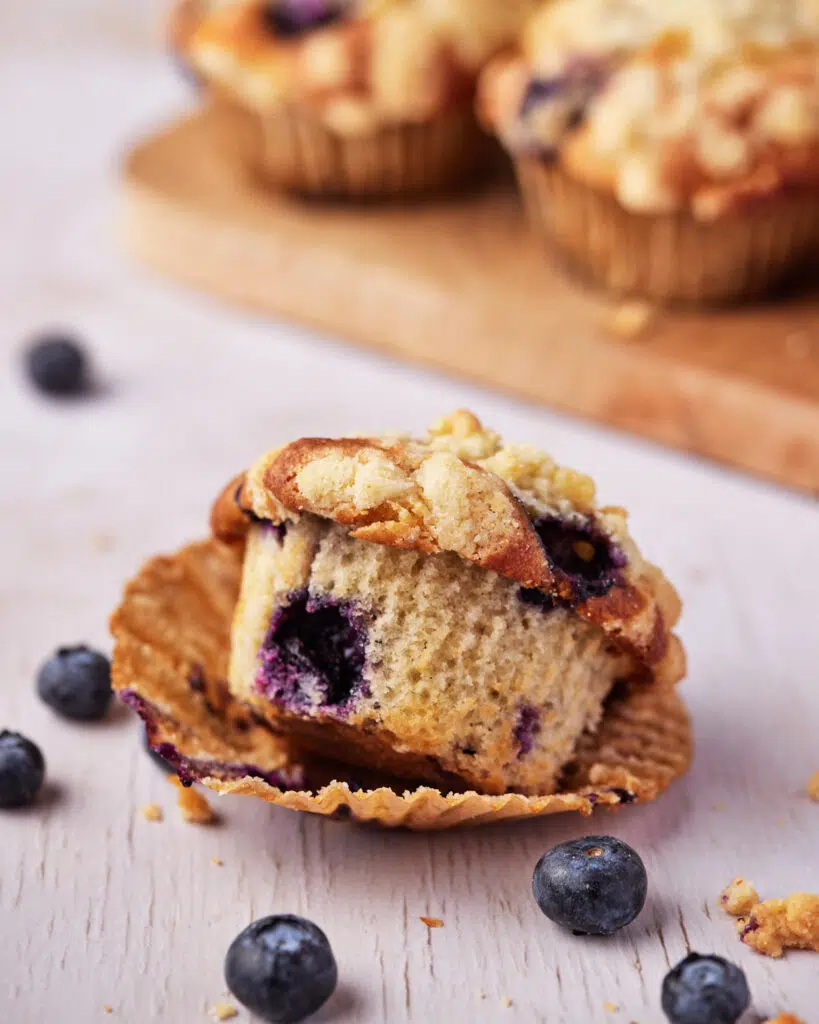 Storage
You have a few options for how to store your blueberry cream cheese muffins.
If you are just storing for one day - If you just baked the muffins and need to keep them until the next day, they actually will do best stored in a container or basket with a clean dishtowel draped over the top. This is because it lets the muffins breathe, so they won't go all soggy. This only works though for storing overnight or maximum one day, any longer than that and you risk them starting to go a little stale.
To store at room temperature - If storing more than one day, put muffins in an airtight container with a layer of paper towel underneath to absorb any condensation and moisture - this helps to stop the moisture from building up on the muffins themselves. They will be good like this for three days.
To store in the fridge - If you prefer to store your muffins in the fridge, pack them the same as you would for room temperature - in an air-tight container with paper towels to absorb moisture. Remove from the fridge at least one hour before serving to enjoy them at their best.
Recipe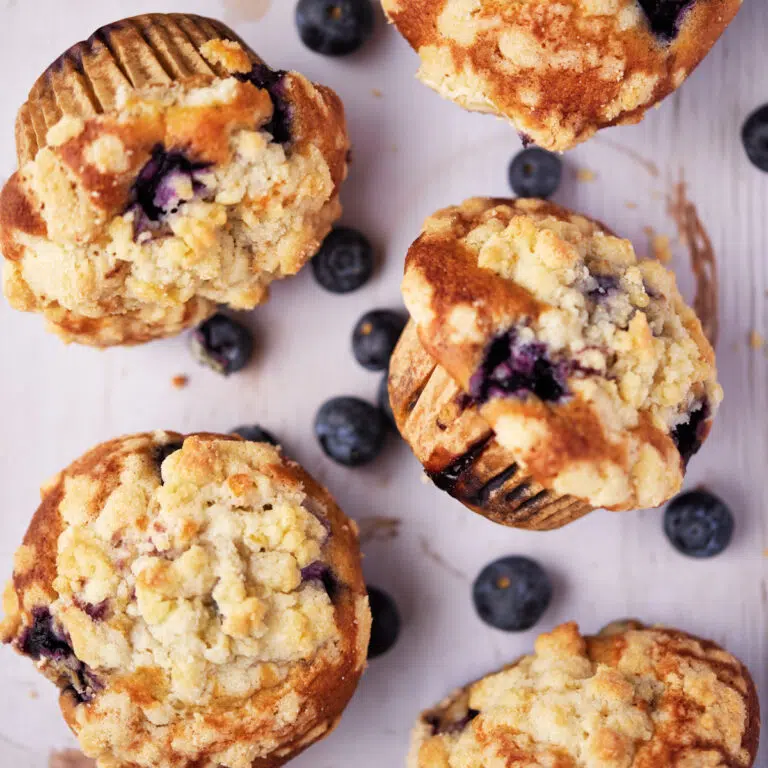 Blueberry Crumble Muffins with Cream Cheese Filling
Fluffy blueberry muffins stuffed with a baked cheesecake filling and topped with a sweet crumb
Ingredients
For the Blueberry Muffin Batter
3

cups

All-purpose Flour

4 ½

teaspoon

Baking Powder

3

Eggs

1 ½

cups

White Sugar

1 ½

cups

Sour Cream

1

cup

Vegetable Oil

1

teaspoon

Vanilla Extract

½

teaspoon

Salt

2

cups

Blueberries

fresh or frozen
For the Cream Cheese Filling
1 ½

cups

Cream Cheese

¼

cup

White Sugar

½

teaspoon

Vanilla Extract
For the Crumb Topping
½

cup

All-purpose Flour

⅓

cup

White Sugar

¼

cup

Butter
Instructions
Prepare the Crumb Topping
Melt the butter in the microwave

Put flour and sugar in a bowl and mix together

½ cup All-purpose Flour,

⅓ cup White Sugar

Gradually add the melted butter to the flour/sugar mix a little at a time while stirring with a fork until clumps form. You should have a soft and crumbly mix with various sizes of clumps

Break apart the clumps so they are as big or as small as you want them and then set aside until you are ready to put on top of the muffins
Prepare the Cream Cheese Filling
Beat the cream cheese, vanilla and sugar until smooth, set aside

1 ½ cups Cream Cheese,

¼ cup White Sugar,

½ teaspoon Vanilla Extract
Make the Muffins
Preheat oven to 350°F / 180°C and line a muffin pan with muffin cases

In a large bowl, whisk together eggs and sugar

3 Eggs,

1 ½ cups White Sugar

Mix in sour cream, oil and vanilla extract

1 ½ cups Sour Cream,

1 cup Vegetable Oil,

1 teaspoon Vanilla Extract

Add flour, baking powder and salt and keep whisking until lump-free

3 cups All-purpose Flour,

4 ½ teaspoon Baking Powder,

½ teaspoon Salt

Fold in the blueberries, don't worry if they colour the batter a little!

Fill each muffin case halfway with batter

Spoon a heaped teaspoon of cheesecake mix on top of the batter. Try to keep the cheesecake in the centre of the muffin and avoid spreading out to the sides if you can

Add more batter on top of the cheesecake to fill muffin case almsost all the way to the top (we want them nice and full so they will rise and make those beautiful muffin tops!)

Put a generous sprinkle of crumb topping on top of each muffin

Bake for 18-20 minutes or until a skewer comes out clean
Nutrition
Calories:
486
kcal
Carbohydrates:
69
g
Protein:
8
g
Fat:
21
g
Saturated Fat:
12
g
Polyunsaturated Fat:
1
g
Monounsaturated Fat:
5
g
Trans Fat:
1
g
Cholesterol:
97
mg
Sodium:
421
mg
Potassium:
156
mg
Fiber:
2
g
Sugar:
39
g
Vitamin A:
751
IU
Vitamin C:
3
mg
Calcium:
162
mg
Iron:
2
mg